It's been one of those weeks around here at Love From The Oven. Computers on the fritz, lots of homework and a poor little toddler with a cold and strep throat. Finally tests for the week are done, computer running properly and little one with a big dose of antibiotics in her, we are hopefully on track to a calmer weekend. Knock on wood!
I've had a list of treats in my head I've been wanting to make for St. Patrick's Day, and I finally got one of them done. A colorful spin on one of my all time favorite treats – Green Ombre Rice Crispy Treats.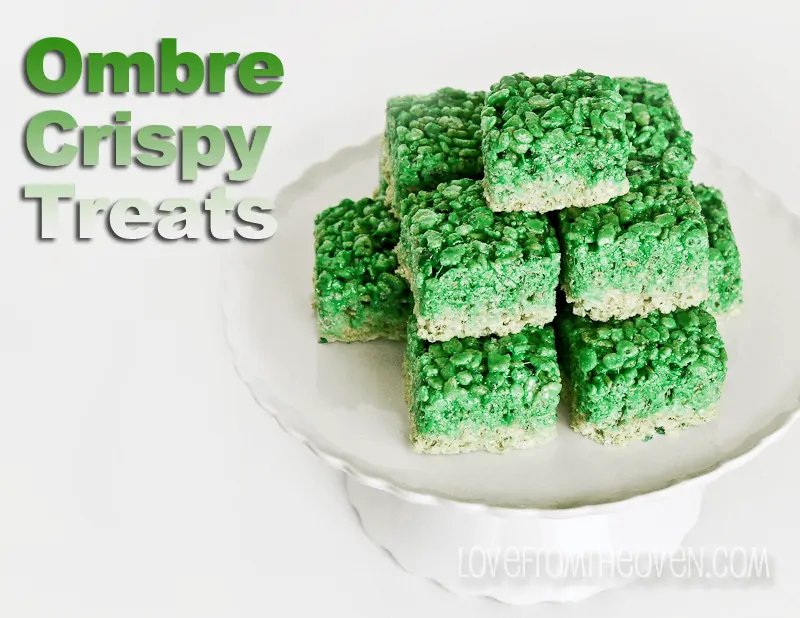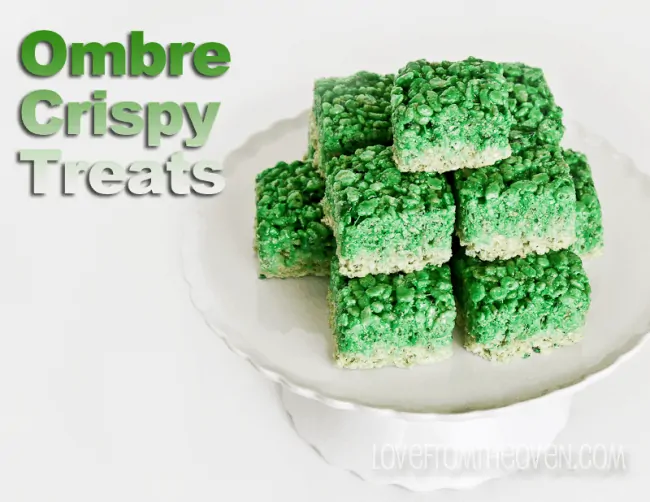 These pretty treats play on one of the hot trends right now – ombre. McCormick Spice has been featuring a variety of colorful treats over on their St. Patrick's Day Pinterest Board, a number of them using the ombre theme. They even came up with an awesome Seven Shades Of Green ombre food coloring chart to help you create the perfect colors for your St. Patrick's Day foods. Check out the awesome Green Ombre Cake and these sweet Green Ombre Cupcakes.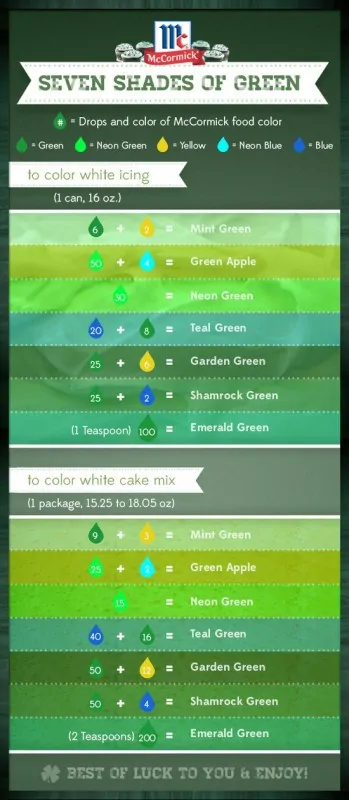 These are Green Ombre Rice Crispy Treats are very simple to make, not much of a difference from making regular crispy treats except for the fact that you are going to be adding in some pretty green McCormick food color and making them in layers. You can also add some peppermint extract to one of your layers for a delish minty version. I found it easiest to make these by breaking my rice crispy treat batch into thirds, and working 1/3 at a time.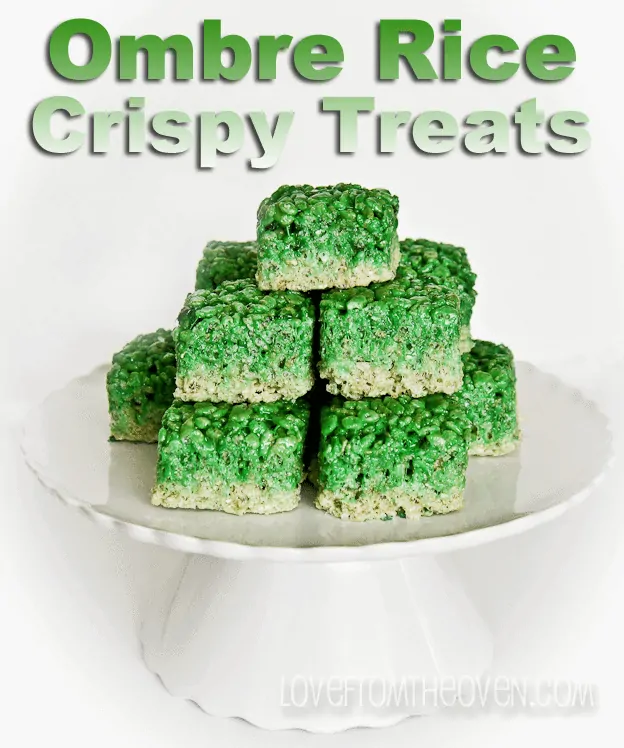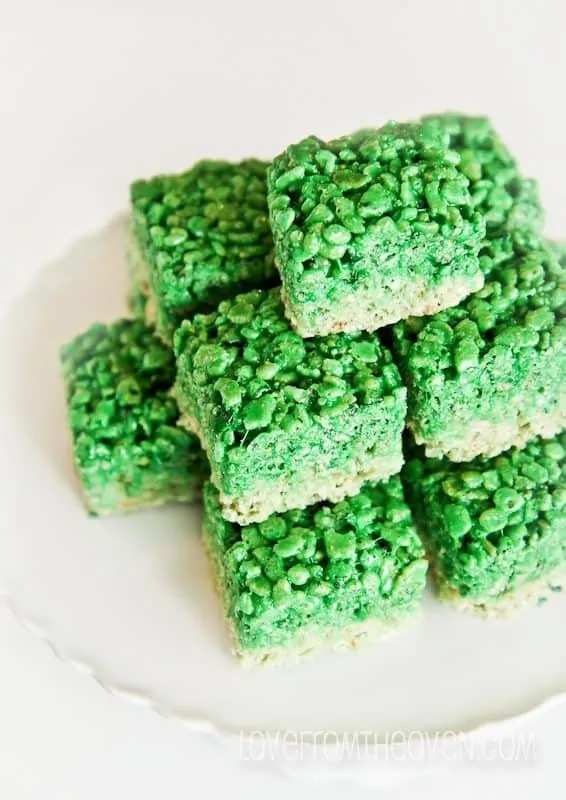 So again, making these is just like making your regular crispy treats, but you are also adding in McCormick food coloring, vanilla and/or peppermint extract.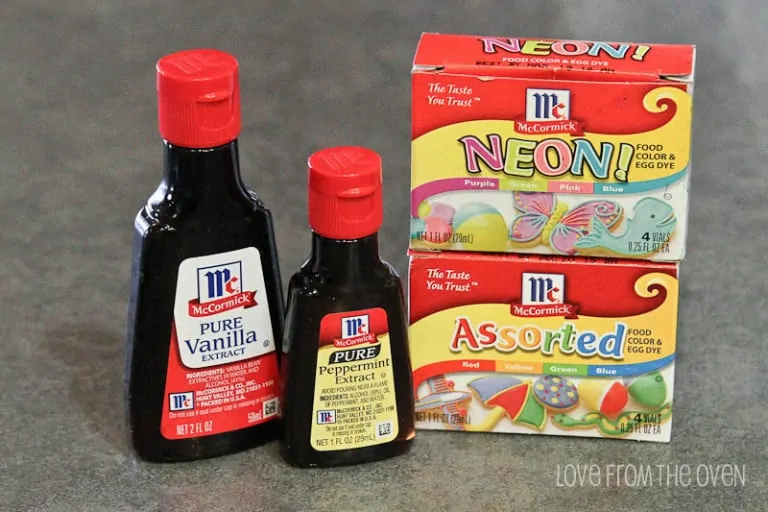 I added my food coloring and flavorings to my melted marshmallow and butter mixture after it was melted and removed from the stove, but before I stirred it into the rice cereal. I didn't follow a very specific formula for my coloring, I just went with what suited my taste. I started with the lightest layer, then made the remaining layers each a bit darker. I added a bit of peppermint extract to my center layer – just a few drops, but you can vary that based on your own taste.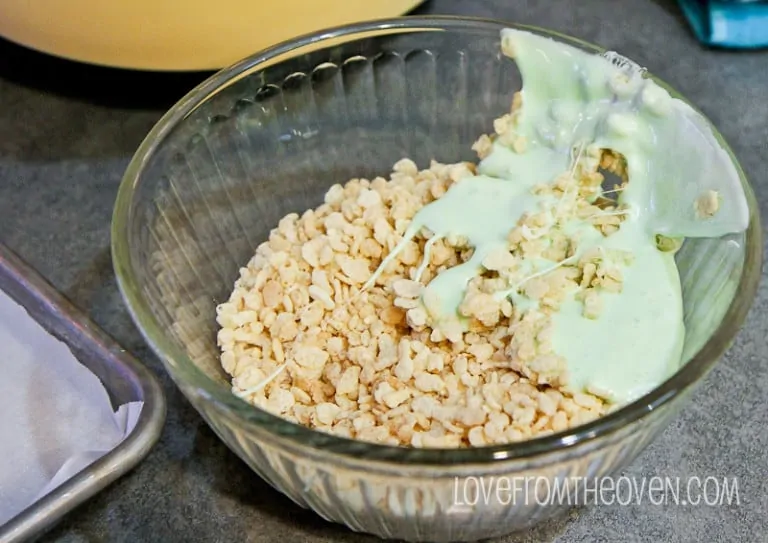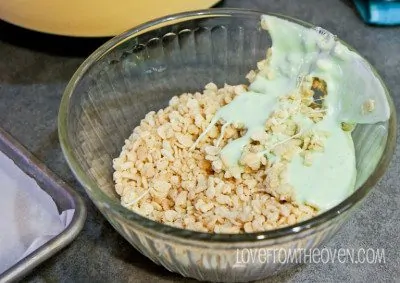 After mixing the first layer, onto a baking sheet with parchment paper it went. The next layer went right on top of it, followed by the third layer.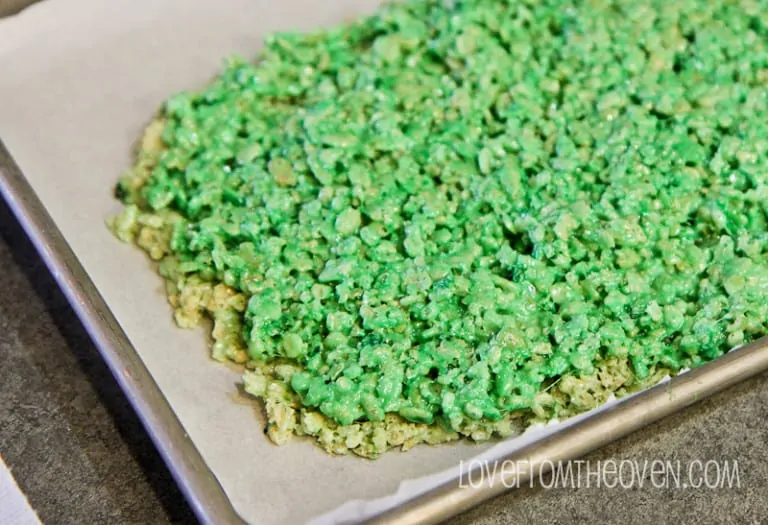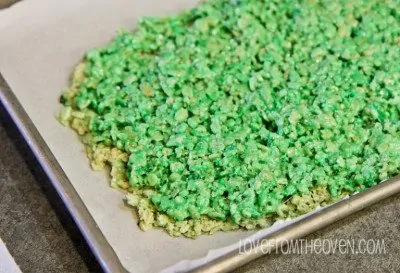 After allowing them to cool, I cut them with a square shaped cookie cutter. That was it. Super simple!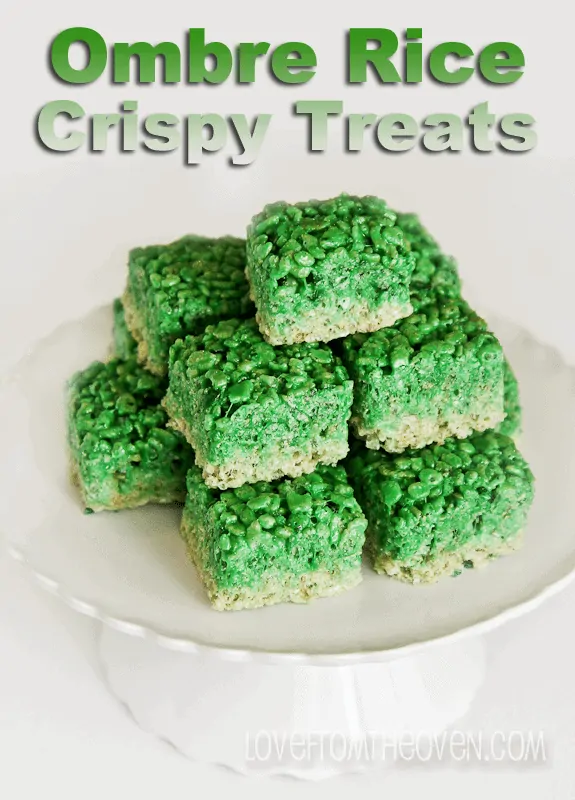 Ah, how I adore the simple deliciousness of rice crispy treats! And what a fun and pretty spin on them this is. 🙂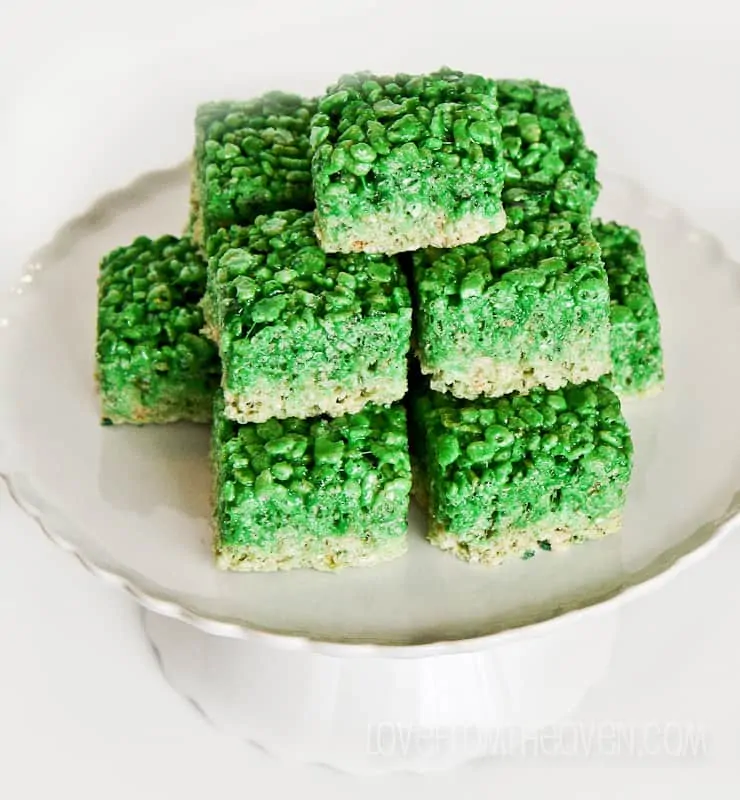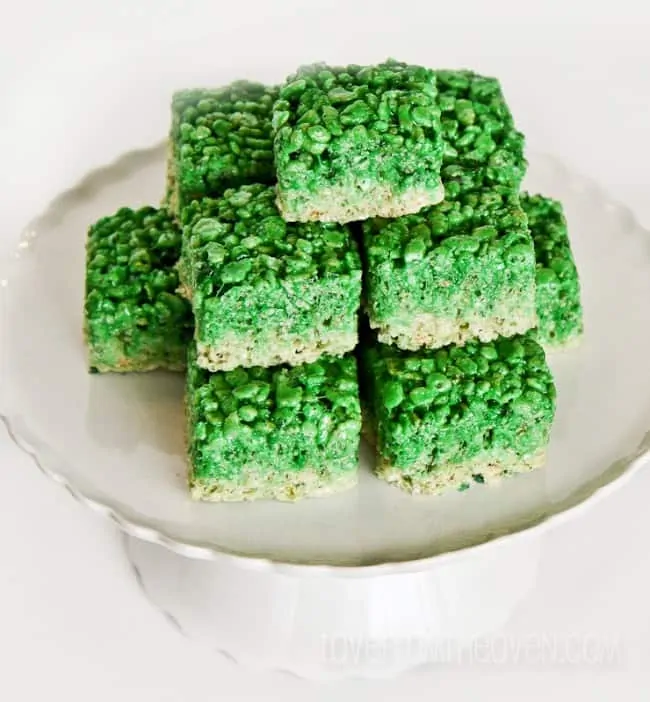 Looking for some other delicious ideas for St. Patrick's Day? Check out these fun and festive treats from McCormick…
· Green Ombre Cake
· Green Ombre Cupcakes
· Pot o' Gold Cookies
· Luck o' the Irish Cake Pops
· Emerald Mint Milkshake
· Green with Envy Cheesecake Bars
· Irish Cream Swirl Brownies
· Easy Green Velvet Cupcakes
· Peppermint Paddy Martini
· Creamy Irish Coffee Martini
And a little peek behind the blog for you… what you don't see in photos, the rest of the story!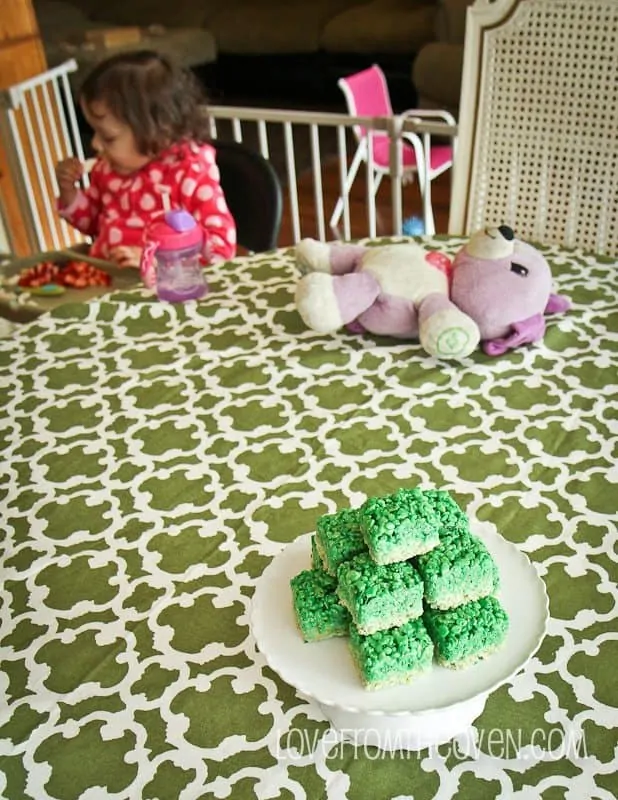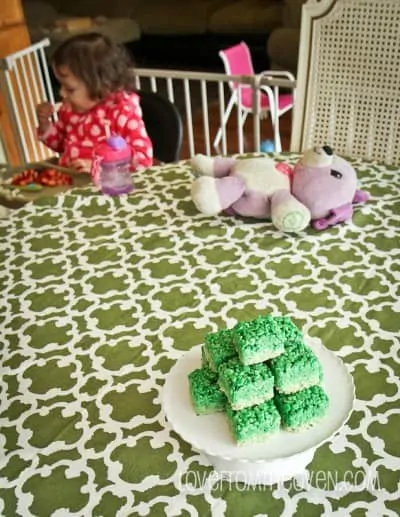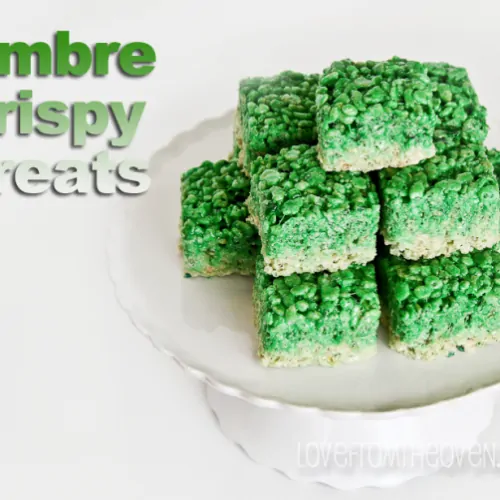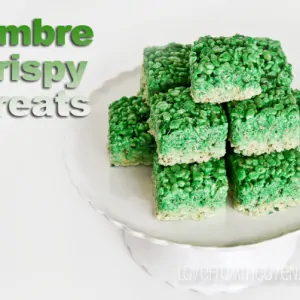 Ombre Green Rice Crispy Treats
Ingredients
6

Cups

Puffed Rice Cereal

divided into three 2 cup portions

6

Cups

Miniature Marshmallows

divided into three 2 cup portions

6

Tablespoons

Butter

divided into three 2 tablespoon portions

1/2

tsp

McCormick Vanilla Extract

1/4

tsp

McCormick Peppermint Extract

McCormick Green Food Coloring
Instructions
Prepare a baking sheet with a piece of parchment paper.

In a saucepan, combine 2 cups miniature marshmallows and 2 tablespoons butter, melt over low heat and stir until well combined. Remove from heat and add in 1/4 tsp vanilla extract and a few drops of green food coloring. This will be your lightest colored layer, so a nice light shade of green works great.

Combine melted mixture with two cups of puffed rice cereal and stir well.

Pour and press onto baking sheet lined with parchment paper.

Repeat process for following two layers, adding in 1/4 tsp of peppermint extract in place of vanilla extract to your middle layer if desired. For each layer, you will want to create a darker shade of green with your food coloring. Press each layer on top of the previous layer.

Allow to cool. Cut with knife or cookie cutter as desired. Serve and enjoy!
Disclaimer
Nutrition information is estimated as a courtesy. If using for medical purposes, please verify information using your own nutritional calculator. Percent Daily Values are based on a 2000 calorie diet.
For even more sweet green St. Patrick's Day treats, check out…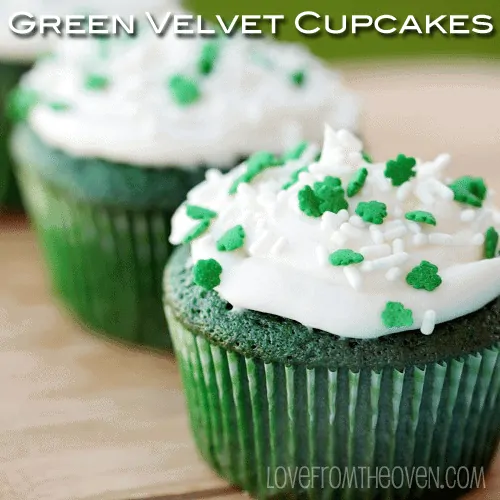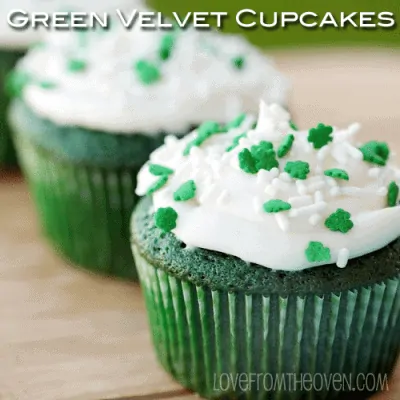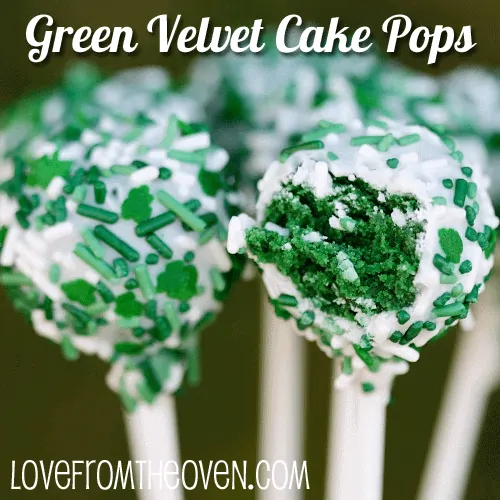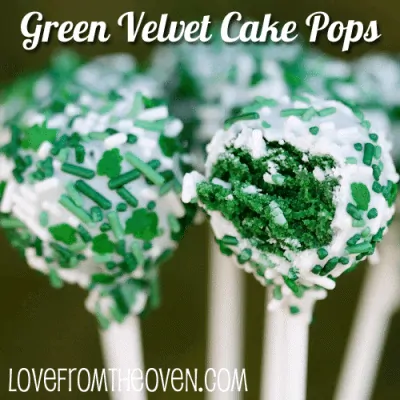 And a great round up of green themed recipes from other bakers & blogers…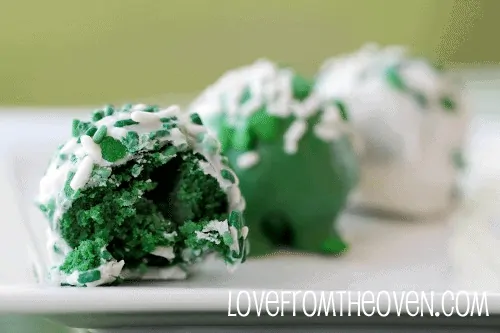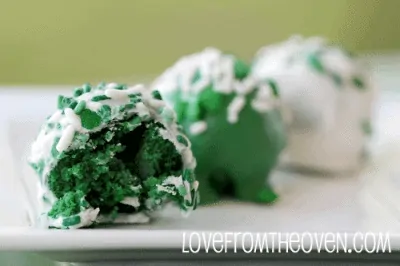 And don't miss my St. Patrick's Day Pinterest Board full of great goodies!