Orange Loaf, Lemon Loaf and Lemon Rolls. Clearly I've got citrus on the brain. And on my countertop. My Dad planted quite a few citrus trees when I was in middle school, and 20+ years later (okay, more than 20, but let's not count), he always has a LOT of citrus to give away. And being the helpful daughter that I am, I've taken some off his hands. To make things like yummy orange loaf bread.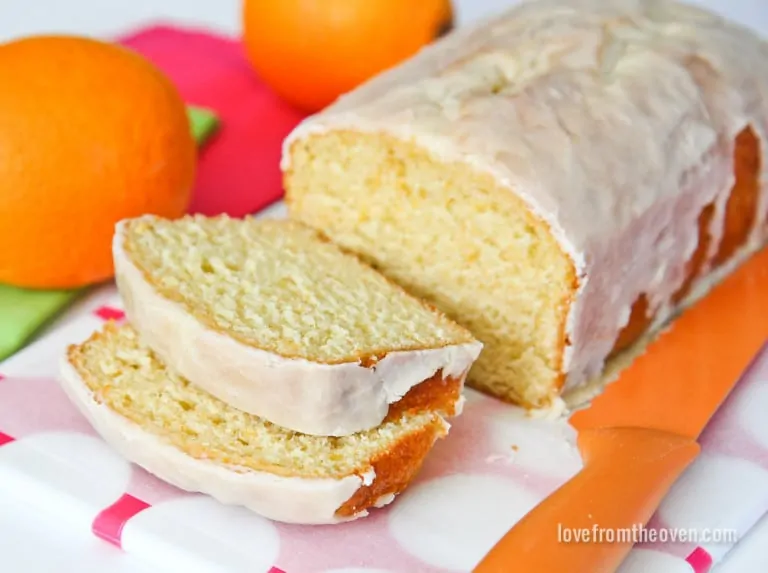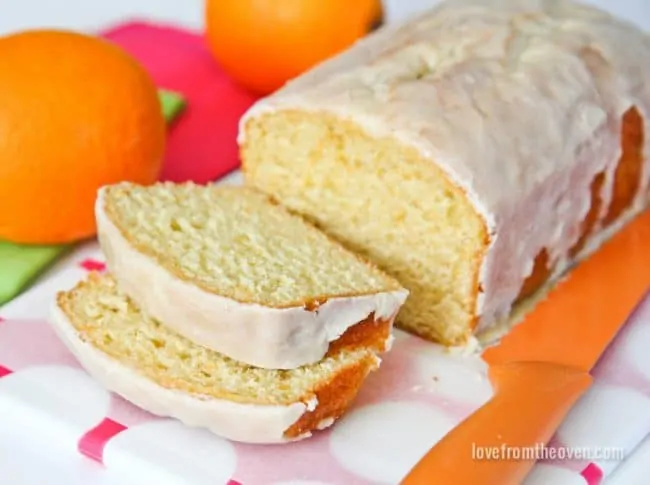 While I love recipes like this orange loaf, I'm not a big citrus person. Prior to the house my Dad lives in now, we had a house that had about seven mature grapefruit trees. We are talking massive trees that produced grapefruit the size of an eight year old child's head. By the hundreds. And let me tell you, as a child I picked up MANY of those beastly grapefruit. Anyone who grew up in Arizona knows what I'm talking about. And if there is a citrus deterrent program, that is it. It's like scared straight, citrus fruit edition.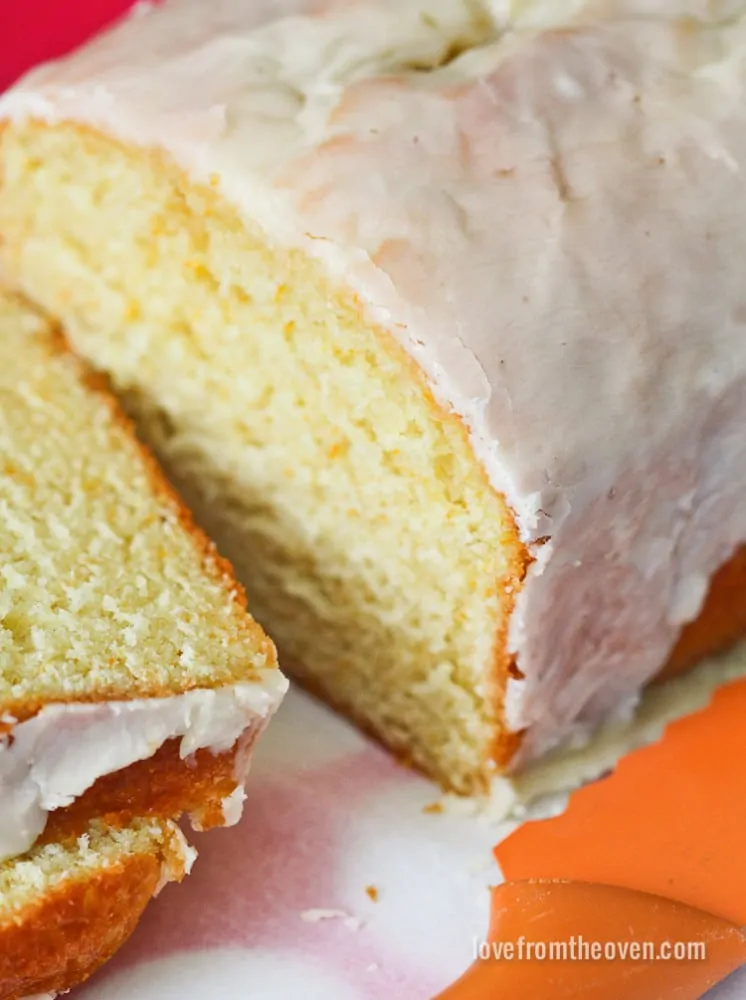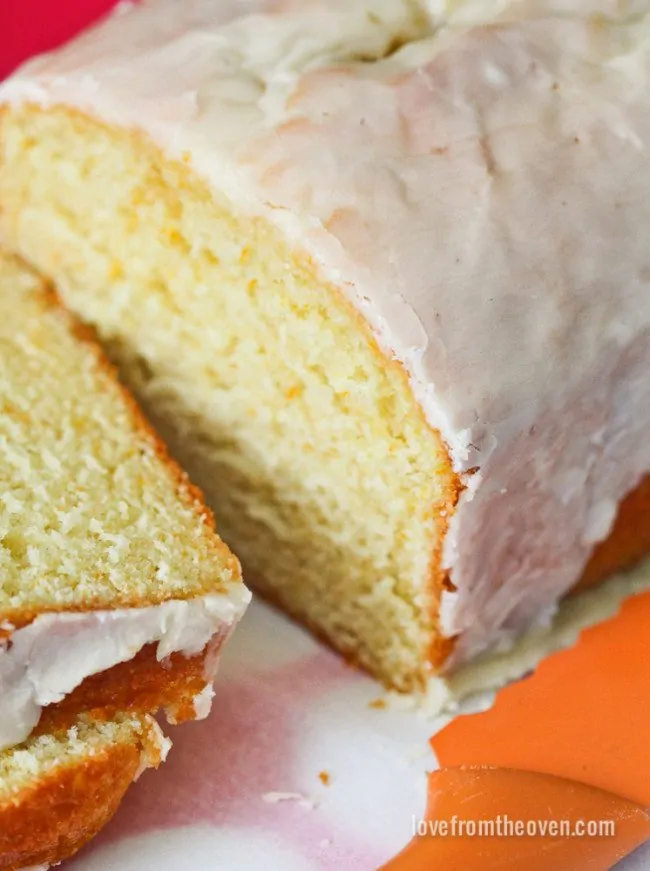 To this day the smell of grapefruit still gets to me. Thankfully, my Dad had his fill of grapefruit, so now it's oranges, lemons, limes, tangelos and whatever else he was crossbreeding. He was making GMO fruit long before it was trendy. Or not trendy to be a bit more accurate. He'd cut and splice trees together and they still grow to this day. Pretty cool actually. I should see about getting myself a Lim-on tree.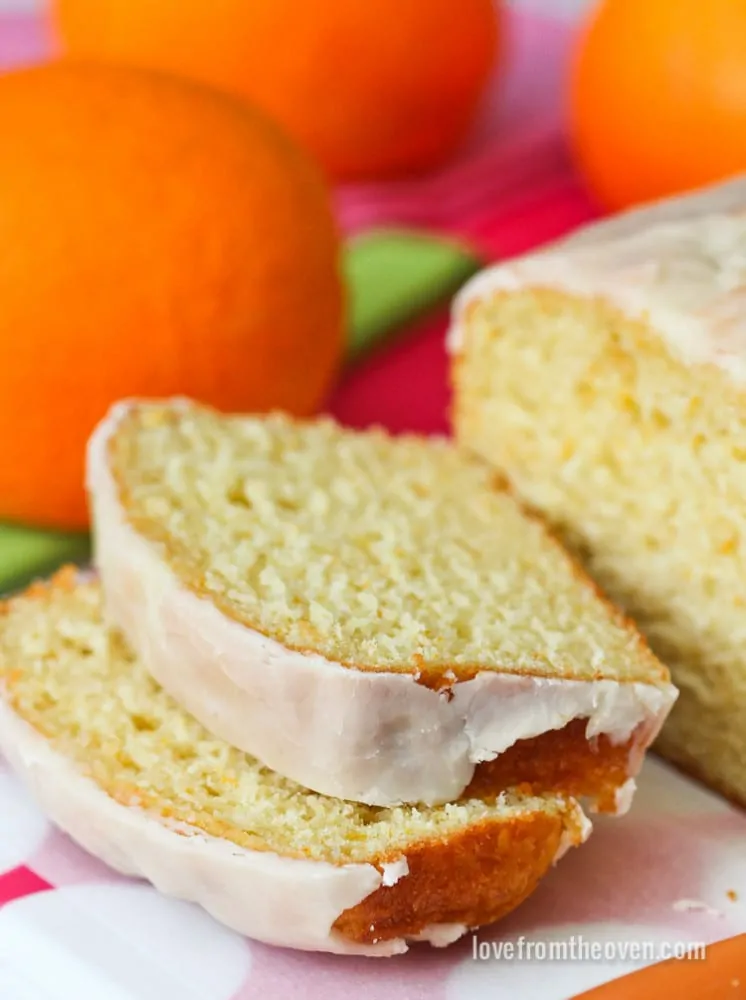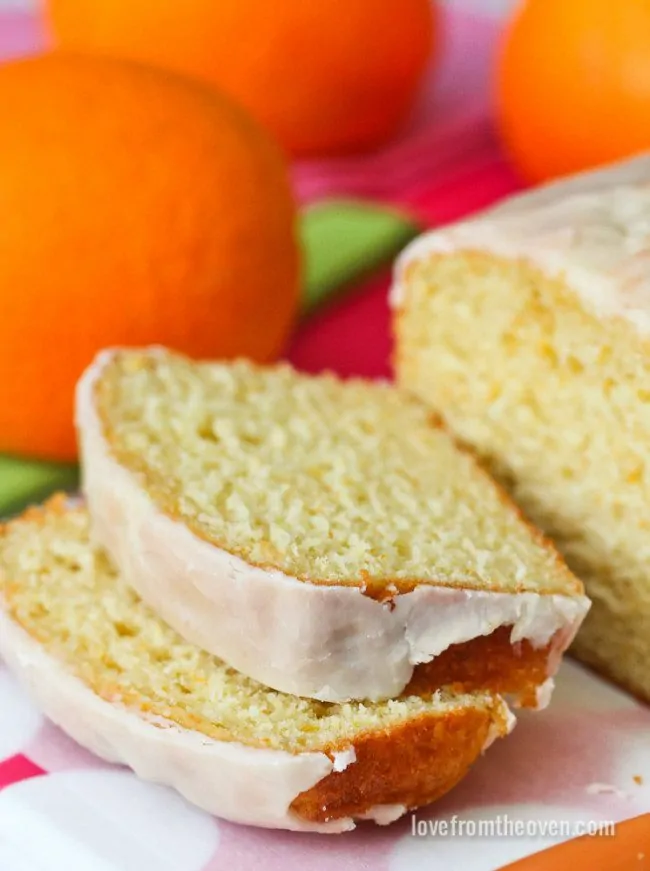 So orange loaf. Oh my, this orange loaf is delicious. I know I just made a lemon loaf, but in my world, bread and muffins are just a go to for baking. They are easy, very forgiving when it comes to the recipes, they freeze wonderfully and they are delicious. I could probably make a new loaf of quick bread or batch of muffins every day. Oh, wait, I have ridiculously picky eaters for children, so scratch that. I make the same recipes over, and over and over.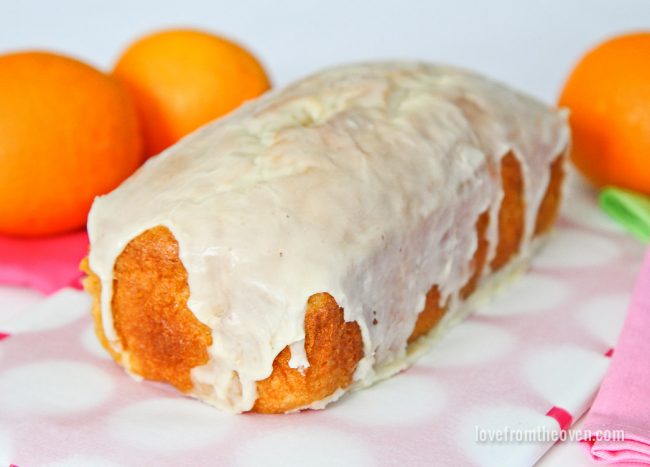 This easy orange loaf is so DELICIOUS. The orange is not over powering, and for me, is just right. I adapted this recipe from from an Orange Pound Cake from Barefoot Contessa. The fact that the oranges were actually picked fresh from out back (okay, not my out back, but my kin's) totally made me feel like I could pull off Ina. Let me just waltz out in a crisply ironed shirt and some wrinkle free linen pants, with some east coast sea wind in my hair, and grab those oranges, while being fabulous. Well, not really, I mean jeans and a stained t-shirt, with my oranges in a plastic grocery bag is probably not exactly her style, but close enough.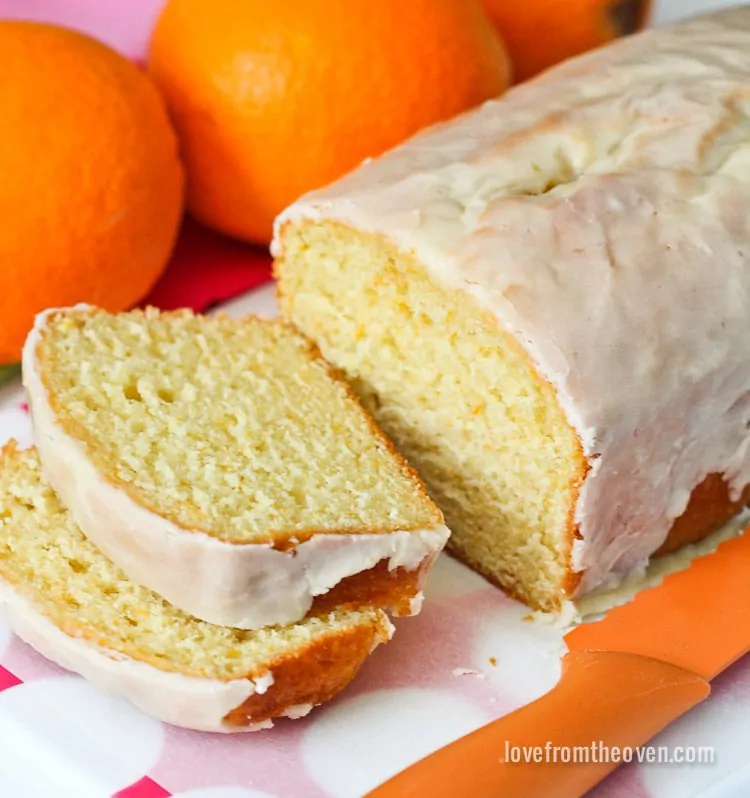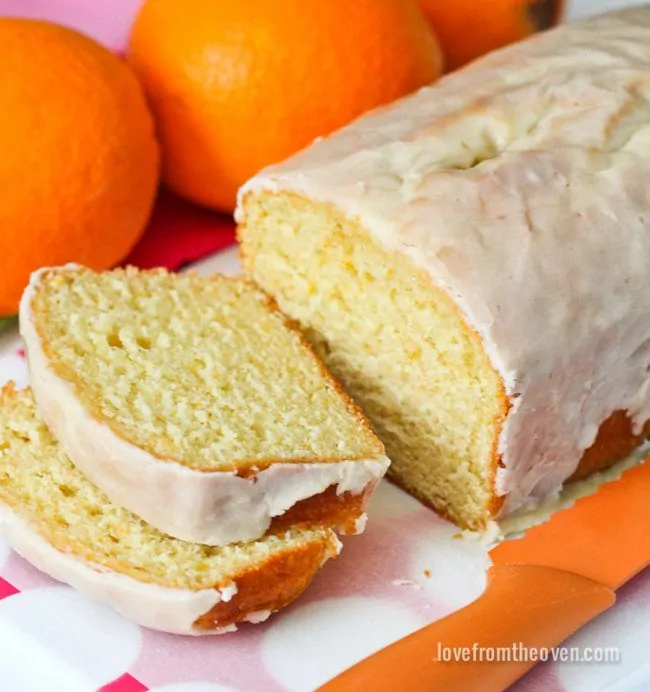 I replaced half the butter in this orange loaf recipe with Greek yogurt. Greek yogurt is my go to swap when I see a bread recipe call for a cup of butter or a cup of oil. I've yet to find a bread that can't lose half that oil/butter and work just wonderfully with Greek yogurt in it's place. I use plain Greek yogurt, but you can use vanilla or even something like orange for this. I also reduced the sugar called for in the recipe and skipped the orange syrup. I was trying to go for more of a "bread" than a cake with this, but I'm sure her recipe is insanely delicious just as it is, this version is just a bit lighter (though we aren't exactly talking health food here, even with those oranges!).
ORANGE LOAF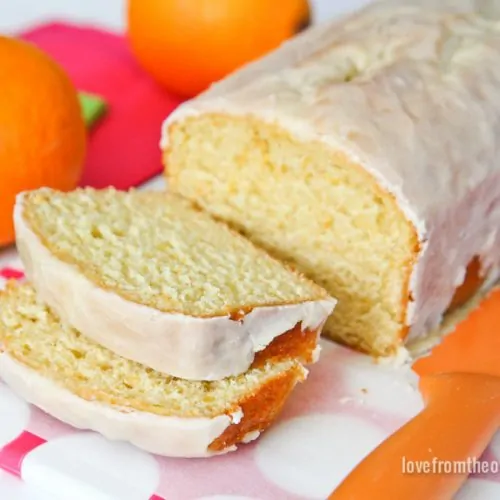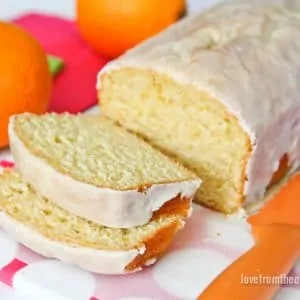 Orange Loaf
Ingredients
1/2

cup

butter

softened

1/2

cup

Greek yogurt

plain, vanilla or even an orange flavor

1 3/4

cups

sugar

4

large eggs

1/3

cup

grated orange zest

about six oranges

3

cups

all purpose flour

1/2

tsp

baking powder

1/2

tsp

baking soda

1

tsp

salt

1/4

cup

freshly squeezed orange juice

divided

3/4

cup

buttermilk

1

tsp

vanilla extract
Instructions
Preheat oven to 350 degrees F.

Spray two loaf pans with non stick cooking spray. I prefer to line mine with foil first.

In a mixer, combine butter, Greek yogurt and sugar until light and fluffy, approximately 2-3 minutes. Add in eggs, one at a time, mixing on low after each egg. Add in orange zest and stir to combine.

In a separate bowl, combine flour, baking powder, baking soda and salt.

Add half of the dry mixture to the butter and sugar mixture, and stir until just combined. Add orange juice, vanilla and 1/2 of the buttermilk to the mixture and stir until just combined. Add the remaining dry mixture, stirring until just combined, followed by the remaining buttermilk, stirring until just combined.

Divide the batter between both loaf pans. Place in the oven and bake for 45 minutes to one hour or until a toothpick inserted into the center comes out clean. Remove from oven and allow to cool.

If desired you can make a glaze of 3 cups powdered sugar and 3-5 tablespoons orange juice to drizzle over the top of your loaves. Just mix the two together in a bowl until you get the consistency t you want. More liquid to make it thinner, more powdered sugar to make it thicker. I like to add a few drops of vanilla and a sprinkle of salt to give the flavor a bit more depth. It works best to pour the glaze on while the bread is still warm, but out of the pan (otherwise you can end up with your bread a bit stuck in the pan).
Disclaimer
Nutrition information is estimated as a courtesy. If using for medical purposes, please verify information using your own nutritional calculator. Percent Daily Values are based on a 2000 calorie diet.
Enjoy! I hope you enjoy this orange loaf bread recipes as much as I did!
Pin Easy Orange Loaf Bread Recipe