I made you a cake. A pretty awesome over the top cake!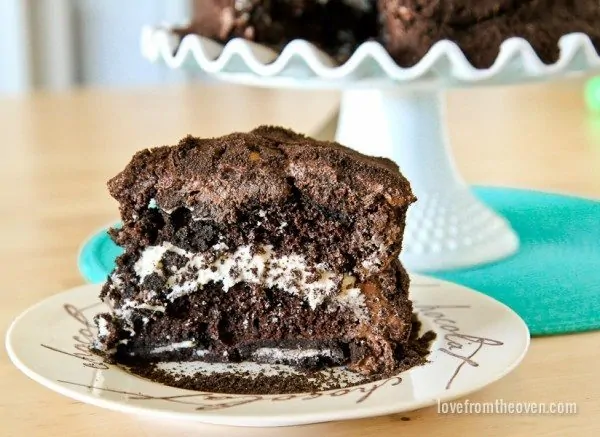 This cake is packed full of Oreos, and covered in even more of them. It's pretty outrageous and completely decadent. This cake comes from my friend Amanda's amazing book, Surprise Inside Cakes. Amanda is pretty well known for her incredible cakes, both on her blog, I Am Baker, and and in her book, Surprise Inside Cakes.
Truth be told, cakes intimidate me. I like to work with smaller desserts. Or cupcakes. Or bars. I think I'm traumatized from my early years of baking when half my cakes stuck to their pans, never to come out and form a cake. I can't cut them to save my life, I don't cut cakes, I kind of butcher cakes. When a client asks me to do cake I get a twitchy. I've written a post about my cake anxiety. Heck I've even posted proof of why I have cake anxiety, I mean look what happened about five years ago when I attempted to make one of those cool rainbow cakes. Epic. Fail. I'm kind of the stick to a 9×13 pan for cake, frost it in the pan and call it good. Easy peasy.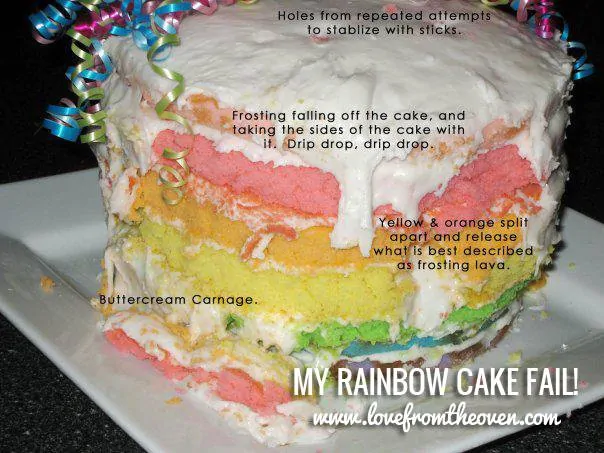 So cakes aren't my favorite thing to make. I can always make them taste great, it's the whole assembly/frosting thing that is my downfall. But I trust Amanda. I watched a video of her rose frosting technique last year, and it was life altering, in a cake making sense. One video and I immediately made this cake. It's not perfect, but holy heck, it's no falling apart rainbow cake, that's for sure! So if anyone can show you how to make gorgeous cakes, easily, it is Amanda. And Surprise Inside Cakes does just that!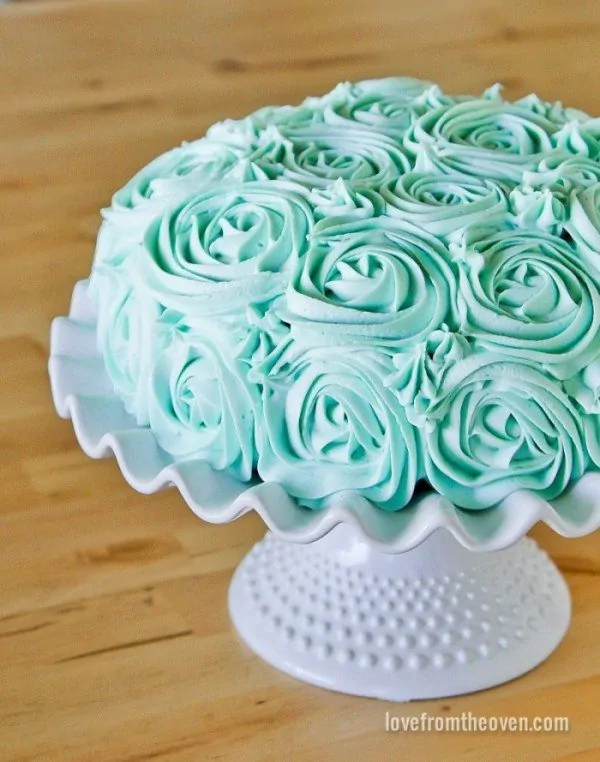 Amanda's book, "Surprise Inside Cakes – Amazing Cakes For Every Occasion – With A Little Something Extra Inside", is absolutely gorgeous, and the cakes – absolutely stunning! Not only is Surprise Inside Cakes packed full of great cake recipes, but so many fantastic tips to help empower you to create your own incredible cakes. Such a great resource for any baker.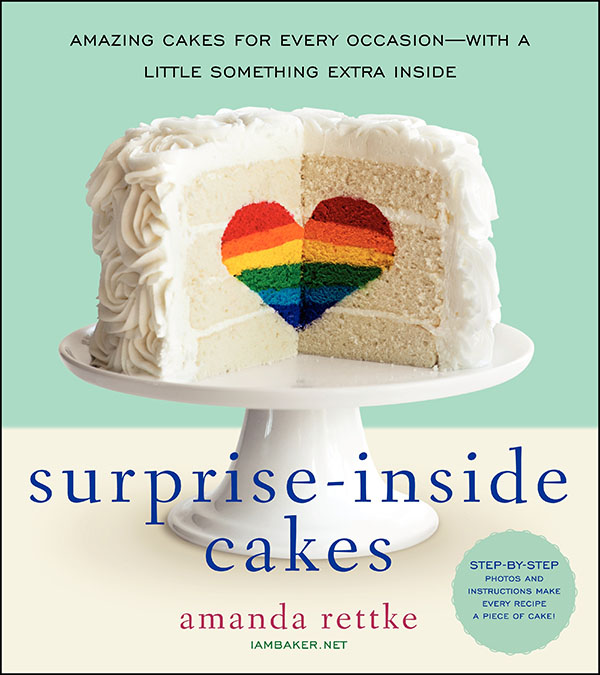 I made Amanda's delicious and decadent Oreo Cake. While her cake is still prettier than mine, I was thrilled with how my cake turned out.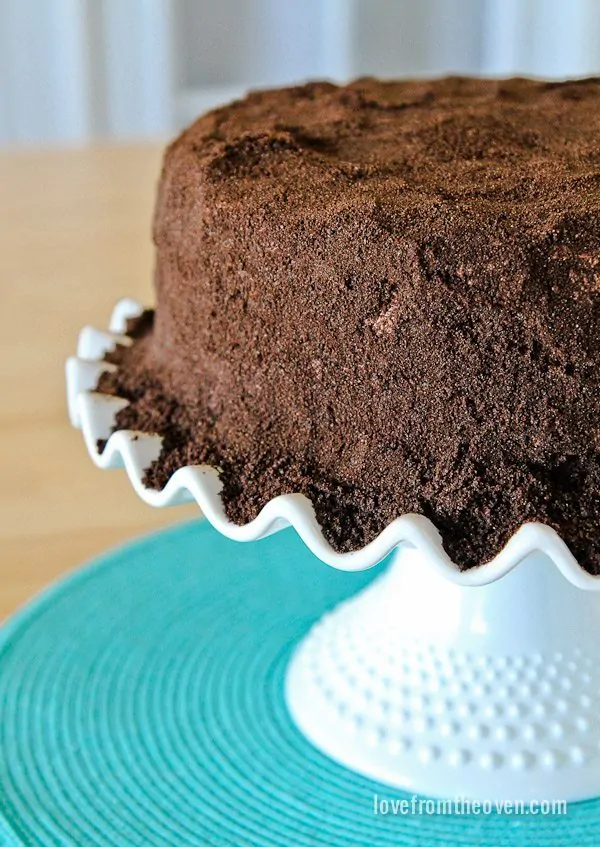 Look at all of those Oreo Cookie Crumbs!!! Um, yum!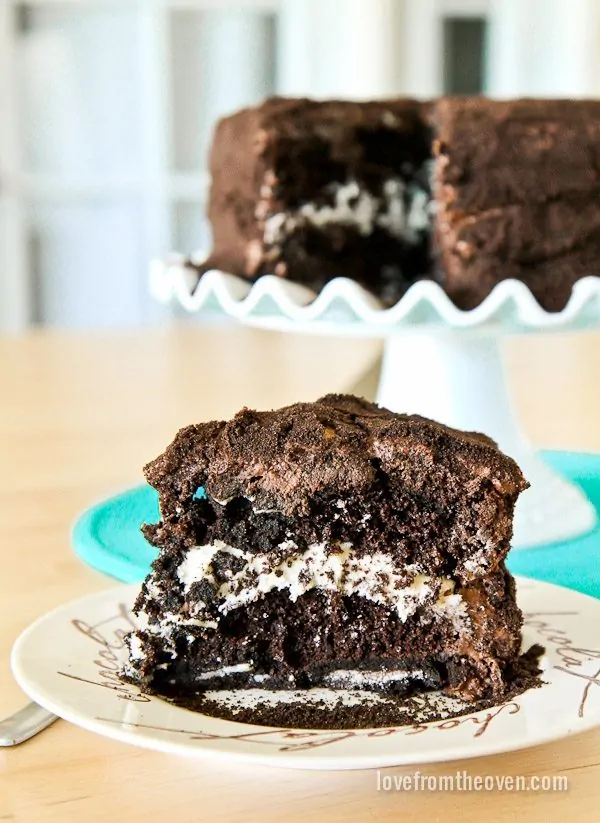 This is quite a cake! With a LOT of Oreos involved! I mean when you start a cake like this, you really can't go wrong!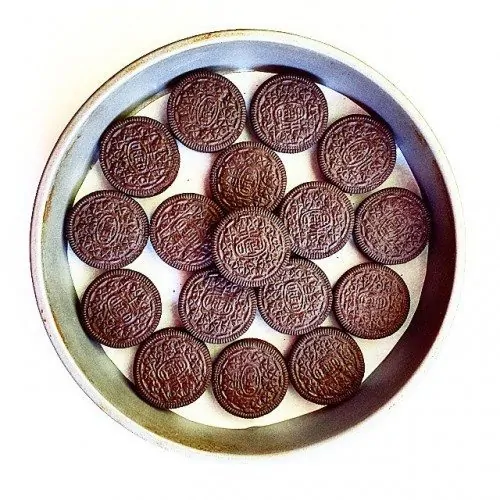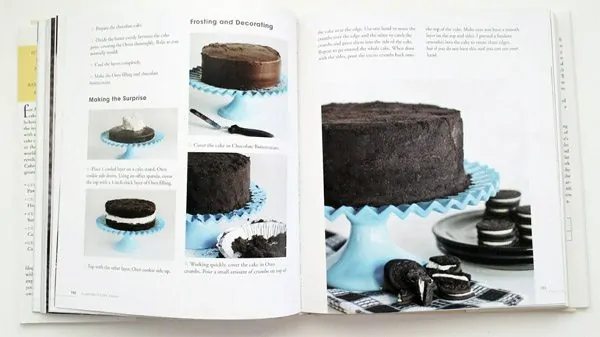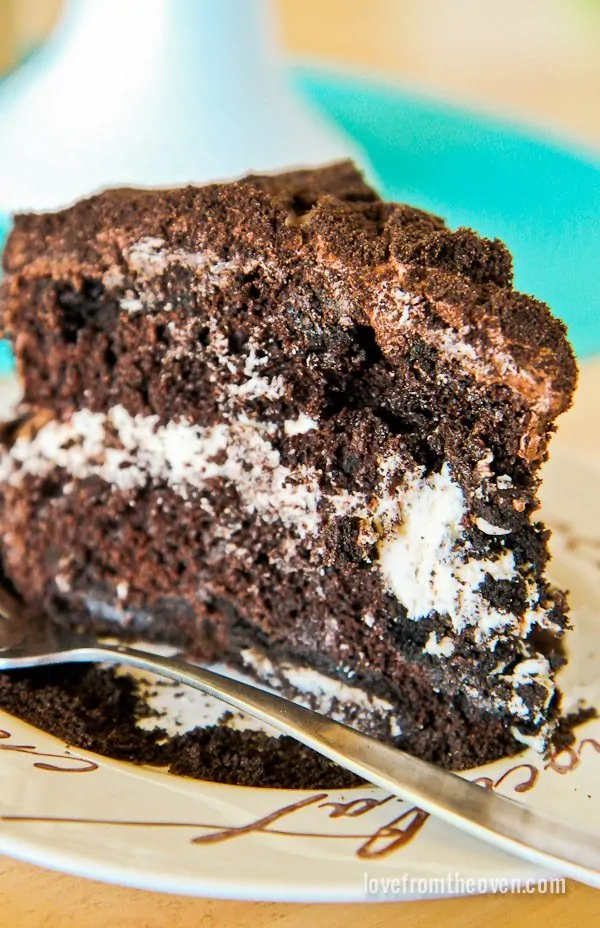 This is one rich cake! Certainly fun for a birthday or special occasion. Your family and friends will love it.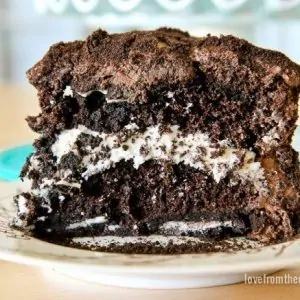 Oreo Cake from Surprise Inside Cakes
From "Surprise Inside Cakes" by Amanda Rettke from I Am Baker. Reprinted with permission.
Ingredients
Chocolate Cake
3/4

cups

unsweetened cocoa

1 1/2

cups

sugar

1 1/2

cups

cake flour

1

tsp

baking soda

Pinch

of salt

2

large eggs at room temperature

1

cup

sour cream

at room temperature

2

tsps

good quality vanilla extract

1/2

cup

hot coffee or hot water

1

cup

milk chocolate

about 4 ounces finely chopped

1 15.25

ounce

package Oreos
Oreo Filling
1/4

cup

1/2 stick unsalted butter

1/4

cup

shortening

3

cups

powdered sugar

2 to 3

tablespoons

milk

2

tsps

vanilla extract
Chocolate Buttercream
1/2

cup

1 stick unsalted butter at room temperature

1/2

cup

unsweetened cocoa powder

1

tsp

good quality vanilla extract

4 to 5

cups

confectioners' sugar

1/4

cup

milk
One premade Oreo pie crust
Instructions
For The Cake
Set a rack in the center of the oven. Preheat oven to 350°. Spray two 9" round cake pans with non-stick cooking spray and then lay 19 Oreos in an even layer on the bottom of each pan. Set pans aside.

In the bowl of a stand mixer, using a paddle attachment, blend the cocoa, sugar, cake flour, baking soda, and salt on a low speed for 30 seconds. Add eggs, sour cream, and vanilla and mix for 1 minute on medium-low speed. Remove bowl from the mixer. In a small bowl, whisk together hot coffee and chocolate until chocolate is fully melted. Add coffee/chocolate mixture to the stand mixer bowl and stir by hand with a spatula until all ingredients are fully incorporated.

Divide batter evenly between the two prepared pans, covering the Oreos completely. Bake for 25 to 32 minutes, or until toothpick inserted into the center comes out clean. Remove pans from oven and let cool on a wire rack for 10 minutes. Run a knife around the outer edge of each pan and carefully remove cakes from their pans, setting them on wire racks until they cool to room temperature.
For the Oreo filling:
In the bowl of a stand mixer, using the paddle attachment, mix butter and shortening until fully combined. Add the sugar, one cup at a time, alternating with the milk and vanilla. The filling should be very thick, but you can add more milk if you need to thin it a bit.
For the chocolate buttercream:
In the bowl of a stand mixer, using a paddle attachment, cream the butter, cocoa, and vanilla at medium speed for 1 to 2 minutes. Add the powdered sugar one cup at a time, adding in milk whenever the frosting gets too stiff or the mixer starts to struggle. After the last of the powdered sugar has been added, add the rest of the milk and mix until the frosting is smooth and silky, about 2 minutes. For a stiffer consistency, add more powdered sugar, 1/4 cup at a time. If the frosting is too stiff, add in more milk, 1 tablespoon at a time.
To Assemble
Place one cooled layer on a cake stand or large platter, Oreo cookie side down. Using an offset spatula, cover the top with the Oreo filling, in an even layer. Top with the remaining layer of cake, Oreo cookie side up. Then frost the sides and top with the chocolate buttercream.

Immediately after frosting the cake, working quickly, cover the cake in Oreo crumbs (from the Pie Crust). Pour a small amount on top of the cake near the edge. Use one hand to move the crumbs all over the edge and the other to catch the crumbs and press them into the side of the cake. Repeat to go around the whole cake. When done with the sides, pour the excess crumbs back onto the top of the cake. Make sure you have a smooth layer on the top and sides.
Disclaimer
Nutrition information is estimated as a courtesy. If using for medical purposes, please verify information using your own nutritional calculator. Percent Daily Values are based on a 2000 calorie diet.
Seriously, check out Surprise Inside Cakes. I think I can just sit and gaze longingly at the beautiful cakes for half the day (except my kids never let me do anything for half a day, or half an hour). I mean look at this chevron cake. Swoon. SO pretty.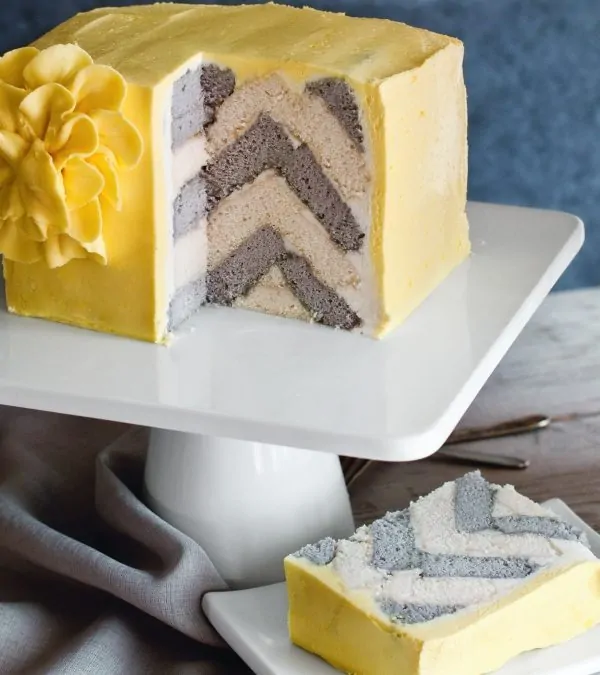 Or this Maypole Cake! Now THIS is how you do a rainbow cake.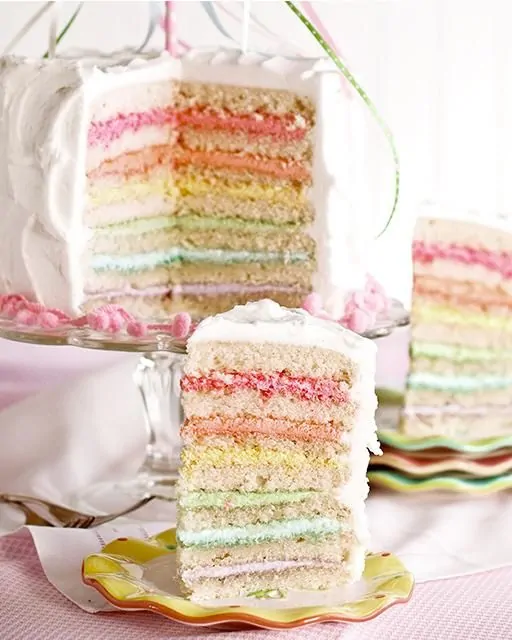 And the cake from the cover? Truly stunning. Can you imagine serving this and seeing everyone's faces when they saw the inside! So fun.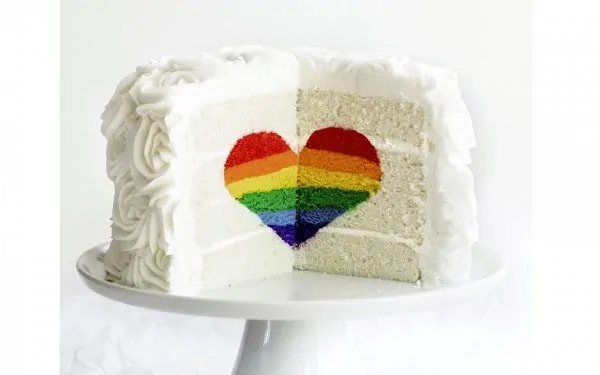 So many gorgeous cakes, and Amanda walks you through them, step by step. If I can make them, you can make them, trust me! Head here to check out her book on Amazon!