It seems almost overnight peppermint is everywhere, and I LOVE it! From Candy Cane Joe Joe's from Trader Joe's, to my beloved Dryer's Slow Churned Peppermint Ice cream, peppermint season is officially here. I adore the combo of chocolate and peppermint, and every year I look forward to making a big batch of peppermint bark and that AMAZING scent that is created the moment the peppermint and chocolate meet. Pure minty goodness.
I'm on the hunt for fun and creative peppermint and candy cane recipes myself, so I thought I might as well create a Peppermint and Candy Cane Bites From Other Blogs collection while I was at it. Here are some of the amazing recipes that talented bakers and bloggers all over the web have come up with…
Candy Cane Cookie Crunch Brownies From Love From The Oven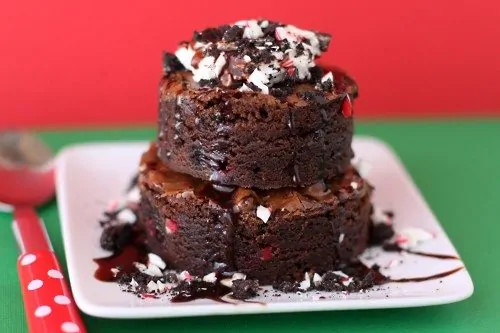 Chocolate Peppermint Cupcakes From Glorious Treats
Candy Cane Macarons From What The Fruitcake?!
Chocolate Covered Pepper*Mint* Cookies from The Idea Room
Chocolate Peppermint Marshmallow Pops From White On Rice Couple
Candy Cane Peppermint Shooters By Brooke McLay At Babble The Family Kitchen
Candy Cane Pretzels From The Cooking Photographer
Chocolate And Candy Cane Marshmallows From Pass The Sushi
Make Your Own Candy Cane Joe Joe's From Cake Or Death?
White Chocolate Covered Peppermint Rice Krispies Treats From Erin's Sweet Life
Double Chocolate Peppermint Crunch Cookies From Sweet Pea's Kitchen