We have a good friend who does fundraising each year for Breast Cancer Awareness, and I like to come up with some sweet treats to help her with that whenever I can. Add that to the fact that we had not one, but two women we care about undergo breast cancer surgery in the past week, and it's certainly something that is on my mind. With Breast Cancer Awareness Month coming up soon, I figure it's time to start coming up with some pink ribbon baking ideas. Here is one that is quick and easy and a fun twist on regular cupcakes…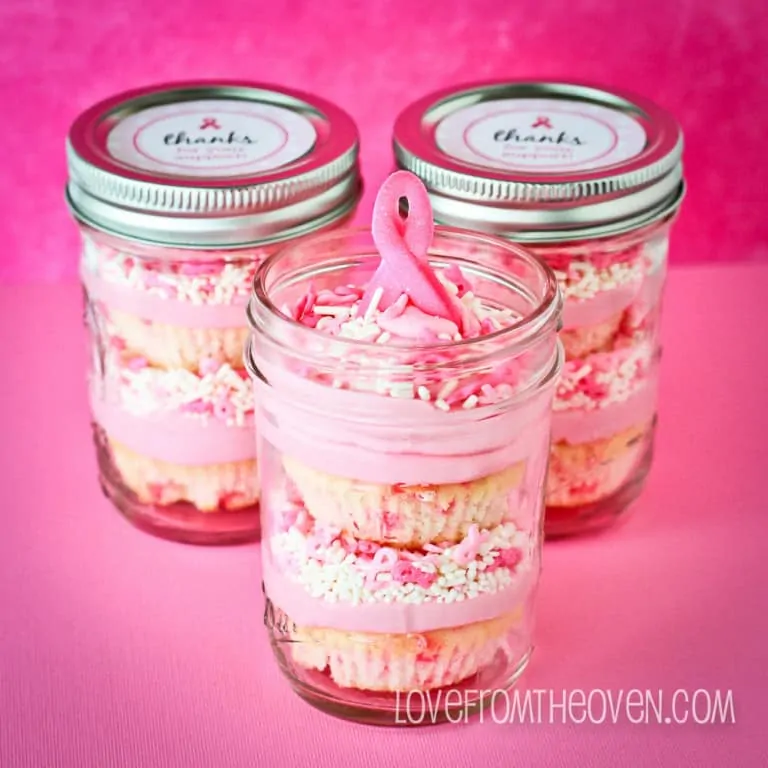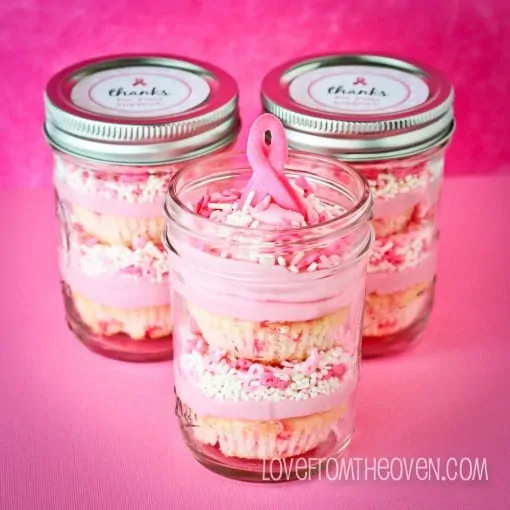 Pink Ribbon Funfetti Cupcake Jars.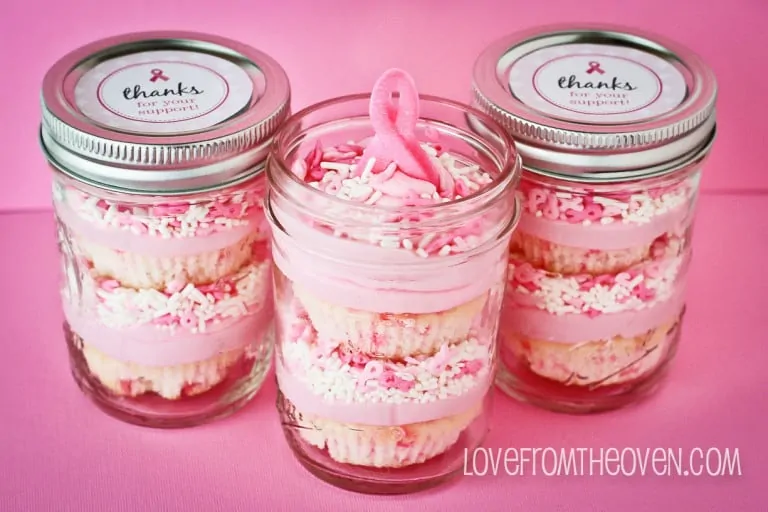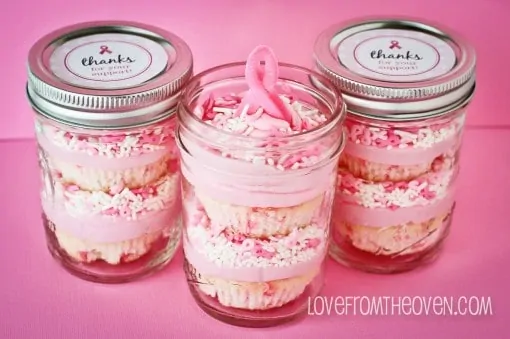 The jars are a fun little twist, and actually make the cupcakes nice and portable. They would be even cuter with some pink ribbons or other embellishments on the jars themselves. 🙂 I used a white cake mix (though my pink velvet recipe would be great for these), and added sprinkles into the cake batter to make a pink ribbon funfetti type of cake. There is no exact measurement, you can use whatever seems to work for you. I probably added about 1/2 a cup of sprinkles to my cake mix.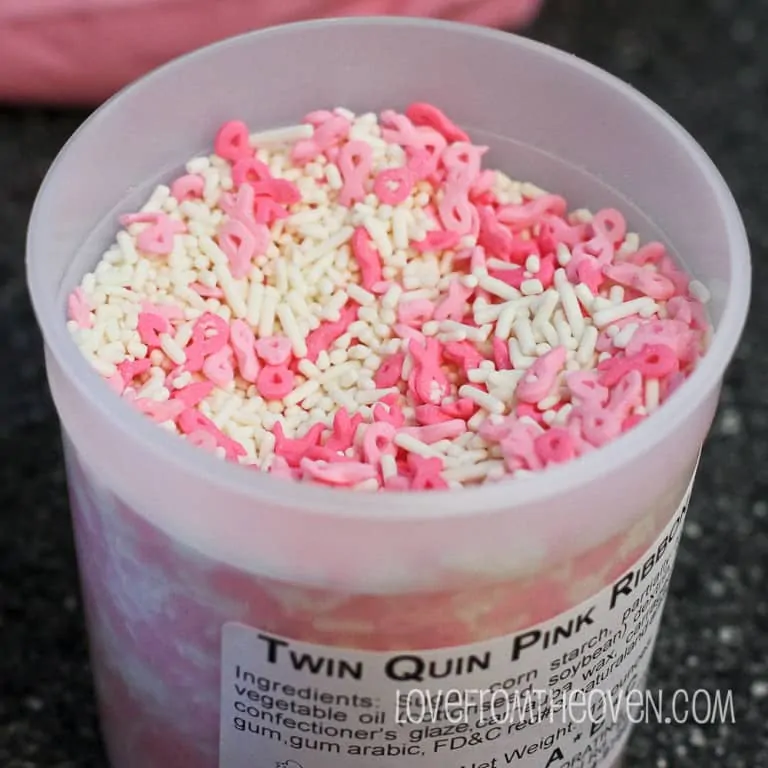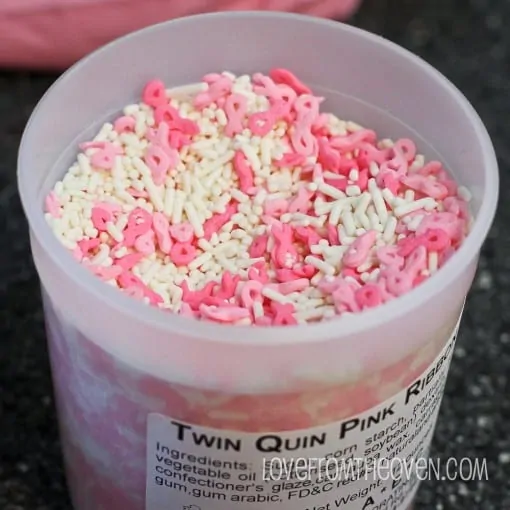 I get my sprinkles from my local baking supply, ABC Cake Decorating Supplies, and they are also available on Amazon. I simply layered my jars with cupcakes, frosting & sprinkles two times.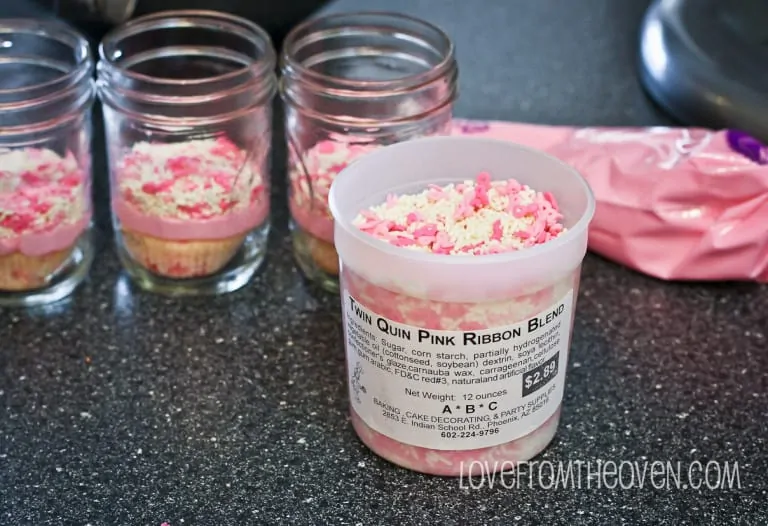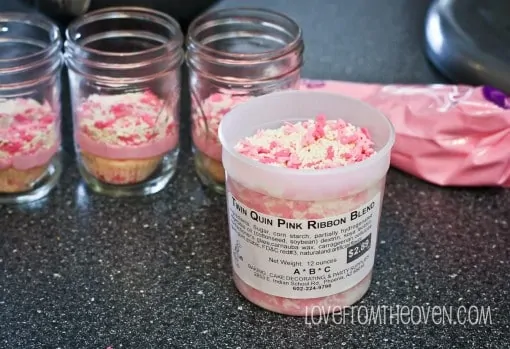 I could have added a third cupcake, but I wanted to be able to put the lids on the jars, so two worked out nicely. The pink sugar ribbon that is standing up for the photo, is laid flat on top of the frosting to close the jars.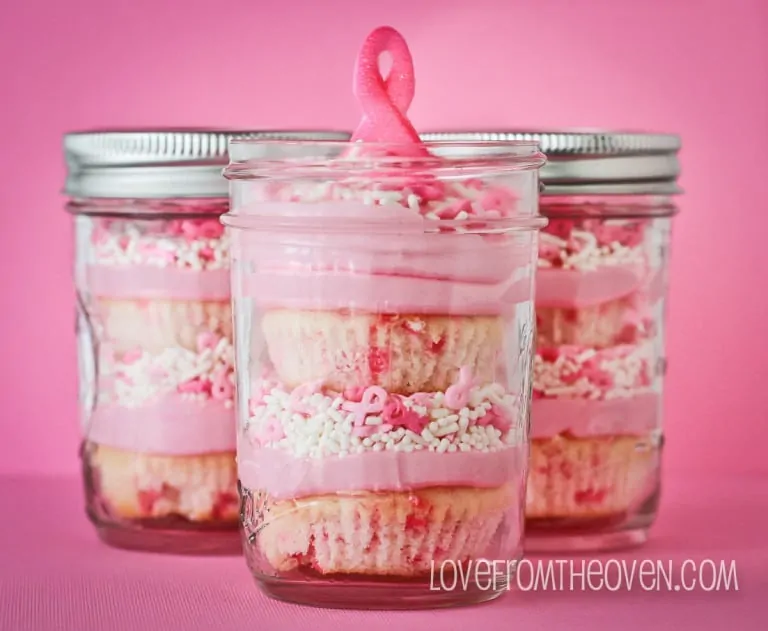 The pink ribbon sugar decoration I used is also from ABC Cake Decorating Supplies, and can also be found on Amazon. These would be great for a Breast Cancer Awareness fundraiser or bake sale.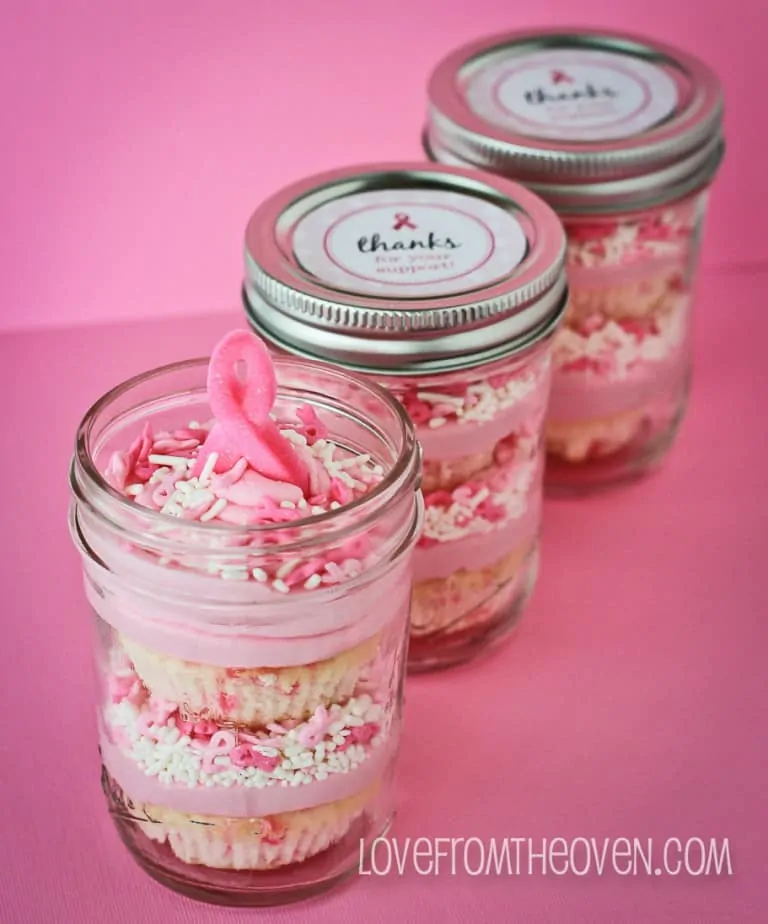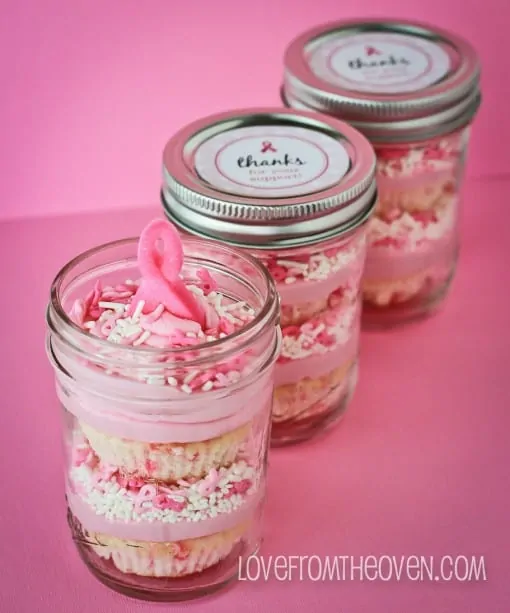 The sweet thank you printables I put on top of the jars are part of an amazing free Breast Cancer Awareness printable set over at Chickabug. I used these darling printables last year with my Pink Ribbon Pink Velvet Cupcakes.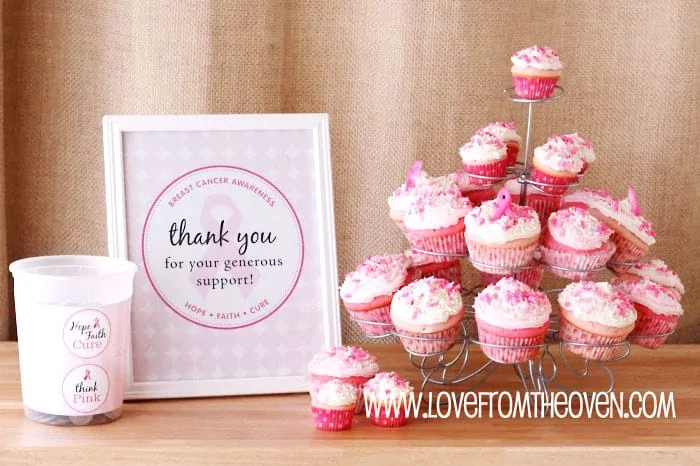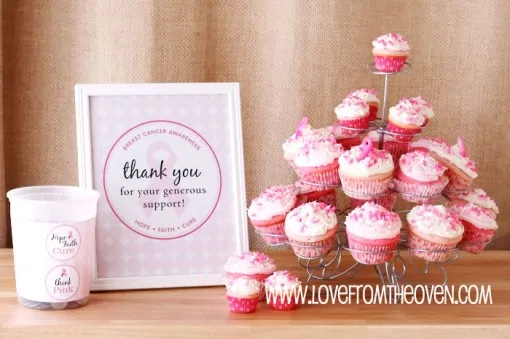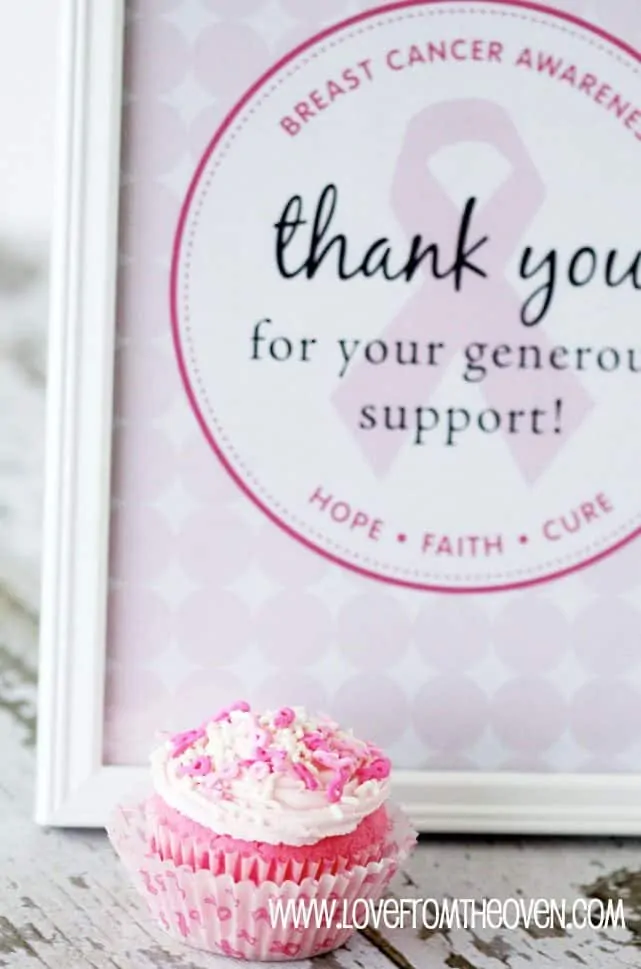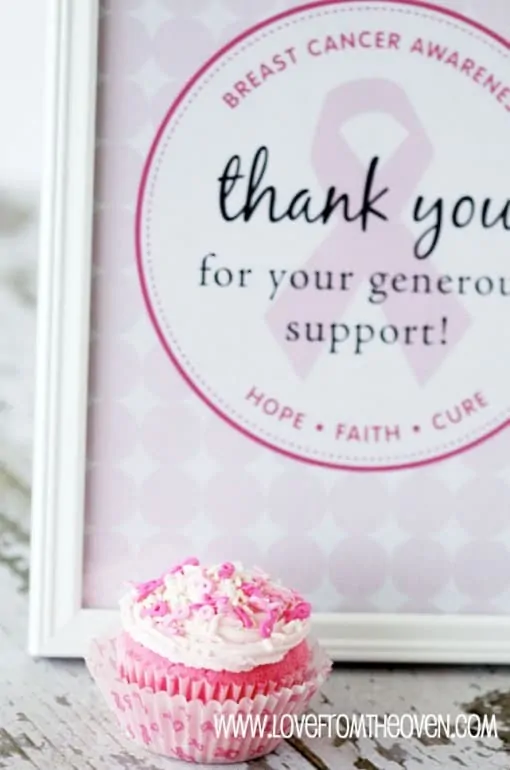 And also used them with my Pink Ribbon Cupcake Cake Pops.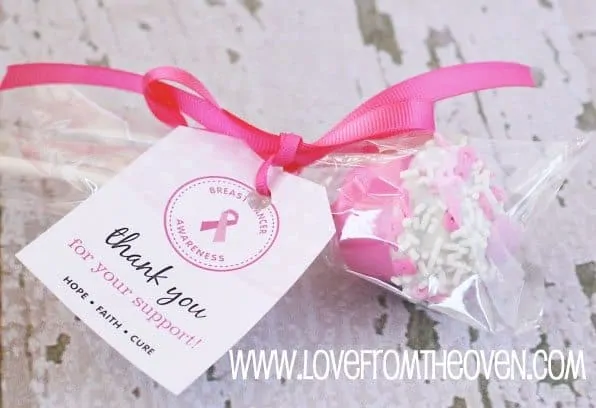 Love love love that printable set – such a fabulous fundraising tool – Heather at Chickabug did an awesome job on it. I have some other fun ideas I'm working on that hopefully will be a great addition to any Breast Cancer Awareness fundraisers or even just nice pick me ups for those who may be out doing walks, races or other events.