Each year a dear friend of mine participates in the Susan G. Komen Race For The Cure in Phoenix to raise money in the fight against breast cancer.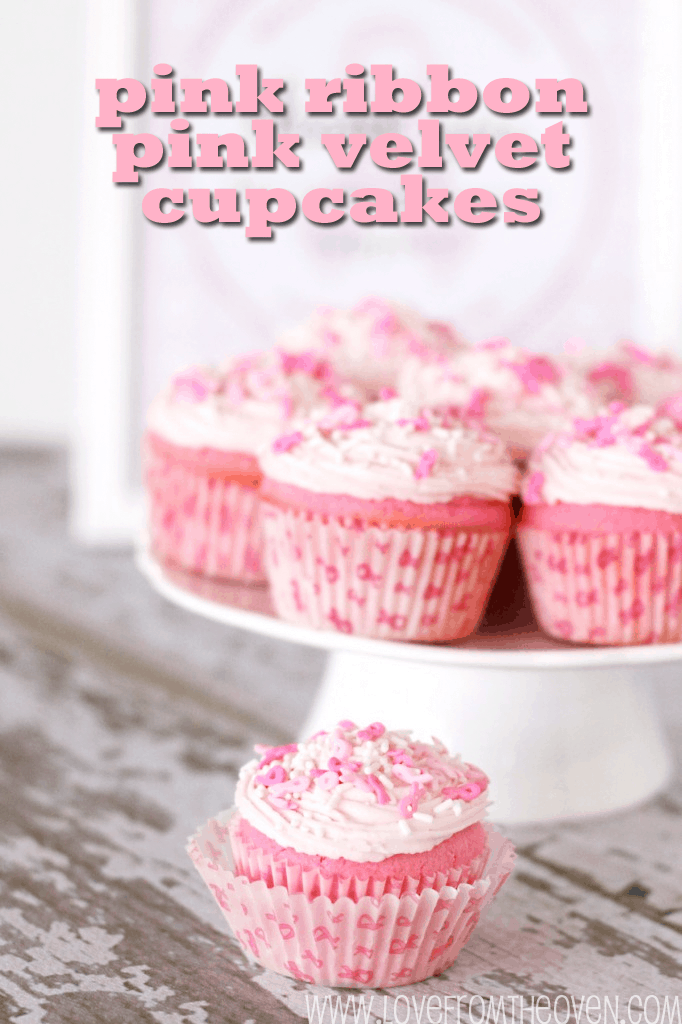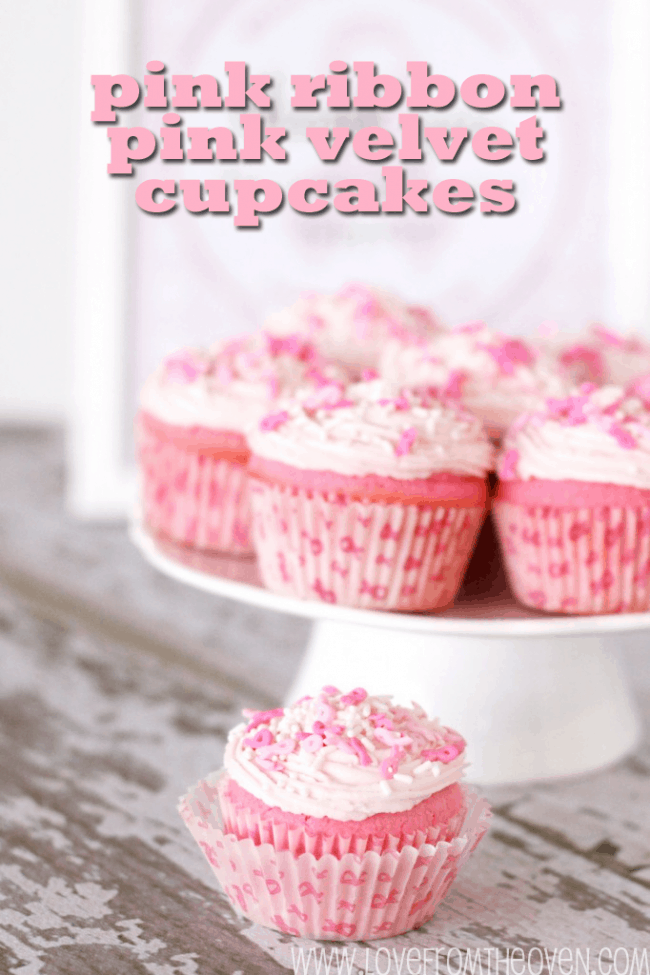 To help her out with her fundraising this year, I thought I would create some sweet treats that she could share to say "thank you" to those who are donating. The first sweet pink treat is…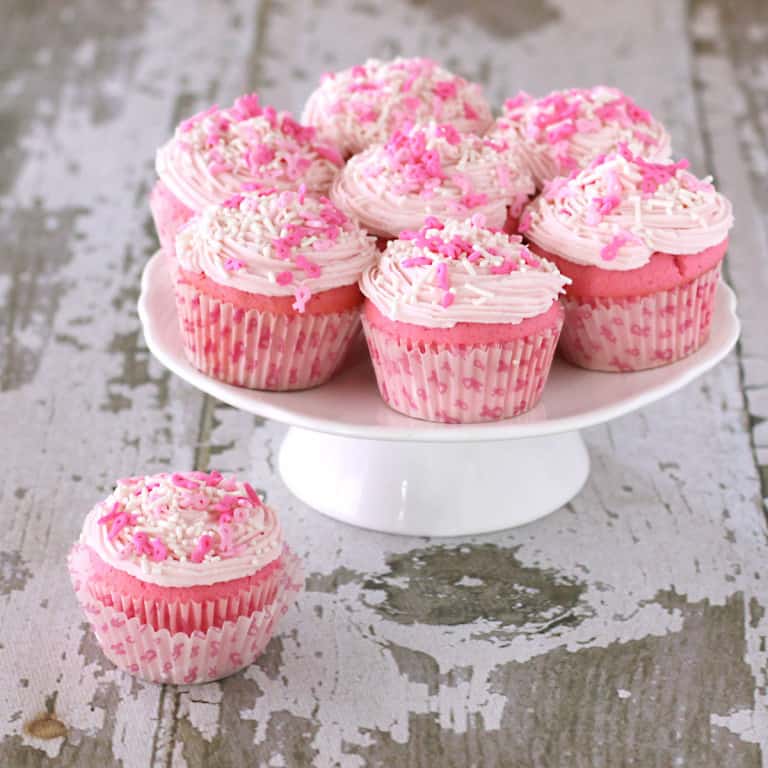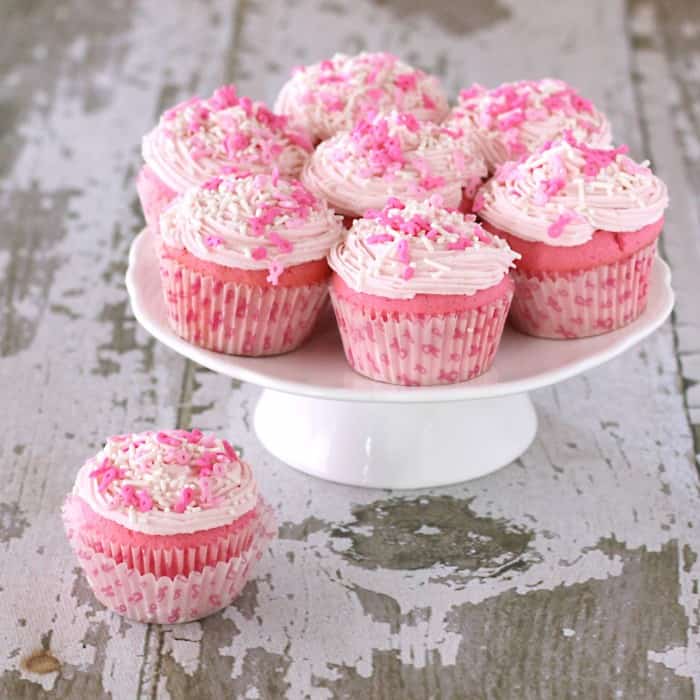 Pink Ribbon Pink Velvet Cupcakes. This recipe is made even sweeter by using Pink Ribbon cupcake liners and Pink Ribbon sprinkles.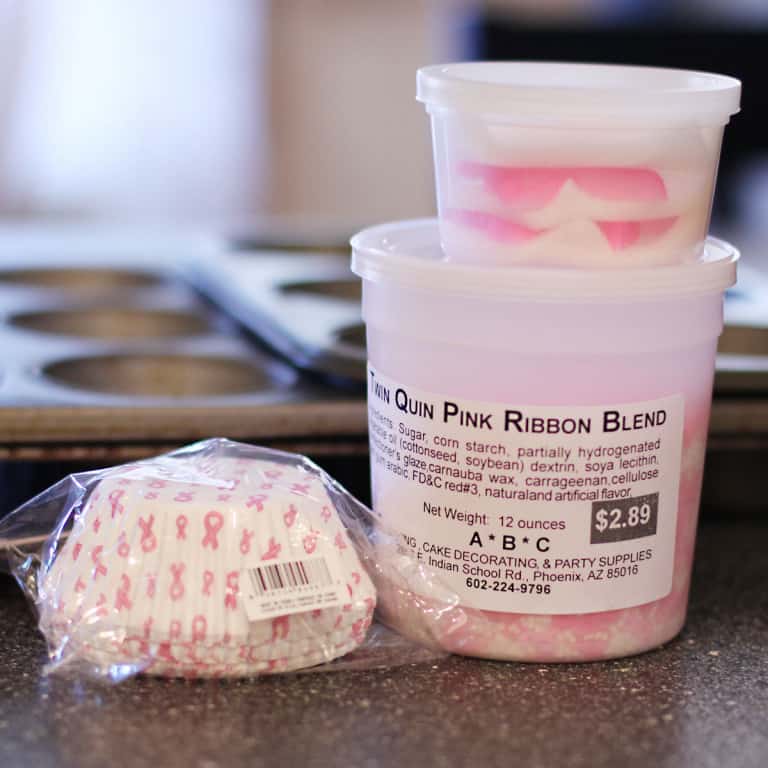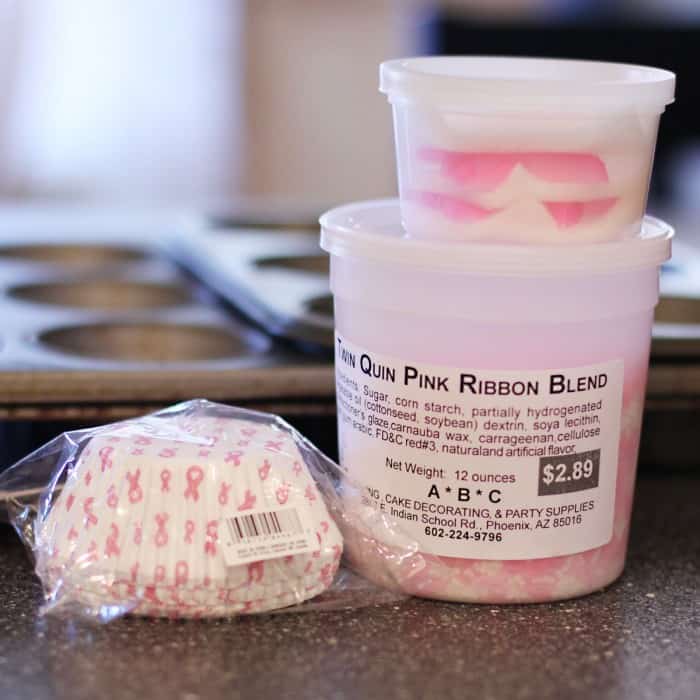 And to make it even better, Chickabug has the MOST amazing Breast Cancer Awareness printables available to help with fundraising, and the printables are free. It's a 44 page monster of a set, with signs, donation cards, note cards, water bottle labels, cupcake wrappers, candy bar wrappers, treat bag labels, banners and more. I put one of the signs in a simple white frame and love how it looks.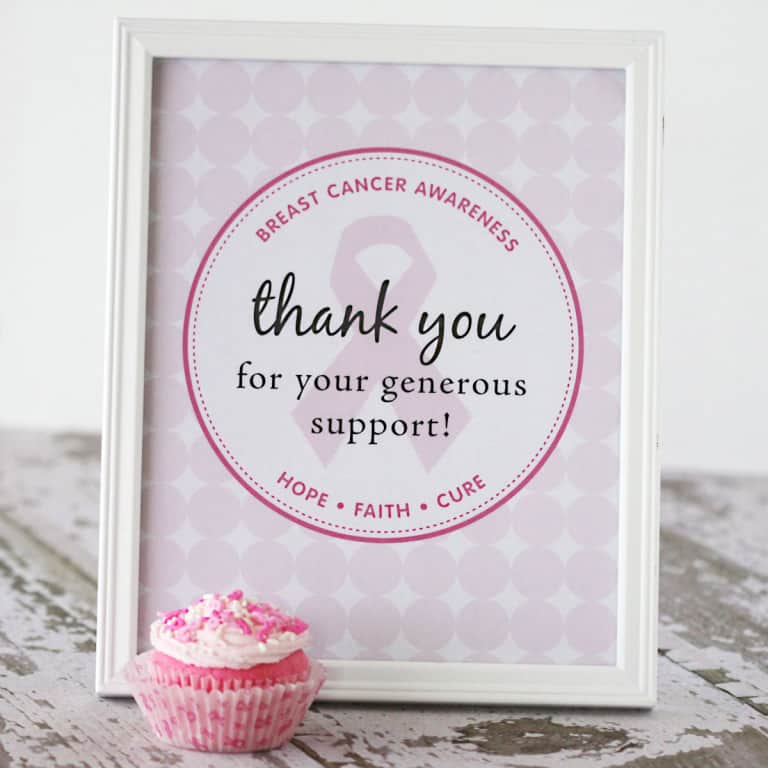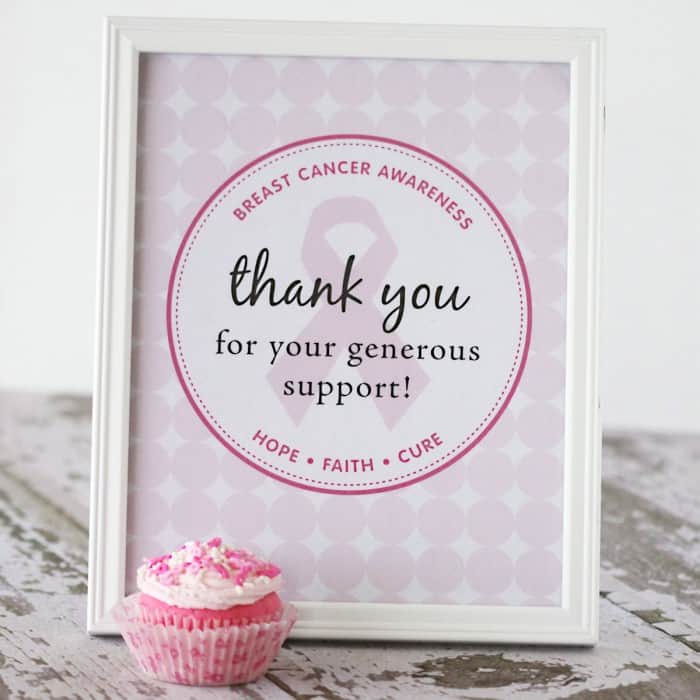 Check out this amazing set over at Chickabug. What a fabulous asset to those who are fundraising!
Using a second printable, I created a donation jar to sit next to her cupcakes.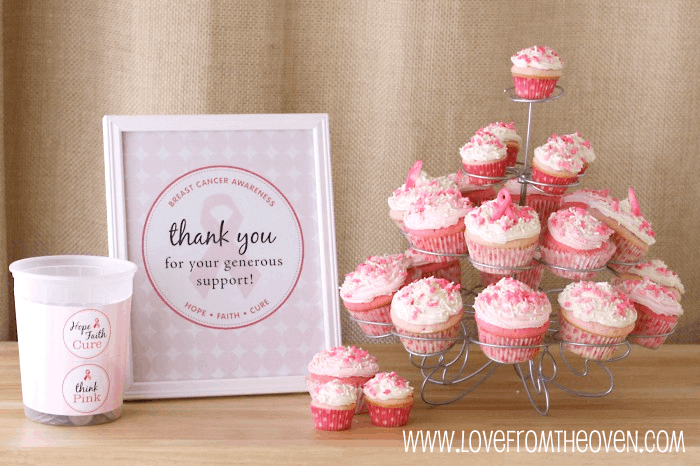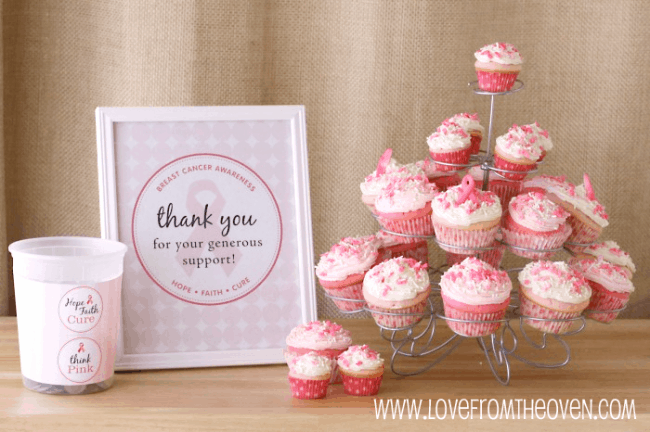 I made two batches of cupcakes, a hot pink batch with light pink frosting and a light pink batch with white frosting. Both with the darling pink ribbon sprinkles. Here is the recipe…
Pink Velvet Cupcake Recipe
Makes approx 24 cupcakes
Click here to download printable copy of this recipe
Preheat Oven to 350 Degrees F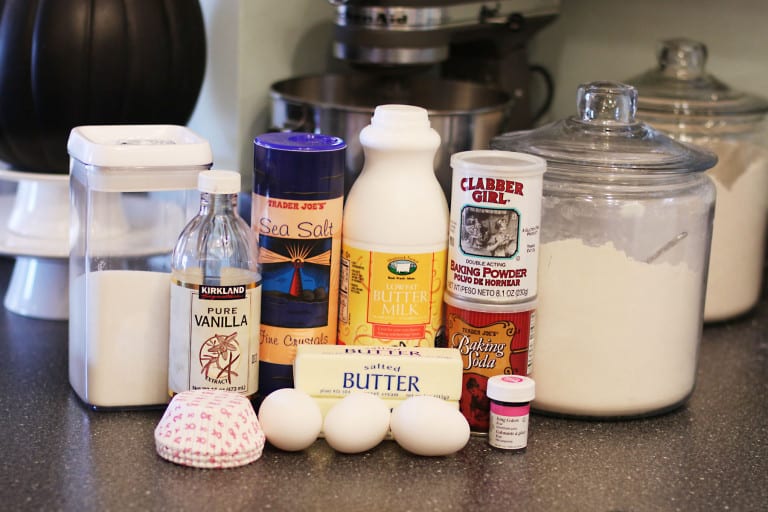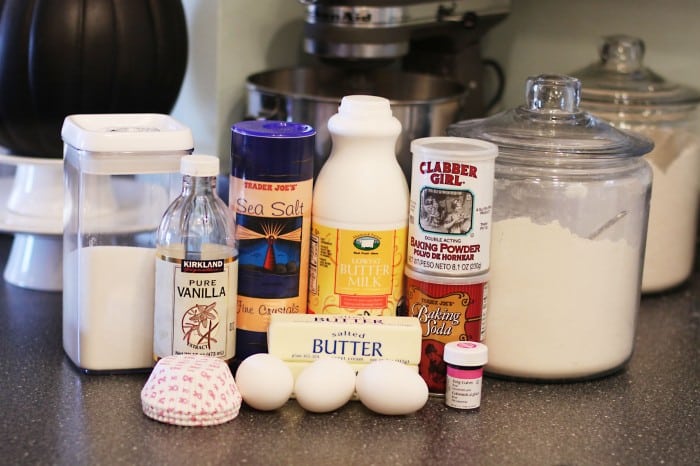 Ingredients
1 cup of butter softened
1 1/3 cups sugar
Pink food coloring
3 eggs
2 tsp vanilla extract
2 1/2 cups all purpose flour
1 1/2 teaspoons baking powder
1/4 teaspoon baking soda
1/2 teaspoon salt
1 cup buttermilk
In a large bowl, cream together butter and sugar. Once light and fluffy add your pink food coloring. Start with a small amount and increase to reach your desired shade of pink. Blend well with butter and sugar.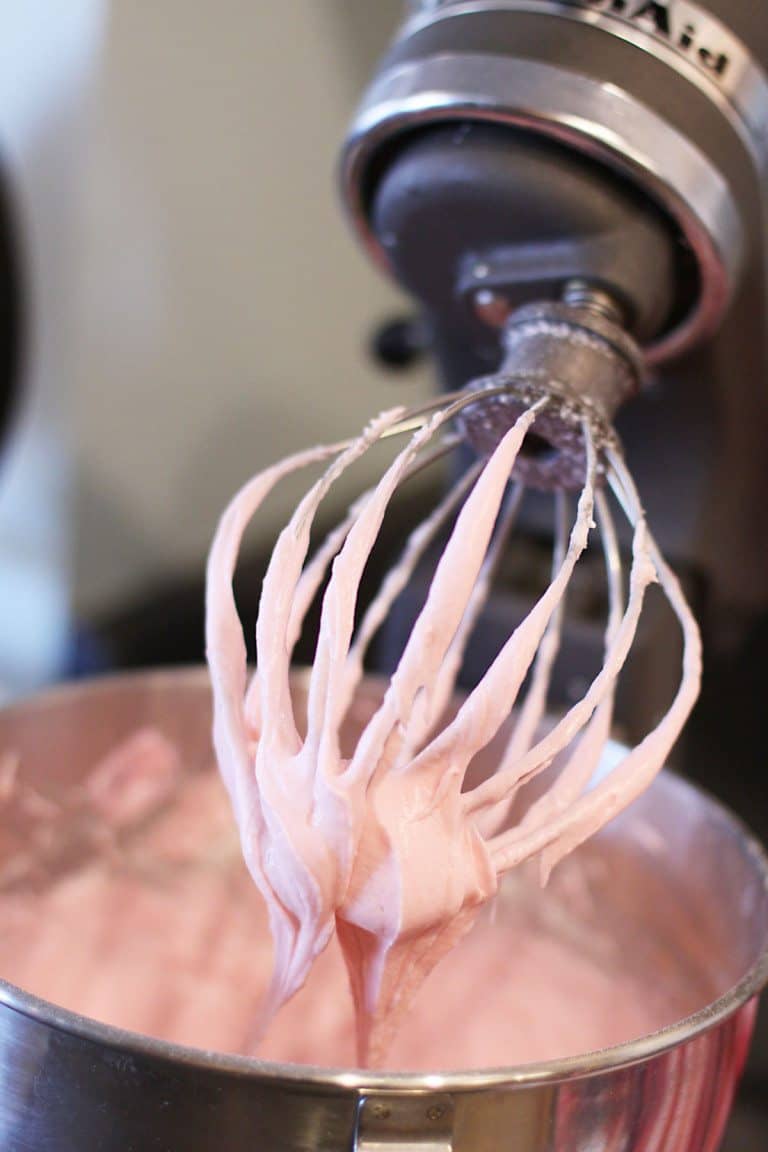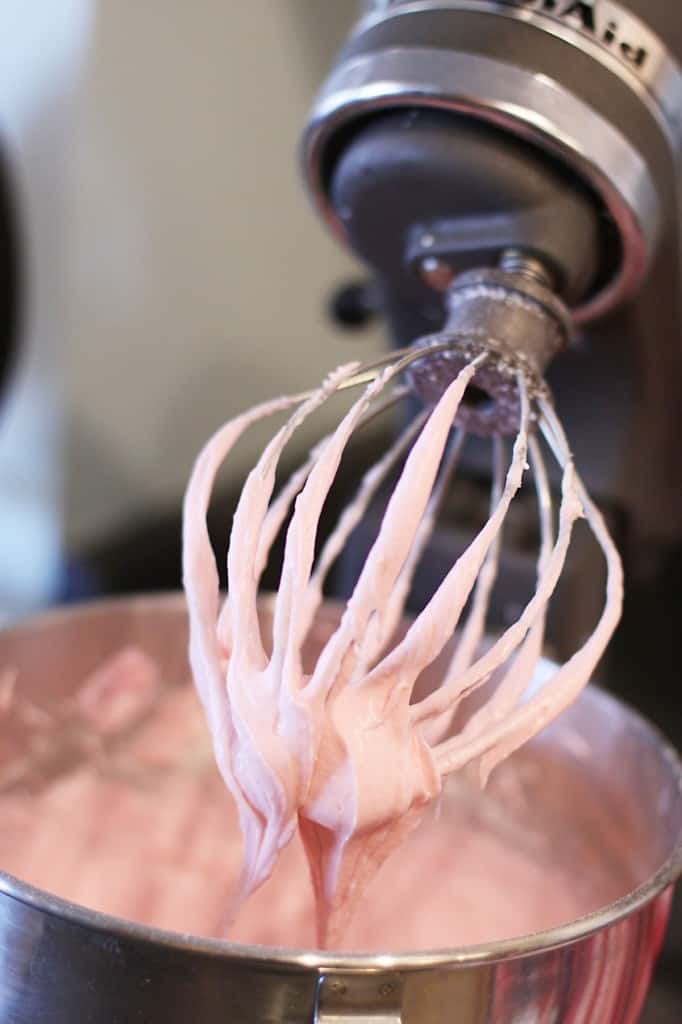 Add in eggs, one at a time, beating well after each addition. Add in vanilla and beat well.
Combine the flour, baking powder, baking soda and salt in a separate bowl. Add 1/3 of the dry ingredients to the batter and beat until well combined. Add in 1/2 of the butter milk, beat until combined, followed by another 1/3 of the dry, then the remaining buttermilk and finally the remaining dry ingredients. The batter may look a bit lumpy after buttermilk is first added, but beat well and it will combine nicely.
Fill paper lined muffin cups two-thirds full and bake at 350 degrees for approx 20-25 minutes or until a toothpick inserted into the center comes out clean. Watch the cupcakes closely in the last few minutes of baking so that they do not over brown. Allow to cool for ten minutes before removing from pan, then transfer to a wire rack to finish cooling.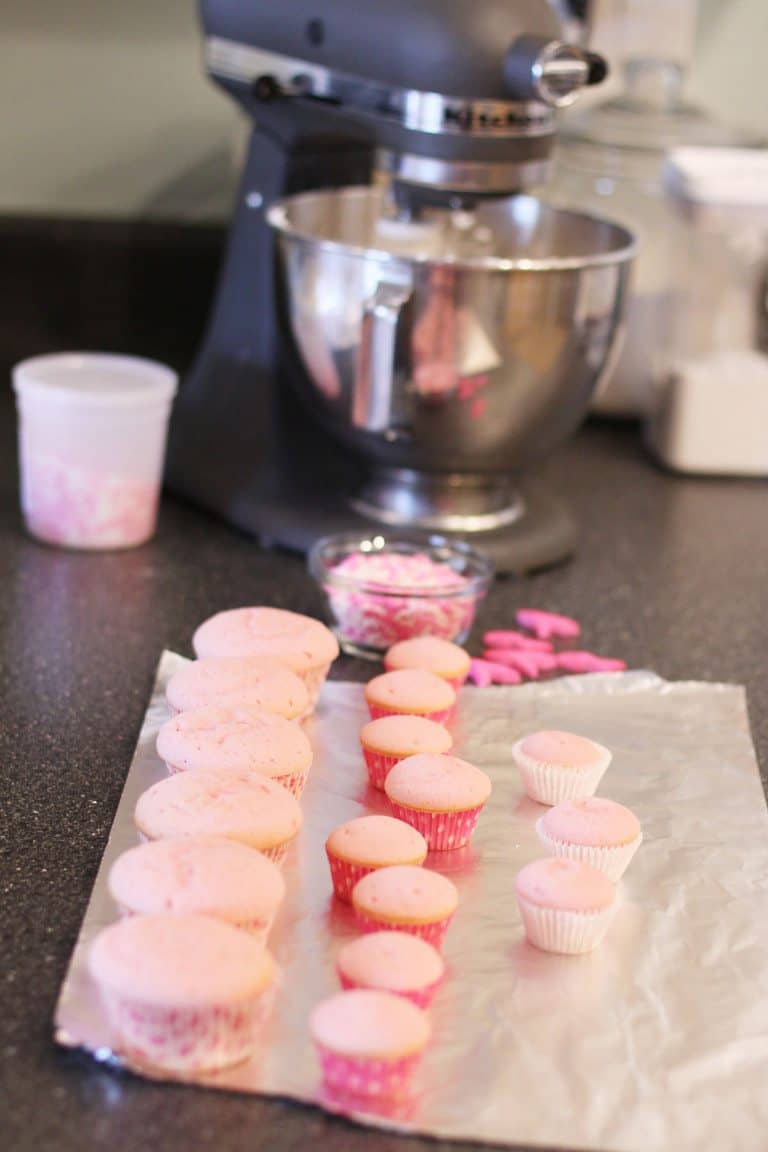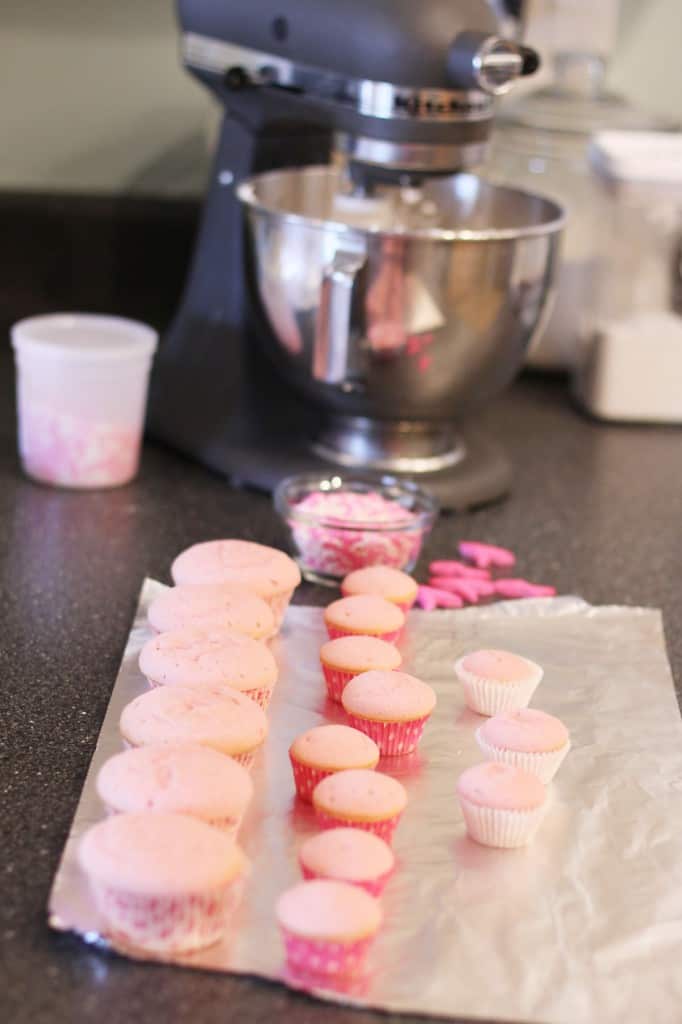 For your frosting you can use your favorite cream cheese recipe, though I opted for a buttercream, knowing the cupcakes would be sitting at room temperature, and that always makes me a bit nervous with cream cheese. Here is my basic buttercream recipe…
My Favorite Buttercream Recipe
1 stick of butter softened
2 tablespoons of Crisco (you can add more butter instead of Crisco)
1 two pound bag of powdered confectioners sugar
2 teaspoons of vanilla
1 teaspoon of salt
Whipping cream
Blend your butter, Crisco and vanilla together, adding in the powdered sugar and salt. The mixture will be very dry. Slow start adding your whipping cream, about one tablespoon at a time, until you reach the desired consistency. I find that I prefer my frosting firmer for some recipes and softer for others, so I do not have a standard amount of whipping cream that I use. Once you have reached the desired consistency, beat for 1-2 minutes until light and fluffy.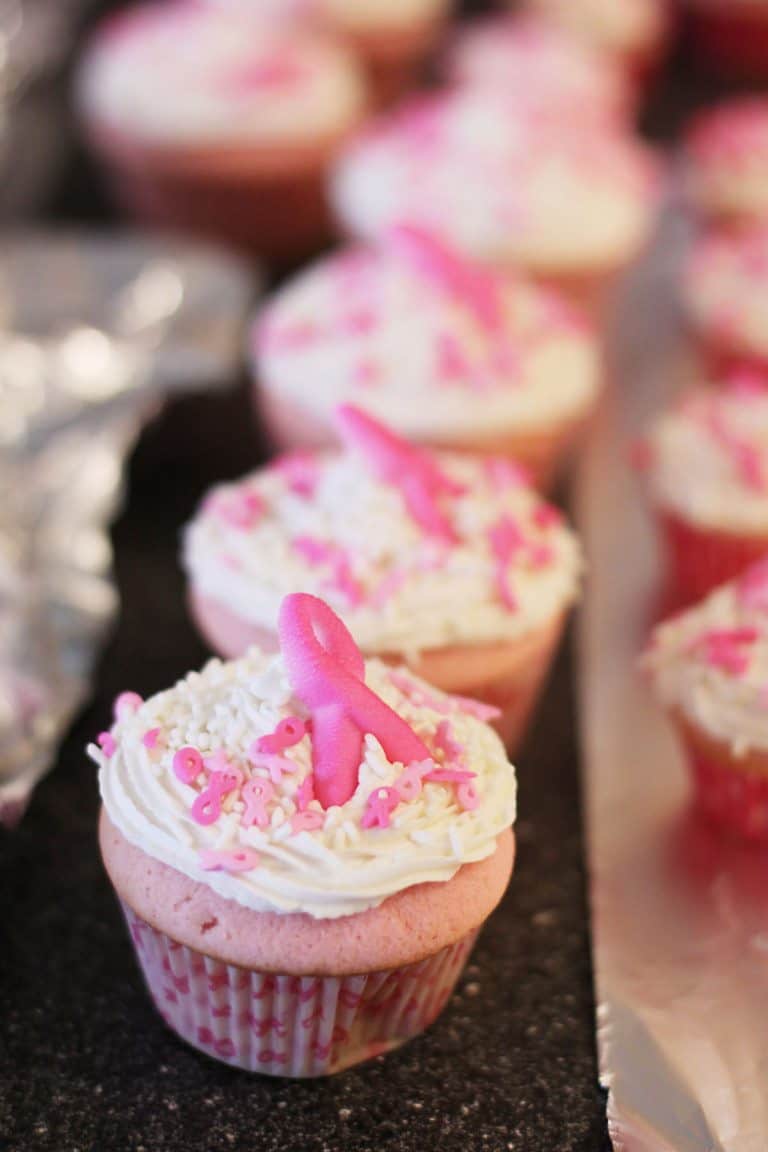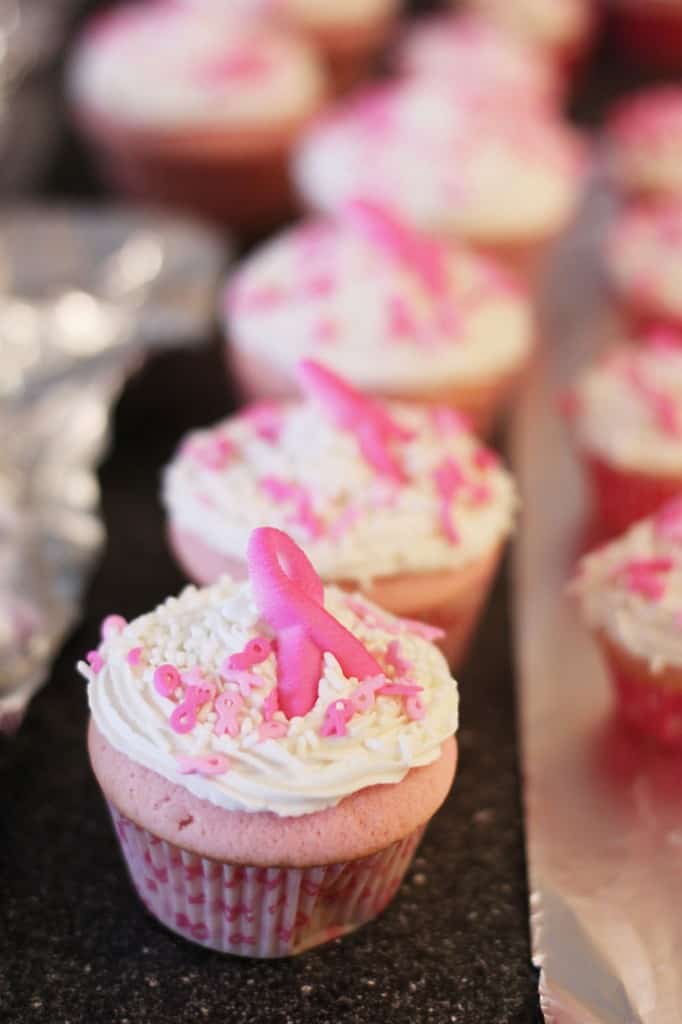 Now you have a sweet treat that is perfect for a bake sale, fundraiser or however you are helping to raise funds for Susan G. Komen For The Cure.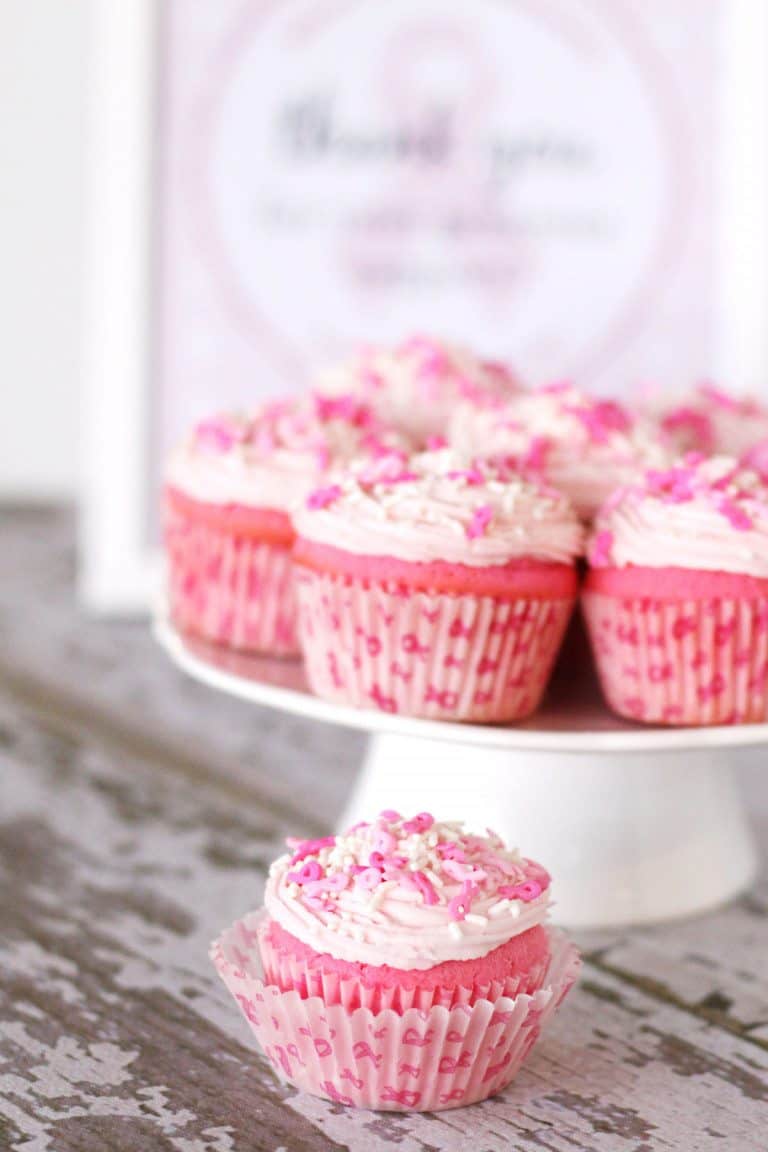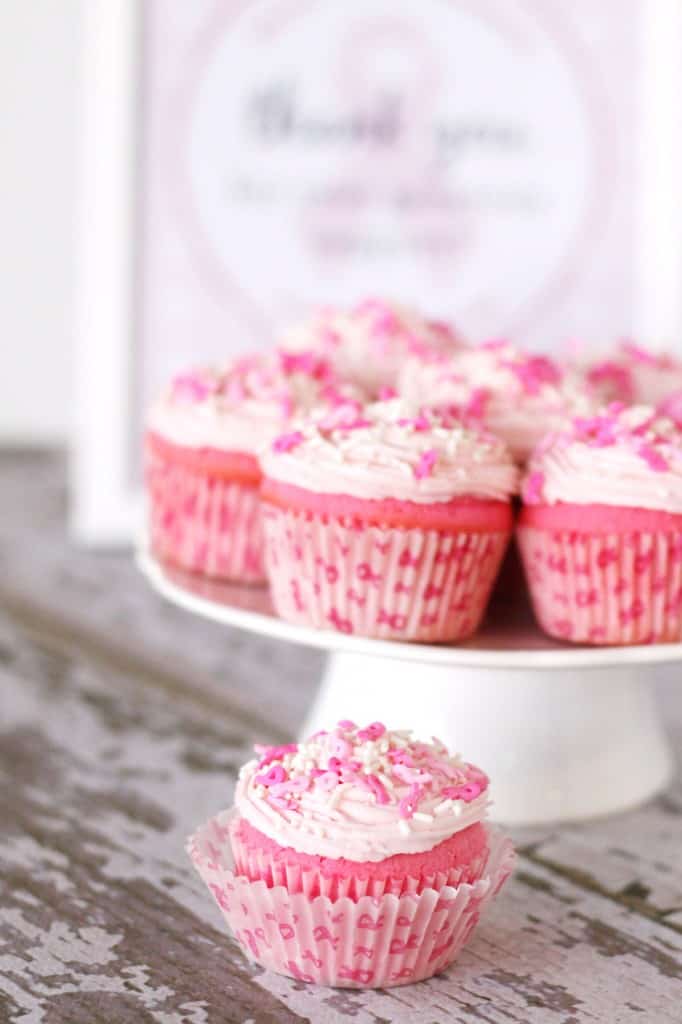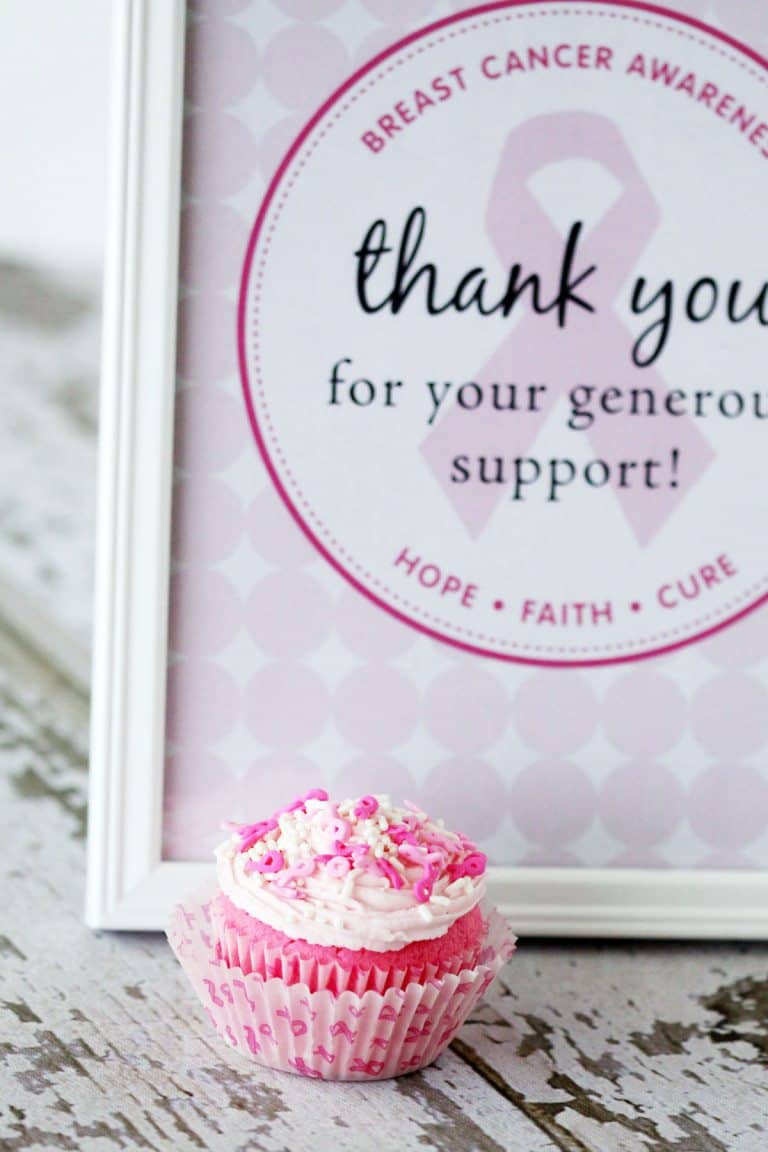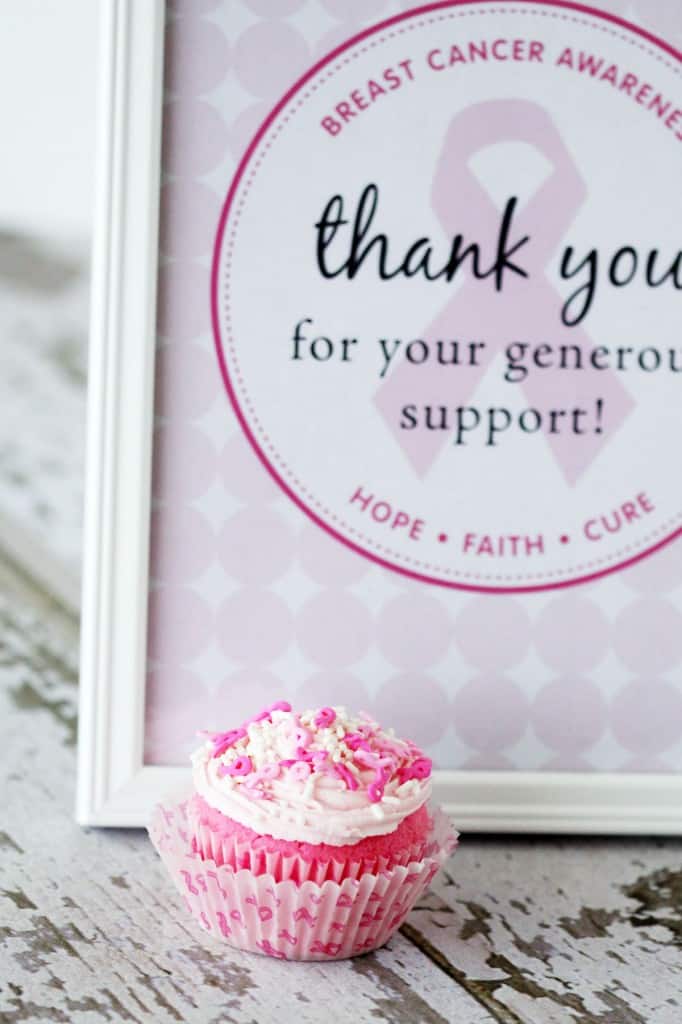 Check back next week for a few more pink ribbon themed fundraiser sweets and treats!