This weekend we will be celebrating my Grandfather's 90th Birthday and I took on the task of creating the desserts for the event.  I wanted to try some new recipes, and work with some flavors that made me think of fall (I'm kind of desperate for fall right now).   I whipped up three kinds of cupcakes, Pecan Pie Cupcakes, Snickerdoodle Cupcakes & Pumpkin Pie Cupcakes.  Everyone in my house had a different favorite, my husband liked the Pecan Pie ones, my daughter the Snickerdoodle cupcakes and I loved the Pumpkin Pie cupcakes.  Today I will share my favorite with you – the Pumpkin Pie Cupcakes.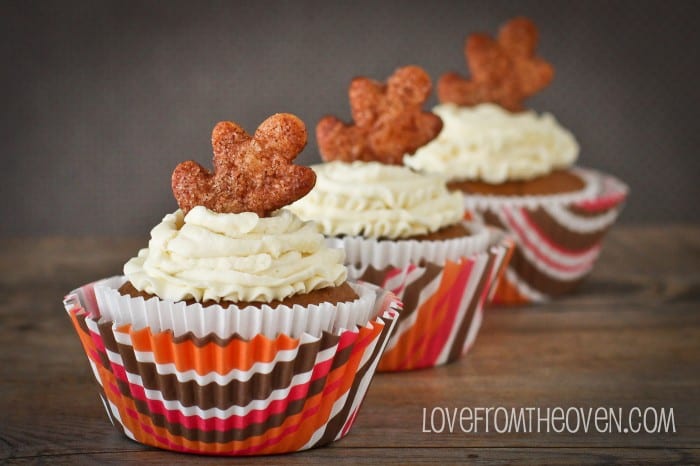 I was a bit worried that these would simply taste like pumpkin muffins and I was thrilled that they did not.  They also really do manage to have a pumpkin pie flavor to them.      As I often do with cakes and cupcakes, I started with a cake mix.  While I make most things from scratch, most of the time I find that a doctored cake mix cake turns out just as well (if not better) than my homemade cakes.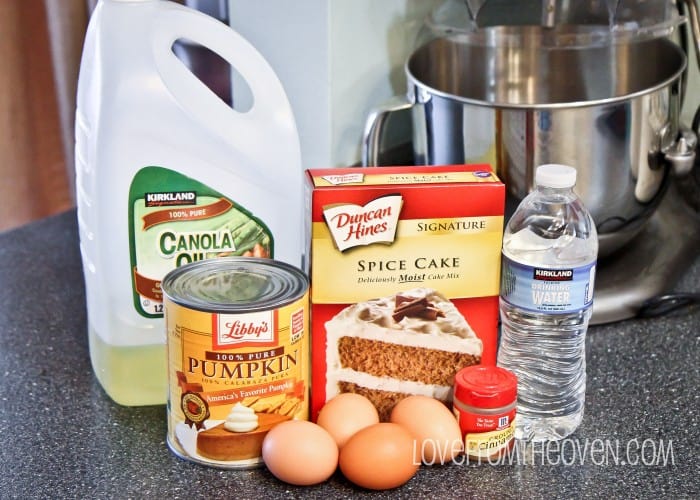 While these were delicious straight out of the oven, obviously a cupcake needs frosting.  I really went back and forth on this, wondering if I should have a pumpkin flavored frosting.   I decided to go with a whipped cream style frosting, as that's what I think of when I think of pumpkin pie.   While I usually top my cupcakes with sprinkles, given the special event that these are for, I wanted something a bit different and ended up cutting leaf shapes out of pie crust (the boxed kind you can find in the fridge case at the store).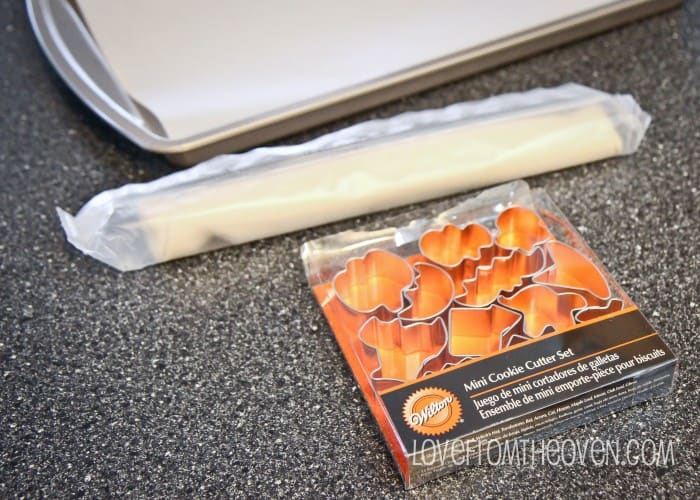 I found the cookie cutters on Amazon.   They are about 1.5-2″ in size and were absolutely perfect for this.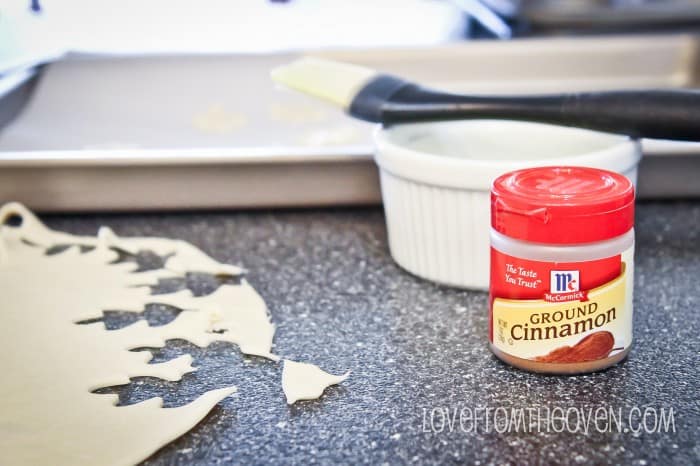 After cutting the leaves out, I placed them on parchment paper.  Do NOT skip this step – trust me.  I then brushed them with melted butter and sprinkled cinnamon and sugar on them.  I baked them for about five minutes – you have to watch them very closely, not a put in the oven and walk away type of thing.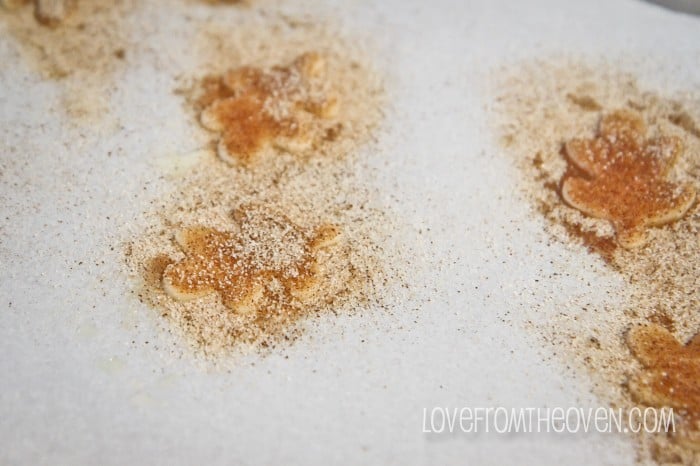 The leaves worked out really well. I may have to try this with other toppings, I love how they turned out.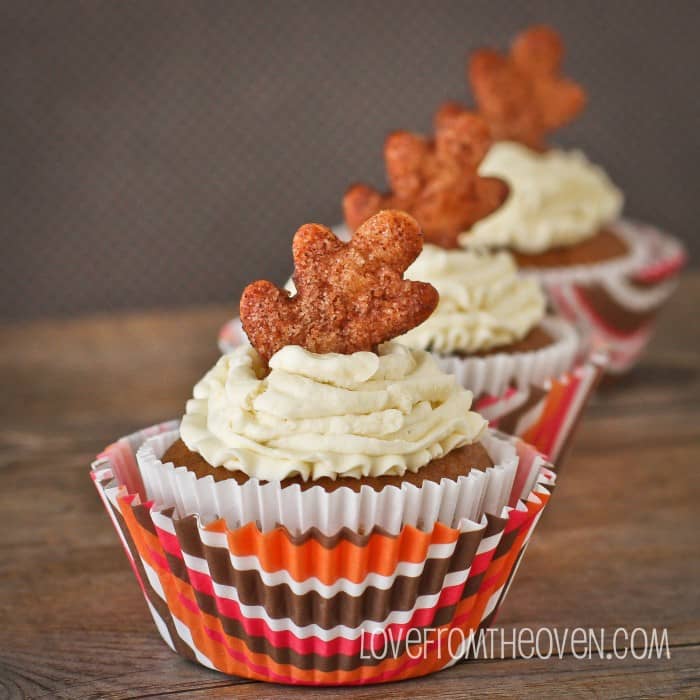 So yummy.  I think these will be come a regular fall cupcake for me.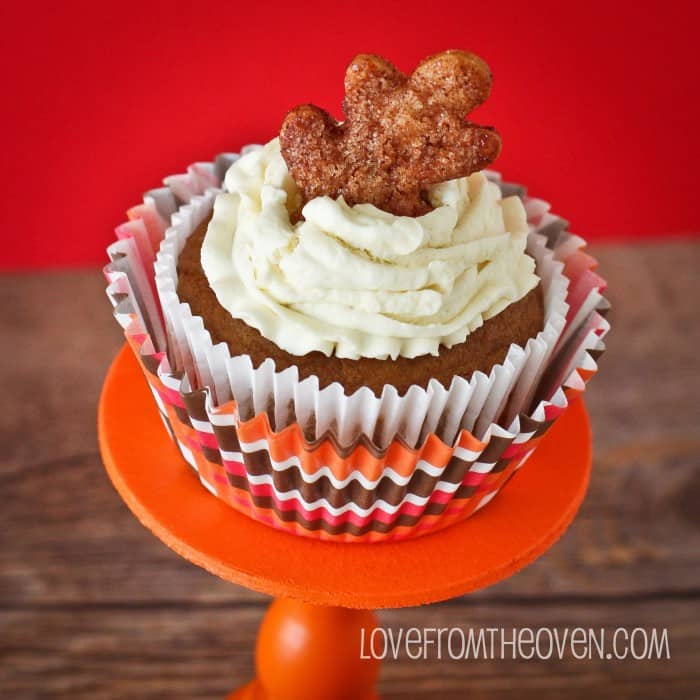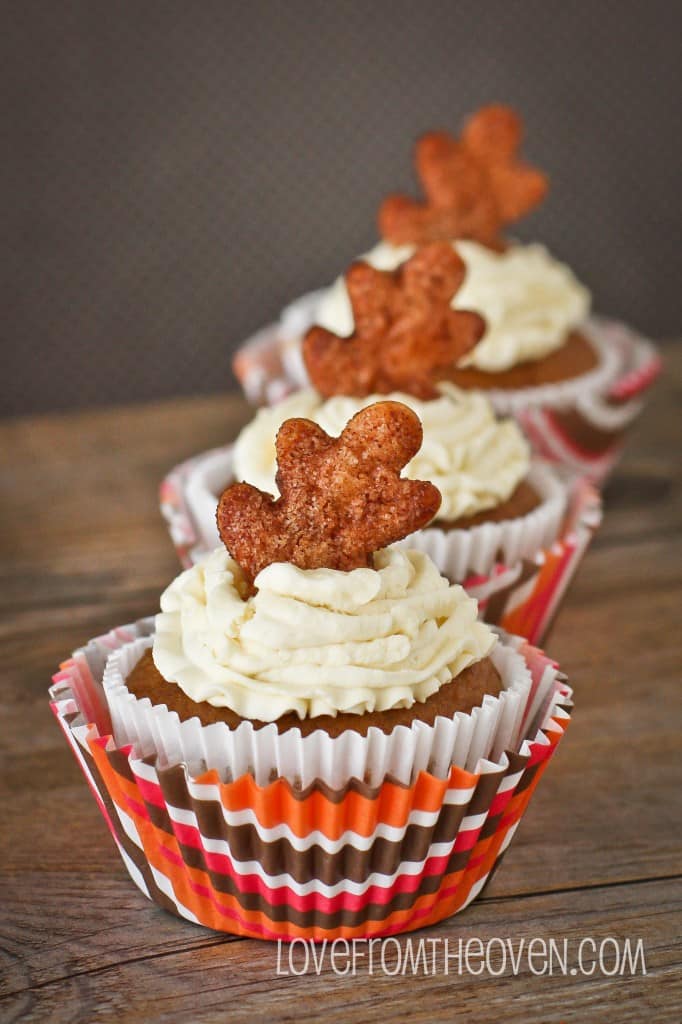 You can find the mini leaf cutters here!

Ingredients
1 box Duncan Hines Spice Cake Mix
1/2 cup water
1/3 cup vegetable oil (you might be able to substitute applesauce for the oil)
1 cup canned pumpkin
4 eggs
2 teaspoons cinnamon
Instructions
Preheat your oven to 325 degrees. Place 24 cupcake liners in cupcake pans.
In a large bowl, combine cake mix, water, eggs, oil, pumpkin and cinnamon. Once all ingredients are combined, mix on medium speed for two minutes.
Fill cupcake liners with batter.
Bake for 17-22 minutes or until tops spring back lightly when touched.
Remove from oven and let cool on rack.
Frost with frosting of choice.
https://www.lovefromtheoven.com/pumpkin-pie-cupcakes/
Ingredients
2 cups heavy whipping cream
1/3 cups powdered sugar
2 tsp vanilla extract
dash of salt (optional)
Instructions
Chill your mixing bowl and mixing paddles or whisk in your fridge or freezer.
Once chilled, whip your cream with an electric mixer until it starts to thicken, then add in powdered sugar. Once combined, add in vanilla. Do not over mix, you just want to get it to a soft peak consistency that looks like whipped cream. Chilling for a bit will help if you want to pipe your whipped cream onto your dessert. Store in the refrigerator.
https://www.lovefromtheoven.com/pumpkin-pie-cupcakes/
Enjoy!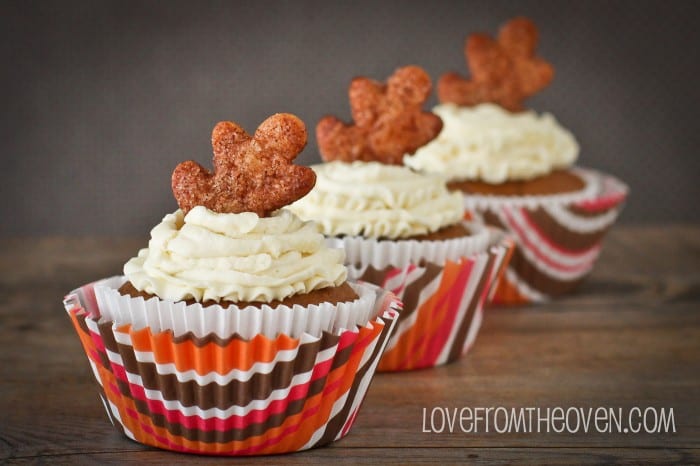 Pumpkin Pie Cupcakes