I'm ready for pumpkin, apples, cinnamon, caramel, you name it, I'm ready to bake it, starting with these pumpkin cupcakes with caramel cream cheese frosting! I always feel like if I just start baking for fall, fall will come. Fall is my favorite time of the year, probably like spring in colder climates – finally a break from our heat and a return to being outdoors. I love everything about fall, especially  the fabulous flavors. This weekend I made one of our all time fall favorites, pumpkin cupcakes with caramel cream cheese frosting. If you love pumpkin, put these on your baking list. They are DELISH!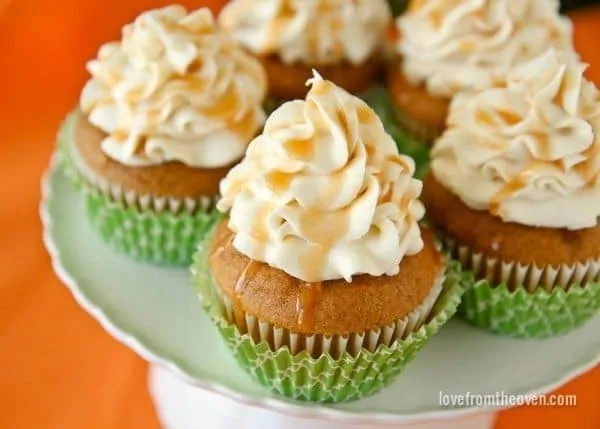 A few years ago we were having family over and I made a pumpkin cake. At the last minute I decided to drizzle some caramel sauce on it while it was still hot, like a poke cake, and it became legendary in this house.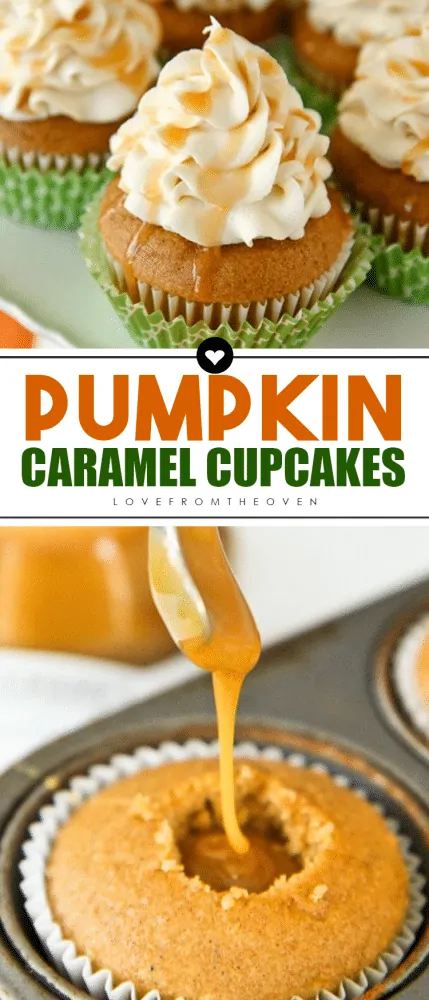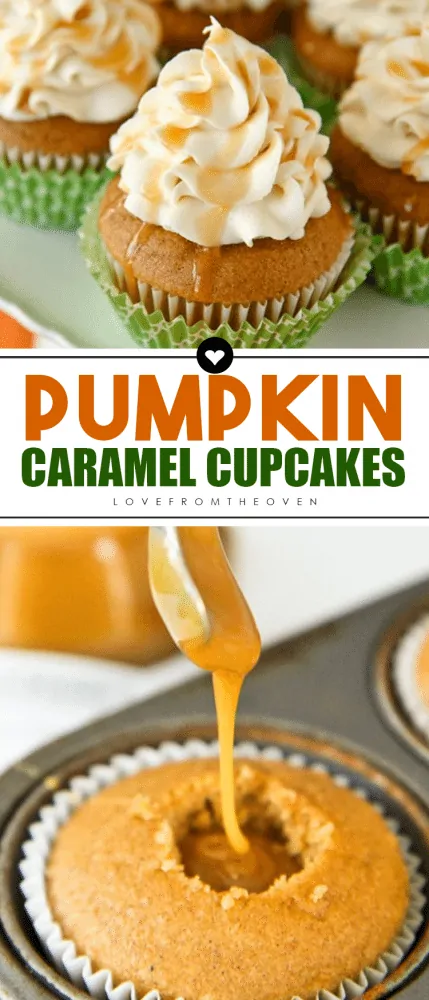 My daughter still talks about that cake two years later. The combo of pumpkin and caramel goes together so wonderfully, especially if you add the caramel sauce while the cake is hot, it sort of just seeps into the pumpkin cake. So if we can do it with cake, we can do it with cupcakes!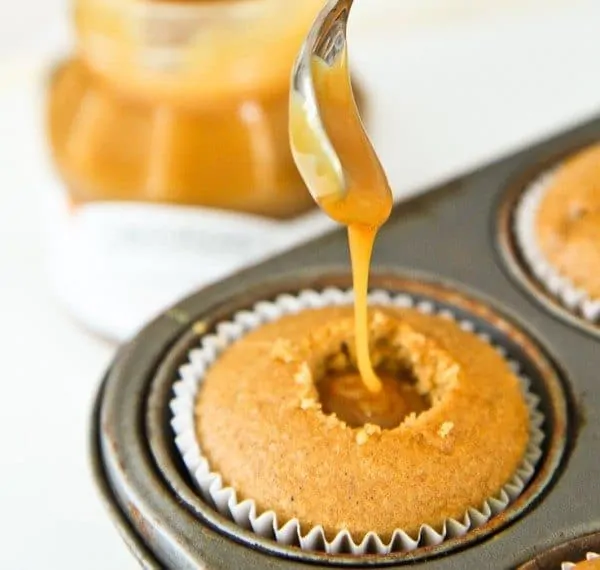 There are a few ways to do this. You can poke holes in your cupcake, which I do with a straw, or you can actually cut out a small section from the center, fill it with some caramel sauce, then place the top back on prior to frosting. Both ways are delicious, and honestly I don't notice a huge difference because the caramel basically melts into the cupcakes. I think the poke the hole method is probably quicker.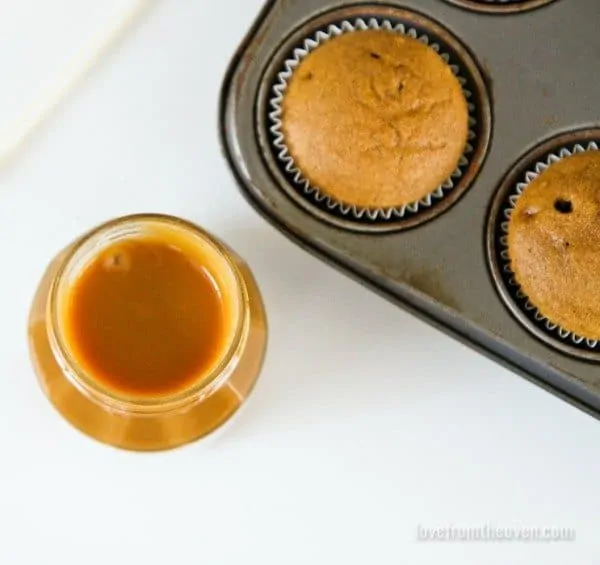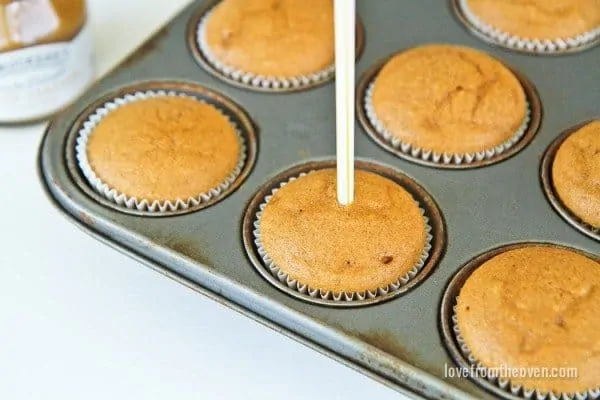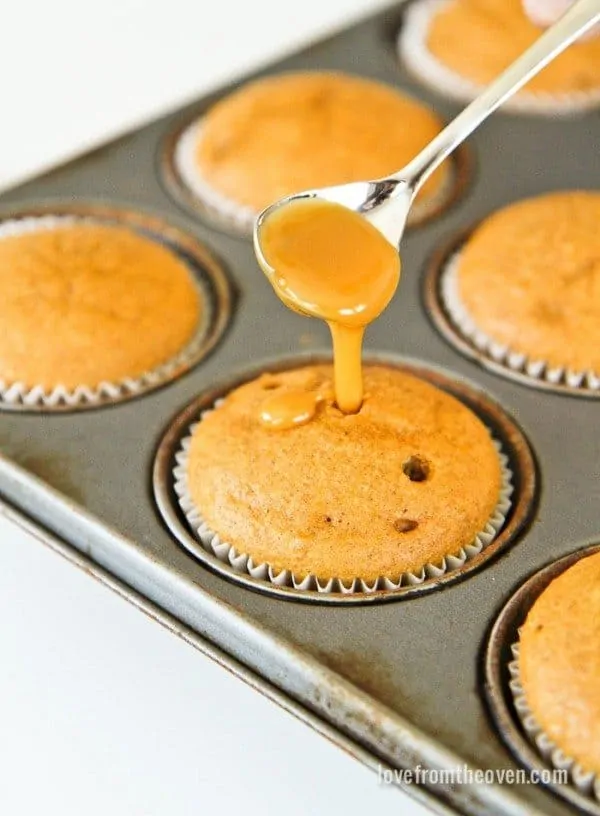 You can skip this part if you like. The cupcake will still be absolutely amazing – I promise, I actually make them without caramel quite a bit. But if you love caramel, you should go for it. I probably use about a teaspoon per cupcake, but honestly I just dip my spoon in and start drizzling, very unscientifically! Though do note, they can be a bit messy (hello, caramel!), so they end up being best eaten with a fork. If you need them to be neat and clean, you might want to skip the caramel part and just enjoy the caramel flavored frosting.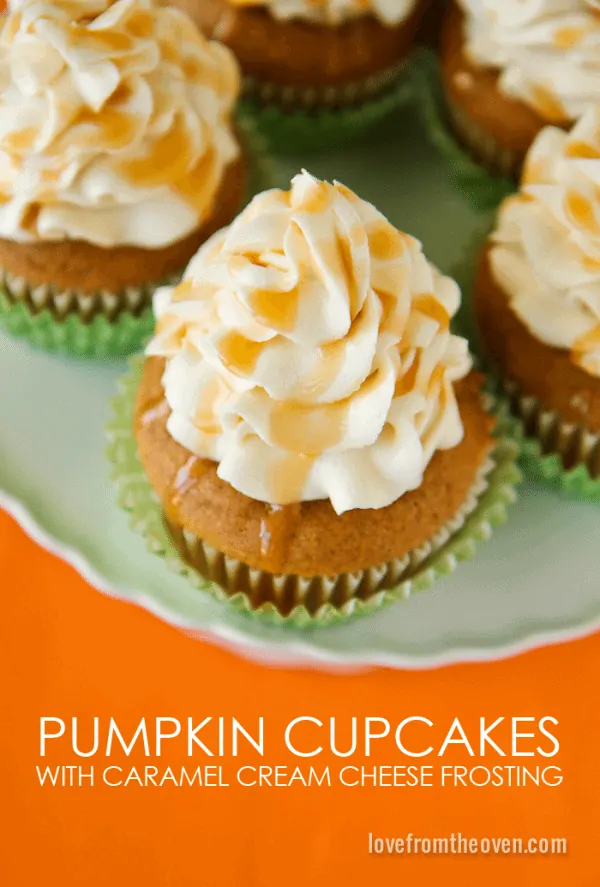 And this caramel cream cheese frosting. Whoa. It's good. I might have even saved some from this batch to serve warm over a dessert (if you have never heated up a cream cheese frosting, you are missing out, it's all kinds of amazing). What I love about this frosting is that it's not overpowering in flavor from cream cheese or caramel – it's mellow, not crazy birthday cake sugary sweet, and so delicious.
Pumpkin Cupcakes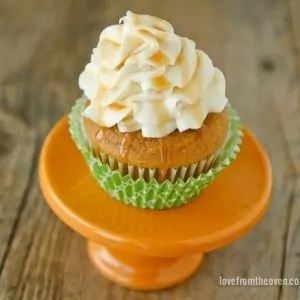 Pumpkin Cupcakes With Caramel Cream Cheese Frosting
A delicious blend of pumpkin, caramel and cream cheese, these pumpkin cupcakes are a perfect fall dessert.
Ingredients
Cupcakes
1

standard size box spice cake mix

I typically use Duncan Hines

1/2

cup

water

1/3

cup

vegetable oil

1

cup

canned pumpkin

4

eggs

2

teaspoons

cinnamon

1

tsp

pumpkin pie spice
Frosting
1

pkg.

8 oz. Cream Cheese, softened

1/2

cup

butter

softened

1

tsp.

vanilla

3 1/2 - 4

cups

powdered sugar

1/4

cup

caramel ice cream topping sauce

Pinch

of salt
Optional
Extra caramel sauce for drizzling onto cake and/or on to frosting.
Instructions
Cupcakes
Preheat your oven to 325 degrees. Place 24 cupcake liners in cupcake pans.

In a large bowl, combine cake mix, water, eggs, oil, pumpkin and cinnamon. Once all ingredients are combined, mix on medium speed for two minutes.

Fill cupcake liners with batter approximately 2/3 of the way full.

Bake for 17-22 minutes or until tops spring back lightly when touched.

Remove from oven and place on wire rack. If drizzling with frosting, use a knife, fork or even straw to poke 2-3 holes per cupcake, and drizzle caramel sauce over holes while cupcakes are still warm. Allow to cool completely prior to frosting.
Frosting
BEAT cream cheese, butter, caramel and vanilla in large bowl with mixer until blended. Gradually beat in sugar. Blend in salt. Spread or pipe onto cupcakes. Optional, garnish with a drizzle of caramel sauce and pinch of sea salt.

STORE cupcakes in refrigerator.
Disclaimer
Nutrition information is estimated as a courtesy. If using for medical purposes, please verify information using your own nutritional calculator. Percent Daily Values are based on a 2000 calorie diet.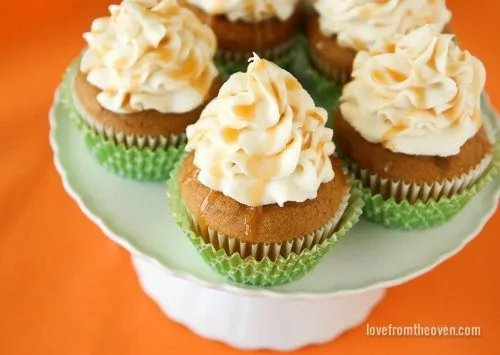 We love these! I always think of these as a bit more of a sophisticated cupcake flavor wise, as the adults always loves these every bit as much as the kids do. If you love pumpkin, I have lots of other great pumpkin recipes you might want to try!
Big news here at Love From The Oven, it looks like Amazon is shipping copies of my book, SMART COOKIE, a little earlier than expected. Those who have pre-ordered received notice this weekend that SMART COOKIE should arrive in their mailboxes on Friday. The pre-order price is still at $12, a great deal, so if you are thinking of ordering (or buying a few for Christmas gifts!) now is a great time to do so. Click here to order. I am so excited, I hope that everyone loves this book and has a lot of fun with it. It's pretty cool to see all of the things that you can do with store bought cookies! Every cookie you see below started out on a store shelf or bakery!