As much as I love cupcakes, I tend to steer clear of red velvet cupcakes. They are delicious, they can be pretty simple to make, but boy does that red food coloring scream MESS to me! Well I'm getting over my messy red velvet fears today to share a scrumptious red velvet cupcake recipe that is perfect for Star Wars fans wanting to celebrate the upcoming release of Star Wars: The Last Jedi on December 15th. I mean how fun are these!?!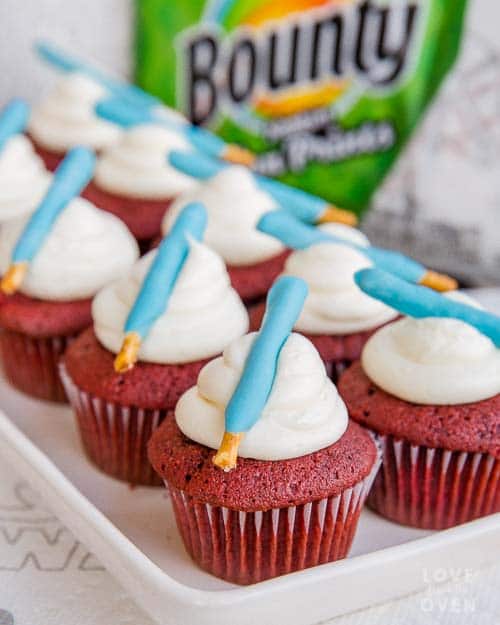 Don't get me wrong, I still think red velvet is about the messiest way you can go with cupcakes, but it's okay, my friends at Bounty have it covered. Check out these fun new Bounty with Star Wars prints Paper Towels and Quilted Napkins.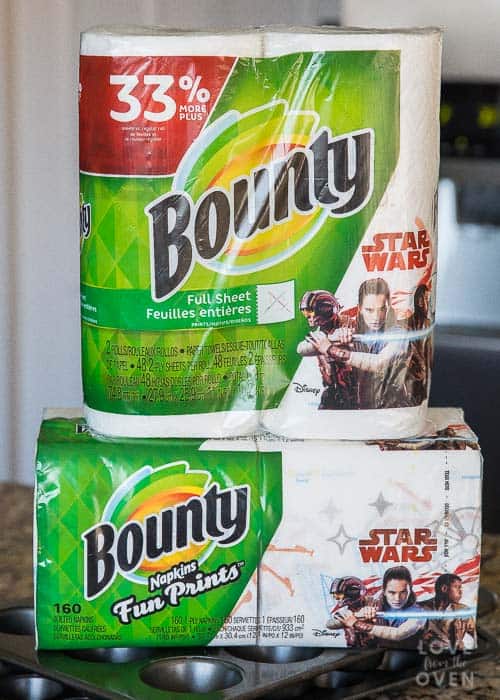 These paper towels are so fun! And what kid doesn't love an afternoon shack of fresh fruit with a little side of Star Wars?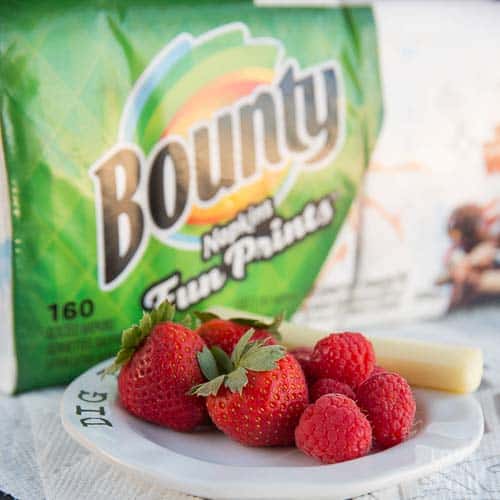 And these fun Bounty Prints are pretty darn perfect for cleaning up parties or special occasions with Red Velvet lightsaber cupcakes!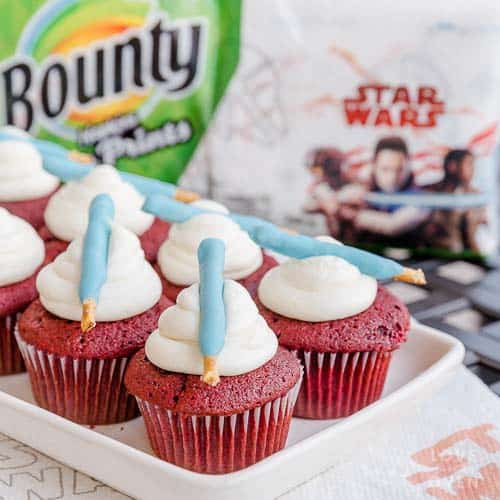 When my friends at Bounty told me that they had these fun Bounty with Star Wars prints Paper Towels and Quilted Napkins coming out, and asked if I would like to check them out and share them with you, I'll admit I was a pit perplexed as to what to make for this post. We're excited to learn more about Star Wars: The Last Jedi, which hits theaters December 15th. My Star Wars loving husband can't wait to learn more about the story of the new movie. I noticed one theme in every advertisement I've seen for the movie… red.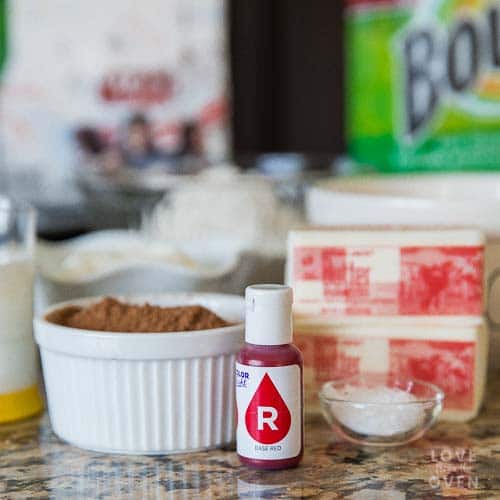 Lots of red. And that iconic blue lightsaber. Then it hit me, red velvet cupcakes topped with lightsabers. I love how easy these cupcakes are and how cute they turned out. And I love that I have new Bounty with Star Wars prints Paper Towels and Quilted Napkins to make clean-up even more exciting so that I can face my fears and break out the red food coloring!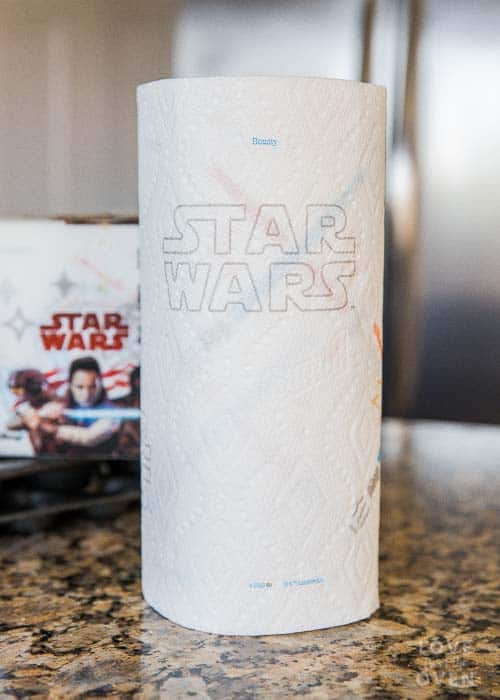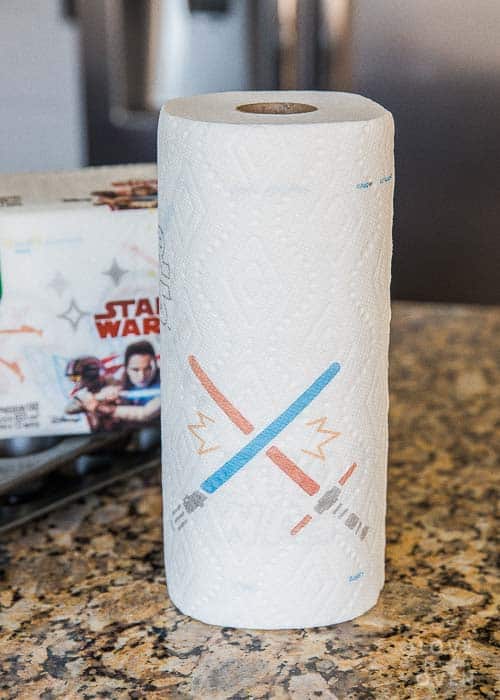 The new Bounty with Star Wars prints are here. May the Force be with you!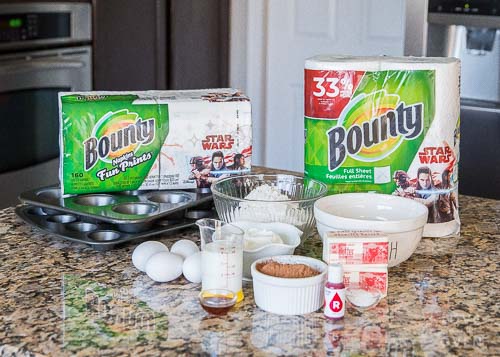 Star Wars: The Last Jedi hits theaters December 15 and Bounty is celebrating with the release of its new, limited-edition Star Wars prints. On shelves now and available in both paper towels and quilted napkins, the prints feature some of your favorite Star Wars characters, and are a perfect fit for parties and fun with friends.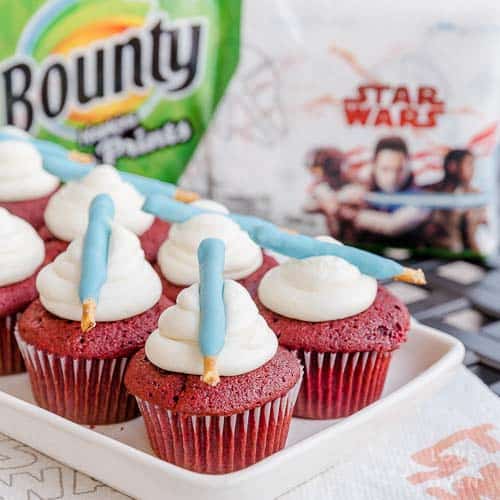 These easy homemade red velvet cupcakes with cream cheese frosting are made from scratch, and the lightsabers are simply small stick pretzels that have been dipped in blue candy coating. No decorating skills desired to make these work!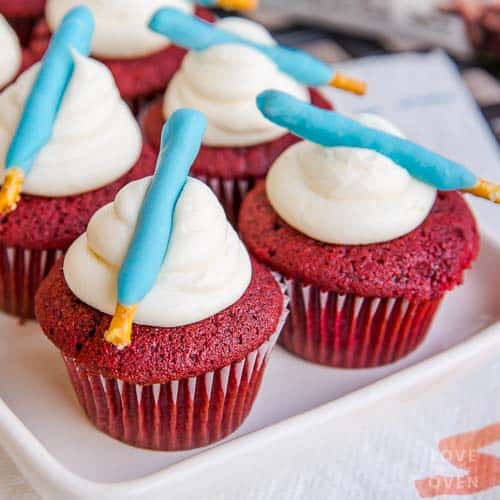 Red Velvet Cupcakes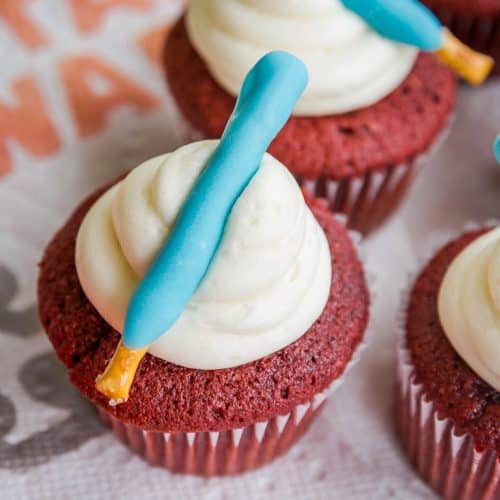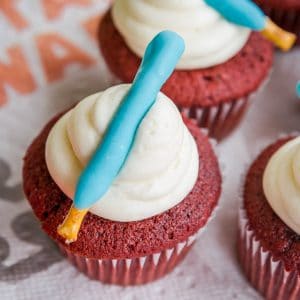 Ingredients
Cake
2 1/2

cups

all-purpose flour

1/2

cup

unsweetened cocoa powder

1 1/2

tsp

baking soda

1/2

tsp

salt

1

cup

butter

softened

2

cups

sugar

4

eggs

1

cup

sour cream

1/2

cup

buttermilk

Red food coloring
Frosting
8

oz

butter

softened

8

oz

cream cheese

softened

4

cups

powdered sugar

2

tsp

vanilla extract

Salt if desired
Lightsabers
24

small pretzel sticks

1

cup

blue candy coating

melted according to package directions
Instructions
Cake
Combine flour, cocoa, baking soda and salt in a bowl and stir well to combine. Set aside. Using a mixer, in a separate bowl mix butter until light and creamy. Add sugar and beat until well combined. Add in eggs and sour cream, mix until combined. Add in red food coloring until desired consistency is reached. Combine dry and wet ingredients, and add in buttermilk, stir until combined. Scoop batter into muffin pans that have been lined with 24 muffin liners. Fill muffin liners about 2/3 of the way full. Bake for approximately 18-20 minutes or until toothpick inserted into the center comes out clean. Remove from oven and allow to cool completely prior to frosting.
Frosting
Beat together butter and cream cheese until light and fluffy. Add in powdered sugar, a little at a time, and beat until light and creamy. Add in vanilla and beat until mixed. Frost cupcakes once the cupcakes are completely cooled.
Lightsabers
Prepare blue candy coating according to package directions. Dip small pretzels into candy coating, leaving one end of each pretzel uncovered. Place on parchment paper and allow coating to set. Place on top of frosted cupcakes.
While these cupcakes are fun for a special treat, you can make any day special when you serve your little jedis-in-training their favorite fruits or veggies with Bounty with Star Wars prints!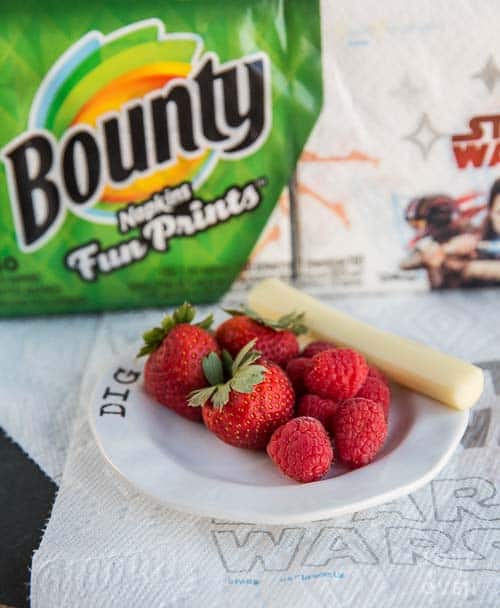 I hope your family enjoys these fun cupcakes, as well as the new Bounty with Star Wars prints, as much as my family has. May the Force be with you!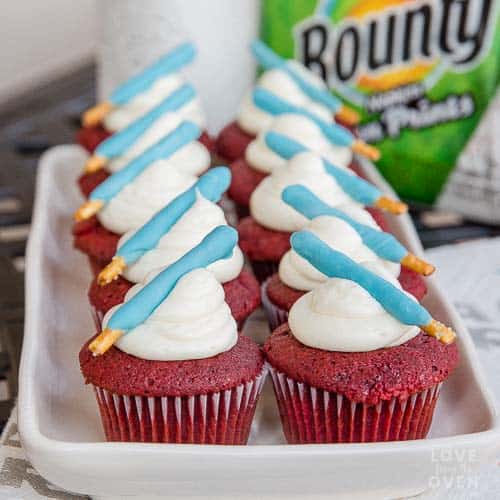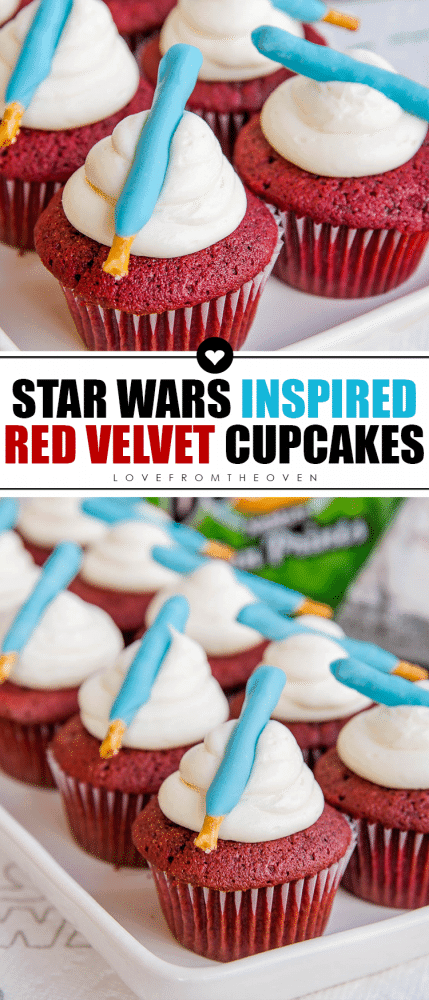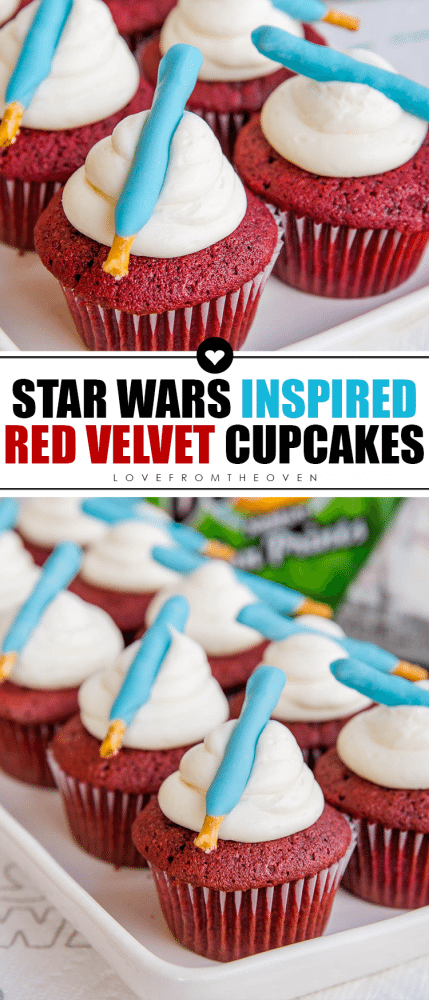 Disclosure: This post was sponsored by Bounty. All opinions however are mine and mine alone.