Rich and delicious Salted Chocolate Caramel Bars, Cookies For Kids' Cancer and some great baking products. This post has it all.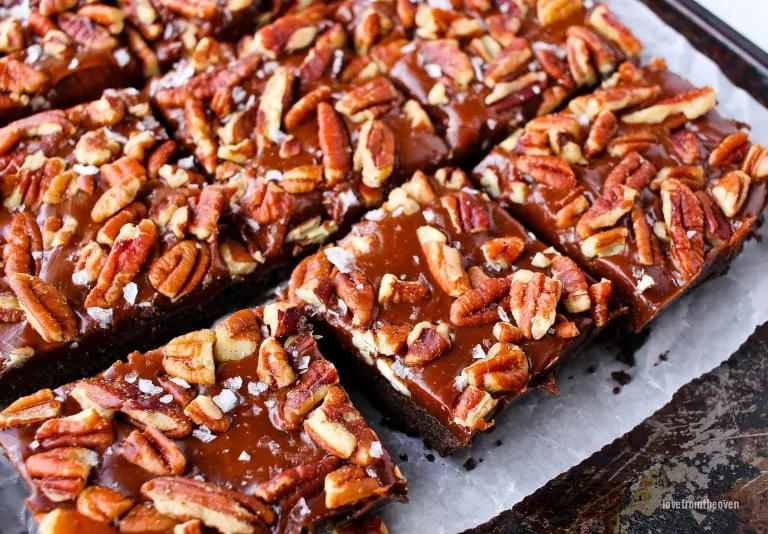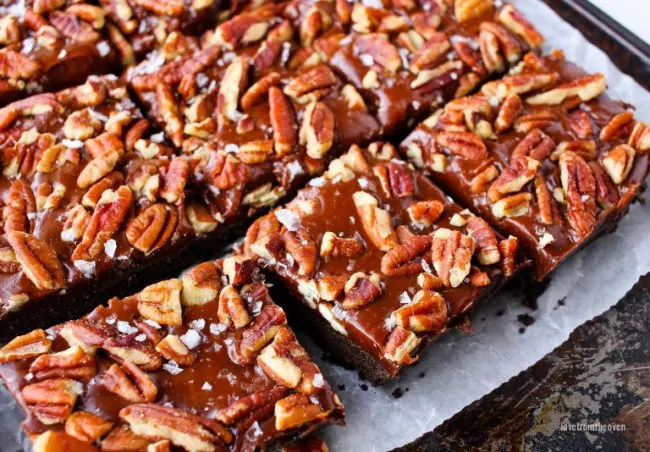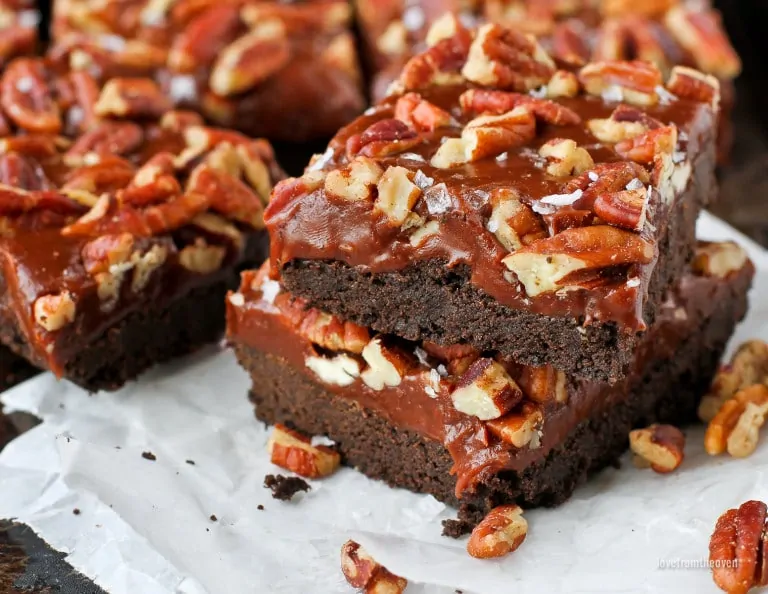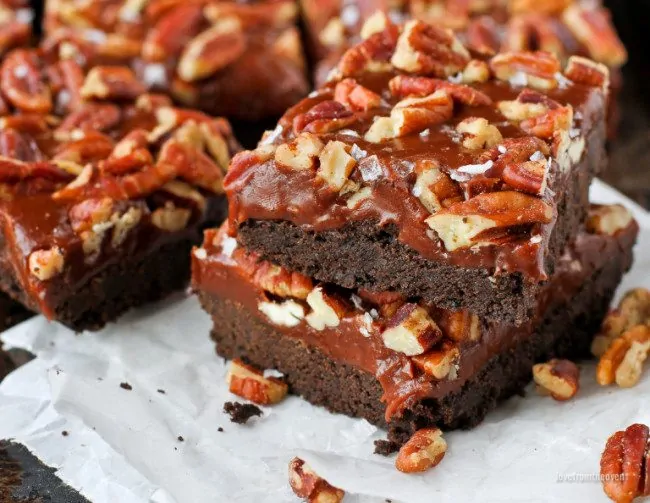 Recently the folks at OXO reached out to me and asked if I would like to Bake A Difference with OXO For Cookies For Kids' Cancer. I've taken part in the campaign before making Snickerdoodles and Chocolate Spritz Cookies, and was happy to sign on to do so again. OXO donates $100 to Cookies For Kids' Cancer for each blog post in the campaign, up to $100,000. You just can't say no to that. There recipes selected for bloggers such as myself to use come from Dorie Greenspan's new book, Dorie's Cookies. I made the Salted Chocolate-Caramel Bars, and let me tell you, they are amazing.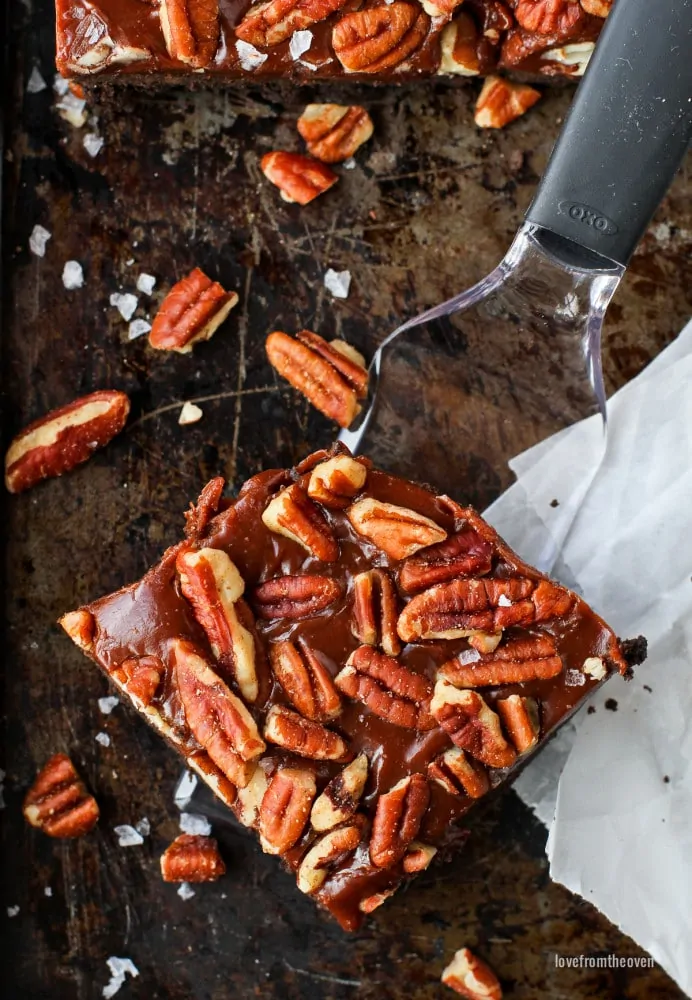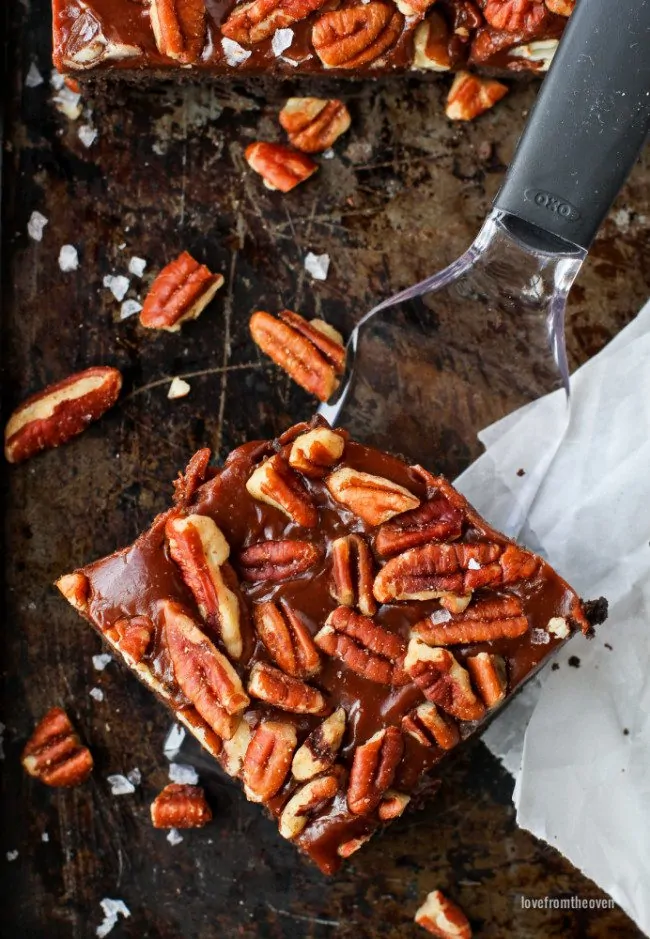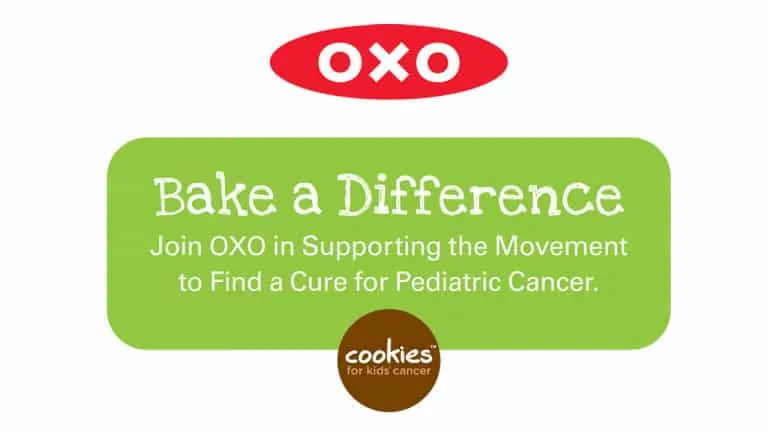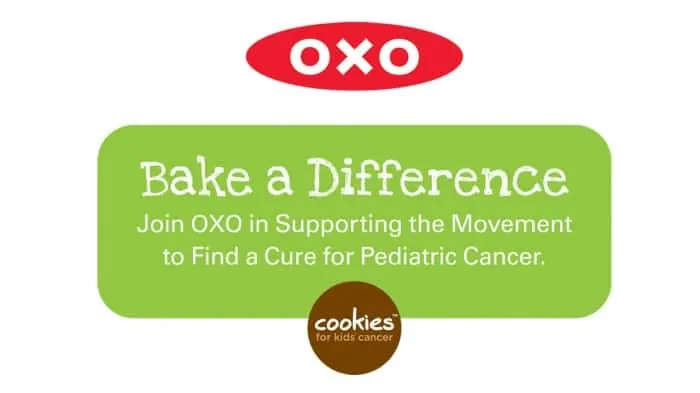 Cookies for Kids' Cancer was founded by two OXOnians (OXO employees),Gretchen and Larry Witt who were inspired by their son Liam's battle with pediatric cancer. They were shocked to learn that the main reason over 25% of kids diagnosed with cancer do not survive is because of a lack of effective therapies. And the reason for the lack of effective therapies was simple: lack of funding.
Cookies for Kids' Cancer was born to fill this void and to provide inspiration and support for individuals, communities and businesses to help fight pediatric cancer through the concept of local bake sales. With less than 70 employees, OXOnians regard each other as family. The news of Liam's diagnosis hit us hard and we were determined to help "bake a difference." Since the beginning, we have shown our support by baking cookies and holding bake sales. Through these efforts, OXOnians have helped raise money to support Cookies for Kids' Cancer.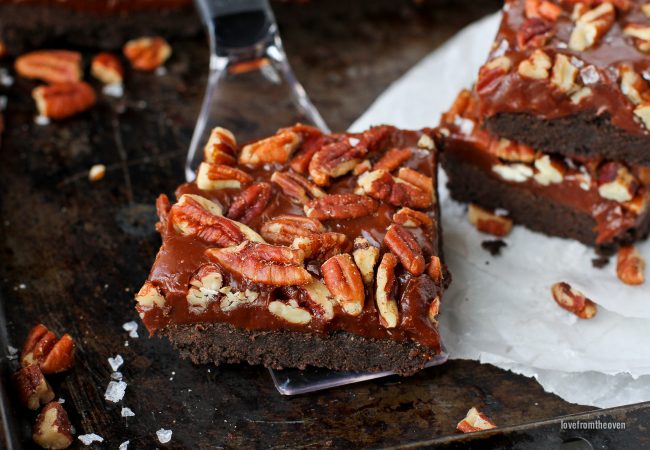 My friends at OXO were kind enough to send over some of their amazing products for me to use in this post. I am a HUGE fan of OXO products, I probably have more OXO products in my kitchen than all other brands combined. I always find their products make sense, as though someone who actually bakes was involved in creating them. Funny thing is, that's exactly how it works at OXO!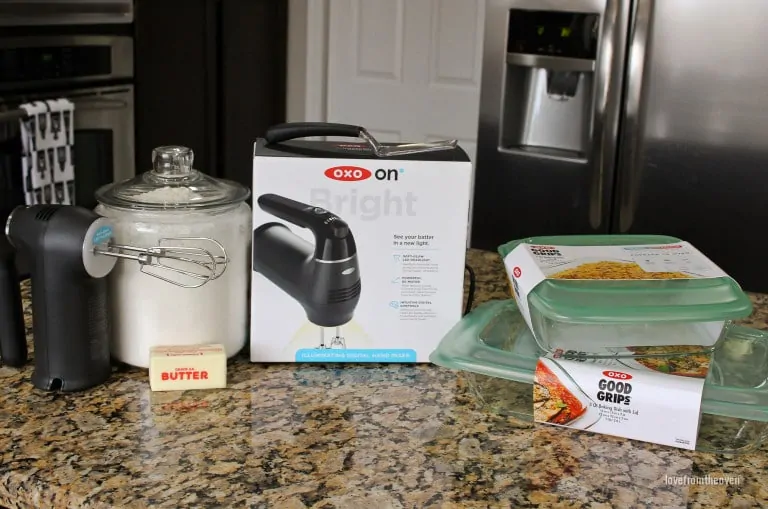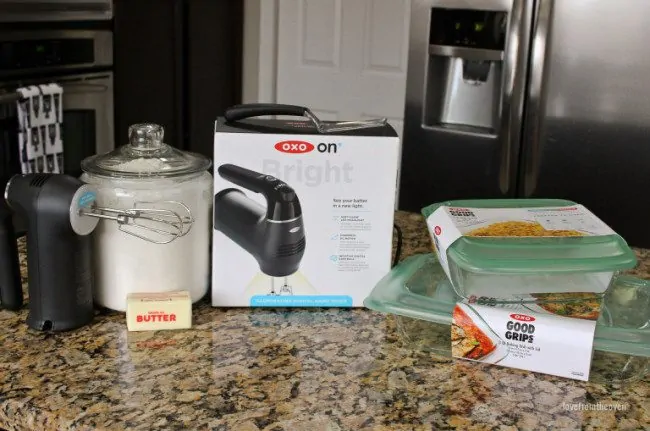 They sent over their Glass 3 Qt Baking Dish with Lid, Glass 2 Qt Baking Dish with Lid, Brownie Spatula and Illuminating Digital Hand Mixer. All fabulous products, but can I tell you how crazy I am over the glass baking dishes WITH LIDS??? LIDS! It's the little things in life that make me happy, and lids do just that! These baking dishes are made from BPA-free borosilicate glass, OXO Good Grips Glass Bakeware can withstand extreme temperature changes, from freezer to oven! Generous handles and sloshproof lids make moving full dishes easier, and the clean, elegant design means you can take them from the oven directly to the family table.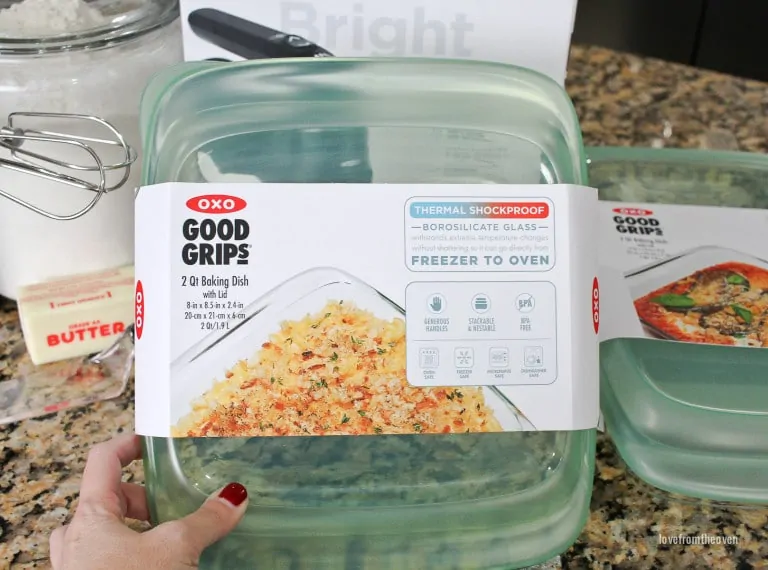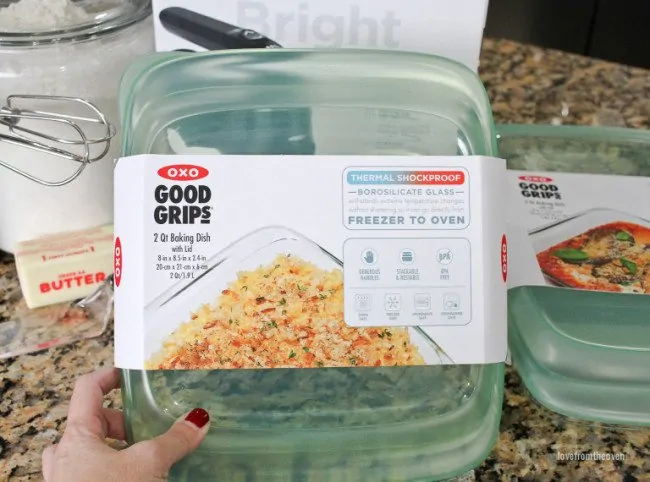 And then there is the lighted hand mixer. LIGHTED!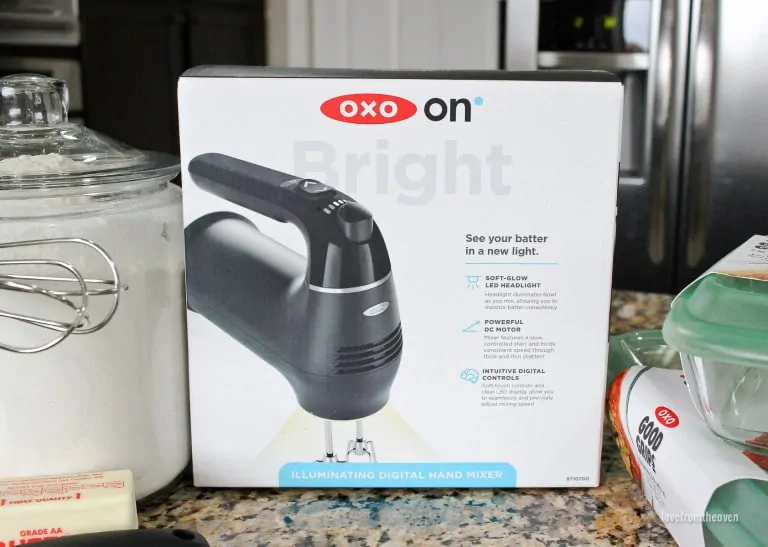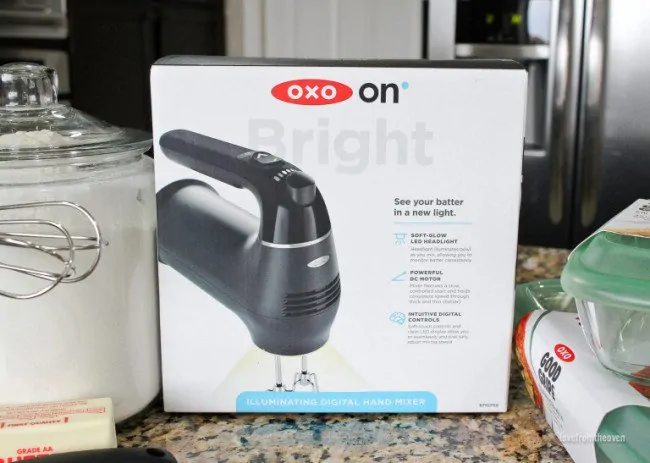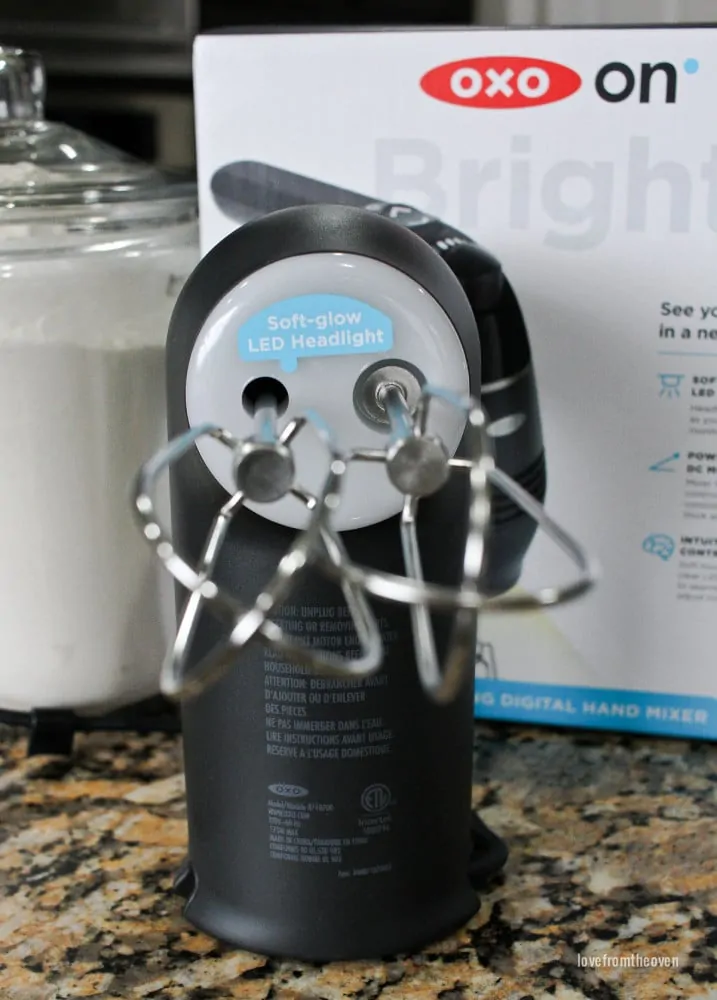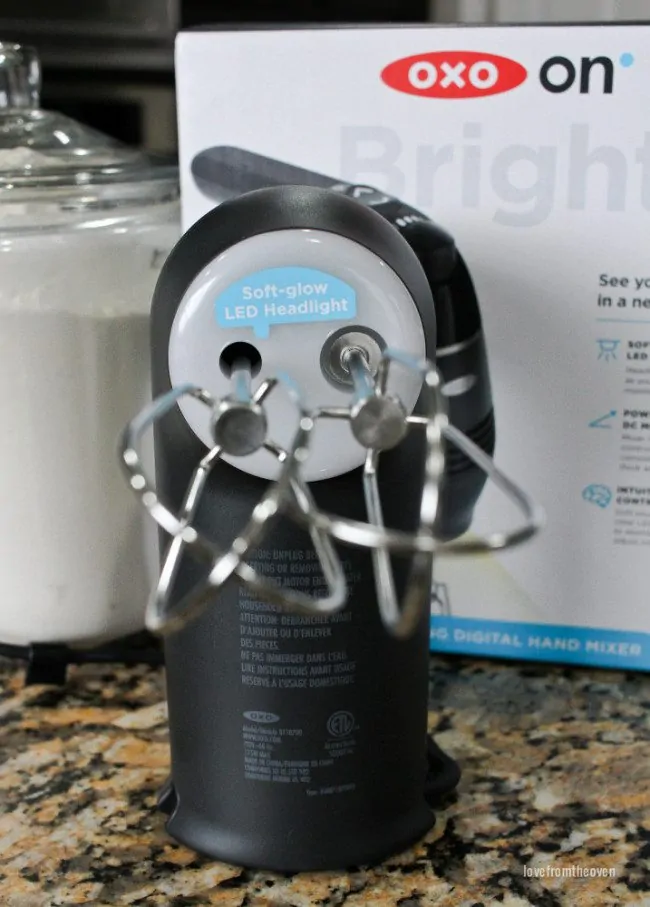 Not only is it lighted, buts it's a very solid hand mixer. With a light to guide you, OXO On Illuminating Digital Hand Mixer includes intuitive digital controls to steadily increase or decrease speed. I love being able to adjust the speeds steadily, nothing ends up out of the bowl because the mixer came on too fast!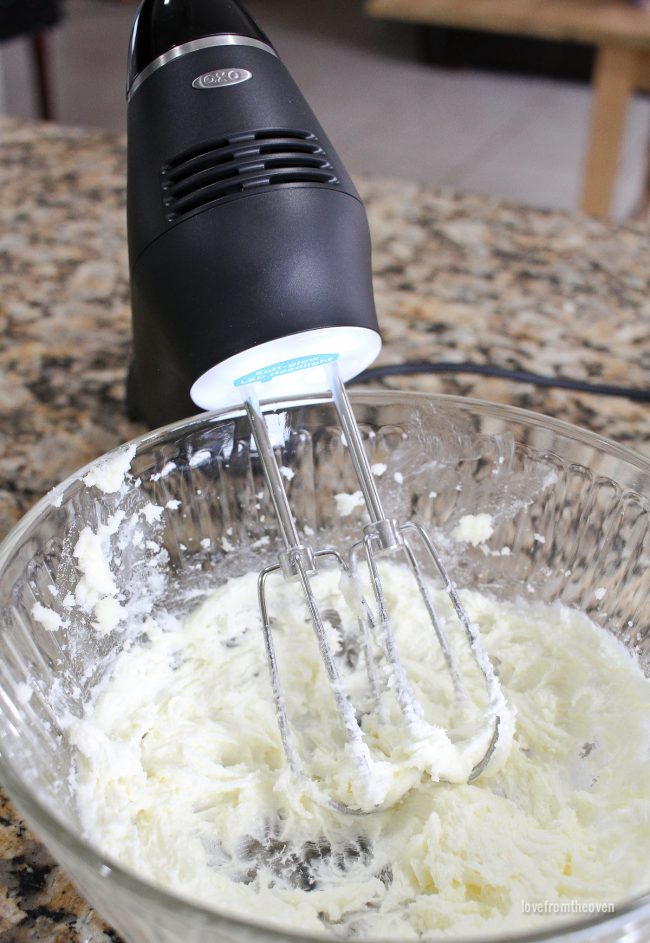 You can read Dorie's recipe below, and you need to give these bars a try. They are really simple, and don't call for very many ingredients. I'm absolutely going to add these to my holiday baking list this year!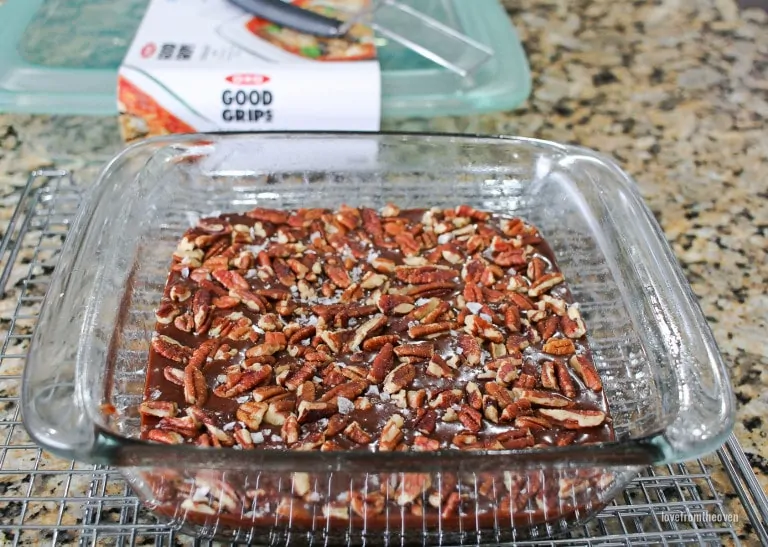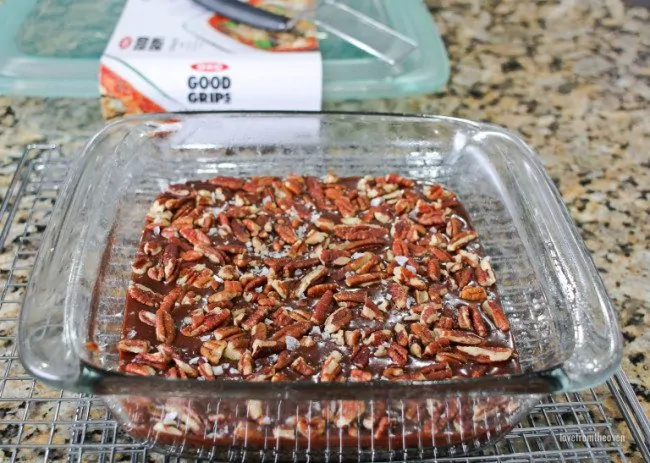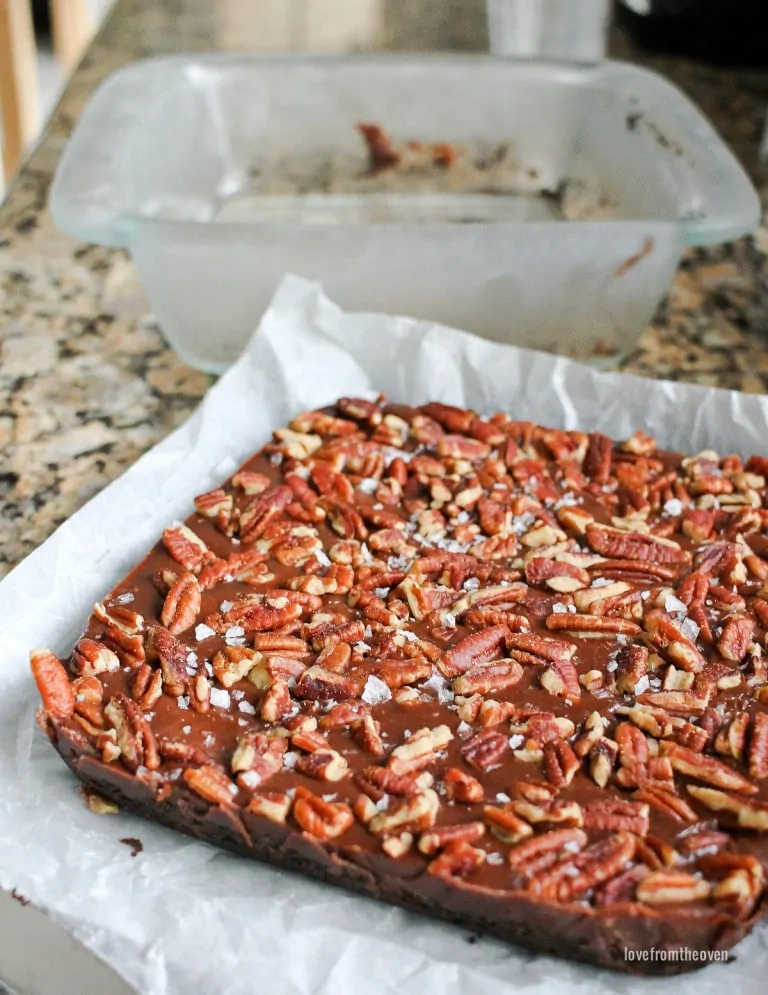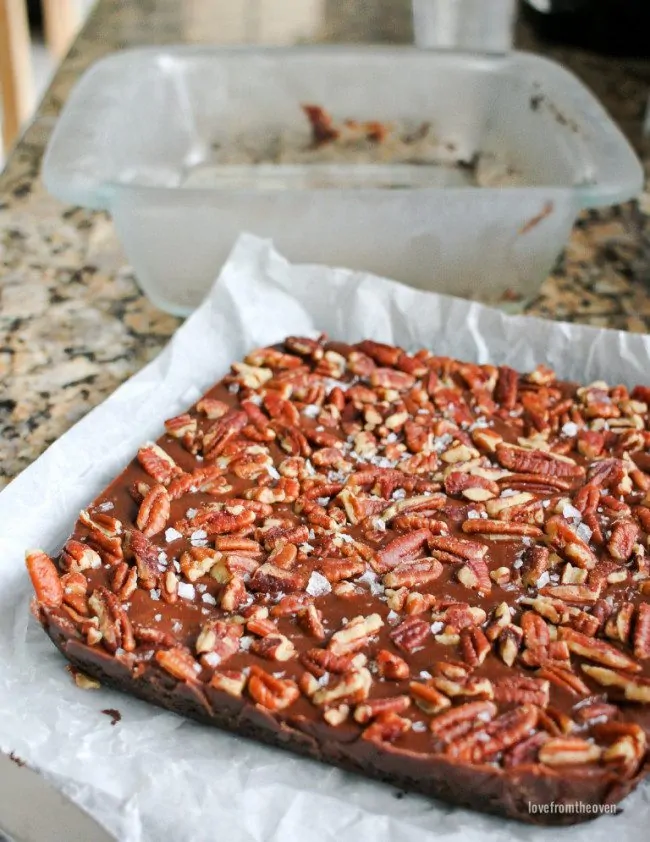 After my bars had time to cool, I popped my pan into the freezer for about five minutes, pulled it out, and my bars slid right out of the pan. How fabulous is that! No sticking!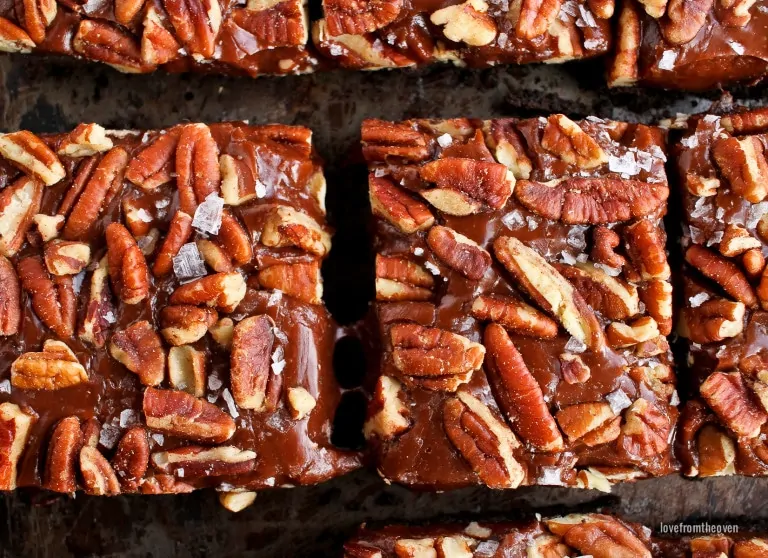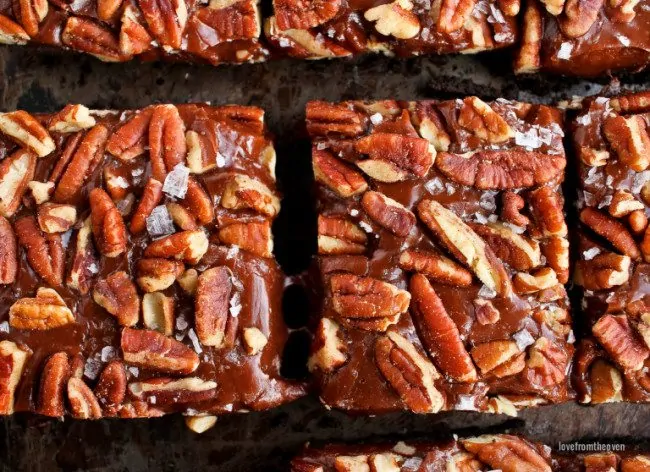 I can't wait for you to try these…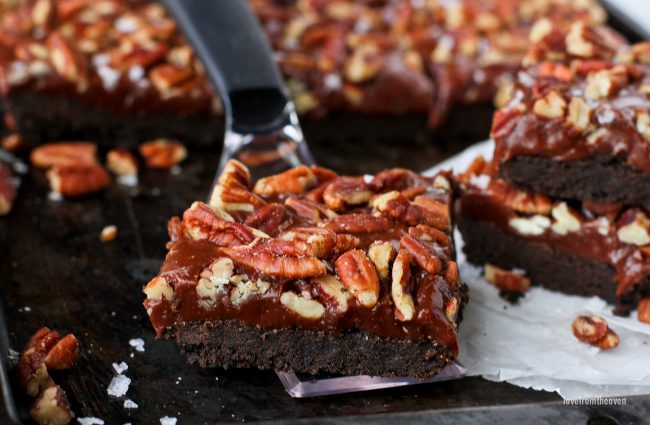 And that great brownie spatula, that's from OXO as well. I love that it's nice and compact, so many spatulas are really much larger than you need for dishing up bars like these.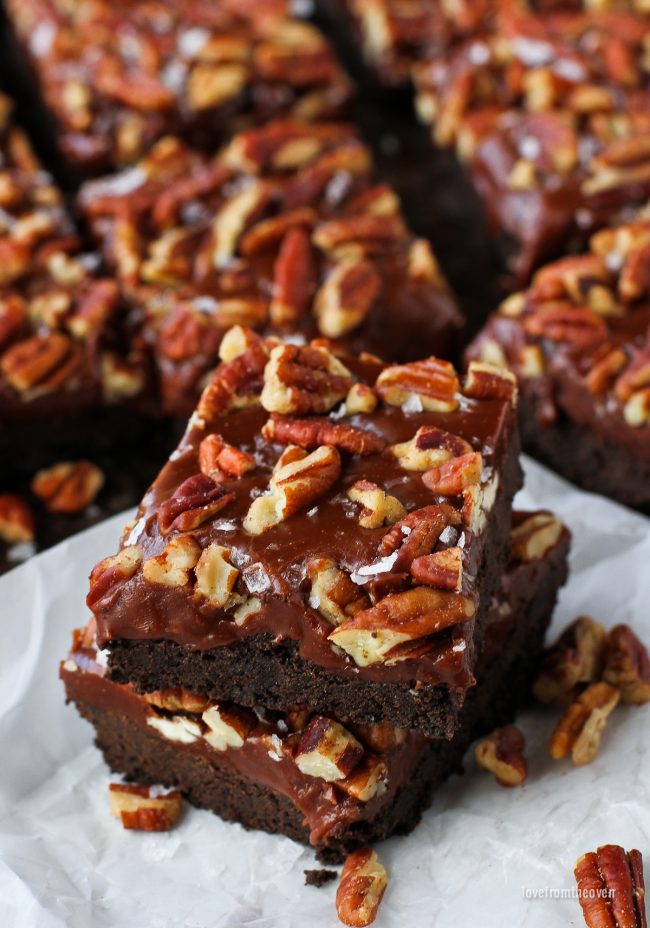 Salted Chocolate-Caramel Bars from Dorie's Cookies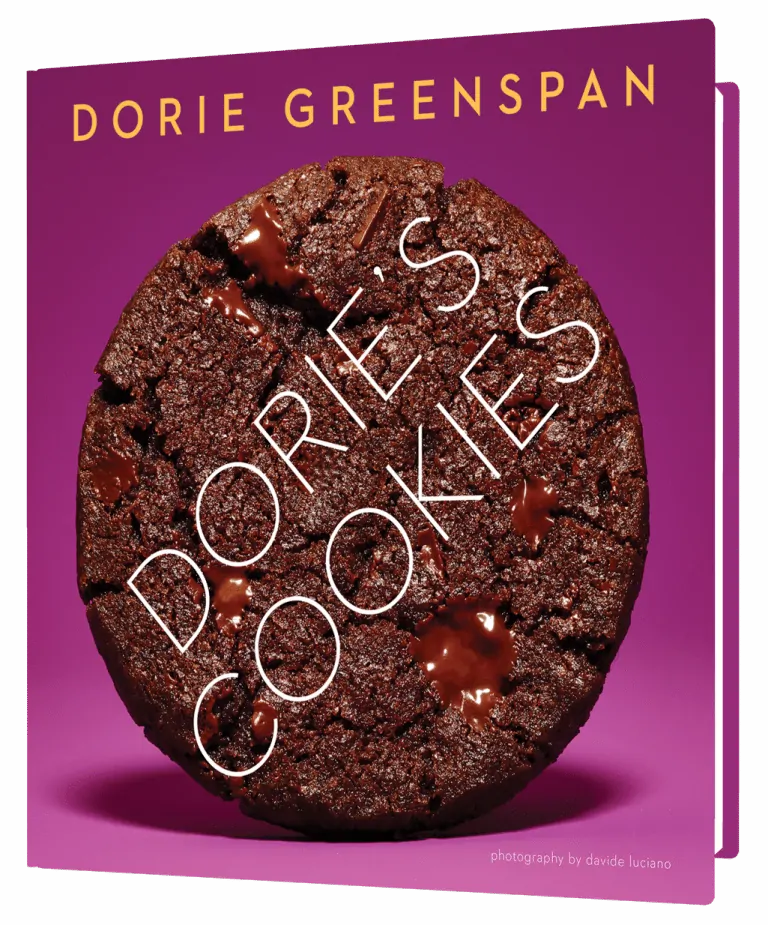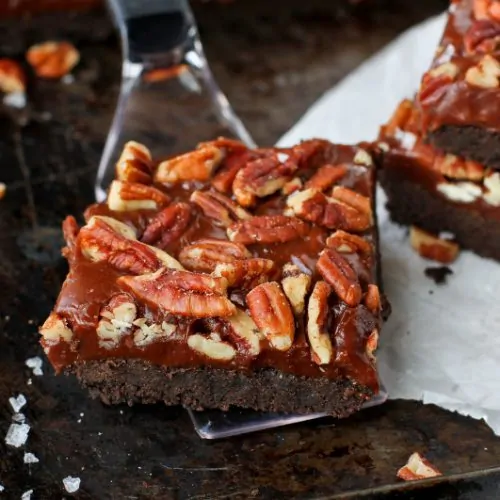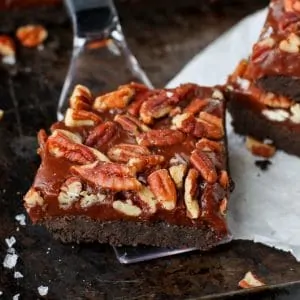 Salted Chocolate Caramel Bars
Salted Chocolate-Caramel Bars Recipe from Dorie's Cookies by Dorie Greenspan This is the kind of cookie that makes you think you should stop everything, throw over your regular life and open a fancy pastry shop just so you can have a legit excuse to bake — and eat — these every day. The base is a simple chocolate shortbread, one with just enough sugar and salt to make it delicious but not obtrusive. It's a cookie that knows that its place is to give the voluptuous star, the caramel, a foundation on which to flaunt its assets, among them its characteristic smooth, slow-melting texture; its deep flavor, which blends burnt sugar, dark chocolate and a hint of salt; and its looks, all sleek sophistication even while it's enticing you to grab it like a greedy kid. The bars are topped with toasted pecans, there for flavor and to add a bit of crunch to the lithesome caramel.
Ingredients
For the Shortbread Base
1

cup

all-purpose flour

1/4

cup

unsweetened cocoa powder

1/2

cup

unsalted butter

cut into chunks, at room temperature

1/3

cup

sugar

1/4

teaspoon

fine sea salt
For the Caramel Topping
1

cup

sugar

200 grams

2

tablespoons

water

1

tablespoon

light corn syrup

1/2

cup

heavy cream

at room temperature (or slightly warmed in a microwave

2

tablespoons

unsalted butter

cut into 3 pieces and very soft

1/4

teaspoon

fleur de sel or a good-size pinch of fine sea salt

2

ounces

bittersweet chocolate

finely chopped

cup

About 1/2 pecans

toasted and coarsely chopped
Instructions
Center a rack in the oven and preheat it to 350 degrees F. Generously butter (or spray) an 8-inch square pan.

To make the shortbread base: Whisk together the flour and cocoa powder.

Working with a stand mixer fitted with the paddle attachment, or in a large bowl with a hand mixer, beat the butter, sugar and salt together on medium speed until smooth, about 2 minutes. Turn off the mixer, add the dry ingredients all at once and beat on low until the dough comes together. This will take a little longer than you might expect, so don't get discouraged. Give the dough a few last turns with a flexible spatula and scrape it out into the pan. Using your fingertips, pat the dough evenly over the bottom of the pan; press down and make sure to get the dough into the corners.

Bake the shortbread for 21 to 23 minutes, rotating the pan after 10 minutes, or until it is slightly darker around the edges and just starting to pull away from the sides of the pan; it will not feel completely firm if poked gently. Transfer the pan to a rack and allow the shortbread to cool completely.

To make the caramel topping: Put a heatproof bowl close to the stovetop, along with a small bowl of cold water and a pastry brush (preferably silicone).

Put the sugar, water and corn syrup in a small saucepan or skillet and bring to a boil over medium-high heat. Allow the ingredients to bubble away, brushing down the sides of the pan with cold water if there are spatters and swirling the pan a couple of times once you start seeing some color, until the caramel turns a pale to medium amber. (Don't let it get as dark as mahogany.) Lower the heat, stand away from the pan and add the cream, followed by the butter and salt — ingredients that might cause the caramel to roil. Remove the pan from the heat, drop in the chocolate and, using a silicone spatula or wooden spoon, stir to blend.

Pour the hot caramel over the shortbread and sprinkle with the nuts. Allow to set at room temperature.

When the caramel is firm, run a table knife around the sides of the pan, care- fully unmold the cookie onto a rack and turn it over onto a cutting board. Using a long thin knife, cut 21 bars (cut into 3 strips and then cut each strip into 7 bars). Alternatively, leave the cookie whole and cut individual bars as needed.

Storing

When the caramel is fully set, the cookies (cut or intact) can be wrapped in plastic and refrigerated for up to 5 days. Remove them from the refrigerator about 10 minutes before serving.
Disclaimer
Nutrition information is estimated as a courtesy. If using for medical purposes, please verify information using your own nutritional calculator. Percent Daily Values are based on a 2000 calorie diet.
Thanks so much for reading, for learning a little about Cookies For Kids' Cancer, OXO and Dorie's Cookies. I hope you enjoy the recipe as much as we did! Make sure to check out my other Cookies For Kids' Cancer posts…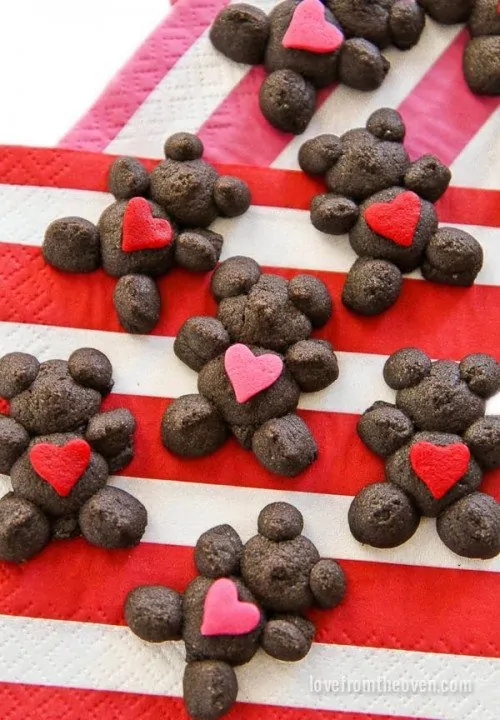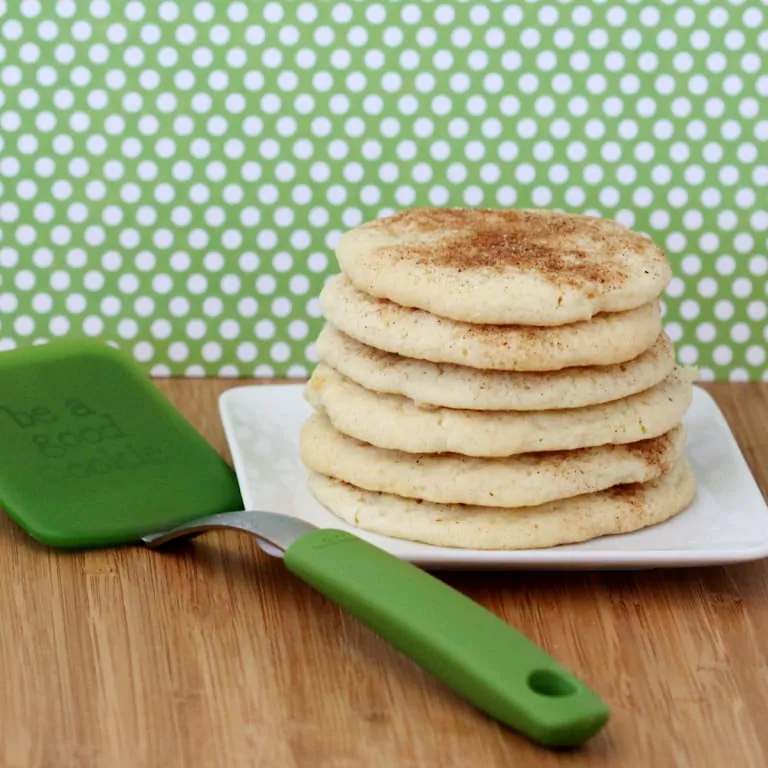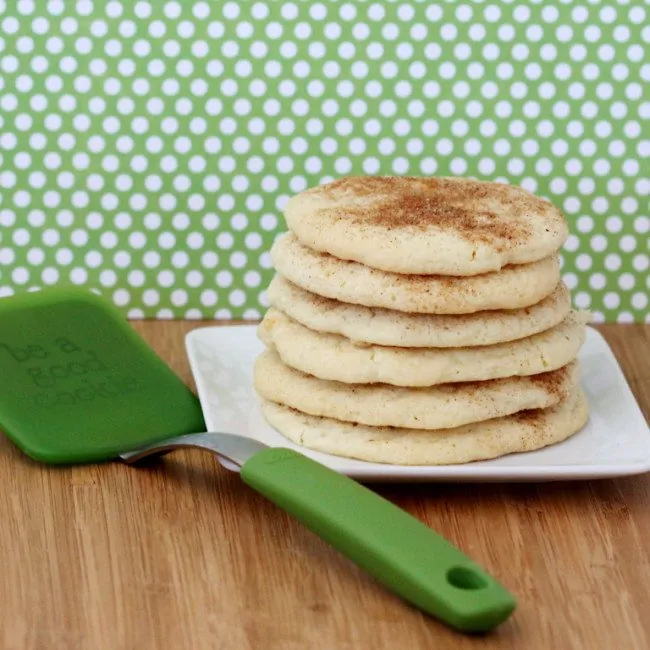 Disclosure: Products were provided to me by OXO free of charge. All opinions however are mine and mine alone.