From bread to cookies, different types of flour are at the heart of baking. Learn all about different kinds of flour and how to use them to make the best tasting baked goods every time!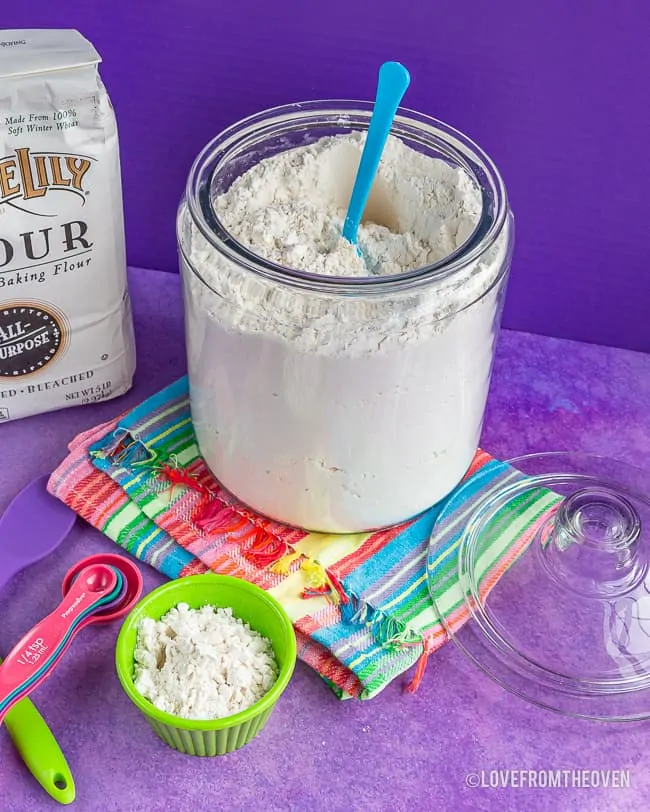 Baking is a science as much as it's an art. A basic knowledge of how to work with flour–and what kinds to choose for different recipes–goes a long way. In this post you will find information on different types of flour, flour substitutes and flour measurements.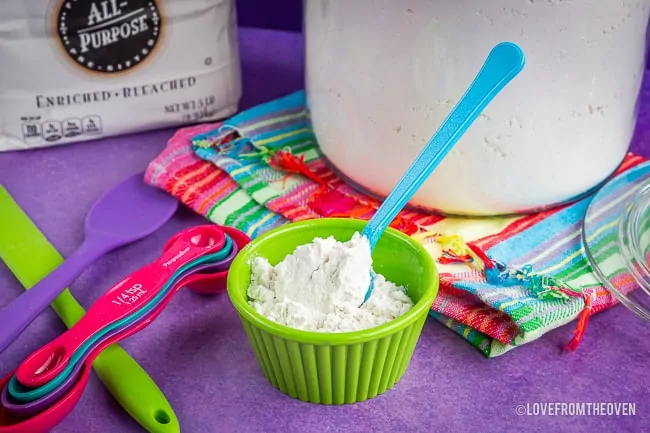 Types of Flour
With all the varieties of flour on the shelves these days it can get a little overwhelming to keep them all straight. While some recipes will work with a few different flours, not all types of flour are interchangeable in every recipe.
All-Purpose Flour is made with a mixture of hard and soft wheat and lends itself well to cookies, cakes, breads and scones of all kinds. Nine times out of ten, when a recipe for home bakers calls for "flour", it's talking about all-purpose flour. It's available in both bleached and unbleached varieties. Unbleached flour is a bit darker in color and adds a tad bit more structure to baked goods, however they can be used interchangeably. All purpose flour is sometimes referred to as AP flour.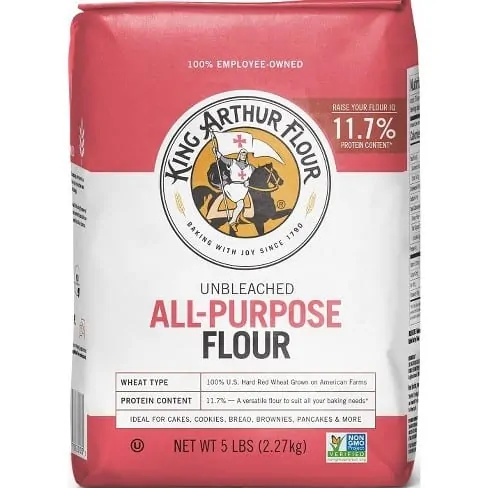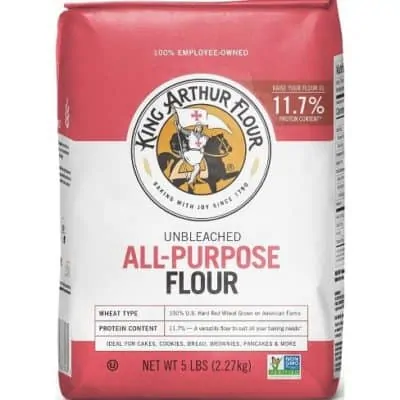 Self-Rising Flour is a variety of all-purpose flour has leavening agents (usually baking powder) added to it so your baked goods will "rise" without any extra additions. It should not be used in recipes that call for all-purpose flour unless you also omit or adjust the baking powder or baking soda in the recipe!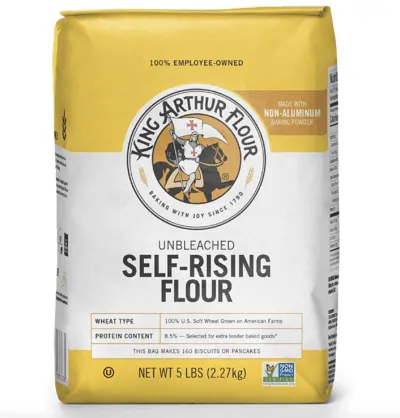 Bread flour is wheat flour with a higher protein content. The high gluten content makes it ideal for creating yeast breads with an airy chewy texture; it also means dough made with this type of flour needs to be kneaded well to give the gluten structure. While most often used in, you guessed it, breads, I also use bread flour to make cookies chewier, like these Black and White Chippers and Buttery Chocolate Chip Cookies.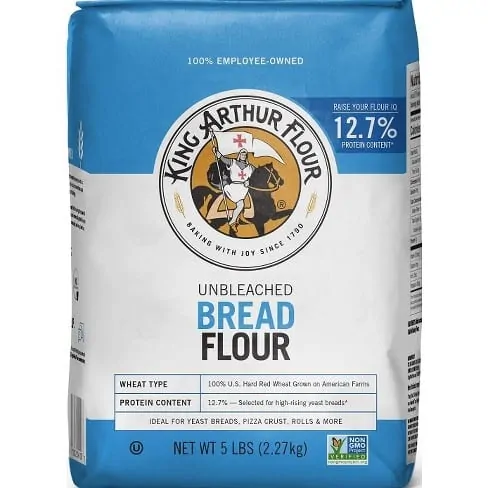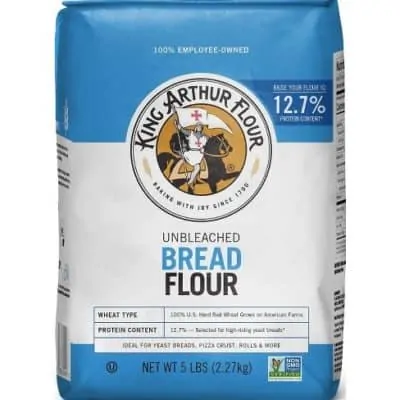 Pastry Flour on the other hand has an extremely low protein content. Less protein gives baked goods a lighter flakier texture ideal for pie crusts, biscuits, cakes and some types of cookies.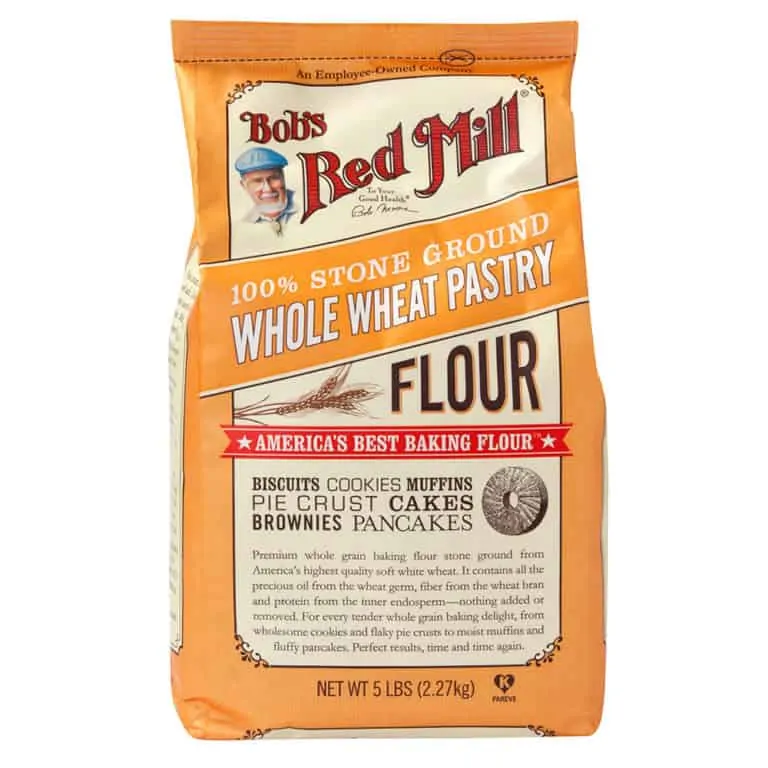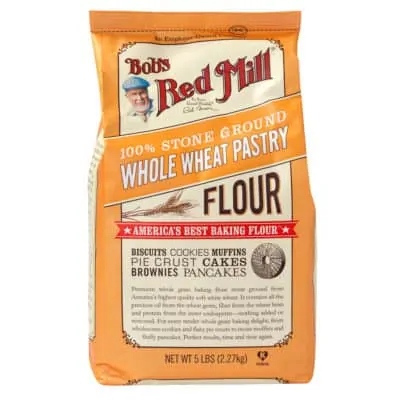 Whole wheat flour includes the germ and bran parts of the wheatberry. This gives the flour a nuttier flavor and a heartier texture, along with a darker color and more nutrients than its white counterparts.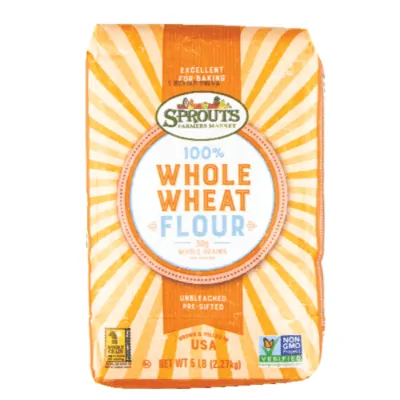 White Whole Wheat Flour is milled from hard white spring wheat instead of red wheat which is what whole wheat flour is traditionally made from. It has almost the same nutrition content as red wheat, with slight differences in gluten and protein contents.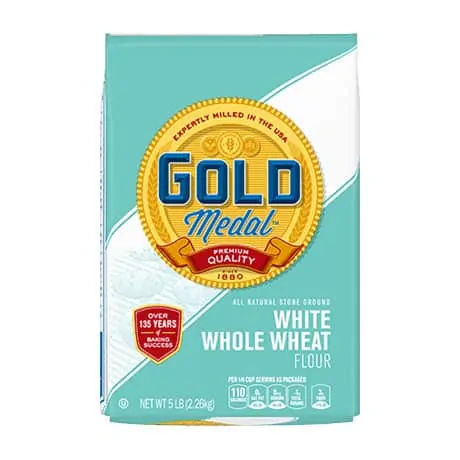 Cake Flour is very finely milled with a lower protein content than all-purpose flour. It contains the lowest amount of protein when compared to other flours. Cake flour is perfect for making delicate, light and airy cakes with a soft and tender texture. Because of it's low protein content, it's not recommended for use in recipes that do not specifically call for cake flour. Cake Flour is used in my Chocolate Overload Cake.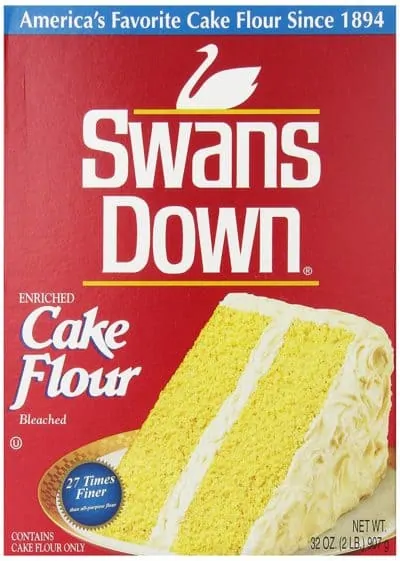 These are just a few of the most common types of flour that you can bake with.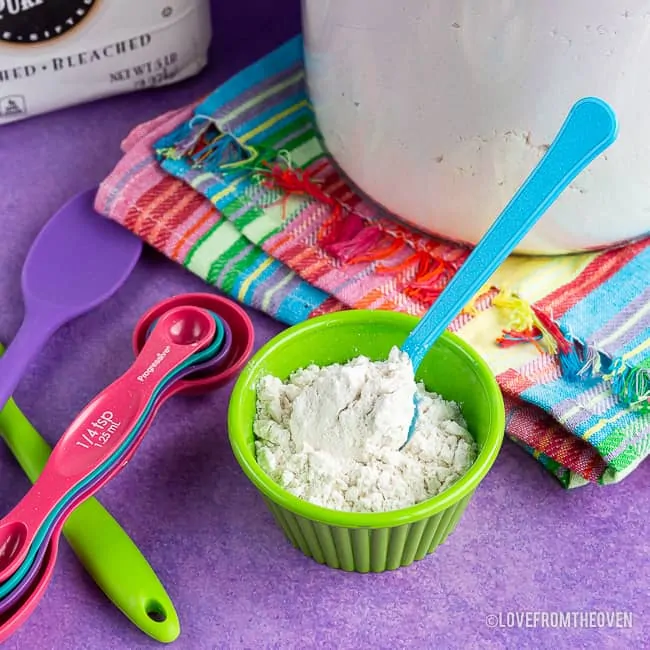 Flour Substitutes
Gluten Free Flour
When it comes to gluten free baking, there are countless wheat free flours on the market! Packaged gluten free flour mixes contain a blend of different "flours" made from other kinds of seeds or grains.
Chickpea flour, brown rice flour and almond flour are among the most popular for baking. Starches like arrowroot or potato starch added to flour blends help give these gluten-free flour substitutes structure when turned into a dough and baked.
When I need to use gluten free flour, I typically use Cup For Cup.
Whole Wheat Flour
Can you substitute whole wheat flour for all-purpose flour?
The short answer is–it depends. Whole wheat flour can stand in for all-purpose but will affect the flavor and texture of the finished product. If you don't want your chocolate chip cookies to have that nutty "whole wheat" taste, then stick with white flour.
Bread Flour
Can you substitute all purpose flour for bread flour?
In most cases, all purpose flour is a fine substitute for bread flour. However, the bread may not have quite the same airy chewy texture as the breads you love from your local bakery.
How to Make Bread Flour
If you can't find bread flour, it's easy to make your own! Just replace 1 1/2 tsps of flour with the same amount of vital wheat gluten per cup of flour called for in the recipe.
Self Rising Flour
How to Make Self-Rising Flour
Don't have any self-rising flour on hand? If the recipe calls for this type of flour, you can make your own by adding 1 1/2 tsp. of baking powder and 1/4 tsp. of salt to each cup of flour called for.
Cake Flour
Cake Flour Substitute
Due to the lower protein content in cake flour, it's not the most ideal one to make yourself. That said, in a pinch you can make your own cake flour substitute by removing 2 Tablespoons of flour from each cup needed, and replacing those two tablespoons of cornstarch. After adding in the cornstarch, sift the mixture five times for best results.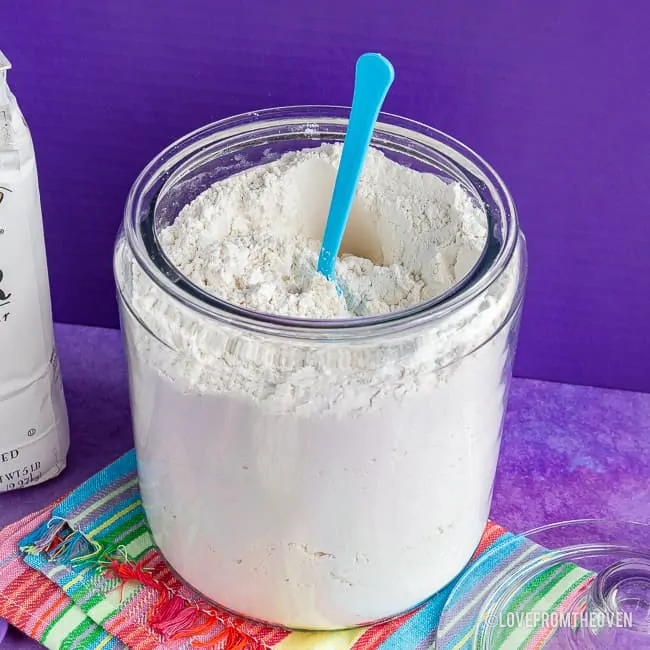 How to Measure Flour
Correctly measuring flour is essential to good baking!
Did you know that different different measuring techniques can result in up to a 20% difference in the weight of a cup of flour? Imagine how that can impact a recipe that calls for three cups of flour!
The most accurate way to measure flour when you'r baking is, of course, by weight. But investing in a home kitchen scale isn't strictly necessary if you follow my preferred method for measuring all types of flour.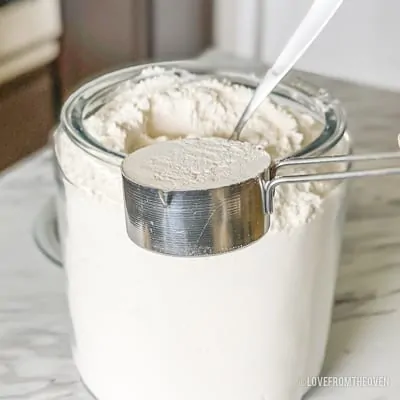 Use a spoon to scoop flour from the bag into your dry measuring cup. If you scoop the flour directly with your measuring cup, you're likely to end up adding too much. I like to use what's known as the "spoon and sweep" method to measure my flour.
To do this, first stir your flour.
Next, spoon flour into your measuring cup, then level it off with a butter knife or the flat handle of your spoon.
Reminder, use a measuring cup made for dry ingredients, not wet ones!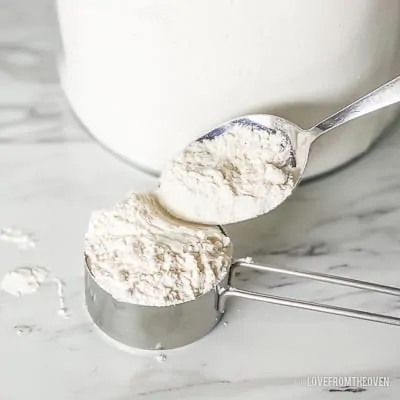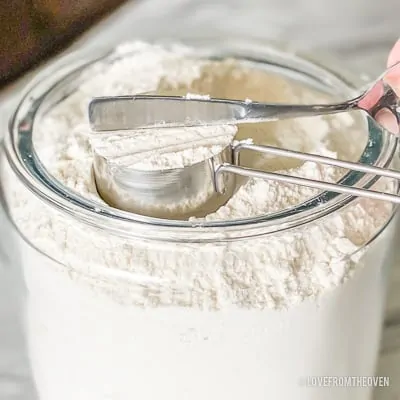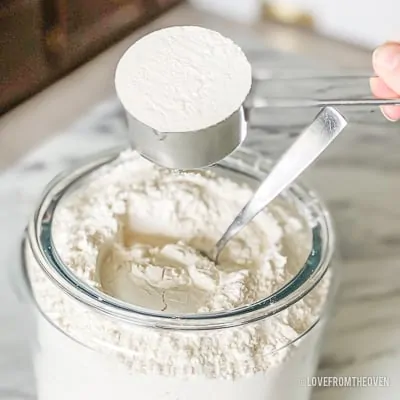 Do not scoop your flour!
What you do not want to do is scoop your flour by putting your measuring cup into the flour. See below? That is incorrect!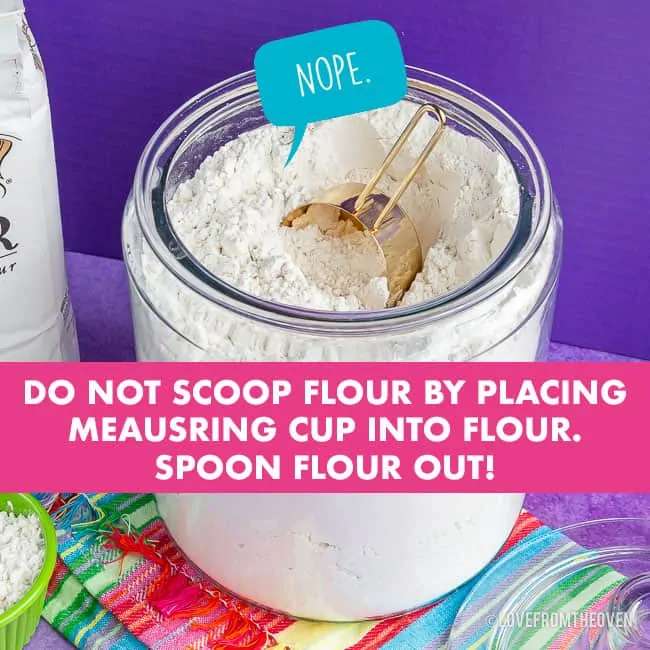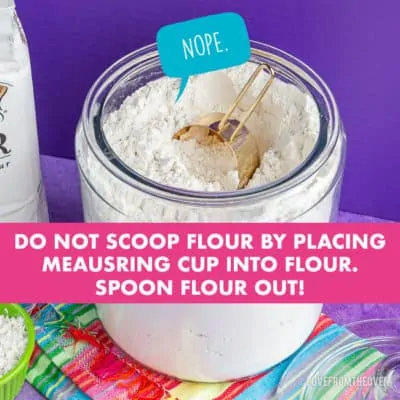 Flour Measurements
Here are a few approximate cup, gram and ounce conversions for ALL-PURPOSE flour.
Measurements are different for other types of flour.
1/4 cups flour = 30 grams = 1.1 ounces
1/3 cups flour = 40 grams = 1.5 ounces
1/2 cups flour = 65 grams = 2.2 ounces
2/3 cups flour = 85 grams = 2.9 ounces
3/4 cups flour = 95 grams = 3.3 ounces
1 cup flour = 120 grams = 4.25 ounces
How many cups of flour in a pound? Approximately 3 1/3 cups.
How many cups of flour are in a two pound bag? Approximately 6 2/3 cups.
How many cups are in a five pound bag of flour? Approximately 16 1/2 cups.
How much does a cup of flour weigh? Approximately 4.25 ounces.
How many grams in a cup of flour? Approximately 120 grams.
Storing Flour
Does flour go bad?
Does flour expire? Yes, it does. The types of flour you buy in the bags at the grocery store will come with an expiration date stamped on the side.
How long does flour last? If you're buying flour in bulk, it will usually stay fresh for up to 8 months if stored covered at room temperature.
In general, the less processed a flour the quicker it will go bad. For example, whole wheat flour may only keep for a couple of months while bleached pastry flour may stay fresh for up to a year.
How can you tell if flour has gone bad?
The good old sniff test is the best way to check if your flour is still fresh. Flour that's gone bad will have a musty unpleasant smell and taste bitter.

How to Store Flour
The best and easiest way to store flour is in an airtight container (both plastic and glass work well). If you buy your flour in bags, transfer the flour to the storage container after opening. Keep the flour container in a dark place, especially if the container is clear (i.e. the cupboard as opposed to the open counter top).
If you don't bake often (or have a flour you don't use often), store the flour in the fridge or freezer to maximize shelf life. Just be sure to store it away from items with a strong scent like cheeses or garlic-heavy sauces to maintain flavor integrity.
Storing flour in the fridge or freezer can also extend its shelf life.
Always bring flour to room temperature before using it in a recipe as directed.
Common Flour Questions
Here are answers to some of the common questions asked about flour.
Will Flour Thicken Soup? Yes, it will, but don't just add it straight to your pot of soup or you'll likely end up with lumps. Pull about 1/4 cup of the broth out and place in a separate cup or bowl. Add a tablespoon, or two, of all-purpose flour to the broth. Whisk well until smooth, then add the mixture to the main pot of soup, and stir well.
Can Flour Make You Sick? As much as my cookie dough loving heart hates to say it, yes, RAW (uncooked) flour can make you sick. Flour can contain bacteria that can cause disease, according to the US Food and Drug Administration and Centers For Disease Control and Prevention. You can read more here.
Can Flour Get Bugs? Unfortunately, yes, flour can get bugs. They go by a few different names – flour beetles, flour weevils or flour mites. The best wait to prevent bugs in flour is to store your flour properly – in an airtight container. Freezing flour also helps keep it bug free.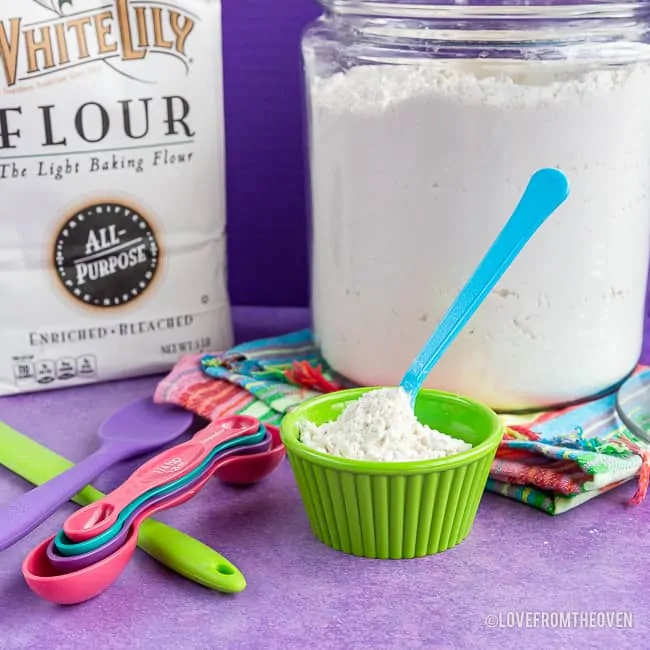 I hope you found some of this info helpful for your next baking adventure. Hooray for flour!
If you found this post helpful, make sure to also check out my Baking Powder versus Baking Soda post.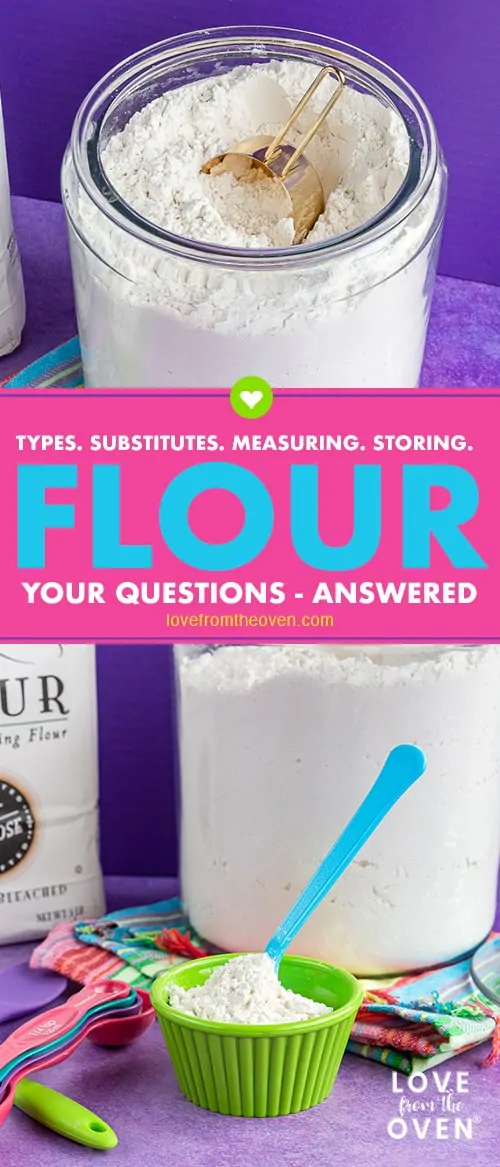 Self Rising Flour Recipe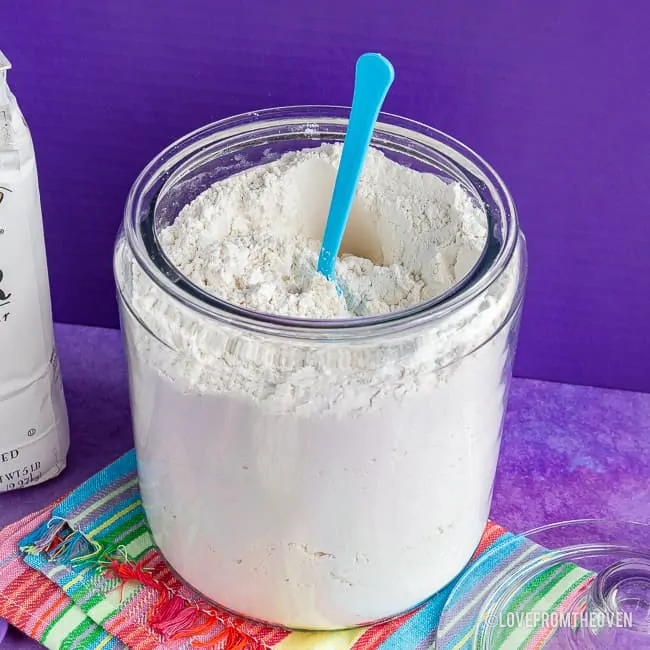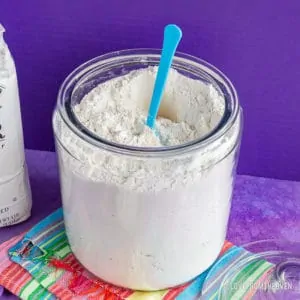 Self Rising Flour
Make your own self rising flour.
Ingredients
1

cup

all-purpose flour

1 1/2

tsp

baking powder

1/4

tsp

salt
Instructions
Combine ingredients and use as self rising flour as called for in recipes.
Disclaimer
Nutrition information is estimated as a courtesy. If using for medical purposes, please verify information using your own nutritional calculator. Percent Daily Values are based on a 2000 calorie diet.