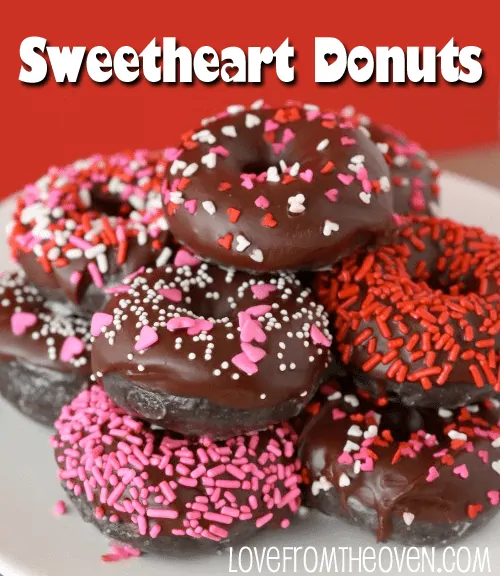 All of my pretty Valentine's Day sprinkles were just calling out to be used with donuts. Every time I make homemade donuts, I can't believe that I don't make them more often, because they are SO easy and so quick.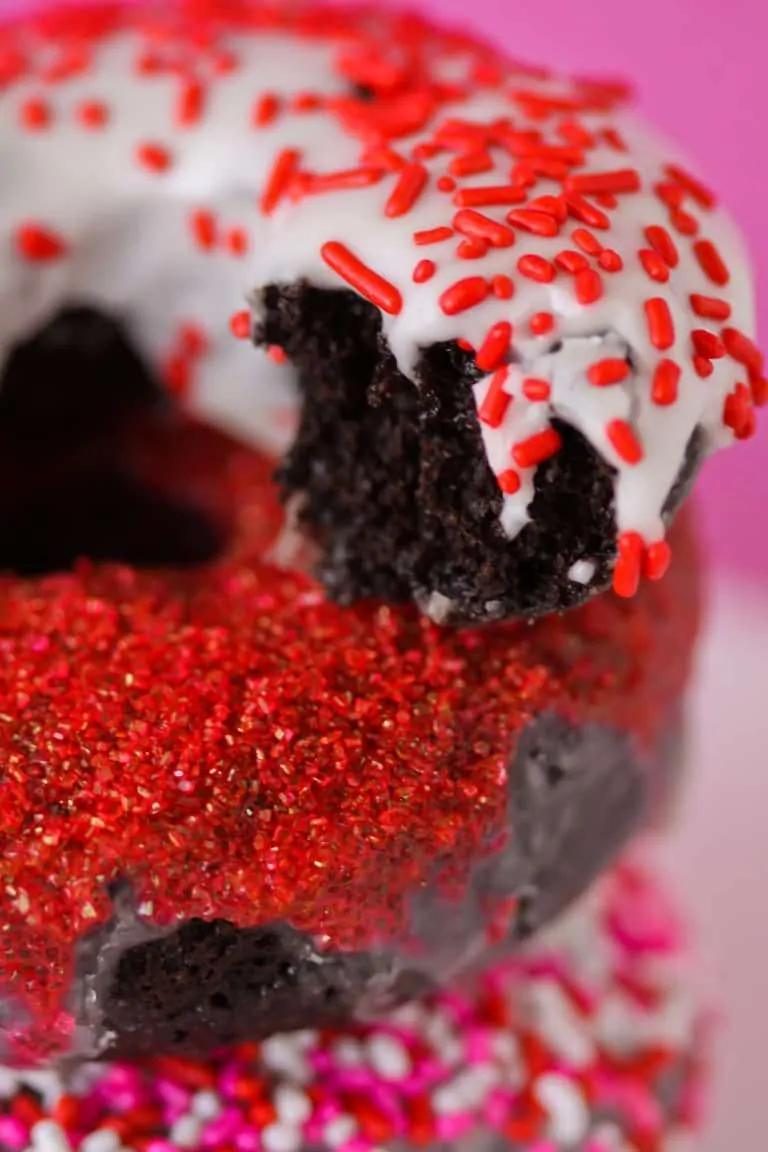 And because they are baked, and not fried, they are a bit less sinful than Dunkin Donuts or Krispy Kreme.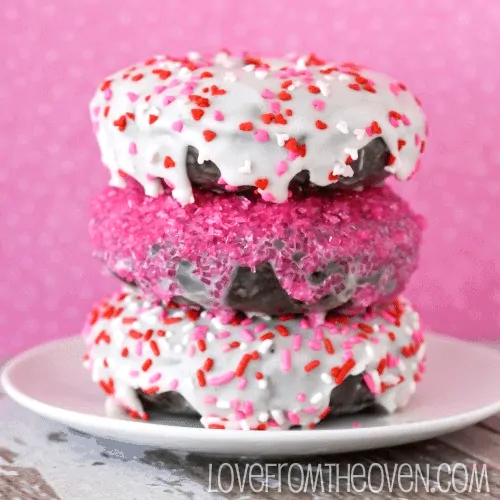 I made this batch with white whole wheat flour, and while they a slightly different texture (not bad, just a bit different) they are still so yummy and I don't feel quite so guilty giving them to the kiddos as a special weekend morning treat.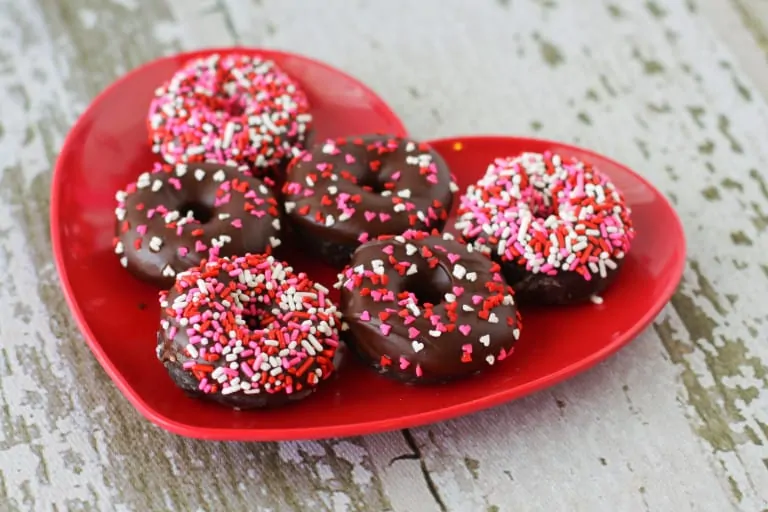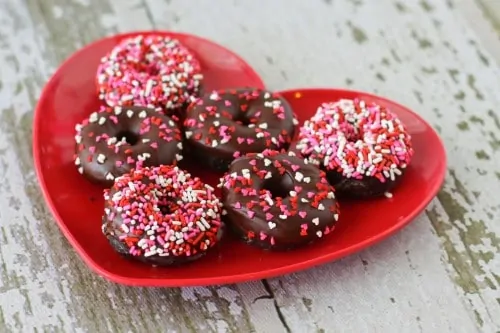 I LOVE my Babycakes Donut Maker (and highly recommend it) but this recipe CAN be made with a regular donut pan. I have this donut pan, but how cute would this heart donut pan be??? Adorable!!!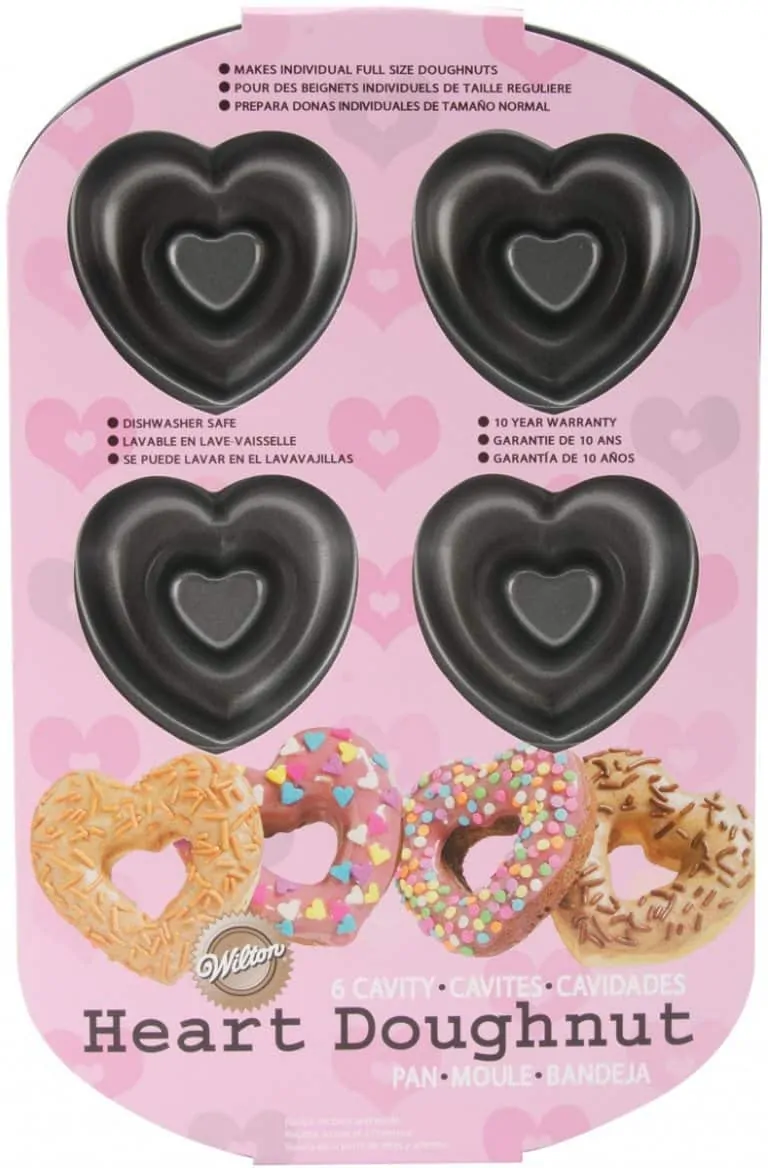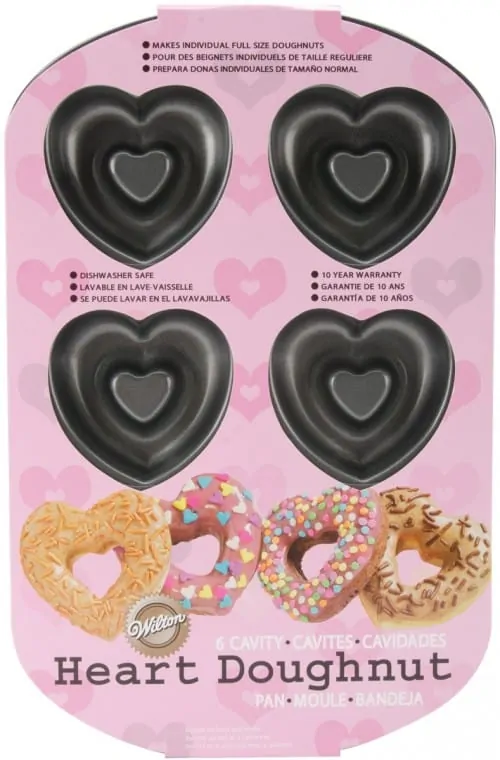 I split this batch in half – making half in the Babycakes machine and half in the oven. And truth be told you could probably get a decent result making them in a muffin pan – so there is no excuse not to whip some up.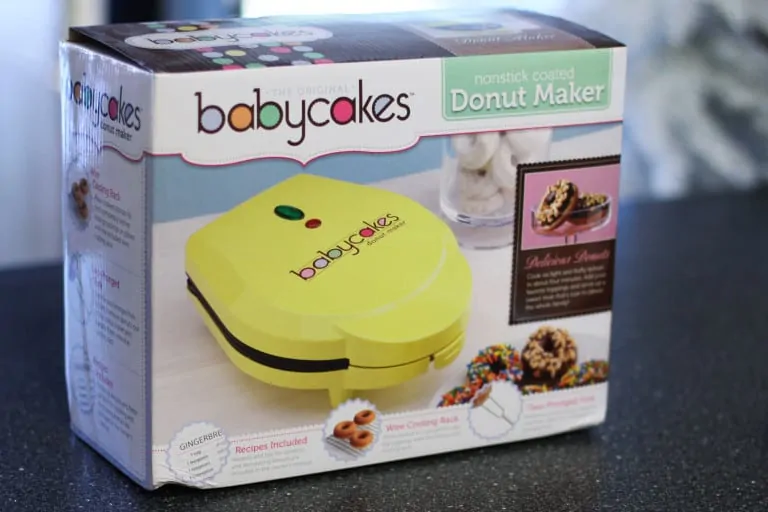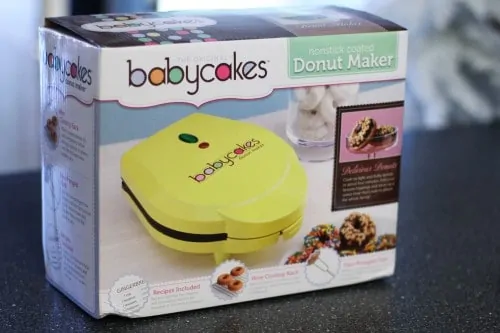 I used the Chocolate Donut Recipe on the Babycakes website. I highly recommend it, as well as their Sour Cream Donut Recipe. I haven't tried their others, but I'm confident they are great as well.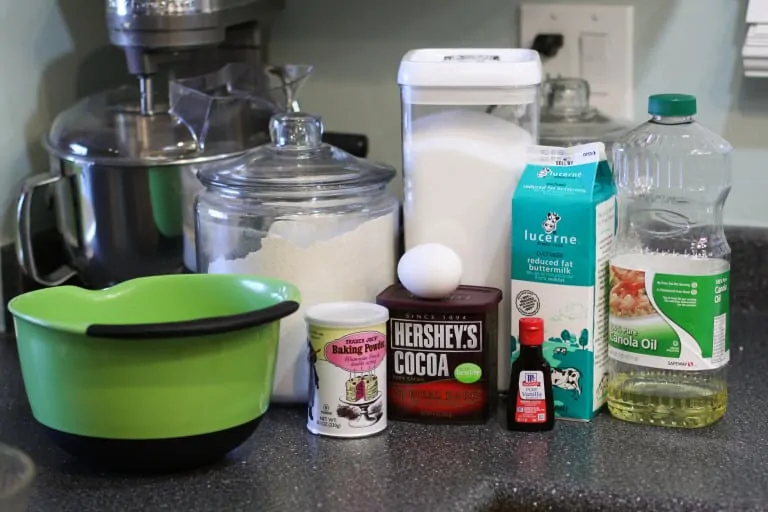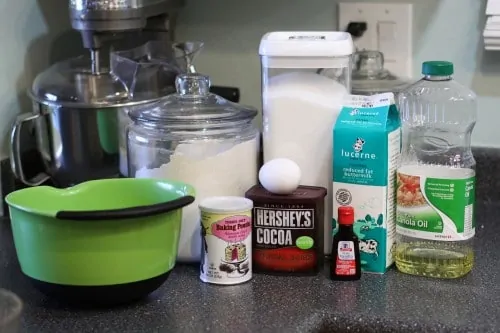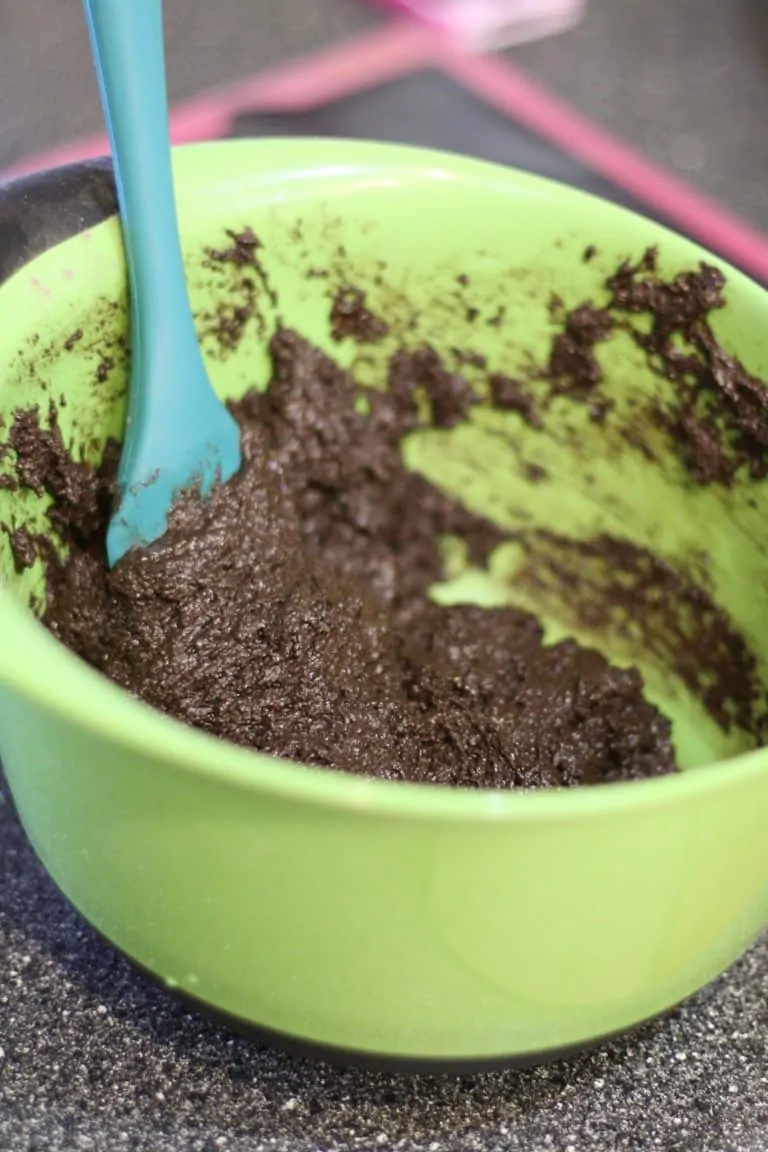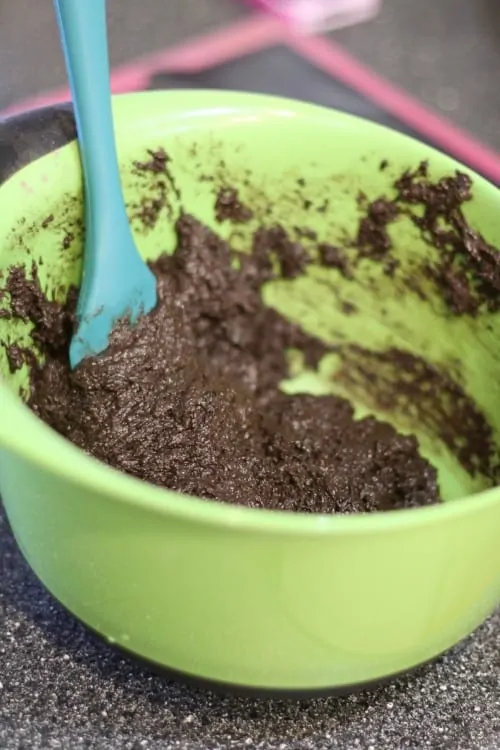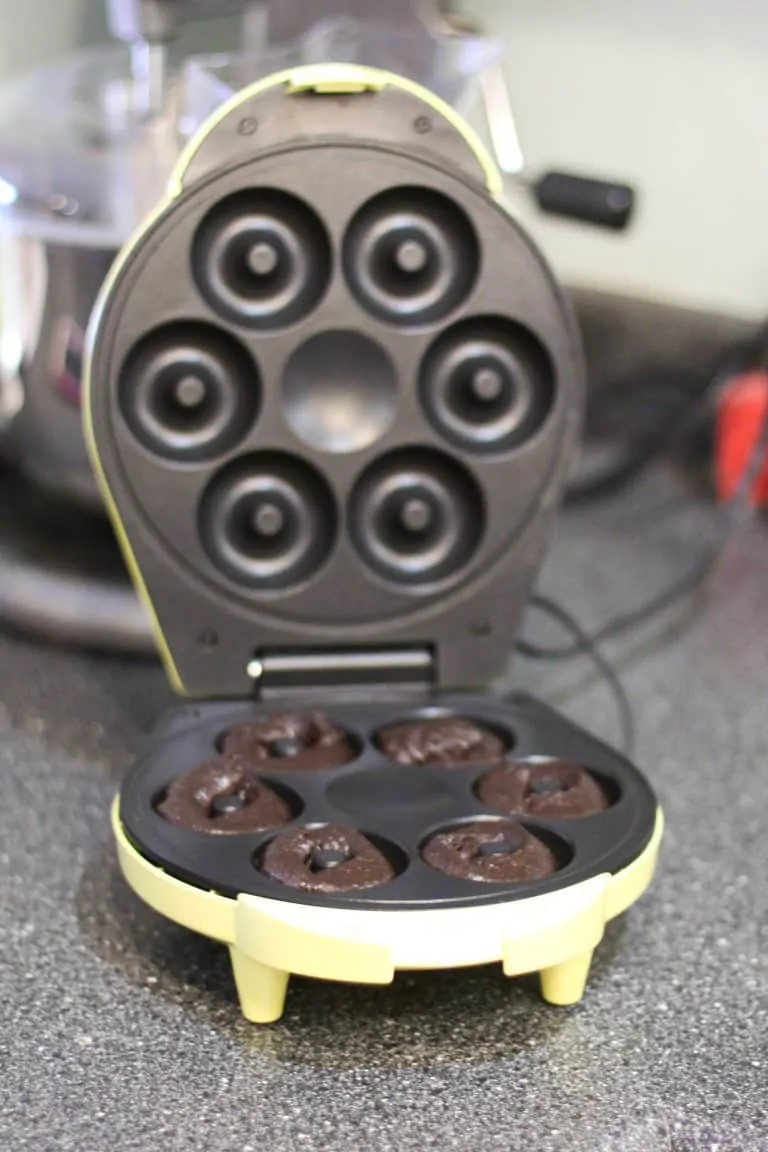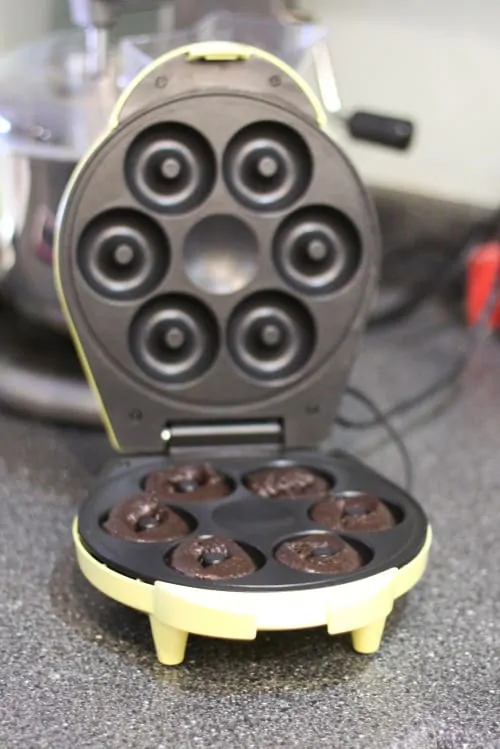 I did use dark cocoa in place of regular (I adore dark chocolate) and I used white whole wheat flour instead of all purpose. They are just as moist, but the texture is a bit different – not drier, maybe just a tad grittier? My daughter and husband both noticed the difference, but had no objections – and neither has a problem objecting! I will say that the difference in texture is the most noticeable while they are still warm and seems to lessen as they cool and set.
The batter is very thick, and you want to mix it until it's just combined, but do not over mix. I put my batter into a large Ziploc freezer bag, and then pipe it into the donut maker and pan.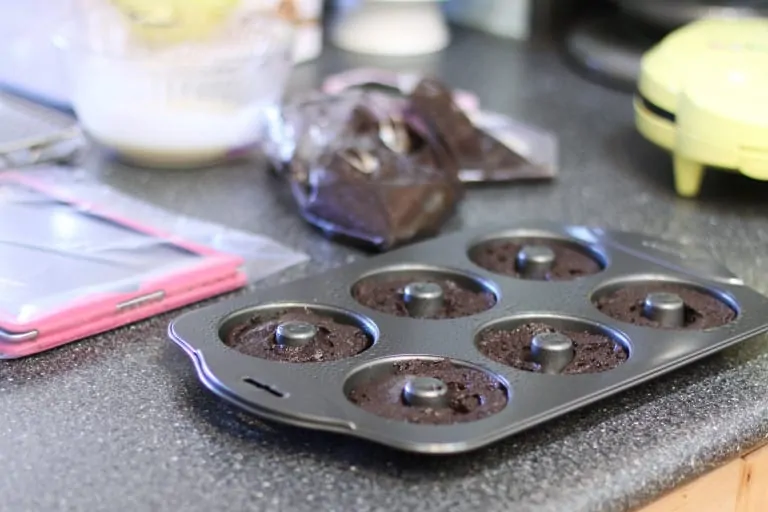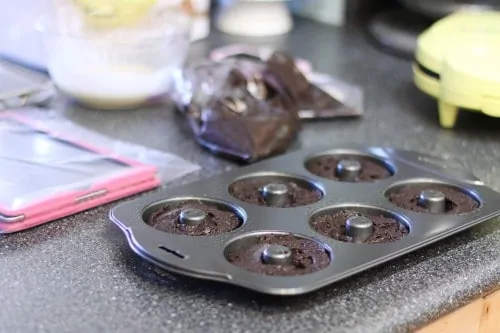 For making these in the oven, I baked them at 325 degrees for 11-13 minutes, and in the donut maker it was about 4-5 minutes. I said quick and easy!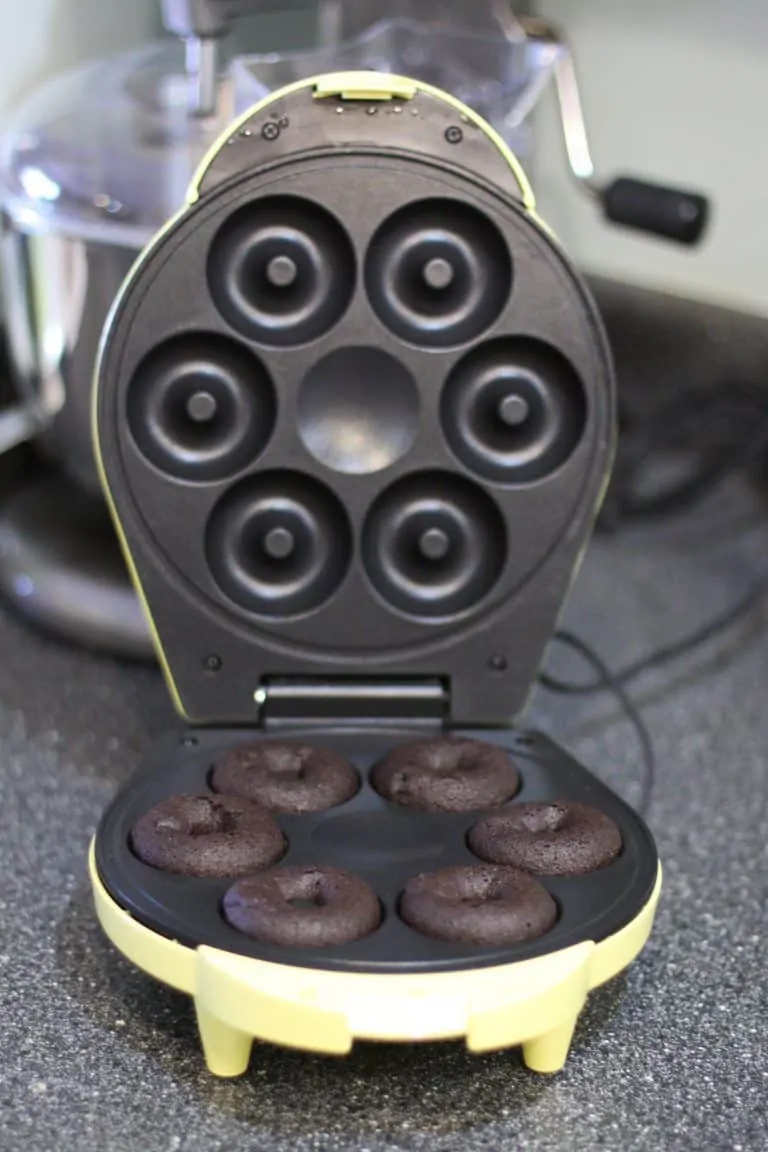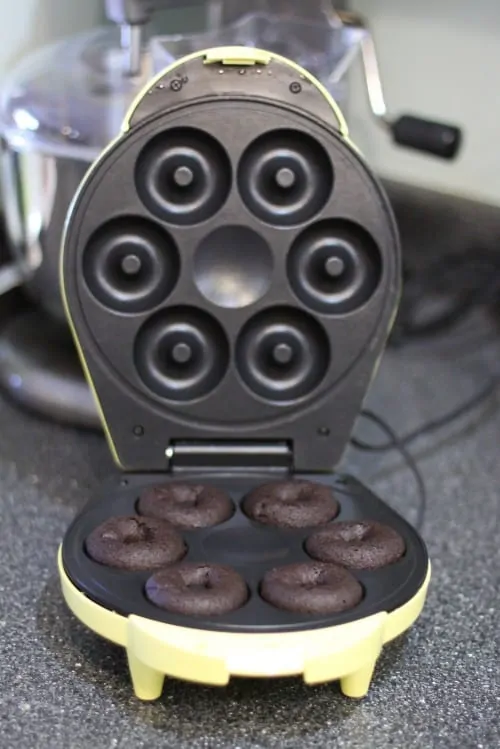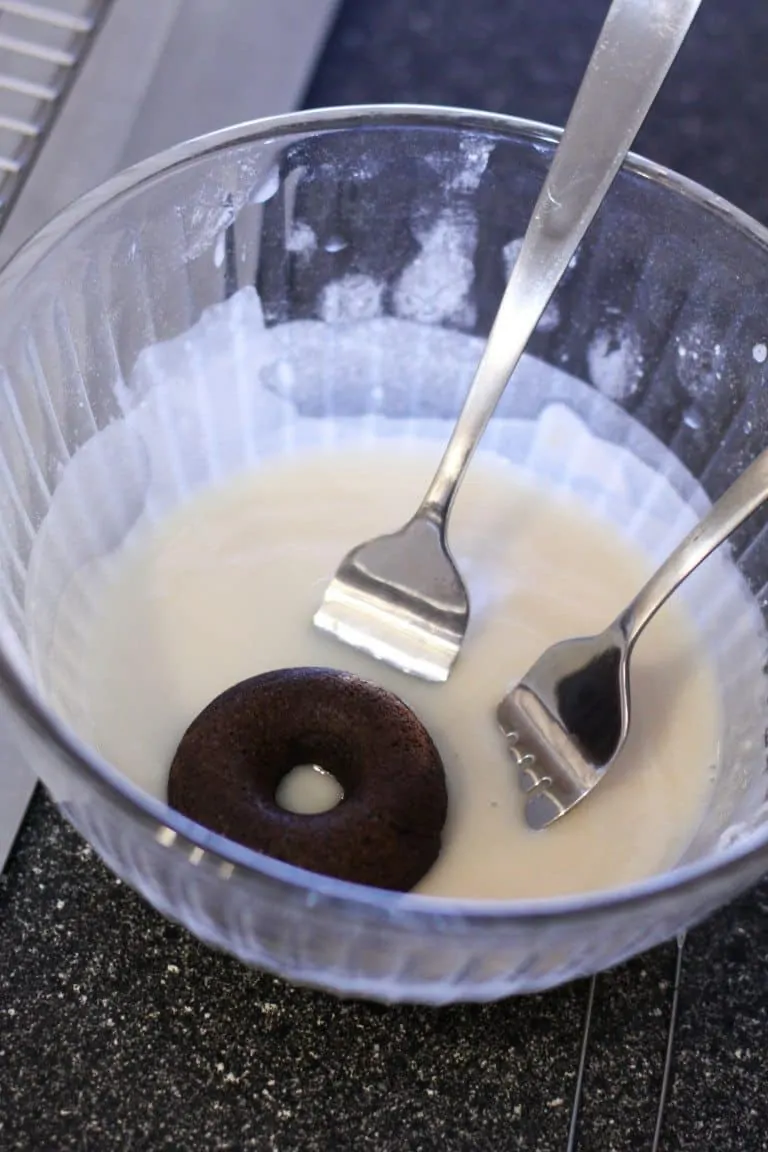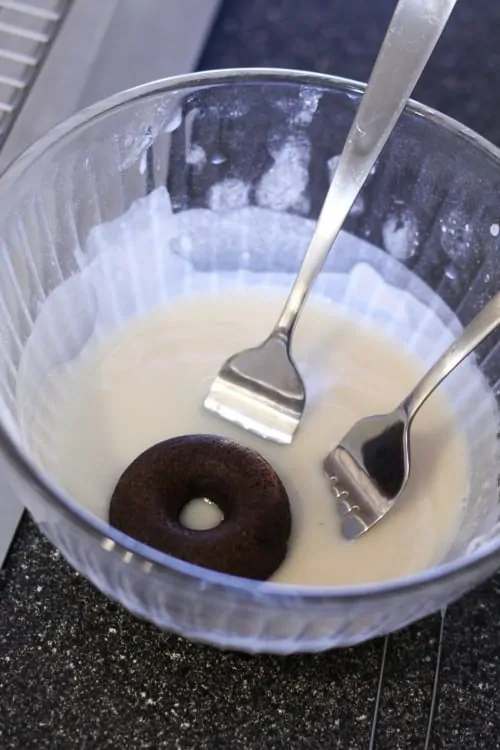 With baked donuts, I find that they can dry out pretty quickly. The best solution I have found is to make a very thin glaze with water, powdered sugar and vanilla and give them all a good coating while they are still warm. Not only does this add a delicious sweetness, but it also helps seal them and keep them moist.
This is one of those things I'm not terribly specific about when I make it – about a cup of powdered sugar, 1 teaspoon of vanilla and 2 TSBP of water – you can mix by hand or with a mixer. You want a runny consistency as you aren't frosting the donut with this, just giving it a dunk. I drop mine in, flip them over with a fork and then sit on a wire rack with wax paper or foil below to catch the drippings.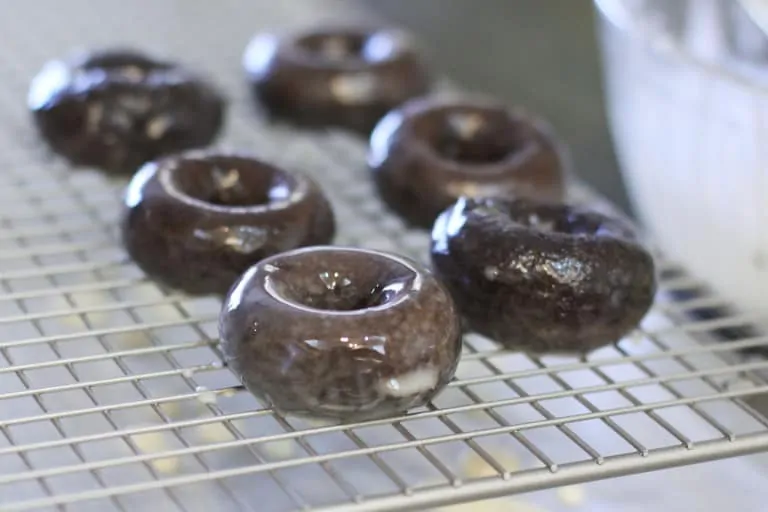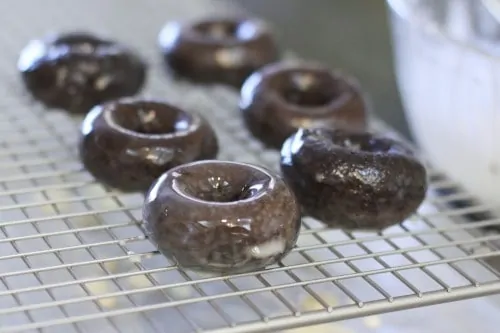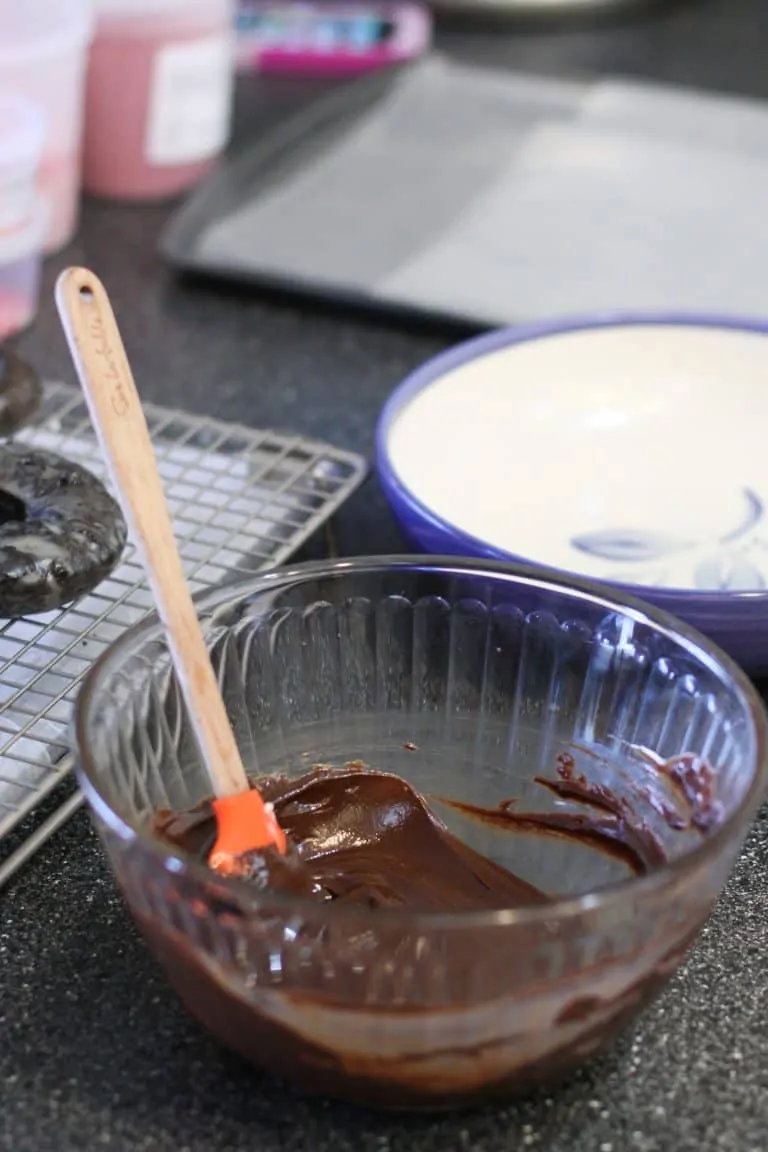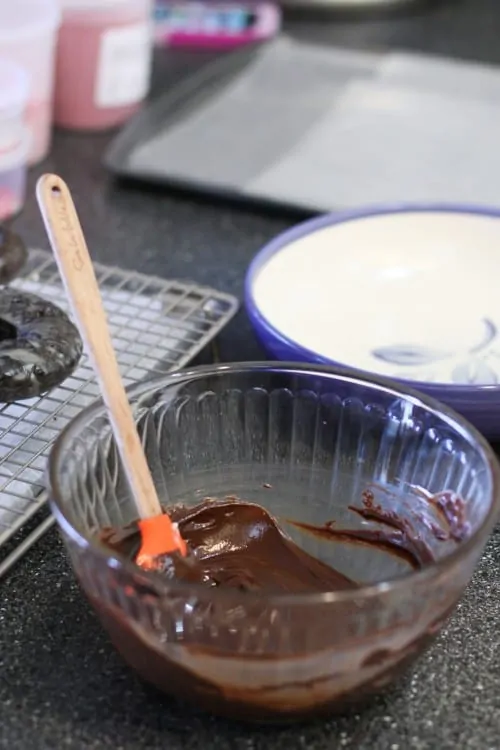 You can call it good right here, they will be de-lish. They remind me of the glazed chocolate cake donuts at the donut shops (my fave). But I'm all about over the top and sprinkles, which take just a few more steps. For the chocolate topped donuts I followed this recipe for Satiny Chocolate Glaze in the microwave – it took less than a minute. For the small size donuts that I made in my donut maker, I just dipped the tops of the donuts into the glaze. For the full size donuts I find that it works better to just spoon a bit on the top and spread it a bit.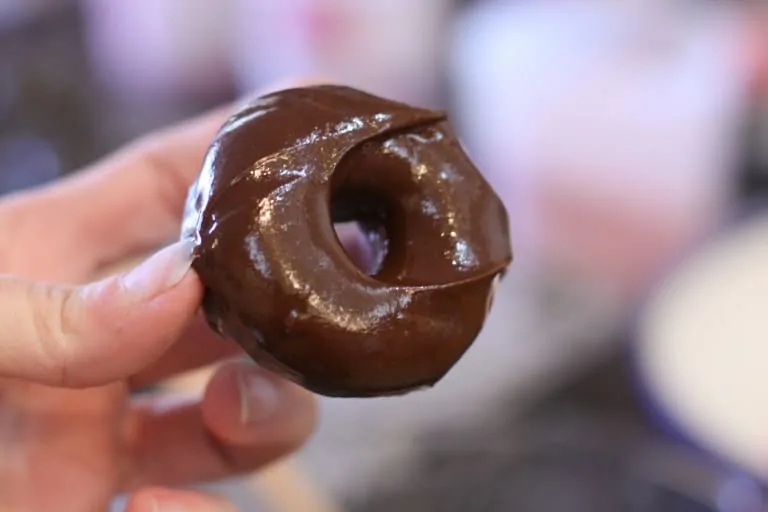 After that add some pretty sprinkles!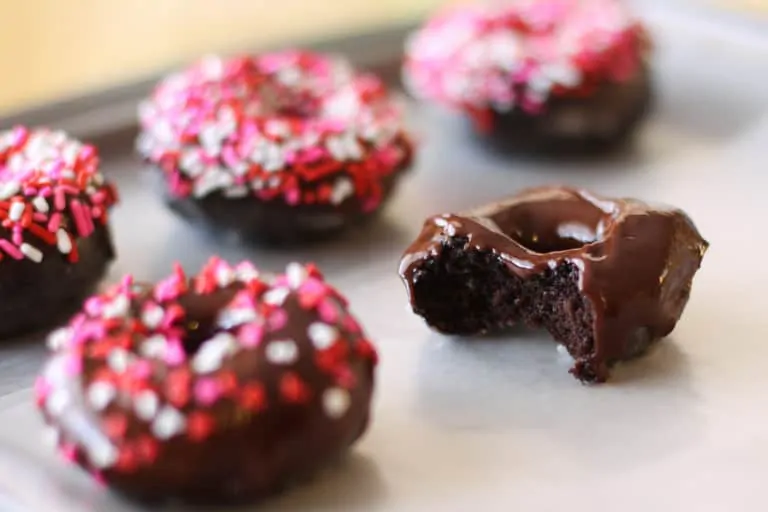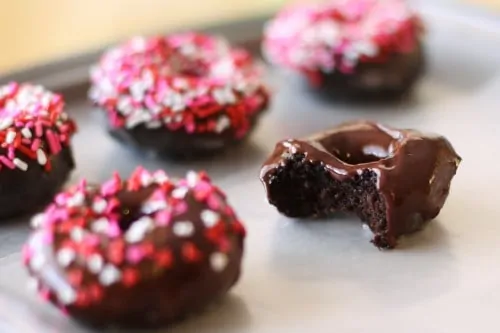 I also wanted to do some with a vanilla glaze, so I used a recipe from my friend Averie. If you haven't checked out Averie's blog, DO IT NOW. Seriously, this girl has the most amazing recipes and the most amazing photos. I think I may just need to share some of my favorites of hers with you later this week – so stay tuned for that.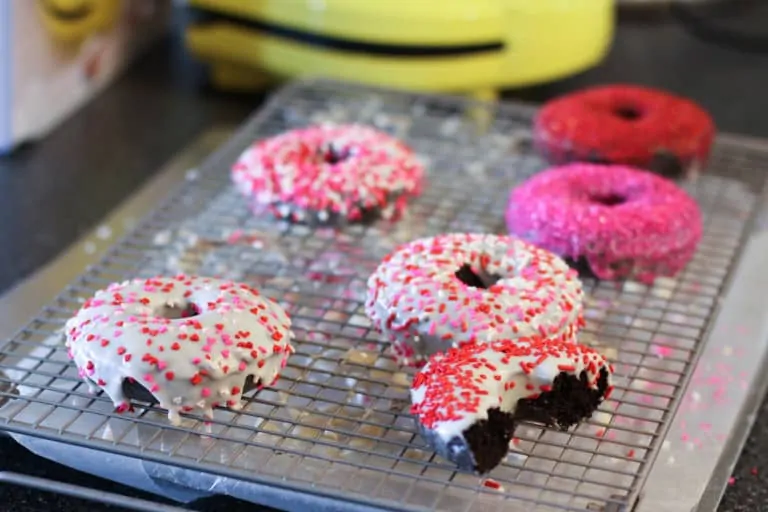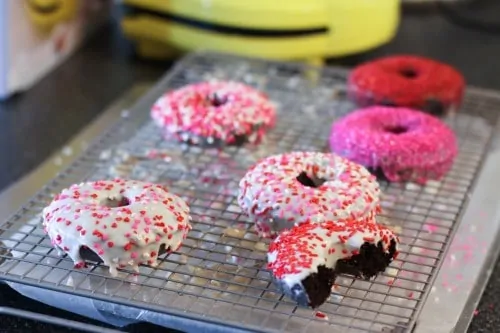 That is it! They are so yummy and so cute! Who wouldn't love waking up to some of these on Valentine's Day???? Or just Tuesday? Any day!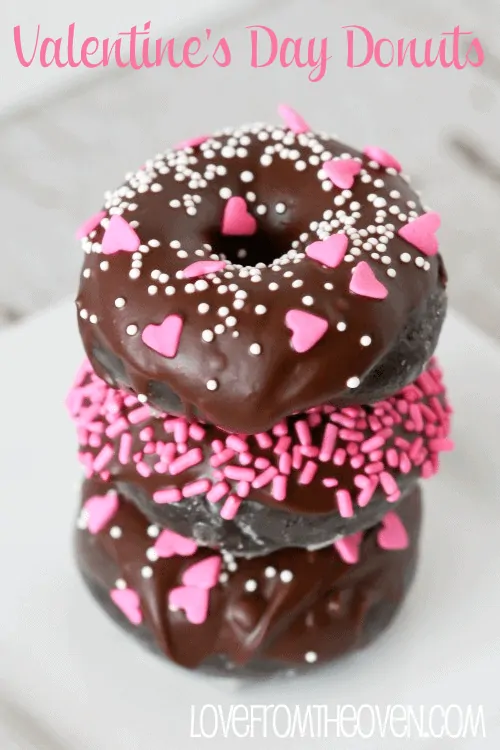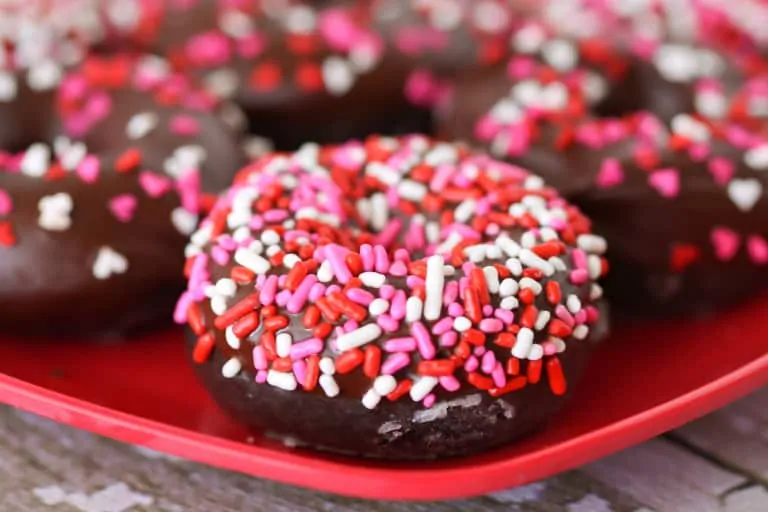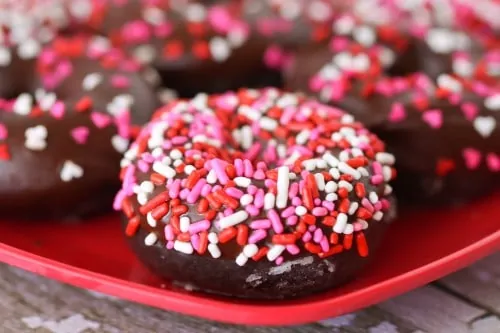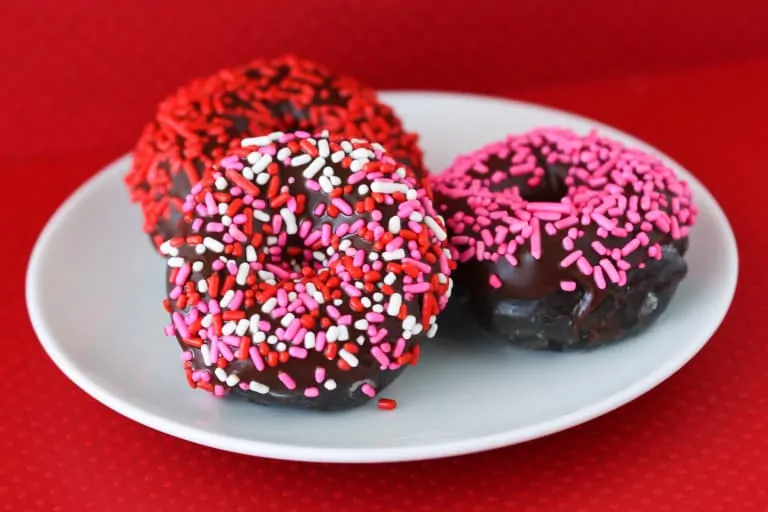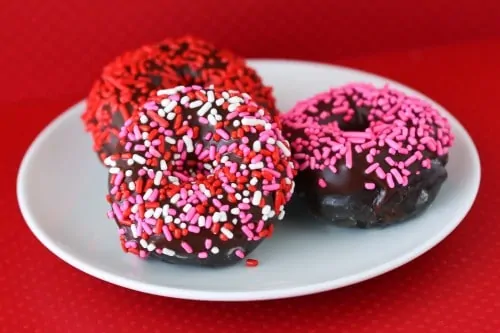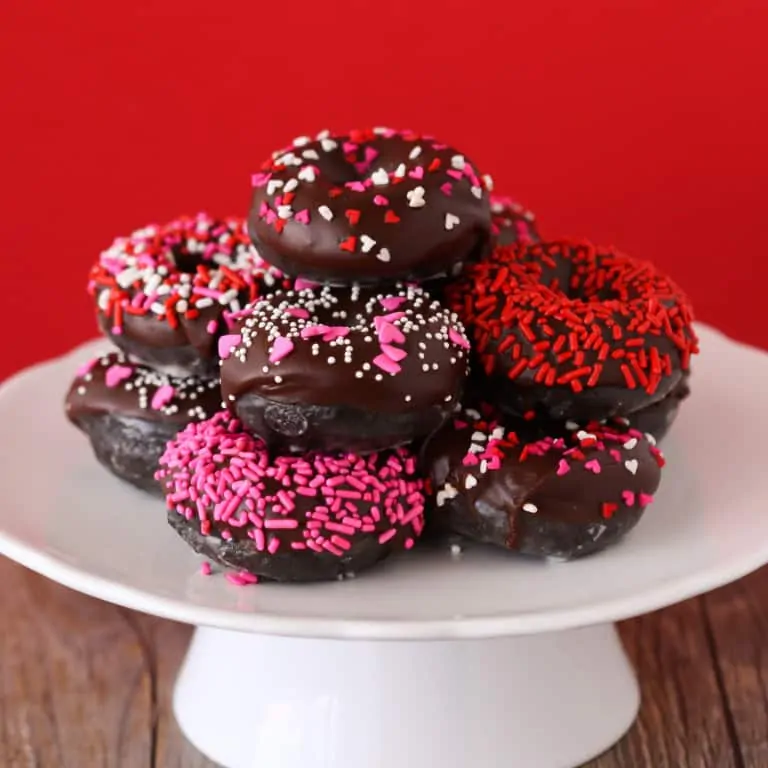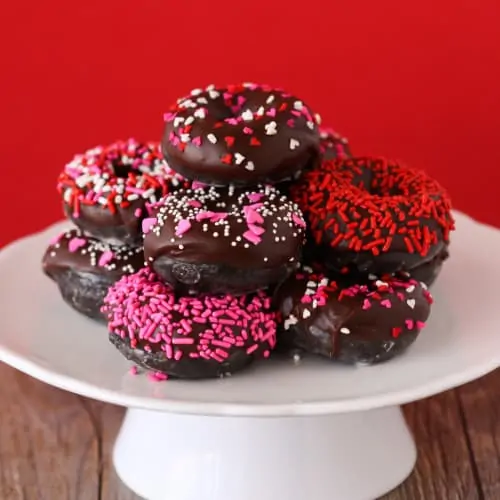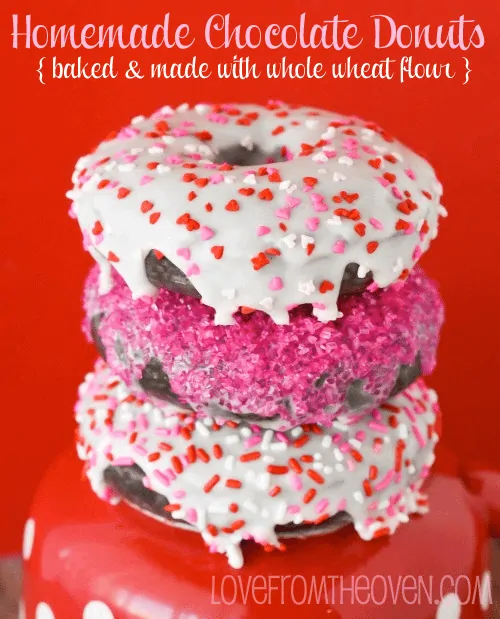 Now can someone pass the milk???
Baked Chocolate Donuts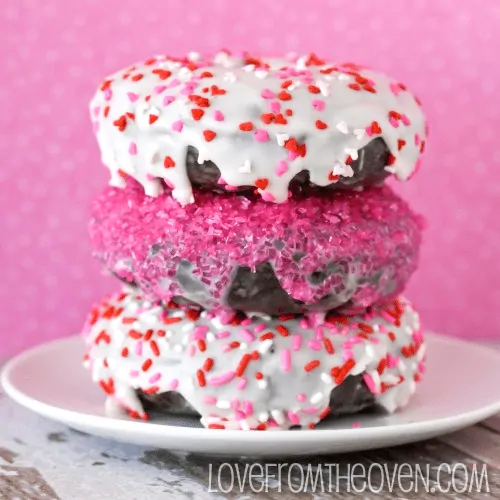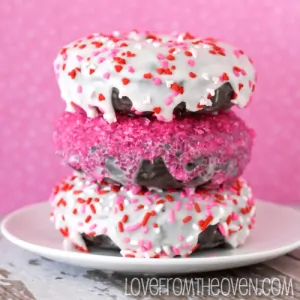 Baked Chocolate Donuts
These delicious donuts are a perfect way to start the day!
Ingredients
1¼

cups

all purpose flour or white whole wheat flour

½

cup

unsweetened cocoa powder

dark cocoa powder is a great option

½

cup

sugar

1

tablespoon

baking powder

1

egg

¾

cup

buttermilk

¼

cup

vegetable oil

1

teaspoon

vanilla
Instructions
Stir dry ingredients together in mixing bowl. Add egg, buttermilk, vegetable oil and vanilla. Using a mixer on medium speed, blend until smooth.

Fill each cooking reservoir with about 2 tablespoons of batter.

Bake about 4 to 5 minutes or until a toothpick inserted into donut comes out clean.

Glaze or coat with powdered sugar, as desired.
Notes
Recipe courtesy of Babycakes
Nutrition
Calories:
45
kcal
|
Carbohydrates:
9
g
|
Protein:
1
g
|
Fat:
1
g
|
Saturated Fat:
0.3
g
|
Polyunsaturated Fat:
0.1
g
|
Monounsaturated Fat:
0.2
g
|
Trans Fat:
0.001
g
|
Cholesterol:
7
mg
|
Sodium:
10
mg
|
Potassium:
84
mg
|
Fiber:
1
g
|
Sugar:
4
g
|
Vitamin A:
19
IU
|
Calcium:
30
mg
|
Iron:
1
mg
Disclaimer
Nutrition information is estimated as a courtesy. If using for medical purposes, please verify information using your own nutritional calculator. Percent Daily Values are based on a 2000 calorie diet.
Recipe for chocolate glaze found here.
Recipe for vanilla glaze found here.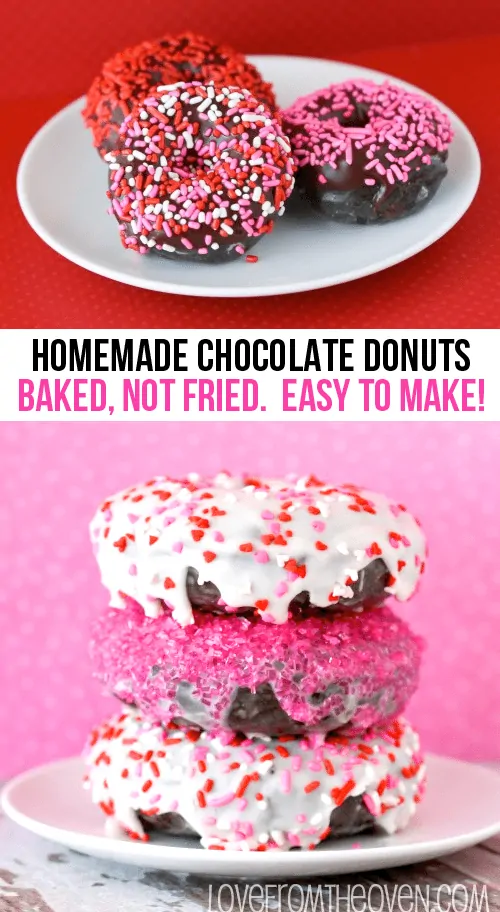 SaveSave