If you are planning a trip to Alaska, you might be wondering what to pack for an Alaskan cruise. As a life-long Arizona resident, packing for my recent Alaskan cruise on the Ruby Princess was a bit of a challenge.
When it's 110 degrees in Phoenix, it's hard to imagine what it's like in Skagway, Alaska! But with a little research I figured out what to pack for an Alaskan cruise, and had everything I needed with me on the trip.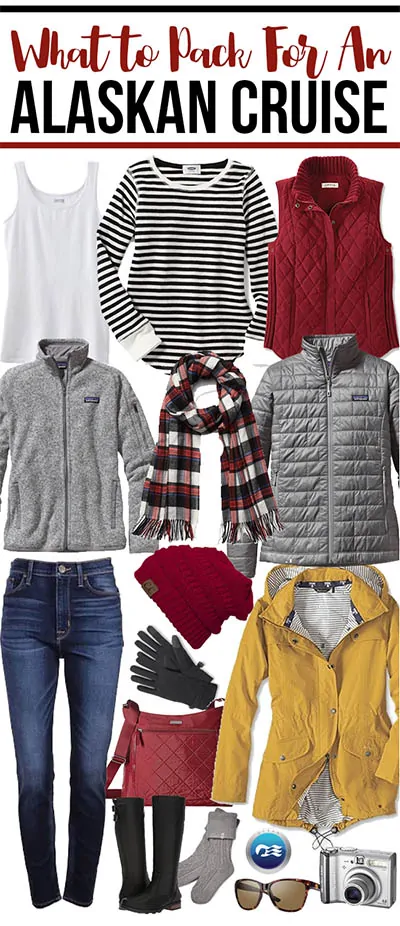 When I travel I always rely on Amazon Prime or a nearby Walmart or Target in case I forget something. When you go on an Alaskan cruise that method of packing with back up shopping won't really work out. So packing for an Alaskan cruise took some research and planning.
I read a lot, learned a lot and am now sharing a lot. This is a long post but I hope that you will find it incredibly helpful for packing.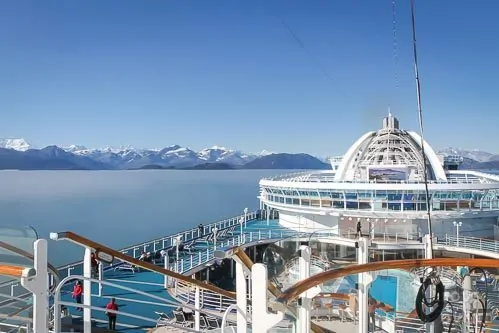 Given that I live in Phoenix, I don't have a large winter wardrobe, and thus needed to make some strategic purchases prior to my trip. While I had visions of super cute outfits for an Alaskan cruise, reality is my style is really more about practicality and comfort. Hey, I'm a food blogger, not a fashion blogger.
For those cute outfits go check out my fellow blogger (though fashion, not food) Lauren's absolutely adorable outfits for Alaska. She was also on my cruise, and her cruise style was amazing. Now let's get packing and talk about what to pack for an Alaskan cruise!
What To Pack For An Alaskan Cruise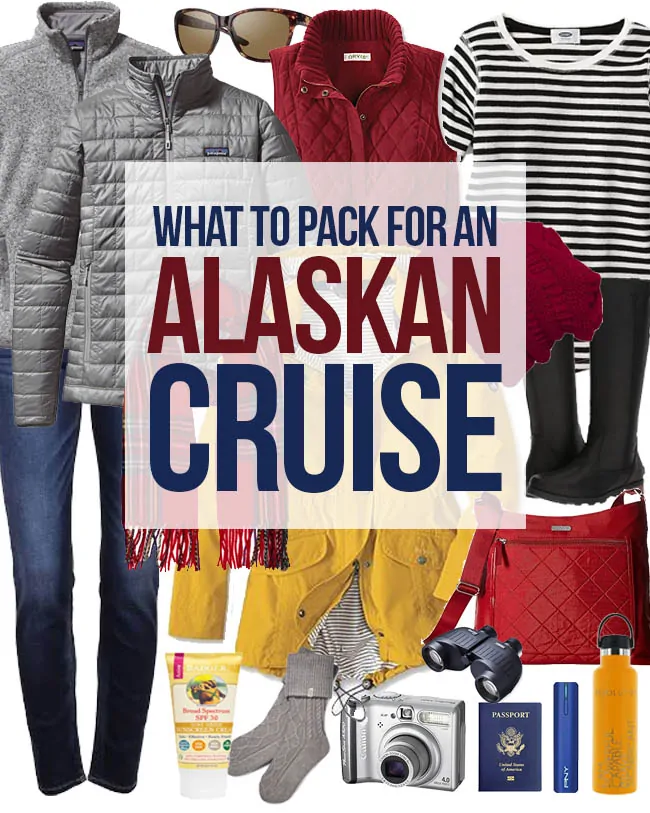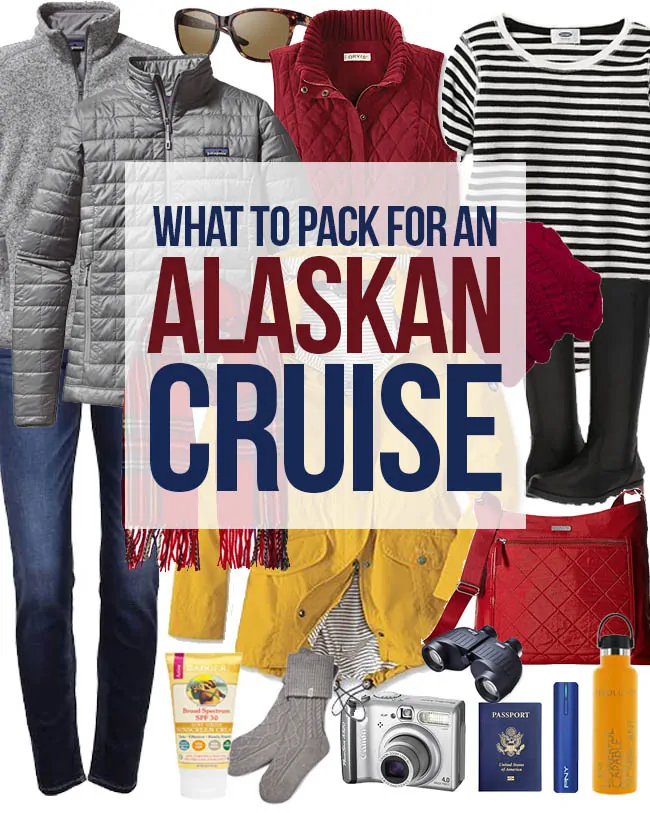 Suitcases For An Alaska Cruise
It's not just what you pack for an Alaskan cruise, it's what you pack it in! While I'm usually all about only traveling with a carry on, Alaska was a checked bag type of situation.
When you are checking a bag, weight is what it's all about. Under 50 pounds is the name of the game with most airlines. You don't want 15 of those pounds to be your suitcase, so you have to go light.
If you do not have a full size lightweight suitcase, first check with your friends and family to see if they have one you can borrow. Suitcases are those things many of us don't use often and are happy to loan out. I went ahead and purchased a full size lightweight suitcase because we know we'd get use out of it in the future.
I went with a Travelpro Maxlite 29″ Spinner. Let me say, it is a BIG suitcase. My Dad had a 25″ which probably have been fine, but it gave me room for souvenirs. And as big as it was, it fit perfectly under my bed on the Ruby Princess.
I HIGHLY recommend getting a suitcase that is NOT black, and then adding ribbon or something else to make it quickly and easily identifiable wherever you go. Also a portable luggage scale can save you a lot of money in overweight baggage fees.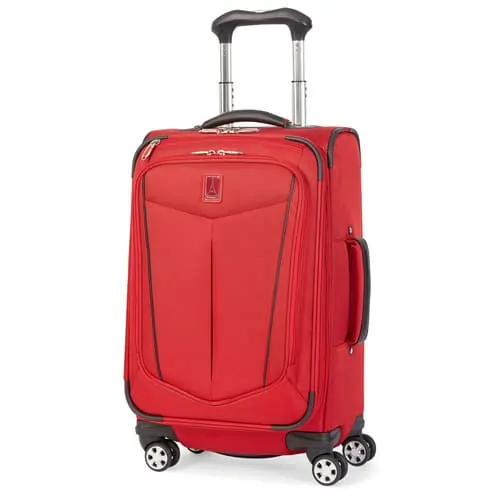 In addition to a suitcase, you are going to want a carry on bag. I have a lightweight Kipling Weekend Tote that I love. It has a crossbody strap and a trolley sleeve (which allows you to slide the bag onto the handle of your suitcase), two things that are lifesavers when schlepping luggage around airports. I always carry medications, toiletries, electronics, chargers and some sort of extra clothing in my carry on.
It's just practical to take a carry on in case the airlines has a snafu with your luggage. Even if all goes smoothly at the airport, you'll still want that carry on for the ship. Once you board the ship you won't see your suitcase for a few hours, possibly late into the evening.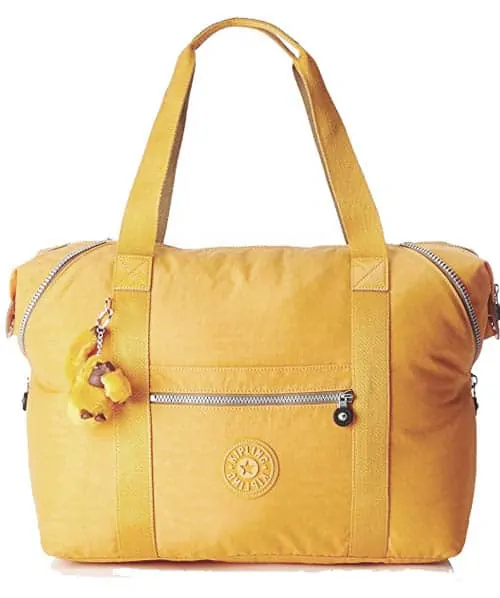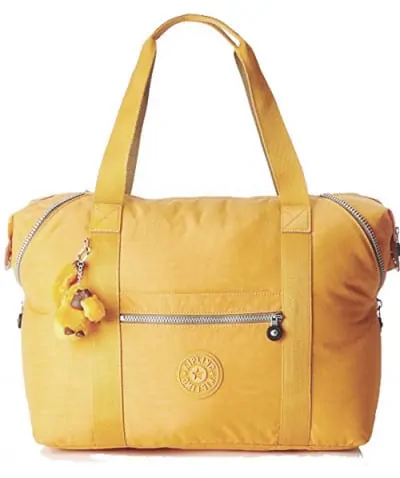 When you are returning to port at the end of your cruise, you can sit your suitcase outside your room the night before and the Princess staff gets it off the ship for you.
Our particular cruise also had a separate service called Port Valet where your suitcase could be taken from outside your stateroom all the way to the airport and be checked right to your plane. PEOPLE THIS IS THE BEST THING EVER.
But to use it you are going to need an overnight bag because once you sit that suitcase out the night before, it might be a long time before you see it again. I sat mine out at 5pm when in port in Canada and the next time I saw it was on the baggage claim in Phoenix at 11pm the following day.
Check out my friend Mary's post for tips on packing and organizing your carry on. She's like a carry on packing ninja.
Clothing To Pack For Cruise To Alaska
Now let's talk about clothes to pack for an Alaskan cruise. My Princess Cruises trip to Alaska was in mid-September, which can be considered the rainy season. Luck have it we had almost no rain at all, but you really need to be prepared and pack for it.
The temperatures in Alaska can vary greatly, especially in the true summer months, so it is all about layers.
Living in Phoenix my extent of layering is throwing on a cardigan, so I wasn't totally sure at first what this whole layering thing was about. Thankfully it's easy, and you can probably work with what's in your closet. If you don't already have everything you need, check with family an friends to see if you can borrow things like rain jackets.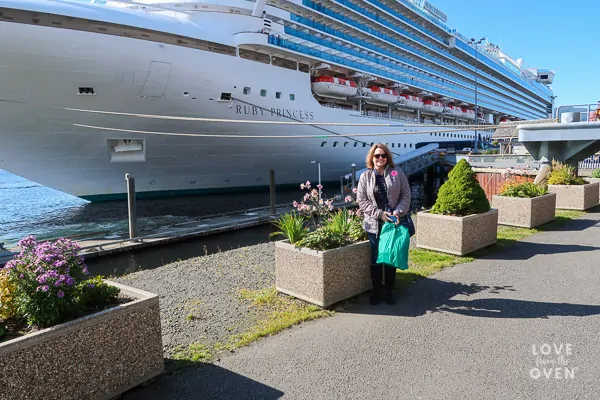 Here's what my Alaska outfit layers looked like almost every day…
Fitted camisole or tank top
Long Sleeve T-Shirt
Vest
Lightweight fitted jacket
Warm jacket (I LOVE my Patagonia Nano Puff)
Waterproof rain jacket (not just water resistant, waterproof!)
Scarf
Jeans
Wool Socks (wool for warmth and comfort when walking)
Waterproof Boots
Knit Cap (I absolutely love the slouchy beanie I took)
Gloves (if you want to use your phone, make sure they have the touch feature)
That's a LOT of layers, especially for a girl who lives in jeans and short sleeve t-shirts. But I have to say, it worked very well. I usually left the ship wearing everything on that list. It was easy to pull off layers or add back layers as needed.
While I brought a number of camis and t-shirts, I only brought two vests, one lightweight jacket, one warm jacket, one rain jacket and one scarf. This helped save space for packing, though I do look like I'm wearing the exact same outfit the entire time, and when you are wearing 834 layers it adds some bulk to you. BUT YOU ARE IN ALASKA, so who cares! 🙂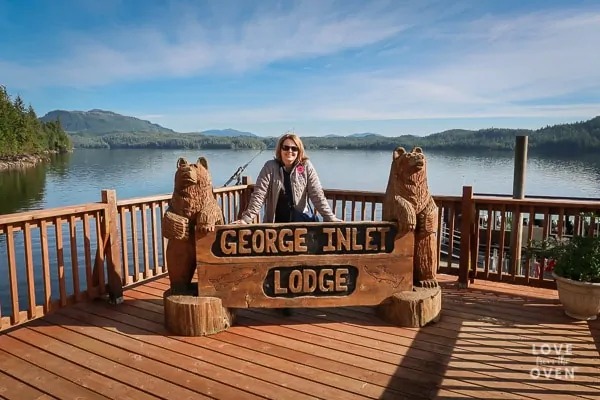 I did invest in a warm jacket, a Patagonia Nano Puff. I will say, it is an investment, but I will wear this jacket for years to come. It's like a magic jacket, it's so thin, easy to move in, comfortable and yet so warm.
It's so lightweight that I would carry a full size Ziploc Bag in my purse, and if I got too warm while wearing it during an excursion I would fold it up and stick it in the Ziploc.
I borrowed my husband's rain jacket, which I could throw on over all the other layers if needed. It also could be folded up and packed into a Ziploc Bag. This option is fantastic when you are off the ship all day for excursions.
I find waterproof rain jackets can be quite hot, so I liked having it separate from my actual jacket. Wearing it all the time would have been like a sweat lodge.
To go along with those layers, these items are what I recommend to pack for an Alaskan cruise…
Lounge clothes like yoga or sweatpants (for sitting on your balcony and taking in the scenery!)
A cozy hoodie
Comfy flannel or button down shirt
A pair of pants or slacks
Extra pair of jeans
Tennis shoes
Waterproof shoes – I went with a tall black leather waterproof boot that could take me from hiking in the rainforest to dinner on this ship. I almost brought actual rain boots but one boot that could do it all made much more sense. These boots were SO comfy! Mine are no longer in stock, but this is a similar pair from Rieker, a brand I find really comfortable (even for those who pretty much live in their FitFlops).
Slip on shoes – after 12 hours in boots, comfy lightweight slip on shoes were like heaven. I brought my lightweight leopard Crocs. Yes, Crocs. The ones I get compliments on every single time I wear them. 🙂
Outfits for formal nights – I went with simple jersey dresses that were easy to pack
Shoes for formal nights
Swimsuit if you want to swim or use the hot tubs
Basics like socks, underwear, bras, pajamas, workout clothes
Polarized sunglasses. Let met tell you, when the sun is out in Alaska, it's bright.
Clothing that can do double duty – things like a black cardigan you can throw on with jeans during the day, but can also put over a dress for a formal dinner. Cute ballet flats that work for hanging out at the International Cafe in the morning but also work with a cute dress for evening. Spending some time mixing and matching things like this prior to your trip will help cut down on unnecessary items taking up space, and weight, in your suitcase.
I really tried hard not to overpack. I can't compare my cruise to others, but I found the attire to be fairly casual, comfy and warm, aside from formal nights. From what I've read, that seems pretty standard for Alaskan cruises. And when it comes to formal nights, some people love them and can't wait to dress up.
But don't worry, if you've spent your entire day hiking outside, and are just not up to throwing on a dress and heels, it's okay! There are still plenty of casual dining options, as well as 24 hour room service!
You see all types of attire, and most of the time I was in jeans with a long sleeve tee and vest, or a cute plaid flannel shirt. Don't forget Princess has laundry rooms on their ships, so you can easily repeat some items during your cruise.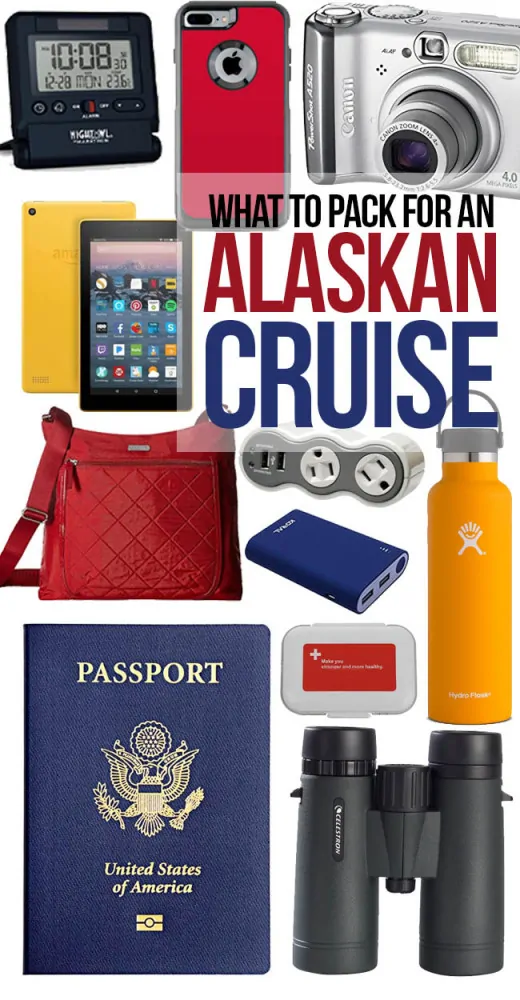 Non-Clothing Items To Pack For An Alaskan Cruise
There are a number of non-clothing items that I think need to be included in any what to pack for an Alaskan cruise list. These are the items I absolutely used and would bring again without question.
Binoculars – we used these every single day from our balcony, trust me, bring them!
A camera – your phone can serve the purpose, but if you have a separate camera, bring it. My Dad bought a new Canon PowerShot for the trip. It was super portable, and his photos were amazing.
Extra outlet – one with USB ports is best. There are not many outlets in the rooms, and I am SO glad we brought the extra outlet. Thanks to the USB ports we were able to charge multiple items at once, easily.
A lightweight, water-resistant crossbody bag. It's great to have a bag that let's you have your hands free, doesn't wear on your shoulders, and let's you keep things easily accessible. A backpack is another option.
A small purse for formal nights. While that crossbody bag useful, formal it is not. I actually had a simple black clutch type bag that I used for both toiletries and as my "formal" purse.
Travel phone chargers. While you might not be using your phone for talking or texting a lot, you might be taking a ton of photos and videos, and that drains the battery fast. Make sure to recharge them each night.
Ziploc Bags. Seriously, I take these every time I travel, there's always a use for them. Always.
Travel water bottle or coffee mug. We used these both on and off the ship. I have a Klean Kanteen Insulated Water Bottle that I've carried for years, I love it.
A Kindle, eReader or books. For weight sake, a Kindle, reader or tablet is probably your best bet.
Speaking of books, travel books! I usually just surf the internet when we travel to figure out what to do next. While internet is available, it can be pretty costly, so make sure you aren't planning to figure out your activities online each day.
Earplugs – I always travel with these for sleeping.
Sunscreen and bug spray. While we didn't need bug spray, if you are there in the middle of the summer you will.
A portable alarm clock. I'm SO glad I brought this, as our room did not have one.
A night light. It's pretty darn dark in the rooms at night, and when you combine an unfamiliar room with a slight motion of the vote, in the middle of the night having a bit of light is a very helpful thing. Our portable alarm clock doubled as a nightlight as well.
Bandaids – you'll be doing a lot of walking and you might end up with some blistered. Don't worry if you forget these, the gift shop has them.
Hanging organizer – I brought one that I packed my clothes into in my suitcase, then hung up in our closet to use.
Magnets – the walls are pretty much all metal, so you can use magnet clips to hang stuff or leave notes for your family.
An extra bag, because you know, souvenirs. I love these Baggu bags, it's so easy to carry an extra bag in your purse, they are super compact.
Medications. In addition to any prescriptions, I brought basics like Tylenol, Advil, allergy meds, things like that. Instead of a bunch of bottles, I use this pill organizer which I LOVE. I actually took it straight from that trip to my purse, and it's still in there today.
Phone case – if you don't already have a rugged and protective phone case, now's the time to get one.
If you are like me and an extreme motion sickness sufferer, check out my list of things to help prevent motion sickness on a cruise. Not to spoil it, but I had no motion sickness at all!
Toiletries
Passport
I hope this list is helpful for you when planning and figuring out what to pack for an Alaskan cruise. While it's a lot to plan and pack, don't worry. They actually have an amazing assortment of items you might need in the gift shop aboard the ship! It's like they know just what people need. 😉
My Alaskan Cruise on the Ruby Princess was an absolutely unforgettable experience, so pack your bags and get ready to set sail!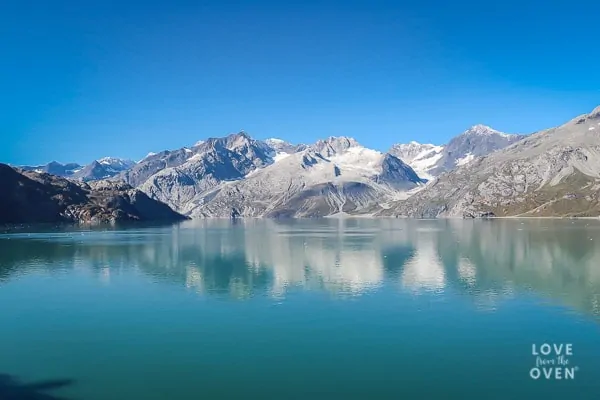 Disclosure: Princess Cruises provided myself and a guest with an all-expense paid trip on an Alaskan Cruise. All opinions however are mine and mine alone.
SaveSaveSaveSave
SaveSave
SaveSave
SaveSave