If you are heading to Seattle, you might be wondering what to see at Pike Place Market. I absolutely love Pike Place, and was thrilled that my recent Princess Cruise to Alaska sailed out of Seattle, allowing me two more visits to Pike Place. A visit to Pike Place Market and The Space Needle was even one of the Alaska Cruise excursion options available to us. We left the ship on a tour bus that took us to the Space Needle, Pike Place Market and finally to the airport.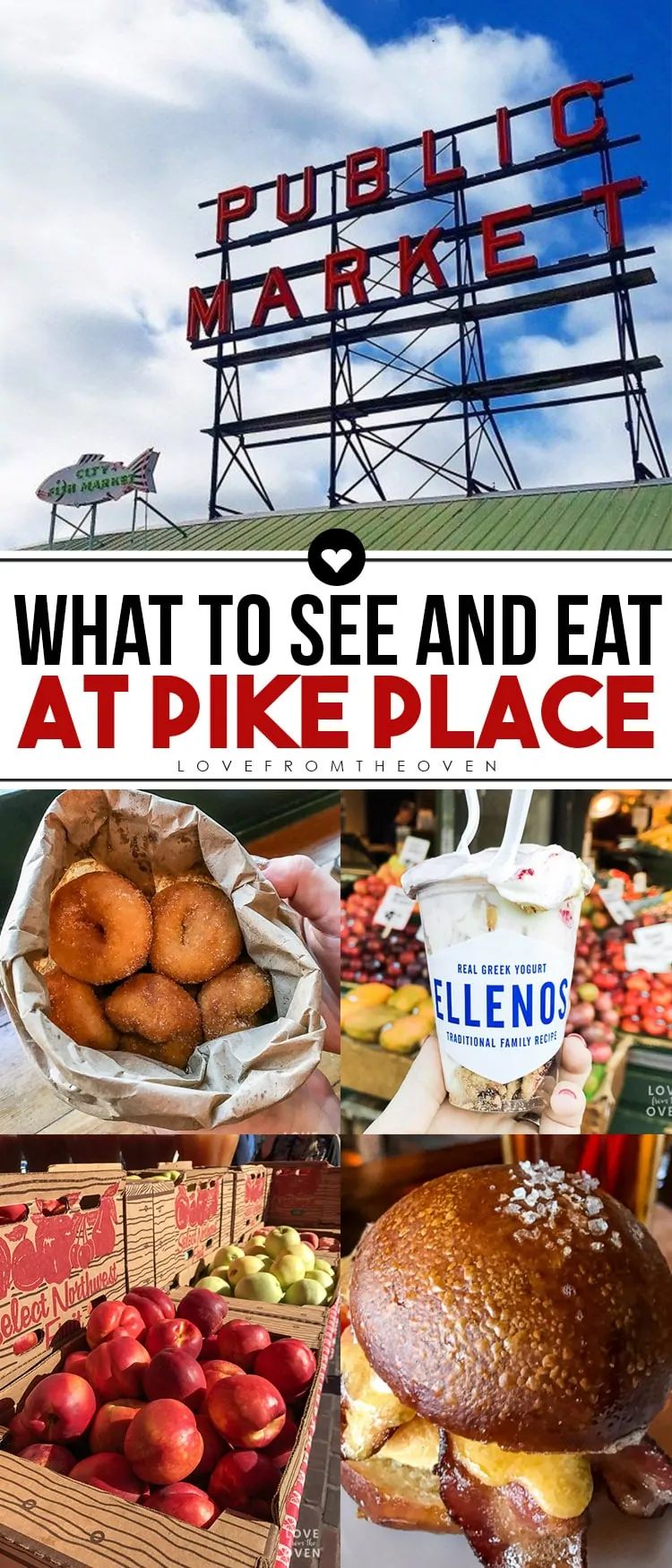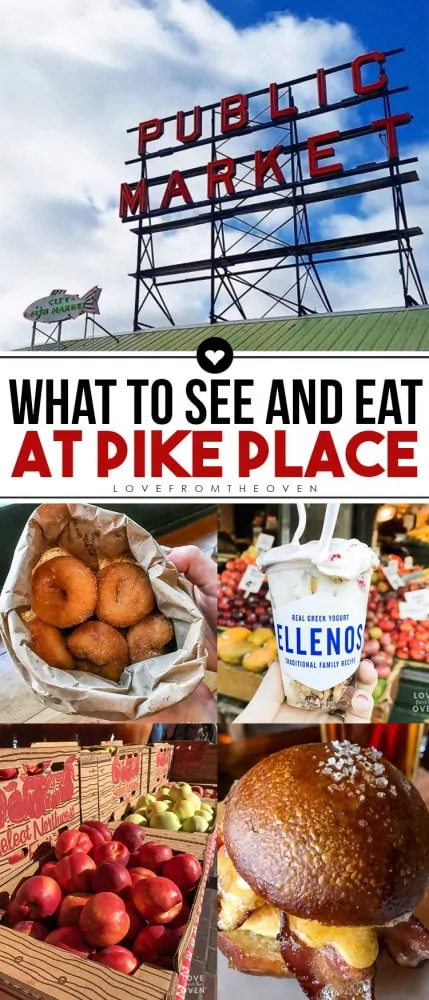 This is about a million times better than carrying your luggage through Pike Place! It is a pretty quick trip at Pike Place, depending on your flight, so you want to plan ahead and make the very most of it. Here are my suggestions for what to see at Pike Place Market. These are the same suggestions I give to friends, the places I visit and the places I take family and friends to when we travel to Seattle.
What To See At Pike Place Market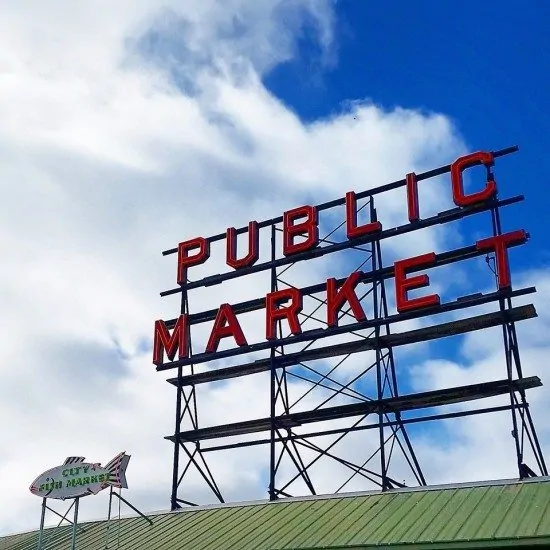 Pike Place Fish Market
This is kind of like stating the obvious. If you are at Pike Place Market you have to see the famous fish market and the fishmongers throwing fish. If you have a chance to try the dried salt cod, oh my goodness, do it.
The Original Starbucks Store
I'm not a coffee drinker, so the just seeing the original Starbucks store is good enough for me. If you want to get a drink, plan for a long line. Sometimes it's not too bad, but most of the time there is a substantial line. If you have limited time in Pike Place, I'd suggest checking it out, but maybe not standing in line to get a drink.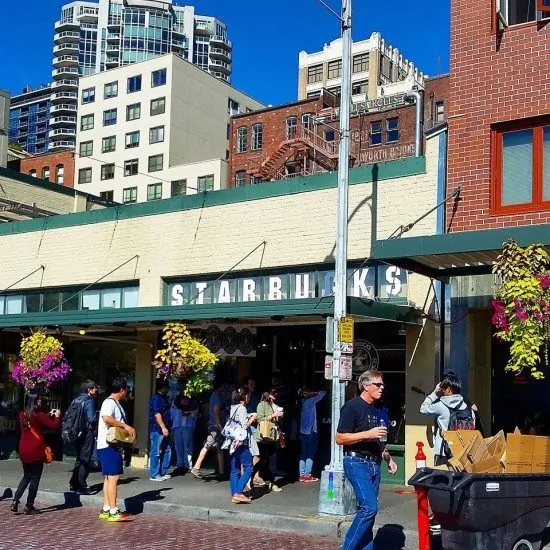 Piroshky Piroshky
Speaking of lines, I think Piroshky Piroshky usually seems to have the longest lines in Pike Place Market. If the line is reasonable, a potato and cheese filled piroshky will probably be worth the wait.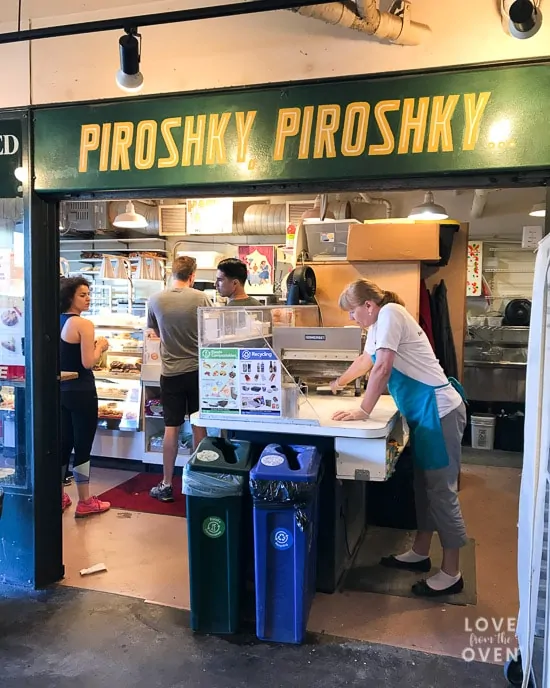 Ellenos Greek Yogurt
Let's first establish that I'm not some hardcore Greek yogurt fan. For the most part it's fine, not something I'd seek out. I tried Ellenos while on a food tour at Pike Place Market. This Greek yogurt is one of the best things I've EVER eaten. Let me repeat that, one of the BEST THINGS I've ever eaten. It is almost always the first and last place I hit when I go to Pike Place, yes, I will go twice in one visit. I don't know what they make it from, probably like magic, dreams and fairy dust, but GET SOME. Seriously, I would never go stop and get Greek yogurt, I mean that's kind of weird. But Ellenos is like some whole other food. I mean I think it might be better than ice cream. The Marionberry Pie, with big chunks of pie in it, to die for. Try it, you'll thank me, at least until you crave it all the time.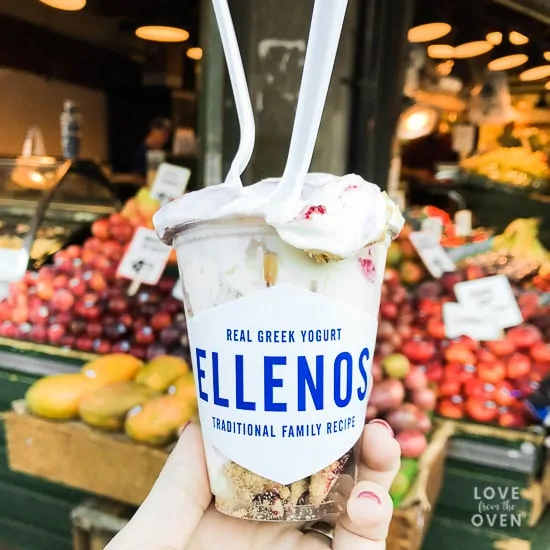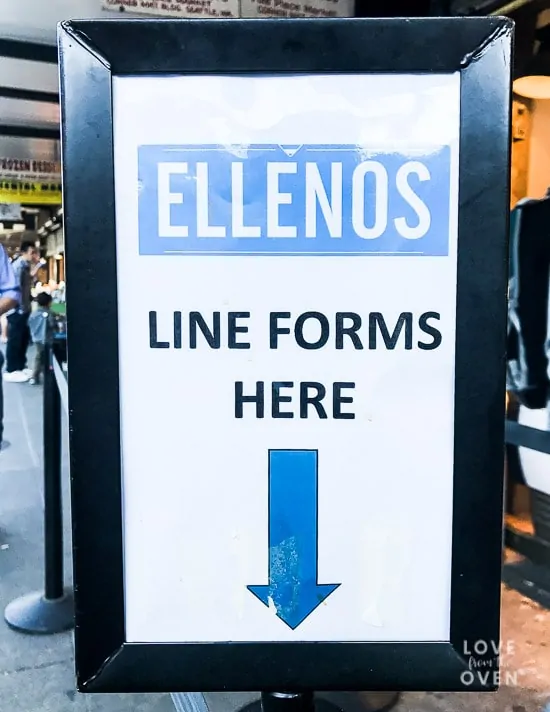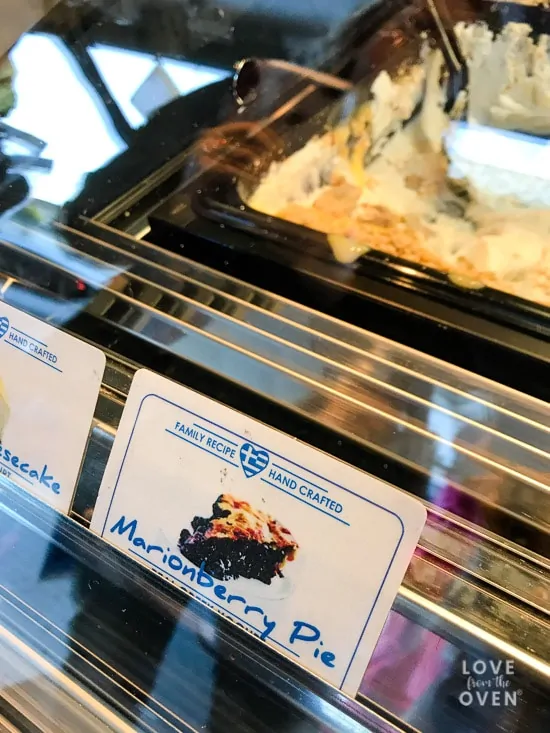 Daily Dozen Donut Company
Who knew that a paper bag full of hot donuts could be SO good. These are amazing. You get to watch them being made, and it's kind of mesmerizing. As is the taste. Make sure you swing by Daily Dozen Donut Company.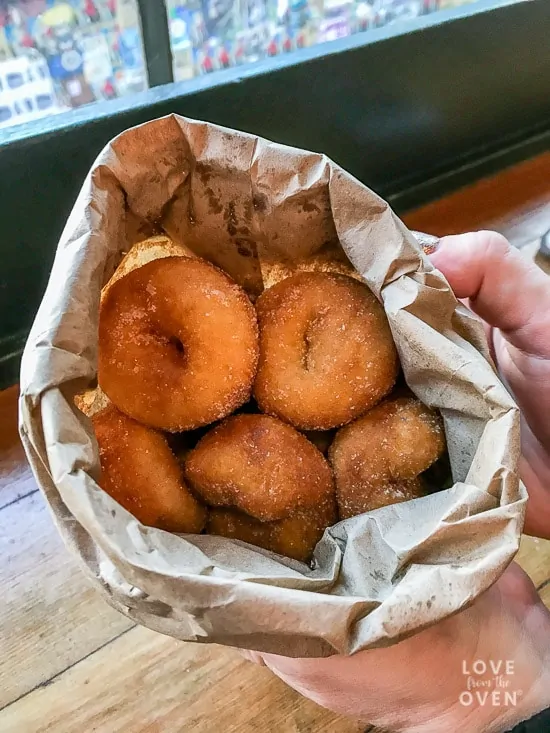 Beecher's Handmade Cheese
Beecher's. Oh wonderful, cheesy Beecher's. If you like cheese, even a little bit, go try some fresh cheese curds at Beecher's. You can actually watch through a window as they make them. Their macaroni and cheese is out of this world. And their sandwiches, best grilled cheese you will ever have. I think about their grilled cheese often. Sigh. But not all is lost – if you live near a Costco, they sell the frozen Beecher's Mac and Cheese. Bless them.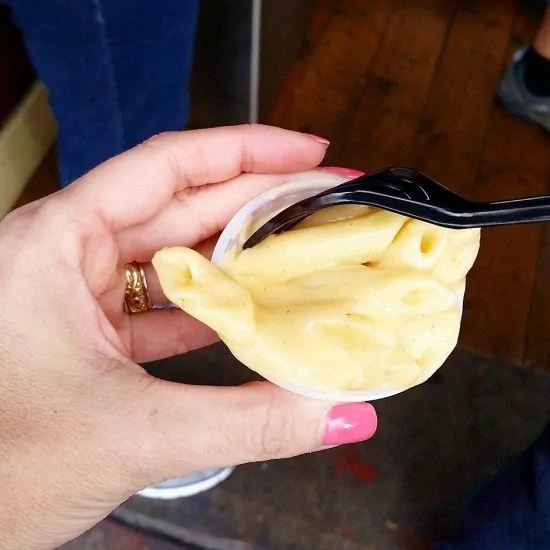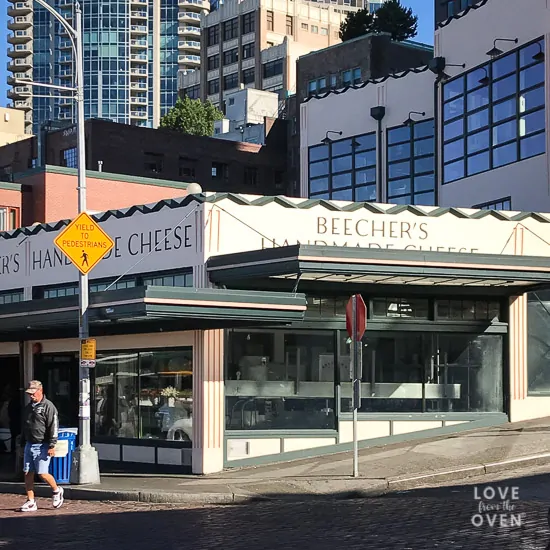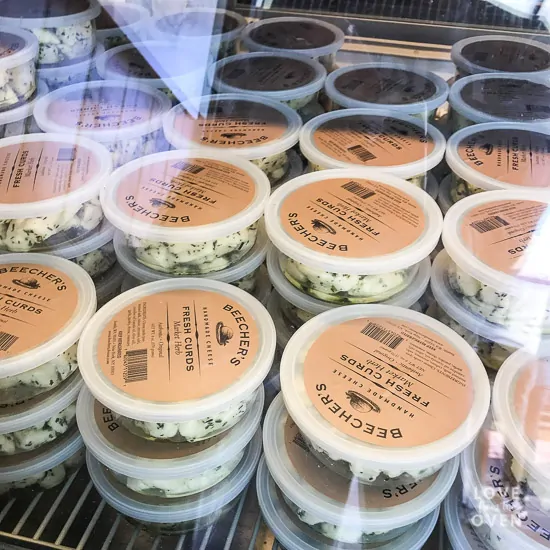 Market Spice Tea
The first time I went to Seattle my brother asked if I could bring him home "the tea". I thought he was crazy, like yes, I'll just find you "the tea" at Pike Place, like I have any idea what it is. It quickly became clear that "the tea" is Market Spice's Cinnamon Orange Tea. It's the sweet and spicy tea that is really unique, and really popular. They always have fresh samples ready and waiting. I'm not much of a hot tea person, but they also make it iced. I like the iced version enough that I just ordered more from their website yesterday. You'll also find bulk spices like you've never seen. It's a very cool little store.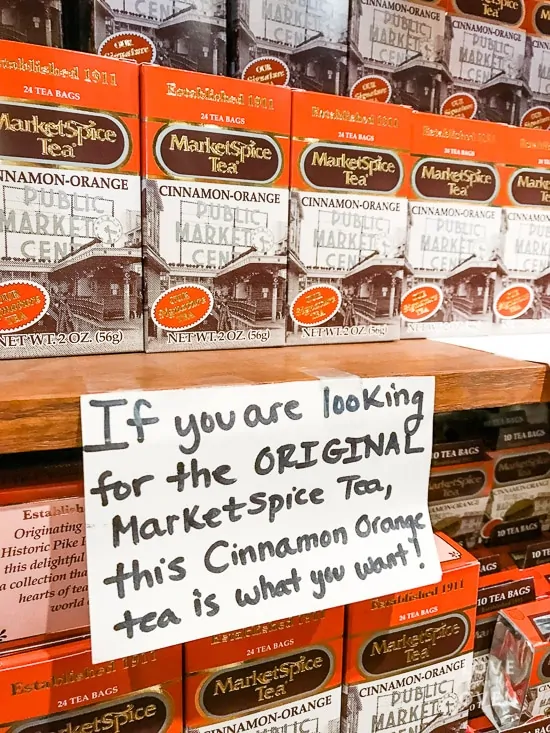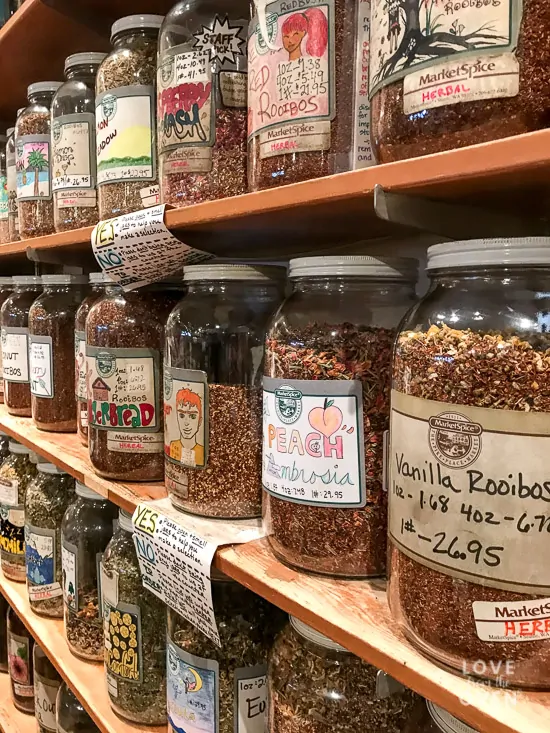 The Crumpet Shop
I'm hard pressed to pick a favorite at Pike Place, but the Crumpet Shop is WAY up there. If you've never had a fresh crumpet, it's really hard to explain. It's like an English muffin, but nothing like an English muffin. It has this perfect dense chewiness to it that is dreamy. You can get your crumpet topped with many things, but I highly recommend the fresh pesto and tomato. The pesto combined with the crumpet creates magic. This is another must visit every time I'm in Seattle.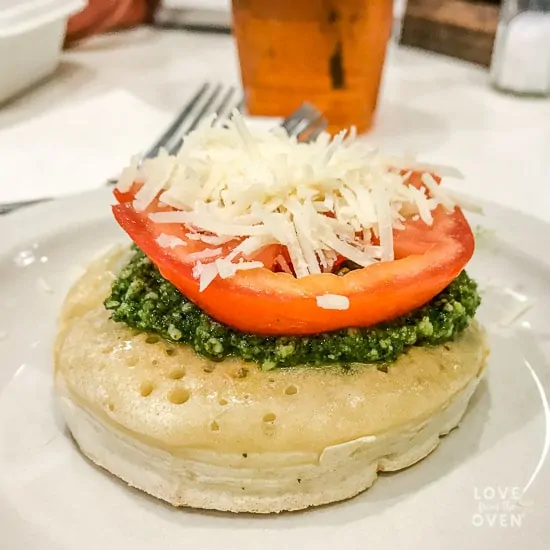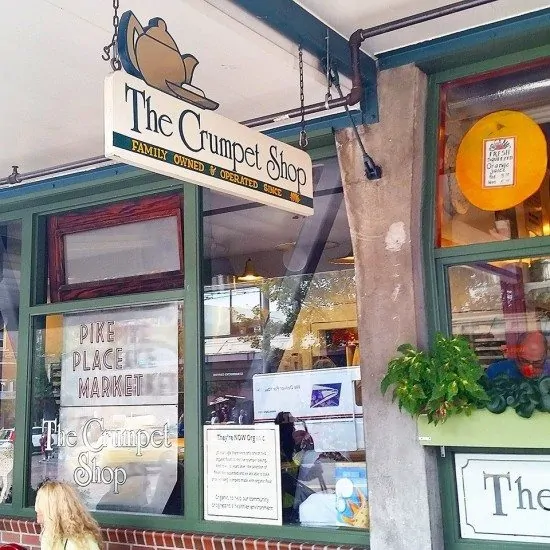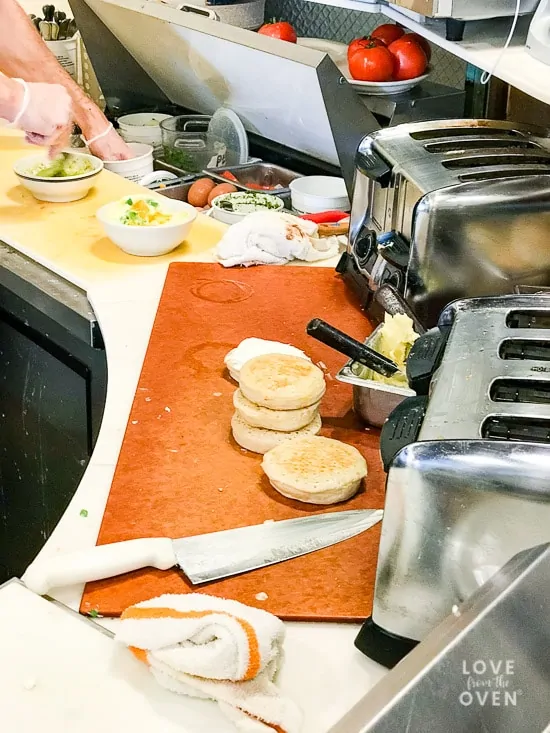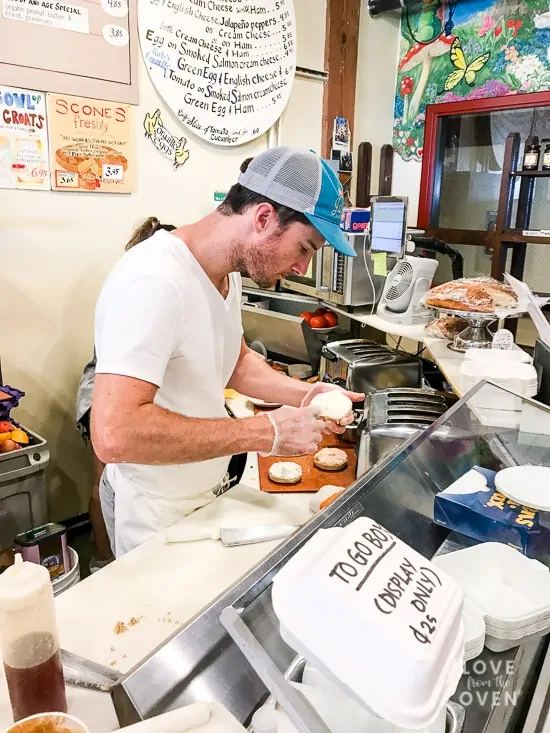 Pike Place Chowder
If chowder is your thing, you simply must stop at Pike Place Chowder. I'm not sure I've ever seen a restaurant with more five star reviews online. There is not a lot of seating at the Pike Place location, so you might plan to grab a bowl of chowder and find someplace else to sit.
Storyville Coffee
Way in the back of the top floor of the Corner Market building you'll find Storyville Coffee. Not being a coffee drinker I can't report to you on that (though I don't think bad coffee exists in Seattle) but I can tell you their food, while a somewhat limited selection, in fantastic. The Storyville Breakfast Sandwich, on a pretzel bun with thick cut bacon, is so good that I think about it often. Probably more than I should. Their cookies and bakery items are also top notch as well. It's a nice quiet atmosphere and a great place to take a few minutes to recharge your batteries.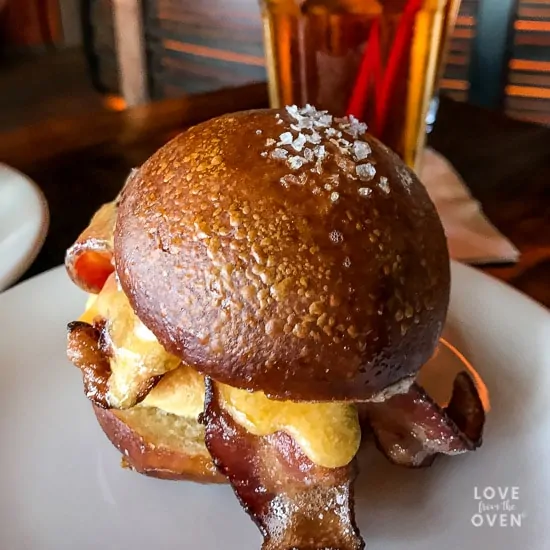 DeLaurenti Specialty Food And Wine
DeLaurenti Speciality Food And Wine is more than just a store, it's a foodie paradise. With over 200 cheeses, a line of cured meats, a dizzying selection of wines and microbrews and a full cafe and espresso bar, when it comes to food, they've got it all covered. They have a fantastic Italian Grinder sandwich.
Honest Biscuit
I love, and I mean love, biscuits. And when you have a biscuit called the Pike Place, that is topped with chunks of Beecher's Flagship Cheese, that's true love. Honest Biscuit has a great selection of sandwiches as well as biscuits and gravy. The MacGregor includes not only Beecher's Flagship Cheese, but also Bavarian Meats Bacon and caramelized onions.
Pear Delicatessen & Shoppe
Located just past the original Starbucks location, Pear is a great little deli and market. This is a fantastic place to grab a bite to eat and sit down for a bit. This is always the spot I head to when I need to figure out what I want to do next or when I need to check my email or messages. It's a great place for a breather, as well as some yummy food.
In addition to these you'll find so many fresh produce vendors, fresh flower vendors, artisans and crafters – it is a farmers market after all!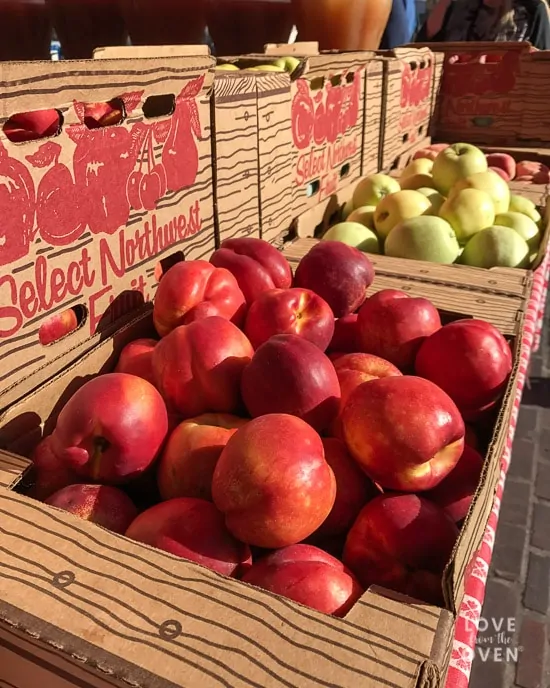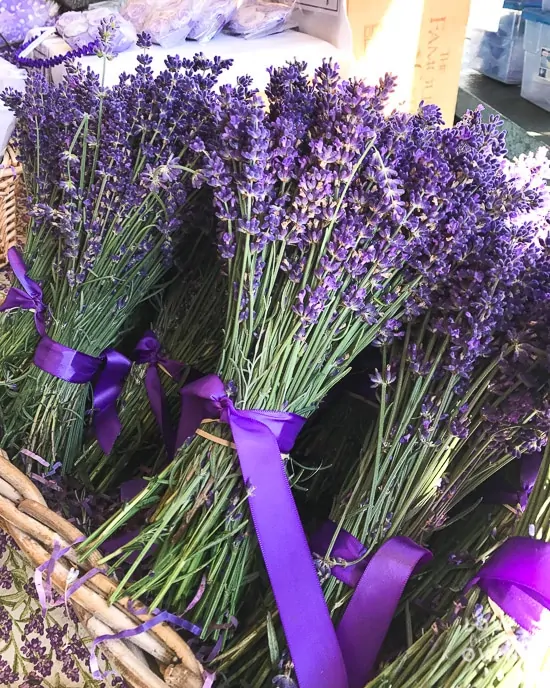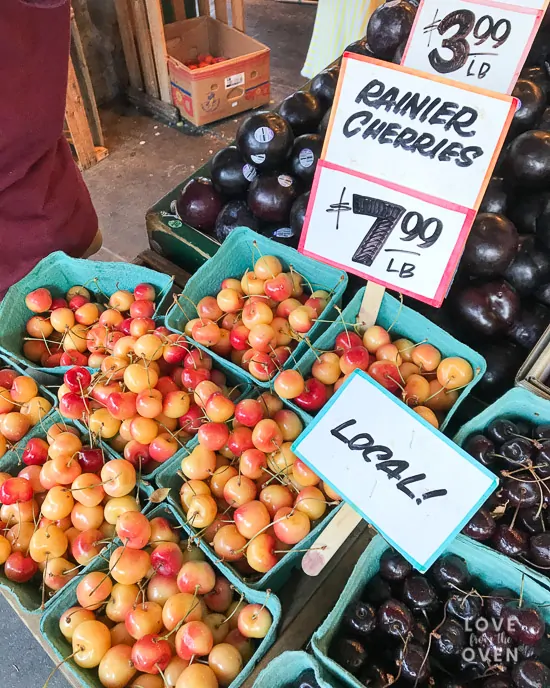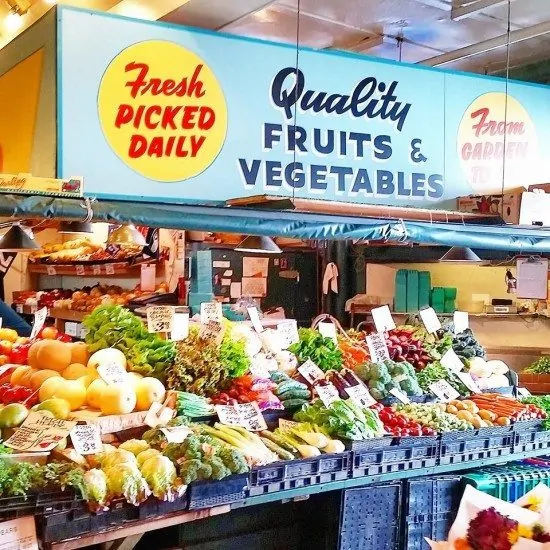 I've put together a map with each of these spots at Pike Place Market on it to help you find your way around. Pike Place can be a bit confusing, with multiple levels and a lot of hidden corners and alleys, but there are a lot of signs and the vendors are helpful if you ask them a question.
If you have a little more time to venture out past Pike Place, head over to
The Space Needle
. If the views weren't amazing enough, the elevator ride is mind blowingly fast and really cool to ride. While I'm not exactly the most comfortable with heights, on my
Princess Cruise to Alaska
, I told myself I wasn't missing out on these opportunities. It was really cool on top, and the views are incredible.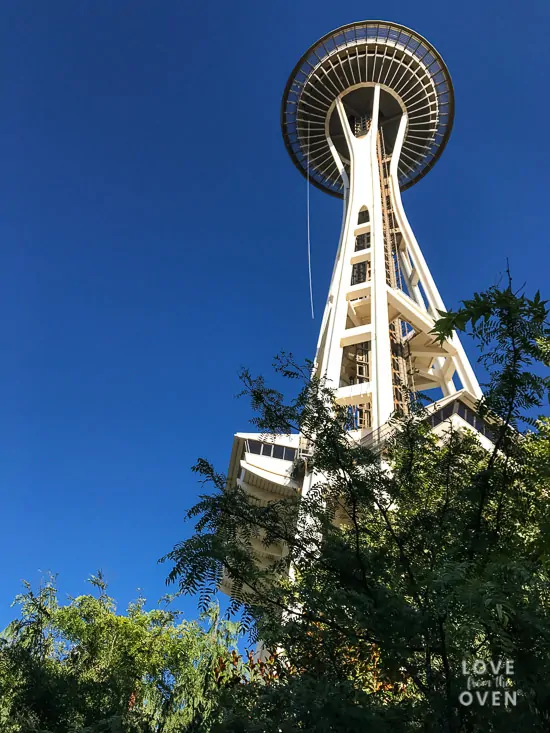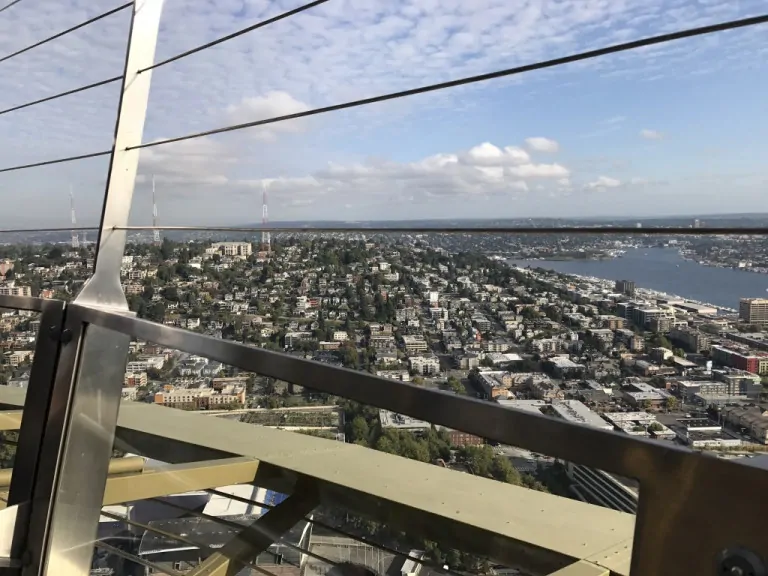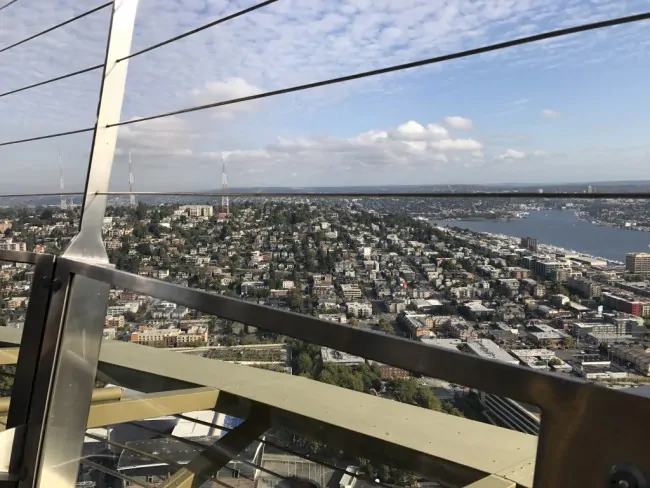 Right next to The Space Needle, and I do mean RIGHT next to, is Chihuly Garden And Glass. It is absolutely spectacular. If you have the time, and want to take in some amazing works of art in a beautiful setting, make sure to check it out.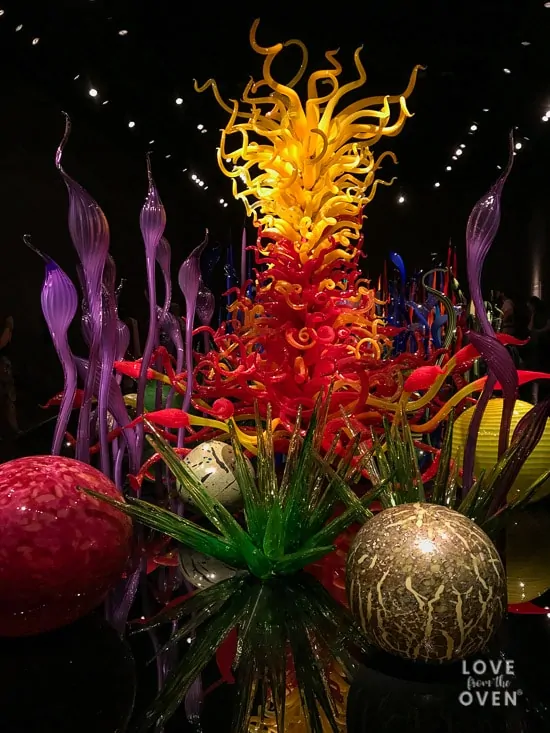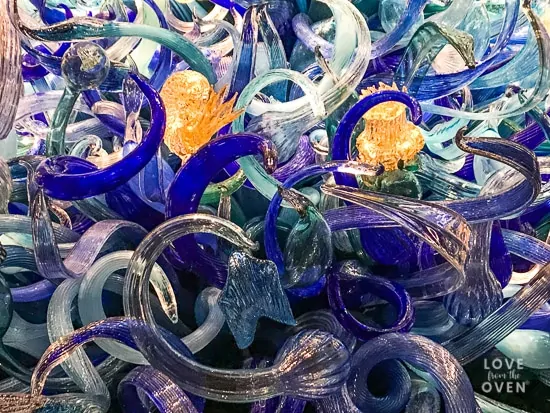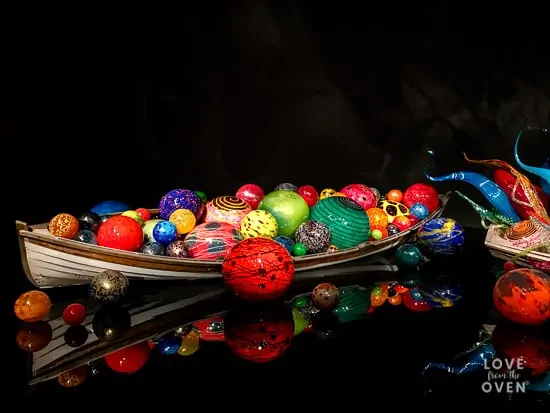 When I said right next to The Space Needle, I mean it quite literally. Here's a reflection of the Space Needle in the Chihuly Garden.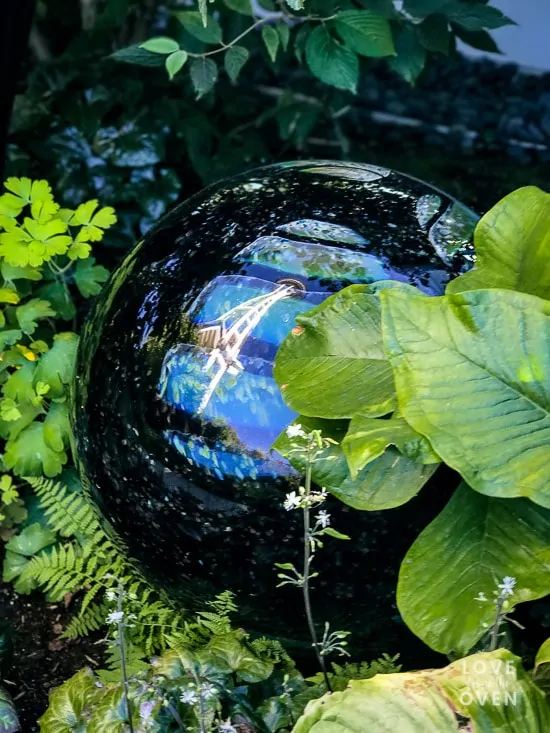 Now if you want to have even more time in Seattle, you can do what we did before our Alaskan cruise, and fly in the night ahead of time. I wanted to have a little extra time to show my Dad parts of Seattle away from Pike Place, but I also had another reason. I really needed breakfast at Biscuit and Bean. Yes, I just told you that I flew into Seattle a day ahead of my cruise to have biscuits and gravy. And biscuits and Beecher's cheese curds. IT'S THAT GOOD PEOPLE.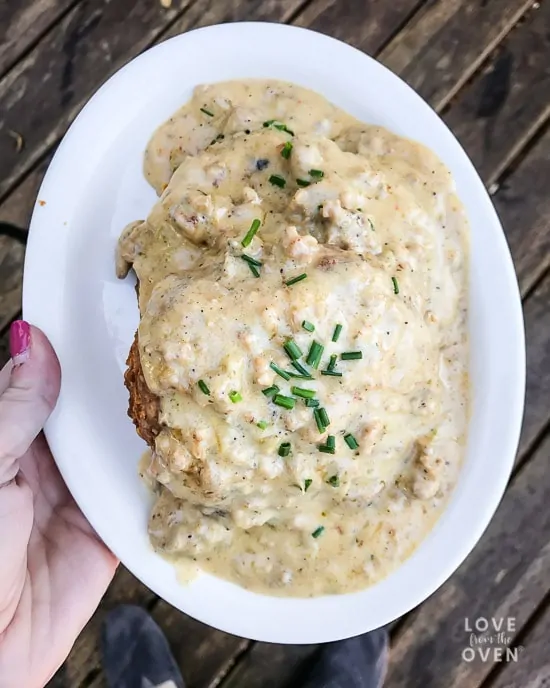 I think the gravy is actually life changing. It's not located near Pike Place, or any other tourist area really. Heck I don't think it's in actual Seattle, but in Ballard. No matter what, it's worth the Uber ride if biscuits and gravy are your thing. Get there early, there will be a line. But it also will be worth it. Seriously, melted Beecher's cheese curds on a biscuit, with some roasted garlic. Dreamy.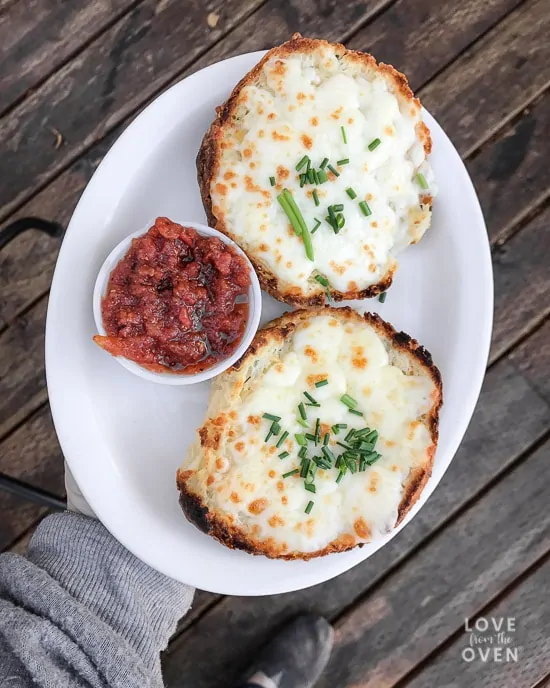 And if you are going to fly in to Seattle early to have biscuits, you'll need a place to stay. My last two trips I have stayed at the Crowne Plaza, Seattle and I have to say both visits were excellent. Customer service was top notch, the hotel is very nice, the rooms are a great size, they leave these great little spa kits for you and their beds are the greatest thing ever. I keep debating spending the money to order one of their pillows for home, they are the best.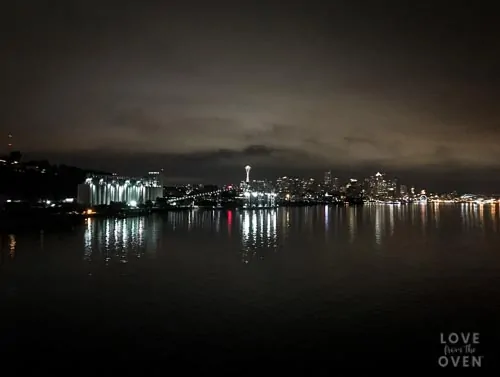 I hope my list of what to see at Pike Place Market has been helpful for you. I adore Seattle and there really is SO much more to do and see, but if you are making a short stop at Pike Place Market after your Princess Cruise, make sure to check out some of the things on my list!
Disclosure: this post was sponsored by Princess Cruises. All opinions however are mine and mine alone.