Making perfect rice every time is a cinch with the right recipe and the right equipment. These Aroma Rice Cooker Instructions make it easier than ever to make homemade rice as a side dish for all your favorite meals!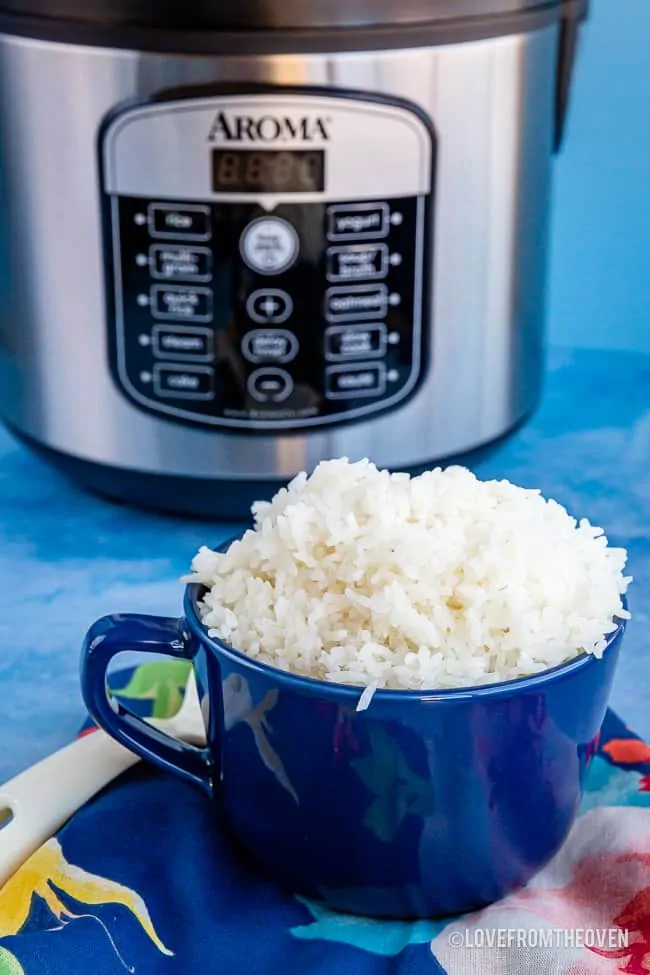 We've been eating more rice the past few months due to some food restrictions one of my daughter's has. It's one of those side dishes that seems so easy to make, but can quickly trip you up.
Back when I was first learning to cook, perfect white rice eluded me. It either turned out too crunchy or too soggy. There were even a couple of times when I messed up my ratios and burned it.
While I learned my lesson and eventually figured out how to make a decent batch of rice on the stove, having a good rice cooker has changed my life! Right now, my favorite model by far is this Aroma Rice Cooker. I purchased this rice cooker a few months ago, and I have definitely put it to good use.
With very little effort or energy on my part, it makes up to 20 cups of fluffy and perfect rice!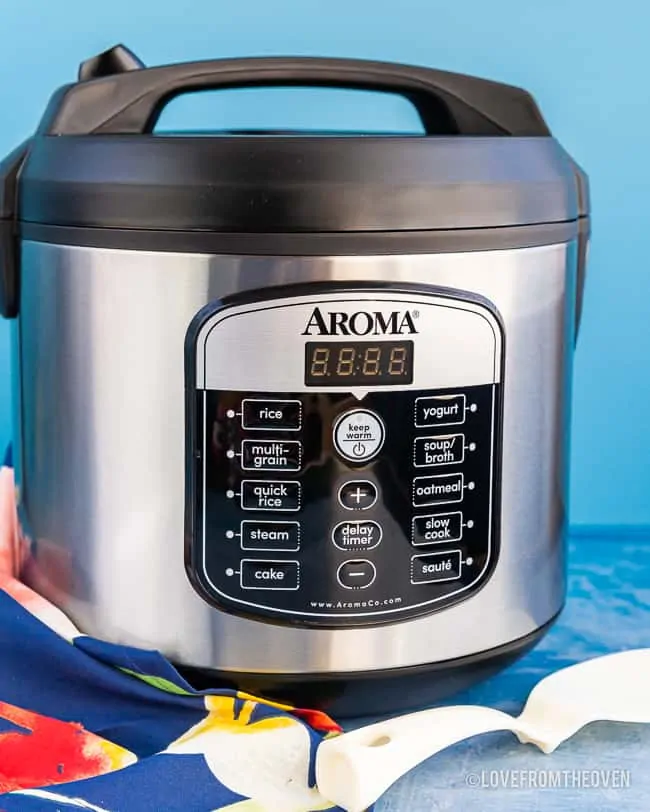 Aroma Rice Cooker Instructions
As with any kitchen appliance, to make it work for you you have to know how to use it. Just got a rice cooker and not sure how to use it?
Every model of this digital rice cooker comes has a corresponding manual. Inside, you'll find water to rice ratios for the rice cooker, rice cooker recipes and other helpful info for getting the most out of your white and brown rice cooker.
The Aroma Rice Cooker Recipe I'm sharing today also includes instructions, tips and tricks for using your model!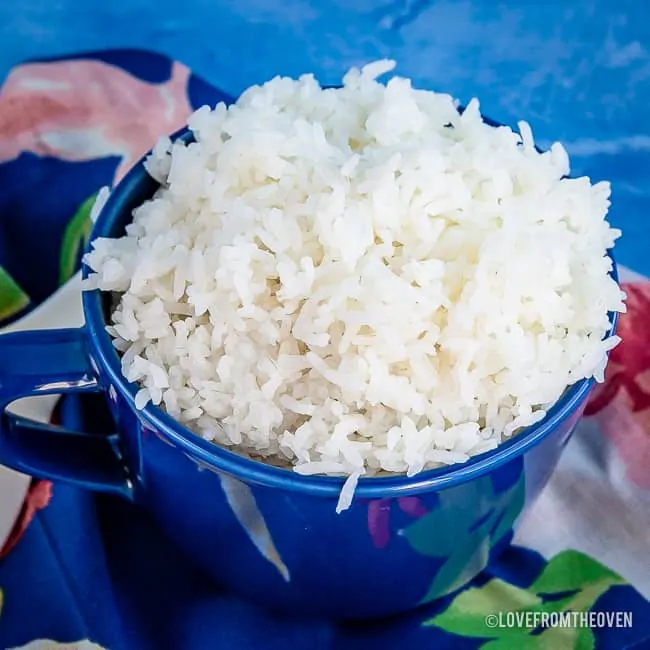 Aroma Rice Cooker Manual
This recipe was originally found in my Aroma Rice Cooker Instruction Manual. I've included directions for making the rice with this model of the digital rice cooker.
This rice recipe is perfect for busy days when I don't have time to watch a pot on the stove. You just measure the rice, set it and let the rice cooker do its thing!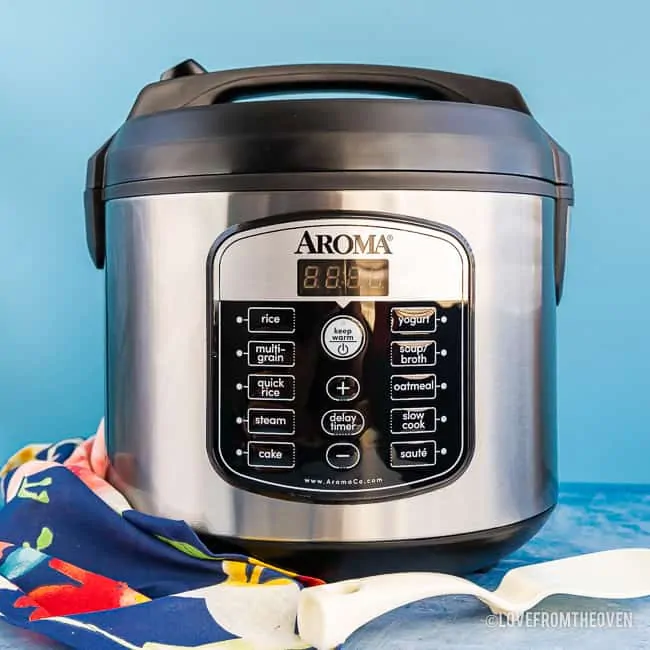 Aroma Professional Rice Cooker
I can't emphasize enough how well this rice cooker works! From brown rice to white rice to basmati rice, it's never failed me yet. This makes restaurant quality rice each and every time.
If you're new to cooking with a rice cooker, this Basic White Rice recipe is a great place to start!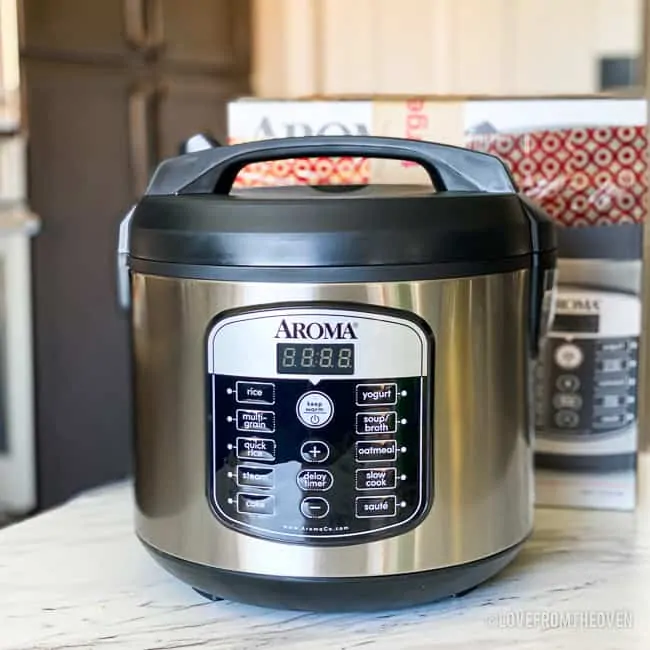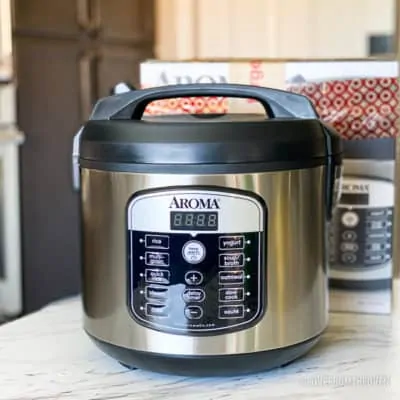 Aroma Rice Cooker Instructions
The aroma rice cooker ratio of water to rice is similar to most methods for stove top rice. However, your Aroma Rice Cooker ratio is easier to find thanks to the lines on the inside of the pot!
Each manual will include instructions on how to get the perfect rice to water ratios rice cooker. Rather than measuring water, you add the desired amount of rice (keeping in mind uncooked rice DOUBLES in volume when cooked), then add water to the designated fill line.
Missing your manual? Head here to find your model and a link to the corresponding manual.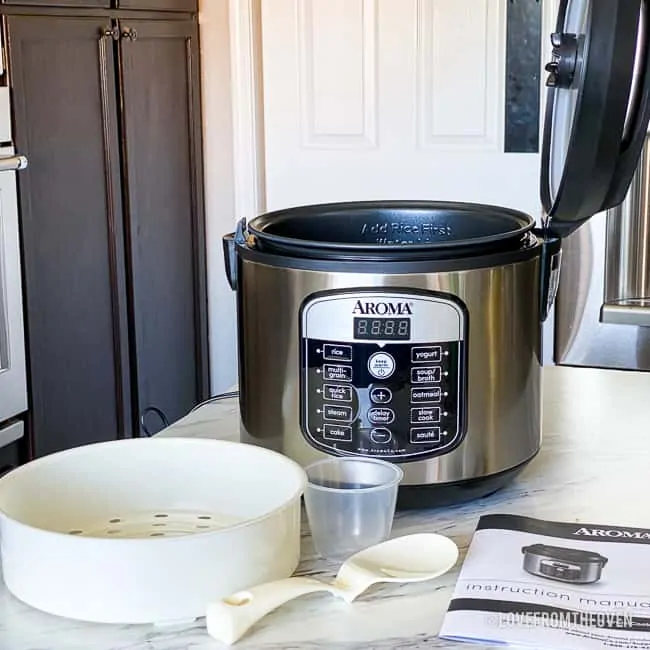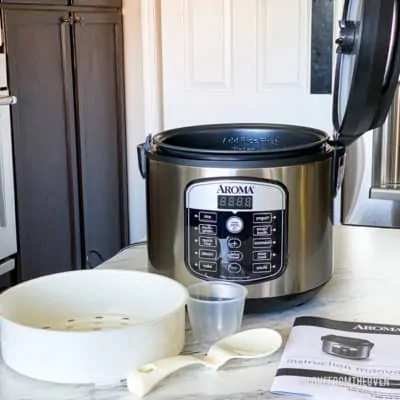 My Aroma Rice Maker included a measuring cup. For this model, that measuring cup is equal to 3/4 cups.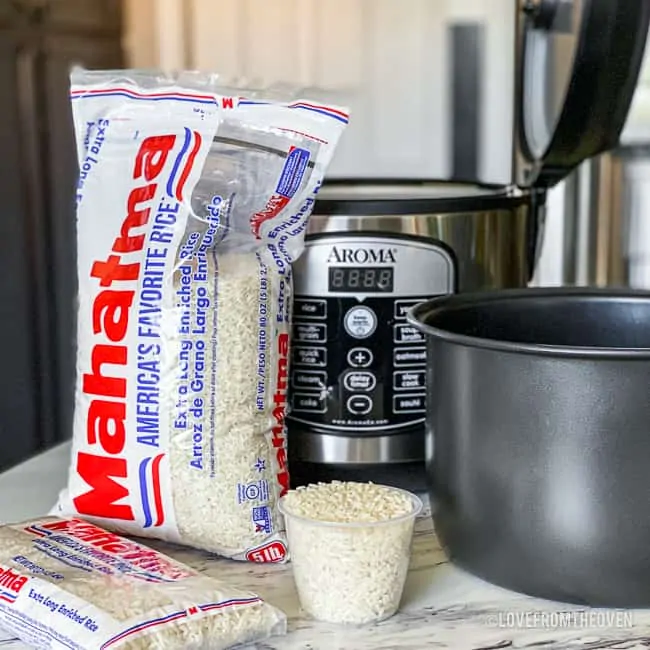 This recipe is based on instructions for my 20 Cup Aroma Digital Rice Cooker.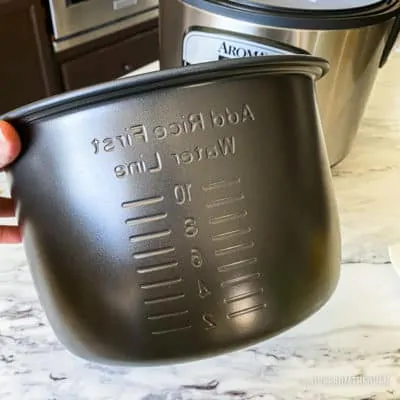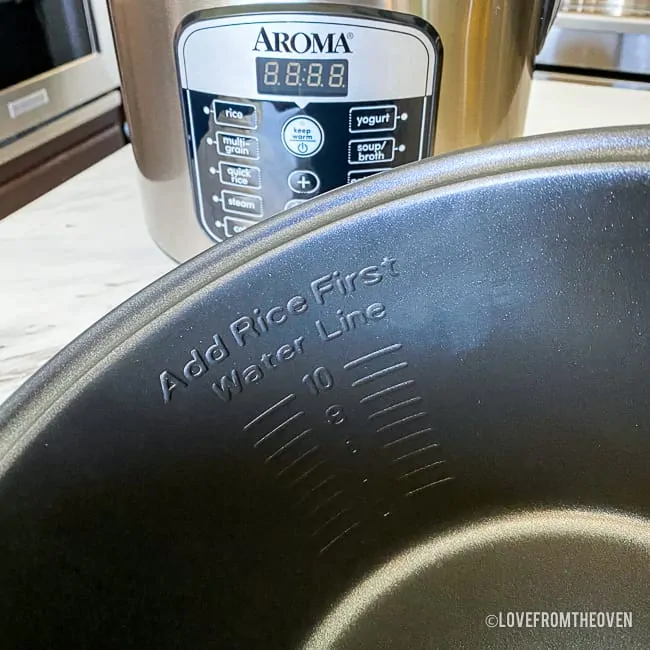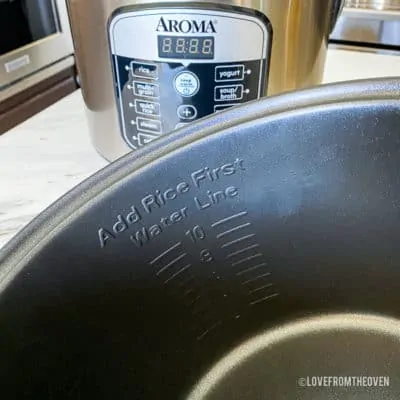 Measuring Rice In Rice Cooker
You measure your rice with the included cup, then add water to coordinate with the number of cups you added.
Rice To Water Ratio
For two of the included measuring cups (remember, this is actually 1 1/2 cups, as each of the included measuring cups is 3/4 cups) water is filled to the "2" line on the pot.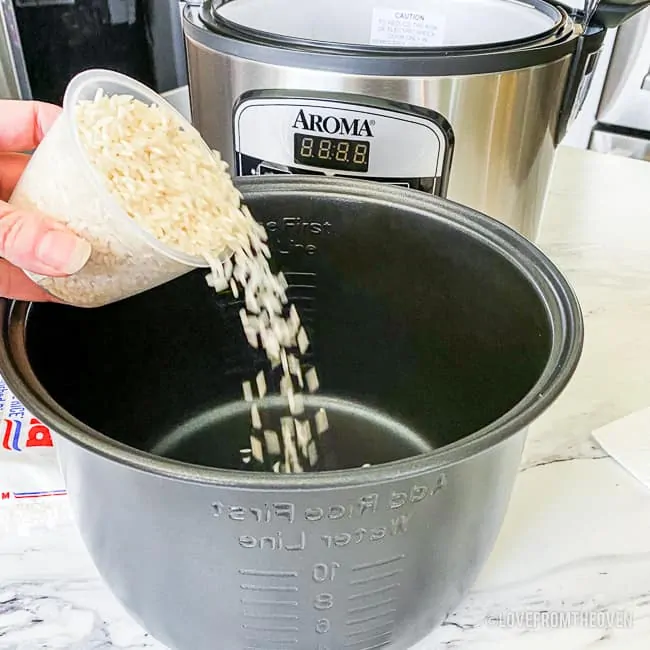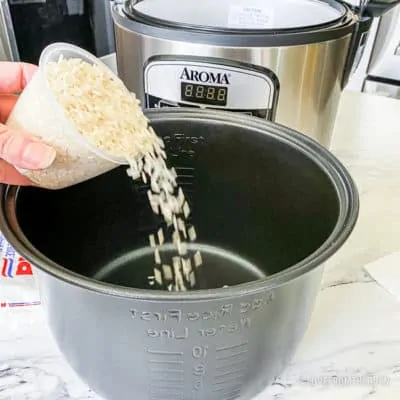 Rice is added to the rice cooker, then you add your water. Do not add water first, then rice, as it will not provide the accurate water to rice ratio that is required.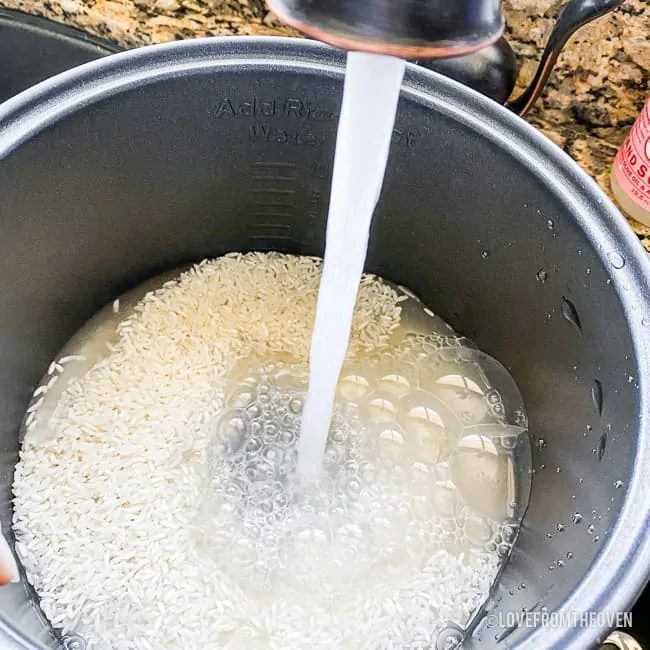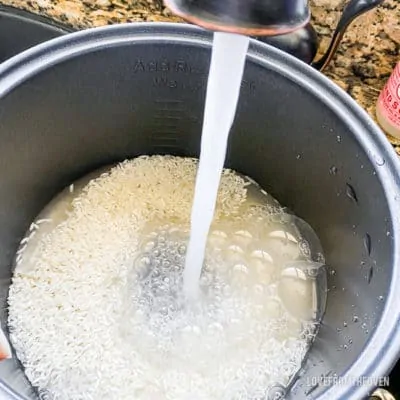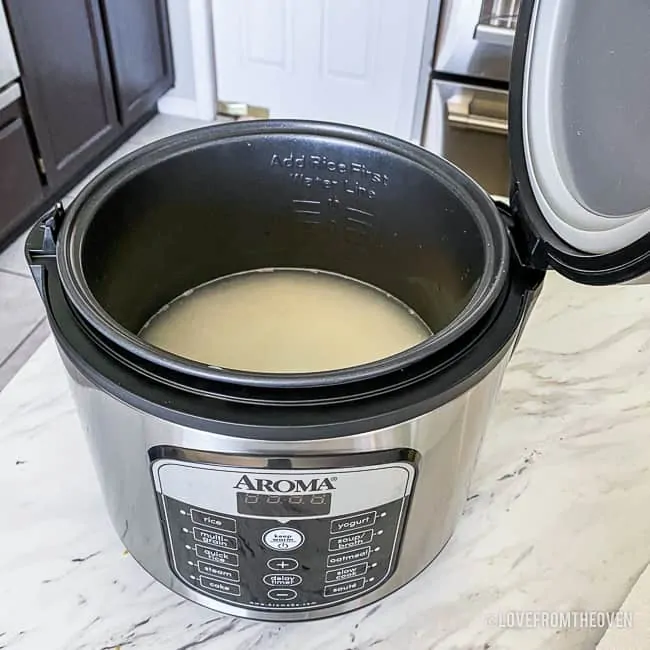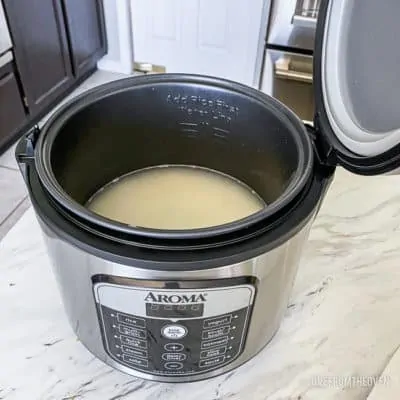 How To Make Rice In A Rice Cooker
After adding rice and water, it's time to cook. On my Aroma Rice Cooker, the rice function is used as follows.
Close the lid securely.
Press the KEEP WARM button to turn on the rice cooker.
Press the Rice button. The coking indicator will illuminate.
The unit will beep and the display will begin a chasing pattern. The cooker will now begin cooking.
The cooker will count down the final 1o minutes of cook time. Prior to that, the display will only show the chasing pattern. For the recipe below, cook time is about 26-32 minutes.
Once finished, the cooker will beep and automatically switch to Keep warm.
For better results, stir the rice with the serving spatula to distribute any remaining moisture.
When finished serving rice, turn the cooker off by pressing Keep Warm twice, and unplug the power cord.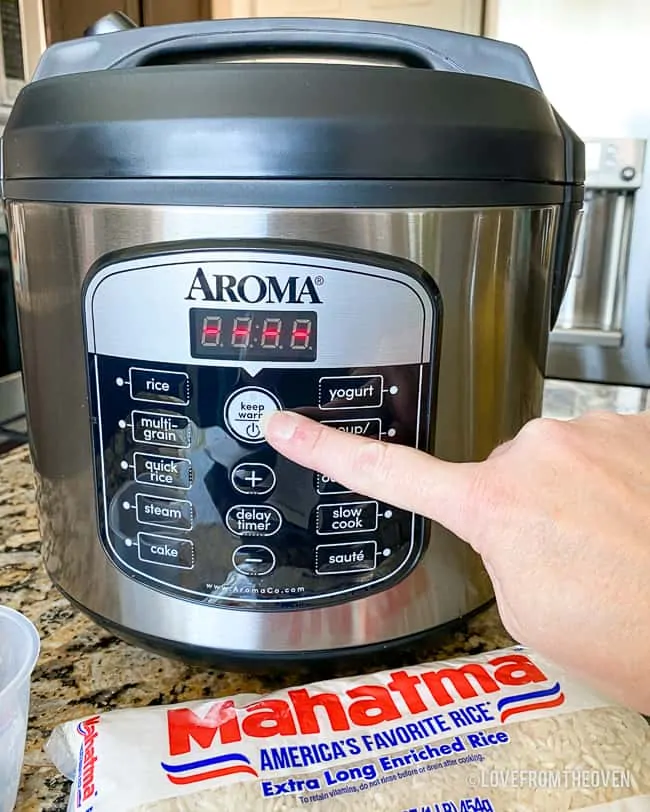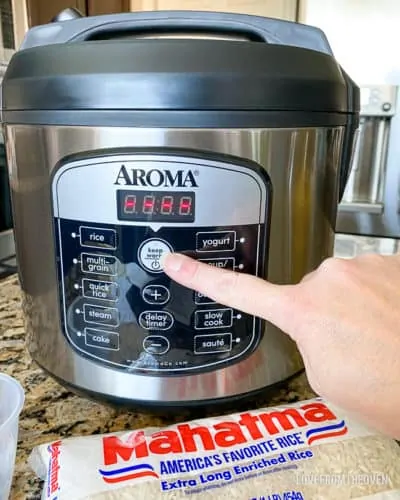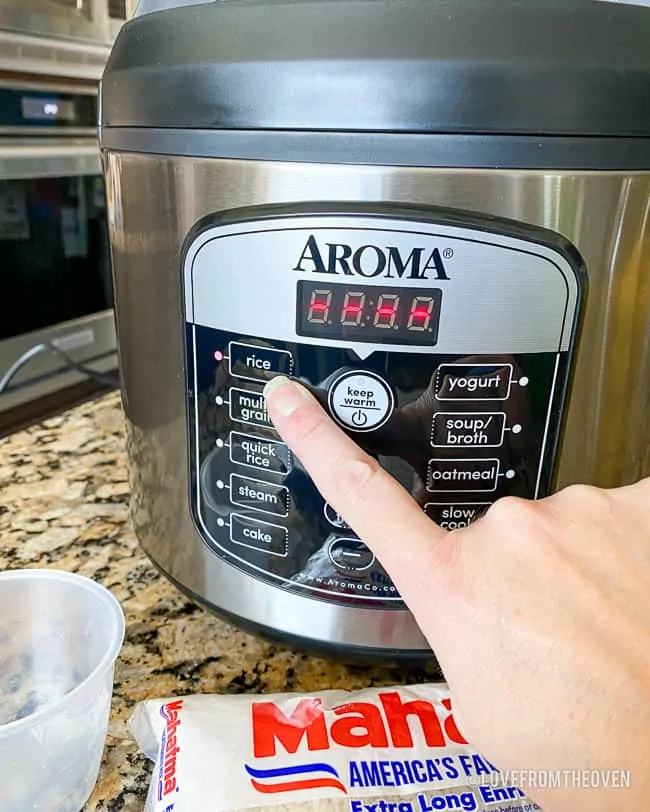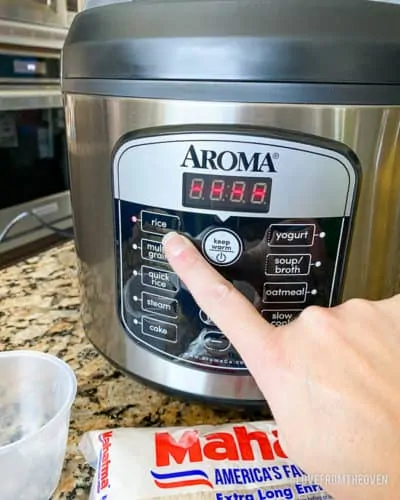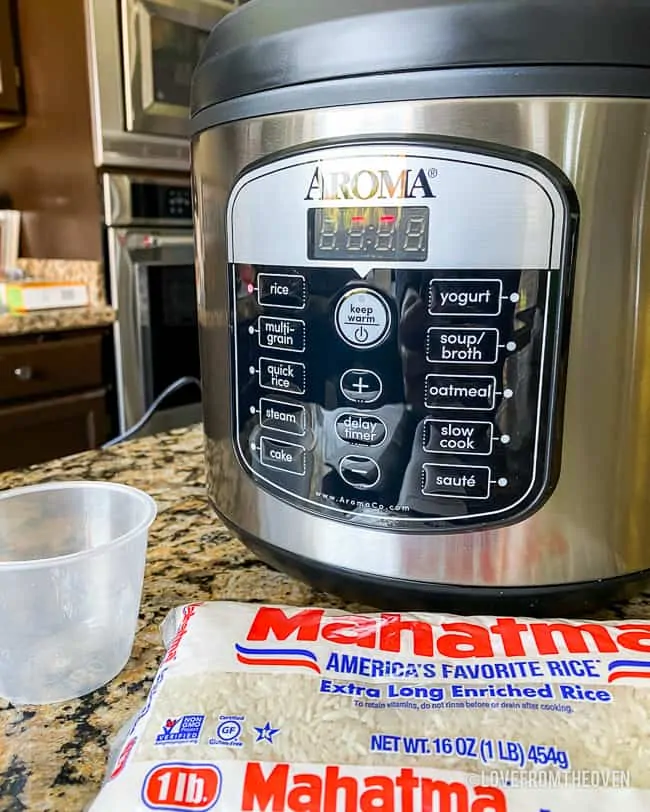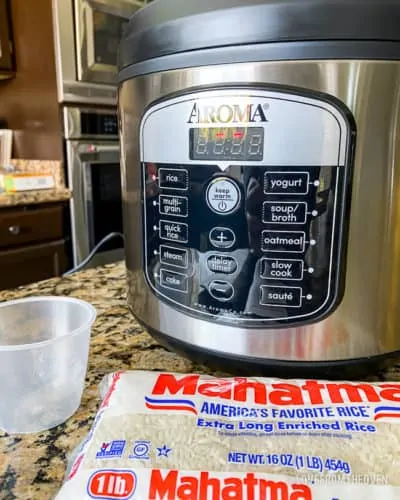 That's it! A tasty and simple white rice side dish ready to serve with your Beef and Broccoli, Huli Huli Chicken, stir-fries, tacos and all your other main dishes. We also love to pair beef stew with rice, it's a great way to change up the beef stew a bit when having it as leftovers.
No over boiling pots or fussing with stove temperatures. Just no-frills old fashioned white rice!
Troubleshooting Rice
Having problems with your rice? While rice cookers can certainly make homemade rice much more fool proof, mistakes can happen! Here's how to fix some of the most common errors if your rice isn't coming out just the way your want it:
If your rice is too dry or crunchy: you may not have added enough water. Depending on how hard the rice is, add 1/4 to 1/2 cup of water at a time. Stir, replace the lid and choose the "RICE" setting again to allow the rice to cook a little longer.
If your rice is too soggy: Give the rice a good stir with a spatula to distribute the remaining moisture throughout the grains. Replace the lid and allow the rice to remain in the slow cooker on the "KEEP WARM" function for another 10 – 20 minutes, or until all excess moisture has been cooked off.
Do not open the lid while rice is cooking! This causes the rice to lose heat and steam and prolongs your cooking time. Keep in mind that factors like altitude, humidity and outside temperature affect the cooking time of your rice, so if it takes a little longer than 10 minutes, resist the urge to check on it!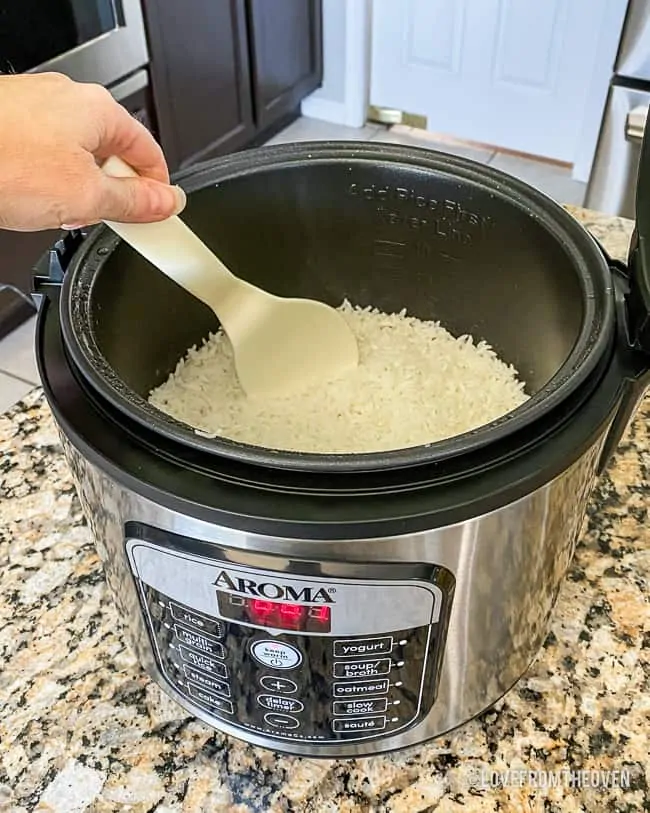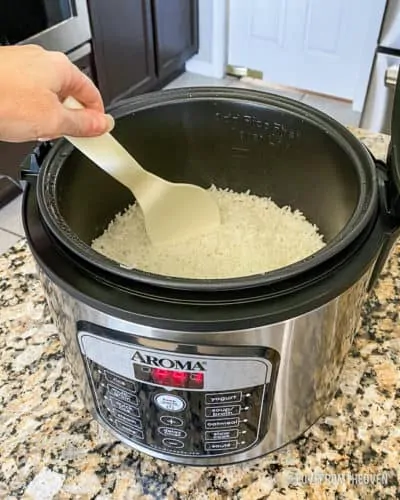 Rice Cooker Tips
Grains such as brown rice require a much longer cook time and different water ratios. Substituting brown rice in this Basic White Rice recipe won't work.
To add more flavor, try using a broth or stock in place of water in your rice cooker. I love white rice made with chicken broth!
Make sure to not use metal utensils in your rice cooker, in order to protect the non-stick surface.
How to Clean Your Rice Cooker
Do not use harsh abrasive cleaners or scouring pads on the non-stick surface of your cooking pot.
To clean my Aroma rice cooker, I removed the steam vent and condensation collector (once completely cooled) and washed the pot and inner accessories in the top rack of my dishwasher. You can also soak in hot water, if preferred, then wipe clean with a clean damp cloth.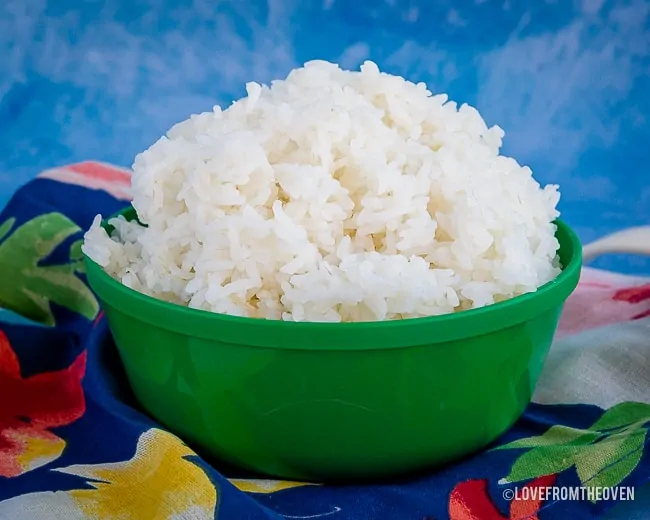 Aroma Rice Cooker Recipes
I think you're going to find this basic white rice recipe fool proof! It makes perfect fluffy white rice in 10 minutes, no guesswork required.
What To Serve With Rice
The options of what you can serve with white rice are endless! Here are a few of my favorites.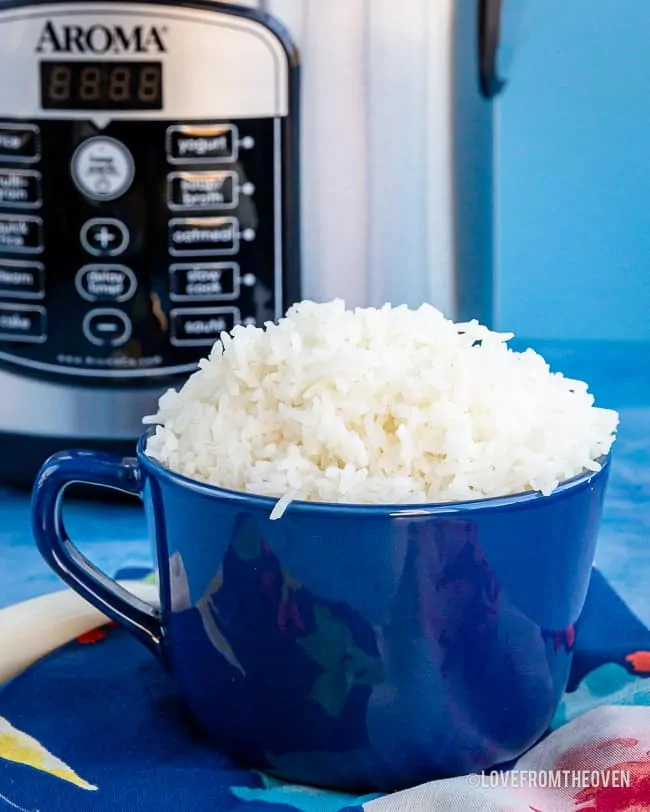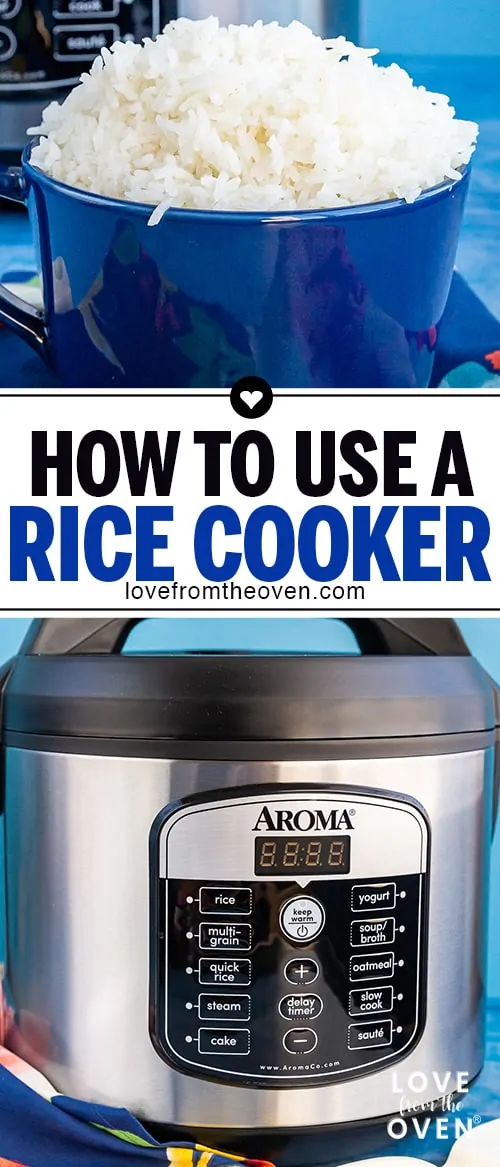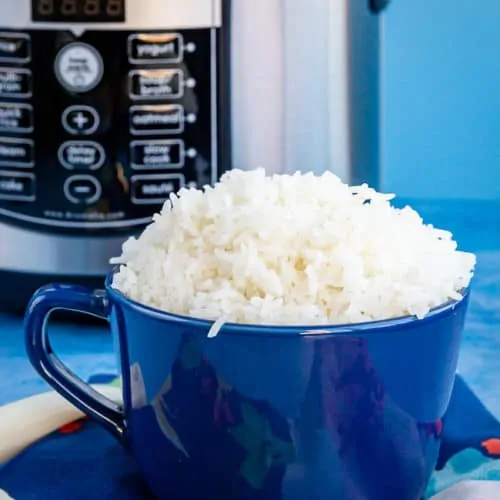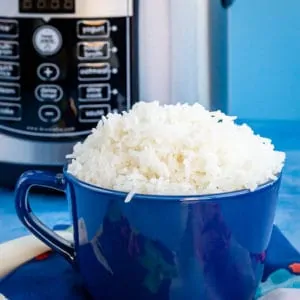 Rice Cooker Quick White Rice
Perfectly cooked white rice made in the Aroma Rice Cooker
Ingredients
2

cups

white rice

Using the measuring cup provided by your rice cooker.

4

cups

water

filled to Line 2 in the rice cooker
Instructions
Rince and drain rice, then add to the inner pot of the rice cooker. Add water to the pot until the water line is level with the Line 2 marker (approximately 4 cups).

Place the inner pot in the rice cooker, close the lid tightly and select the RICE function. Allow rice to cook for 10 minutes.

When finished cooking, the rice cooker function will automatically switch to "Keep Warm." Open the pot, fluff rice with a fork or spatula and serve!
Notes
This recipe is based on instructions for my 20 Cup Aroma Digital Rice Cooker.
Nutrition
Calories:
338
kcal
|
Carbohydrates:
74
g
|
Protein:
7
g
|
Fat:
1
g
|
Saturated Fat:
1
g
|
Polyunsaturated Fat:
1
g
|
Monounsaturated Fat:
1
g
|
Sodium:
16
mg
|
Potassium:
106
mg
|
Fiber:
1
g
|
Sugar:
1
g
|
Calcium:
33
mg
|
Iron:
1
mg
Disclaimer
Nutrition information is estimated as a courtesy. If using for medical purposes, please verify information using your own nutritional calculator. Percent Daily Values are based on a 2000 calorie diet.