I love muffins. They are quick and easy to make. You can pack a nice amount of nutrition into them. They freeze well. They are portable. They are perfect portions. They make for a super fast breakfast. Really, what's not to love? We almost always have some Banana Chocolate Chip, Banana Bread Muffins & Pumpkin Muffins in our freezer.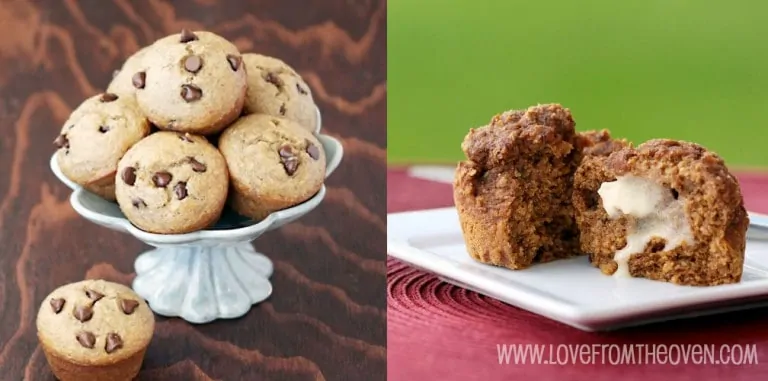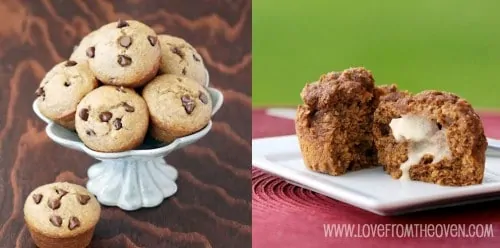 With some fresh blueberries in my fridge, I decided it was time to make some Blueberry Muffins. Since my Banana Chocolate Chip Muffins are always such a hit, I figured there was no need to reinvent the wheel, and instead just used the same base recipe to create Blueberry Banana Muffins.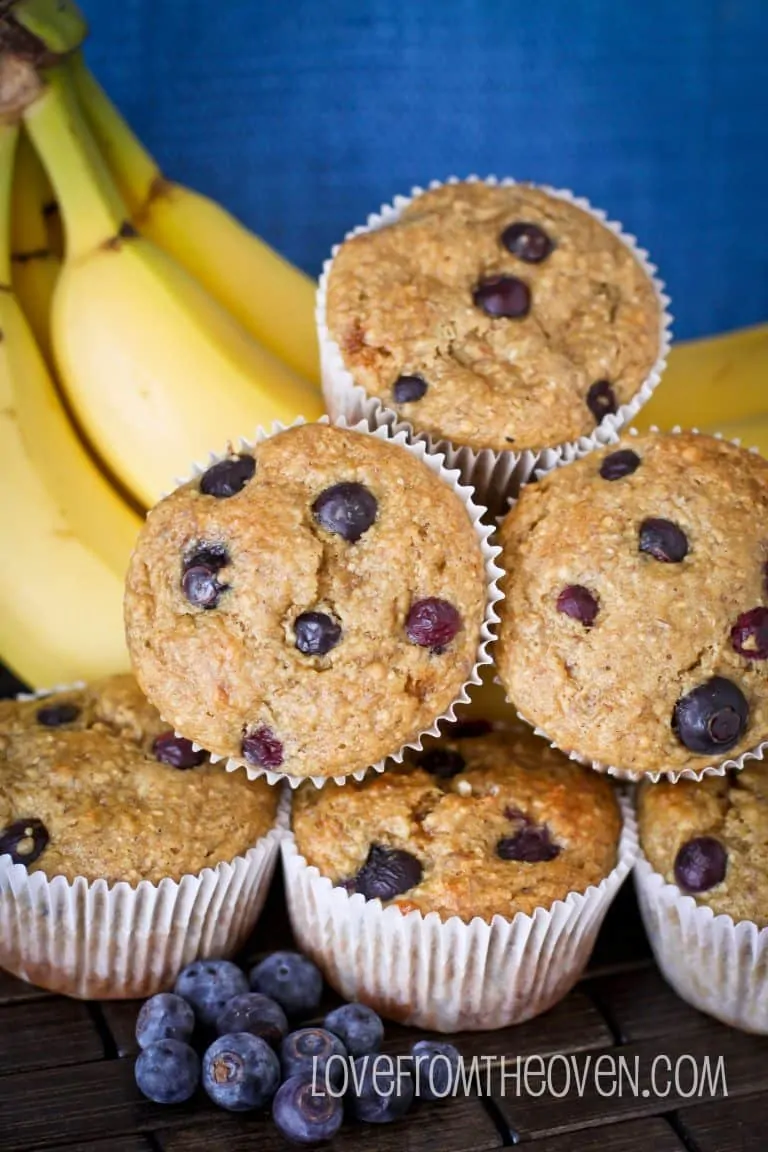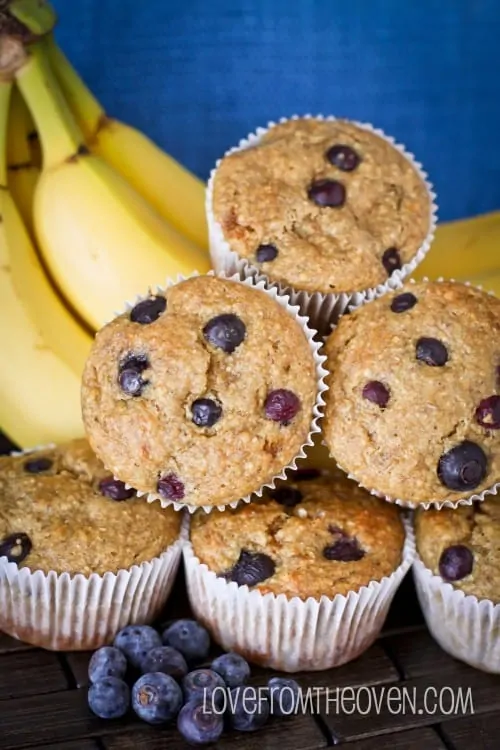 My husband, the big blueberry fan in the family, loved these. I think these will move into our regular muffin rotation around here.
Blueberry Banana Muffin Recipe – Makes approx 24-30 muffins.
See my step by step instructions for the chocolate chip version here!
Preheat Oven to 350 Degrees
2 1/2 cups white whole wheat flour
1 cup oat bran
3/4 cup granulated sugar
1/2 cup brown sugar (light or dark)
2 teaspoons baking powder
2 teaspoons baking soda
1 tsp salt
2/3 cup flax seed meal
2 eggs
1 cup applesauce
1/4 cup oil
1 cup yogurt (I usually use a fat free vanilla Greek yogurt)
2 teaspoons vanilla extract
2 cups ripe bananas (4-5 bananas)
1 cup fresh blueberries (you could substitute frozen)
1 cup walnuts (optional)
1. In a large bowl, combine your dry ingredients – flour, sugars, baking powder, baking soda, salt and flax seed meal.
2. In a separate bowl combine your wet ingredients – eggs, applesauce, oil, yogurt and vanilla.
3. Mash or puree your bananas (I prefer mine pureed smooth). After mashing or pureeing, add to your wet mixture and combine.
4. Stir wet ingredients into dry ingredients until just moistened. Add in your blueberries and optional ingredients such as walnuts.
5. Fill paper lined or greased muffin tins 2/3 to 3/4 of the way full.
6. Bake at 350 degrees for 12-15 minutes or until a toothpick inserted into the center comes out clean.
7. Let cool and enjoy! They freeze very well, just let them cool first, then put into a freezer safe bag. They can be reheated in the microwave for 20-40 seconds for a nice warm breakfast or snack, or pop into a lunchbox frozen and they will thaw by lunch.