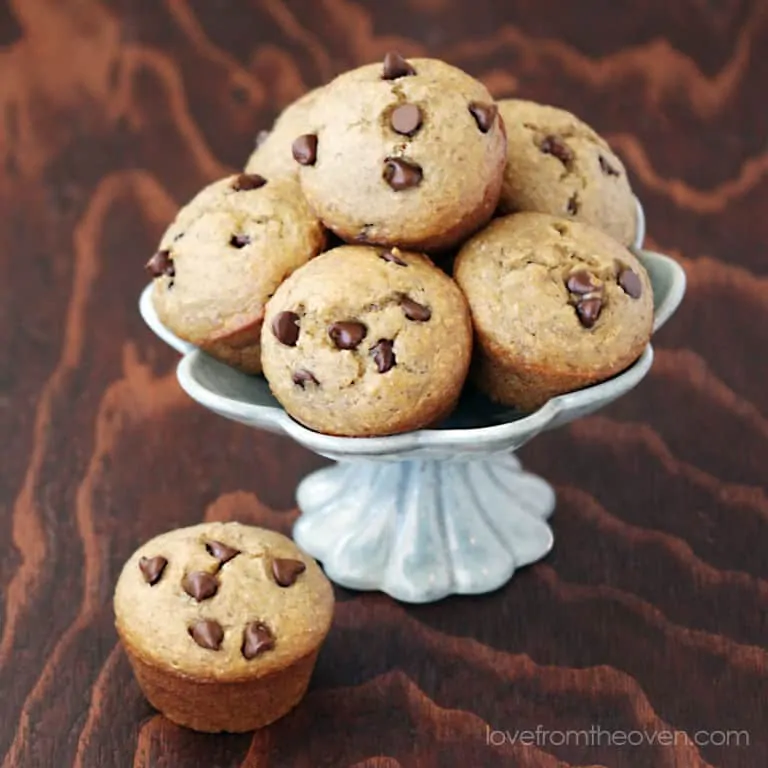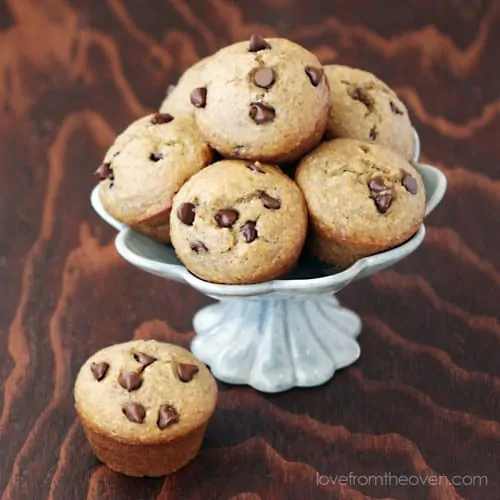 While one may think that we eat chocolate covered pretzels and cake pops morning, noon and night around here, the reality is a little bit healthier. I have some very picky eaters, so I'm always trying to find recipes that blend child friendly taste and some healthy mom approved goodness. And when I say I have picky eaters, I mean PICKY. My eight year old will spend 15 minutes looking over a food before trying it. I like to think of this as nature's way of protecting her from her nut allergies – but I think I really just tell myself that in an attempt to not strangle her some days when she's giving a perfectly good piece of food an in depth examination.
This is one of my favorite recipes that is picky eater approved. It took me quite a while of "tweaking" recipes to get to this one (and I'm still playing around with it), just how I wanted it. This recipe makes about 24 muffins, and I typically freeze about 18 of them in a Ziploc bag. Sometimes I'll wrap them each in plastic wrap first, but usually I throw them in a big freezer bag and toss them in the freezer. A few seconds in the microwave in the morning and you have a quick and easy breakfast.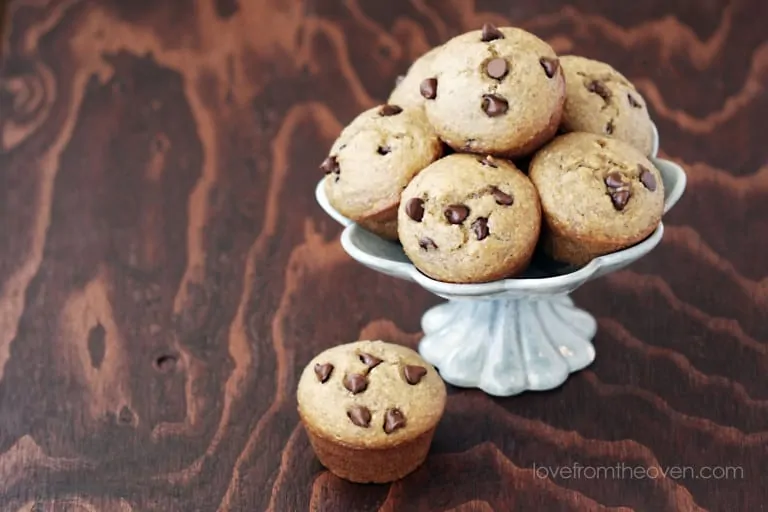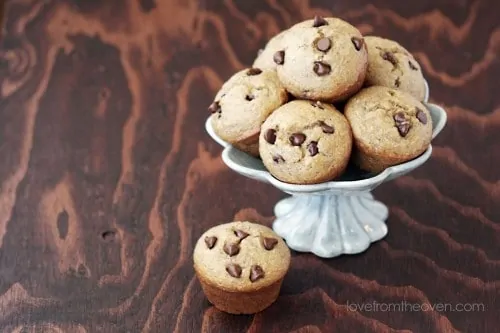 Banana Chocolate Chip Muffin Recipe – Makes approx 24-30 muffins.
See my step by step instructions here!
Preheat Oven to 350 Degrees
2 1/2 cups white whole wheat flour
1 cup oat bran
3/4 cup granulated sugar
3/4 cup brown sugar (light or dark)
2 teaspoons baking powder
2 teaspoons baking soda
1 tsp salt
2/3 cup flax seed meal
2 eggs
1 cup applesauce
1/4 cup oil
1 cup yogurt (I usually use a fat free vanilla Greek yogurt)
2 teaspoons vanilla extract
2 cups ripe bananas (4-5 bananas)
1 cup chocolate chips (I like to mix semi-sweet, milk & dark)
1/2 square semi sweet baking chocolate – grated (optional)
1 cup walnuts (optional)
1. In a large bowl, combine your dry ingredients – flour, sugars, baking powder, baking soda, salt and flax seed meal.
2. In a separate bowl combine your wet ingredients – eggs, applesauce, oil, yogurt and vanilla.
3. Mash or puree your bananas (I prefer mine pureed smooth). After mashing or pureeing, add to your wet mixture and combine.
4. Stir wet ingredients into dry ingredients until just moistened. Add in your chocolate chips and optional ingredients such as grated chocolate and walnuts.
5. Fill paper lined or greased muffin tins 2/3 to 3/4 of the way full.
6. Bake at 350 degrees for 12-15 minutes or until a toothpick inserted into the center comes out clean.
7. Let cool. Breathe in the intoxicating smell of warm banana bread. Febreeze has NOTHING on these babies.