Muffins are my morning sanity saver.  For real.  They are one of those rare and beautiful foods that both of my picky eaters will eat.  I can probably count on one hand how many foods meet that criteria.  I can make them with whole grain flour, and sneak fruits and veggies into them, and nobody seems to notice.  They freeze and store incredibly well.   In my house, muffins are darn near magical.    And that's why I make muffins all the time.  No, really, every single week, I make muffins.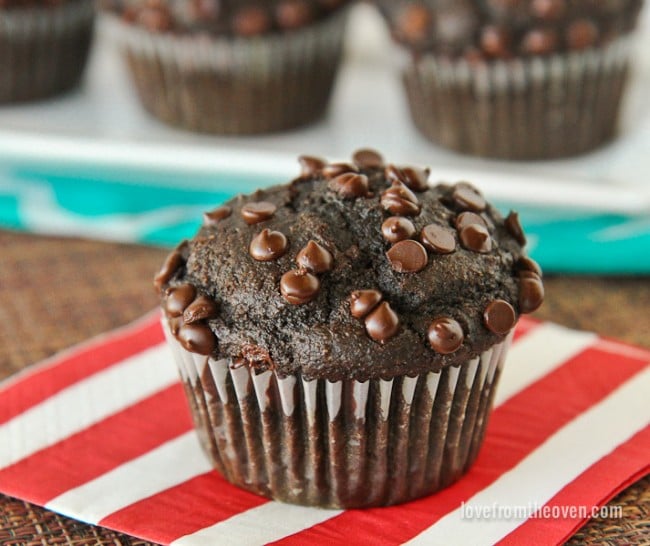 I have a lot of muffin recipes on here, and these muffins are a spin on my chocolate pumpkin bread, which is an absolute favorite (seriously, try this recipe – it doesn't have a pumpkin taste unless you doctor it up with cinnamon and pumpkin pie spices).   I had some bananas that were a little to brown to eat, so I ended up replacing the pumpkin with bananas in these muffins.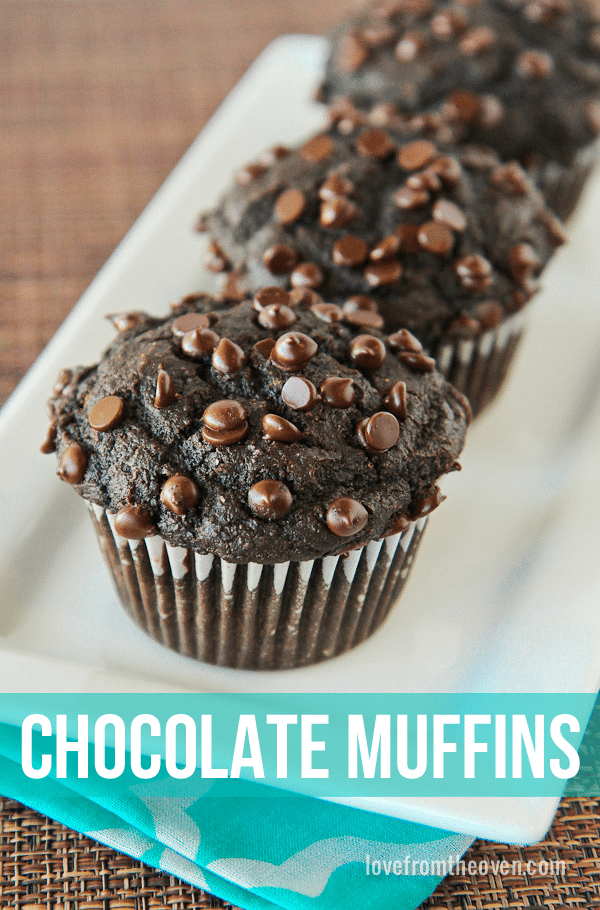 I have probably mentioned before that I put the chocolate chips on top for photo purposes.  Muffins are so pretty when they are bursting with chocolate chips or blueberries or anything on top, but let's be real.  It is mind boggling how much of a mess a four year old can make with ONE mini chocolate chip.  We are talking a mess of the table, the chair, her face, her pajamas, her sister, the dog, a room she wasn't even in…  you get the picture.  So if you have young kids, or messy eaters, throw those chocolate chips INTO your batter, not on top.  Trust me.  Ain't nobody got time to spend 20 minutes cleaning up chocolate at 6:30 in the morning.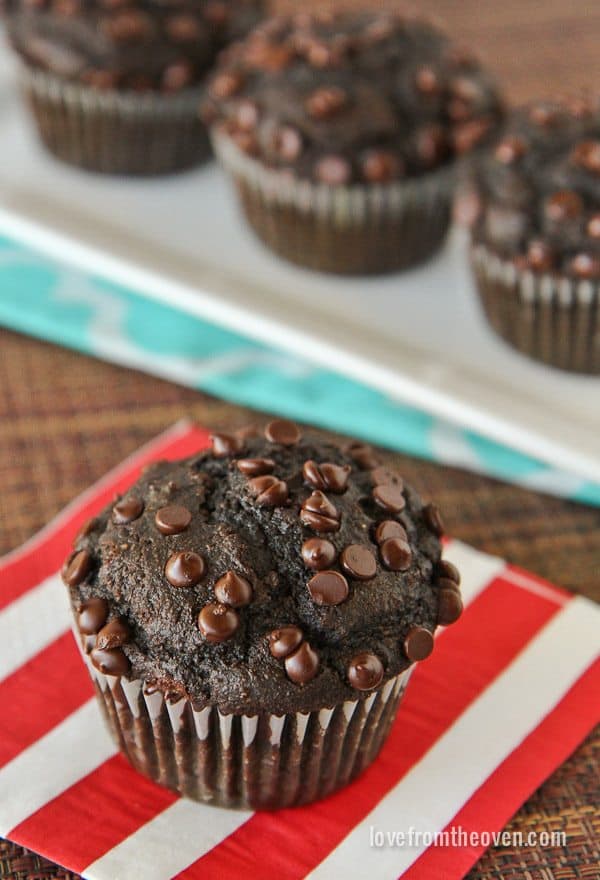 I almost always use dark cocoa powder when I bake, as I did in these.  I just use the Hershey's Special Dark, which my Safeway always carries, and my Target and Walmart almost never do.  If you are a dark chocolate lover like we are, it's worth finding a dark cocoa powder, I think it makes the chocolate flavor really delicious and intense.  I'm of the mindset that if you are going to do chocolate, DO chocolate.  I'm not sure I've ever typed the words "milk chocolate" on this blog!  I sort of start at semi-sweet and go from there.  But if milk chocolate is your thing, I won't judge, and it will leave the dark chocolate for me.  🙂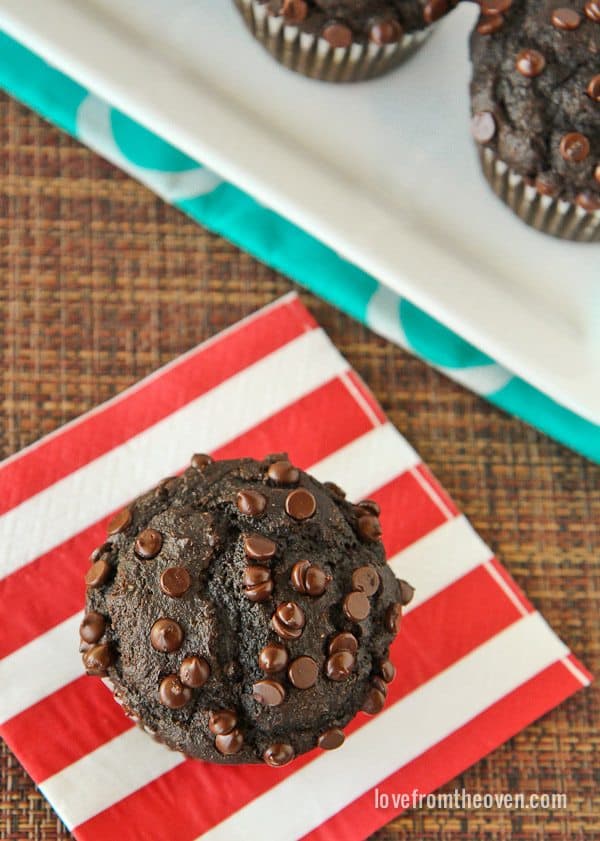 CHOCOLATE BANANA MUFFINS
Ingredients
1/4 cup butter, softened
1/2 cup vanilla Greek yogurt
3/4 cup sugar
2 eggs
1 1/2 tsp vanilla
3 large ripe bananas
1 1/3 cup white whole wheat flour (you can use all purpose flour if desired)
2/3 cup dark cocoa powder
1 tsp baking soda
1 tsp baking powder
1 tsp salt
1/3 cup milk
1/2 cup chocolate chips, nuts or other mix ins (optional)
Instructions
Preheat oven to 350 degrees F.
Puree, mix or blend bananas until smooth. Add in butter and yogurt and mix until well combined. Add in eggs and vanilla, mixing until well combined. Stir in sugar until well combined. In a separate bowl, mix white whole wheat flour, dark cocoa powder, baking powder, baking soda and salt. Combine wet and dry ingredients, add in milk and stir until just combined, do not overmix. Scoop into a muffin pan that has been lightly sprayed with cooking spray. Bake for 15-20 minutes or until tops spring back when touched. Remove from oven and allow to cool. Store loosely covered or in refrigerator.
https://www.lovefromtheoven.com/chocolate-banana-muffins-2/