If you're looking for a simple banana bread recipe that is always moist, this one is impossible to resist! This quick and easy homemade banana bread recipe creates a deliciously moist and flavorful loaf of bread that your family and friends will rave about.
Grab the recipe for this simple banana bread, along with answers to some of the most common questions about how to make banana bread.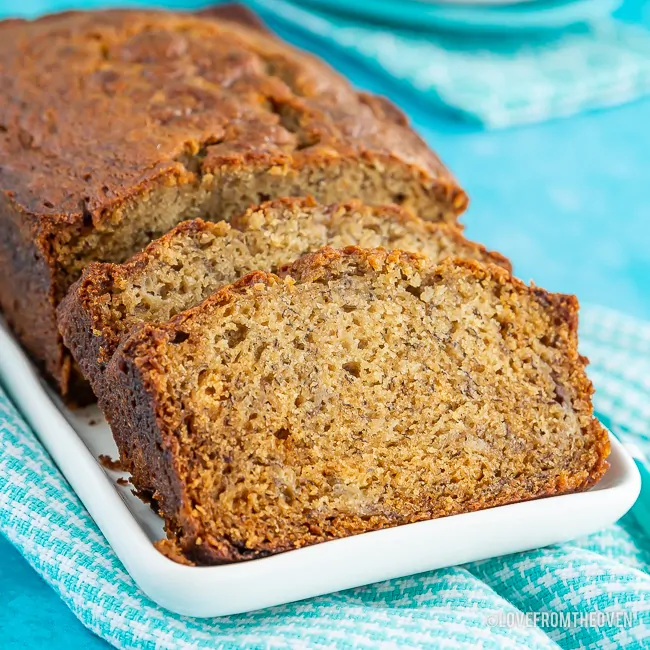 How Do You Make
Easy Banana Bread?
Today I'm sharing my best tips, tricks and recipes for making incredible homemade banana bread.
This is the kind of bread that your family will eat up lightening fast (maybe too fast!) and your friends will want the recipe for.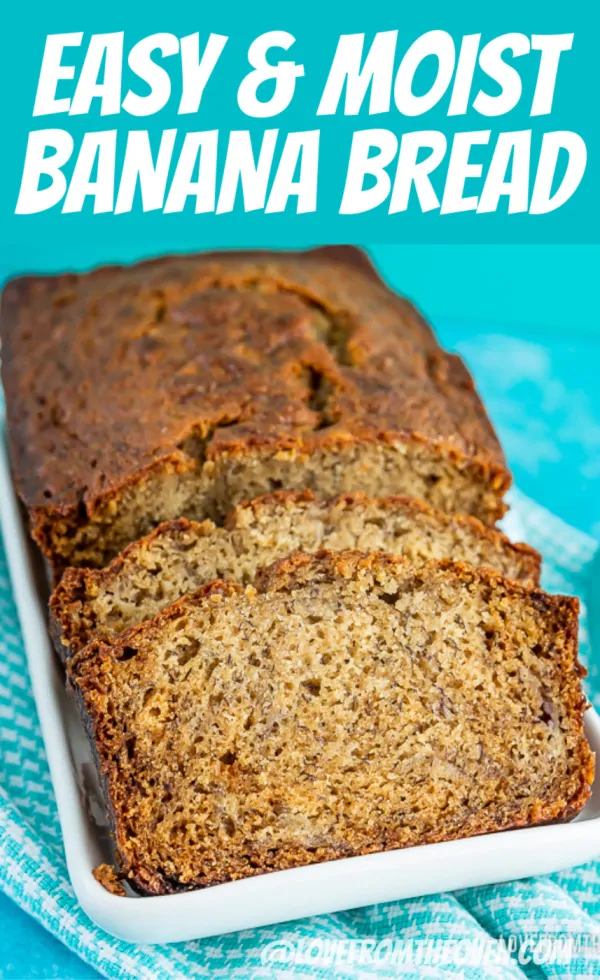 While this easy moist banana bread recipe is incredibly simple to make, this is going to be a long post, but for very good reason! In this post you'll find answers to the most common questions people have about making banana bread, as well as my top tips.
After reading this, you will be able to make a perfect banana loaf in no time!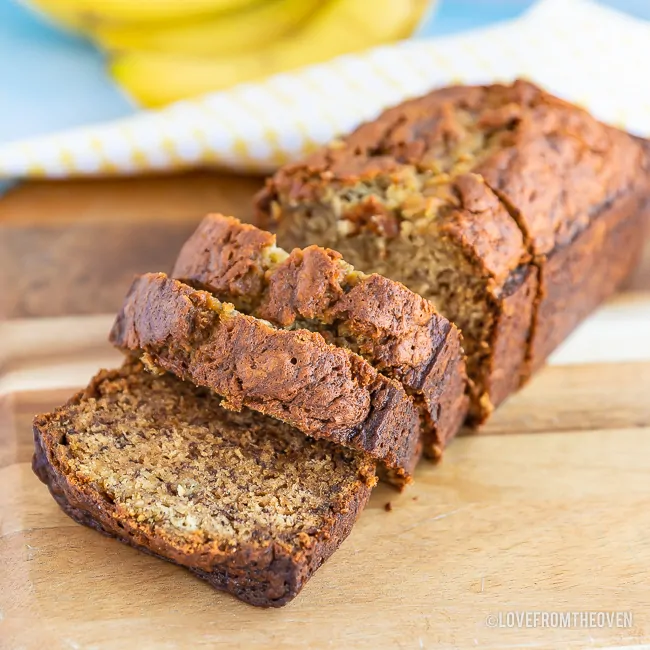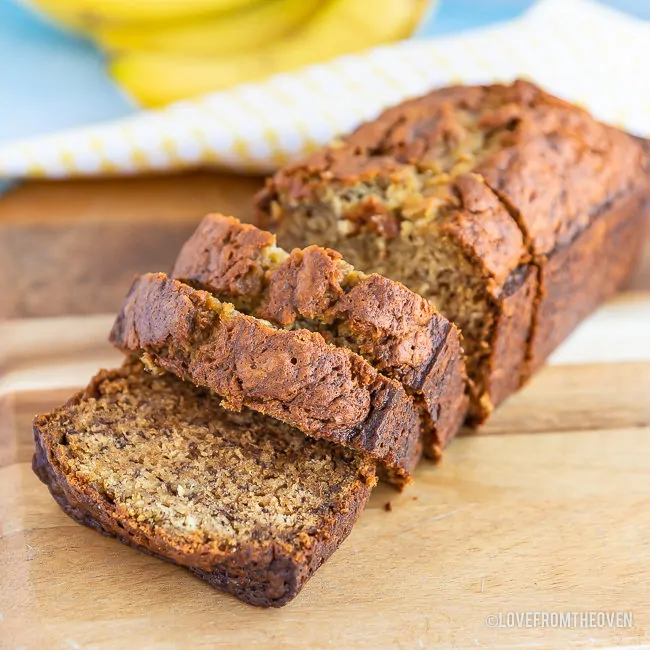 In this post you'll find answers to the following common BANANA BREAD QUESTIONS:
What is in banana bread and is it easy to make?
When is banana bread done and what causes it to fall in the middle?
How do you prevent it from sticking to the pan?
How do you store banana bread and does it need to be refrigerated?
Can it be frozen?
Is banana bread healthy?
Why does it crack on top?
What pan do you use?
And more!
I highly encourage you to read these tips, as it will help make you a better baker.
However, if you JUST want the recipe, just scroll on down to the bottom for it.
Now let's make and bake some simple banana bread!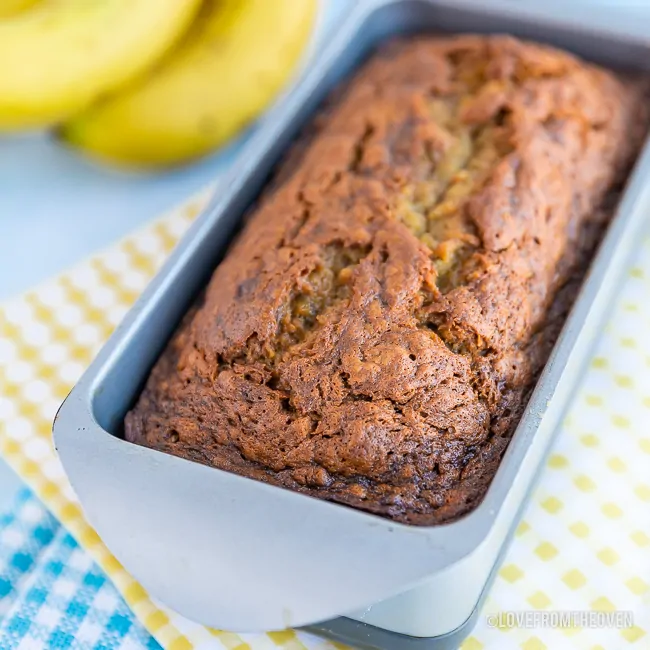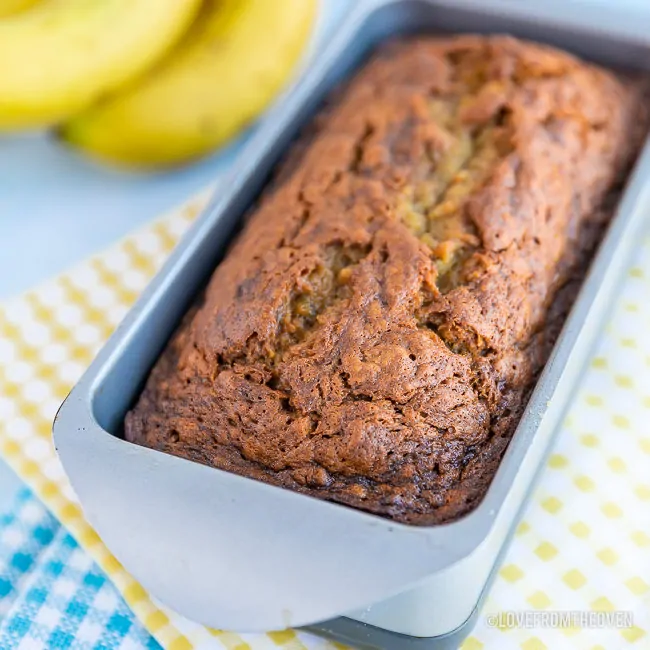 What Is In Banana Bread?
Think of this as a "Simple Banana Bread" recipe.
The ingredients are incredibly simple! I love how quick and simple this recipe is to make.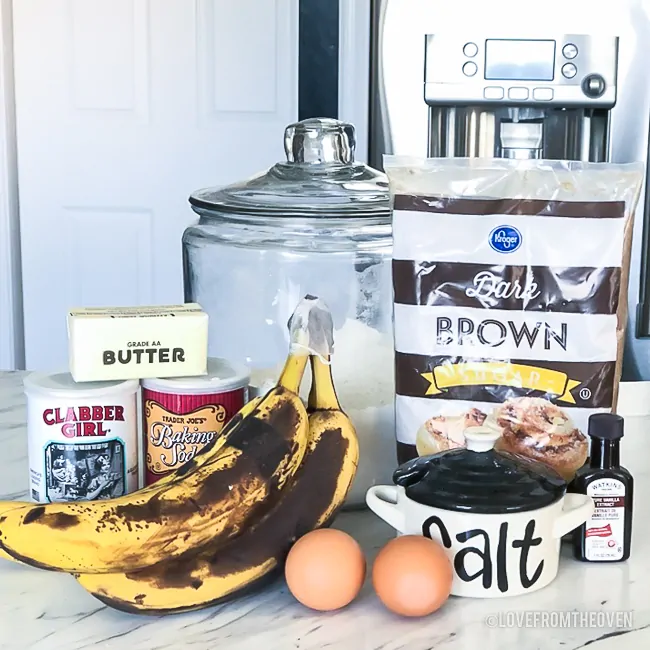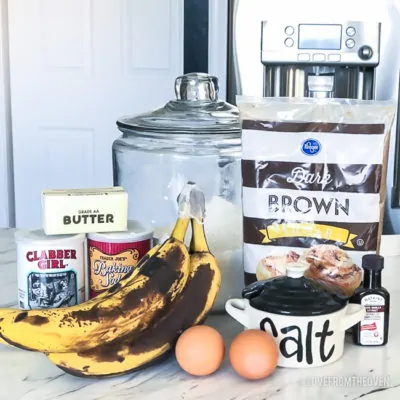 Ingredients:
Flour
Bananas
Butter
Brown Sugar
Eggs
Vanilla
Salt, Baking Powder & Baking Soda
Optional – Walnuts, Pecans, Chocolate Chips, etc.

Is This Easy Moist Banana Bread Recipe Really Easy?
Yes, this is an EASY homemade banana bread recipe!
You can make this recipe in one bowl, which makes for easy clean up.
There are just FOUR simple steps to follow to make the best moist banana bread recipe:
Mash your bananas. I prefer to do this with my mixer, but it can also be done by hand.
Add in your melted butter, brown sugar, eggs and vanilla. Mix well.
Next add in dry ingredients. Mix until just combined. Take care to not over-mix.
Pour your banana bread batter into a loaf pan and bake for approximately one hour.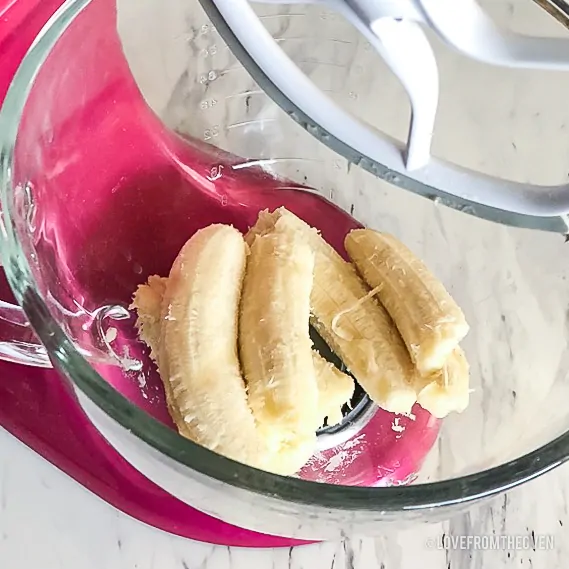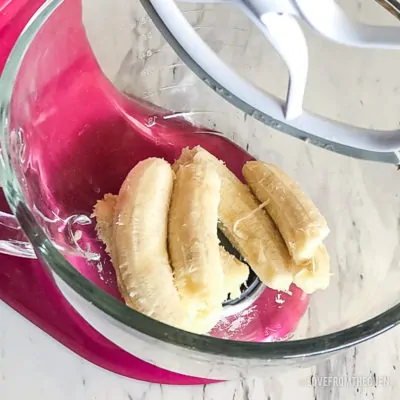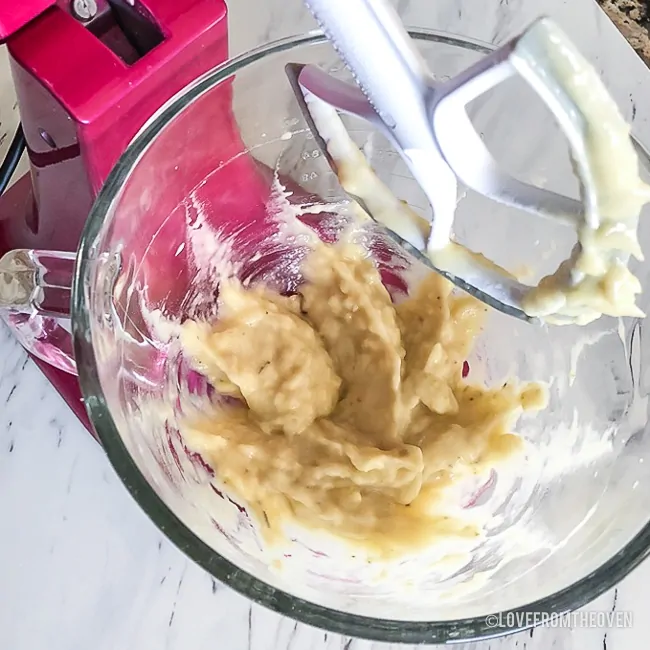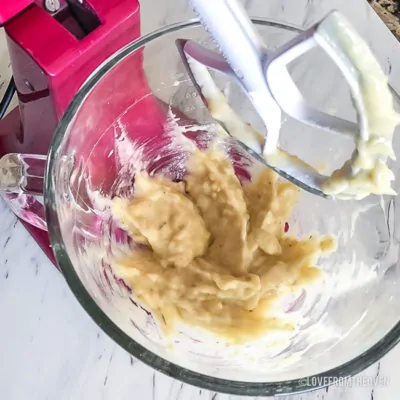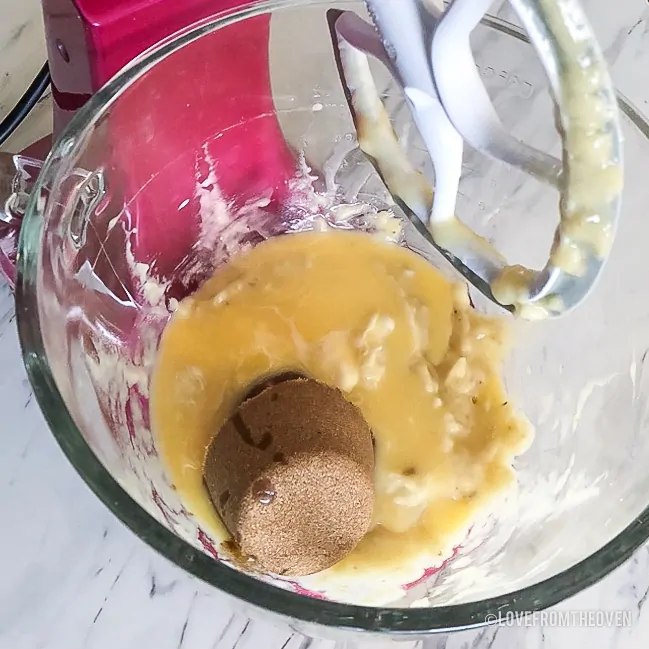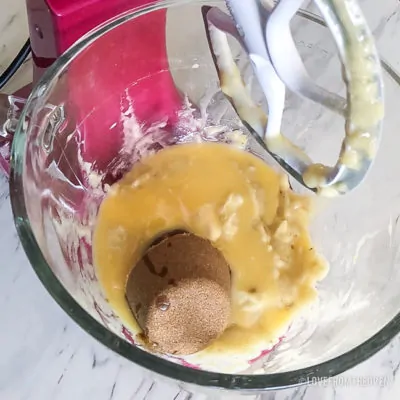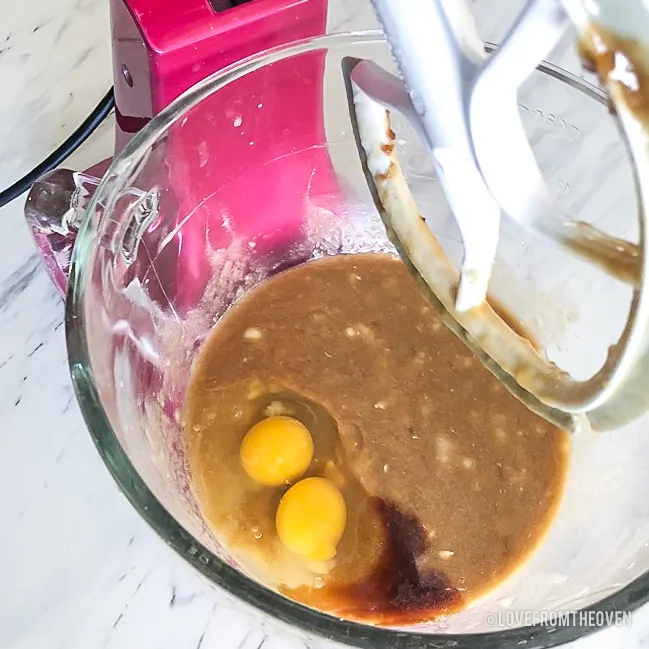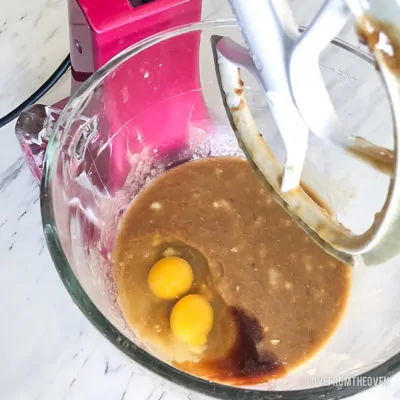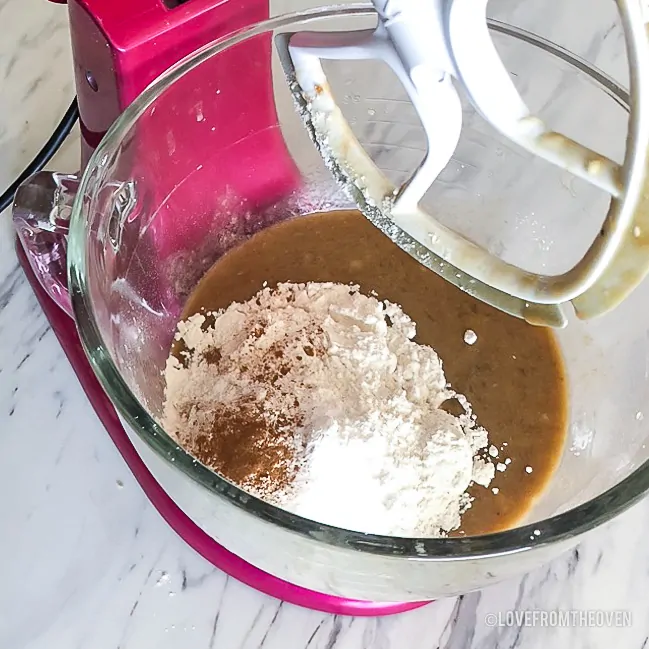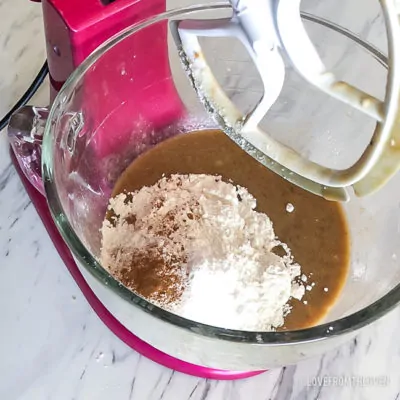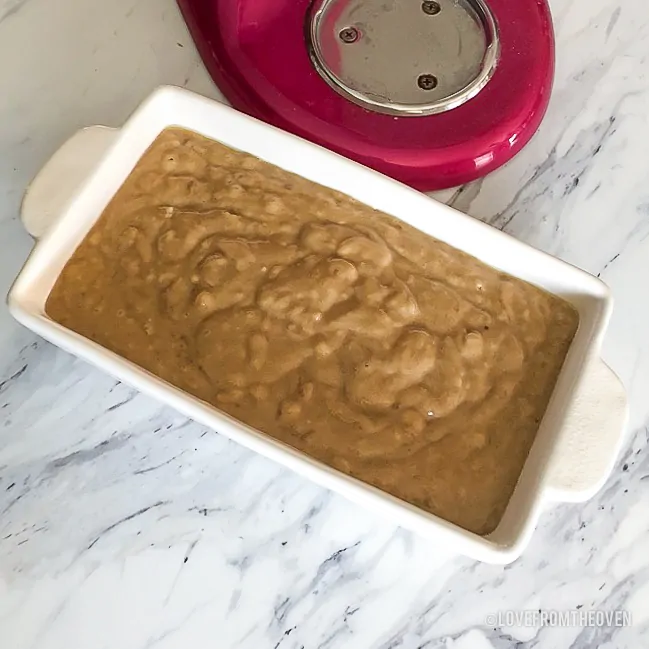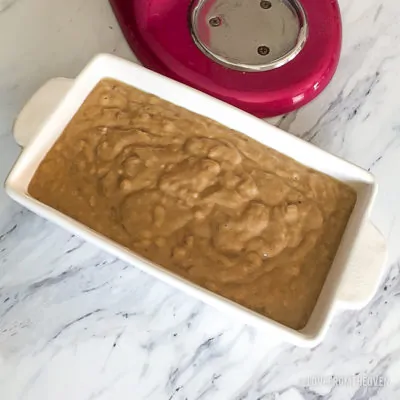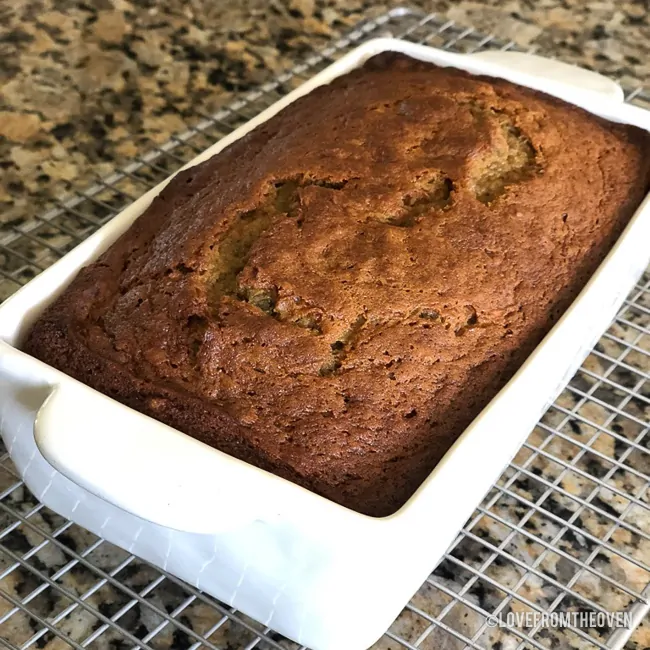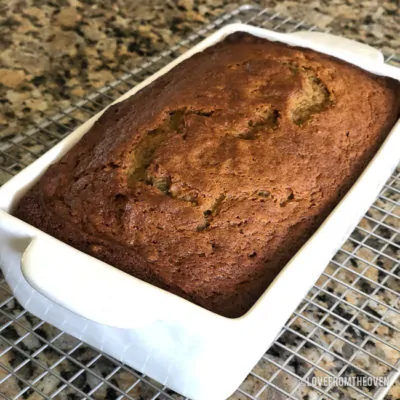 Is Banana Bread Healthy?
These days, asking if any recipe is healthy is a bit of a loaded question.
Healthy is defined in SO many ways now. For some people keto is healthy, for others low fat is healthy, and for others vegan or organic might be healthy. Many versions of healthy are polar opposites.
So to answer the question as to if it's healthy, I do not think there is a single answer, because what is healthy to one person is not healthy to another person.
There are so many great recipes out there. If you eat a special diet, I can almost guarantee you can find a recipe that will suit your needs.
This simple banana bread recipe, like most quick breads, is a delicious bread made with wholesome ingredients. I wouldn't call it health food, but it's probably a much better choice than what you might buy at a bakery.

What Makes This Easy Banana Bread Recipe Moist?
When you think of delicious banana bread, you most likely think of moist banana bread. Nobody wants a piece of dry banana bread.
Here are a few tips that help make moist banana bread and prevent it from being dry.
Use VERY ripe bananas. The riper the bananas, the more flavorful and moist your bread will be.
This is a banana bread with brown sugar. I find the brown sugar helps with the moisture.
When measuring your flour, make sure you spoon flour into the measuring cup, do not scoop with the measuring cup.
Gently combine wet and dry ingredients and to NOT over-mix.
Some people like to use oil in place of butter. I like the flavor that butter brings, and find that it creates just the right combination of moist and not overly heavy.
Do not over bake. Make sure you are checking for doneness and remove from the oven when it's ready.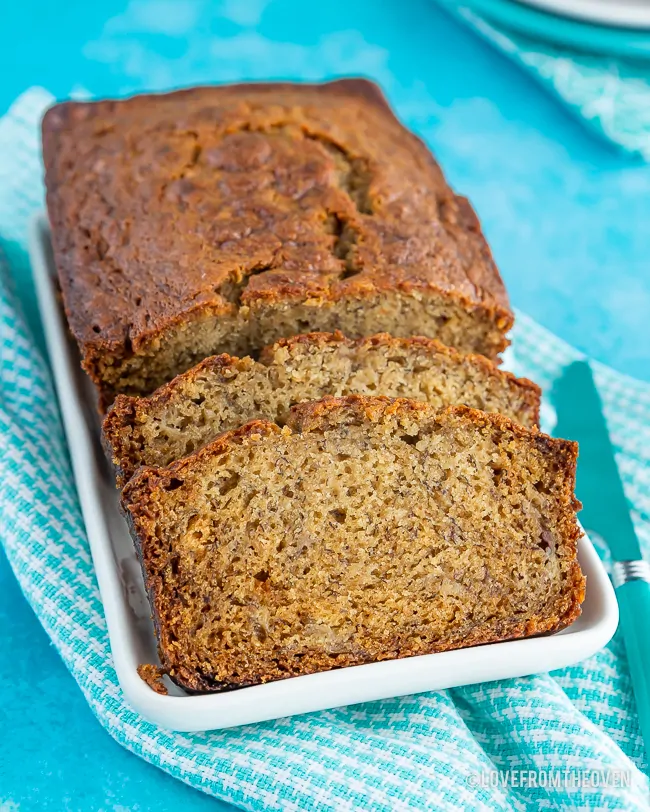 When Is Banana Bread Done?
At some point you might has wondered, how do you tell when banana bread is done? Wonder no more!
Here are some tips to help you know when banana bread is done baking.
Make sure your oven temperature is correct. Most ovens are not spot on with the temperature. Some ovens run hot, some run cold, and then there is the real headache that is an oven that varies between hot and cold.If you don't have a simple, inexpensive oven thermometer, I highly recommend one (I use this one). It helps let you know exactly what you are working with, so you can adjust accordingly if needed.
Use a cake tester or toothpick to check for doneness. A simple tooth pick can help determine if your bread is done. Stick it into the top middle of your bread, pull out, then see if any batter remains on the toothpick. I suggest doing this in 2-3 spots before determining your bread is done.
The sense of touch is a powerful one, so use it! For me, nothing beats the touch test. Gently touch the top of the bread. Does your finger leave an indent in it? If so, it's not done. When the bread springs back when touched, that's the ticket.You may also notice a crack on the top, which happens as bread finishes baking. But there is more than that. If you pay attention, you truly can feel if the center is still underdone. The more you bake, the better your ability to use your baking intuition, as well as your sense, will become.
Yes, you can use a thermometer to check if bread is done. While I don't use this method, I know some people like too. You can use a thermometer to check if your bread is done. A digital thermometer works best for this. When the center is around 205, and the edges are around 200 (within just a few degrees of the center) you are good to go.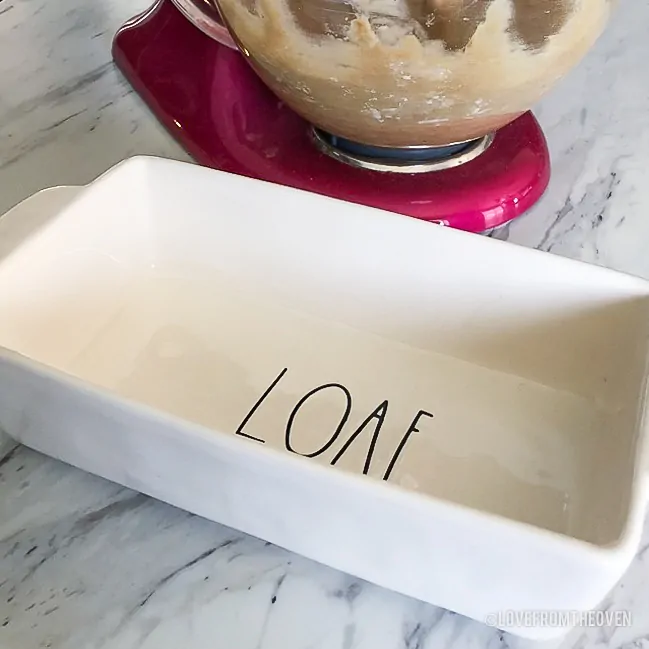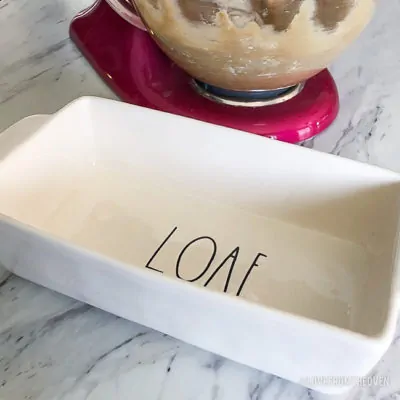 Why Does Banana Bread Fall In The Middle?
Are you wondering why banana bread sinks in the middle? Or why it doesn't rise well?
Almost everyone who has baked breads or cakes has experienced their bread falling in the middle or sinking in the middle. It is such a frustrating experience.
There are many reasons your banana bread falls or sinks in the middle.
Before we go further, here is a disclaimer.
Quick, sweet breads like this, are heavier than a loaf of something like a French bread. By their nature, they do not tend to always some up high as something like a sandwich bread might.
If you look at the photos in this post, you will notice none of the loaves have a huge domed top. It may dome a little, or be just north of level. But that is okay. In fact THAT IS NORMAL when you have a thick, moist bread!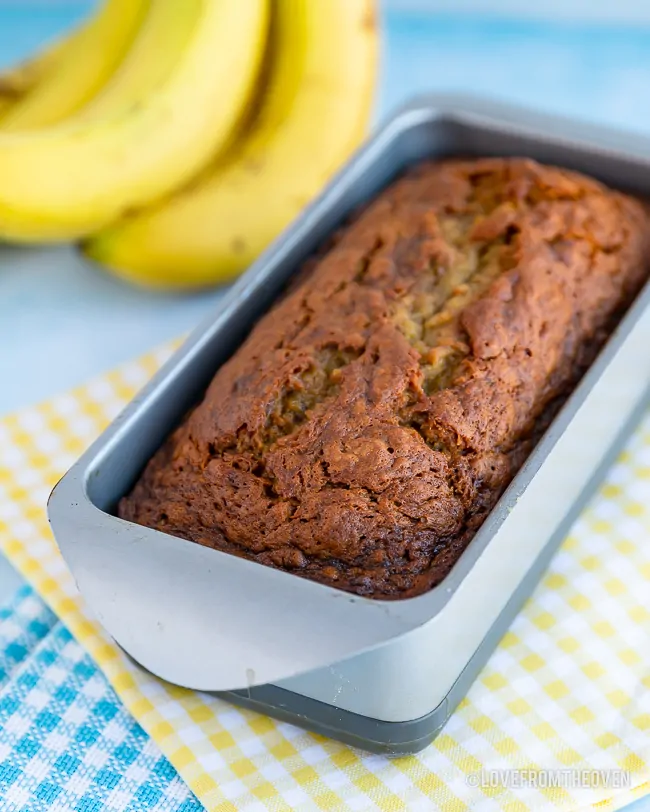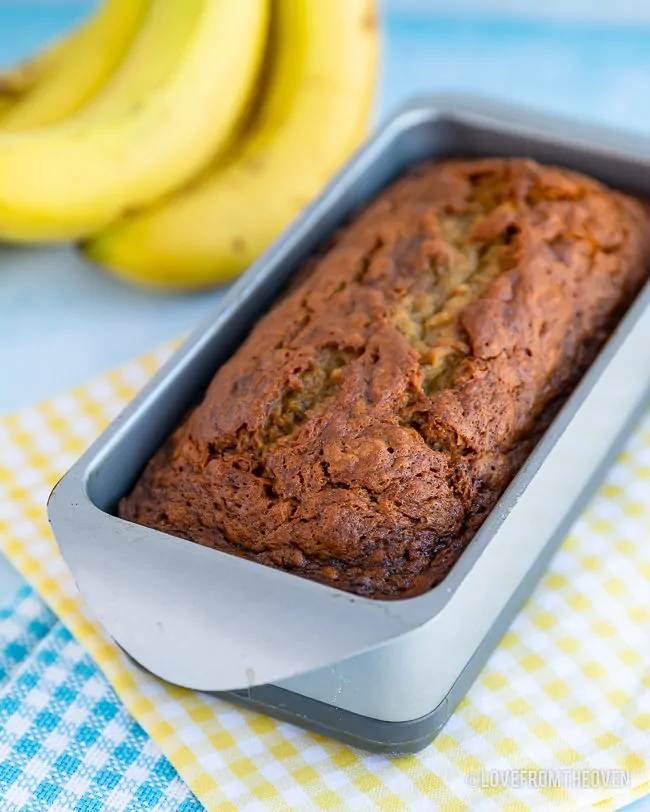 Now, back to preventing your bread from sinking in the middle.
Tips To Keep Bread From Falling or Sinking In The Middle
Check the dates on your baking powder and baking soda. Especially if you do not bake often, make sure your leavening agents are fresh! Those boxes of baking soda that sit in the back of the fridge for two years – they are NOT fresh.

Use the right size pan. If a pan is too small and overfilled (picture batter going all the way to the top of the baking pan) then the bread will likely collapse as it does not have enough support when rising.
Once again, check your oven temperature! Even if it's off by a few degrees, that can impact the baking time.
Don't over-mix the batter! This can add extra air that can result in sinking from the heavier nature of the bread.
Grease the bottom and lower sides of your bread pan, but do not grease the top inch of the sides of the pan. Basically this gives the bread something to cling to as it starts to rise. I find it's hard to not grease the entire sides, so I usually go back with a paper towel and wipe off about a 1″ area along the top inside of the pan.
Make sure you measure your ingredients correctly.
Make sure bread is fully cooked before removing it from the oven. This is one of the most common problems, if the bread isn't fully cooked, and there is still moisture in the center, gravity is going to take it's toll.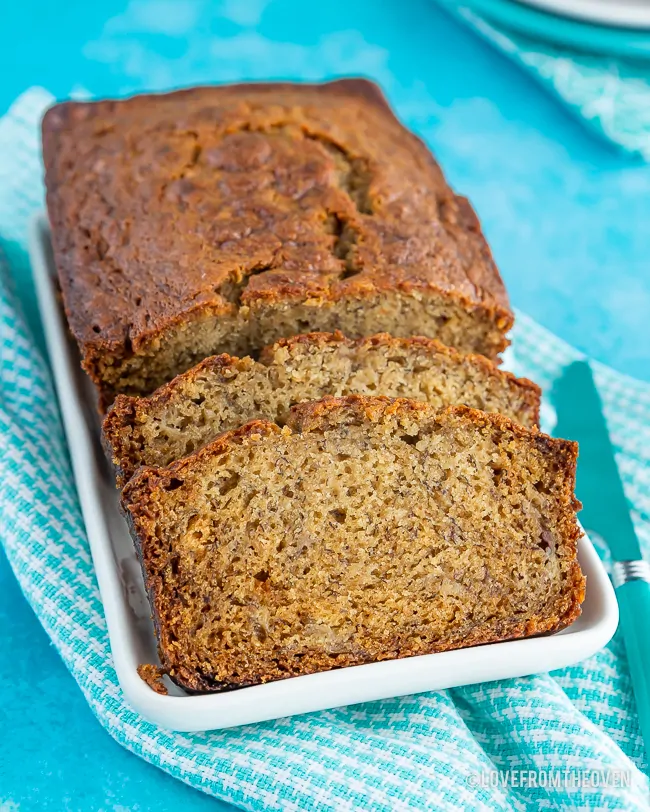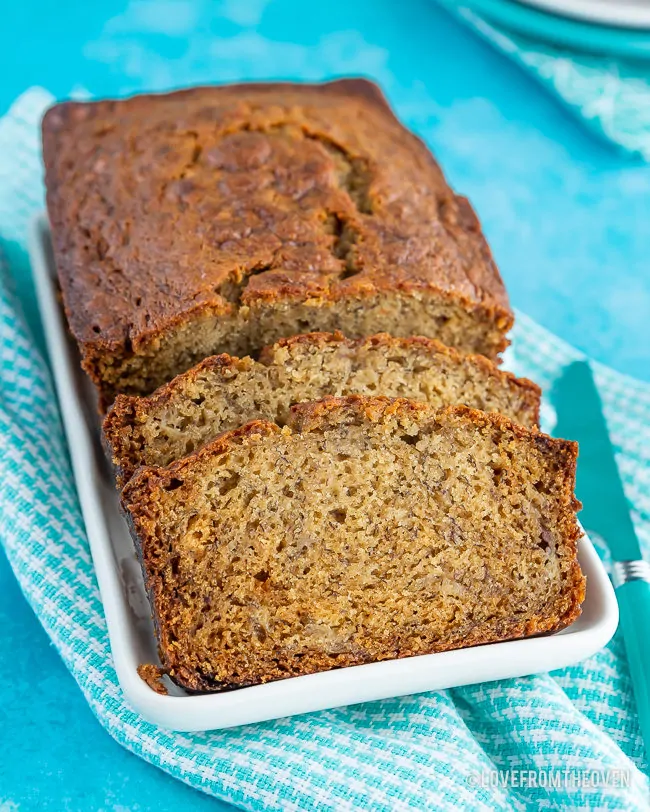 Why Does Banana Bread Crack On Top?
Don't worry if your banana bread splits on top, that's not a bad thing! The crack on top of bread happens when the loaf starts to set in the oven, but still rises a bit more.
It is incredibly common for quick breads. You'll notice it in all the photos on this page. Some people specifically want the cracked top on their bread! So don't think twice if your bread cracks on top.
How Do You Keep Bread From Sticking To The Pan?
At some point, almost everyone who has baked breads or cakes, has had them stick to the pan. Here are a few tips to help prevent your bread from sticking to the pan.
Grease your pan… well! Shortening is one of the gold standards when it comes to greasing your pans. That said, I typically use cooking oil, generously applied with a paper towel to coat the inside of the pan. Make sure not to leave any puddles of oil in the pan. For good measure, I then spray with non-stick cooking spray. As mentioned in the previous section, I do go back with a clean paper towel and wipe off the top inch or so of oil from my pan. This helps give the bread something to grab onto when rising.
Give your bread time to cool. Let your bread cool in the pan, on a wire cooling rack, for at least ten minutes. If you try to immediately remove the bread from the pan, it's likely there will be problems. Steam condenses during this cooling time, and it helps make the bread release more easily.
Carefully run a narrow, flexible spatula or thin blade knife around the edges of the pan prior to removing bread. This will help loosen the loaf it is is sticking on any of the sides.
If desired, line the bread pan with parchment paper prior to baking. If you want a fool proof method of preventing your bread from sticking to your pan, this is your best bet. Check out this post on baking with a parchment sling for more info.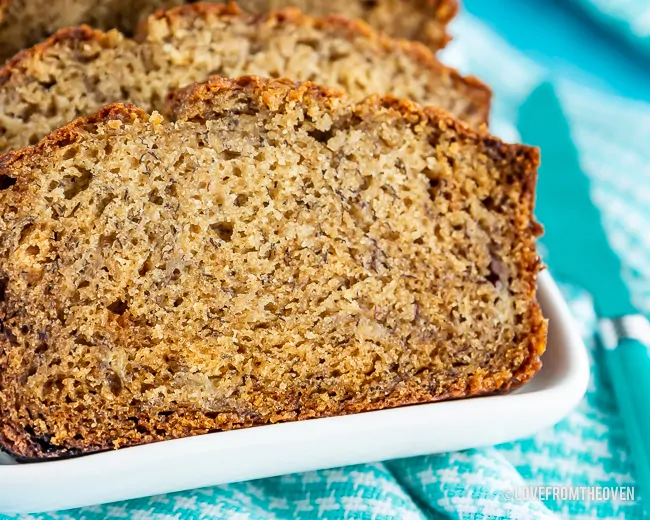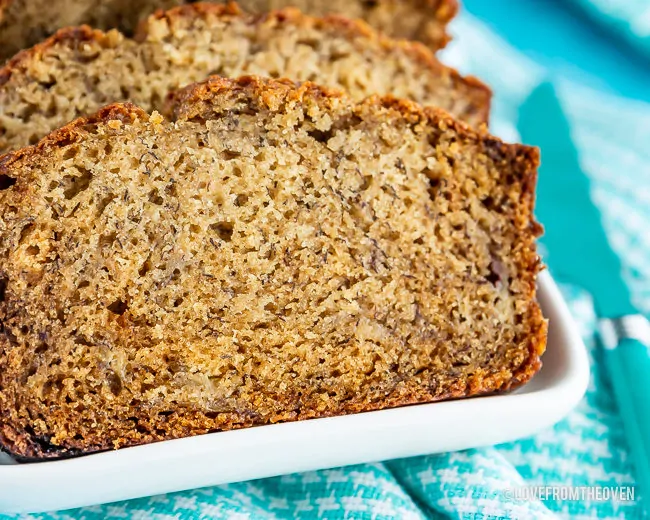 What Bread Pan Should I Use?
Pick your pan! There are so many different types of bread pans. I personally prefer a ceramic or glass bread pan, I find they are less prone to sticking than a metal pan. While I'm not a huge fan of silicone bread pans (they just seem too floppy) they are a great non-stick option. That said, I've used all types with this recipe.
Keep in mind that different types of pans bake differently. Personally I prefer a CERAMIC bread pan. Ceramic and glass tend to cook similarly, where metal can sometimes take slightly longer to bake. With metal pans there is a great deal of variety based on the type of metal, and if it's dark or light, shiny, nonstick, things like that. Typically the darker the metal, the quicker a pan will bake.
Make sure to use the correct size pan. Bread pans come in a wide variety of sizes. Different size pans will have an impact on baking times. This recipe is based on a 9.5″ x 5″ size bread pan, which is a fairly standard size. If your pan is just slightly larger or smaller (say 1/2 inch off) then it should be fine. Any larger variation and you will have to possibly adjust your temperature and/or baking time.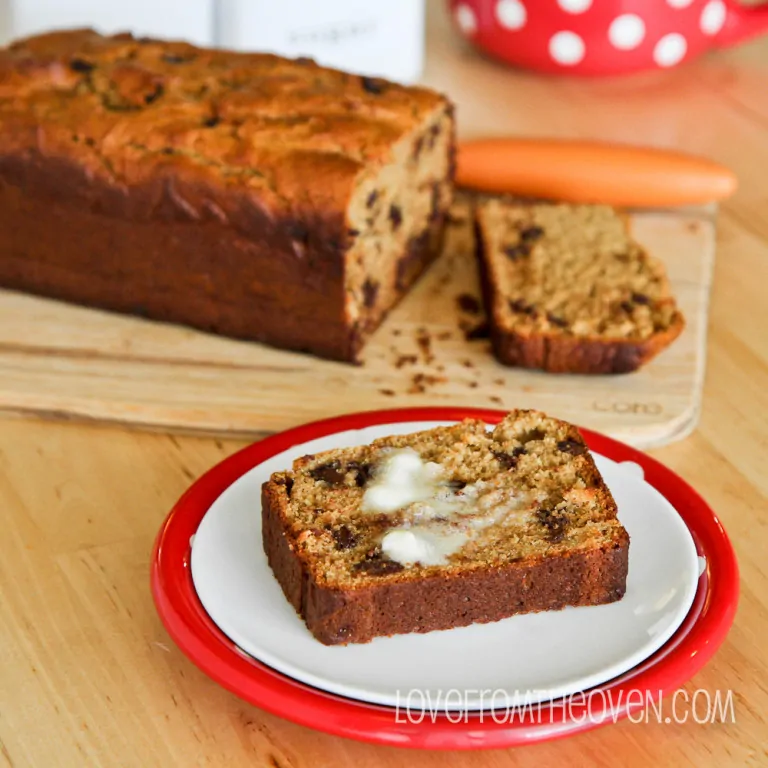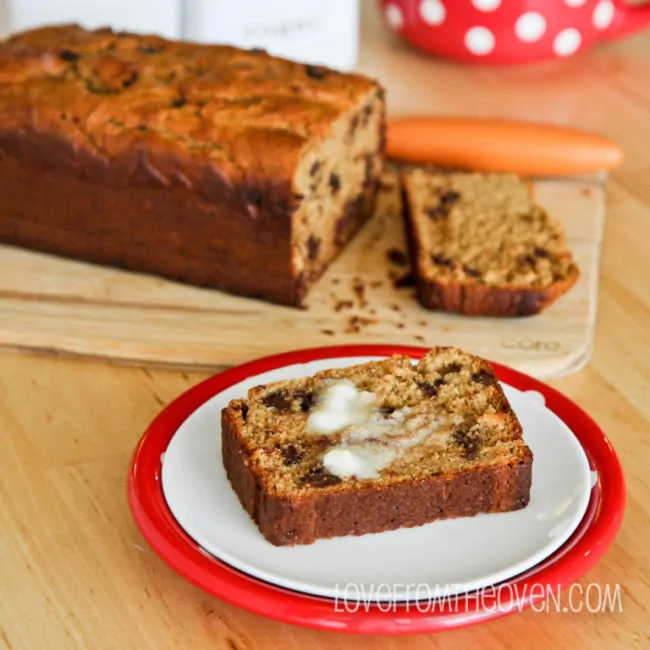 How Do You Store Banana Bread?
For storage, tightly wrap your banana bread.
My preferred method is to wrap my bread in a plastic wrap, followed by aluminum foil.
Just make sure your loaf or slices have cooled completely prior to wrapping up.
The loaf can be wrapped as a whole, or you can wrap individual slices. Slices are great for grab and go, on-the-run servings.
Also, for the record, when I say plastic wrap, I actually mean the Glad Press 'N' Seal. For whatever reason, I have never mastered the use of actual plastic wrap. Why is it so hard?
Does Banana Bread Need To Be Refrigerated?
No, it does not NEED to be refrigerated. It can be stored at room temperature.
However…
If I make banana bread and I don't think it will be eaten within 24 hours, I will store it in my refrigerator.
In my opinion, banana bread, and other quick breads, can get funky (technical term) quickly. The best moist banana bread recipe is, well, moist, a texture we all love in quick breads. However it can also can make them turn for the worse. At least here in hot Arizona.
So while no, you do not NEED to refrigerate it, I recommend doing so.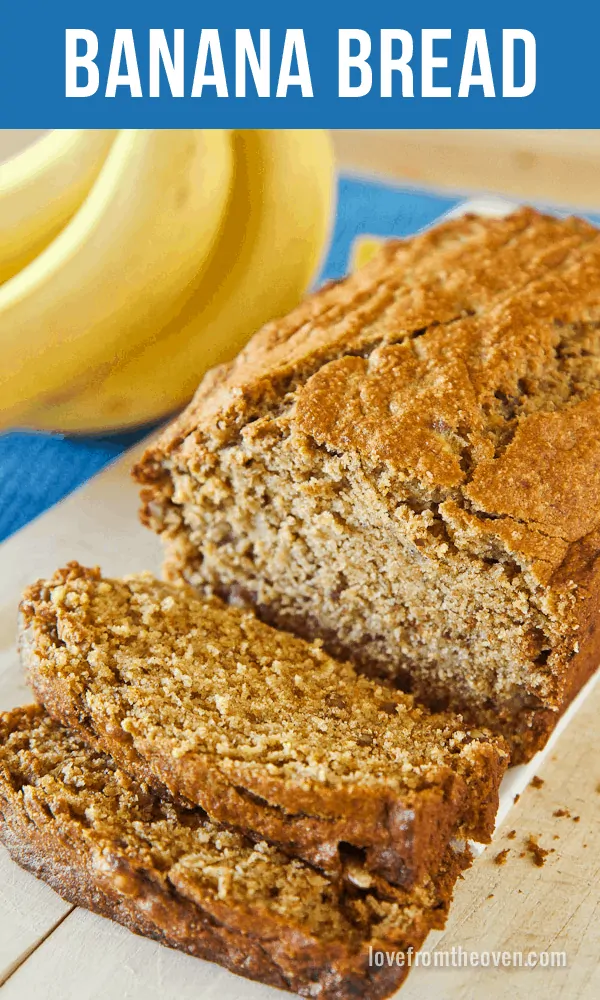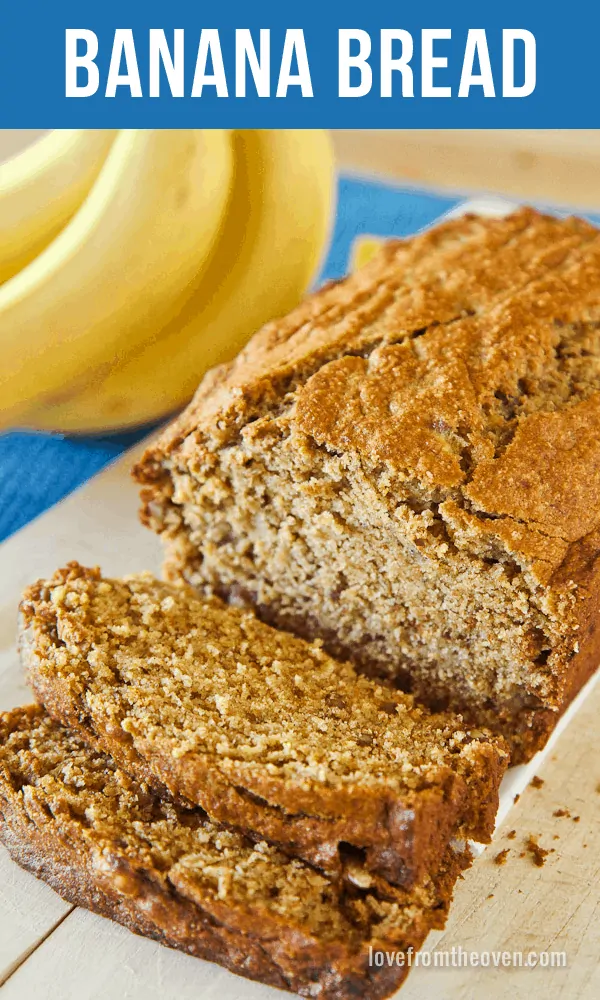 Can Banana Bread Be Frozen?
Yes, and it freezes well!
You can freeze quick breads as a loaf or by the slice. Nothing better than slices of bread in the freezer. It lets you be just a microwave and seconds away from a warm slice of bread.
As mentioned above, one the bread is completely cool, wrap it up with plastic wrap, then aluminum foil. Then go a step further and place it in a zipper style freezer bag.
Bread can be thawed at room temperature, or you can just pop a slice into the microwave for approximately 20-30 seconds to heat it up.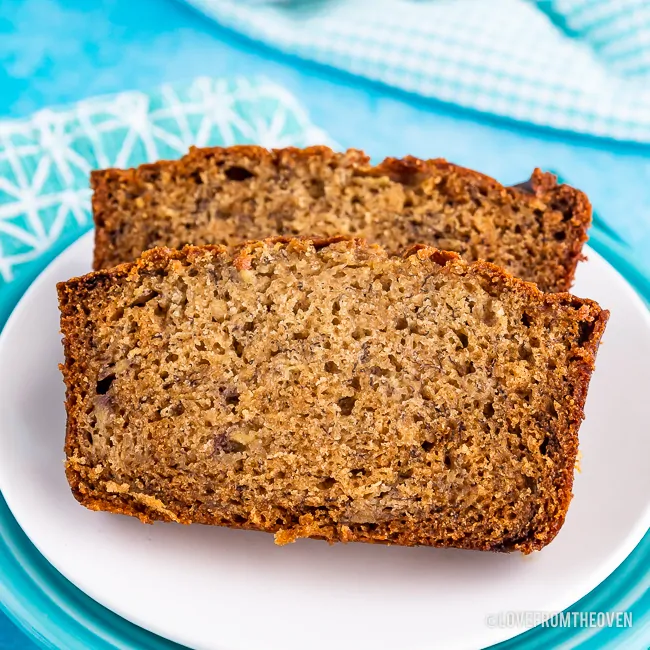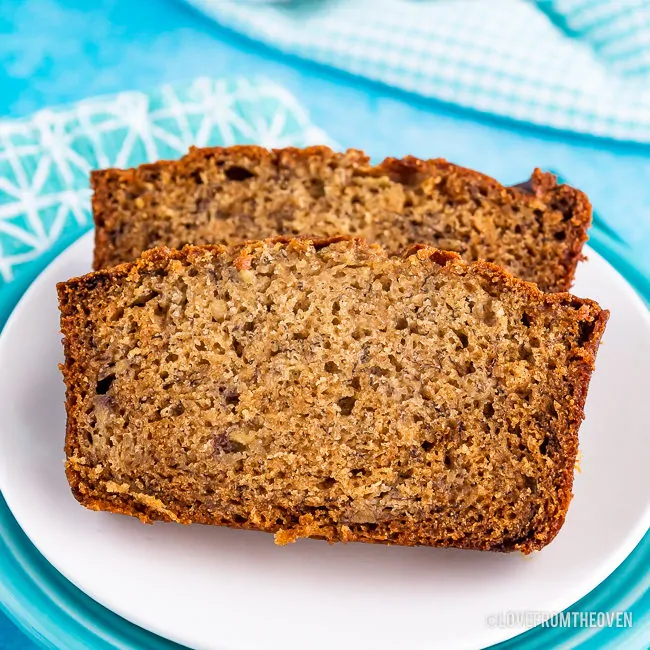 Can I Add Nuts or Chocolate Chips To This Easy Moist Banana Bread Recipe?
Absolutely! Feel free to add a cup of mix-ins of your choice, such as chopped walnuts, pecans or chocolate chips.
Easy Moist Banana Bread Recipe With Nuts
If making banana nut bread, I do suggest that nuts be chopped, as whole or even half nuts can be heavy and sink to the bottom.
Simply fold the nuts or chocolate chips in when you are combining the wet and dry ingredients.
Can I Make Muffins With This Recipe?
This recipe is actually based on my popular BANANA BREAD MUFFINS recipe. So hop on over and make that one if you like!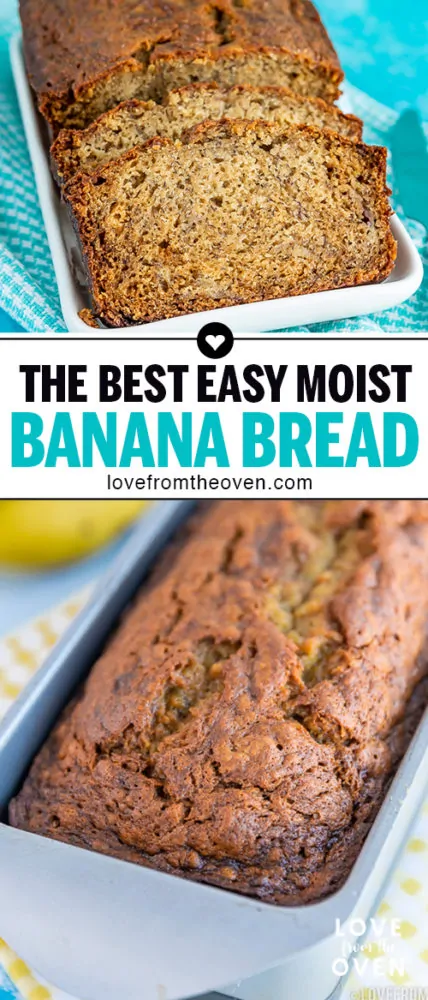 More Delicious Banana Recipes To Try:
I hope you've found these tips helpful.
Now let's bake this easy moist banana bread recipe, from scratch!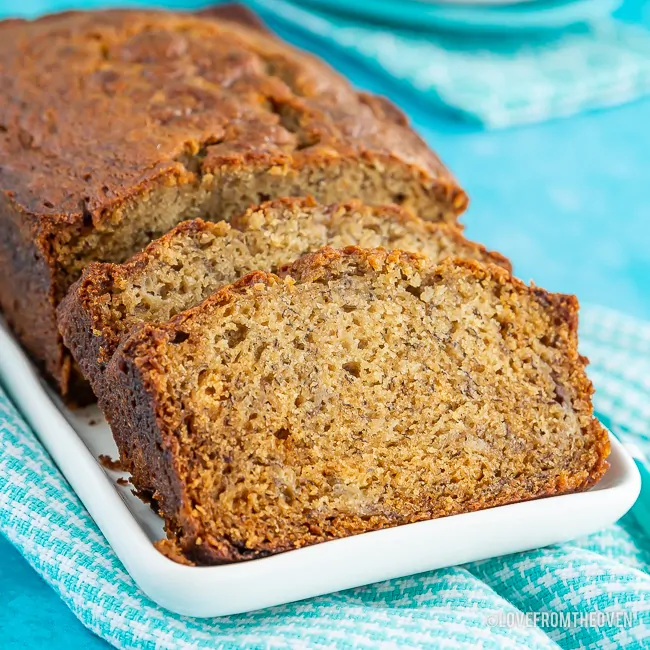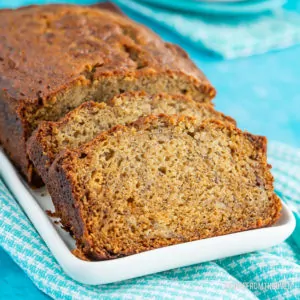 Simple Banana Bread Recipe
This delicious and easy recipe creates the best moist banana bread! The ingredients for this bread are simple and can be mixed in one pan in just minutes!
Ingredients
1 1/2

cups

all-purpose flour

1

tsp

baking soda

1/2

tsp

baking powder

1/2

tsp

salt

3

medium to large very ripe bananas

1/2

cup

unsalted butter

melted and cooled

3/4

cup

packed light or dark brown sugar

2

large eggs

lightly beaten

1

teaspoon

vanilla extract

1

cup

chopped walnuts or pecans

optional

1/2

tsp

ground cinnamon

optional
Instructions
Preheat oven to 350 degrees F.

Grease a 9.5" x 5" loaf pan well, then set aside.

In a large bowl, mash bananas until only small chunks remain. Add in melted (and cooled) butter and brown sugar and stir until well combined. Stir in beaten eggs and vanilla and stir until well combined.

Add in dry ingredients, and stir until just combined. DO NOT OVER MIX. If desired fold in chopped nuts or chocolate chips.

Pour batter into prepared loaf pan.

Bake for approximately 50-60minutes or until a toothpick inserted into the center of a muffin comes out clean, center is starting to feel solid, and springs back when touched.

Remove from oven and allow to cool in bread pan on a wire rack for 10-15 minutes. Remove from bread pan to serve.

To save remaining bread, wrap tightly with plastic wrap, then foil and store in the refrigerator.
Notes
Make sure to read through the post to find great tips and tricks that will help you make the best banana bread from scratch! 
Nutrition
Calories:
323
kcal
|
Carbohydrates:
49
g
|
Protein:
4
g
|
Fat:
13
g
|
Saturated Fat:
8
g
|
Cholesterol:
71
mg
|
Sodium:
182
mg
|
Potassium:
258
mg
|
Fiber:
2
g
|
Sugar:
26
g
|
Vitamin A:
442
IU
|
Vitamin C:
4
mg
|
Calcium:
48
mg
|
Iron:
2
mg
Disclaimer
Nutrition information is estimated as a courtesy. If using for medical purposes, please verify information using your own nutritional calculator. Percent Daily Values are based on a 2000 calorie diet.