This easy and delicious homemade chicken pot pie recipe is one of our favorite meals. A creamy chicken and vegetable filling is tucked into a buttery pie crust. With a few simple shortcuts, this classic homemade pot pie from scratch can be made quickly and easily, and without canned soup!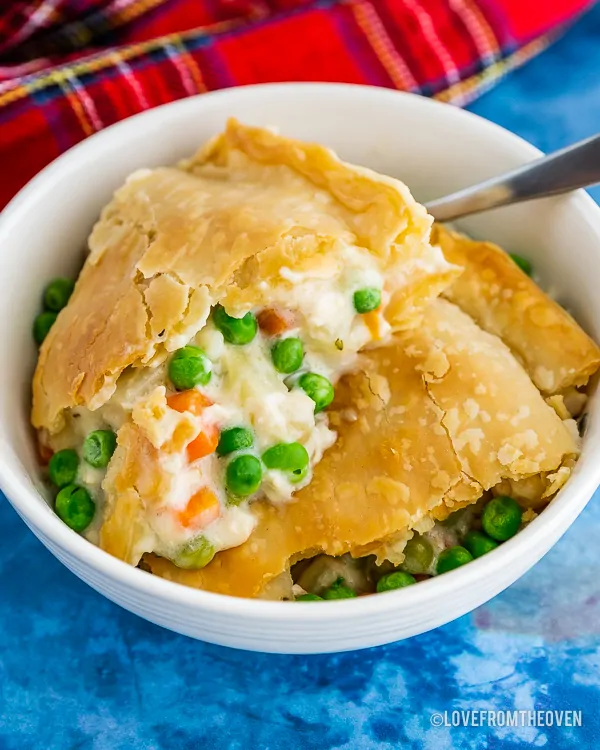 Chicken pot pie is one of those dishes that everyone in my family loves. It's easily one of my most requested dinner recipes, and any leftovers make for an excellent next day lunch. When I serve this warm and comforting meal, I know everyone at the table will have smiles on their faces.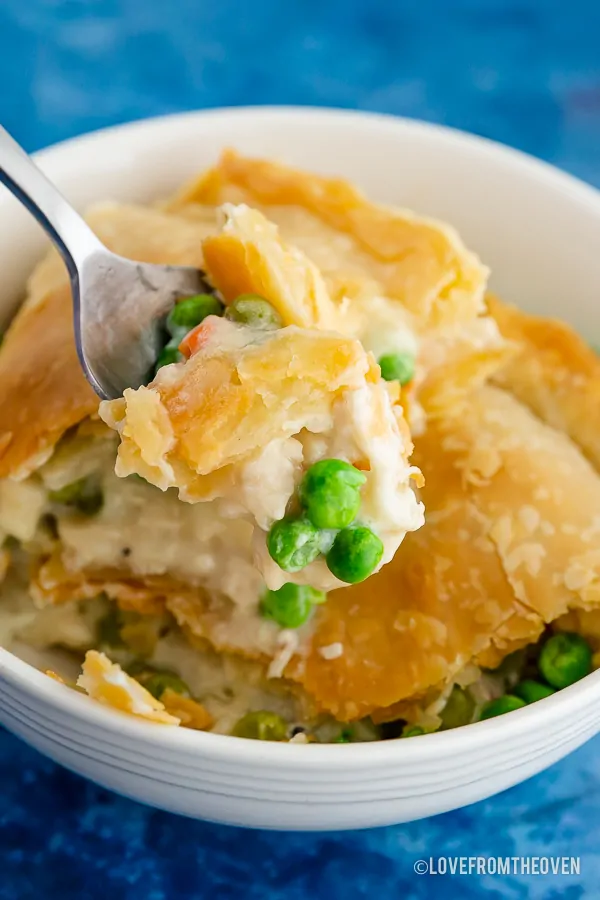 How Do You Make Chicken Pot Pie?
This is actually a very easy recipe to make.
It's simply a matter of assembling ingredients, creating the sauce and then tucking it into a pie crust. I have some great time saving suggestions below that make this a very do-able weeknight dinner.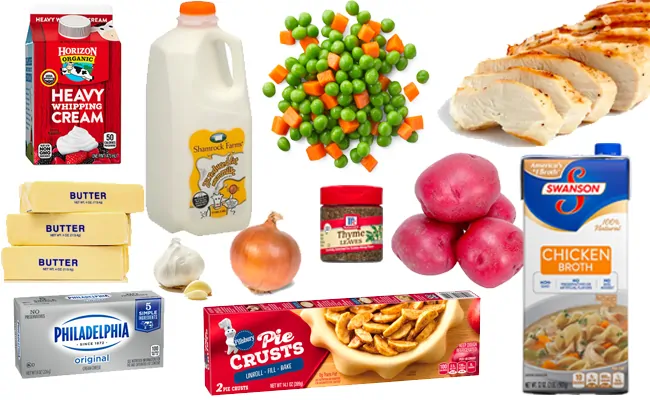 What Is In Classic Chicken Pot Pie?
The ingredients used in this homemade chicken pot pie recipe are both simple and flexible. You can add in, leave out or change up a number of the ingredients.
Ingredients:
Olive Oil
Garlic
Onion
Butter
Flour
Cream Cheese
Salt & Pepper
Thyme
Chicken Broth
Milk
Cream
Veggies (carrots, peas, potatoes, corn – your choice!)
Cooked chicken
Pie crust
We love our chicken pot pie with potatoes! While you don't have to put potatoes in chicken pot pie, I highly suggest you give it a try!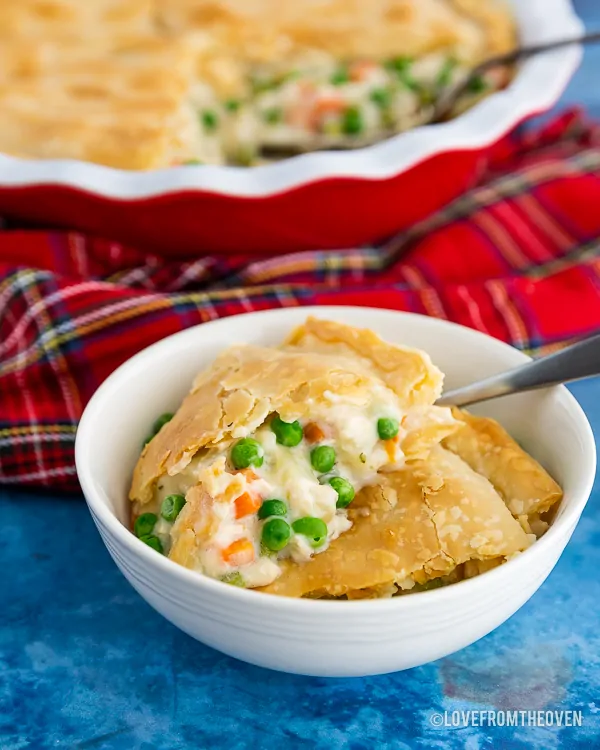 Tips To Save Time:
There are a few ways I really save time when making this meal. Shortcuts, semi-homemade options, whatever you want to call them, they help get this delicious dinner on the table quickly.
1. Use chicken that is already cooked and ready to go.
When making this dish, I typically use either leftover chicken, ready to eat chicken breast (I always grab this at Trader Joe's) or a rotisserie chicken.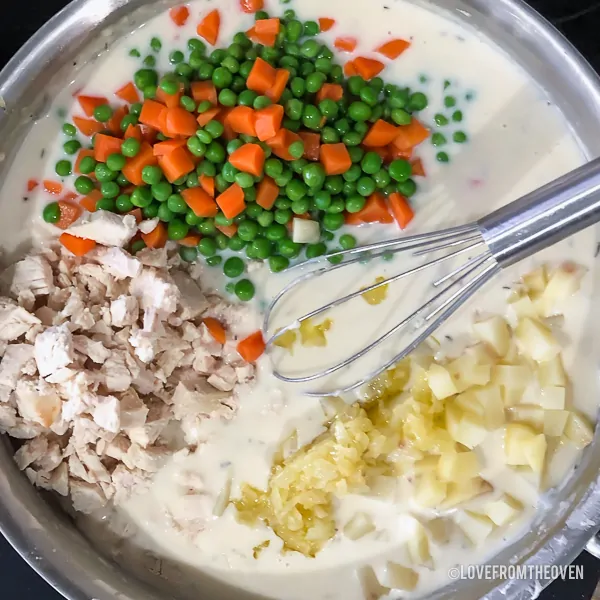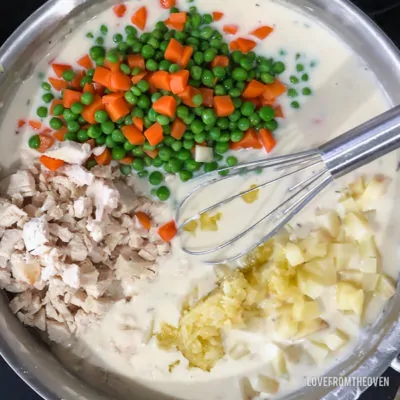 2. Use a pre-made pie crust for your chicken pot pie crust.
While I love a homemade pie crust, I don't want to make one on a busy Thursday night.
For years I've been singing the praises of the refrigerated Pillsbury pie crusts. Every time I use them someone compliments me on my delicious pie crust, so I'm sticking with them. I've tried other brands and haven't been as thrilled, so I stick with the Pillsbury.
The already formed pie crusts would work as well, though the baking times with this recipe are based on a refrigerated crust, not a frozen one.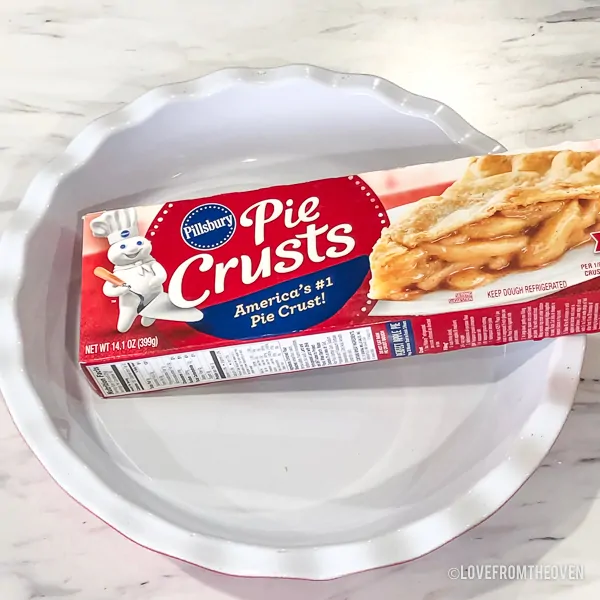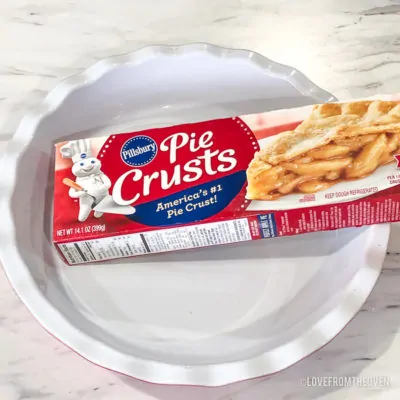 3. If using potatoes, pop them in the microwave first.
Potatoes can take a bit longer to cook than the other ingredients in this recipe. I've found that dicing my potatoes, then popping them in the microwave for a minute, is key. This helps pre-cook them, letting them cook perfectly in your pot pie.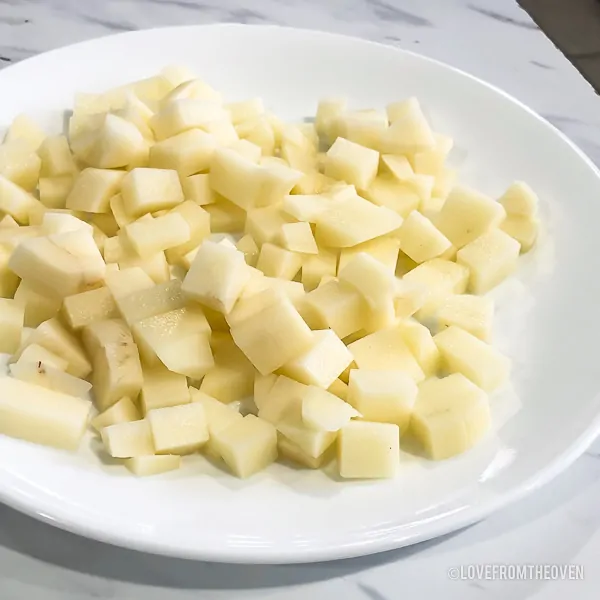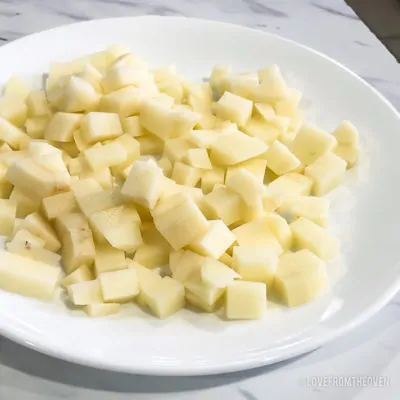 4. Ultimate time saver – just make soup!
I've previously shared a very similar recipe, my Pot Pie Soup. It's basically this same recipe, minus the crust.
If you don't want to give up the pie crust, toss a pie crust into the oven to bake while you are making the pot pie filling.
Cookie cutters work great with pie crusts. Think of it like making sugar cookies. Those cute hearts below are pie crust!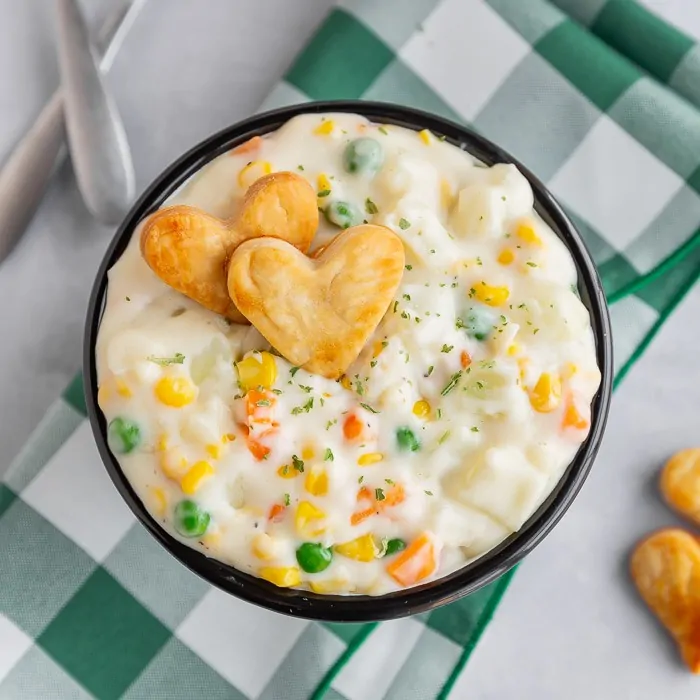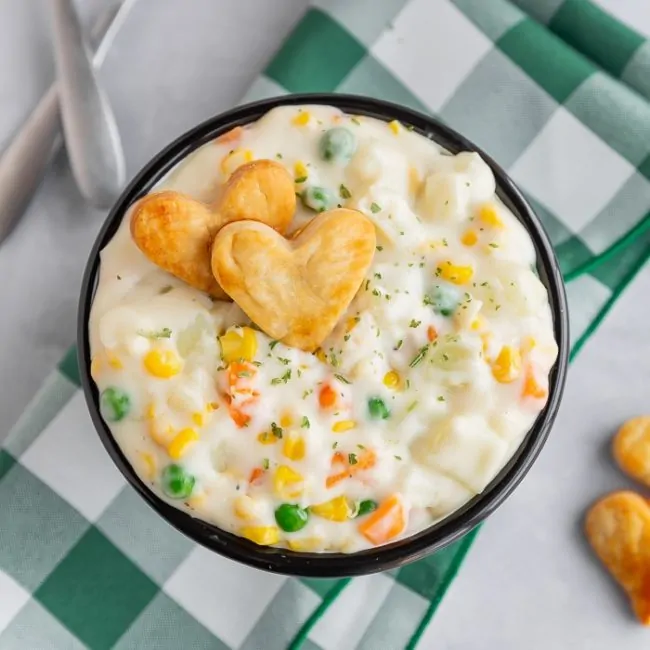 Recipe Ingredient Changes and Substitutions:
As with most of my favorite dinner recipes, this homemade chicken pot pie recipe is flexible when it comes to your ingredients. Since I make this recipe often, I've tried making it many ways with great success.
Can you make vegetarian pot pie?
Yes! Simply leave out the chicken, and increase the vegetables to five cups total.
Replace the chicken broth with vegetable broth.
I've read some people say that Pillsbury pie crust is vegan, but have also read that it contains lard. You'll have to figure out what pie crust recipe works for you.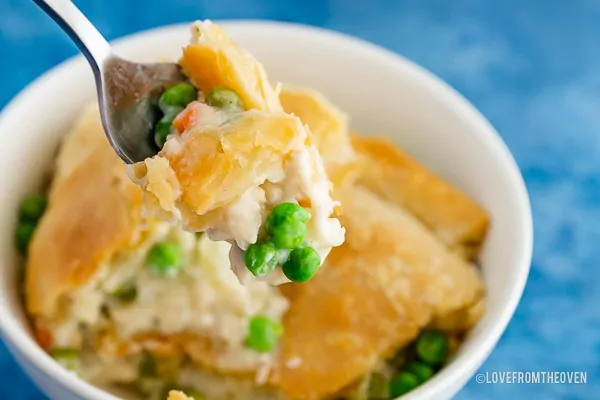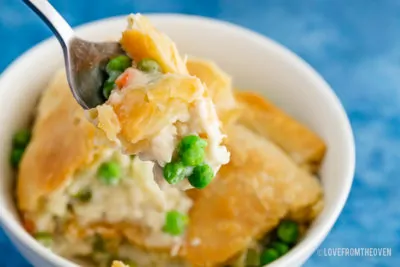 Can you make dairy free Chicken Pot Pie?
Good news, you can make this recipe dairy free!
I've made this dairy-free a number of times. To do so, make the following adjustments.
Replace butter with your favorite dairy free spread (we use Earth Balance sticks).
In place of the 2oz of cream cheese, add an additional 2 tbsp of dairy free spread.
Instead of milk, use your favorite unsweetened dairy free milk. We prefer Ripple.
Use your favorite dairy free half and half. We also prefer Ripple for this as well.
The Pillsbury pie crust I use is dairy free.
Can you make vegan pot pie?
Another yes! You can make a vegan version of this homemade chicken pot pie recipe. To do so, combine the suggestions above for vegetarian and dairy free pot pie. You can make your own vegan pie crust if you like.
Can you make pot pie with just one crust?
Absolutely! You cane make this a double crust pot pie by putting a crust in your pie pan and on top of the pie. However you can leave out the bottom crust and just put the top pie crust on.
Can you make this without peas? Or carrots? Or (insert any vegetable you don't like)?
You betcha! While I typically use peas and carrots, those aren't the only veggies you can use! Corn, green beans, you name it! I do think it works best to have small, similar in size veggies. So if using green beans for example, you'd want them to be in small, bite size pieces.
Can you make chicken pot pie ahead of time?
This is a great recipe to make in advance! You can do this a couple of ways.
One option is to make the filling in advance, then when ready to bake tuck it into a pie crust and bake. I prefer not to pair it with the pie crust until it's time to bake (unless freezing), to avoid the filling seeping into the crust and making it soggy.
Or, you can make and bake the entire thing ahead of time, and just heat when ready to eat.
I do find that since this is a large and dense dish, it usually works best to warm servings individually.
Can you freeze chicken pot pie?
While I'm never quite organized enough to make and freeze meals in advance, I have made the filling for this pie and frozen it.
My recommendation for freezing, if making in advance, would be to make and freeze the filling. I'd then thaw the filling in the microwave, tuck it into the pie crust, and bake.
Or you can make the entire pie, allow to cool completely, and then freeze, to bake later. I don't have a specific bake time on this option for you, but I will try it and add one later for you!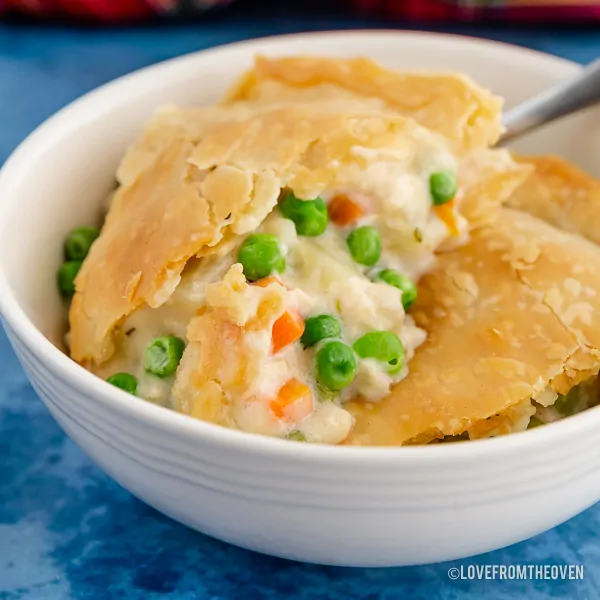 Directions to Make Chicken Pot Pie With Potatoes:
There are a few steps to go through to make your pot pie filling. But don't be intimidated, they are quite simple and it comes together in about five minutes time.
First, start by cooking your onion and garlic in olive oil.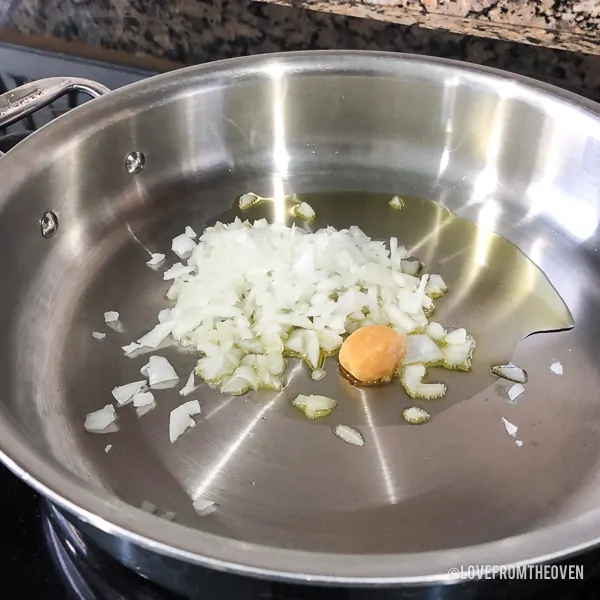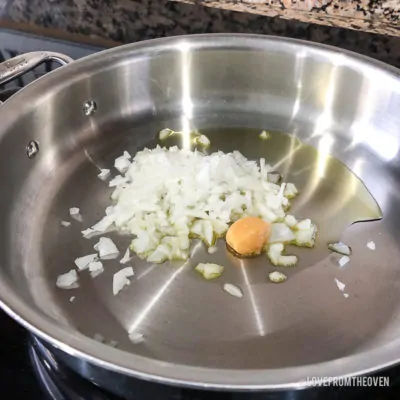 Remove those and set aside to be added back later.
Next make a roux by simply melting butter and then whisking in flour.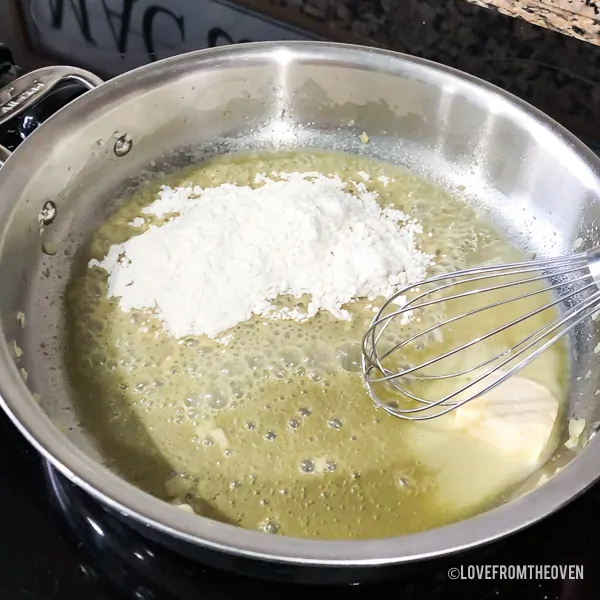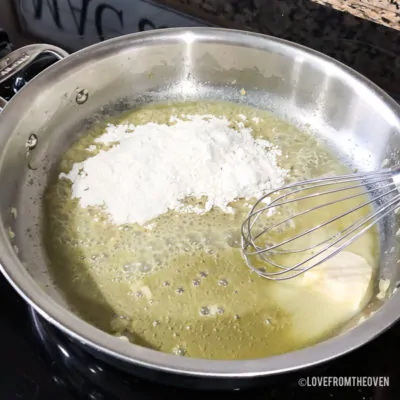 In goes the softened cream cheese. It's going to look like a thick, lumpy, mistake. Don't worry, you're on track still.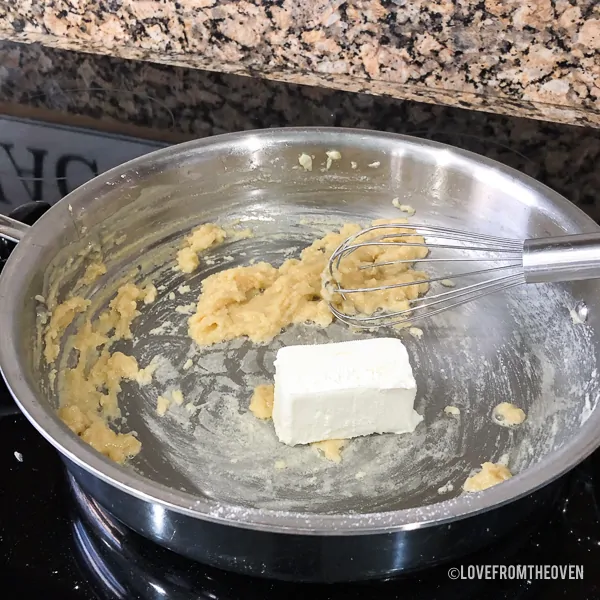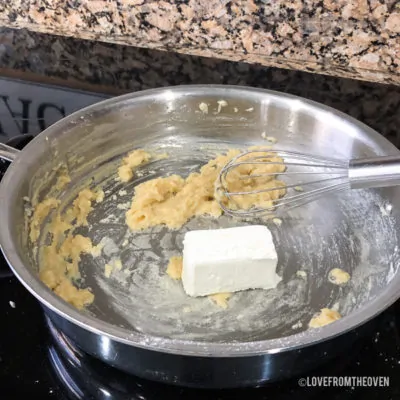 Now it's time to start adding liquids. Gently pour in chicken broth and whisk to combine and smooth out mixture.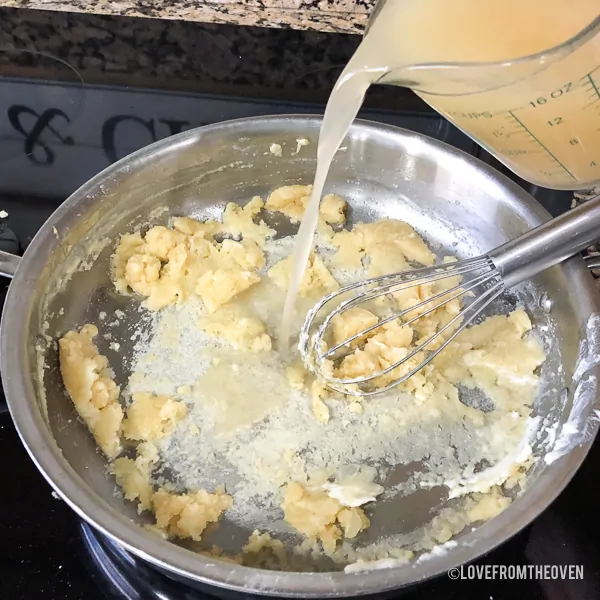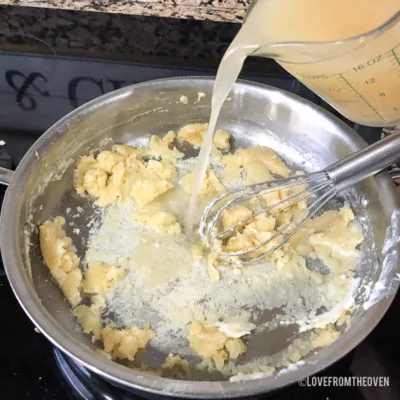 Make sure to keep whisking to smooth it all together. Add your seasonings.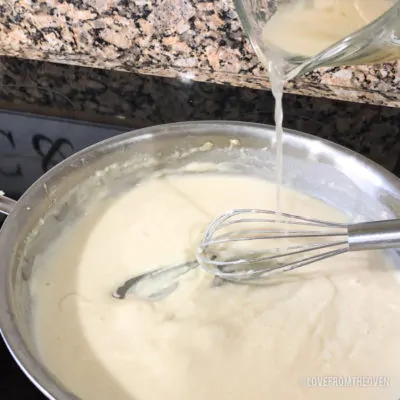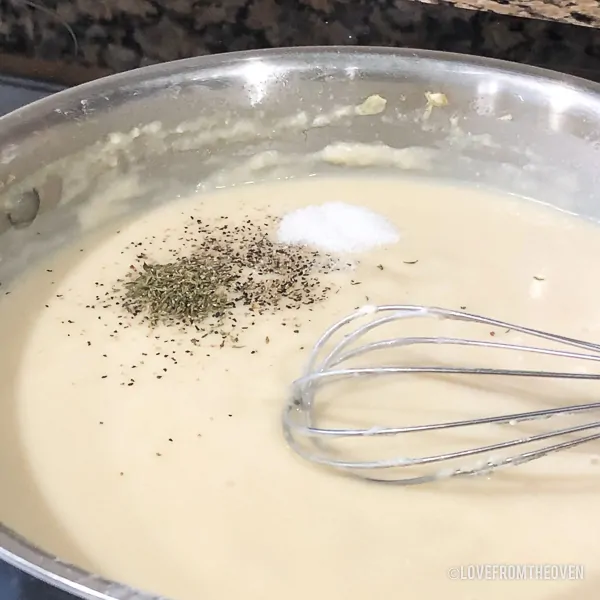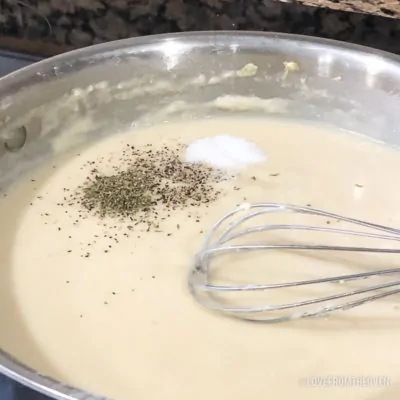 Then in goes milk, and more whisking, followed by cream and, you guessed it, more whisking. Make sure to taste test to see if you need any more salt, pepper, thyme or other seasonings.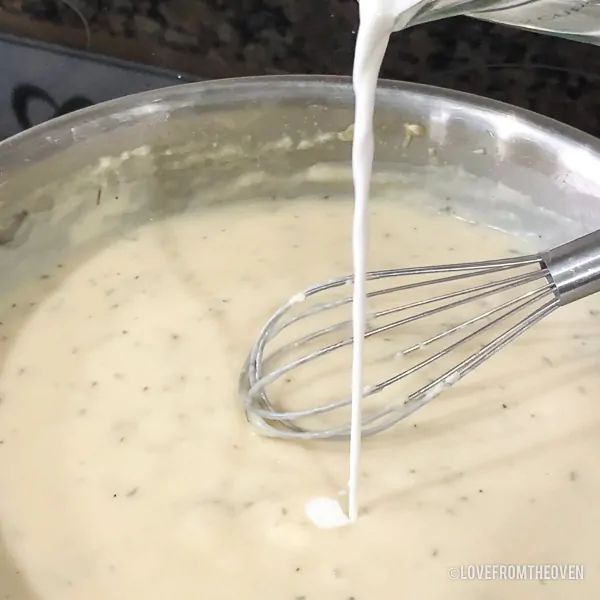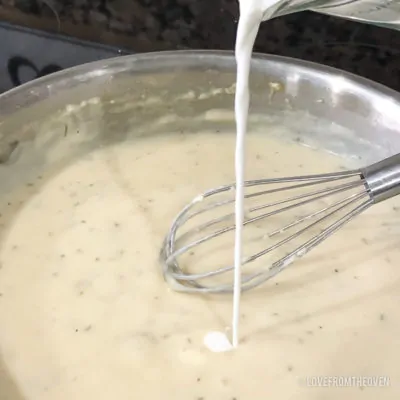 Finally, it's time to add our veggies and chicken, as well as return the onions and garlic to the filling.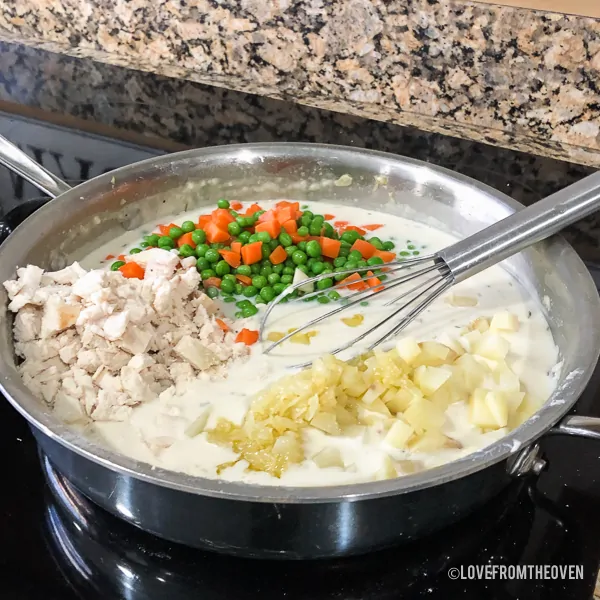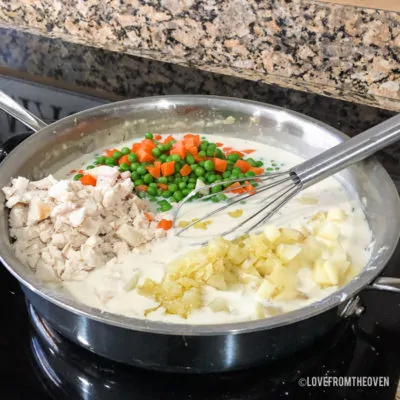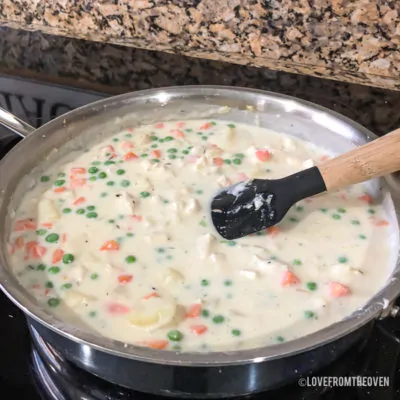 While this delicious goodness is simmering, I prepare my pie crust.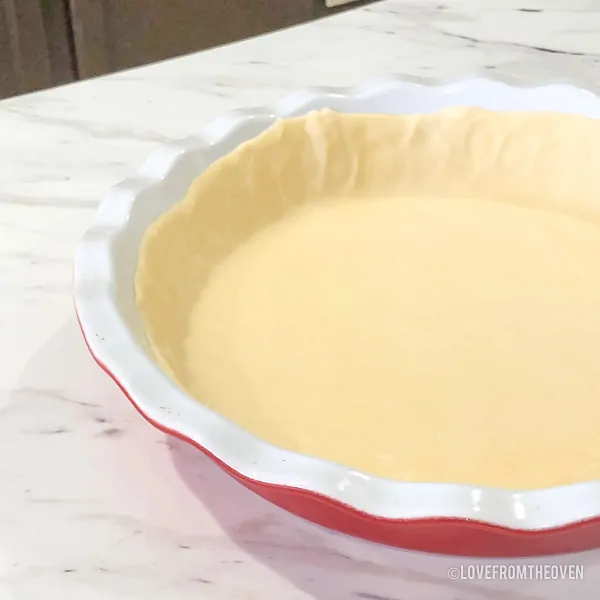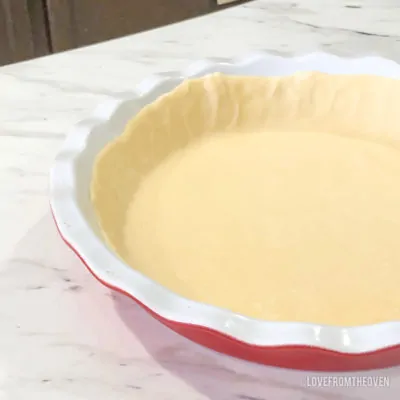 Which means I open the box and roll it out. We're saving time here, people!

You'll notice my pie crust doesn't come all the way up the edges. Given that this really serves up more like a chicken pot pie casserole than a slice of pie, this is okay with me. If you want to make those edges perfect, you do you.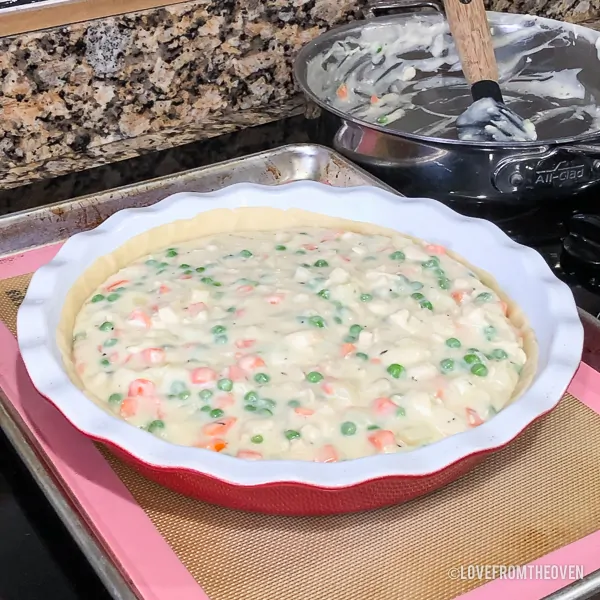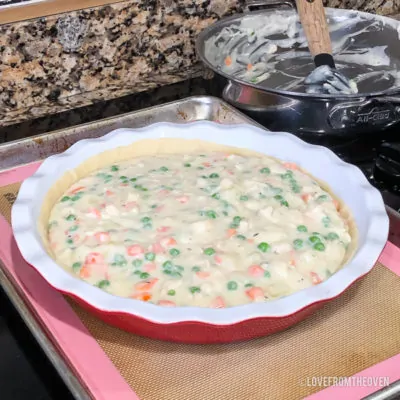 Hint – I always bake dishes like this on a baking sheet. I find it's easier for me to get it in and out of the oven, and if for some reason something bubbles or spills, the sheet will catch it all.
Top with the remaining pie crust. I cut four small slits into the center to give steam a chance to escape.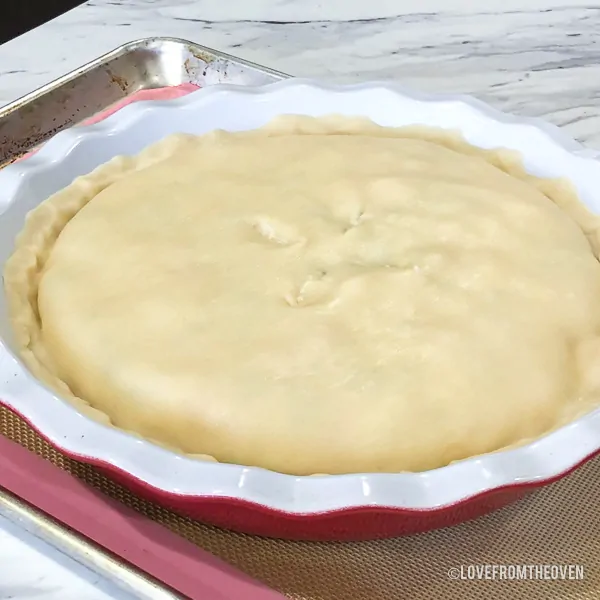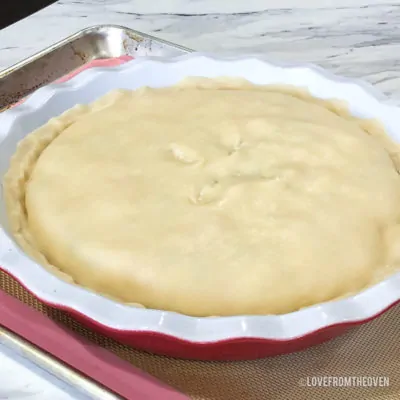 Then it's into the oven to bake for approximately 30 minutes or until golden brown.
It's important to let this dish sit for 10-15 minutes after you remove it from the oven. The filling is incredibly hot, and retains that heat quite well. Giving it time to rest allows it to both cool and thicken up a bit.
Other Easy Family Dinner Recipes We Love: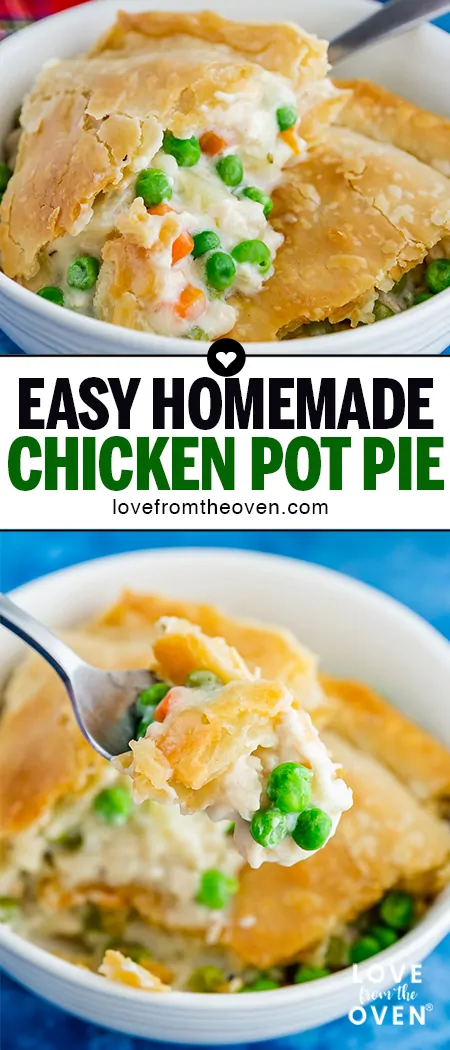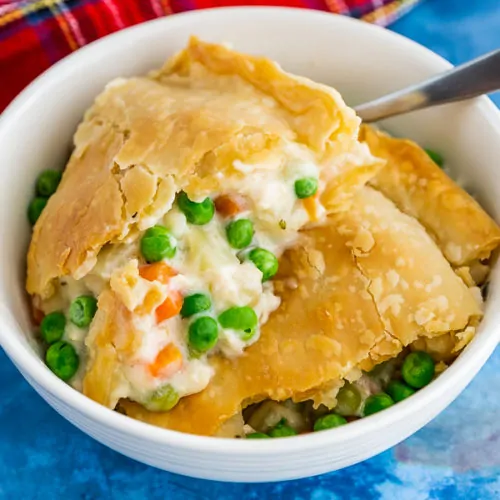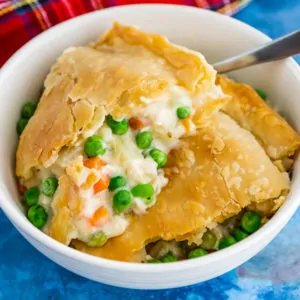 Homemade Chicken Pot Pie Recipe
This easy and delicious classic homemdade chicken pot pie recipe is one of our favorite meals. A delicious chicken and vegetable filling is tucked into a buttery pie crust. With a few simple tricks, this classic homemade chicken pot pie from scratch can be made quickly and easily. 
Ingredients
1

tbsp

olive oil

2

tsp

garlic

minced

1/4

cup

onion

diced

4

tbsp

butter

1/3

cup

flour

2

oz

cream cheese

it must be softened to avoid lumps

2

tsp

kosher salt

adjust to taste

1

tsp

black pepper

adjust to taste

1/2

tsp

dried thyme

or seasoning of your choice

1 1/2

cup

chicken broth

1

cup

milk

whole works best if available

1/2

cup

heavy whipping cream

half and half can also be used

2

cups

diced, cooked chicken

3

cups

mixed vegetables

Small sized veggies such as diced carrots, peas, corn and potatoes work well. If using frozen, make sure to thaw first

1

package

ready made roll out pie crusts

I recommend Pillsbury brand
Instructions
Pre-heat oven to 400 degrees F.

In a large skillet, heat olive oil over medium heat. Add onion and garlic and cook until tender. Remove from skillet and set aside. 

Add butter to skillet and cook until melted. Add in flour and whisk until well combined. Add in softened cream cheese and stir until combined. 

Pour chicken broth into skillet and whisk ingredients until are smooth. Add in milk and whisk again until smooth. Add in thyme, salt and pepper. Bring to a gentle simmer and continue whisking to avoid lumps. Add in heavy cream, and whisk until smooth.

Add in veggies, potatoes, and chicken and stir to fully combine ingredients. Cook on a low simmer for approximately five minutes stirring regularly. 

Give the filling a taste to check and see if more seasoning is needed, and if so add salt, pepper and seasoning of choice accordingly. 

Place one of the two pie crusts into a deep dish pie pan as instructed on package, then add filling to the pan.

Add second pie crust to the top and seal to close. Cut four small vent holes in the top center of the crust.

Bake for approximately 30 minutes or until crust is golden brown. Remove from oven and allow to cool for 10-15 minutes prior to serving.
Notes
Remember this recipe is FLEXIBLE! You can use whatever veggies you like. I find frozen veggies to be perfect for this recipe, and I typically use a combo of a peas and carrots mix, along with some corn.If using fresh veggies, it's a good idea to cook them until they are tender, then drain and dry well. 
For potatoes I highly prefer red potatoes, as they tend to hold their shape and texture and don't break down in the soup. Just make sure to either microwave or boil your diced potatoes before adding them to the soup, so that they are tender. 
While I stick to salt, pepper and a little bit of thyme in this recipe since my kids don't have the most adventurous tastes, feel free to get creative with your favorite seasonings. 
Nutrition
Calories:
273
kcal
|
Carbohydrates:
16
g
|
Protein:
13
g
|
Fat:
18
g
|
Saturated Fat:
10
g
|
Cholesterol:
70
mg
|
Sodium:
911
mg
|
Potassium:
393
mg
|
Fiber:
3
g
|
Sugar:
2
g
|
Vitamin A:
4018
IU
|
Vitamin C:
11
mg
|
Calcium:
76
mg
|
Iron:
1
mg
Disclaimer
Nutrition information is estimated as a courtesy. If using for medical purposes, please verify information using your own nutritional calculator. Percent Daily Values are based on a 2000 calorie diet.