This easy and delicious TACO CASSEROLE that is perfect for a weeknight dinner or for entertaining friends! Pair it with some easy nachos and you have a quick and delicious Mexican food feast in no time!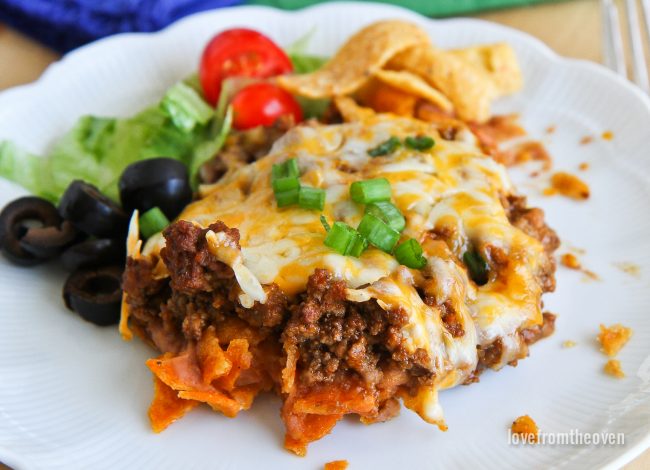 This delicious Taco Casserole recipe was originally published August 2016 and sponsored by Bounty.
Taco Casserole Recipe
If you'll be watching the Olympic Games or having an Olympic Games themed party with your family and friends, and are looking for a dish that is sure to be a crowd pleaser, then you've got to try this taco casserole! It's quick and simple to make and Bounty paper towels are there to help with the clean up. Thank you to Bounty for sponsoring this post.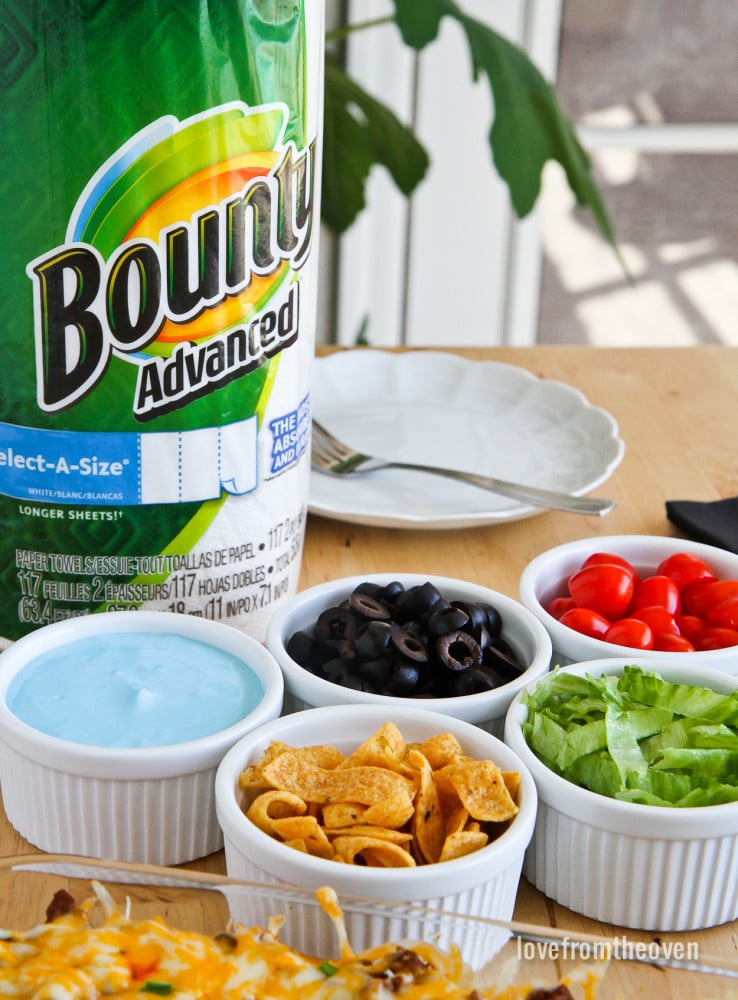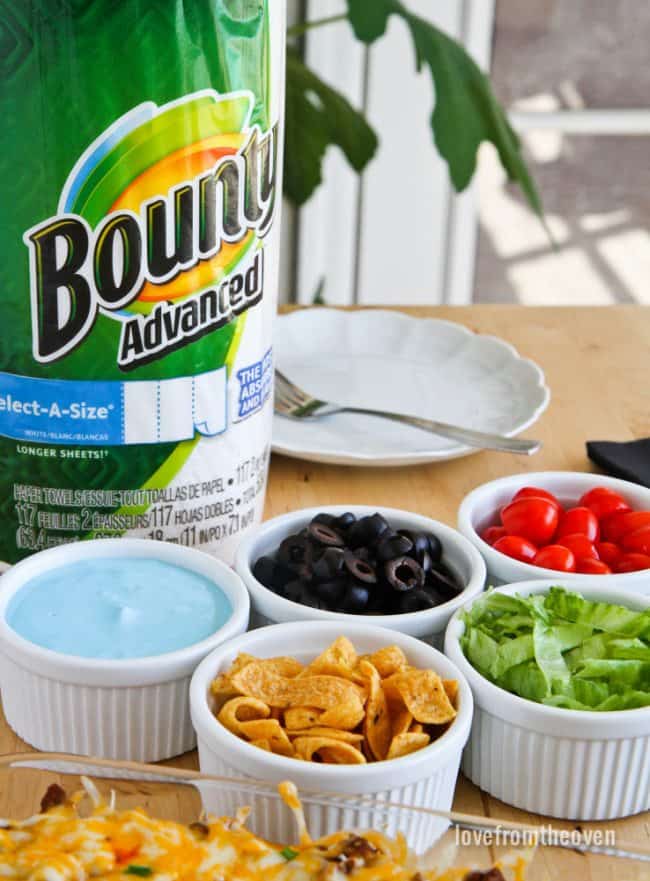 You can even work some Olympic Games themed fun into your meal with your casserole toppings. I love letting my guests (and picky eaters in my family) pick their own toppings when possible, and this recipe is perfect for that. This can fit right in with your other Olympic Games themed party ideas.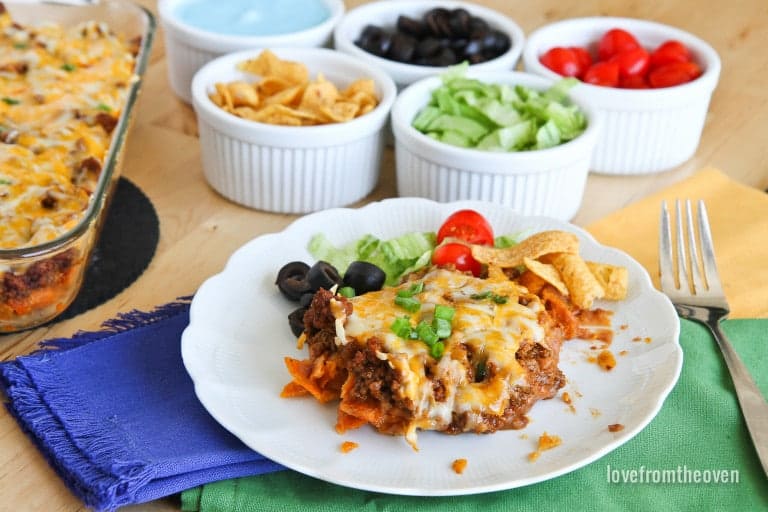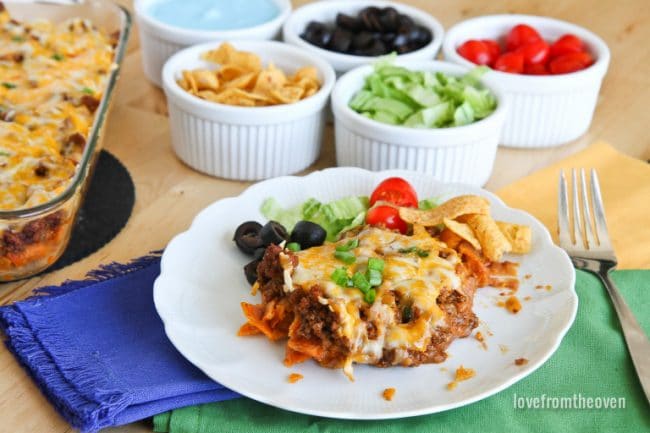 While this dish is delicious, it can be a bit messy, or maybe that's just me! I keep plenty of Bounty paper towels on hand for quick and easy clean up. I'd rather spend my time hanging out with family and friends than cleaning up messes.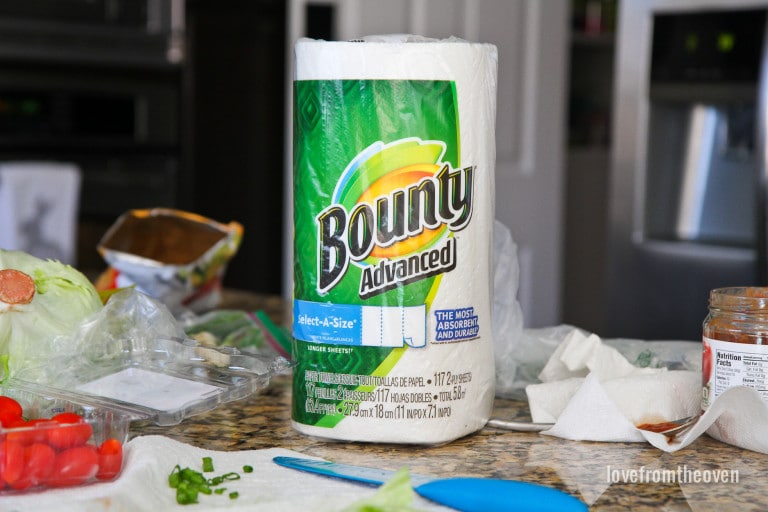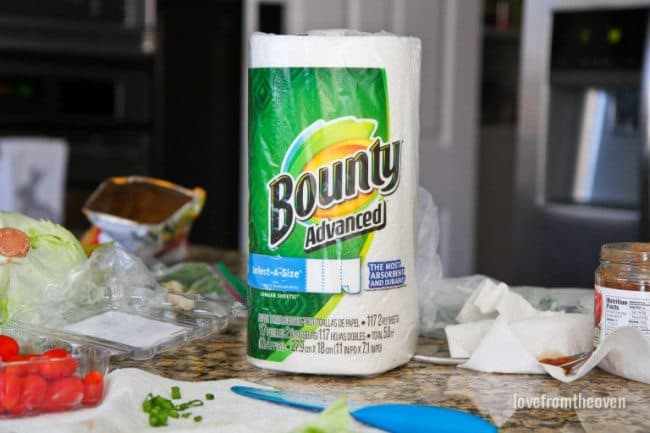 Let me walk you through this casserole. It's a matter of layering your ingredients. Starting with corn chips. I kind of adore corn chips in a dish like this and the crunch they provide.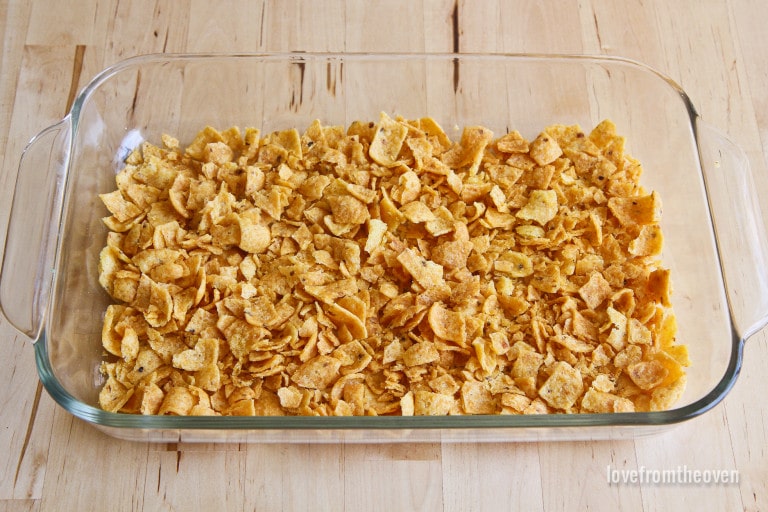 Next up some refried beans that have cheese and salsa mixed in.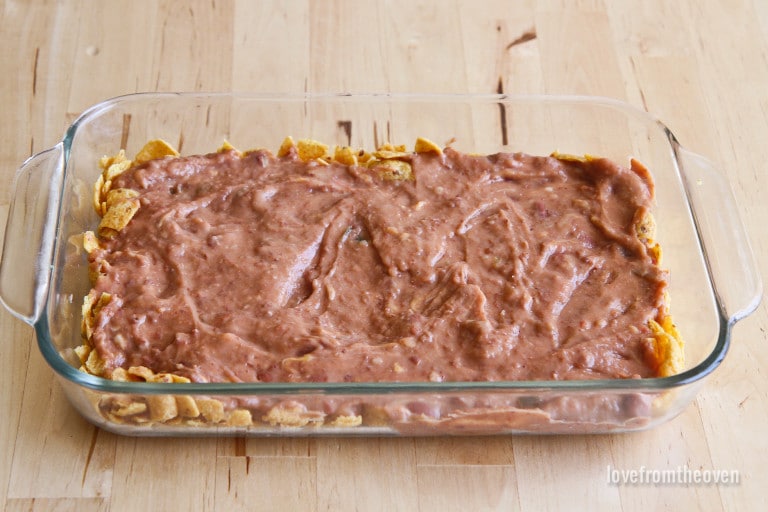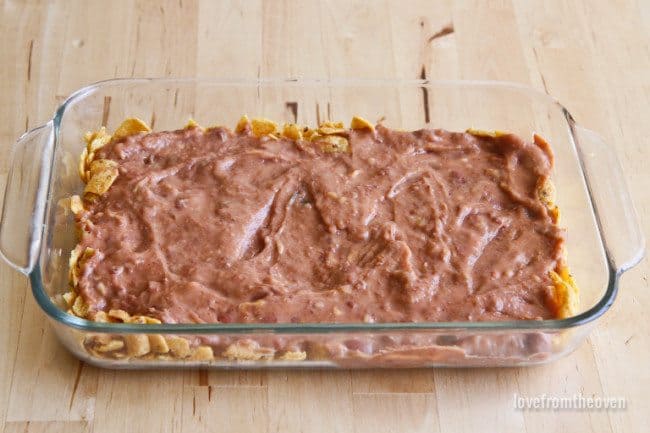 Next up, your seasoned ground beef.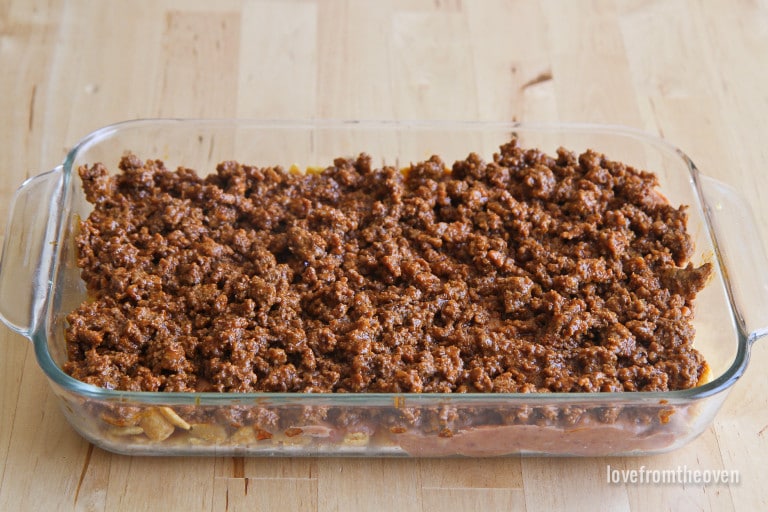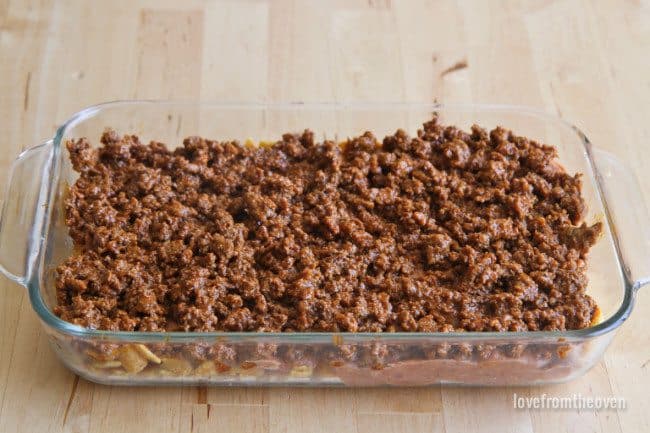 And finally some cheese.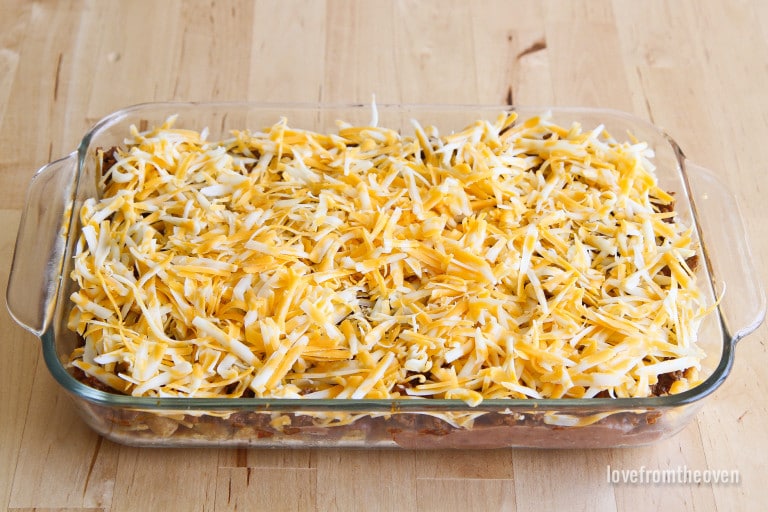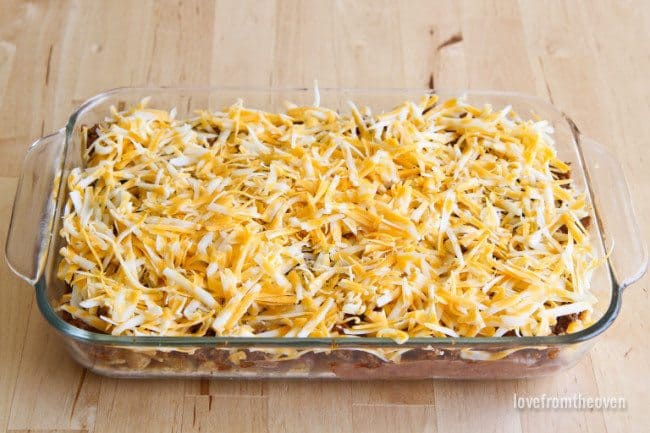 Then into the oven it goes while you quickly clean up with Bounty and get your toppings ready.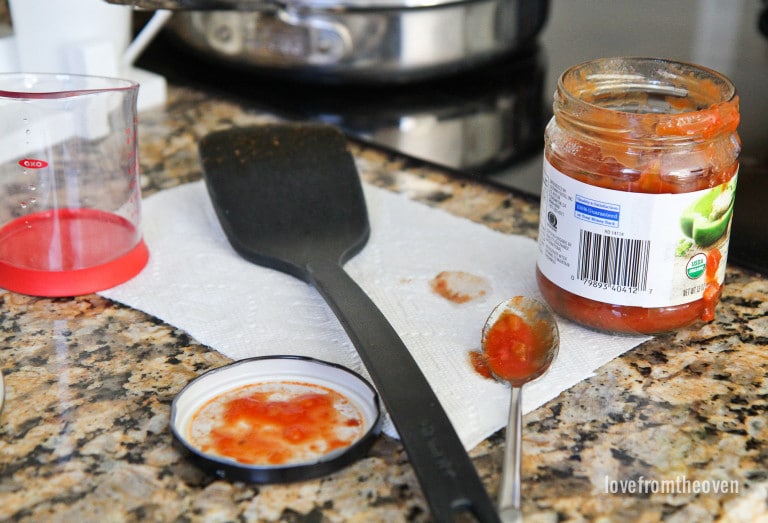 Is it even possible to open, serve or consume salsa without a mess? I'm not so sure it is.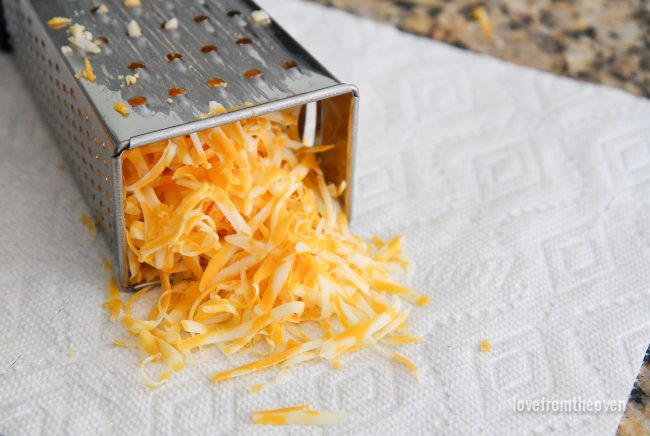 For your toppings you can coordinate your toppings with the Olympic Games colors if you want. You can use cheese or corn chips for one topping, lettuce, avocados or guacamole for the next topping, some sour cream (with a few drops blue food coloring, black olives and tomatoes to finish off your topping choices.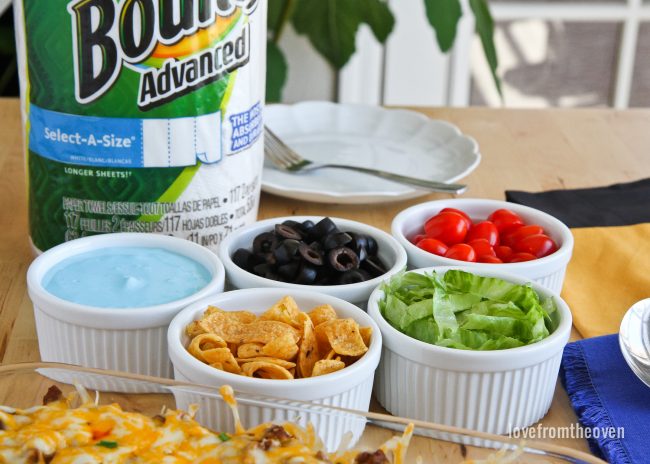 Simple and oh so good. I think we could eat this dish three times a week!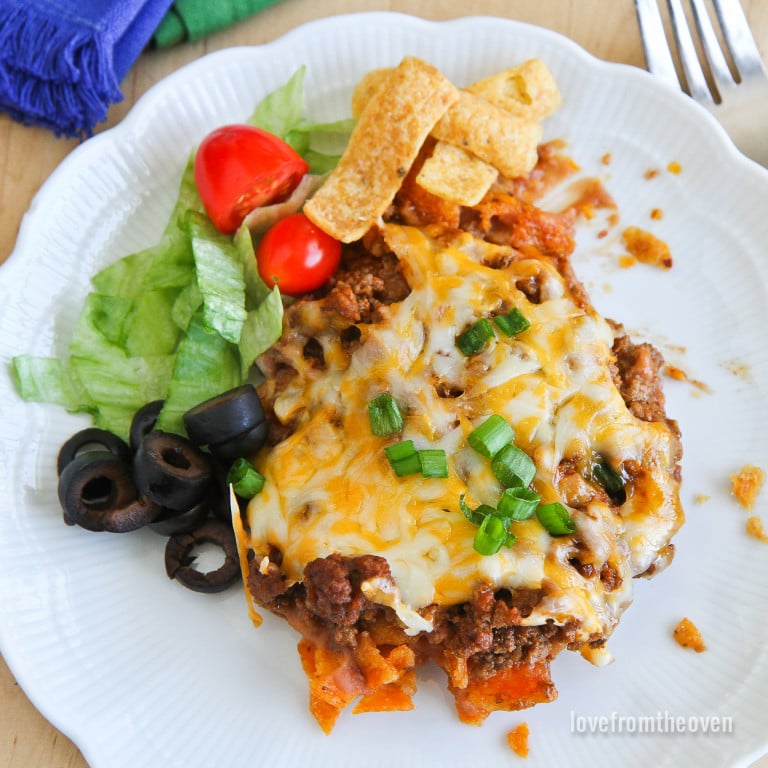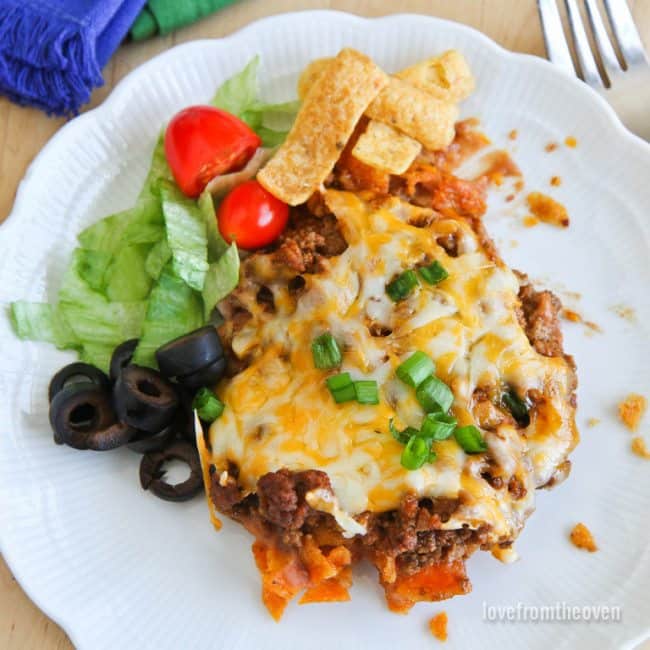 And don't worry about the mess, because Bounty – the Quicker Picker Upper – has your back on the clean up.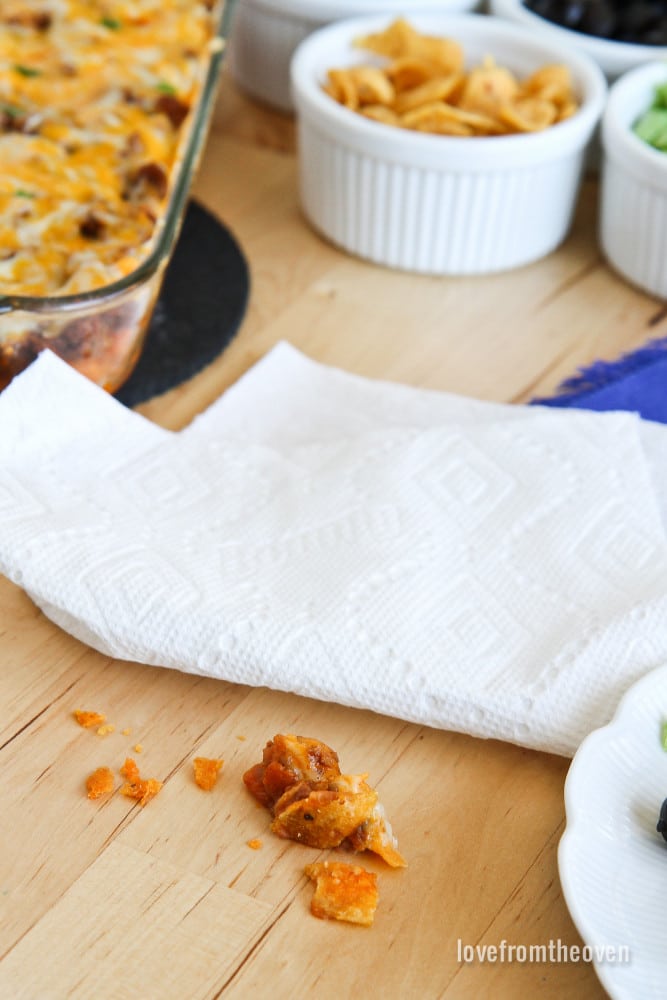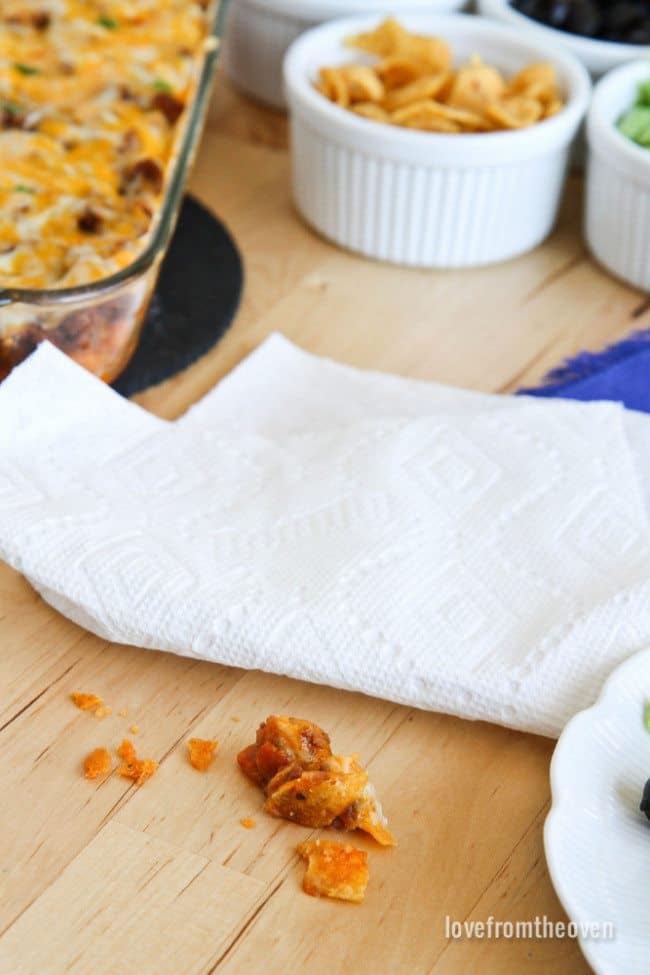 Whether you're making an Olympic Games-worthy appetizer for your guests or helping the kids make crafts to cheer on Team USA, 2x more absorbent Bounty is quick, helping you clean up all those messes and spills in record time.
For the Rio 2016 Olympic Games, Bounty – the Quicker Picker Upper – has teamed up with one of the quickest women in the world, Olympic Sprinter and Four-Time Gold Medalist Allyson Felix. Allyson Felix is quick on the track, but she's also quick at home because she uses Bounty paper towels, which helps her clean up messes and spills in record time.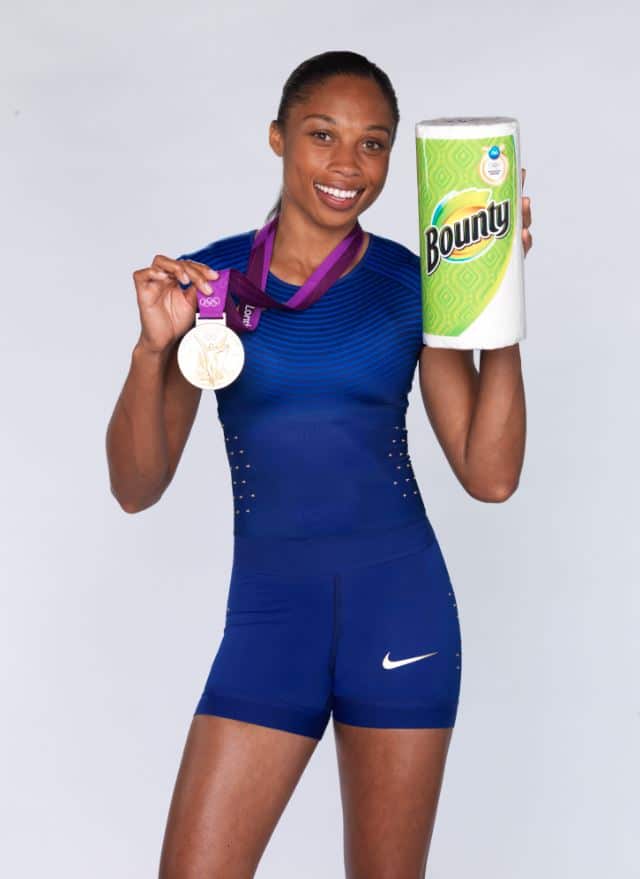 Let's eat!
Taco Casserole Recipe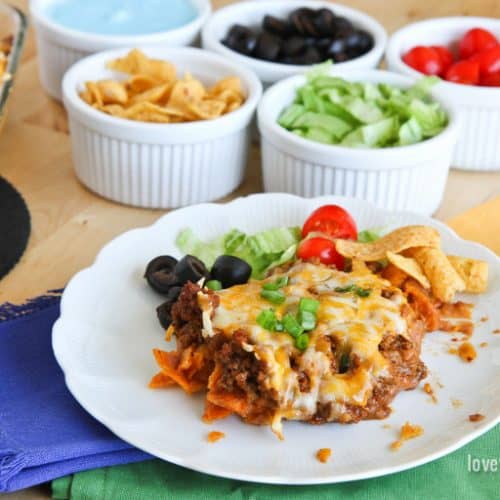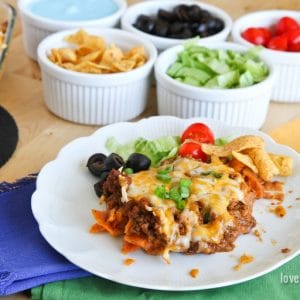 Ingredients
Taco Casserole
1

pound

of ground beef

1

standard size package taco seasoning

1 15

oz

can refried beans

2

cups

grated cheese

divided (Colby Jack, Monterey Jack, Cheddar or Mexican Blend)

1

cup

mild salsa

2

cups

Fritos Corn Chips

lightly crushed
Toppings
1

cup

sour cream

Blue food coloring

1

cup

sliced black olives

1

cup

cut tomatoes

1

cup

Fritos chips

shredded cheese could also be used for this

1

cup

shredded lettuce
Instructions
Taco Casserole
Preheat oven to 375 F.

Cook ground beef until browned and fully cooked. Add taco seasoning according to the directions on the package.

While ground beef is cooking, place crushed Fritos into the bottom of an 8x8 baking dish.

Cook refried beans, combined with salsa and 1 cup of the cheese, until hot. This can be done on the stovetop or in the microwave.

Spread bean mixture over the Fritos in the baking pan.

Spread ground beef mixture over the beans.

Sprinkle remaining 1 cup of cheese over the beef mixture.

Bake for approximately 15 minutes as all ingredients are already cooked and hot, you are primarily just melting your cheese.

Remove from oven and serve with assorted toppings
Toppings
Tint sour cream with blue food coloring until desired color is reached. Place sour cream, along with other ingredients, into individual round ramekins. 1 cup / 4" round sized ramekins work perfectly. Arrange toppings with the blue sour cream, black olives and red tomatoes on top, and the yellow corn chips (or cheese) and green lettuce on the bottom for serving.
I hope your family enjoys this yummy taco casserole as much as my family does, when you add the toppings it's such a fun addition for your Olympic games themed party. And remember, when you are cleaning up after a party, Bounty is there to help.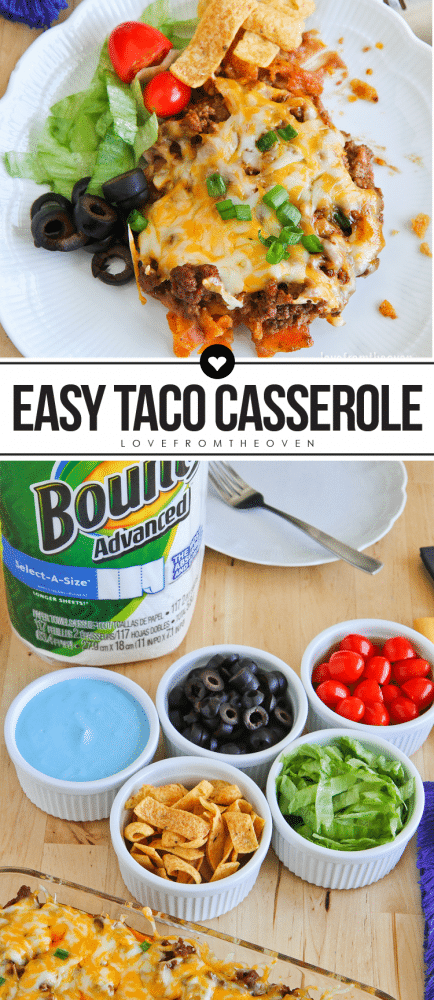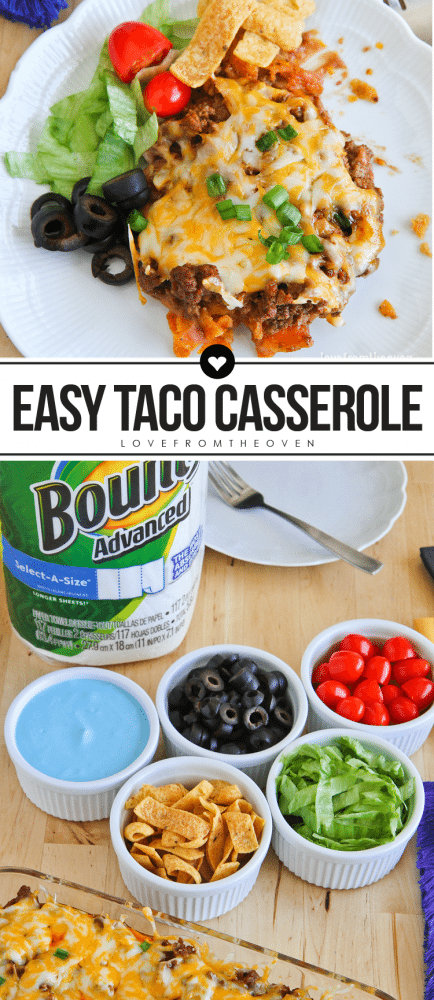 Disclosure: This post was sponsored by Bounty. All opinions however are mine and mine alone.