Delicious and easy GLUTEN FREE PUMPKIN PIE that everyone at your Thanksgiving table will love! This recipe keeps it easy, using simple and familiar pumpkin pie ingredients.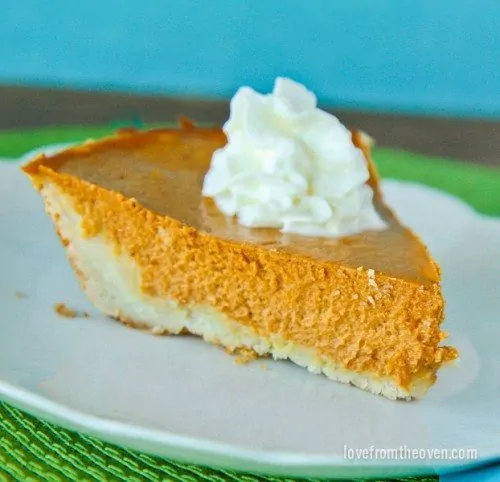 How To Make Gluten Free Pumpkin Pie
In the past, I have made gluten free pumpkin pies before by simply leaving out the crust.
My daughter went through a massive pumpkin pie phase last year while we had her on a gluten free diet, so I started making pumpkin pie by just putting the pie filling into a well buttered pie dish (which works pretty well).
While that works, for Thanksgiving, one really needs, or dare I say deserves, a pie crust with their pumpkin pie.
We have friends with celiac disease as well as gluten allergies, so gluten free diets aren't a trend for them, but a life long necessity. I hate having them miss out on classic recipes, but I also don't love complicated gluten free baking. Dilemma.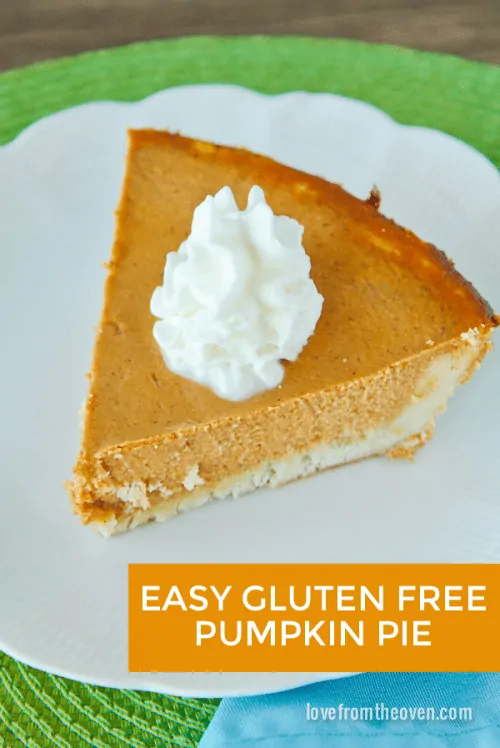 Gluten Free Pumpkin Pie Crust
My friend who does lots of gluten free baking for her husband who has celiac disease, gave me her recipe for gluten free pie crusts. It's super easy and delicious.
Thanks to Krusteaz Gluten Free Pancake Mix as the base of your crust, you can whip up a gluten free pie crust quickly, using ingredients you can find at your grocery store. Woohoo! You could also use Gluten Free Bisquick or other gluten free baking mixes. Most grocery stores carry at least one brand.

This recipe makes enough for two pies. You can easily cut the recipe in half if you like, but I find it's no more work to make two pies, and around the holidays we always have people over or are visiting friends and family, and that extra pie can get put to good use.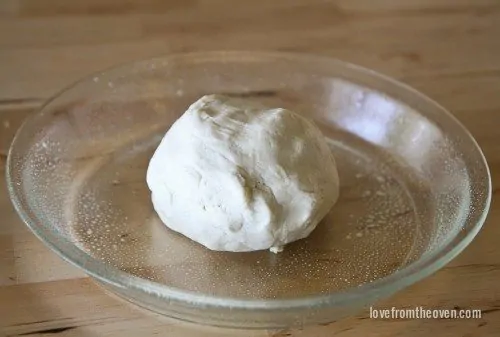 I do find that this pie crust browns very quickly. The first time I made it, it was really brown – and I do not love an over baked pie crust. What I've found work best is to make my crust so that it is at the same level as the pumpkin – no pretty lip of pie crust around the pie.
I also use a pie shield, and put it on about 10 minutes into baking. Admittedly I don't like anything over browned (my version of burnt is much different than say my husband's version) so you do what works for you. But just a note, it does brown quickly, so know that ahead of time so that you can adapt like I do if you want to.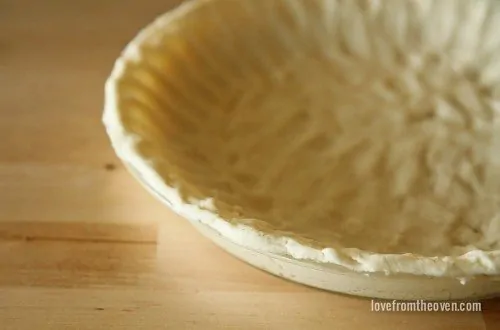 How Does A Gluten Free Pie Crust Taste?
Now, let's be honest. This is a gluten free pie crust. It is not identical to a traditional pie crust. The texture is a bit different, both in the dough form and cooked form.
That said, everyone in my family loved it. Trust me, they are some VERY honest critics, and gluten-loving eaters.
The texture is just a bit different from a pie crust made with flour. I would not hesitate for a moment to serve it to my gluten loving and eating friends.
If we have gluten free guests in our house, I really prefer to make things that everyone can eat, versus different "special" versions for one or two guests. It's less work, and as the parent of a child with a food allergy, I can tell you it's always awesome (and so very appreciated) when there are dishes that we can all enjoy together.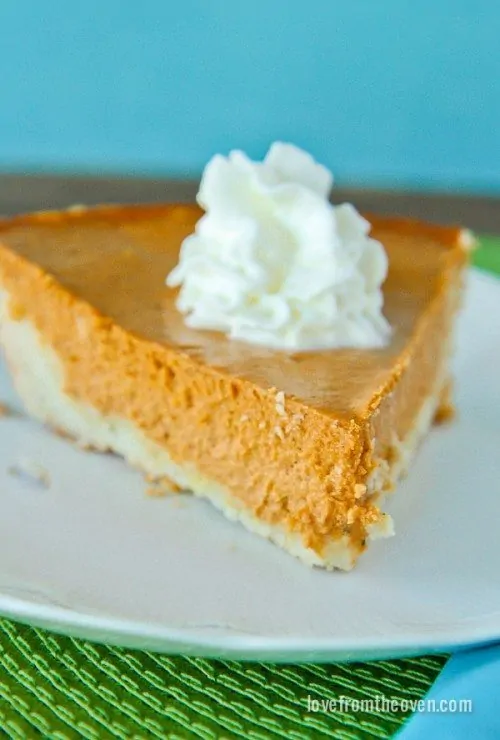 Gluten Free Pumpkin Pie Ingredients:
Gluten Free Pie Crust
Gluten Free Pancake Mix (I used Krusteaz)
Butter
Cream Cheese
White Vinegar
Cold Water
Pumpkin Pie Filling
This filling is based off my popular no-fail Easy Pumpkin Pie recipe.
Canned Pumpkin
Sweetened Condensed Milk
Evaporated Milk
Eggs
Cinnamon and Pumpkin Pie Spice
Vanilla
Salt
If you have a gluten free friend or family member, make them one of these pies this holiday season. They will be thrilled, I'm sure of that.
And everyone, whether they eat gluten free or not, will love these pies.
EASY GLUTEN FREE PUMPKIN PIE
Gluten Free Pumpkin Pie
A delicious and easy Gluten Free Pumpkin Pie recipe using familiar and simple ingreidents. This recipe makes two pies, but feel free to cut ingredients in half and make only one pie.
Ingredients
Crust
2

cups

Gluten Free Pancake Mix

10

tablespoons

cold butter

cut into small cubes – approximately 1/4″ in size

6

tablespoons

cream cheese

2

tablespoons

white vinegar

2-4

tablespoons

cold water
Pie
1

29 oz can pure pumpkin (NOT pumpkin pie filling. I use Libby's pumpkin)

1

14 oz can sweetened condensed milk

1

12 oz can evaporated milk

4

large eggs

2

tsp

cinnamon

2

tsp

pumpkin pie spice

2

tsp

vanilla

1/2

tsp

salt
Instructions
Preheat oven to 425 degrees F.
To Make Crusts
Using a food processor or pastry blender, combine Gluten Free Krusteaz Buttermilk Pancake Mix, cold cubed butter and cream cheese until the mixture starts to form into crumbs. Add in vinegar and pulse food processor a few times to incorporate. Add in water as needed. You want the mixture to form a dough ball, so do not add too much water if you do not need it. Once a ball has formed, divide in half and press each half into a 9" pie plate.
To Make Pie Filling
In a large bowl, whisk together eggs, then add pumpkin, full can sweetened condensed milk and approximately 2/3-3/4 can of the evaporated milk (you can use the entire can, I prefer a more solid pumpkin pie, thus do not use the entire can). Stir well to combine. Add in cinnamon, pumpkin pie spice, vanilla and salt. Stir well to combine.

Carefully pour mixture into into pie shells. Place pies in oven and bake for 15 minutes at 425 degrees F, then reduce the temperature to 350 degrees. Bake for an additional 35-45 minutes or until a knife inserted into the center of a pie comes out clean. Remove from oven and allow to cool for two hours. Serve immediately or refrigerate. Store in refrigerator.
Notes
I prefer to keep my crusts from over browning. The gluten free pie crust tends to brown quickly, so I keep my pie crust low, even with the pumpkin I pour in, this helps keep the crust from over browning. I also use a pie shield to help prevent further browning. I put the pie shield on after about 15 minutes and leave on for the remaining baking time. Adapted from Libby's Famous Pumpkin Pie.
Disclaimer
Nutrition information is estimated as a courtesy. If using for medical purposes, please verify information using your own nutritional calculator. Percent Daily Values are based on a 2000 calorie diet.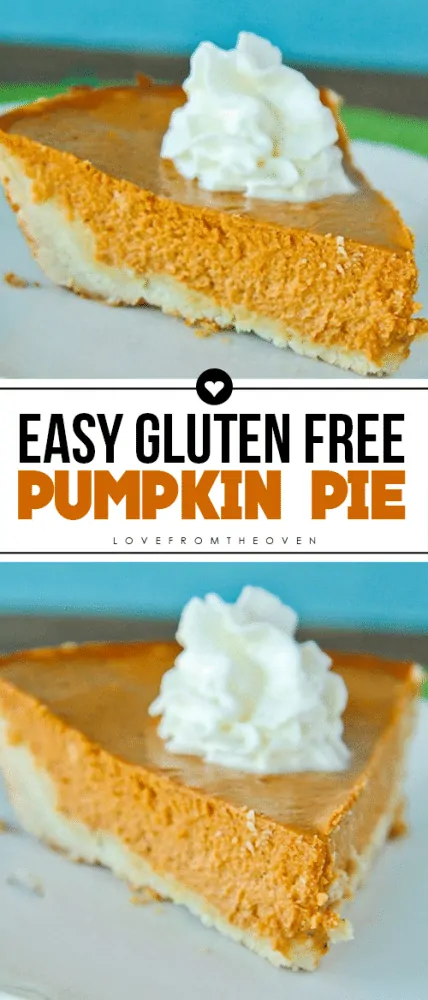 And if you have your own pie recipe that you love, where the ingredients, except for the crust, are gluten free, you can totally use this pie crust recipe with your pie recipe. Make it your own! This isn't limited to just this pumpkin pie recipe, the crust can be used for so many recipes, so have fun and get creative.