This EASY PUMPKIN PIE RECIPE is a holiday classic! A family favorite for four generations, this easy pumpkin pie is my go to recipe for Thanksgiving dessert. You only need one bowl, and the only measuring you'll need to do is with a teaspoon, it's seriously the easiest pumpkin pie ever!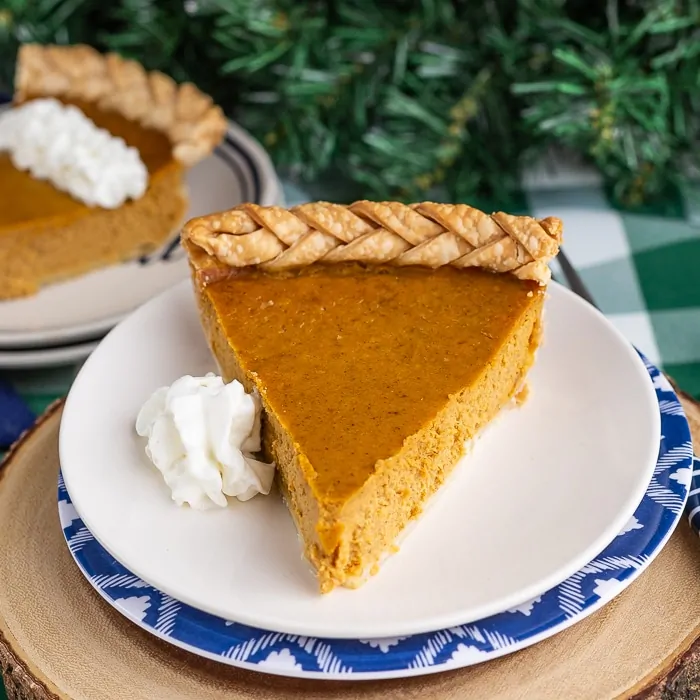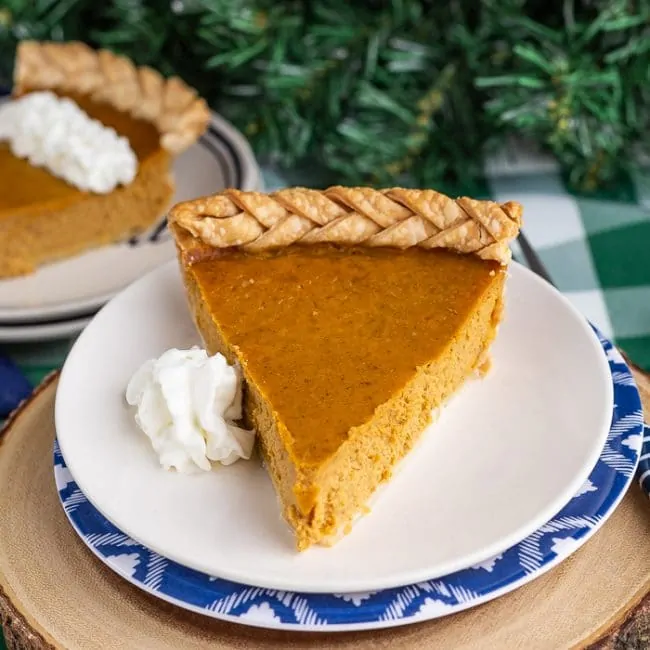 If you've ever made a pumpkin pie from scratch, you're in for a treat. This truly is one of the easiest Thanksgiving pie recipes you can make!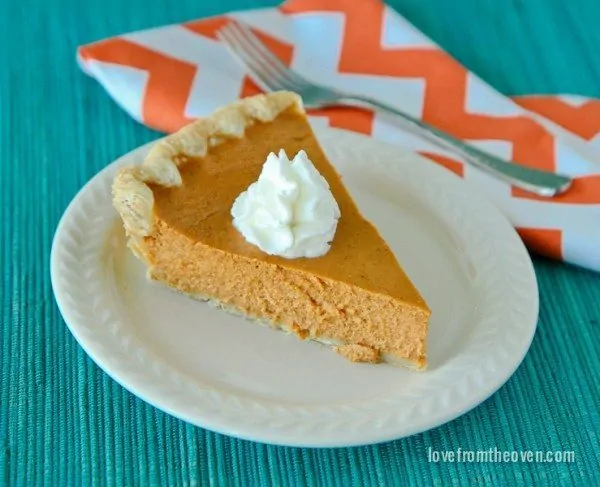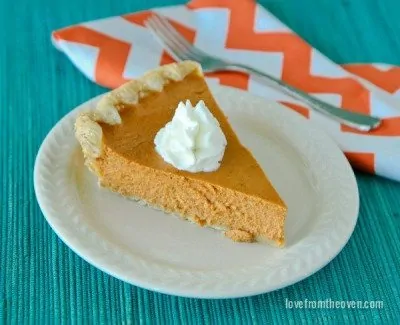 Our family loves pumpkin recipes, and this is what we consider to be the best pumpkin pie recipe.
Libbys Pumpkin Pie Recipe
This recipe is adapted from the famous Libbys Pumpkin Pie Recipe. And because I like to keep it simple, this pumpkin pie filling can be made quickly using just one bowl. Less dishes during the holiday season is always a good thing!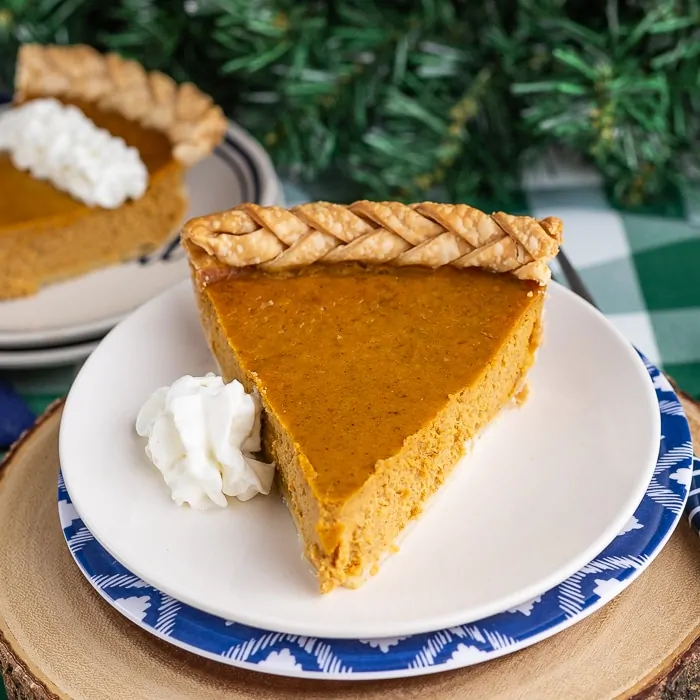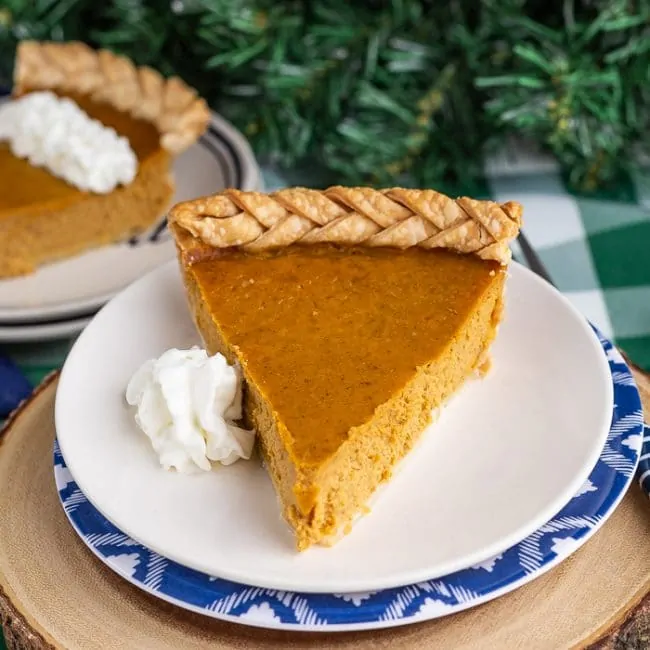 Pumpkin Recipes
Pumpkin Pie was one of the first "real foods" each of my daughters ever tasted, mainly because my family was sneaking it to them when I was busy cleaning up Thanksgiving dinners.
There is something so simple, yet so delicious, about pumpkin pie. For many years, my husband and I have hosted Thanksgiving dinner for our family and friends. That means a lot of prep, a lot of shopping , a lot of cooking, a lot of people and, to keep it real, a lot of stress.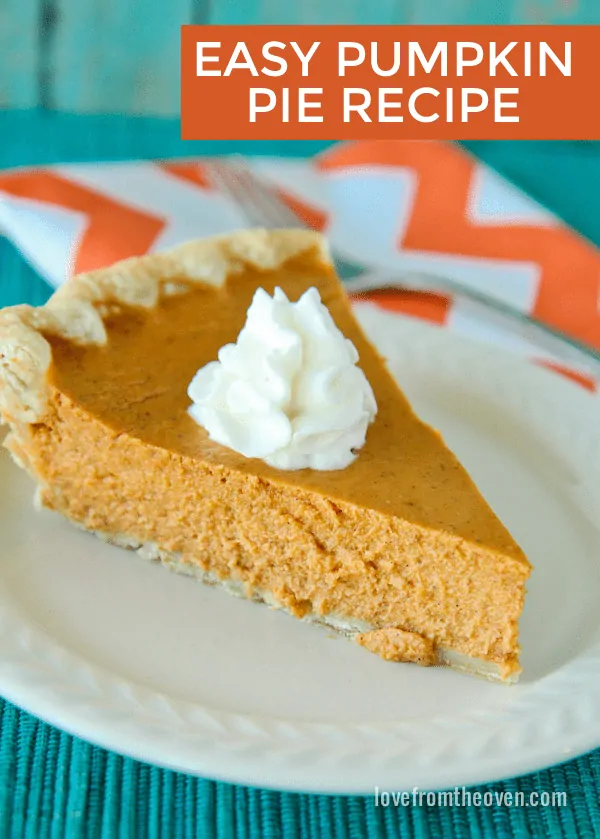 Easy Pumpkin Pie
Because of this I am always looking for ways to simplify things, make things easier, and save some time. My pumpkin pie is one of the things that I've found a way to simplify.
Pie Crust
Moment of truth… for my pumpkin pies I use the pre-made pie crusts. The ones that come rolled up in a box in the fridge section of the grocery store. Yep, these pie shells aren't from scratch.
And without fail, every year someone compliments me on my pie crusts. I used to start explaining, now I'm at the point where I just thank them. I mean I did buy them myself, unroll them and fill them with pie filling, that counts for something, right?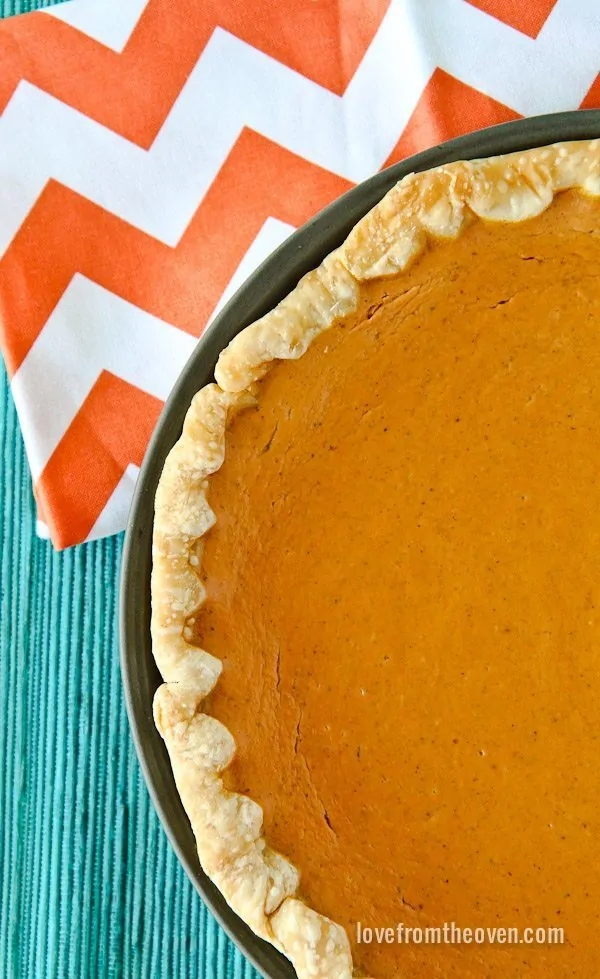 Pillsbury Refrigerated Pie Crusts are my favorite. I think I've tried every different refrigerated pie crust available, but so far nothing has beat the Pillsbury pie crusts in the red box.
Pumpkin Pie Filling
I've also simplified the pie filling recipe we use, which is a spin on the Libby's classic pumpkin pie recipe.My mom always made the famous Libby's Pumpkin Pie recipe with evaporated milk when I was growing up.
However instead of using the two cans of evaporated milk that the recipe calls for, she would replace one can with sweetened condensed milk.
The sugar called for in the traditional recipe is left out all together.We find that the sweetened condensed milk really creates a superior texture in our pumpkin pies.
Have I mentioned that not only is it quick and easy, it's pretty much fool-proof as well.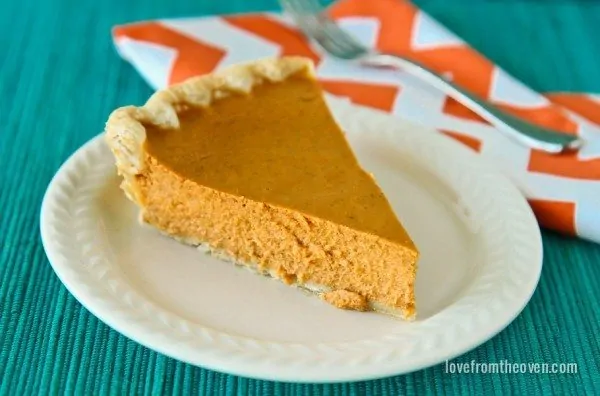 Fresh Pumpkin Vs. Canned Pumpkin
People often ask if fresh pumpkin can be used in place of canned pumpkin puree. For the most part, fresh pumpkin and canned pumpkin are not quite the same thing.
Using Canned Pumpkin For Pie
Canned pumpkin is created specifically for use in recipes. Libby's uses a special variety of pumpkin called Dickinson Pumpkin. Some say that it walks the line between being a pumpkin and a squash. Canned pumpkin tends to be fairly consistent in it's texture, making it a great choice for baking.
Using Fresh Pumpkin For Pie
If you would like to use fresh pumpkin, make sure you are using a sugar pumpkin. Sugar pumpkins have more flavor, and are denser and drier than other pumpkin varieties. Your typical Jack-O-Lantern pumpkins are not the ones you want to be baking with.
When using fresh pumpkin, make sure you leave enough time to make your homemade pumpkin puree. This typically takes around three hours, though will vary based on pumpkin size.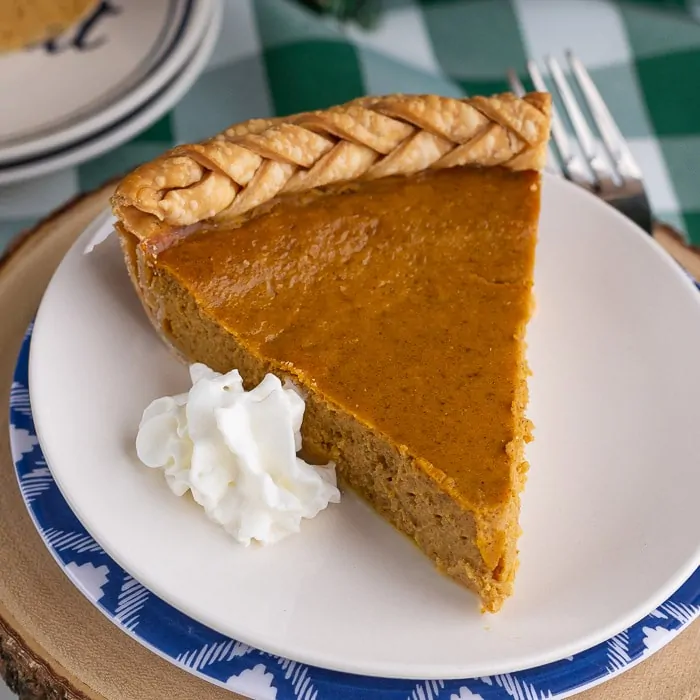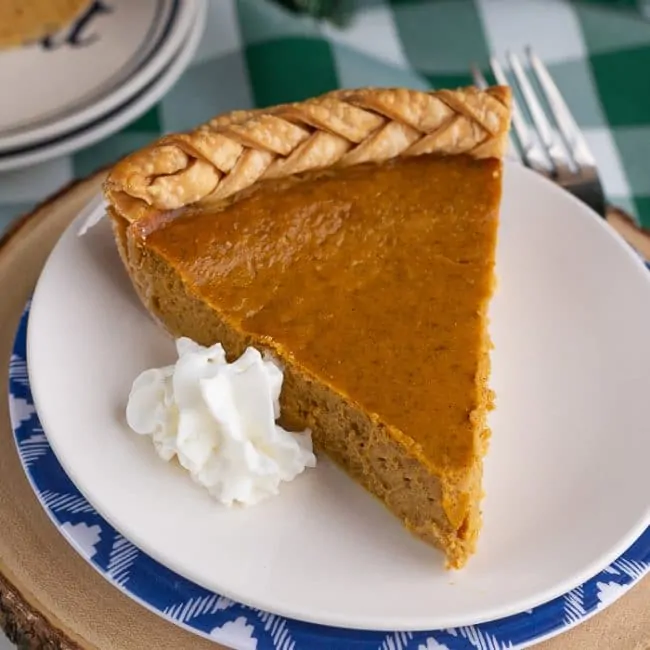 Deciding Which To Use
I've tried using fresh pumpkin for pies before, and it's good, but I find that it can be really inconsistent. I'm all for experimenting and trying new things, just not for big events like Thanksgiving dinner. At times like that, I stick with what is tried and true. And my pumpkin pies are no exception.
If you usually use canned pumpkin puree, and want to try using fresh pumpkin instead, I'd suggest baking a practice pie in advance. This gives you a chance to master making the pumpkin puree, and also allows you to decide if the difference in flavor is right for you.
Pumpkin Pie Tips:
For an easy, no fail, pumpkin pie recipe, this truly is my go to recipe.
Big Flavor
*If you like robust flavor, consider kicking up the spices, even putting in probably double what the recipe calls for. I like my pie spicy. If you feel the same way, feel free to increase the amount of cinnamon and pumpkin pie spice.
Thick Texture
*Thick thighs? I thought you said THICK PIES. Runny pies are not my thing. So I do not use the entire can of evaporated milk when I make this recipe.
Some people make like a slightly more traditional texture, but a good solid thick pie is my thing.
Pumpkin Check
*Canned pumpkin can vary greatly from brand to brand and even batch to batch.
If your pumpkin does not seem thick coming out of the can (you should have to spoon or scoop it out), I would suggest cutting back slightly on the evaporated milk.
Some years the pumpkin seems much runnier than other years. Organic canned pumpkin is often runnier as well. This is okay, you just want to cut back a touch on the liquids in your recipe.
More Thanksgiving Recipes
Check out these other great recipes for Thanksgiving, as well as my tips for a successful Thanksgiving.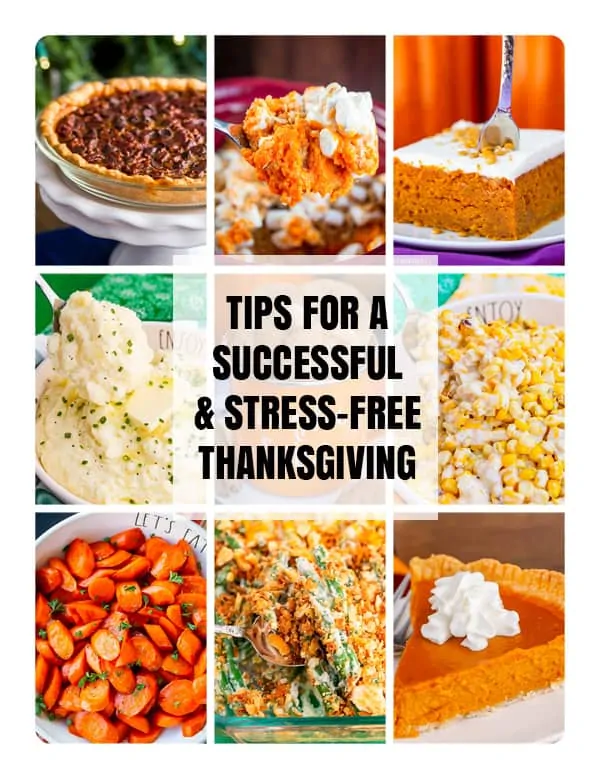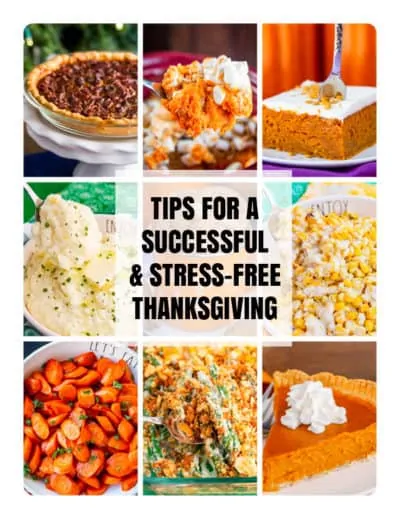 Pumpkin Recipes
Pumpkin Poke Cake
Pumpkin Spice Snickerdoodles
Pumpkin Bundt Cake
Butterscotch Pumpkin Pie
Mini Pumpkin Cheesecakes
Pumpkin Streusel Bars
Pumpkin Delight
Pumpkin Brownies
Pumpkin Bread
Pie Recipes
Libby's Pumpkin Pie
Pumpkin Pie With Graham Cracker Crust
Apple Pie Cheesecake Bars
Individual Mini Pumpkin Pies
Pecan Pie Without Corn Syrup
Easy Brownie Pie
No-Bake Eggnog Pie
Chocolate Chip Pecan Pie Bars
Chocolate Chip Cookie Pie
Thanksgiving Side Dish Recipes
Make Ahead Mashed Potatoes
Sweet Potato Casserole
Crockpot Creamed Corn
Homemade Green Bean Casserole
Glazed Carrots
Macaroni and Cheese
MORE THANKSGIVING RECIPES
MORE PUMPKIN RECIPES

Click To Pin & Save This Recipe
EASY PUMPKIN PIE RECIPE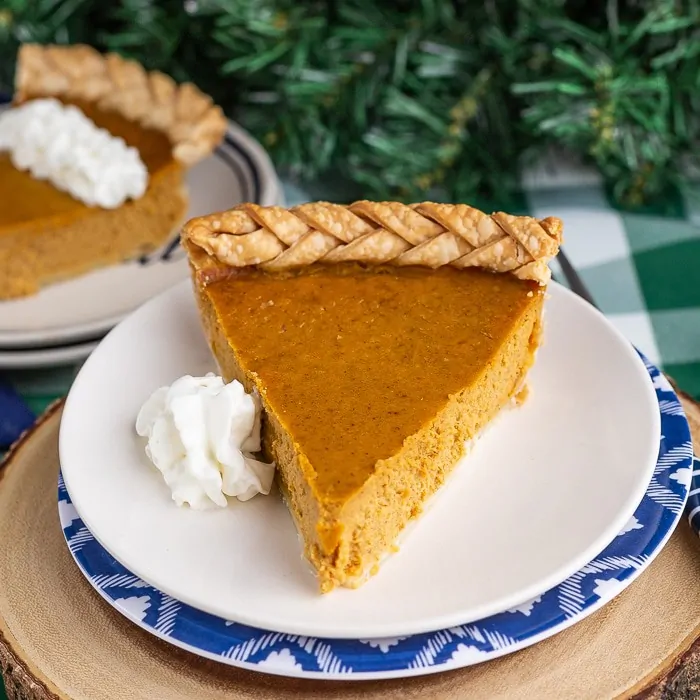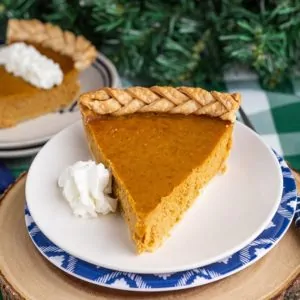 Easy Pumpkin Pie Recipe
A delicious and easy pumpkin pie! This recipe makes two pies, perfect for large crowds or sharing with friends and family. Feel free to cut ingredients in half and make only one pie.
Ingredients
2

refrigerated pie crusts

1

29 oz can pure pumpkin (NOT pumpkin pie filling. I use Libby's pumpkin)

1

14 oz can sweetened condensed milk

1

12 oz can evaporated milk (I like a thick pie and only use about 2/3 of the can)

4

large eggs

2

tsp

cinnamon

2

tsp

pumpkin pie spice

2

tsp

vanilla

1/2

tsp

salt

Optional – 1/2 cup of sugar

this is not an overly sweet pumpkin pie, so if you like yours SWEET, add 1/2 cup of sugar
Instructions
Preheat oven to 425 degrees F.
Crust
Following directions on pie crust packaging, prepare pie crusts. Set aside to make pumpkin pie filling.
Pie Filling
In a large bowl, whisk together eggs, then add pumpkin, full can sweetened condensed milk and approximately 2/3-3/4 can of the evaporated milk (you can use the entire can, I prefer a more solid pumpkin pie, thus do not use the entire can). Stir well to combine. Add in cinnamon, pumpkin pie spice, vanilla and salt. If adding sugar, stir in. Stir well to combine.

Carefully pour mixture into into pie shells. Place pies in oven and bake for 15 minutes at 425 degrees F, then reduce the temperature to 350 degrees. Bake for an additional 35-45 minutes or until a knife inserted into the center of a pie comes out clean. Remove from oven and allow to cool for two hours. Serve immediately or refrigerate. Store in refrigerator.
Notes
This recipe makes TWO pies. If only one pie is desired, recipe may be halved. 
A pie shield (or a DIY one made with foil) will help prevent over browning if needed. I put the pie shield on after about 15 minutes and leave on for the remaining baking time.
Adapted from Libby's Famous Pumpkin Pie.
Nutrition
Calories:
116
kcal
|
Carbohydrates:
11
g
|
Protein:
3
g
|
Fat:
7
g
|
Saturated Fat:
2
g
|
Cholesterol:
41
mg
|
Sodium:
176
mg
|
Potassium:
36
mg
|
Fiber:
1
g
|
Sugar:
1
g
|
Vitamin A:
69
IU
|
Calcium:
15
mg
|
Iron:
1
mg
Disclaimer
Nutrition information is estimated as a courtesy. If using for medical purposes, please verify information using your own nutritional calculator. Percent Daily Values are based on a 2000 calorie diet.
CLICK TO PIN THIS EASY PUMPKIN PIE RECIPE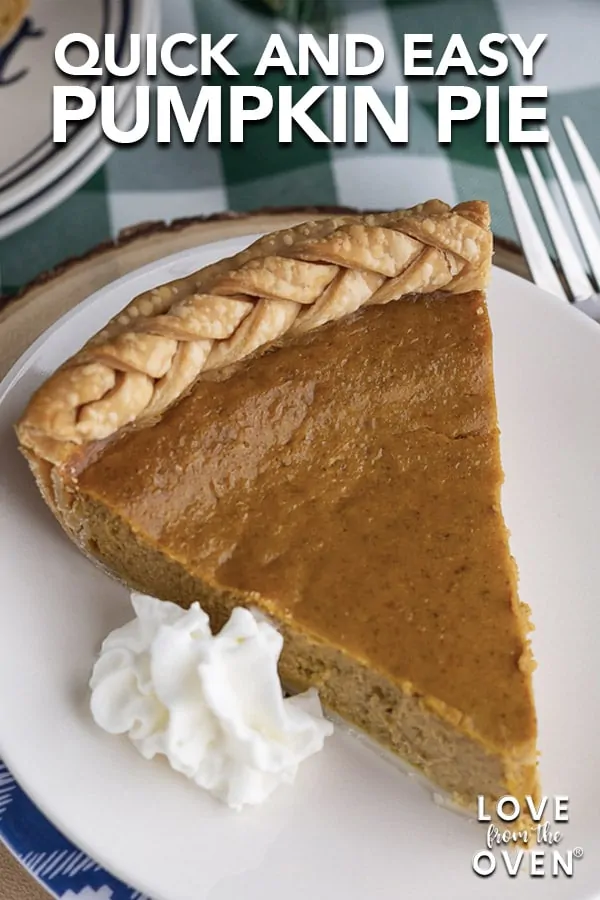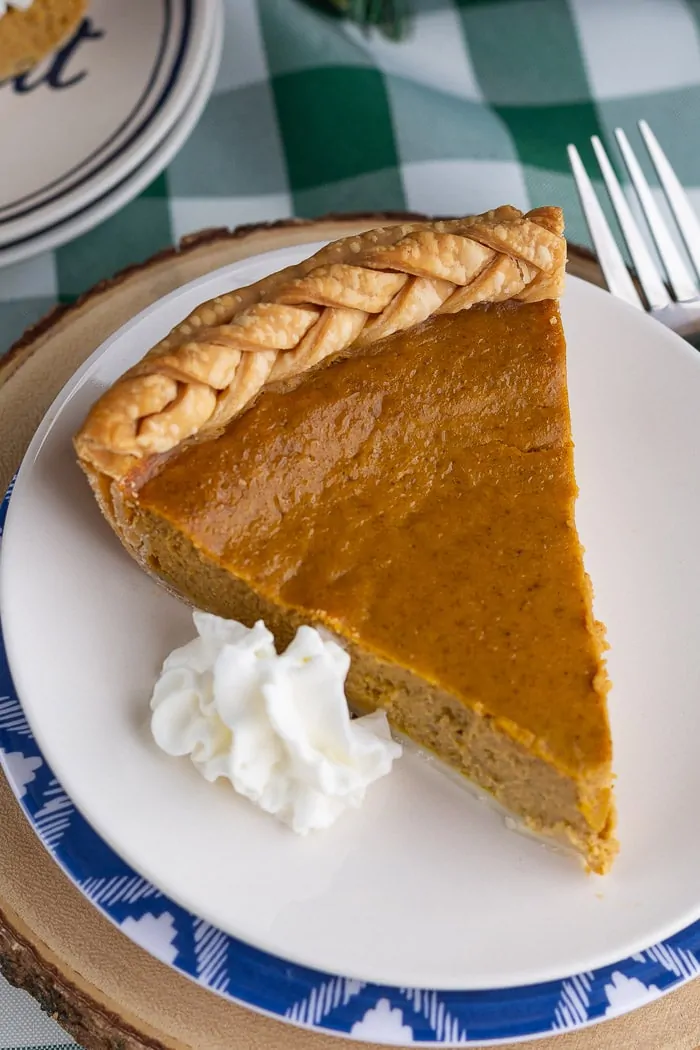 Make sure to follow along on Pinterest, Facebook and Instagram for more delicious and easy recipes.
Looking for some other great pie recipes? Here are some that you will love…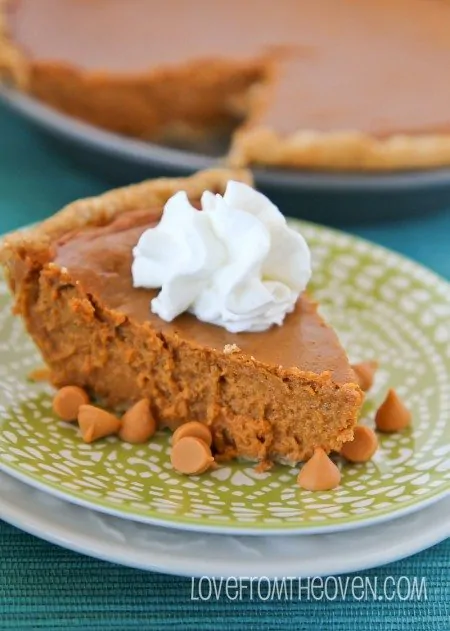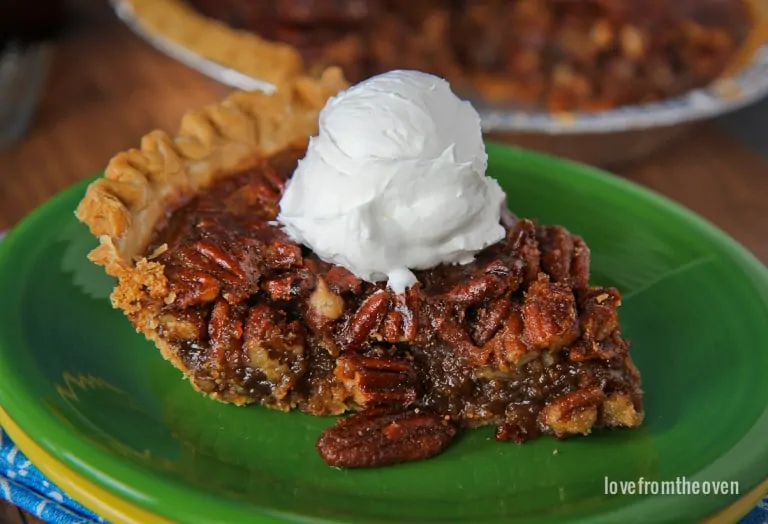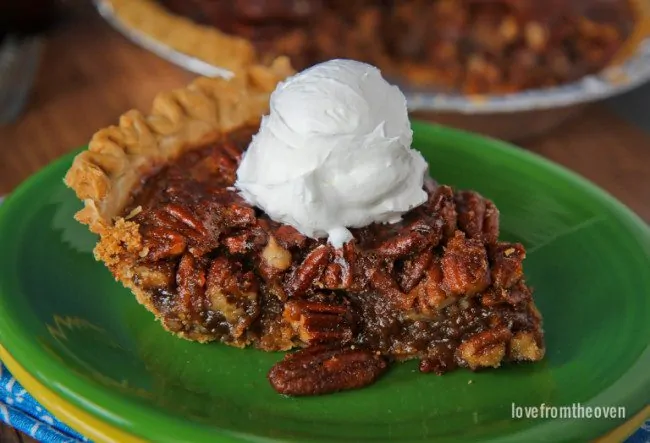 10 Perfect Pie Recipes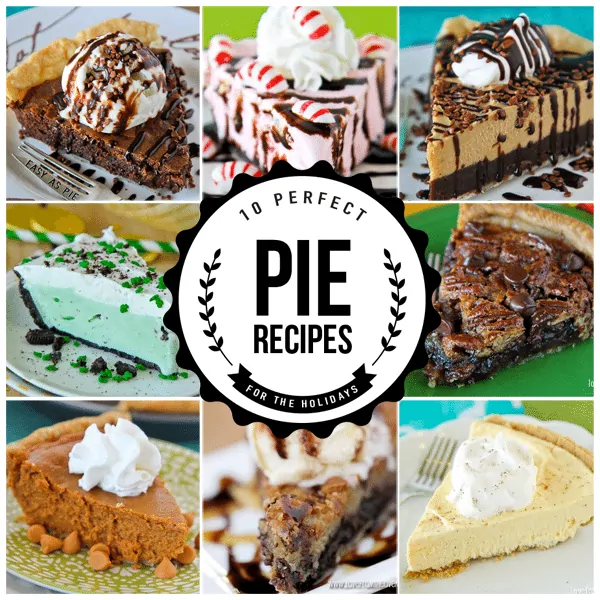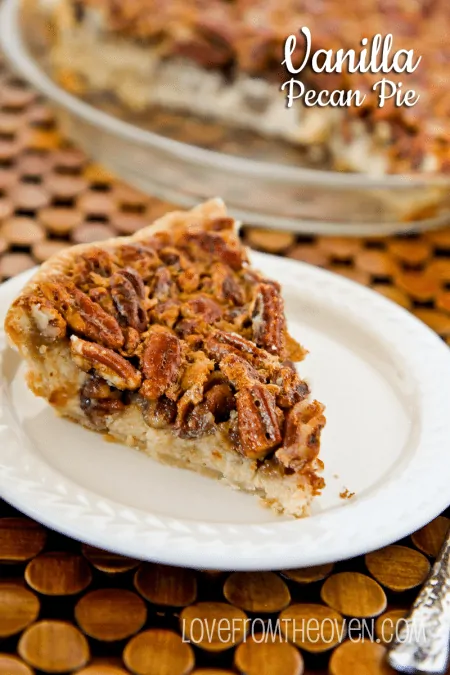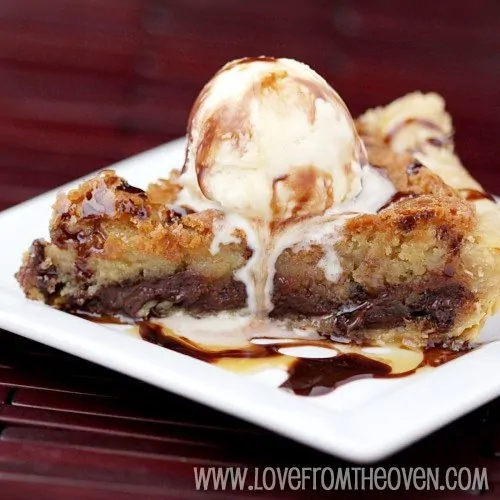 And don't miss my pie recipe round up!