I'm shaking things up a little today and baking for some different family members – my pets!
That's Jack, and he totally approves of this post.  If he could talk he'd be saying, "it's about time I get some coverage on this blog".  He would also declare himself king, but we'll save that post for another day.
My friends at Bounty know that pets are an important part of families everywhere.  They also know how messy they can be.  I'm not even kidding when I say that half of my paper towel use centers around my pets.  From water bowl spills (if that's what we want to call playing in one's water bowl) to muddy paw prints, to the occasional accident, pets can be a mess. But Bounty helps conquer those messes so that we can forgive them faster.  Thanks to Bounty for sponsoring this post.  And thanks to Bounty for helping me clean up pet messes!
And speaking of forgiving them faster, I'm not even kidding when I say that while taking these pictures I had to clean up a mess with my Bounty Paper Towels.  I won't name names, but when someone gets overly excited, his bladder gets excited as well.  Having three people jumping up and down all excitedly, calling his name in high pitch squeals, trying to get him to look at the camera (hey guys, I'm trying to eat these dog bones, can you quit with the masterpiece theater act???), was WAY too exciting, and sure enough, we had an accident.  Bounty clean up on isle one!   Thankfully Bounty has pet mess removal covered.
And we won't even talk about the muddy paw prints that are a constant thanks to the doggy door, a sprinkler system and monsoon season. It's probably no accident that my paper towel holder is located right by the dog door in our home!   And is it just me or are everyone's dogs messy eaters?  Jack takes his food out of his bowl, off the mess catching mat I have his bowls on, and crunches this food all over the floor.  Every. Single. Meal. I'm pretty sure my pets are the messiest members of our family. But they give us so much love, that it's worth it.  And I mean, look at this face.
Because my dogs both have some food allergies, I don't buy them many treats at the store.  It's fun to make them homemade treats from time to time, and they certainly appreciate the effort.  If you haven't made homemade dog bones, they are actually really easy.
Making these treats is very similar to making sugar cookies. You make up your dough, roll it out, cut it with cookie cutters and bake it.  The biggest difference is that when you are done baking these instead of immediately taking them out of the oven, you let them remain in the oven after you turn it off, for about 20 minutes, to let them harden up.   My dogs LOVE these.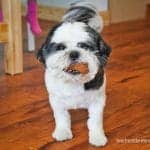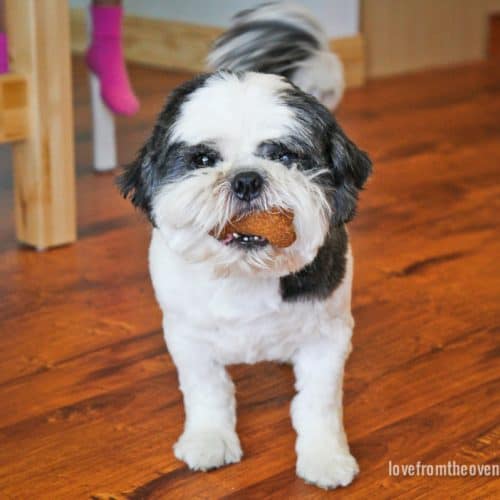 Homemade Dog Treats
Ingredients
3/4

cup

white whole wheat flour

1/4

cup

all purpose flour

1/4

cup

quick oats

1/4

cup

cornmeal

1/2

cup

water

more if needed

1/4

cup

canola oil

1

egg

2

tablespoons

natural peanut butter
Instructions
Preheat oven to 350 degree F.

In a mixer combine water, oil, eggs and peanut butter. Mix until well combined. In a separate bowl, combine dry ingredients. Mix dry ingredients into wet ingredients and mix until well combined.

On a lightly floured surface, roll out dough to about 1/8" thick. Using cookie cutters, cut dough into shapes. Place shapes on a baking sheet that has been lined with a silicone baking mat or parchment paper.

Bake for 10 minutes, remove from oven, turn treats over and return to oven to bake for another 10 minutes. Turn the oven off and leave treats in the oven for another 20 minutes. Remove from oven and allow to cool completely prior to serving to your dogs.
Recipe Notes
A cookie cutter about 2" in diameter yields approximately 18 dog treats.
I hope your dogs love this recipe as much as mine do.  Make sure to keep Bounty Paper Towels on hand to help you clean up all of those pet related messes and forgive them faster!
Disclosure: This post was sponsored by Bounty.  All opinions however are mine and mine alone.