Treat your four legged friends with this easy Dog Cookie Recipe! Cookies for canines? You bet! Just like my dog cake, pupcakes dog cupcakes, dog donuts and homemade dog treats, his pup approved peanut butter cookie was created specifically for dogs. Your furry family member will love when you whip up a batch of dog-friendly cookies just for them!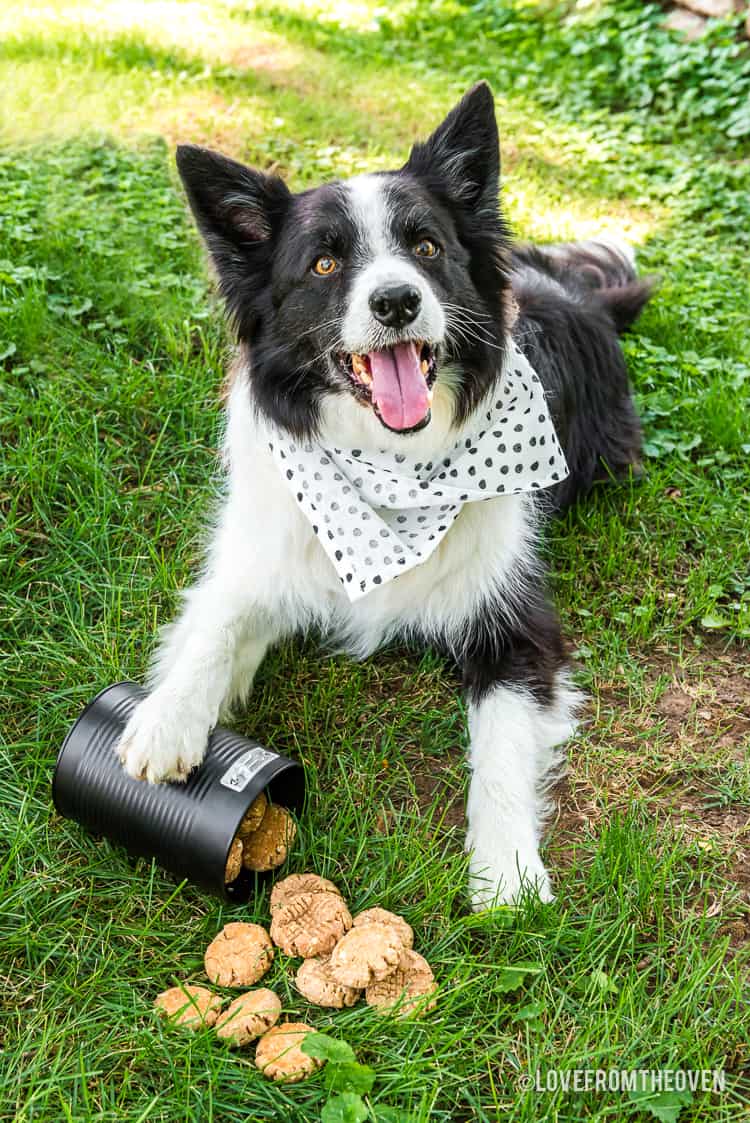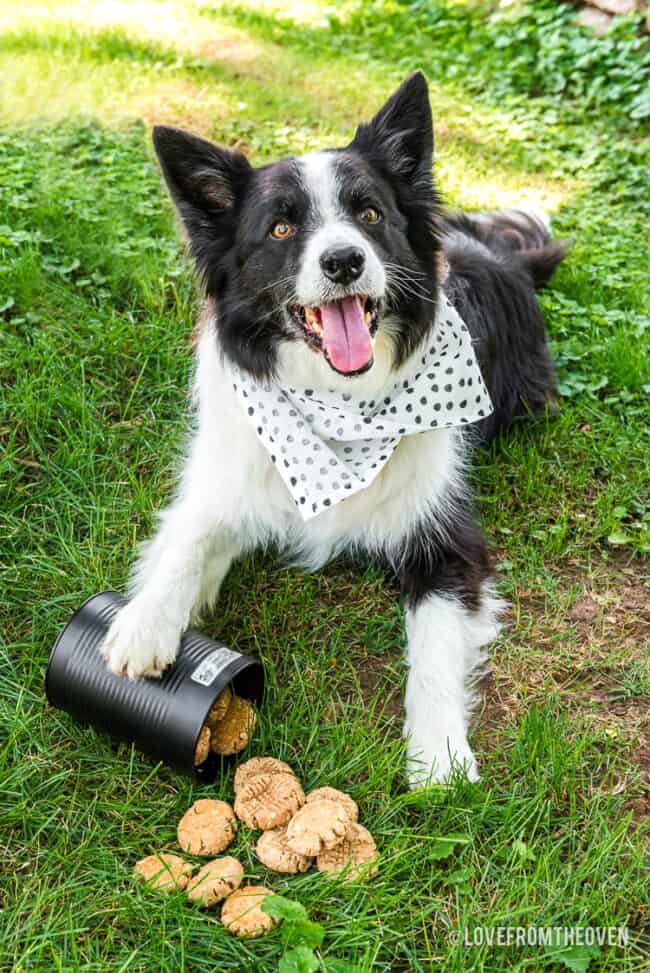 Reasons You'll Love This Recipe
Your pup will be thrilled with these yummy dog cookies, just like the good boy you see in the photo above.
It's quick and easy! You can whip up a batch of these cookies in less time than it takes to run to the store.
You only need water and four ingredients.
When you make your own snacks for your pets, you know what is in the ingredients.
They are so fun! They look just like the peanut butter cookies we eat, but in a dog friendly form.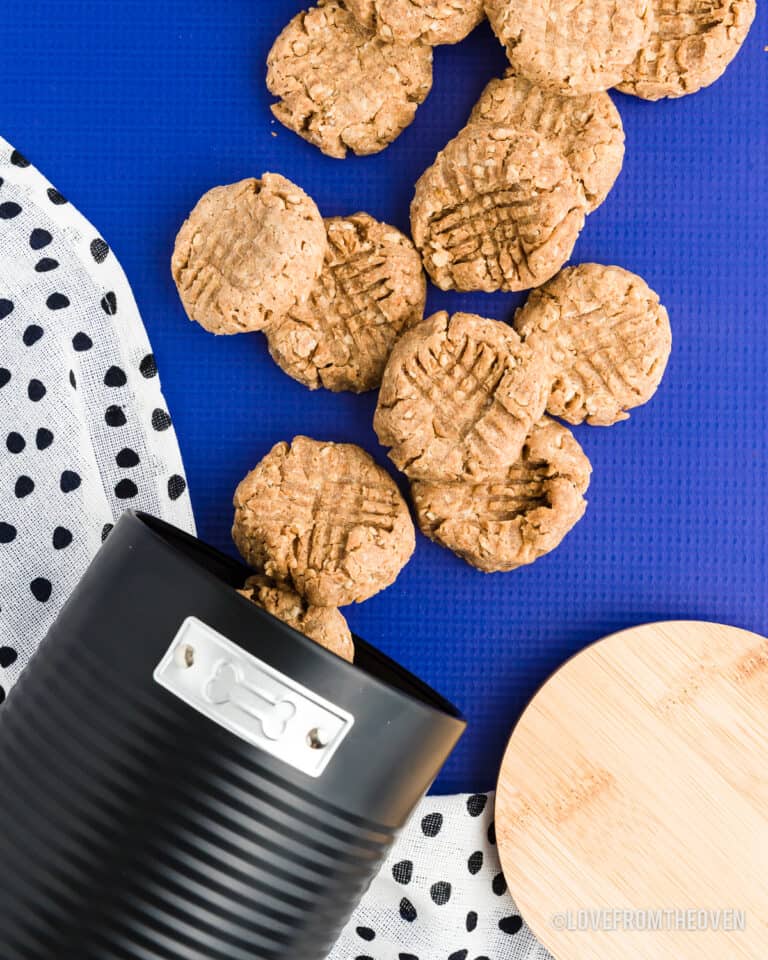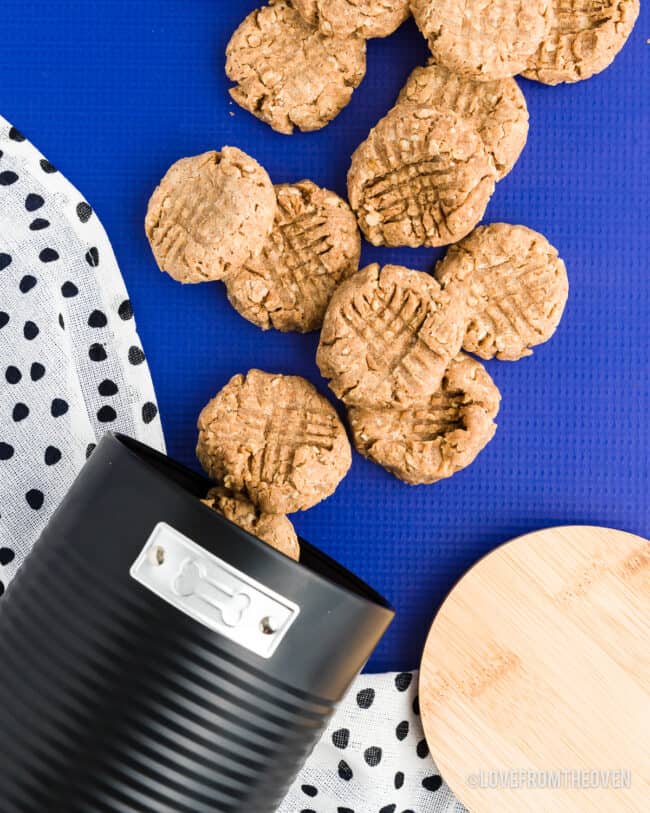 Dog Cookies
Every day awesome readers like yourself send me photos of doggies enjoying their homemade treats. It brings such a smile to my face, and makes me want to find more ways for you to bake for your pets. This peanut butter dog cookie might be one of my favorite recipes so far – in part because they are so adorable and look just like the peanut butter cookies we enjoy, minus a few ingredients.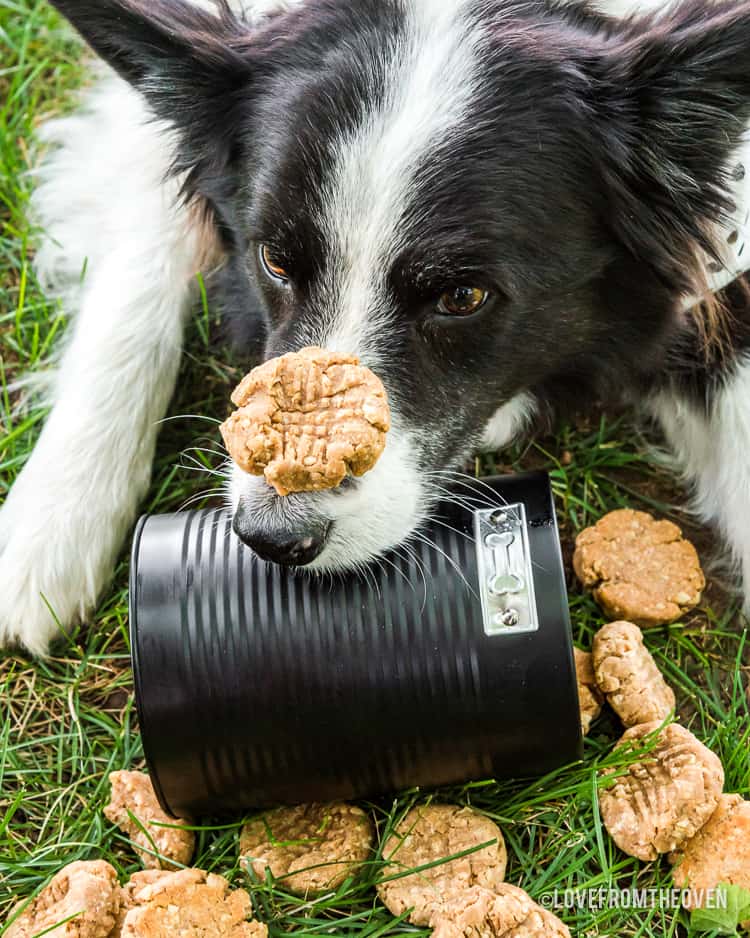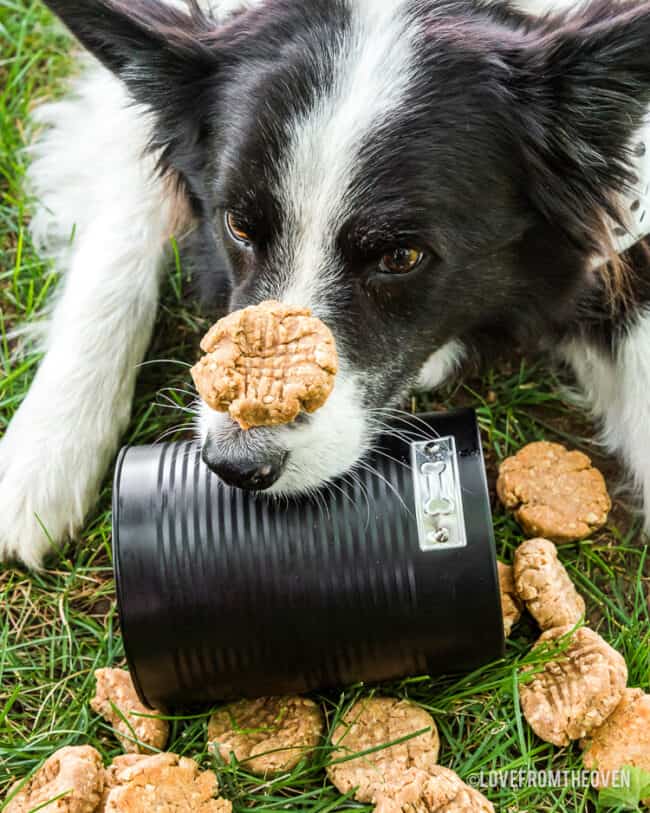 How To Make Cookies For Dogs
If you've ever made any type of cookies, then making these dog cookies will be a snap! You only need a handful of ingredients and less than a half hour of time.
Let's discuss how to make this dog cookie recipe, as well as the ingredients that are needed for it. Please take note that below you will find discussion, expert tips, and answers to frequently asked questions about this recipe to help you recreate it in your kitchen.
If you *just* want the recipe itself, scroll down. The full printable recipe itself, with exact measurements and instructions, is found at the bottom of this page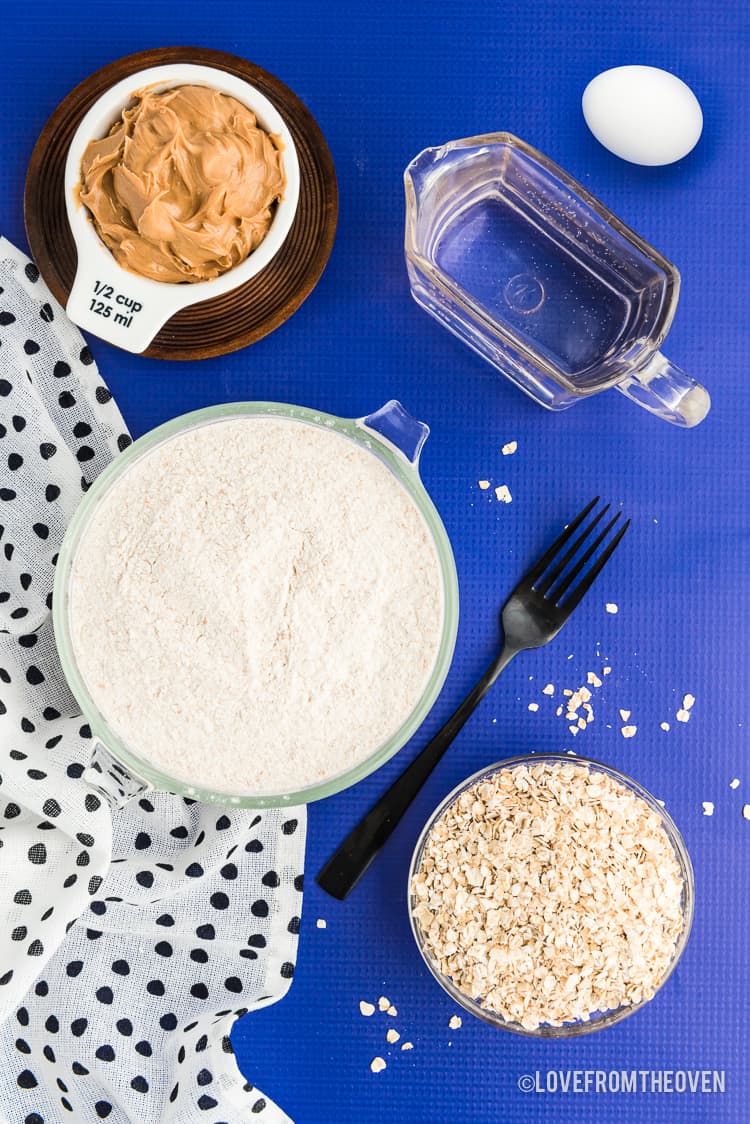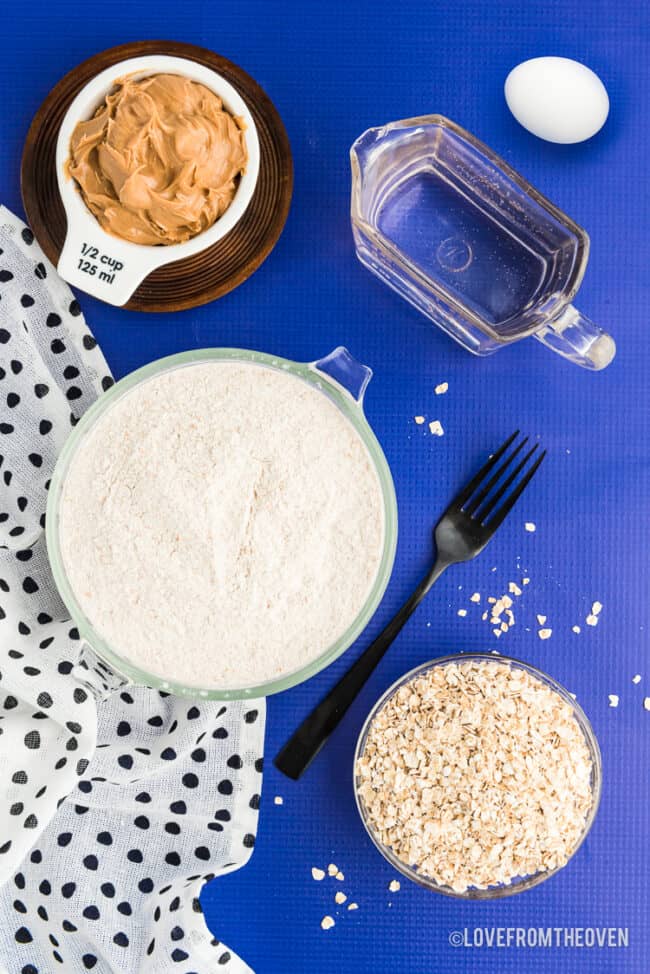 Ingredients
The ingredients that you will need are simple. Here are some notes about each one. As with all foods that you feed your dog, if you have any questions about ingredients for your dog, make sure to check with your vet. They will be the authority on what is best for your pup. These are simply ingredients that I feel comfortable with feeding my own pup.
Whole Wheat Flour – Whole wheat flour packs in much more nutritional value than all-purpose flour does. If all-purpose flour is what you have on hand, and you are fine using that with your dogs, that works just the same. I have not tested this recipe with any gluten free flours, so I cannot advise on how they would work.
Oats – Oats are a good source of fiber, protein, iron and Vitamin B6.
Peanut Butter – Dogs LOVE peanut butter! Make sure to use a natural variety, without any additives. You want a peanut butter made of peanuts, not peanuts and other things. And make sure to avoid any peanut butters with xylitol, an additive sometimes use in peanut butters (not super common though) that can be toxic to dogs. Always check the ingredients. And a natural, organic peanut butter is your best bet.
Egg – Egg helps bind the dough together and adds protein.
Hot Water – I always recommend using whatever water you use to drink. If your family drinks tap water, then tap is fine. If however you drink bottled or filtered, then go with that in this recipe.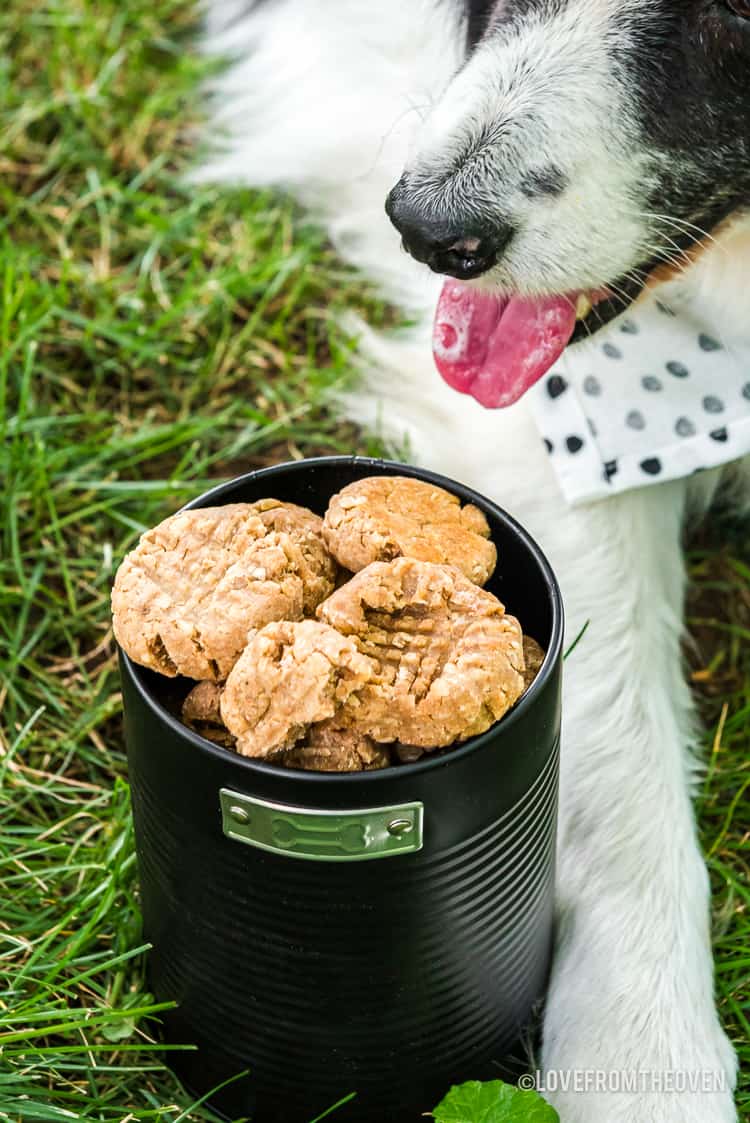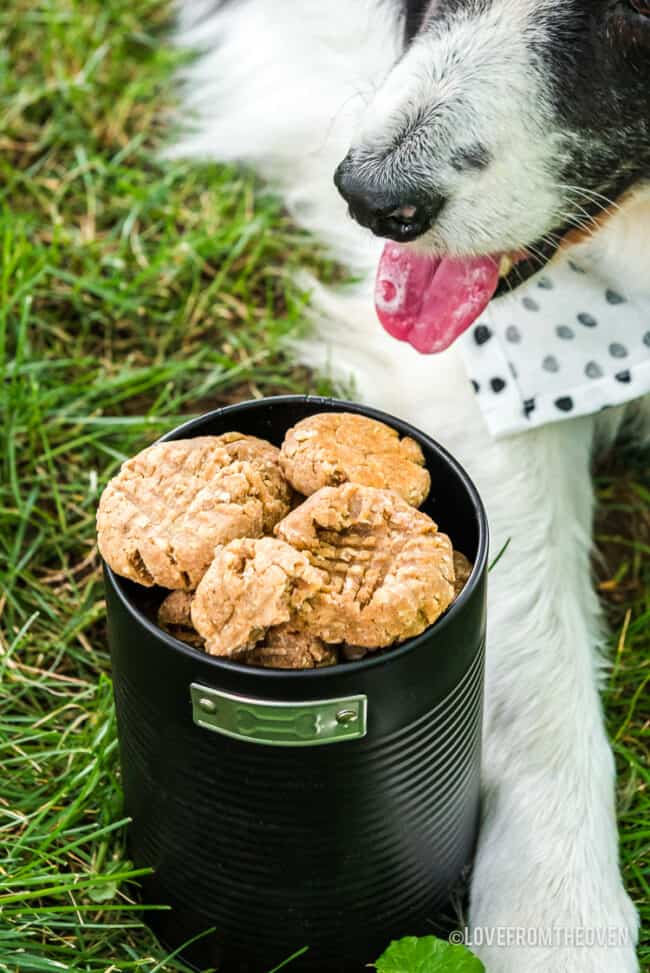 Directions
These dog cookies are super easy to make, and just like making the peanut butter cookies you enjoy! Here are the steps you will take. Reminder, this is for discussion and photos, the full, printable recipe you use to bake from is, like always, at the bottom of this post.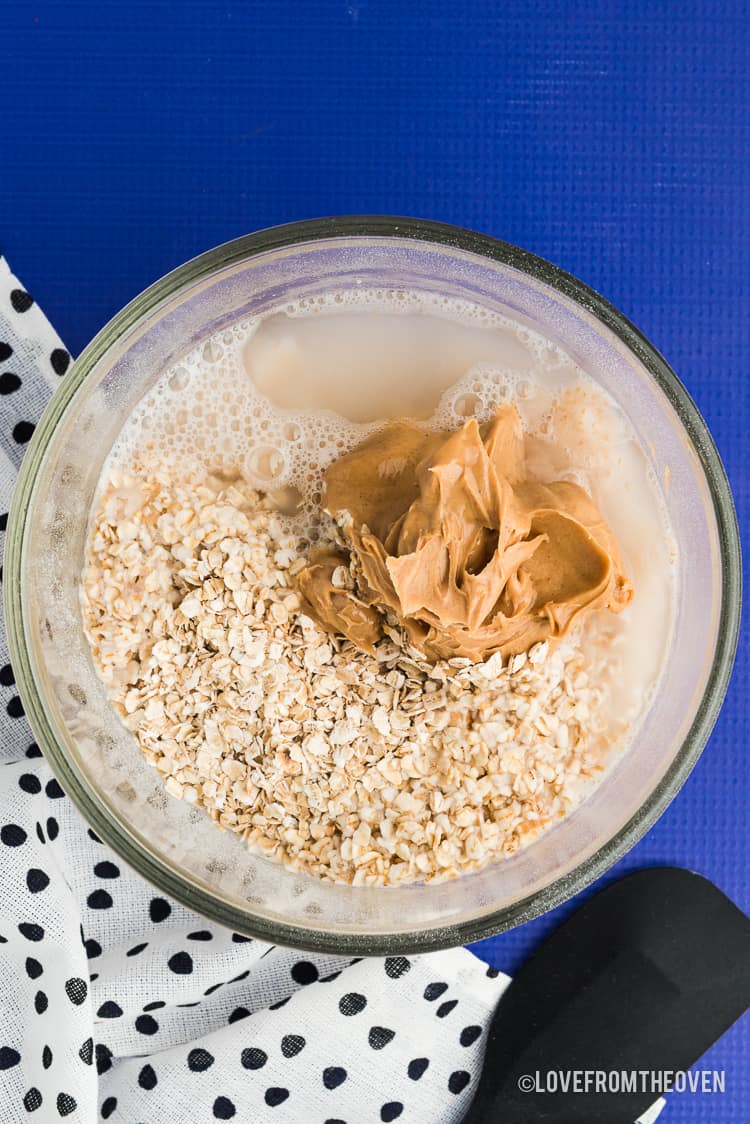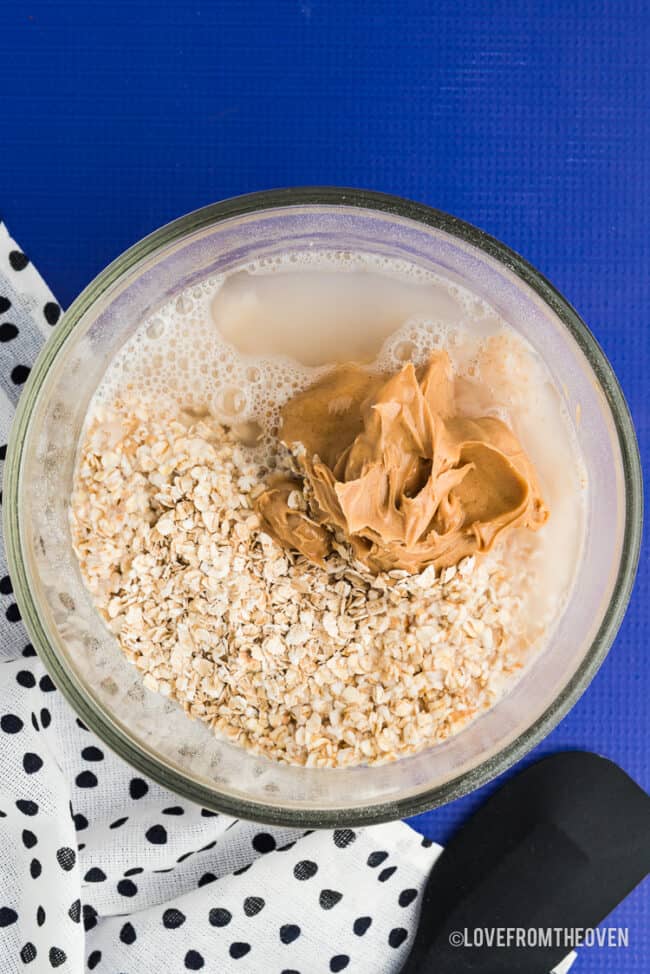 Combine all ingredients in a mixing bowl and stir to combine. This is a thick dough, so you may find that you actually need to get in their with your hands and work it together. Don't be alarmed that it's thick, that's expected.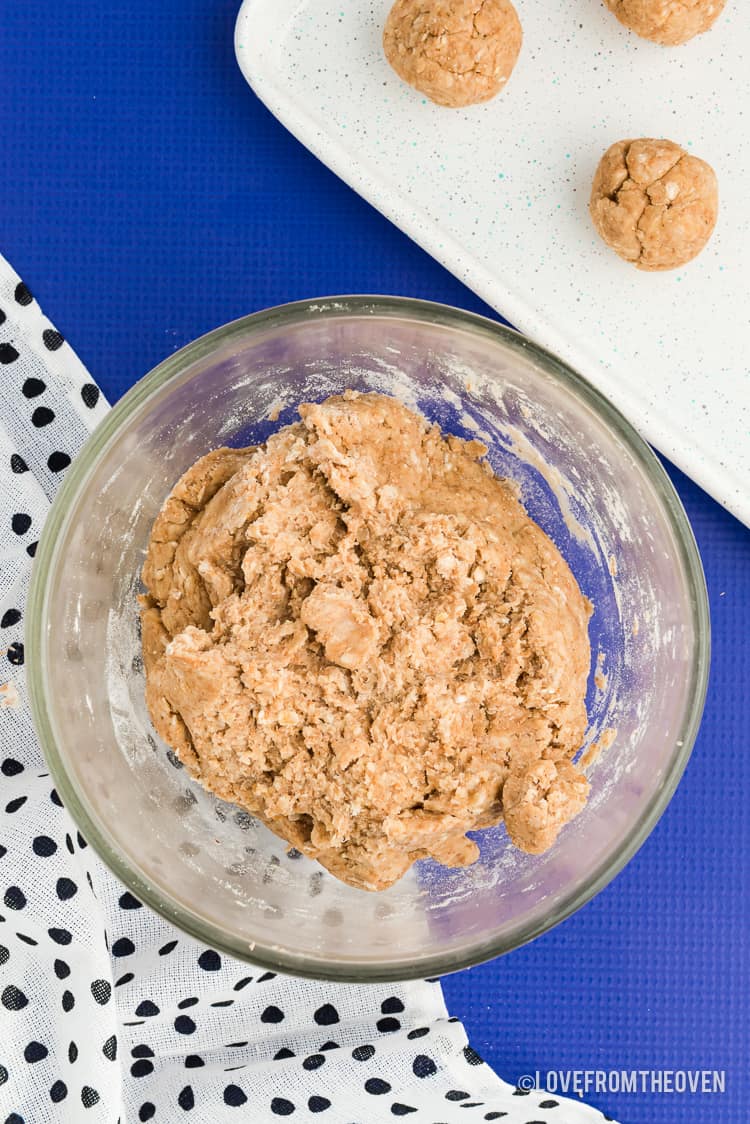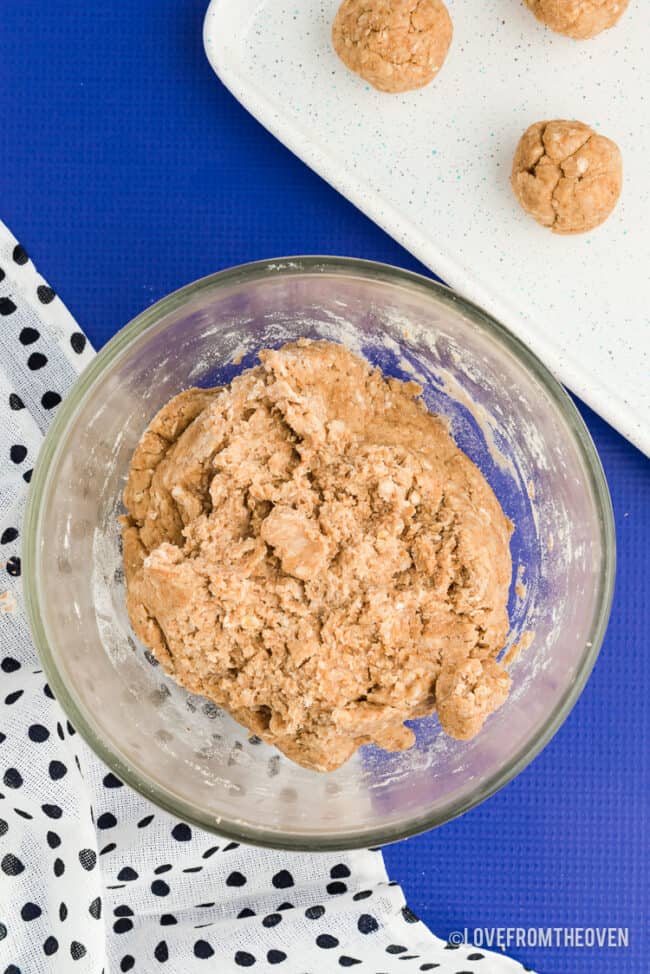 After your dough has come together, roll into balls approximately 1″ in diameter and place onto a baking sheet. Then, using a fork, gently press into the peanut butter cookie dough to on two sides to create an overlapping crosshatch impression. This gives peanut butter cookies their signature look, but also helps flatten the cookie a bit for baking.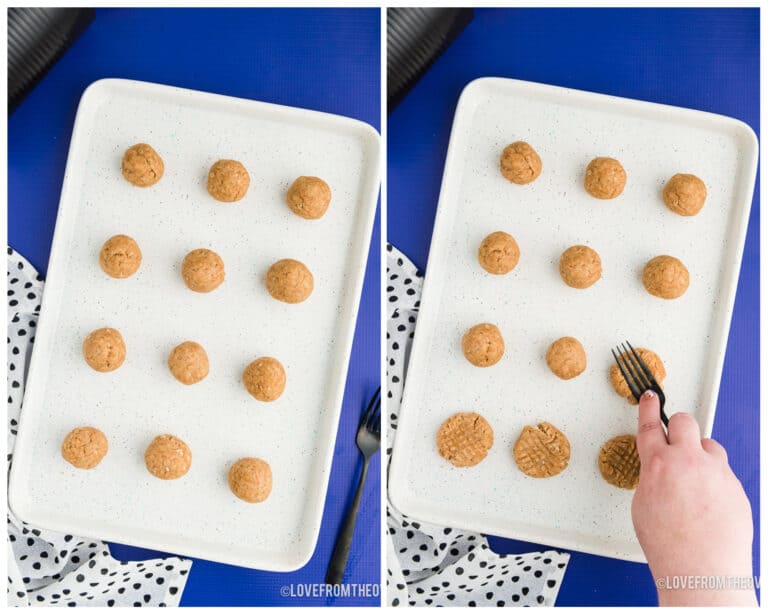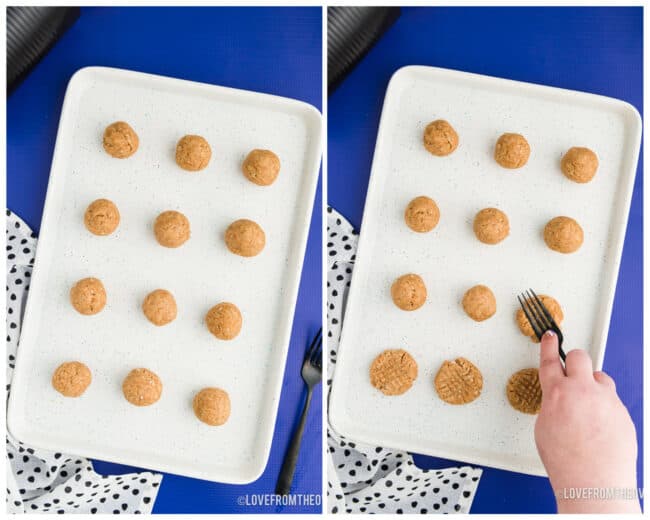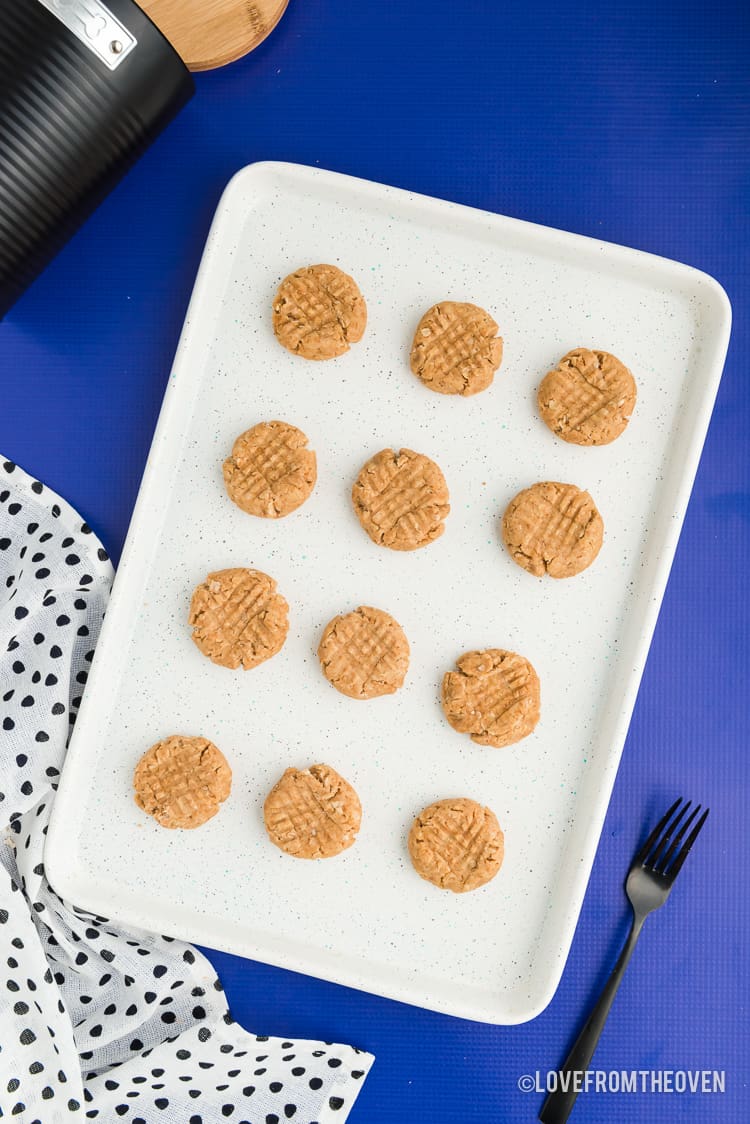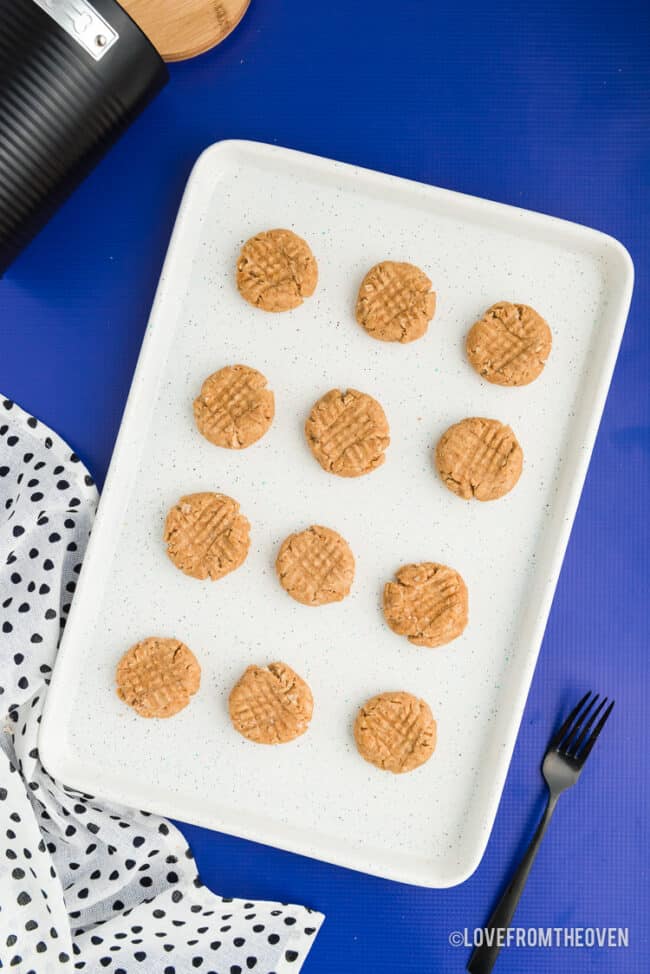 All that's left is to bake for approximately 15 minutes and allow to cool. Then share, in moderation with all the good boys and girls that have been patiently wagging their tails while you did the baking!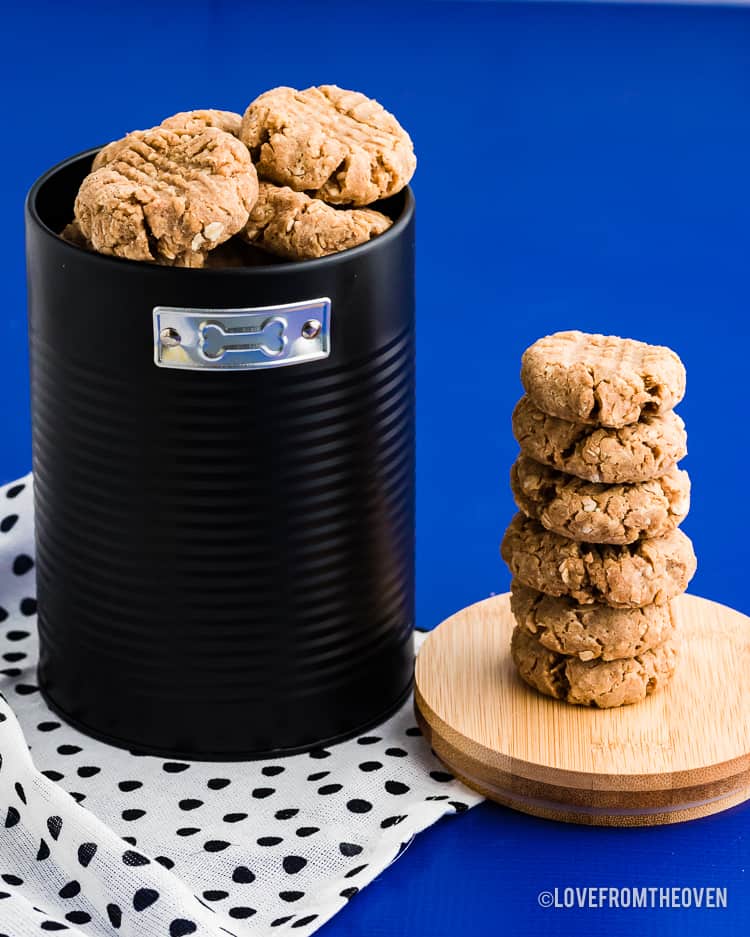 Expert Tips
Storage: Make sure to completely store treats before storing. Once cool, store in an air tight container or freezer bag. I recommend then storing them in the fridge for 7-10 days, or freezing for up to two months.  At room temperature they are fine for 3-4 days.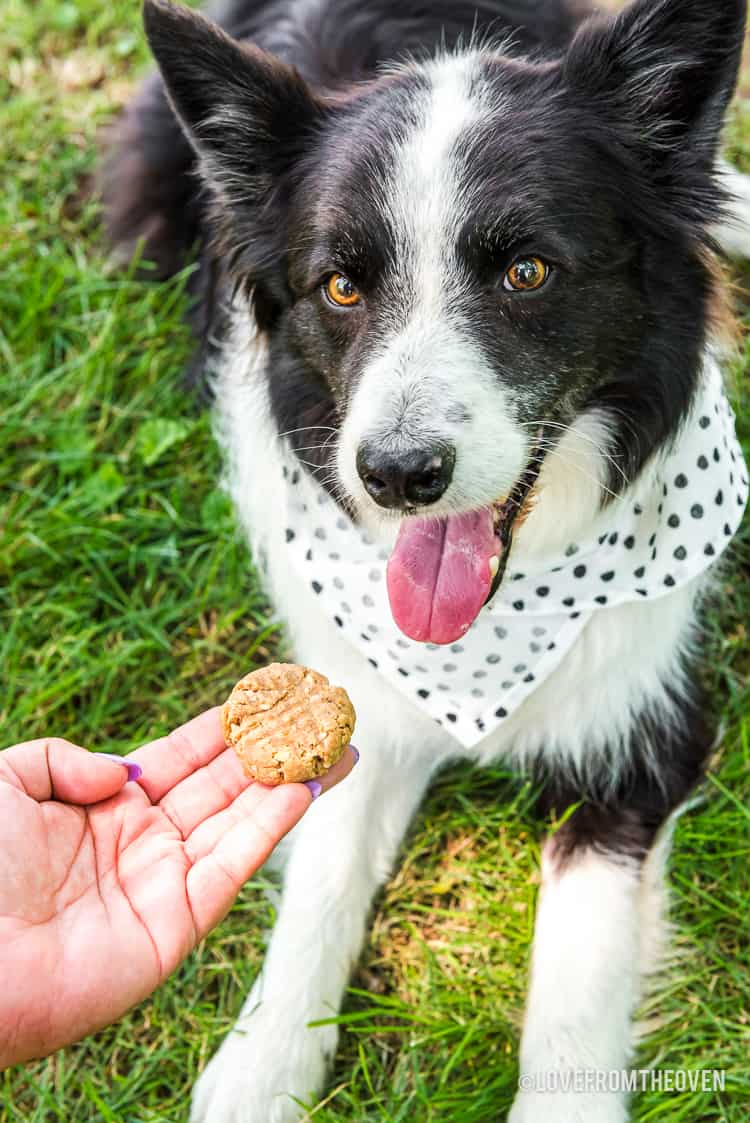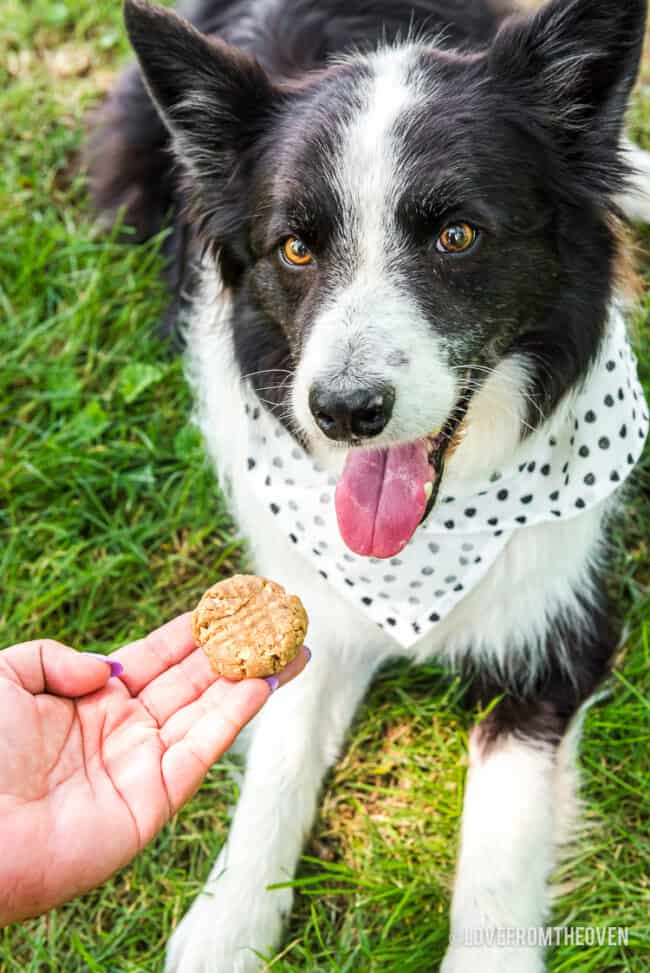 Frequently Asked Questions (F.A.Q.)
The most common questions I am asked is can people eat these cookies? Absolutely, yes you can. As you can tell from the ingredients they are all ingredients you probably already consume. They won't be sweet, because they don't have sugar, and won't have quite the same rich taste that a cookie made with butter would have.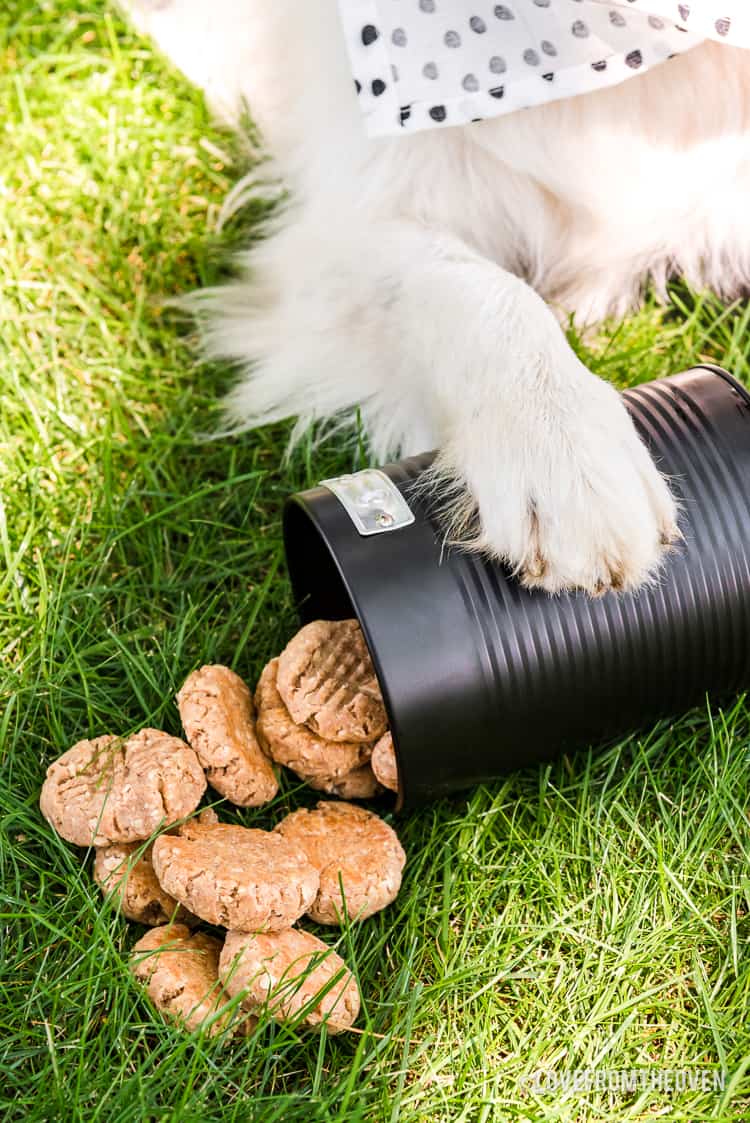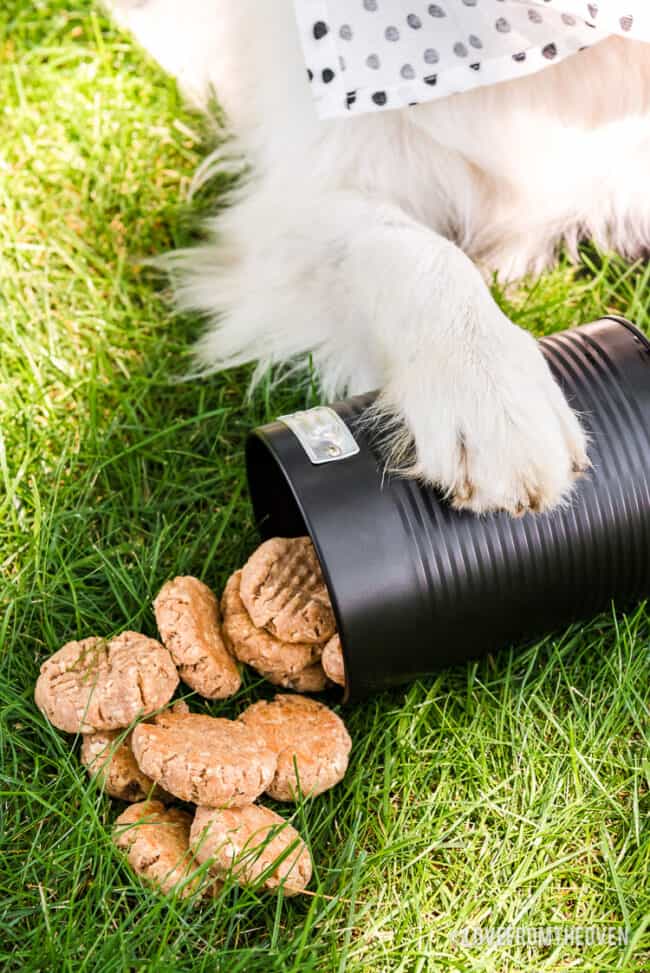 More Great Recipes
I hope your pup enjoys these dog cookies as much as ours do! If you too would like to enjoy some peanut butter cookies (the made for people kind!) check out my Best Peanut Butter Cookie Recipe, Chocolate Peanut Butter Cookies, Peanut Butter Monster Cookies and Peanut Butter Snickers Cookies.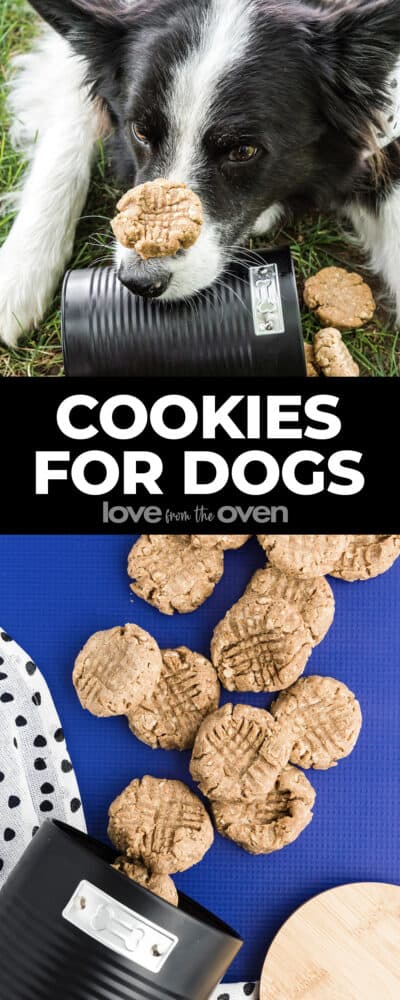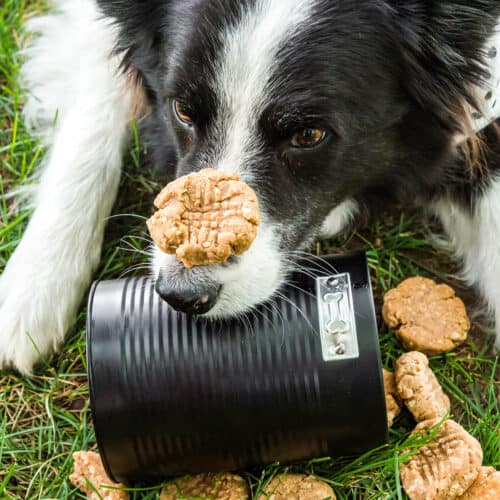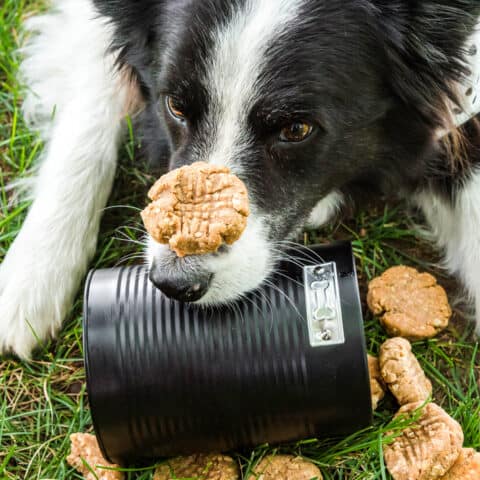 Dog Cookie Recipe
Treat your four legged friends with this easy Dog Cookie Recipe! Cookies for canines? You bet! 
Ingredients
2

cups

whole wheat flour

1

cup

oats

3/4

cup

natural peanut butter

make sure it does not contain xylitol

1

large

egg

1 1/4

cups

hot water
Instructions
Preheat oven to 350 Degrees F.

In a large bowl, combine all ingredients and stir to mix. The dough is thick, and you may find that you need to use your hands to actually knead the dough together.

Roll into balls approximately 1" in diameter and place onto a baking sheet. Using the tines of a fork, gently press a crosshatch shape into each cookie. This will both give a physical imprint of lines and help flatten the cookie dough.

Bake for 15 minutes, then remove from oven and place baking sheet on a wire cooling rack. After ten minutes, remove from baking sheet. Store tightly covered.
Notes
Storage: Make sure to completely store treats before storing. Once cool, store in an airtight container or freezer bag. I recommend then storing them in the fridge for 7-10 days, or freezing for up to two months.  At room temperature they are fine for 3-4 days
Nutrition
Calories:
130
kcal
|
Carbohydrates:
15
g
|
Protein:
5
g
|
Fat:
6
g
|
Saturated Fat:
1
g
|
Polyunsaturated Fat:
2
g
|
Monounsaturated Fat:
3
g
|
Trans Fat:
1
g
|
Cholesterol:
10
mg
|
Sodium:
54
mg
|
Potassium:
138
mg
|
Fiber:
3
g
|
Sugar:
1
g
|
Vitamin A:
16
IU
|
Calcium:
13
mg
|
Iron:
1
mg