As we head into summer (okay, in Arizona we are probably doing that a little earlier than some), all I can think about baking these days are lemon and lime desserts.   Just great refreshing flavors that are perfect for special occasions such as Mother's Day, graduations, Memorial Day, Father's Day (you know, all of those events that are sneaking up on us).   Today I am sharing a fabulous cake that would be great for your Mother's Day table.
This delicious recipe is just one of the many great recipes over on Kraft Foods.    This cake is made in a few steps, but they are all very simple.
 To kick up the lemon flavor in this cake, I started with a lemon cake mix.    Being a poke cake, you'll be adding some additional lemon flavor with Lemon JELL-O after baking your cake.
But wait, there is more lemon flavor!    After letting your cake chill for three hours, you whip up a wonderful lemony frosting using Lemon JELL-O Pudding and COOL WHIP.
Combine all these elements and you end up with a Luscious Lemon Poke Cake.     Care for a slice?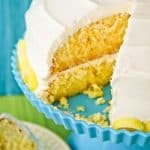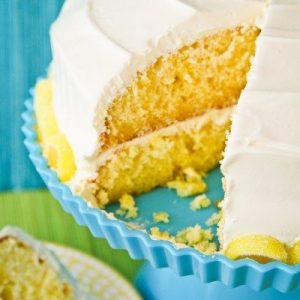 Luscious Lemon Poke Cake For Mother's Day
Recipe courtesy of
Kraft Foods
This light and lemony cake is perfect for summer and will be the perfect addition to summertime bar-b-ques and get togethers.
Ingredients
2

round white cake layers

9 inch, cooled

2

cups

boiling water

1

pkg.

6 oz. JELL-O Lemon Flavor Gelatin

1

pkg.

3.4 oz. JELL-O Lemon Flavor Instant Pudding

1

cup

cold milk

3

cups

thawed COOL WHIP Whipped Topping
Instructions
Make It
PLACE cake layers, top-sides up, in 2 clean 9-inch round pans. Pierce cakes with large fork at 1/2-inch intervals.

ADD boiling water to gelatin mix; stir 2 min. until completely dissolved. Carefully pour over cake layers. Refrigerate 3 hours.

BEAT pudding mix and milk in large bowl with whisk 2 min.; stir in COOL WHIP. Dip 1 cake pan in warm water 10 sec.; unmold onto plate. Spread with about 1 cup pudding mixture. Unmold second cake layer; carefully place on first cake layer. Frost top and side of cake with remaining pudding mixture. Refrigerate 1 hour.
Tips
Substitute

Prepare using COOL WHIP LITE Whipped Topping.

Special Extra

Garnish with lemon slices and fresh mint sprigs just before serving.

Lemon-Lime Poke Cake

Substitute 1 pkg. (3 oz.) each JELL-O Lemon Flavor Gelatin and JELL-O Lime Flavor Gelatin for the 1 pkg. (6 oz.) JELL-O Lemon Flavor Gelatin. Stir 1 cup boiling water into each flavor of gelatin mix in separate bowls. Pour lemon gelatin over 1 pierced cake layer and lime gelatin over second pierced cake layer in clean round pans. Continue as directed.
Looking for more cool desserts that are perfect for summer?   Check out some of these great recipes that are great for the warmer months where you want something a little lighter and are perfect if you are looking for potluck desserts.
This Key Lime Margarita Pie With Pretzel Crust was a huge hit with us.
Lemon Raspberry Mousse Squares
PHILADELPHIA 3-STEP Lemon Cheesecake Bars
Enjoy!
Disclaimer: I am a member of the Kraft Tastemakers Program, and as such am
compensated for sharing some of my favorite Kraft Recipes with you. 
All opinions however are, as always, mine and mine alone.