One of the topics I see come up the most often in my comments has to do with melting chocolate.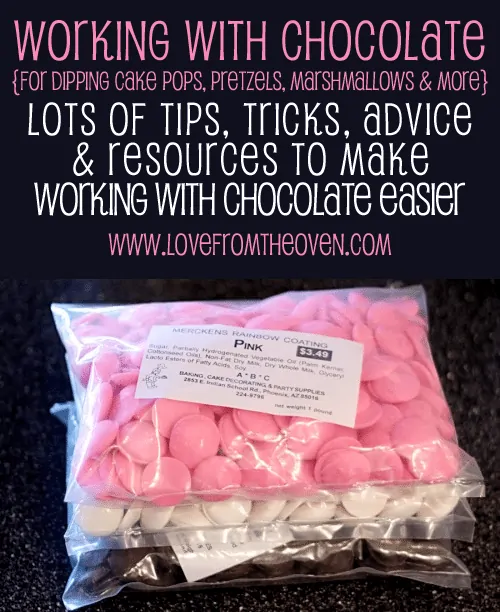 Chocolate that's too thick. Chocolate that's too runny. Chocolate challenges. Why is my chocolate so thick? How do I think out my chocolate? Why isn't my chocolate setting up? These are very common questions.
I am NOT an expert and do not claim to be, but since this seems to be a challenge that so many people share, I thought I would address it and at least share what I have learned in my baking. My disclaimer is that these are my opinions and experiences, and may not hold true for everyone.
What type of chocolate do you use for dipping?
The first thing that comes to mind is what kind of chocolate I do not use, and that would be chocolate chips.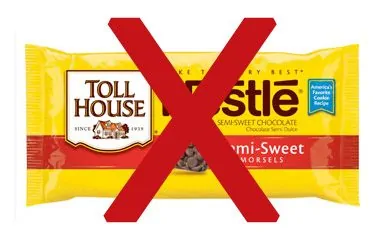 Don't get me wrong, I love chocolate chips and use a lot of them, but not for items I'm dipping in chocolate.
So what chocolate do I use? I use a variety of chocolate coating products. Chocolate coatings, also referred to as candy melts, confectionery coating,  almond bark, chocolate melts, candy coating, are similar to "real" chocolate but have slightly different ingredients. Chocolate coatings usually contain vegetable fats, which have a higher melting temperature and allow for easier and more forgiving chocolate melting. They melt fairly easily and harden up nicely. True chocolate is much more fickle when it comes to melting and must be tempered. It certainly tastes better, but can present some challenges which is why it's not the most common choice for home baking.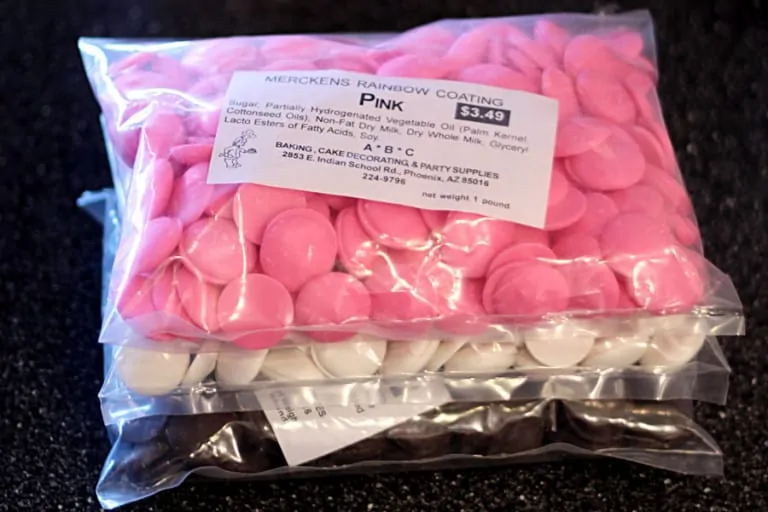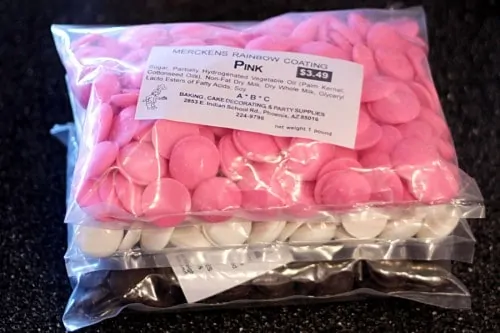 I usually buy this chocolate from my local baking supply store, ABC Cake Decorating where they have a variety of colors and flavors.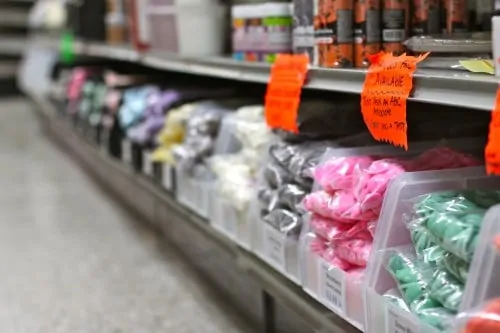 My favorite chocolate to pick up at the grocery store is Candiquik. I find that it melts smoothly, quickly and easily, and you can melt it right in the container it comes in, which is great for clean up. I find it's consistent to work with and has a great taste. If you haven't, check out Miss Candiquik's blog -(aka Sarah) where you'll find lots of great ideas and recipes as well as tips and tricks. Sarah and I have similar dessert tastes, so if you enjoy my recipes, you really should check out her site.
3. Plymouth Pantry Almond Bark
This is what I pick up if I'm at Walmart. I'm not crazy about the chocolate, but the vanilla is fine.
There are some other varieties of chocolate that I don't use as often, but I do use.
Make N' Mold
This is one that I believe Hobby Lobby (at least mine) carries.
These are probably one of the most readily available chocolate melting products. Michael's carries them as do most Walmarts. In my opinion it's one of the thicker chocolates, which can make it a bit harder to work with. Again, that's just my little opinion.
What is different about these chocolates?
Well – a lot. The ingredients. The quality. How they melt. The heating times. Personal preferences. Pretty much everything. The time and heat setting you use to melt one chocolate may scorch another chocolate and not begin to melt yet another. The flavors vary. All melting chocolate is not the same. Here are two great links discussing different chocolates…
Pint Sized Baker –  A comparison of three different types of chocolates
Cake Pop Gallery – Candy Melts – Wilton vs Merckens vs ???
Hungry Happenings – Chocolate Making Tips (this is a must read)
Why is my chocolate so thick and how can I thin it out???
Often this is a result of overheating your chocolate. Two words of advice to remember when heating chocolate… low and slow. I almost always heat all of my chocolate, no matter what brand, at 50% power in my microwave and in very short bursts – usually starting with 30 seconds and then going 10-15 seconds at a time after that. Chocolate will often hold it's shape and appear to not be melted, but if you start to really stir, it melts down. Once you overheat chocolate, which can be done much more quickly than many people realize, it will become very difficult to work with.
There are ways to thin out your chocolate. My go to product is Paramount Crystals. What are Paramount Crystals? Paramount Crystals are made of vegetable oils and are used to help thin out your chocolate.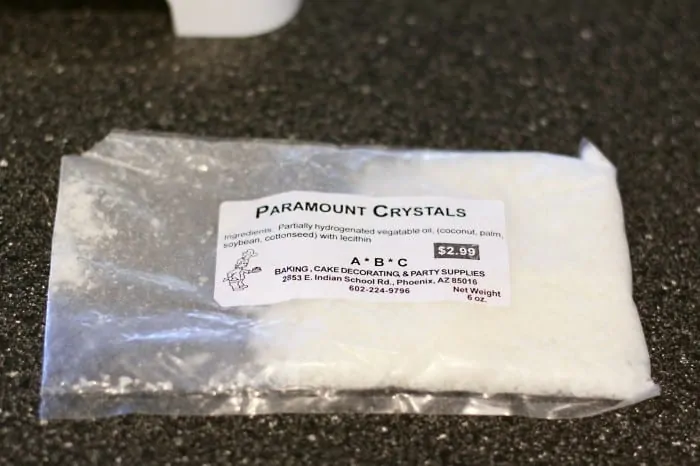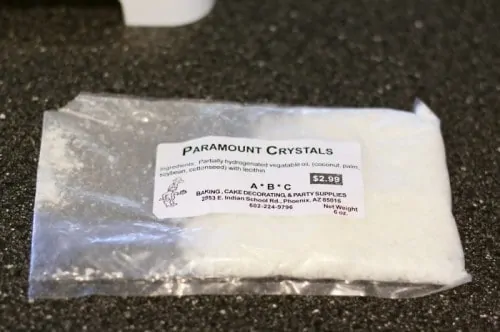 I always have these on hand, and often add a teaspoon or so to my chocolate – my theory is always start with a tiny bit, as it's easy to add more, but once you add too much of anything – that's a whole other problem. If you dip anything in chocolate more than a few times a year, I highly recommend ordering a bag.
Other things can be added to chocolate to help thin it out – I know some people use shortening such as Crisco or even vegetable oil. Again, start with a tiny bit and add as needed.
Can I add colors and flavors to my chocolate?
Yes, you can, but I will say that I personally do not. Given the challenges of chocolates, I really prefer not to throw anything else in to the mix (literally and figuratively). Chocolate melts come in so many colors, check out the Merckens color chart of the colors they have, as well as what you can mix the colors to create…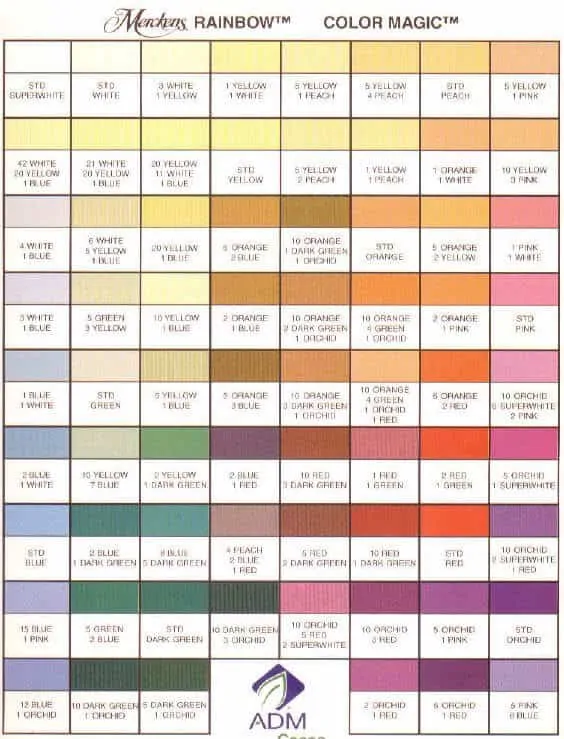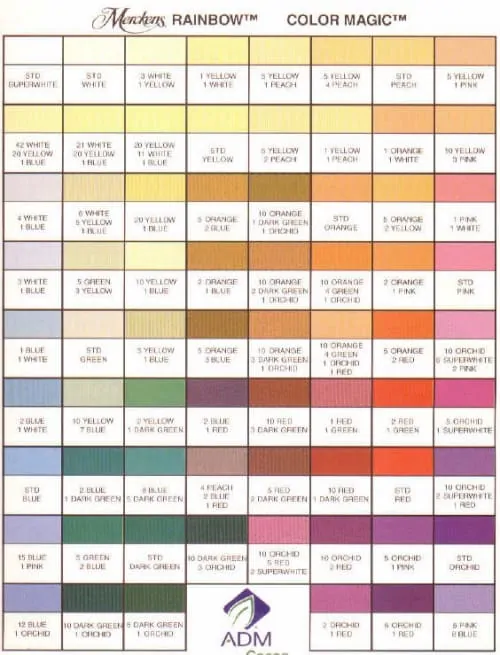 The overwhelming majority of the time I simply use a white chocolate and add my color through sprinkles….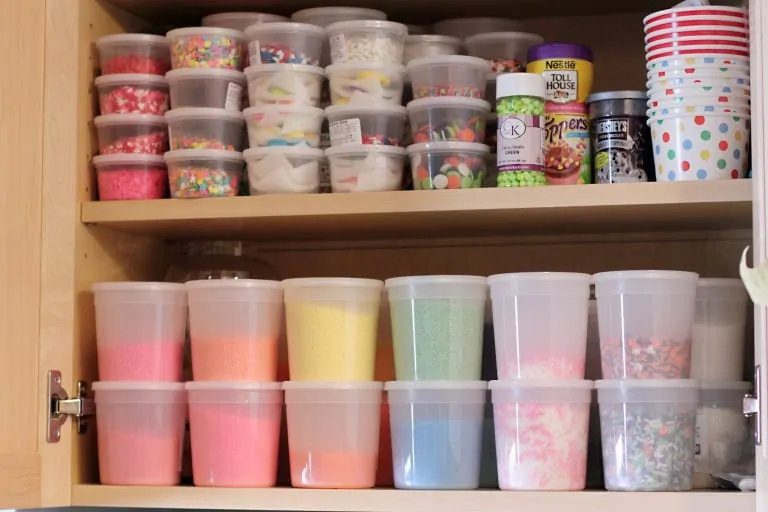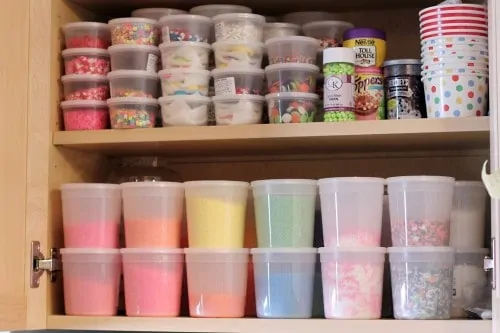 Sprinkles = Color!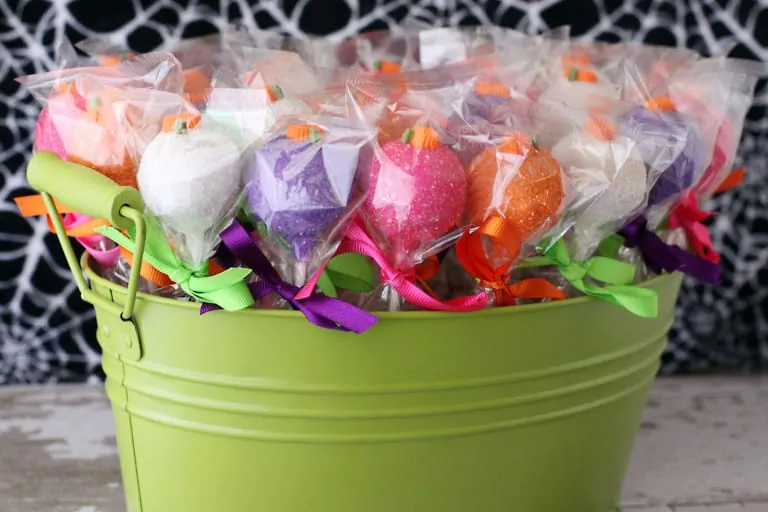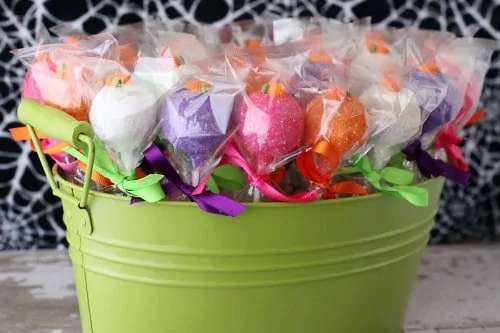 If I want my chocolate a particular color, I buy that color, but I find that sticking with white chocolate and adding my color through sprinkles is easy and probably more economical. White chocolate can become any color once I cover it in some sanding sugar. That said, if you want to color your chocolate, make sure that you use an oil-based color and not a water based. Water and chocolate do not mix – it's like a law, and probably illegal in some states.
As far as flavors – I don't love flavored chocolate coatings, but if I do want to use them. I buy the chocolate already flavored. ABC has Guittard Chocolate available in flavors such as mint, lemon, strawberry and orange. You can purchase oil based flavors if you would like to flavor your chocolate.
My sprinkles and chocolate fall off of my pretzels, cake pops, etc…
It's important to have patience when you are dipping items in chocolate. If the chocolate is too hot and runny, then it is likely that your sprinkles will fall off, and take gobs of chocolate with them. If the chocolate sets up too much, the sprinkles won't stick. There's sort of a middle ground you have to find, and for me it's a combination of patience and tapping off excess chocolate. You can see a video of me making chocolate pretzels here, which shows how I tap, tap, tap the excess chocolate off prior to covering my pretzel in sprinkles.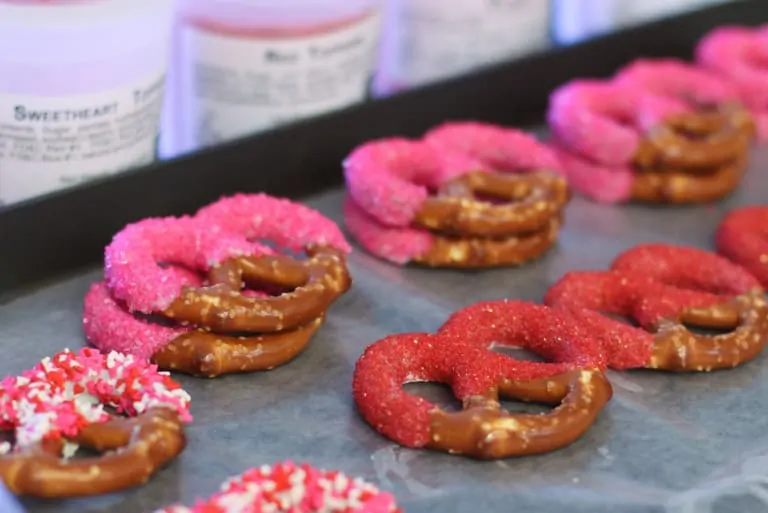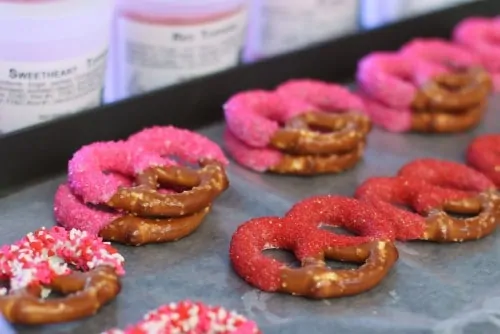 When I make cake pops, I find that I do a lot of twirling of my cake pop prior to putting the sprinkles on. I sort of tap and slowly twirl over my chocolate bowl until the drip drops stop and I can add my sprinkles, at which point I usually still continue to twirl the cake pop a bit. If I immediately put the cake pop down, I will often have some sprinkles slide off, compared to spending an extra minute holding and keeping the cake pop moving, allowing the chocolate to set.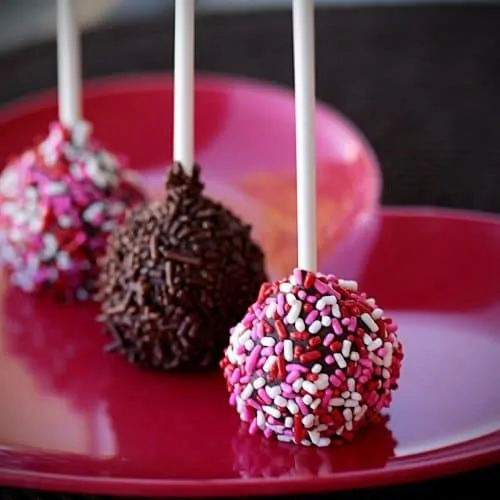 Another factor is the weight of the sprinkles. Great big sprinkles weigh more, and thus are a bit more likely to fall off or slide around on your cake pop. I really prefer sanding and crystal sugars, as they are fairly light, I like the taste and they are easy to work with.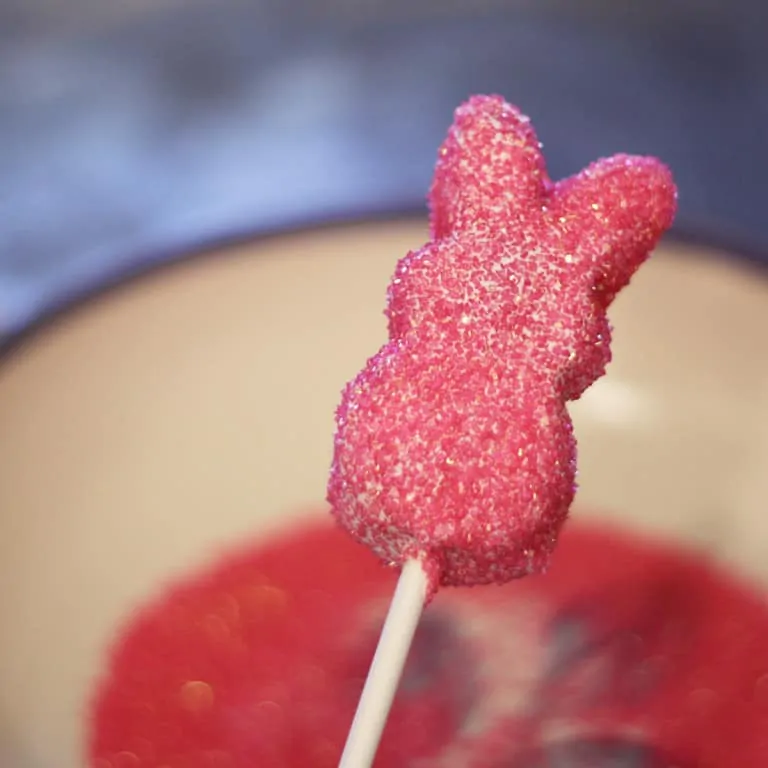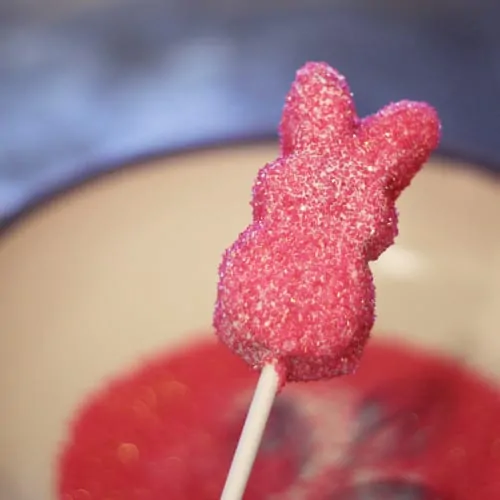 A chocolate covered Peeps pop with sanding sugar sprinkles.
One other bit of advice I find helpful is to chill my cake pops, Peeps, marshmallows, whatever I'm using prior to dipping it in the chocolate. This helps the chocolate set up a bit quicker. You don't want to freeze anything for too long, or you can experience some cracking when your chocolate dries, and the cake pop expands slightly.
And remember never mix your chocolate and water or you are likely to have the chocolate police show up and take away your chocolate. And microwave. Okay, maybe not, but it won't be a great chocolate experience.
Do you have any more advice?
Here are some great resources that you can check out for more advice…
Simply Designing – How To Melt Chocolate For Dipping
Sugarcraft – How To Melt Merckens Rainbow Wafer Coatings
Wilton – Melting Candy
Martha Stewart – Cupcake Pops & Bites – make sure to check out the video of Bakerella
Happy dipping!