Oatmeal scotchies are one of my all time favorite cookies.  There is something absolutely fantastic about the flavor and texture combo in them, and it doesn't hurt that they are as easy to make as chocolate chip cookies.  These are always one of the cookies that I make when I do my holiday baking.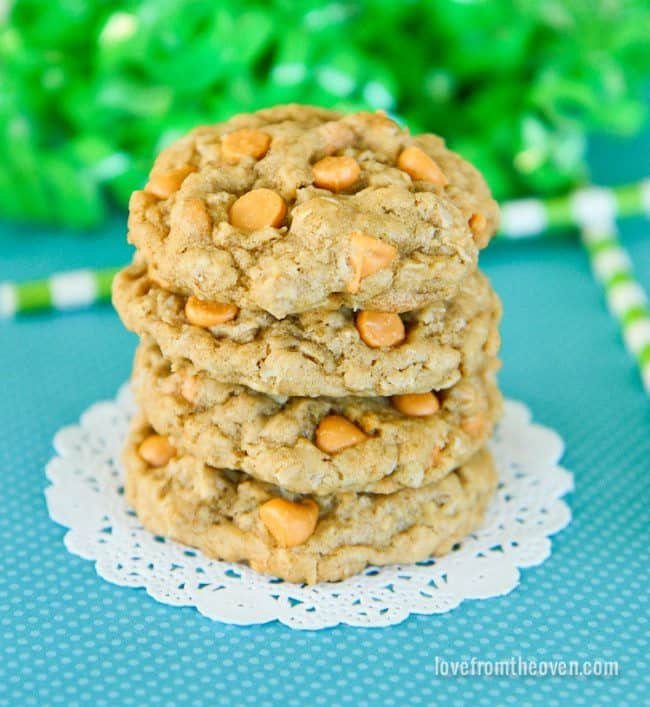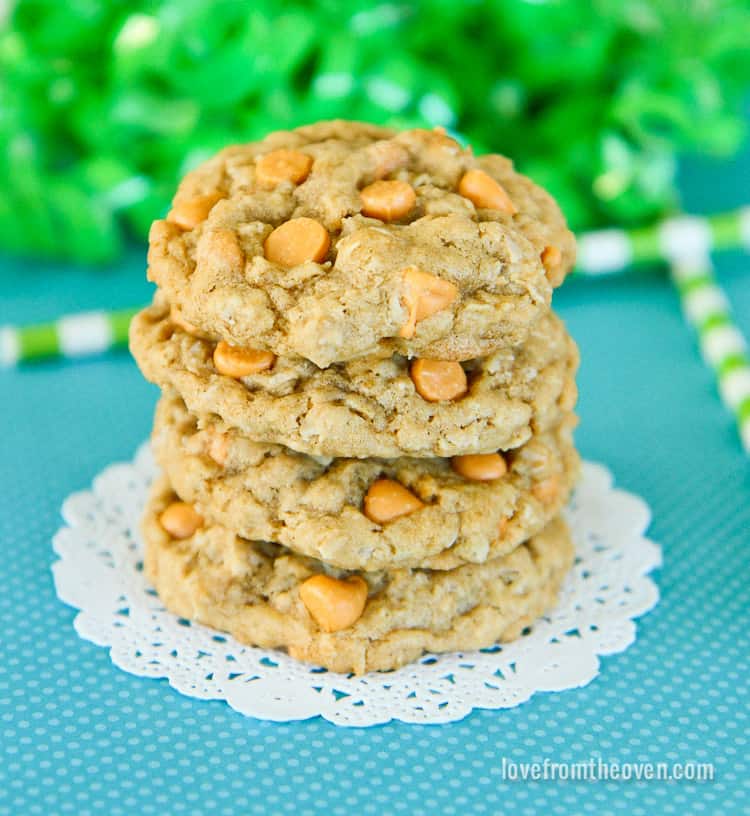 I can't believe we are 10 days away from Christmas.  This month has flown by.  Heck, this year has flown by.  That's kind of stressing me out, as it's my oldest daughter's final year in elementary school, and I just want to freeze time.  I'll be driving and think to myself, "six years and she'll be getting ready to head off to college!".  And then I'll darn near need to pull over, breathe into a paper bag and find a drive thru where I can get an ice cream cone to help ease my panic of her growing up.  I know, that's six years away, but it was totally January 15 minutes ago, so I think it's justified panic.
So back to baking for the holidays that clearly will be over in the blink of an eye.   These are a nice change to all the chocolate that ends up on cookie and goody trays.  Don't get me wrong, I'm all about all that chocolate, but I like to have a few different flavors to enjoy, and butterscotch is like this delicious flavor that I forget about most of the time.  Well, not all of the time, I do use it in my butterscotch banana muffin recipe.   If you love butterscotch, MAKE THESE MUFFINS.  Yes, I'm yelling. They are SO good.  It's like eating cookies for breakfast, but they are made with whole grains, bananas, Greek yogurt, so they are breakfast approved in my book.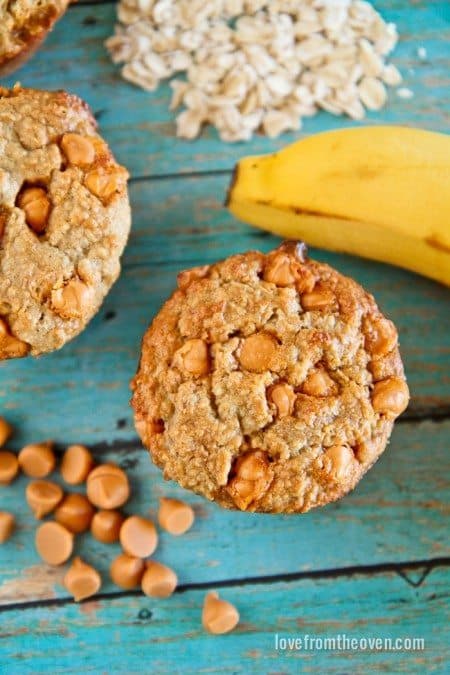 Okay, back to the oatmeal scotchies.  You know the drill.  Really no different than making chocolate chip cookies, and truth be told you can divide your dough in half before you add the chips, and make half a batch of butterscotch and half a batch of chocolate chip with them.  Sometimes it's easier for me to just double a batch of cookie dough and do that, only making one mess, versus making two totally separate batches of almost the exact same cookie recipe.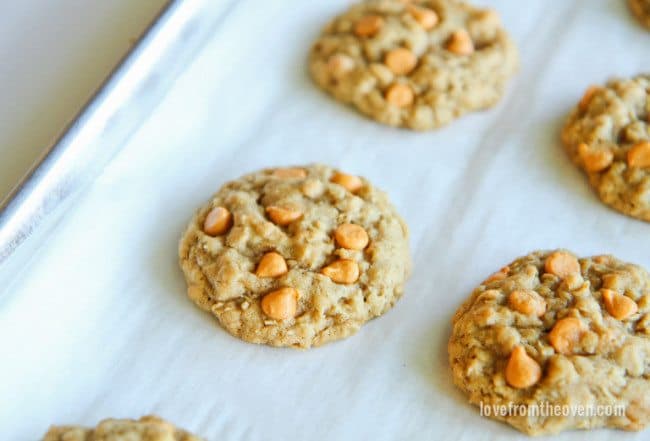 Okay, let's  make some cookies!
Ingredients
1 cup butter, softened
1 cup packed brown sugar (dark or light, though this is a great one for dark)
1/2 cup white sugar
2 eggs
2 tsp vanilla extract
1 3/4 cup all purpose flour
1/2 tsp cinnamon (if you like a lot of cinnamon, you can go to 1 tsp)
1 tsp baking soda
1/2 tsp salt
3 cups quick cook oats
1 and 1/2 cup butterscotch chips
Instructions
Note - if you have time to chill your dough after making, prior to baking, for at least an hour, that's great. If not your cookies will still be great, but chilling the dough up to 24 hours before baking is always a great option, just store tightly covered in the fridge after it's all mixed, up!
Preheat oven to 325 degrees F.
In a large bowl, cream together butter and sugars until light and fluffy, at least 2-3 minutes, using a stand mixer or electric mixer.
Beat in eggs and vanilla. Mix until well combined.
In a separate bowl, combine flour, baking soda, salt, cinnamon and oats. Stir until well mixed.
Combine the dry mixture, with the wet mixture, and stir until just combined. Fold in butterscotch chips.
Line baking sheets with parchment paper or a silicone baking mat. Using a large cookie scoop, drop scoopfuls of dough onto baking sheet, at least 2" apart.
Bake for approximately 10 minutes, remove from oven and allow cookies to cool on sheets for at least five minutes or longer. Transfer to a wire rack to allow to cool completely. Store in an airtight container. Enjoy!
https://www.lovefromtheoven.com/oatmeal-scotchies/
Love these cookies!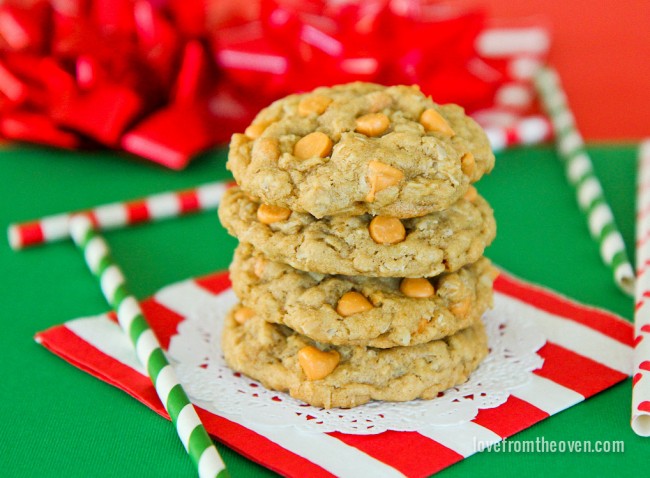 If you want to make the chocolate chip version, you can find that recipe here.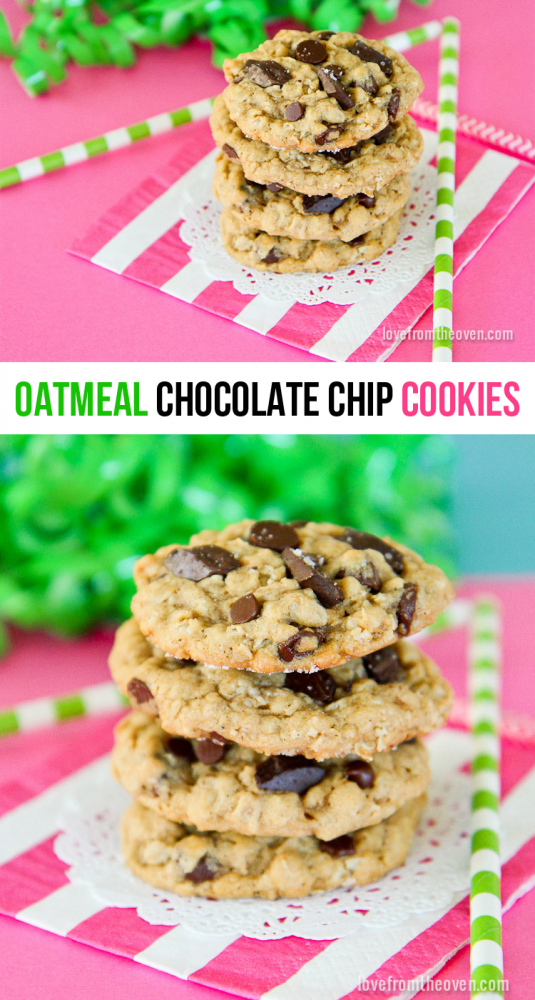 I hope you enjoy these cookies.  I have so many great cookie recipes for your holiday baking!  You can check them all out in this post.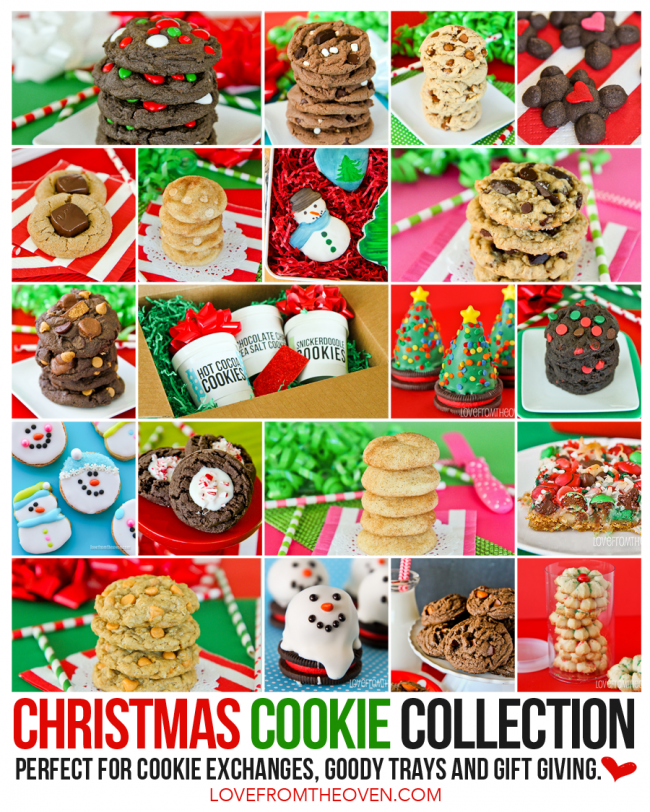 Now I just need to hurry up and bake more cookies before the holidays are over and my kids are graduating from high school.  Time, SLOW DOWN!