Your dogs will love these easy Peanut Butter Dog Treats. Made with four simple ingredients, these quick homemade peanut butter dog treats are a great way to show your pooch a little extra love.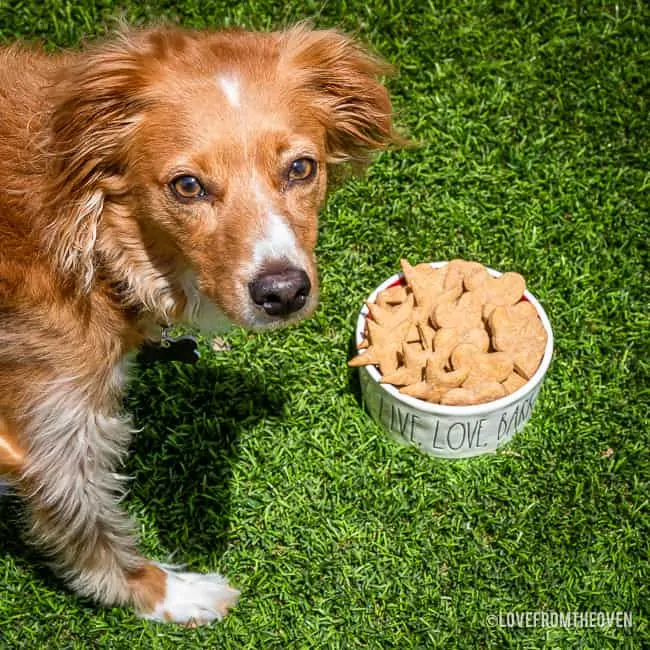 Reasons To Make These Dog Treats:
You want to spoil your furry friend with a delicious snack.
Dogs love these tasty treats, made with simple ingredients you likely have on hand.
Since you enjoy baking for yourself, and want to bake for Fido as well.
It's reassuring to know exactly what ingredients your dog is eating.
They are quick and simple to make, very similar to making sugar cookies.
Make Your Own Dog Treats
Dogs and I get each other. They love food. I love food. I love sharing food. They love it when I share food with them.
Really, it's a match made in heaven. While doggies may not be able to enjoy the treats I feed my human family members, they never feel left out around here. Instead of store bought treats, which are often full of additives and fillers, I love feeding my pup Pupcakes Dog Cupcakes, Pumpkin Dog Treats, Homemade Dog Treats and Frozen Blueberry Dog Treats.
My dog Loki, who you see above, gives these DIY dog treats two, or maybe more like four, paws up!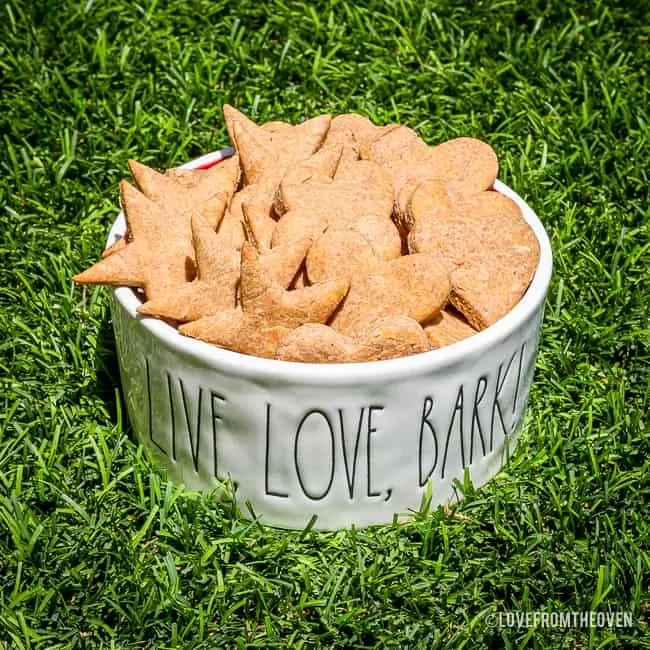 I feel great knowing exactly what's in the treats my dog's enjoying. AND every dog I've ever fed these treats has gone absolutely nuts for them! We all know there's nothing better than a happy dog!
These Homemade Peanut Butter Dog Treats have been a big hit with the dogs in my life. They're easy enough for kids to help with and take almost no time in the oven. Made with real peanut butter and eggs, they're every dogs favorite snack.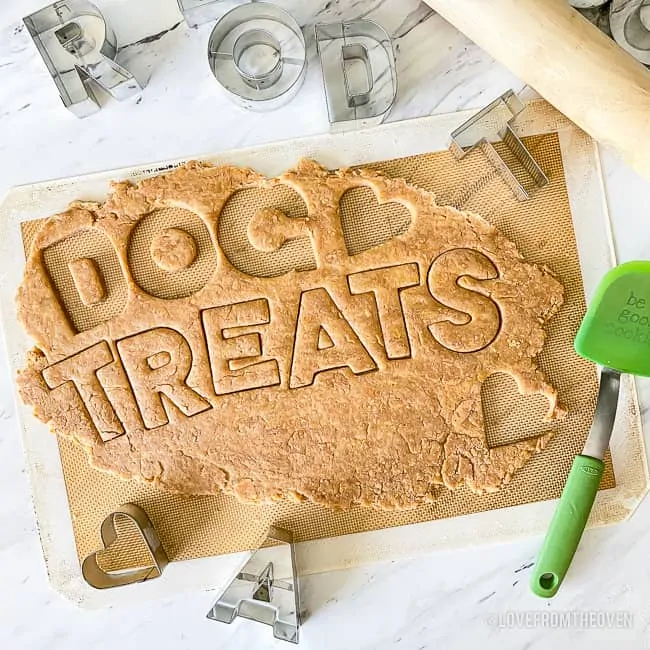 Homemade Peanut Butter Dog Treats
All you need to make easy DIY dog treats is peanut butter, eggs, flour and water! Mix everything together in a big bowl to form a dough, roll it out and use your favorite cookie cutters to cut the "cookies" into shapes.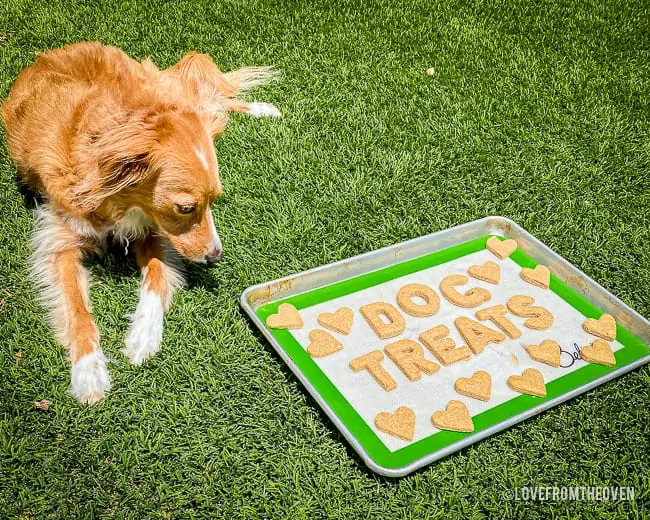 Bake the treats for a few minutes and let them cool before giving your dog a taste! You can make these treats from start to finish in less time than it would take for you to run to the store and buy a box of dog bones.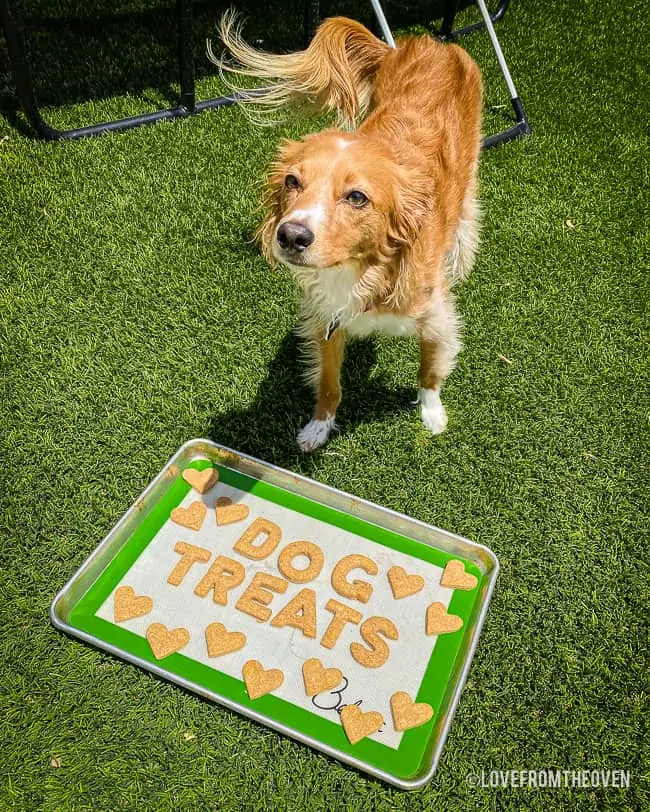 Tips For Making Dog Treats From Scratch
Peanut Butter Dog Treat Ingredients
Whole wheat flour or white whole wheat flour are the healthiest options for your dog for this recipe. If you don't have any, all purpose flour will do–just make sure to feed these to your dog in moderation (as with any treat).
Make sure to use natural peanut butter here! Peanut butters without any added sugar or stabilizers are best. Some brands of peanut butter contain xylitol which is dangerous for dogs. Read ingredients labels carefully!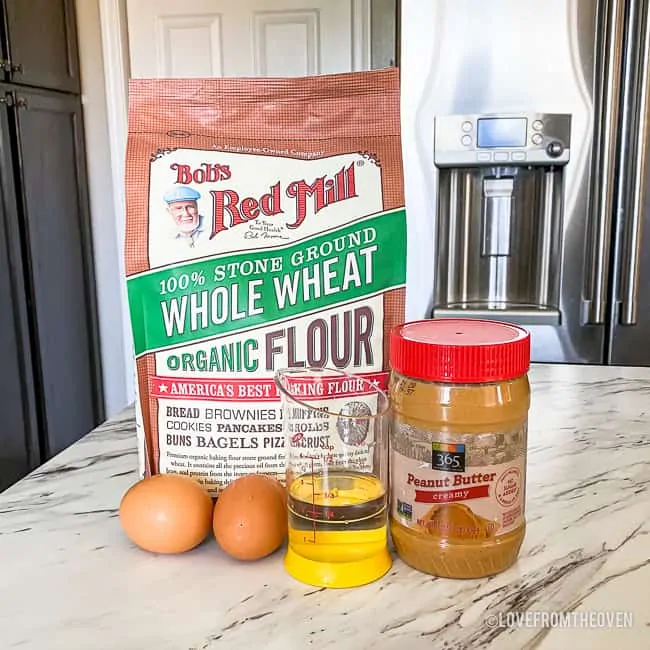 I used creamy peanut butter here which makes the treats look a smoother and easier to cut into shapes. If you only have chunky peanut butter, feel free to use it! It'll just affect the appearance a little bit, but your dog isn't going to mind.
How To Make Dog Treats
When making these peanut butter dog bones, the ingredients are simply added to a bowl and mixed. The dough is very dry. You add water, a little at a time, just until it comes together. I find it works best to really work it together with your hands, to get all the ingredients incorporated prior to rolling out the dough.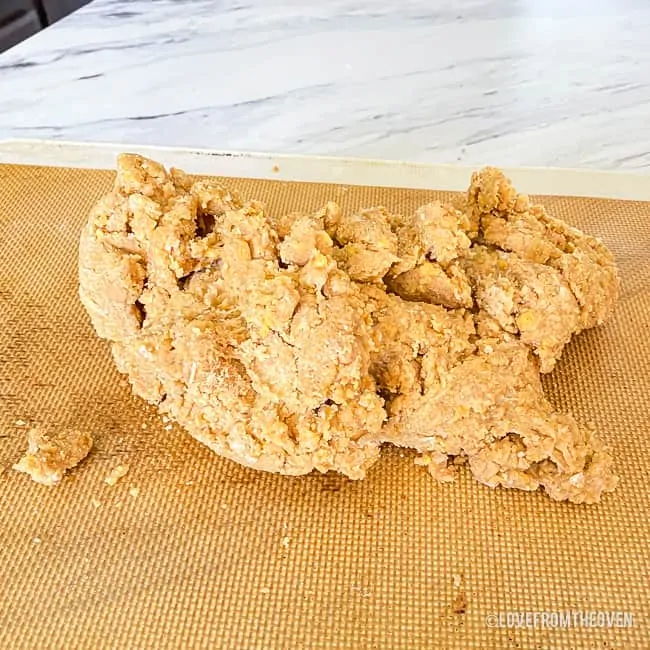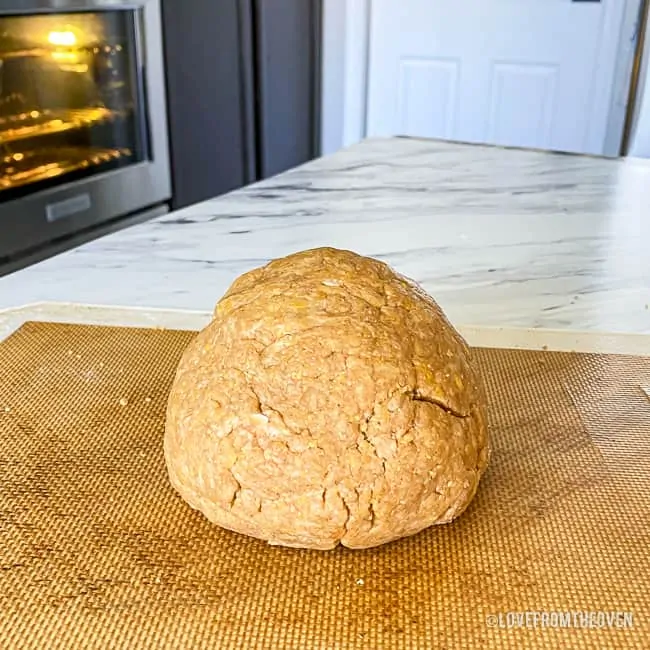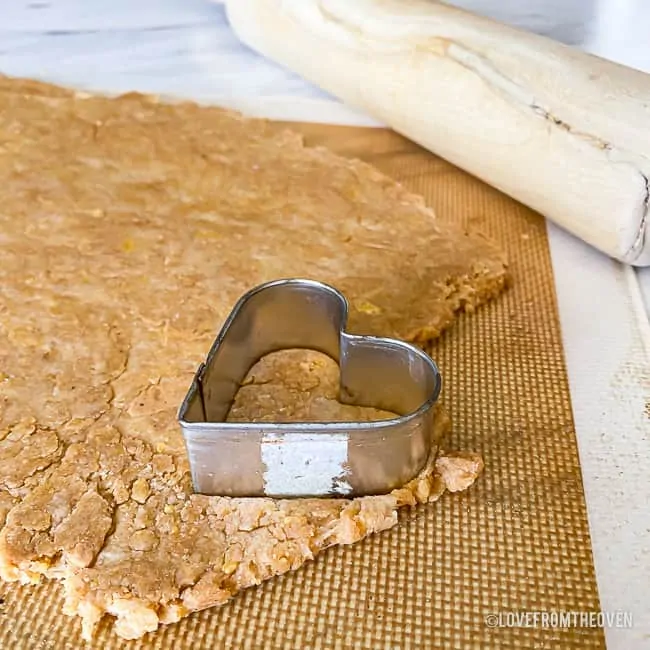 Instead of cookie cutters, you could also use a knife to cut the dough into cute shapes. Or just use a floured rimmed glass to cut your dog treats into simple circles. That said, if you have some cookie cutters, it's fun to make these treats in different shapes.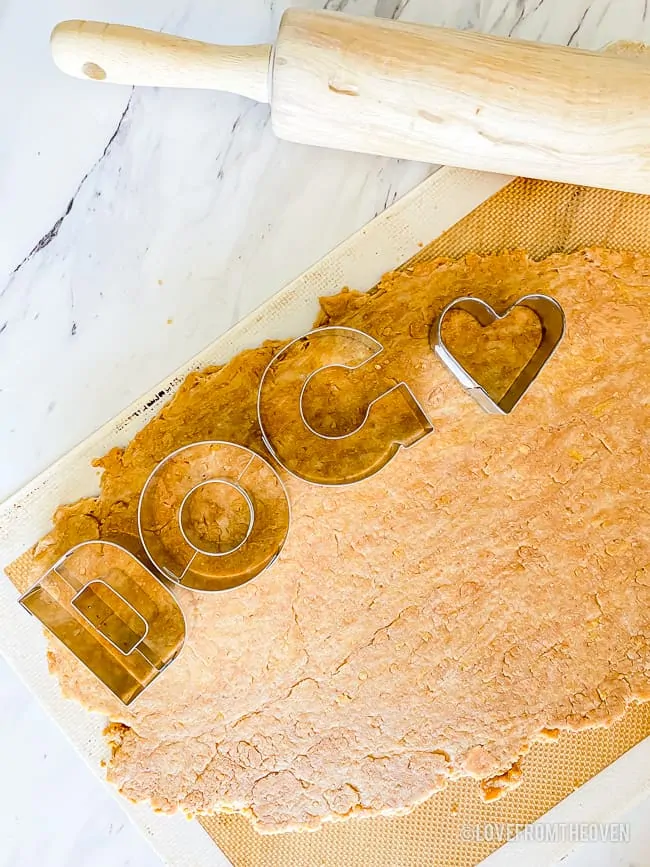 Homemade Peanut Butter Dog Treats can be stored at room temperature in a tight container or bag. You can also freeze them for longer storage–and even feed them to your dog while they're still frozen for a longer-lasting treat!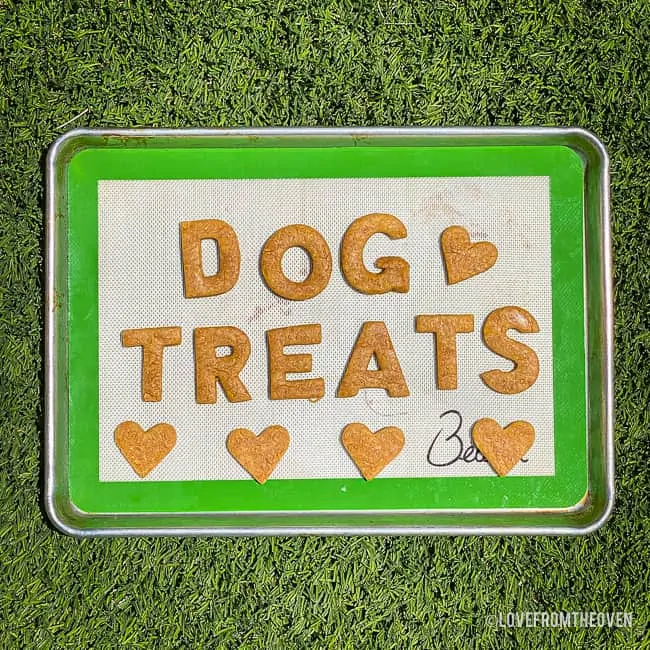 These Treats Are Easy And Your Furry Friend Will Love Them!
You're going to love how easy it is to make dog friendly treats at home! After you make these doggy cookies, you might be in the mood for something a little fancier. Spoiled Dog Cake is the way to go. Make it to celebrate your furry friend's birthday or adoption day. . . or just because! I've had hundreds of readers share with me how much they love this dog cake recipe!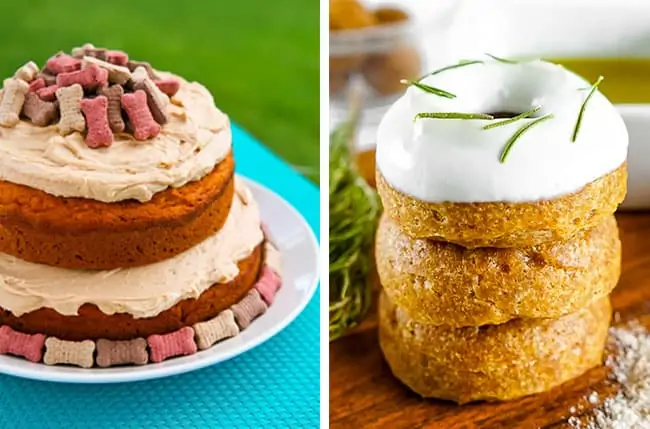 Dog donuts are also a fun treat to share with your furry friend as well!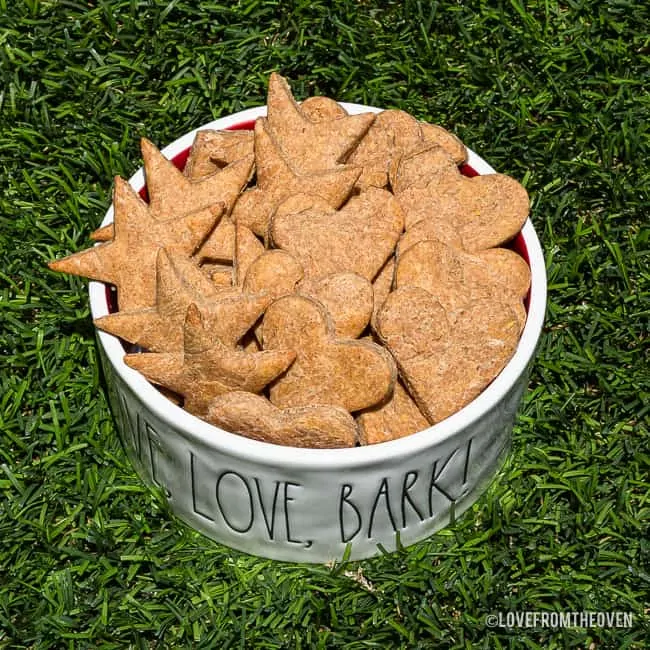 Soon, I'll be making a batch of Pumpkin Dog Treats to share with all of you and your pups as well.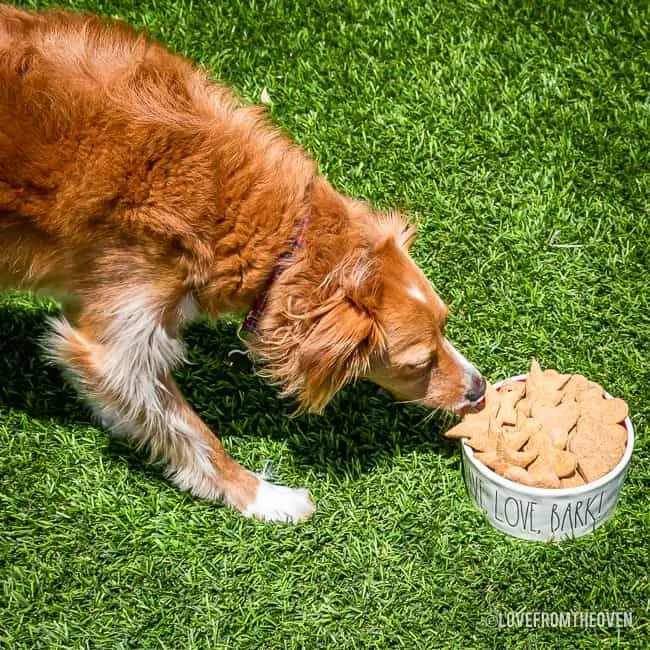 If you love this recipe, make sure to also try my Dog Cookie Recipe. I hope your doggy loves these tasty easy peanut butter treats as much as mine does. Don't forget to give that canine companion an extra ear scratch from me!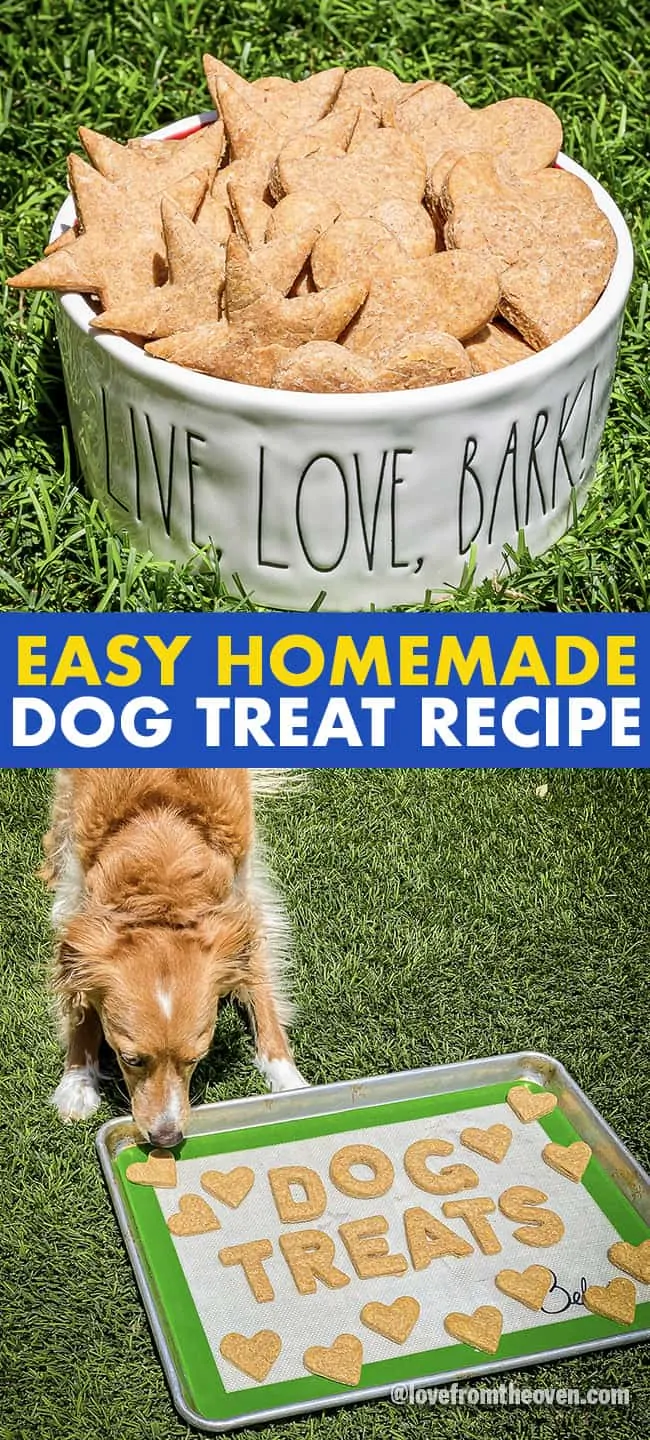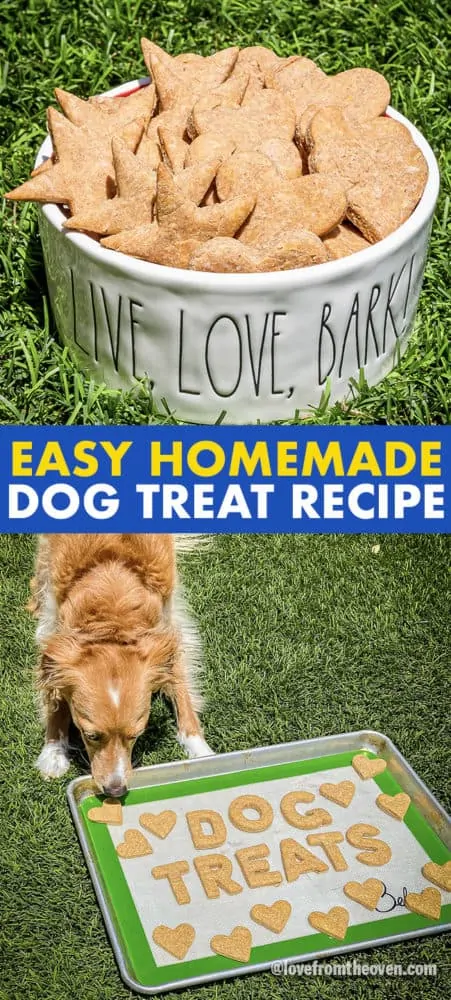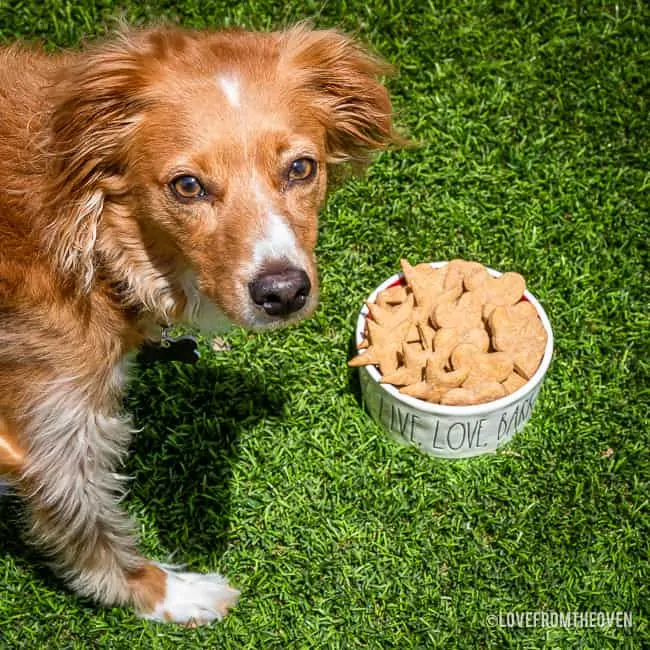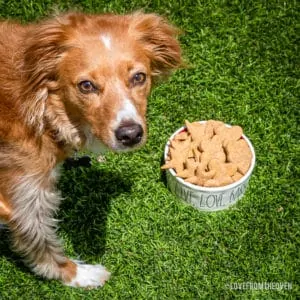 Peanut Butter Dog Treats
Easy to make treats your dog will love!
Ingredients
2

cups

flour

preferably whole wheat flour or white whole wheat flour

1/2

cup

natural peanut butter

Make sure to use peanut butter that does not contain XYLITOL (also called birch sugar)

2

eggs

1/4

cup

water
Instructions
Preheat the oven to 350 F.

Combine flour, eggs, and peanut butter in a large bowl to make a thick crumbly dough. Add water, one tablespoon at a time, until you can form the dough into a large ball.

On a clean floured surface, roll out the dough to about 1/4 inch thick. Use cookie cutters or a knife to cut into individual treats. Place the treats on a baking sheet and bake for 15 minutes. Let cool before feeding!
Notes
You may need slightly more water than stated, depending on the type of flour you use. Whole wheat flour tends to create a drier mix than all-purpose.
Recipe can be cut in half, or doubled. 
Store tightly covered. If treats will not be consumed within a few days, I recommend freezing extras to keep them fresh. Just thaw them at room temp prior to sharing with your pup.
Nutrition
Calories:
50
kcal
|
Carbohydrates:
6
g
|
Protein:
2
g
|
Fat:
2
g
|
Saturated Fat:
1
g
|
Cholesterol:
9
mg
|
Sodium:
20
mg
|
Potassium:
34
mg
|
Fiber:
1
g
|
Sugar:
1
g
|
Vitamin A:
13
IU
|
Calcium:
4
mg
|
Iron:
1
mg
Disclaimer
Nutrition information is estimated as a courtesy. If using for medical purposes, please verify information using your own nutritional calculator. Percent Daily Values are based on a 2000 calorie diet.
Before we wrap up, I wanted to share that my friend Lynne over at 365 Days Of Baking has a great recipe for Homemade Dog Pill Pockets. Bookmark it in case you need it. Definitely makes it easier to give our furry friends their meds when needed.