Some people say it's too soon for pumpkin. I say have a cookie. Or two cookies. Two pumpkin caramel cookies.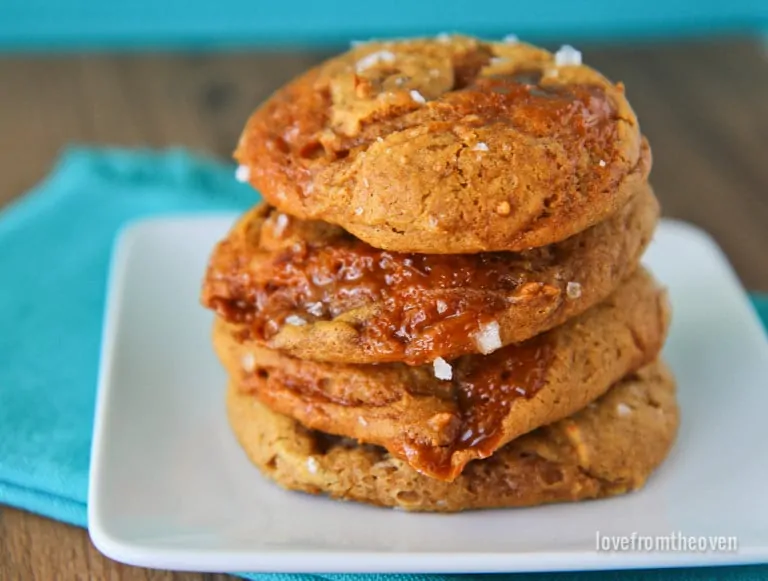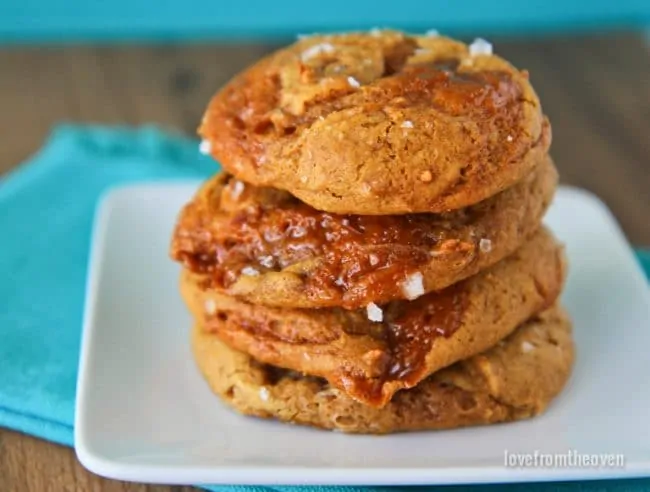 I know some bloggers have been very vocal with the, "stop with the pumpkin, it's AUGUST!" song and dance, but personally I would happily eat pumpkin year round. It's like the greatest vegetable to ever meet baked goods. And the fact of the matter is I live in Phoenix. Fall as some of you know it may never arrive here. It's been 117 degrees. We've been breaking heat records, which is not something to brag about in Phoenix in August. It's miserable, and no, it's not a dry heat in August (hello monsoon season!) so don't even go there. And did I mention 117??? I think the sun itself is probably like 128 degrees. Sometimes a girl just has to take matters into her own hands and make it feel like fall, even if it will still be in the triple digits for at least two more months. So just let me have my pumpkin, alright?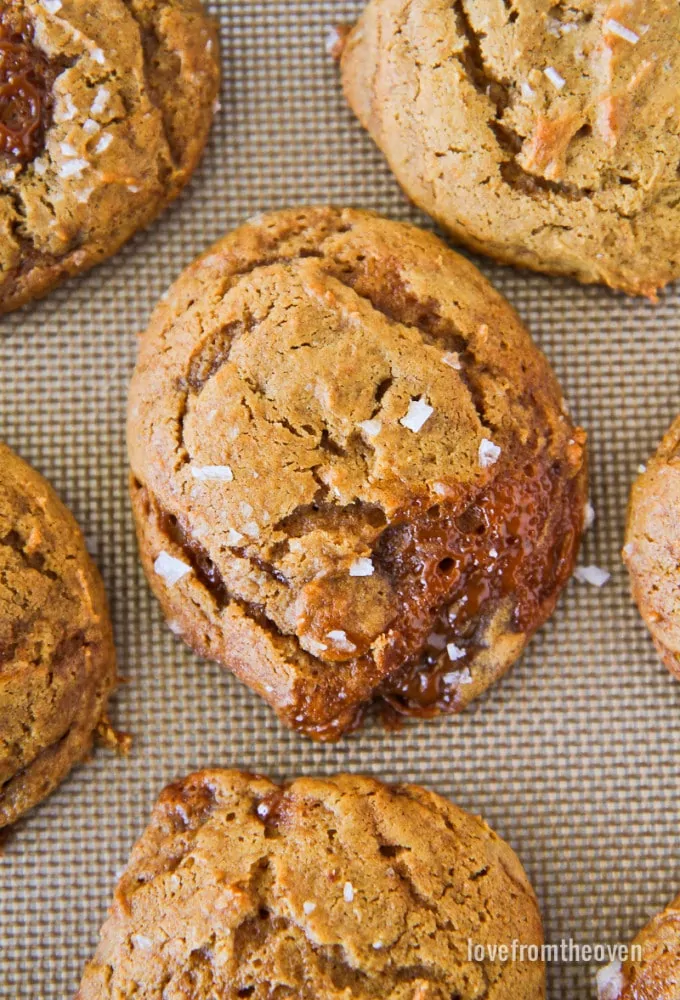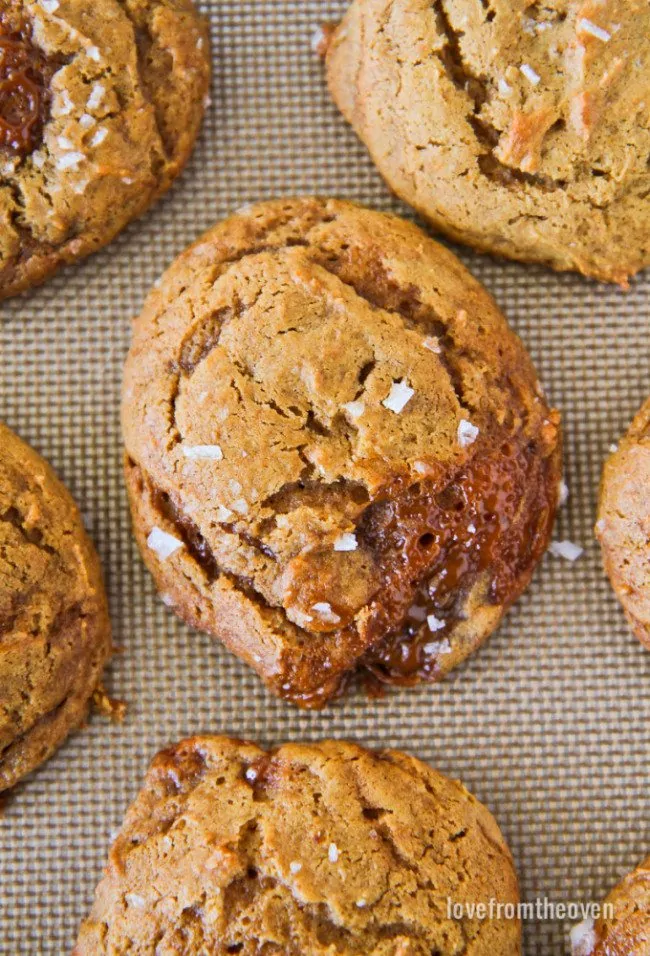 And you know what's even better than a pumpkin cookie? A caramel pumpkin cookie topped with sea salt. It's all kinds of awesome. I don't care what time of year it is, that's some GOOD stuff right there.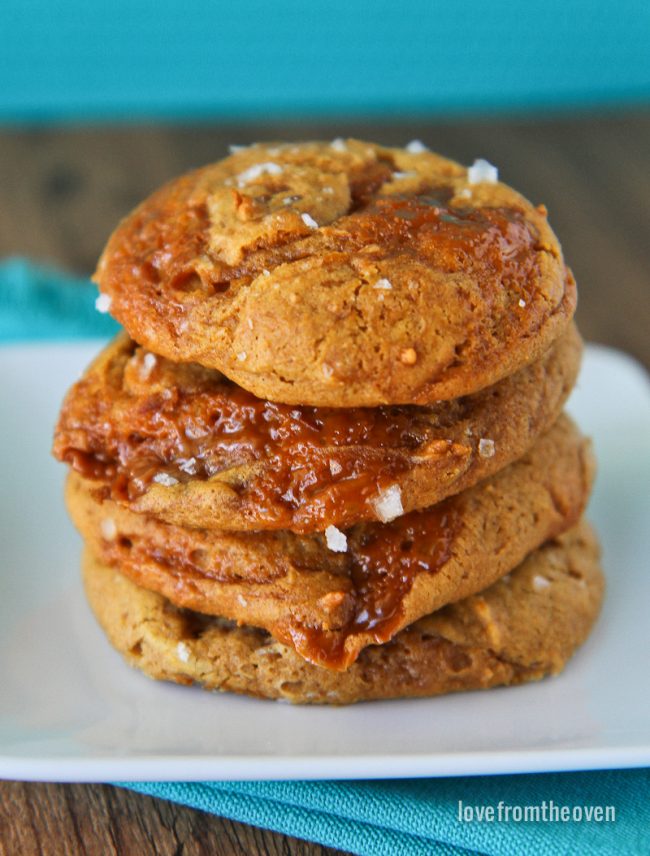 I adapted this recipe from The Crepes of Wrath. I will say, they are still a bit of a cakey cookie, as so many with pumpkin are. They are so delicious, but they are a bit sticky (hello, caramel!). You can't exactly throw them into a cookie jar together or they will become one gigantic cookie, which is not an entirely bad thing, depending on your feelings about large cookie consumption. But the flavor on these. Oh my. And you can't skimp on the sea salt, it's really what brings this cookie all together and keeps it from being cloyingly sweet. It's like pumpkin perfection.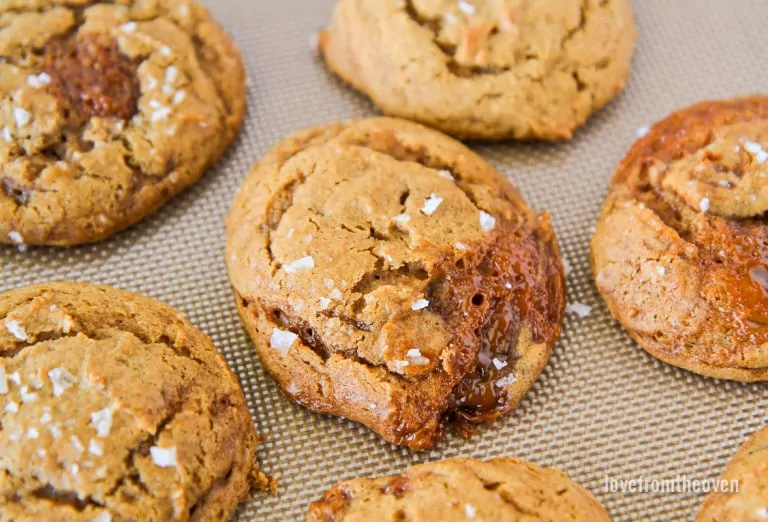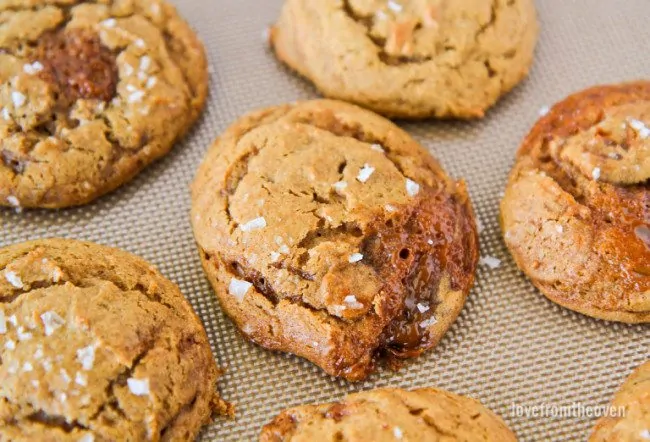 PUMPKIN CARAMEL COOKIES RECIPE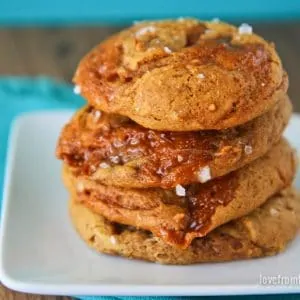 Caramel Pumpkin Cookies
Ingredients
1/2

cup

butter

softened

1/2

cup

light brown sugar

tightly packed

3/4

sugar

1

egg

3/4

heaping up of canned pumpkin puree

not pumpkin pie mix!

2

tsp

vanilla extract

2 1/2

cups

all purpose flour

2

tsp

baking powder

2

tsp

baking soda

1/2

tsp

cornstartch

2

tsp

cinnamon

1/2

tsp

pumpkin pie spice

1/2

tsp

salt

1/2

cup

caramel sauce

Sea Salt for tops
Instructions
Preheat oven to 350 degrees.

With an electric mixer combine butter, brown sugar and sugar and beat until light and creamy. Add in egg and mix until combined. Add in vanilla and pumpkin and mix until well combined.

In a separate bowl combine flour, baking powder, baking soda, cornstarch, cinnamon, pumpkin pie spice and salt. Mix until well combined.

Combine wet and dry ingredients until just combined. Do not over mix. Add in caramel sauce and stir gently. You do not want to over mix or the caramel sauce will just absorb into the dough, you want more of a swirl of caramel sauce through your cookie dough.

Scoop your cookie dough using a cookie scoop onto baking sheets lined with a Silpat or parchment paper (don't skip this step!). Cookies should be about 2" apart from each other. Sprinkle the tops with sea salt. Bake for approximately 11-13 minutes. Remove from oven and allow to cool fully on baking sheet prior to removing. Repeat with remaining cookie batter.

Cookies are best when stored individually wrapped or in a container where they are not layered on top of each other.
Notes
Slightly adapted from Crepes of Wrath
Disclaimer
Nutrition information is estimated as a courtesy. If using for medical purposes, please verify information using your own nutritional calculator. Percent Daily Values are based on a 2000 calorie diet.
Check out all of the cookie recipes on this site!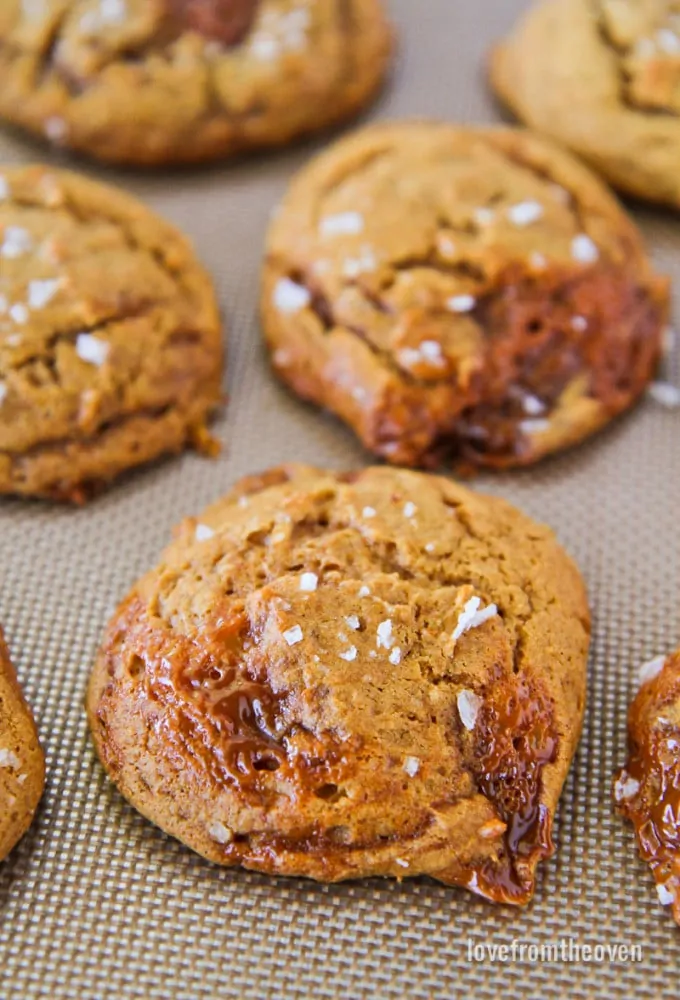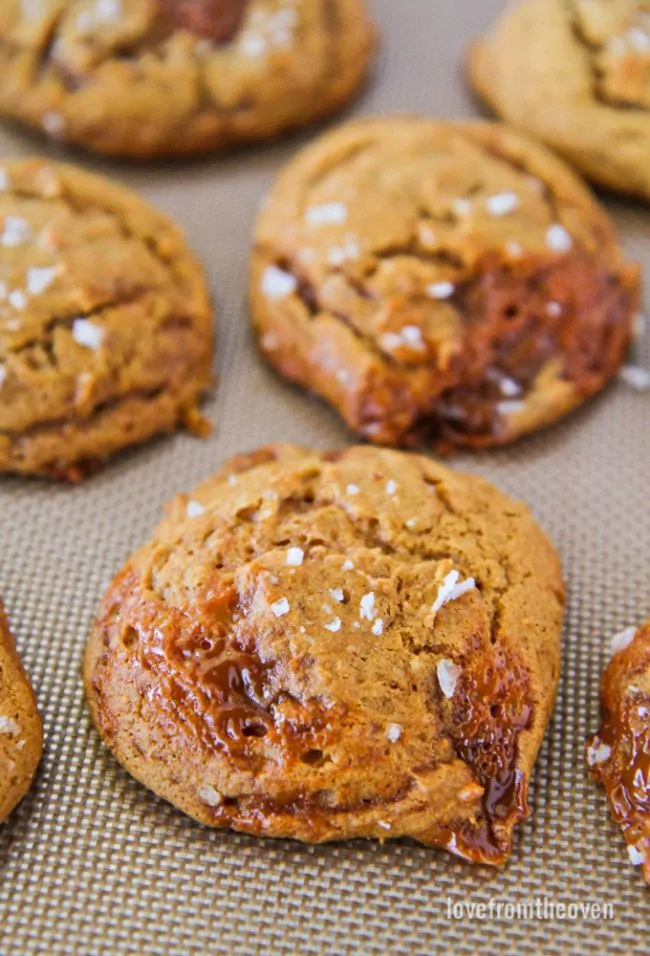 So if you are of the, "it's not fall, it's not fall!" mindset then fine, pin this recipe and come back to it in November. However if you are like me, proceed to your kitchen, open up a can of pumpkin and get to work. 🙂  And if pumpkin and caramel is your thing, you do NOT want to miss this cupcake recipe.