This hearty Sausage Potato Soup is a creamy, delicious and filling meal for those chilly winter nights! Potato filled soup, with the addition of ground sausage, is a solid comfort food classic. Served with your favorite toppings, you'll get rave reviews when this recipe is on the menu.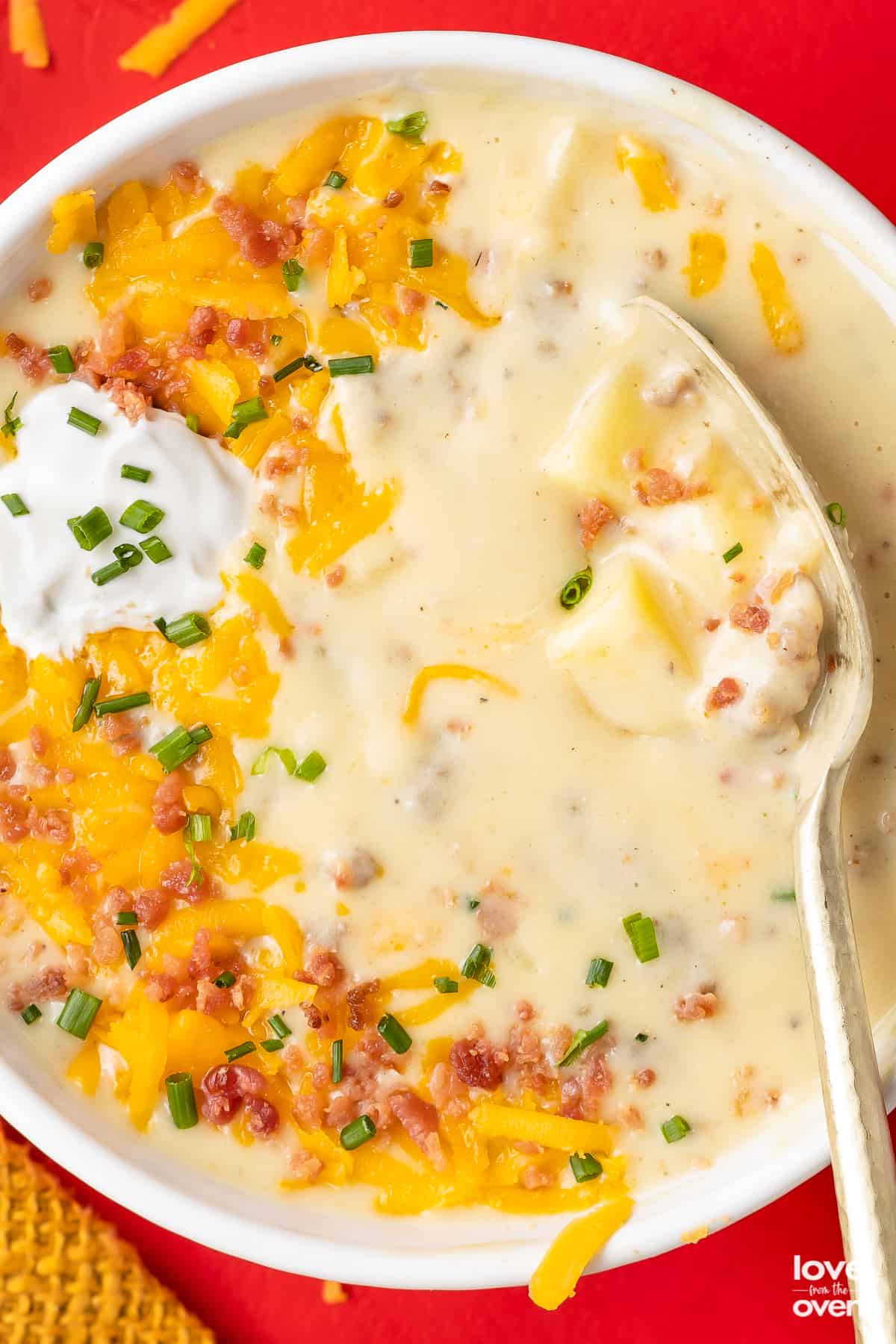 Reasons You'll Love This Recipe
Comfort Food – Whether it's a rainy, cold day, or a night where you just need a warm hug in the shape of some food, this recipe is for you. 
Sausage, Or Not – While we love the addition of sausage to this potato soup, you can absolutely make it without if you don't have it on hand, or just prefer to skip the sausage.
Creamy Soups – This creamy soup is hearty, filling and just hits the spot. 
Potato Lovers  – Does anyone else accidentally bulk buy potatoes and end up with more than they need? This is a great recipe that'll use those bad boys up. 
Common Ingredients – This recipe uses very simple ingredients. AKA you don't need anything fancy shmancy to make this! 
Toppings For Days – You can garnish this soup with so many of your favorite toppings! The possibilities are endless.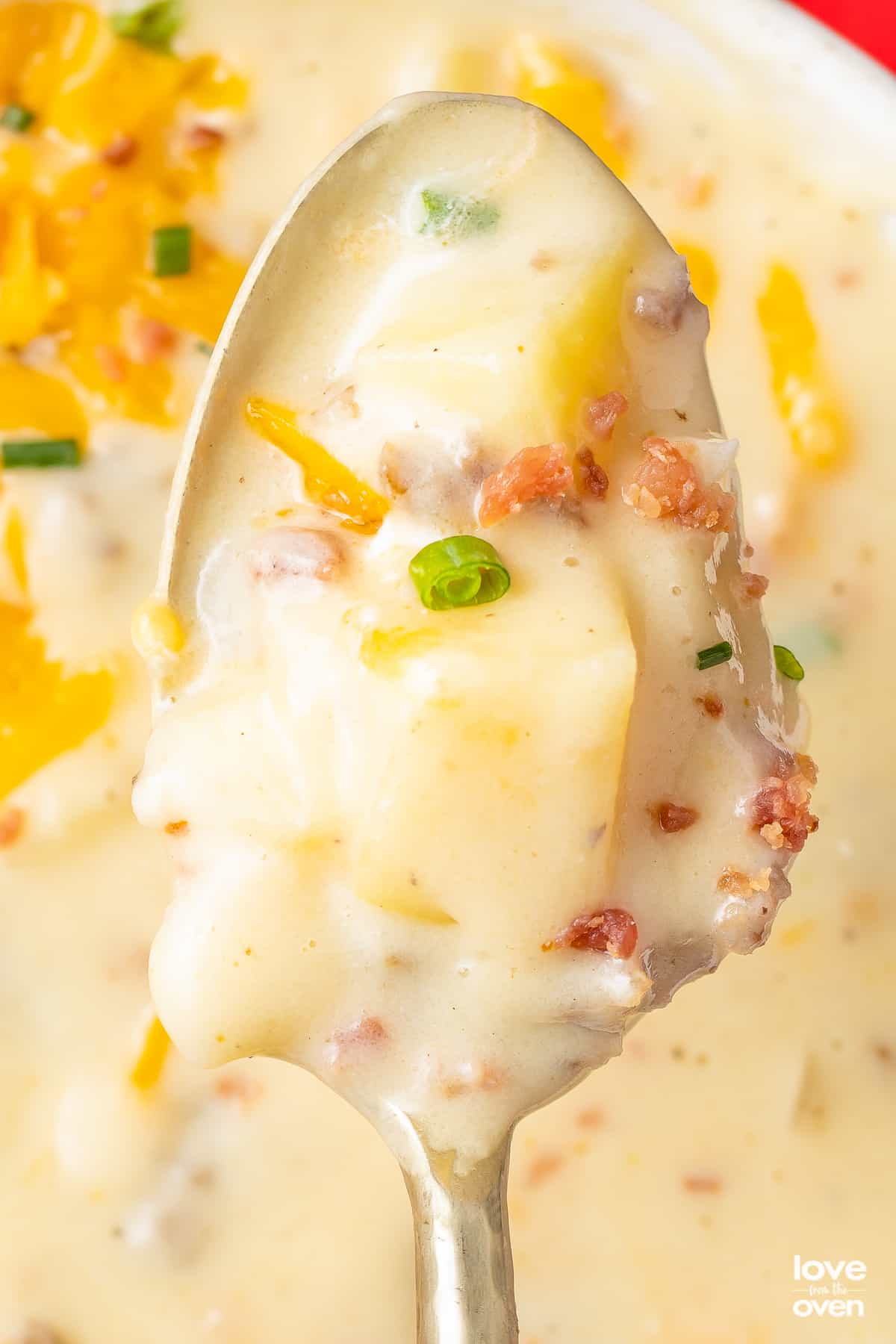 Nothing will fill your heart, soul, and tummy up better than this sausage potato soup recipe. It seems illegal how delicious AND easy this potato soup is. Not only will you have dinner on the table in no time, your friends and family will be happy and satisfied, and you'll have minimal dishes to clean up at the end of the night. You've gotta try this now!
Ingredients and Substitutions
Recipe Discussion
Let's discuss how to make this recipe, as well as the ingredients that are needed. Please take note that below you will find discussion, expert tips, and answers to frequently asked questions about this recipe to help you recreate it in your kitchen. If you *just* want the recipe itself, scroll down. The full printable recipe itself, with exact measurements and instructions, is found at the bottom of this page.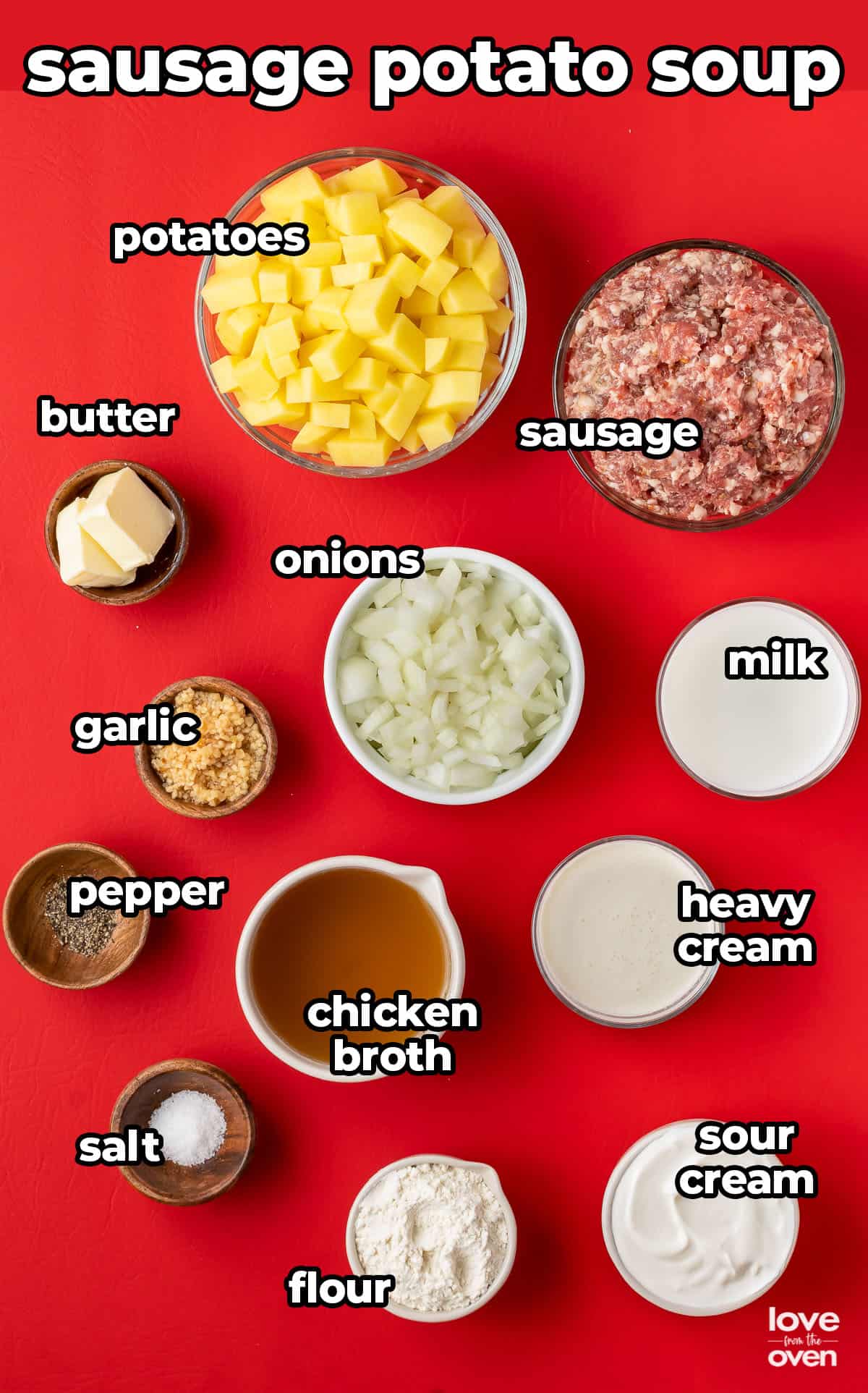 Sausage – The best sausage to use is ground Italian sausage; mild or spicy. If you don't have that, breakfast sausage actually works very well in this recipe as well.
Butter – You can use real butter or margarine, whatever floats your boat.
Gold Potatoes – 2 and ½ pounds of potatoes is about 6 large potatoes. You'll want the potatoes to be peeled and diced into 1 inch pieces. You won't want any pieces bigger than that otherwise the potatoes won't be the consistency you want in the soup.
Chicken Broth – Chicken broth works the best in this recipe. The soup will have a very different taste if you substitute it. If you need to substitute this ingredient, I would recommend using vegetable broth, not beef broth.
Milk – Just use whatever milk you have on hand; 2%, whole milk, etc.
Heavy Cream – Heavy cream is the same thing as heavy whipping cream. Just use whatever you find first at the grocery store!
Flour – You'll need a bit of flour to make a roux for the soup so it thickens up and becomes nice and creamy.
Sour Cream – This ingredient adds so much texture and makes this soup so creamy! Don't skip out on this one.
Toppings – The great thing about this soup is that you can add any and every topping you want. Some great choices are green onions, chives, parsley, bacon bits, shredded cheese, sour cream and anything else you can think of.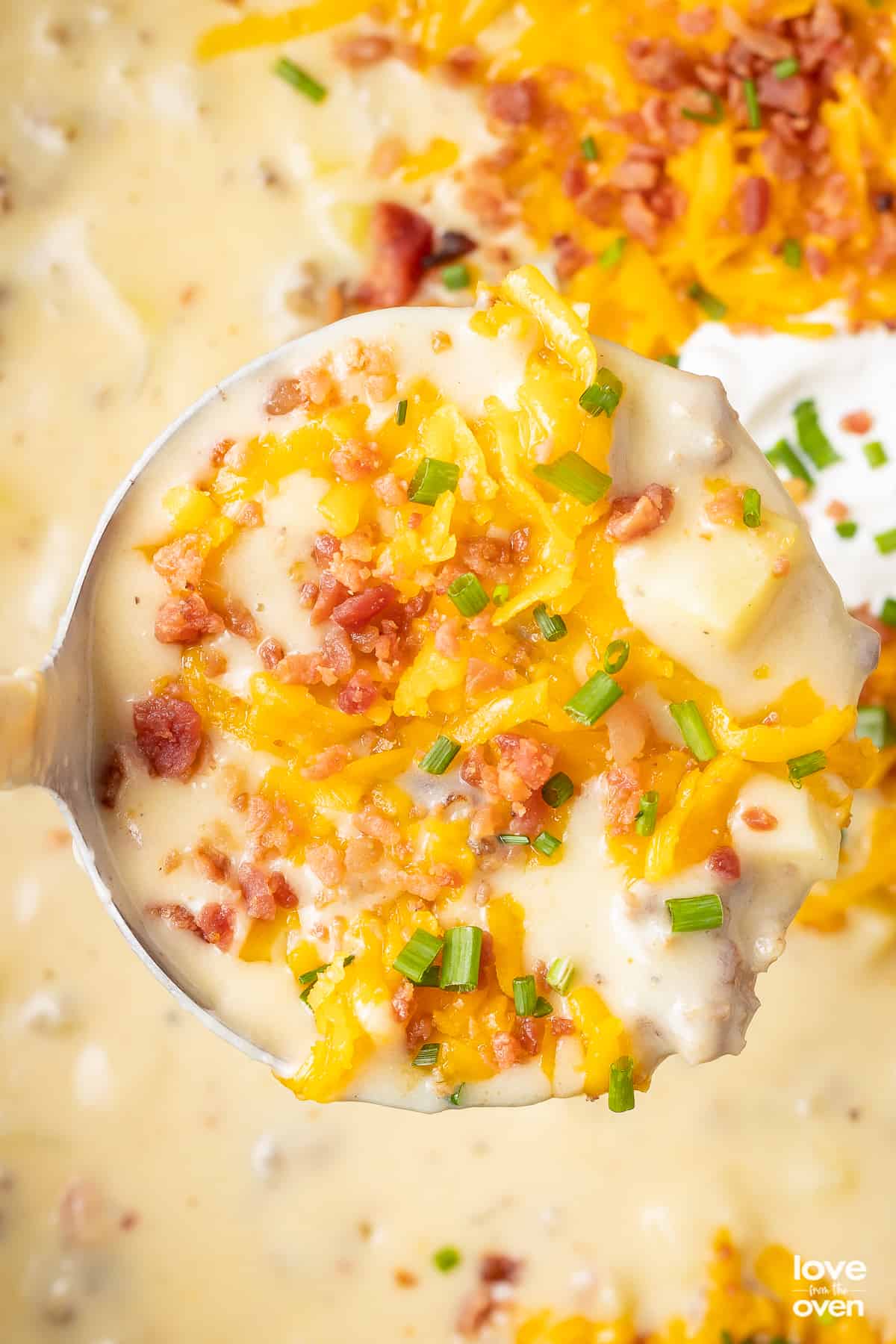 How To Make Sausage Potato Soup
Start by heating a large dutch oven or pot over medium heat and add the ground sausage. Cook the sausage until it turns brown.
Take the cooked sausage out and set it off to the side but leave the grease in the pot. Add the butter and diced onions to the grease and continue to let that cook down over medium heat. Once the onions have softened a bit add the garlic.
Pour the flour over the butter and aromatics and whisk it together until it makes a smooth paste.
Once smooth, add the chicken broth to the pot and stir.
Next, add milk, heavy cream, salt and black pepper to the soup. Stir that together before adding the diced potatoes. Stir and let the potatoes cook down until tender which means you can pierce a fork through it with ease. This should take about 10 minutes.
Once the potatoes are cooked, turn the heat down until the soup reaches a simmer. Spoon out about half the soup that is in the pot and add it to a blender (about 5 cups). Blend the soup together for a few seconds before adding it back into the pot. If you would prefer, you can use an immersion blender. Add sour cream and the sausage back to the soup and stir. Let the soup simmer for 15 minutes before serving hot with some of your favorite toppings.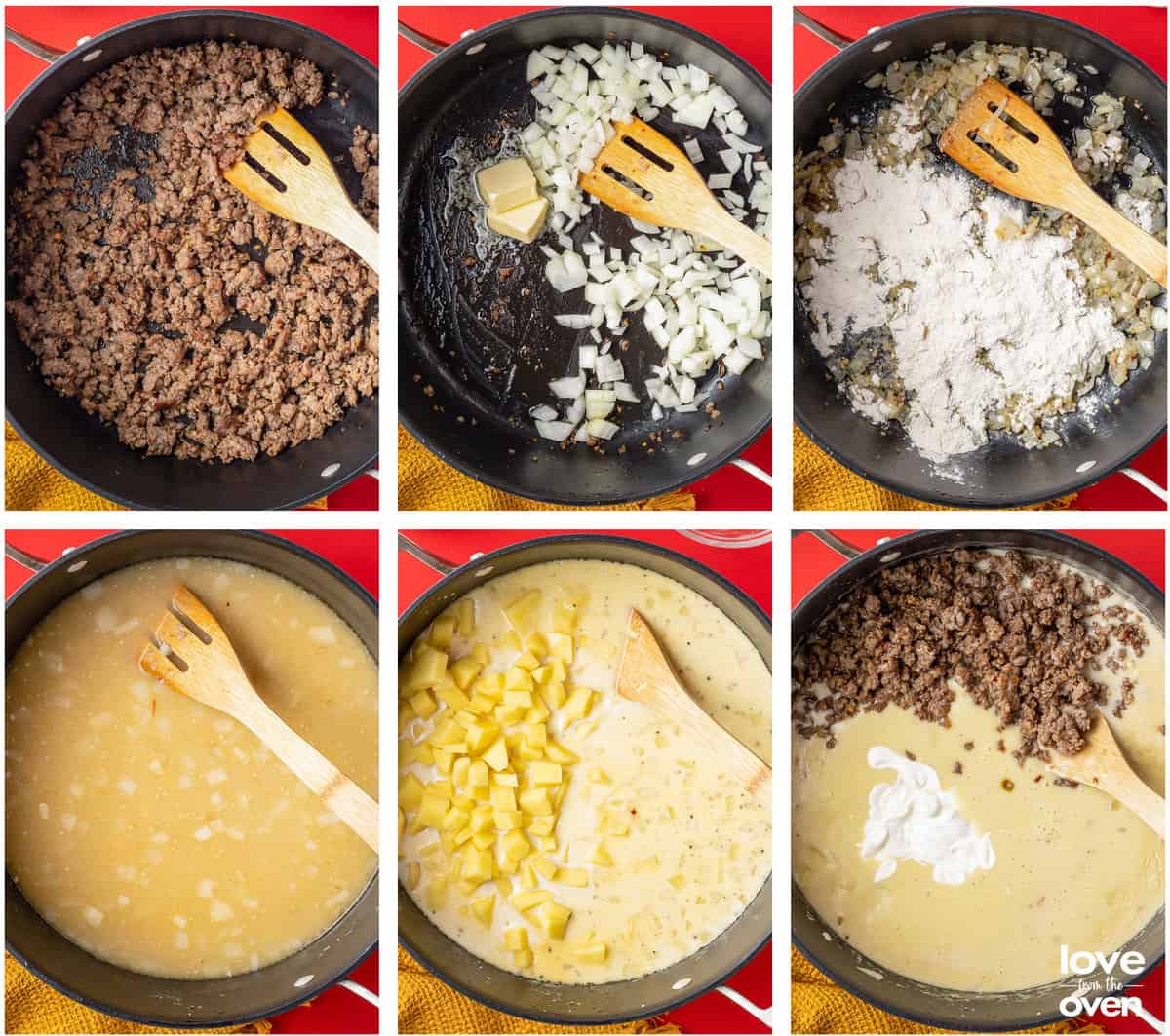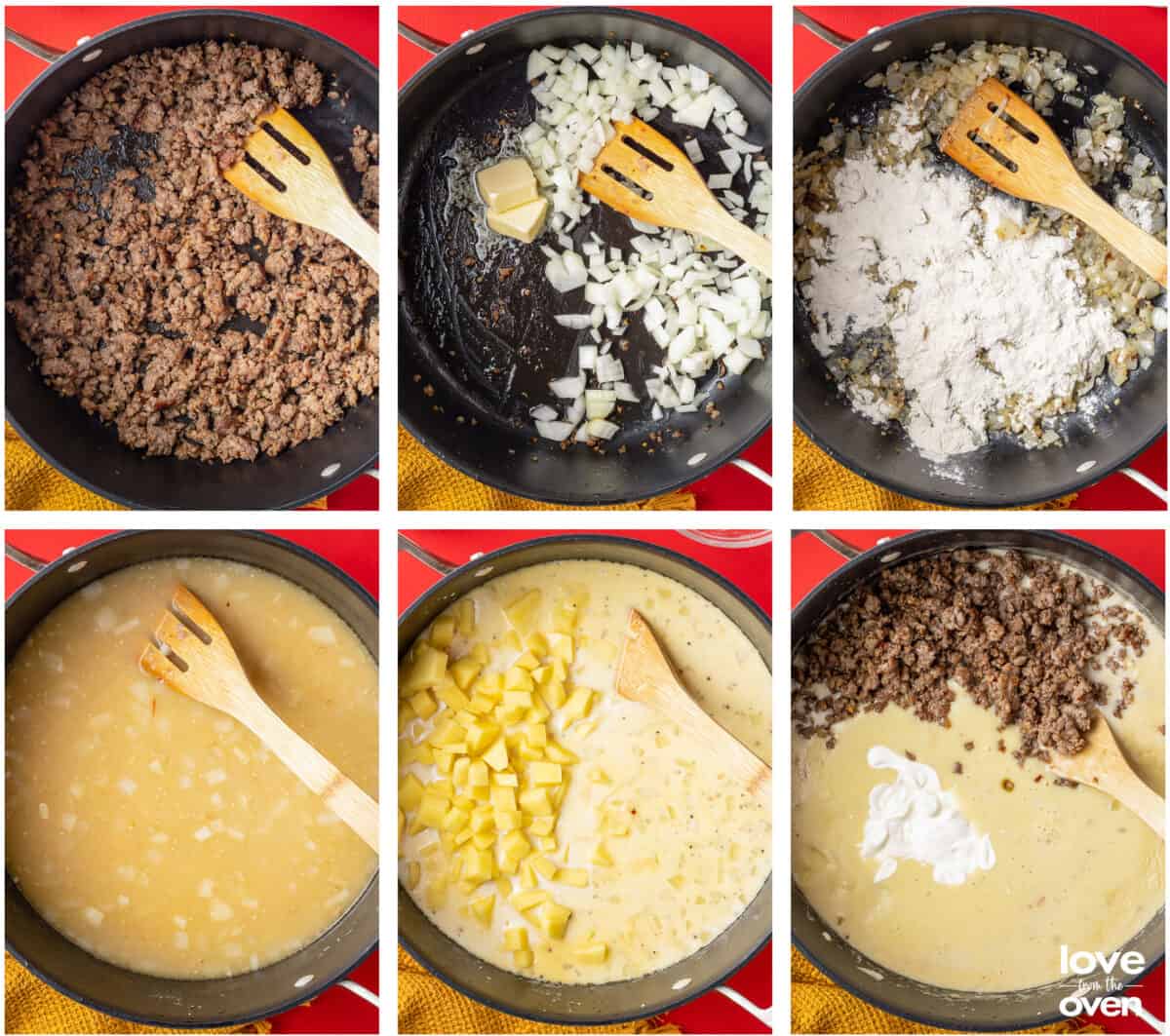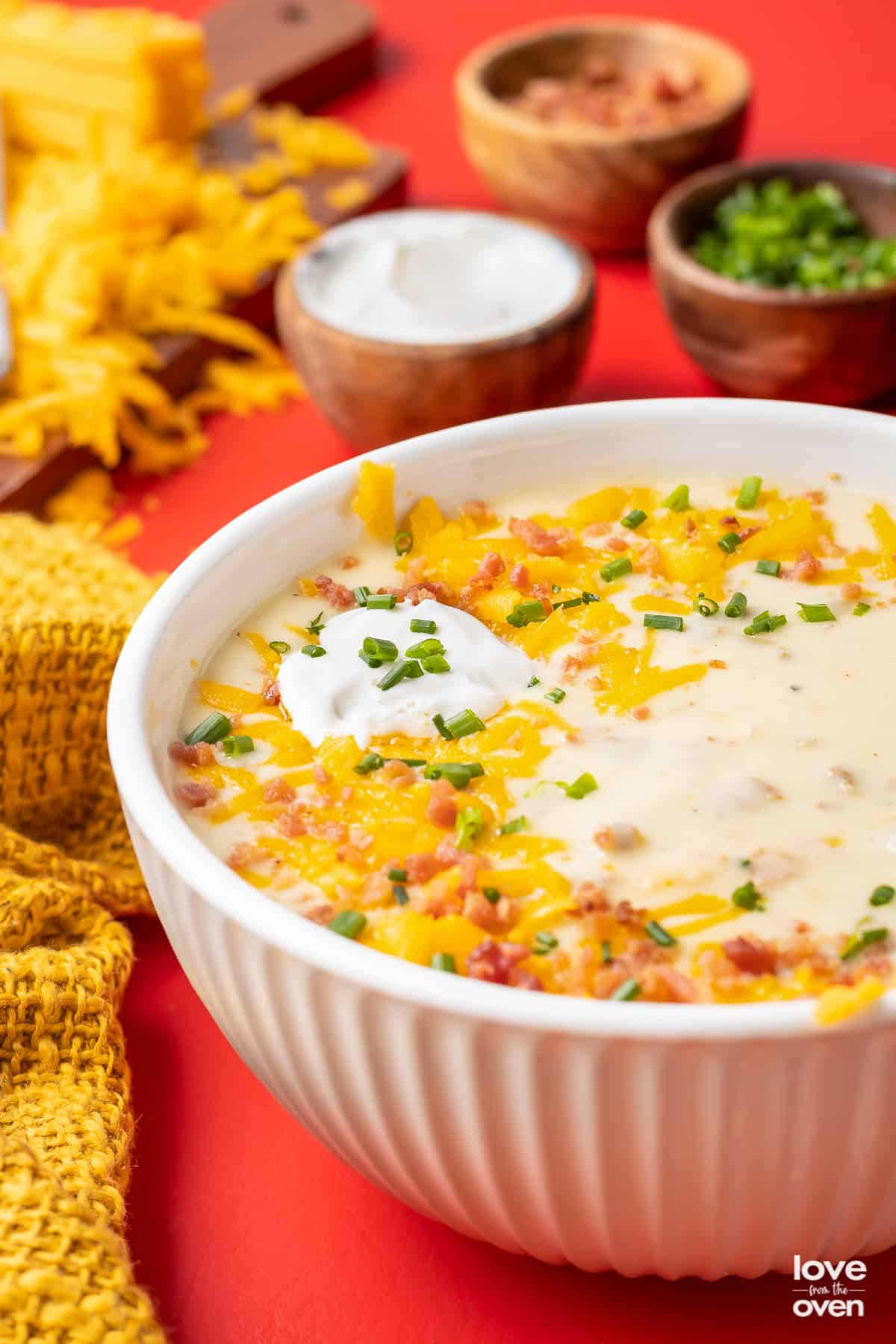 Recipe Tips and Advice
Storage – Store the leftover soup in an airtight container in the fridge for about 3-4 days. This recipe makes a lot of soup so you will definitely have leftovers. If you don't want to make a ton of soup, this recipe can be cut in half very easily.
Equipment – For this recipe you will need a large dutch oven or pot, a spatula or something to stir with, a whisk, and a blender or immersion blender. If you use an immersion blender, be sure to not blend the entire soup, you still want a few chunks of potatoes in the final product.
Soup Like a Pro – Investing in a dutch oven to make a soup like this is the way to go. The cast iron components retain heat and give you and even cooking temperature throughout the entire process.
Also, If you're not a fan of sausage, bacon actually is a great substitute. The bacon grease also adds a lovely flavor to the base of the soup. Even if you still use the sausage, I recommend adding a few pieces of diced, raw bacon to the ground sausage and let that cook together.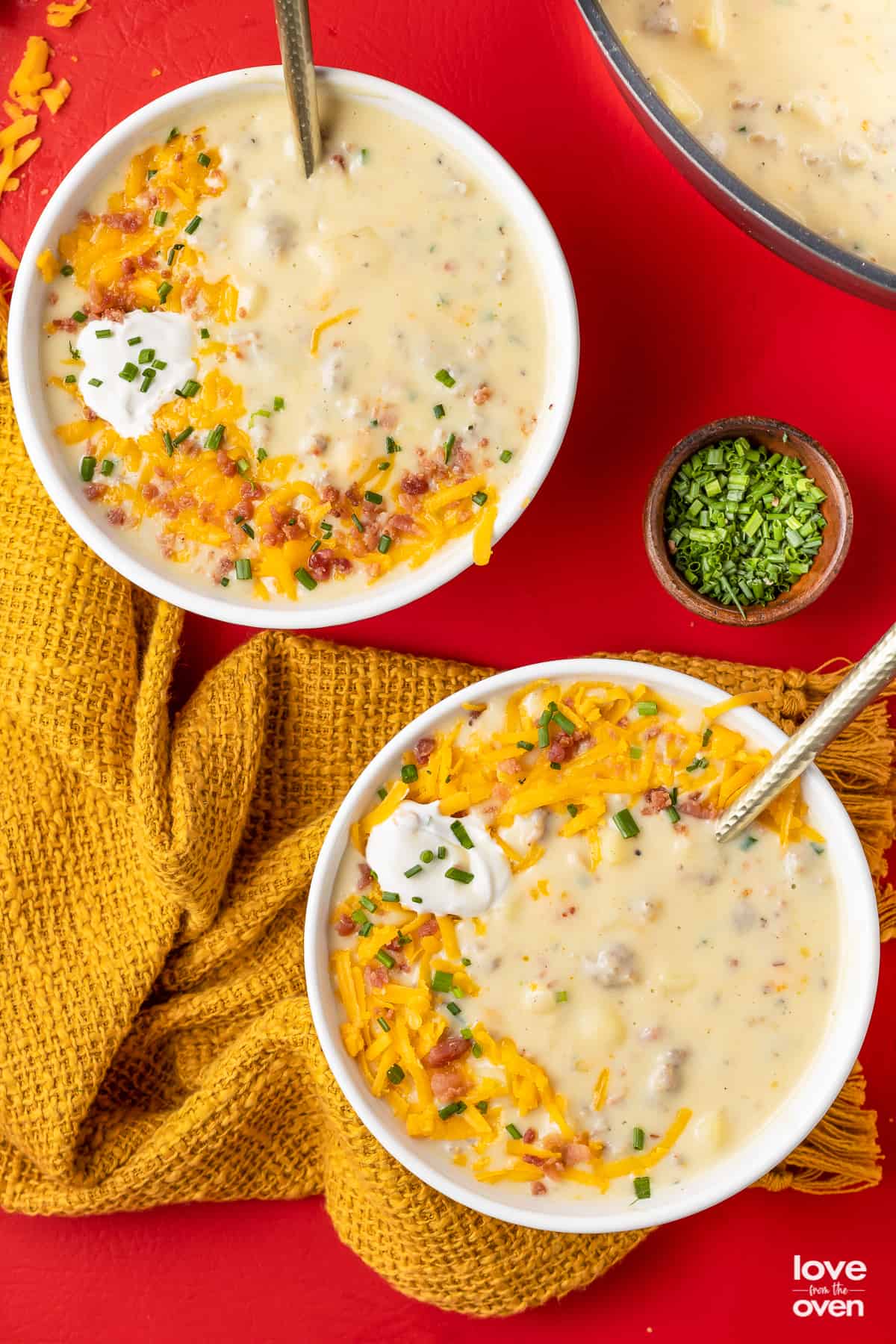 Recipe FAQs
Can you leave skins on potatoes for potato soup?
Yes, you can if you prefer to eat them that way. Just be sure to wash the potatoes very well before you add it to the soup.
Why is my potato soup gluey?
This is probably because you over blended the soup when you took half of it out. Remember, just pulse the mixture together for a few seconds until pureed, it shouldn't bubble or be like a paste.
Why does my potato soup taste burnt?
Creamy soups should be stirred from time to time, and shouldn't be cooked over anything higher than a medium heat otherwise the sides of the pot will burn the milk in the soup.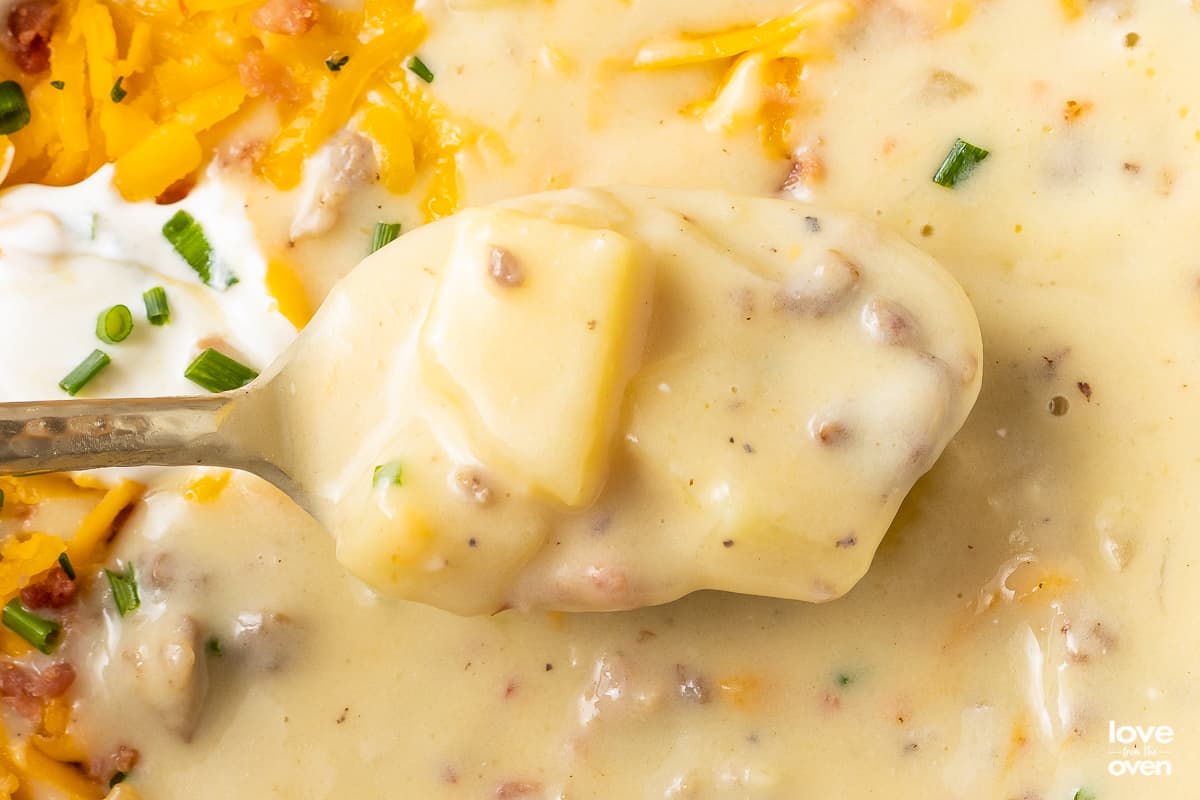 More Amazing Soup Recipes
Need something else to satisfy your soup craving? Here are a few more wonderful, and delicious recipes you can try!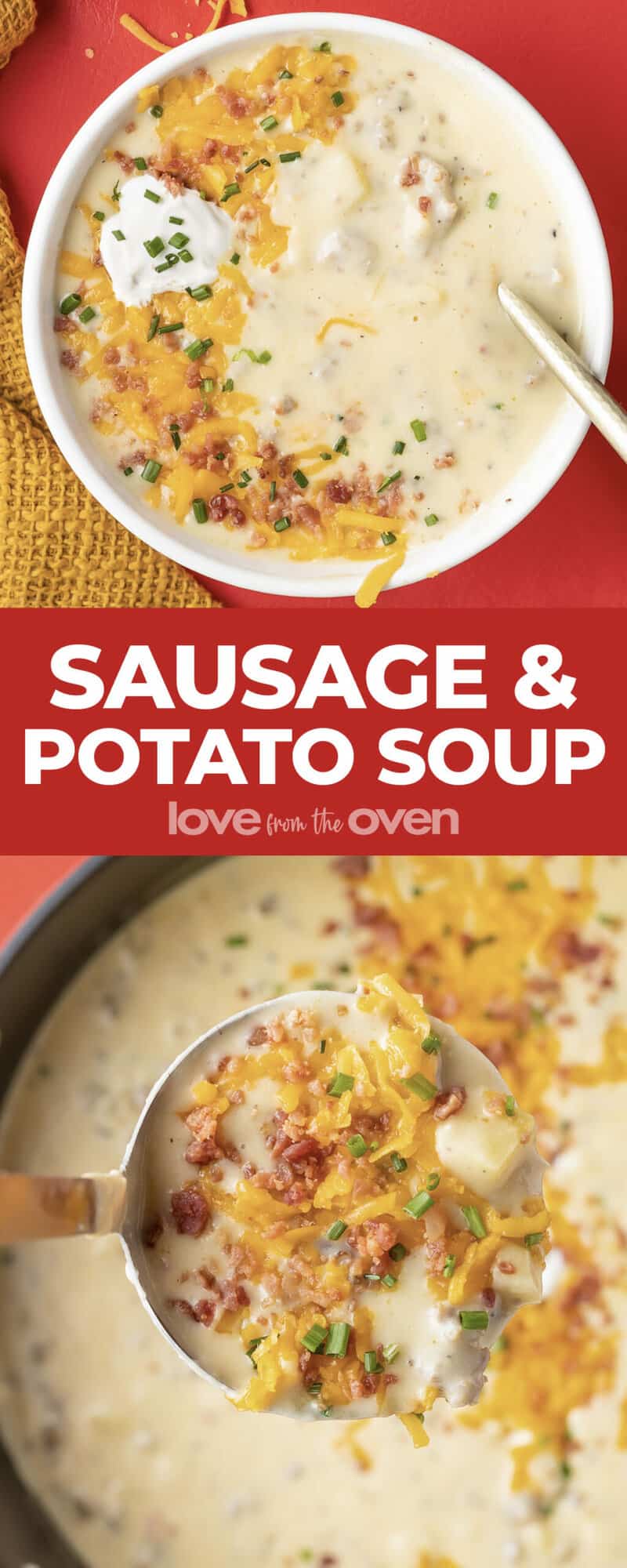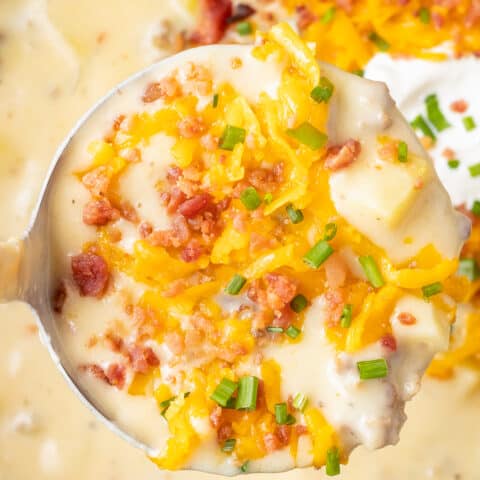 Sausage Potato Soup
This hearty and delicious Sausage Potato Soup is perfect for a warm and comforting dinner on a chilly night. Made with simple ingredients, you can have this soup on the table in under an hour!
Ingredients
1

pound

ground sausage*

breakfast sausage or Italian sausage

3

tablespoons

butter

1

medium yellow onion

diced

3

garlic cloves

minced

1/3

cup

all-purpose flour

2 1/2

pounds

gold potatoes, washed, peeled and diced to 1 inch or smaller cubes

this is about 8 potatoes

4

cups

chicken broth

2

cups

milk

2% or whole milk preferred

2/3

cup

heavy cream

or heavy whipping cream

1

teaspoon

salt

1/2

teaspoon

ground black pepper

1/2

cup

sour cream

Optional Toppings: Bacon bits, shredded cheese, chives green onions, additional sour cream
Instructions
Place sausage into a large dutch oven pot, and cook over medium heat until all meat is browned. Remove sausage with a slotted spoon, leaving any grease behind in the pan. Place cooked sausage in a container, cover and set aside.

Place butter and onion into the dutch oven, along with sausage grease, and cook until onions are translucent and tender, approximately 3-5 minutes. Add in garlic and cook for approximately 30 seconds.

Add flour to the mixture and whisk until smooth. The mixture will be thick. Cook for 1-2 minutes.

Slowly add in chicken broth, while whisking constantly. Once chicken broth has been added, and thoroughly mixed with the flour mixture, add in milk, heavy cream, salt and pepper. Whisk until well combined.

Gently add in potatoes, taking care so that they do not splash liquid out of the pan. Bring to a simmer and cook until the potatoes are fork tender and come apart when pierced with a fork. This takes 10-15 minutes, depending on the size of your potatoes. Stir occasionally.

Reduce heat to low, then remove approximately half of the soup from the pan.

Soup that is removed can be placed directly into a blender, or into a separate bowl. If using a blender, blend the removed soup until smooth. If moving to a bowl, use an immersion blender, or potato masher, to smooth the mixture as much as possible.

After blending soup, return to dutch oven. Then add sour cream and sausage to soup mixture.

Allow soup to simmer on low for 15 minutes, stirring occasionally.

Serve hot with toppings such as bacon bits, shredded cheese, chives green onions and additional sour cream.
Notes
*If desired, you can replace the sausage with bacon, or leave the sausage out all together. It makes a great meatless meal!
This recipe makes a LOT of soup. Feel free to cut the recipe in half. That said, it reheats wonderfully, so we love to have enough leftovers for a second meal.
Nutrition
Calories:
480
kcal
|
Carbohydrates:
34
g
|
Protein:
16
g
|
Fat:
32
g
|
Saturated Fat:
15
g
|
Polyunsaturated Fat:
3
g
|
Monounsaturated Fat:
11
g
|
Trans Fat:
0.3
g
|
Cholesterol:
93
mg
|
Sodium:
1163
mg
|
Potassium:
900
mg
|
Fiber:
3
g
|
Sugar:
6
g
|
Vitamin A:
660
IU
|
Vitamin C:
29
mg
|
Calcium:
134
mg
|
Iron:
2
mg
Disclaimer
Nutrition information is estimated as a courtesy. If using for medical purposes, please verify information using your own nutritional calculator. Percent Daily Values are based on a 2000 calorie diet.