Have you ever made slow cooker chicken tacos? Once I discovered how incredibly easy it is to use my slow cooker to make the chicken for chicken tacos, it became a menu staple for our family.
This is one of my favorite recipes to make in my Crock Pot, it's quick to prep, easy to make and the whole family loves it. If you are looking for gluten free tacos or keto tacos, this easy slow cooker taco recipe may be perfect for you! We love to use this chicken when we make nachos!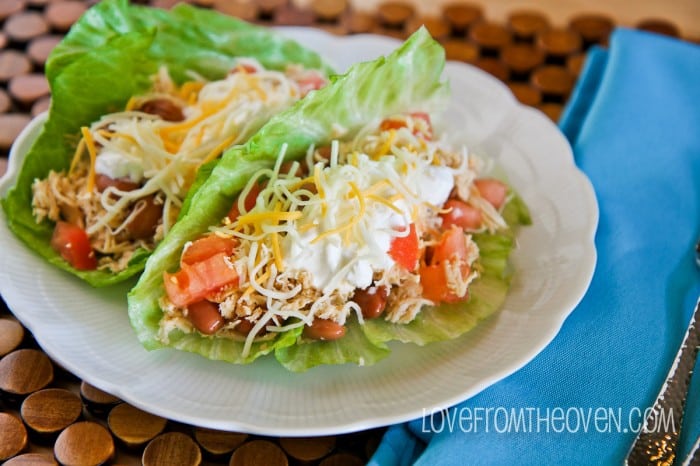 Slow Cooker Chicken Tacos could not be easier to make. To make them, in the late morning I place some frozen chicken in my slow cooker, along with a jar of salsa and a little bit of taco seasoning. By dinner time we have perfectly cooked chicken that is ready to go into taco shells, shredded chicken lettuce wraps, taco salads, chicken burritos, on top of nachos or even in chicken quesadillas.
While this recipe is for tacos, you really can use this chicken in so many ways. Truth be told, on some days I start making the chicken in the morning and figure out later in the day exactly how I will serve it.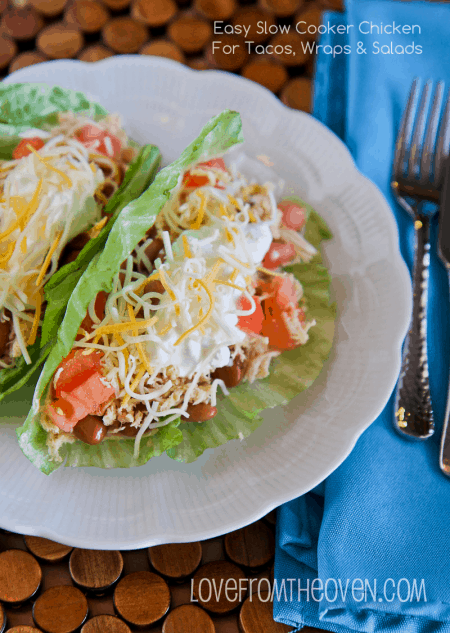 If you have a stand mixer and have not yet used it to shred your chicken, you are in for a treat. Yes, that's right, you can shred your cooked chicken with your stand mixer, and it is amazing. I don't know how many years I stood in the kitchen, with two forks, burning myself, doing a really poor job at shredding chicken.
Toss that same chicken into your mixer, attach your paddle and turn it on for less than a minute and you have shredded chicken that is restaurant worthy. I still get a thrill from it every time (hey, sometimes it's the little things in life, right?).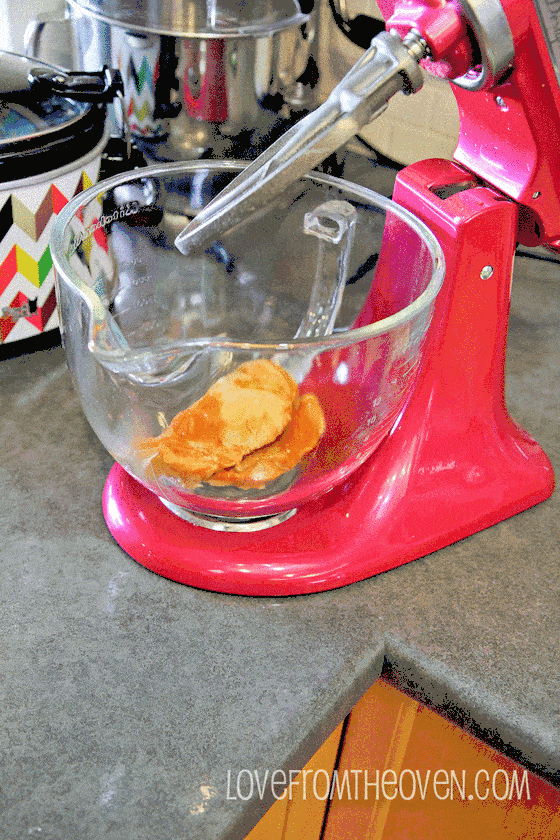 Before I pull my chicken out of the slow cooker, I get my other ingredients ready. When I'm keeping it really simple, that includes taco shells, tortillas or lettuce to make lettuce wraps, some cheese such as Kraft Shredded Cheese, tomatoes and Knudsen Sour Cream.
If I'm making something a bit more elaborate, I'll also add black olives, pinto or black beans, corn, avocado, whatever we have on hand that will work. If you are trying to cut back on carbs or gluten, using a piece of lettuce as your taco shell is a great option.
These slow cooker chicken tacos are so very flexible, and perfect for those busy nights. Once the chicken is ready, everyone can create their own tacos (or salads or wraps), and enjoy.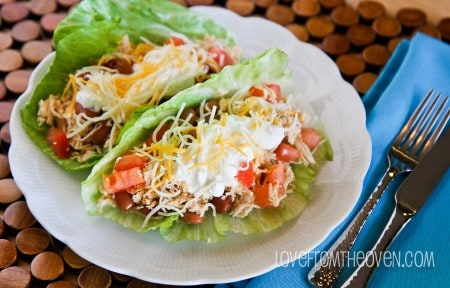 Slow Cooker Chicken Tacos Recipe
Ingredients
Chicken
1

pound

chicken breasts

approximately three large or four small chicken breasts

1

jar

16 ounce Taco Bell Originals Salsa

1

tbsp

taco seasoning

optional, you can go with none, more or less depending on your tastes
Flour tortillas, taco shells or lettuce
Taco Toppings Of Your Choice, Such As
1/2-1

cup

Kraft Shredded Cheese of choice

Knudsen Sour Cream

Cooked black or pinto beans

Sliced black olives

Tomatoes

Sliced avocado

Shredded lettuce
Instructions
Place chicken breasts, salsa and seasoning into slow cooker and cook on high for four hours or low for six to eight hours. If using frozen chicken breasts, cook on high for five to six hours. Remove chicken from slow cooker and cut or shred. If desired, add some salsa left over in the slow cooker to the chicken. Serve chicken in taco shells, tortillas, lettuce wraps or on top of a salad and garnish with toppings of choice. Enjoy!
If you are looking for other great ways to use this chicken, you could simply replace the ground beef in other recipes with this shredded chicken. Neither of my girls are very fond of ground beef, so I used shredded chicken in so many recipes. It would be perfect for a Salad-Topped Taco Pizza, in Taco Pasta Toss or in a Quick-Fix Beef Burrito Skillet. You could also use it in these mini taco bowls.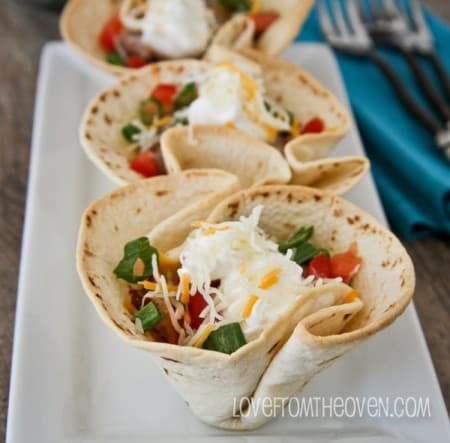 If you want to carry the taco theme right through to dessert, may I suggest some chocolate tacos?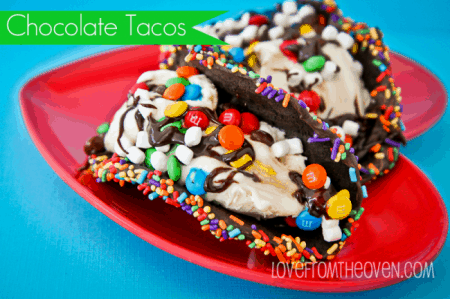 A few other easy dinner ideas for you here on the site, that are both big hits with the kids…
Easy French Bread Pizzas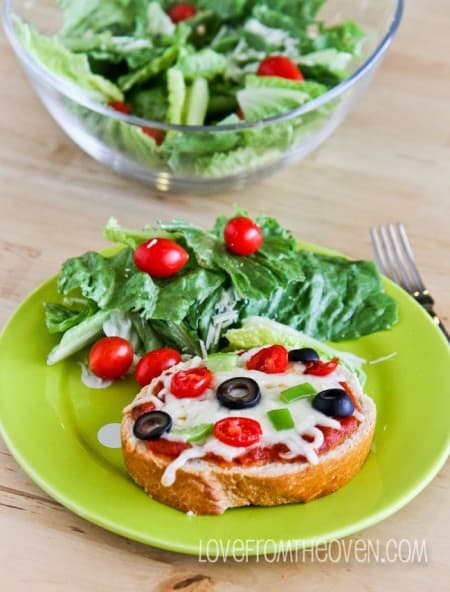 Pizza Kabobs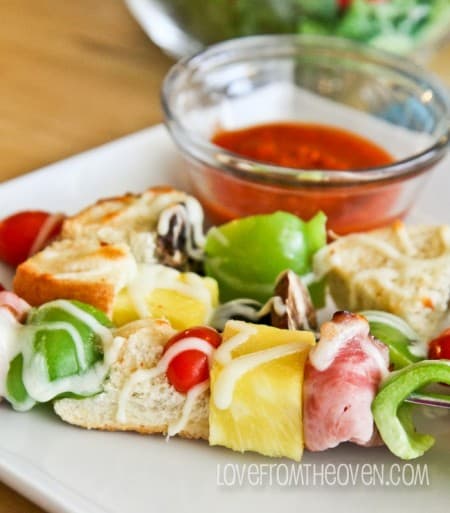 For more great dinner options using your slow cooker, head over to the Kraft website for a variety of ways to start dinner early in the day and have it ready and waiting come meal time.
Originally published January, 2014. Disclosure: As a Kraft Tastemaker, I am compensated for my posts with Kraft. All opinions and recipe choices are however mine and mine alone, and ones that I feed my own family.