This Strawberry Daiquiri recipe creates a classic, refreshing drink that you can enjoy any time of the year. It has a sweet and tangy flavor, with just enough rum to give it some spice. The best part about Strawberry Daiquiris? They're easy to make!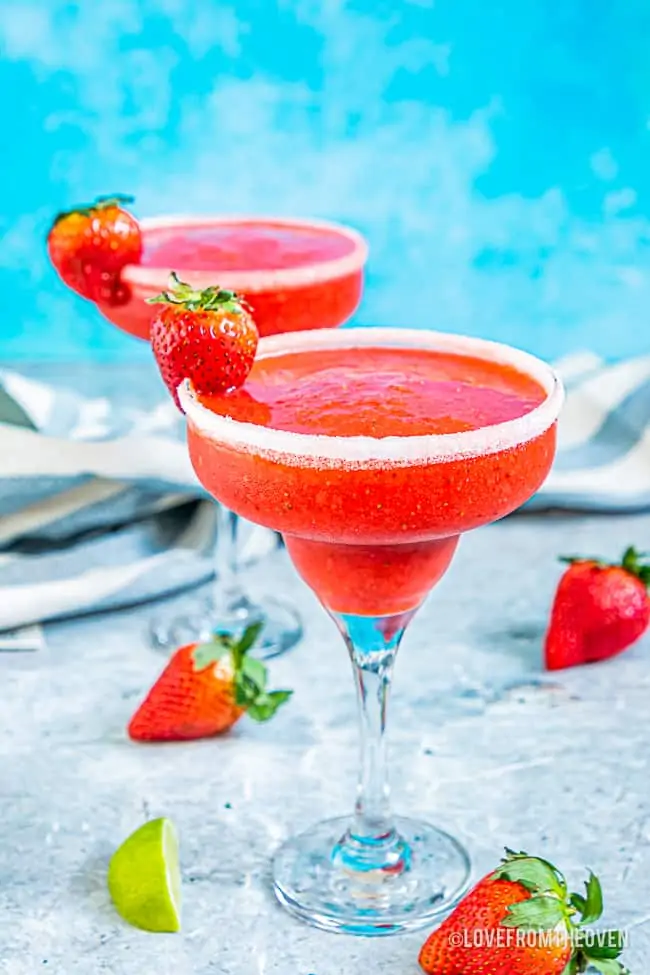 Reasons You'll Love This Recipe
Strawberry Daiquiris are easy peasy to make at home, and you can tailor it based on your ingredients.
This recipe is quick to make, you'll be done in less than five minutes! And don't worry about the ingredients – they're easy to find at your local grocery store.
Summer is almost over, but you can enjoy a frozen daiquiri year round when you want that summertime feeling.
Your friends and family will love when you make this restaurant favorite at home.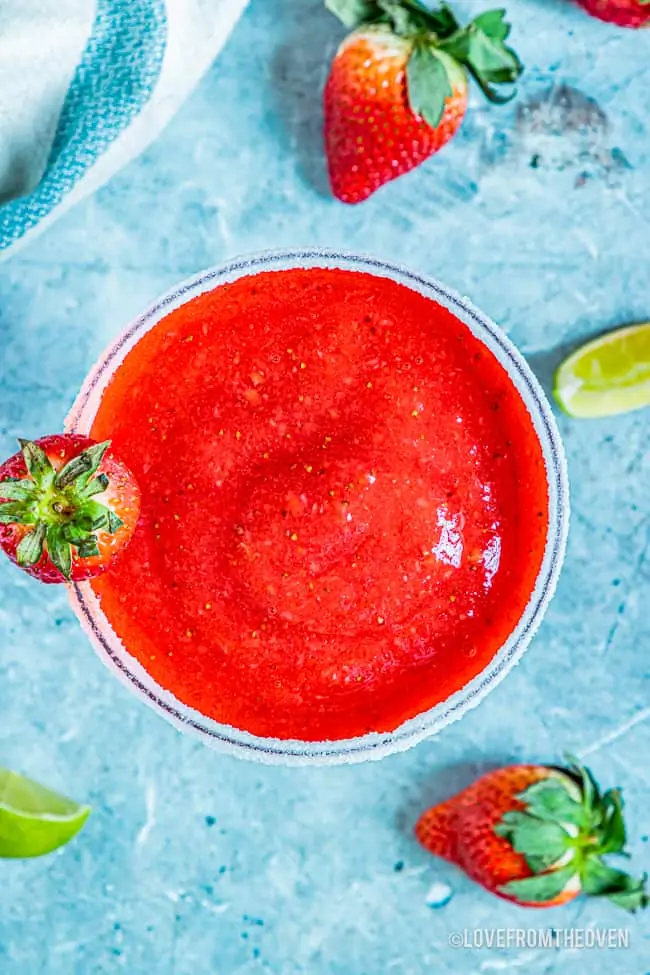 Strawberry Daiquiri Recipe
A Strawberry daiquiri is a refreshing cocktail made of frozen strawberries, lime juice, white rum, and sugar. It's sometimes garnished with a strawberry or served in a decorative glass rimmed with sugar. Strawberry daiquiris are the perfect summer drink, but we enjoy them year round.
Let's discuss how to make this delicious drink, as well as the ingredients that are needed for it. Please take note that below you will find discussion, expert tips, and answers to frequently asked questions about this recipe to help you recreate it in your kitchen.
If you *just* want the recipe itself, scroll down. The full printable recipe itself, with exact measurements and instructions, is found at the bottom of this page.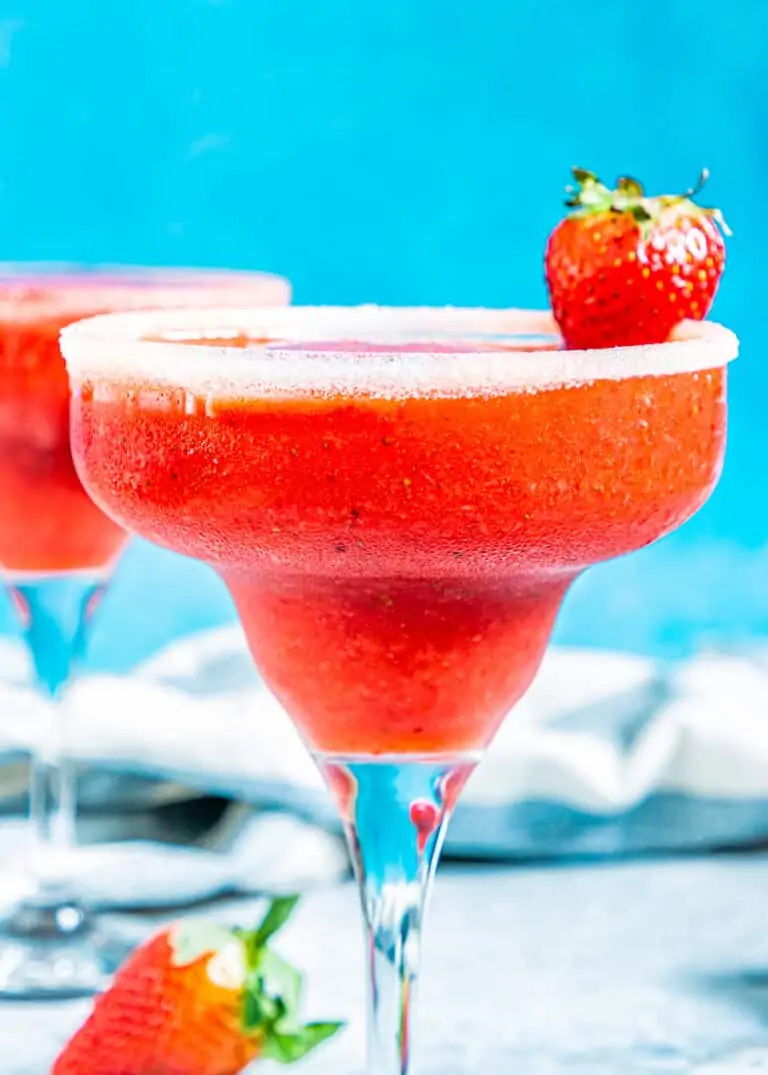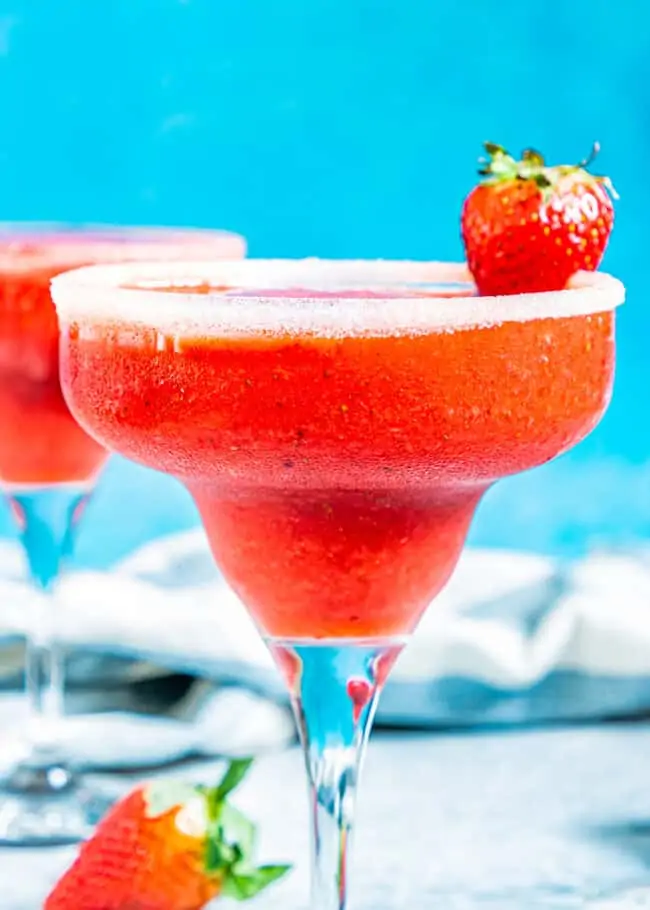 How To Make A Strawberry Daiquiri
Ingredients
Frozen strawberries – the best price I have seen for these is at your local Dollar Tree store. They have 12-ounce bags for just a buck while grocery stores have the same size for over four dollars.
Fresh strawberries – It doesn't take many of these, but they really do add both texture and flavor to the drink that frozen strawberries simply can't.
One lime – You want to grab a deep green lime that feels firm to the touch.
White rum – You can go cheap here, no need to get a name brand. This recipe only uses half a cup to make two drinks, so you can plan accordingly for the sized bottle you want to pick up.
Simple syrup – Yes you can buy this, but it is so incredibly easy to make and a lot less expensive. Just mix equal parts of sugar and water in a saucepan and bring it to a boil as you are stirring it constantly. Once the sugar has dissolved, remove it from the stove to cool. You now have a simple syrup!
Optional items you may want for garnish:
Fresh strawberries – look for deep red berries, they have more eye appeal and flavor.
Lime slices – again, you want a deep green lime that feels firm to the touch
Caster sugar – this is a type of sugar that has larger grains than the average white sugar we all use for baking.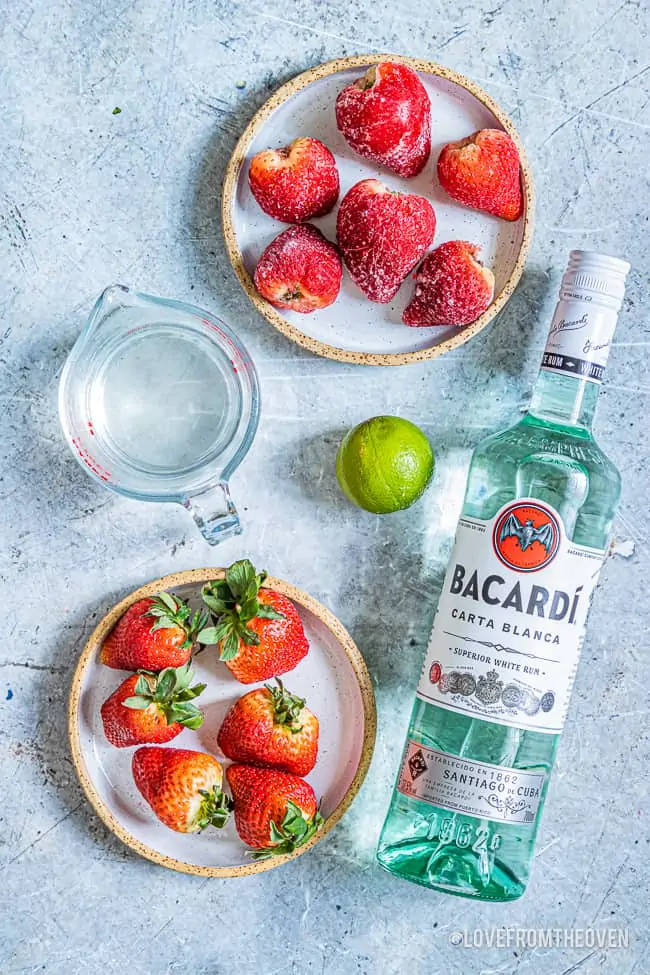 Directions
A reminder that the full printable recipe card is found at the bottom of this post. Here we will walk through the steps to discuss.
First, you need to make your simple syrup. If you want to use store-bought, that's ok…I like Stirrings Pure Cane Simple Syrup Cocktail Mixer.
To make it yourself, use a saucepan to mix equal parts of sugar and water (I like using two cups each).
Boil the mixture for about five minutes or until it becomes clear as shown in the photo below. Remove from heat and allow it to cool off completely before using. You now have a simple syrup.
Then, juice your lime. Place it in the microwave for 10 seconds, and then roll it on the counter a bit with slightly firm pressure. This will help you get out more of the juice when you cut it in half and use a citrus juicer or press to get all of the juice out.
Clean and trim your strawberries. 4 ounces is about 1/4 of a store-bought one-pound package. Wash your berries and remove the green tops.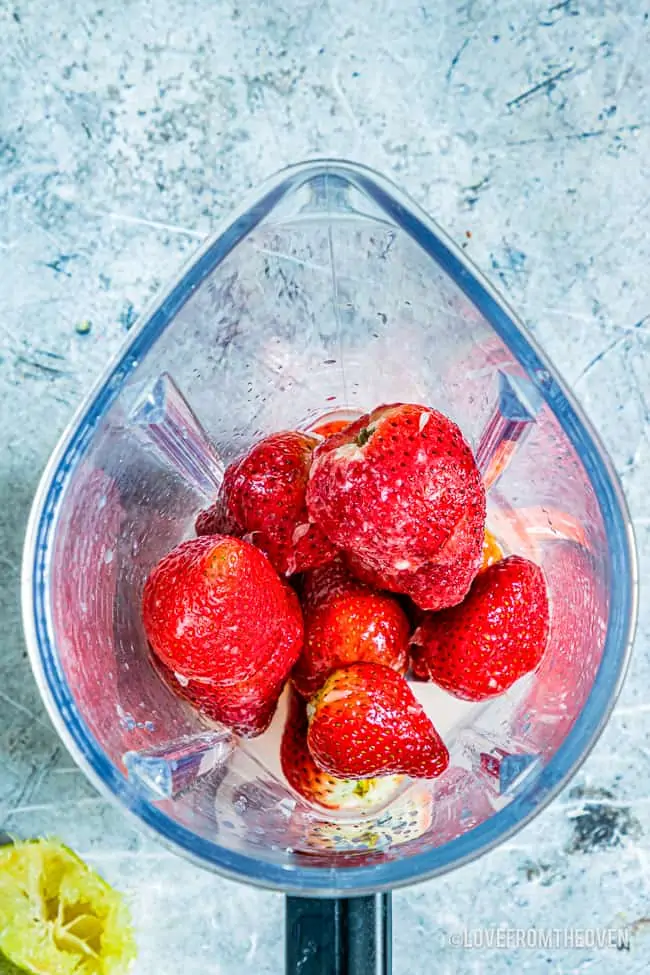 Add that fresh lime juice to your blender along with 10 oz of the frozen strawberries, those fresh strawberries, 1/2 a cup of that white rum, and 3-4 tablespoons of your simple syrup.
Put the top on your blender and blend until smooth. Simply our it into your glasses and get ready to relax on your patio.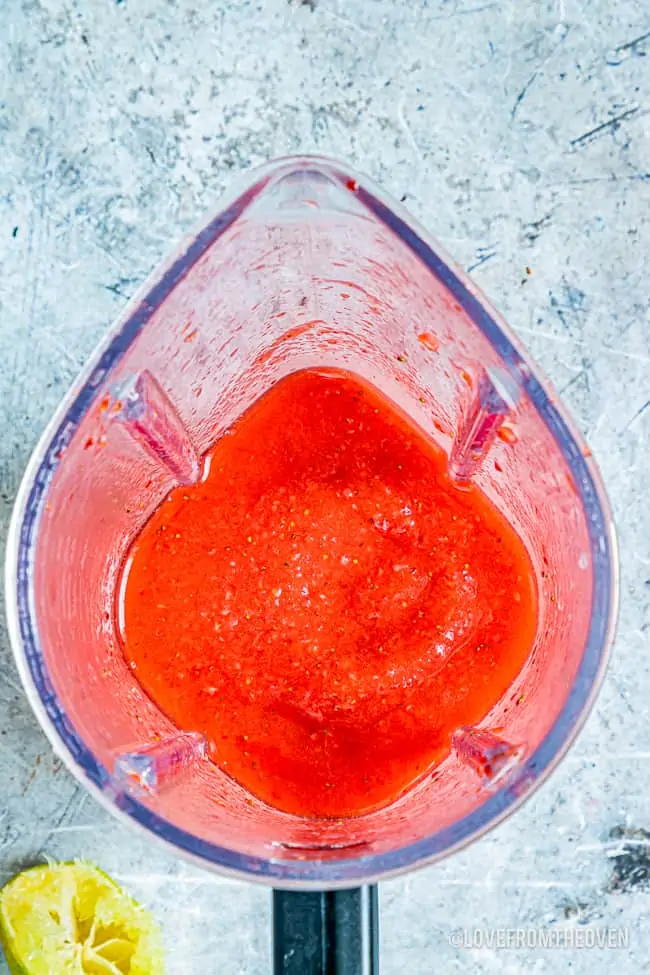 Expert Tips:
We already talked about how to make simple syrup – seriously it is beyond easy and a lot less expensive than buying it. It is good to have on hand for everything from Old Fashioneds to Mint Juleps.
When you are making your daiquiris, you can add more or less of the simple syrup to adjust the sweetness. I offered a standard guideline, but it really is a personal preference.
For the decorative glass rim, it is called sugaring it. It is very easy to do: Pour a small amount of white sugar into a shallow bowl. Dip the rim of your glass into water OR run a lime slice around it to get it damp. Then simply dip it into that shallow bowl of sugar and you are ready to add your drink and possibly a slice of lime or fresh strawberry as a garnish.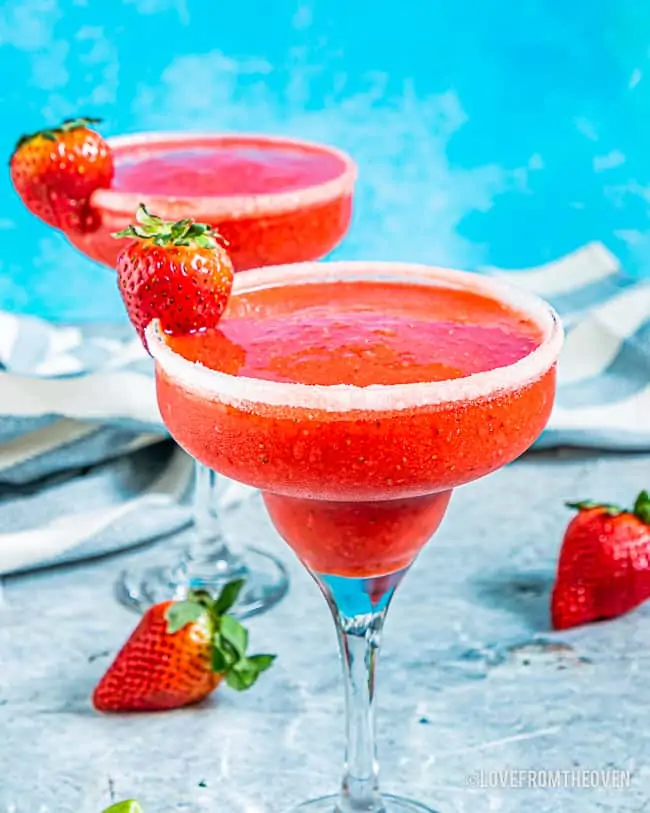 Frequently Asked Questions
What kind of rum for a strawberry daiquiri?
Traditionally, strawberry daiquiris are made with rum. The drink originated in Cuba and the best type of rum to use is a white or silver one because it will complement the sweet taste of strawberries while still giving you that nice kick.
Can I use a lemon instead of lime?
You absolutely can! That's the great thing about this recipe – it's customizable to your preference. Strawberry daiquiris traditionally are made with limes, but if you want more or less sweetness, different kinds of fruit (like pineapple), or just prefer lemons, go for it!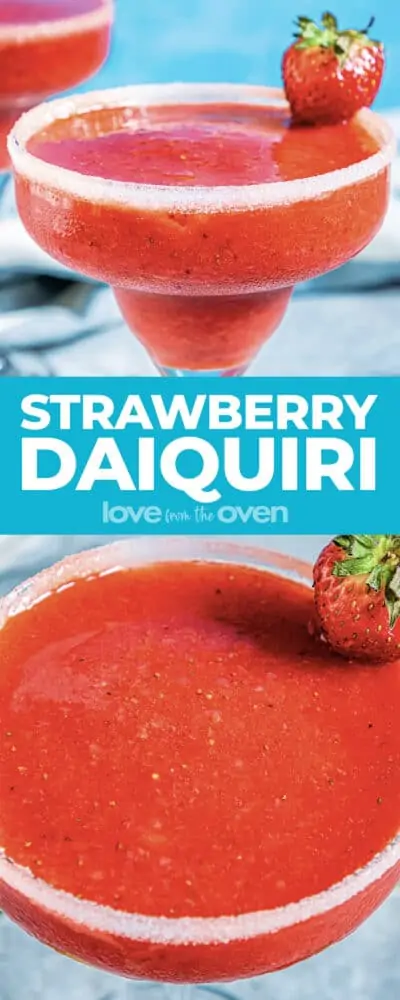 More Recipes You'll Love!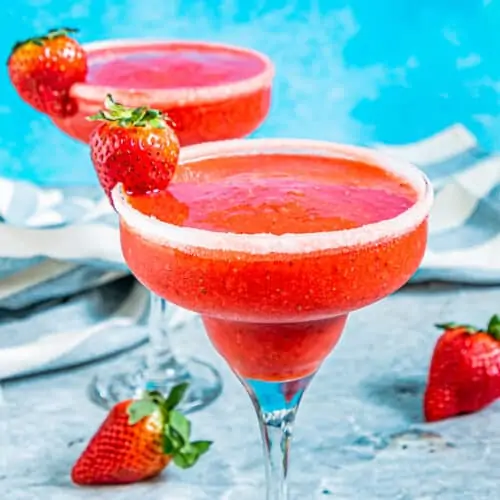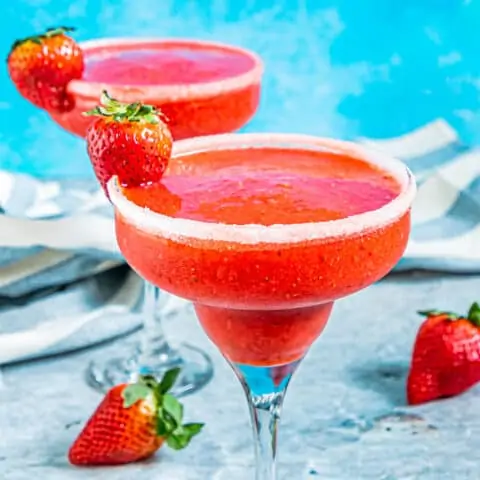 Strawberry Daiquiri Recipe
A Strawberry daiquiri is a refreshing cocktail made of frozen strawberries, lime juice, white rum, and sugar. It's sometimes garnished with a strawberry or served in a decorative glass rimmed with sugar.
Ingredients
10

oz

frozen strawberries

4

oz

fresh strawberries

1

lime

1/2

cup

white rum

3-4

tbsp

simple syrup
Instructions
Place frozen strawberries, fresh strawberries, lime juice, simple syrup and rum into a blender. Blend until smooth.

Pour into glasses and serve immediately.
Notes
Add more or less syrup to adjust the sweetness of the daiquiri to your preference
For the decorative glass rim, dip the glass rim in water, shake of the excess water and then dip into a shallow bowl containing sugar
Nutrition
Calories:
293
kcal
|
Carbohydrates:
41
g
|
Protein:
2
g
|
Fat:
1
g
|
Saturated Fat:
1
g
|
Polyunsaturated Fat:
1
g
|
Monounsaturated Fat:
1
g
|
Sodium:
21
mg
|
Potassium:
358
mg
|
Fiber:
5
g
|
Sugar:
32
g
|
Vitamin A:
41
IU
|
Vitamin C:
126
mg
|
Calcium:
47
mg
|
Iron:
2
mg