It appears that two of the most popular/pinned/talked about Halloween treats this year are the Candy Corn M&M's and the Candy Corn Oreos.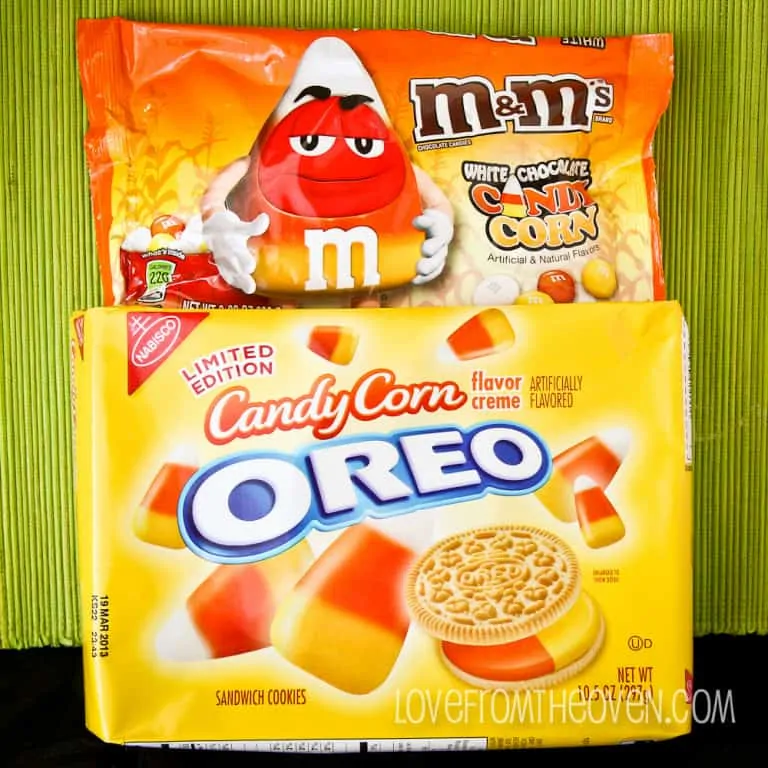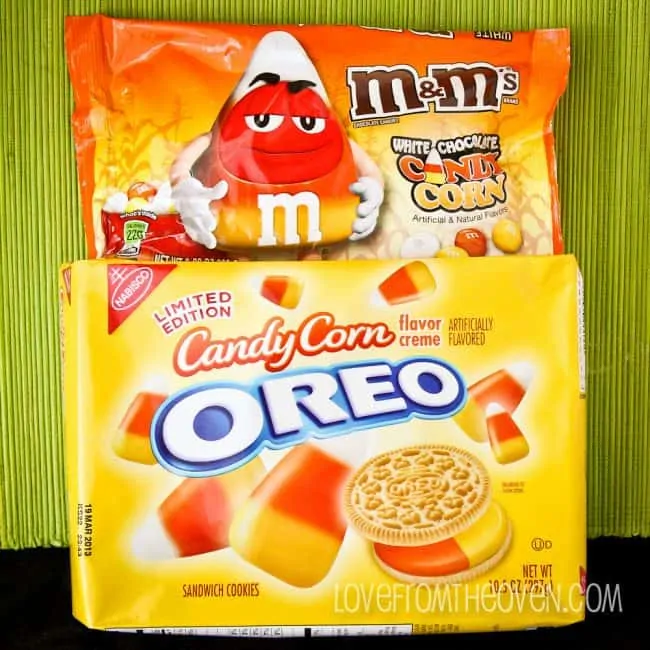 I was lucky to find both last week (and even picked some up for my Fun Fall Flavors Giveaway – go enter!). I figured why not combine these sweet treats and throw in some actual candy corn for good measure, because I'm pretty sure candy corn makes everything taste even better. The result – White Chocolate Candy Corn Cookie Bars.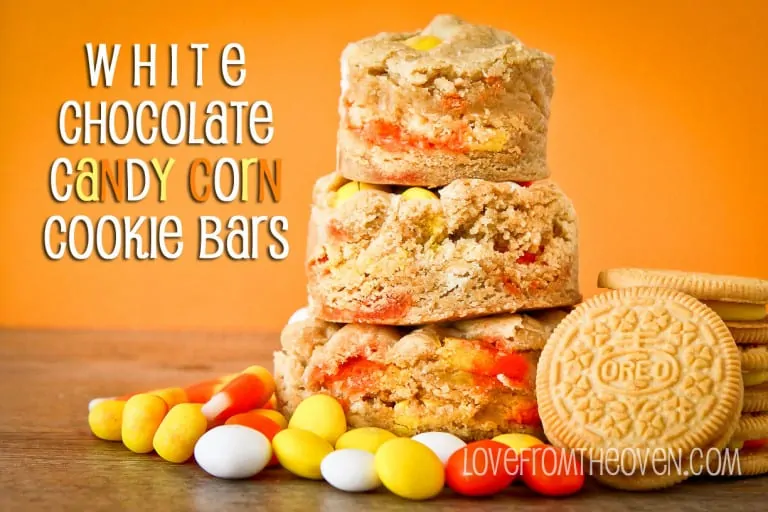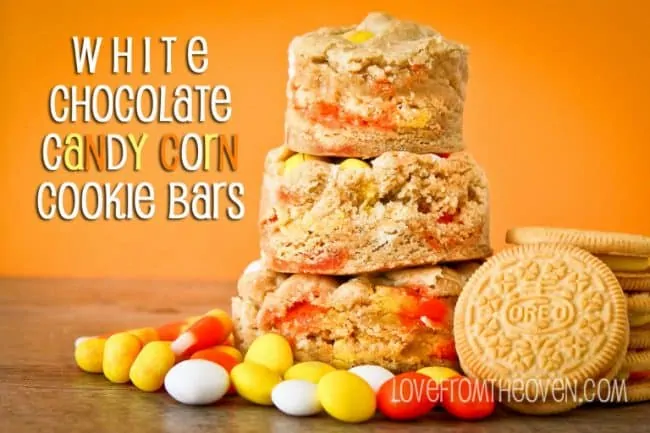 This is basically what happens when a blondie is taken over by as many candy corn treats as possible.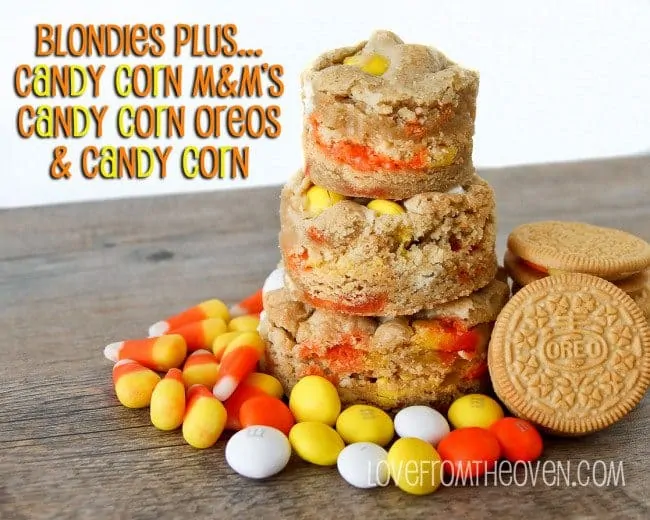 These are quick and easy to make, as in I was able to whip these up and bake them before the morning drop off at school, and I'm hardly an example of early morning efficiency.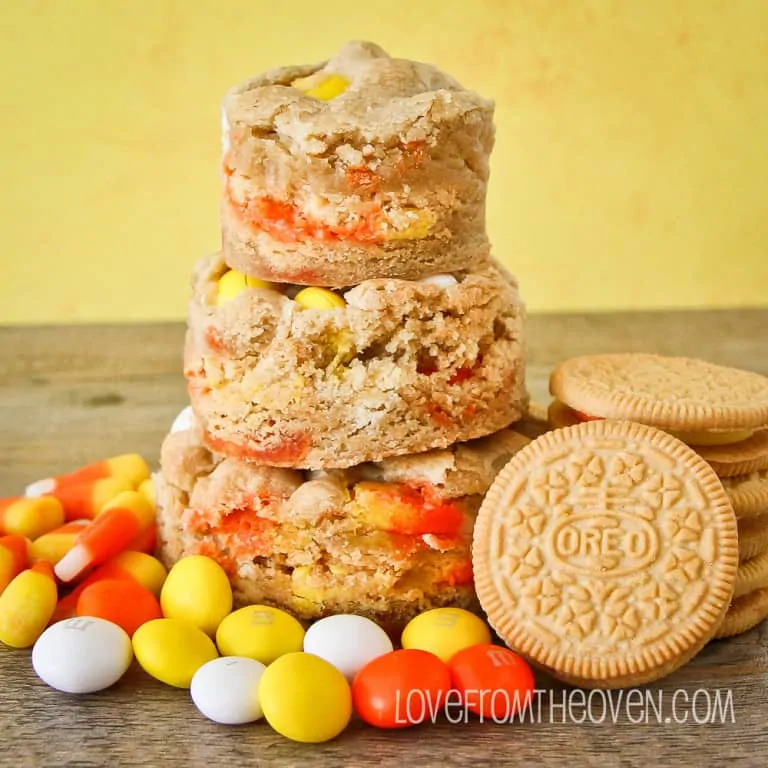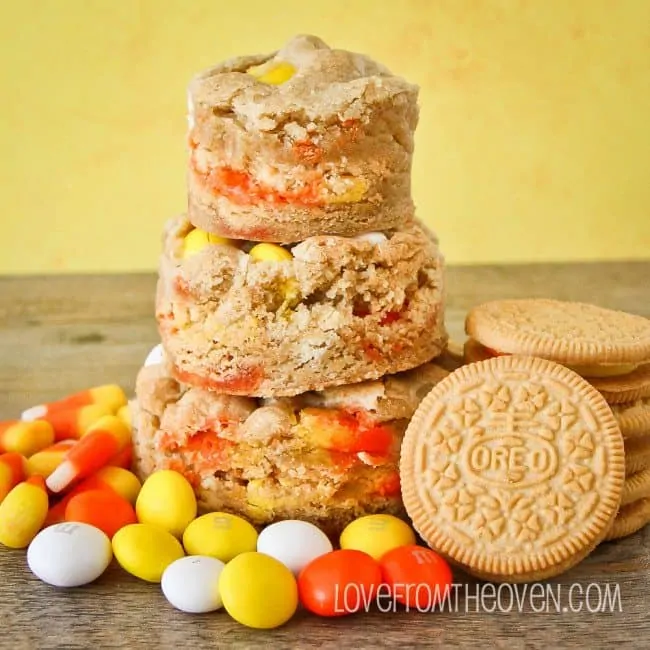 Now, I know that the Candy Corn Oreos and Candy Corn M&M's can be a challenge to find. I found both at Target. If you can't find them, don't worry. You can still make these. Just switch your Oreos to the regular golden variety and replace the M&M's with white chocolate chips. If you want to up the candy corn coloring, add some yellow, orange and white sprinkles (sprinkles work wonderfully for adding color without altering the flavor).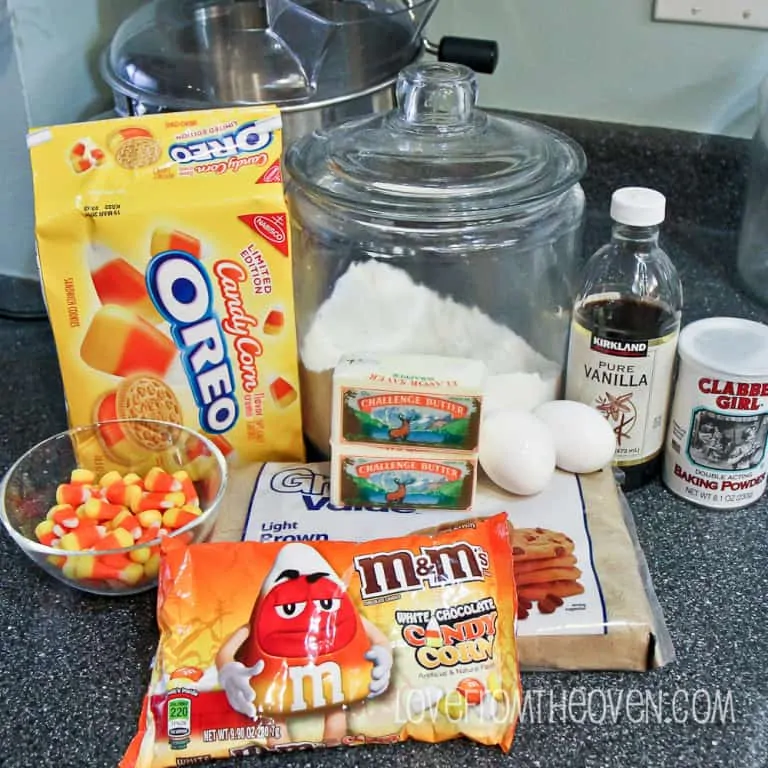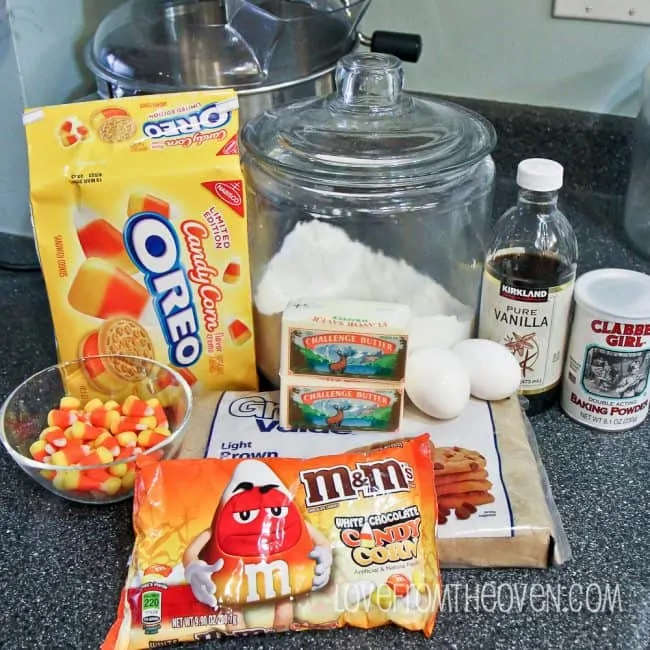 You will put together your blondie batter / cookie dough ingredients and then add in the goodies. I like to chop my candy corns up, I think they are easier to chew that way, and it spreads more color throughout. You do not have to do this though.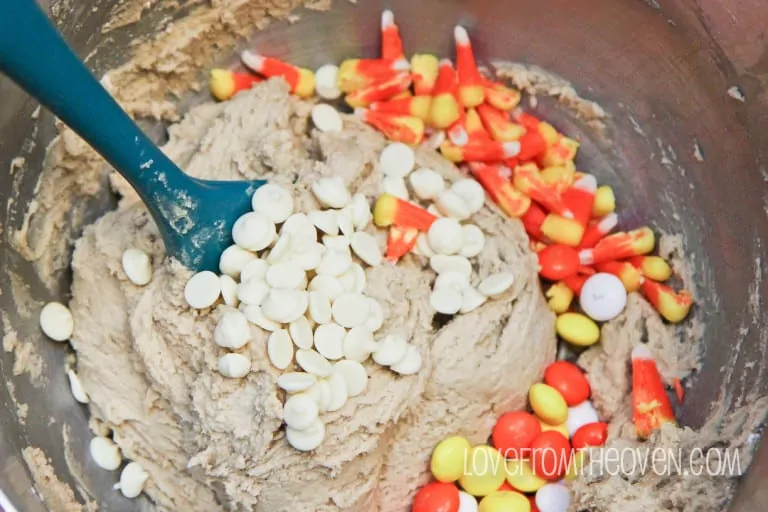 Then you will press a layer of your dough into the bottom of your pan.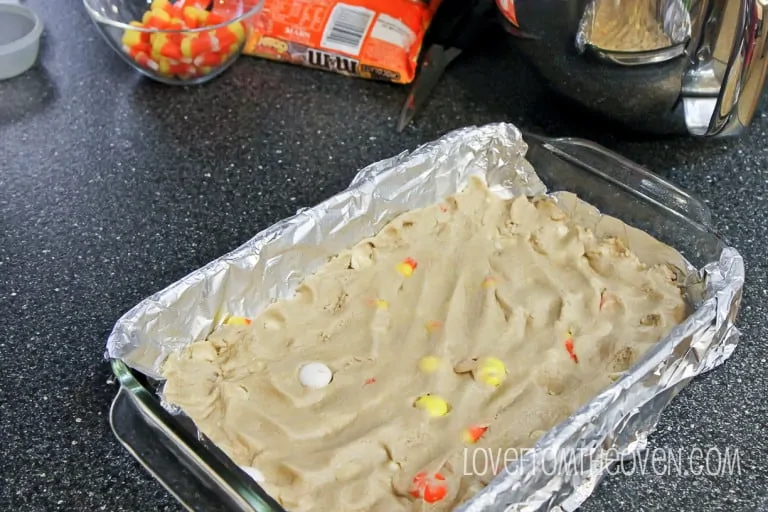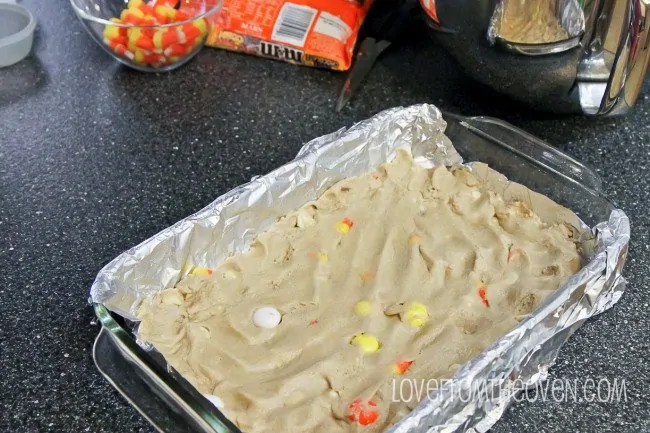 Followed by a layer of Candy Corn Oreos.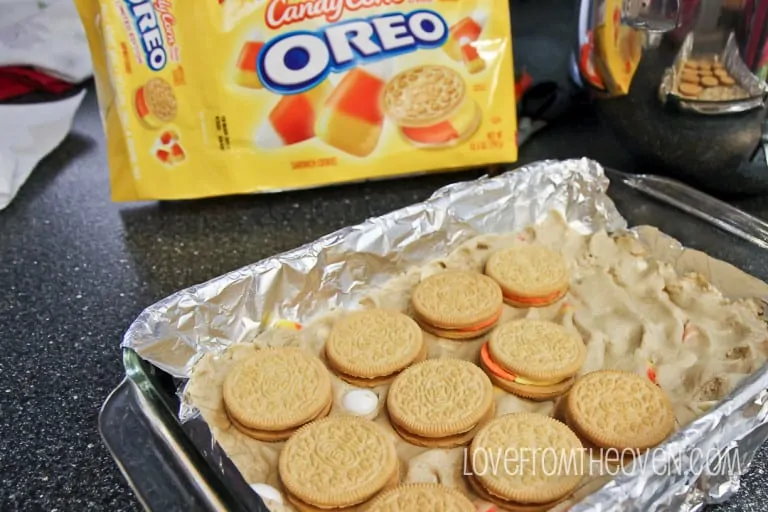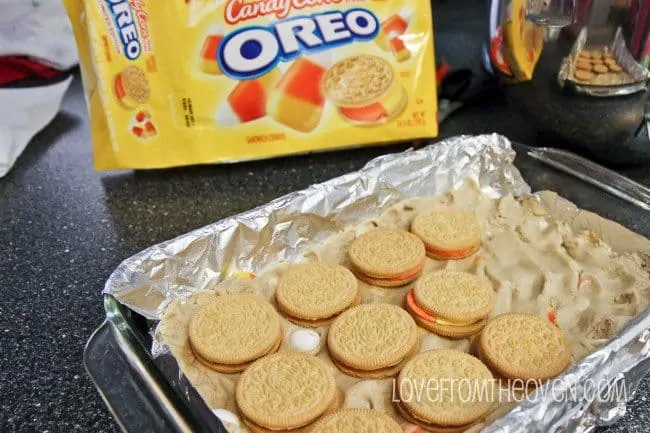 Then press the remaining dough on top of the cookie layer.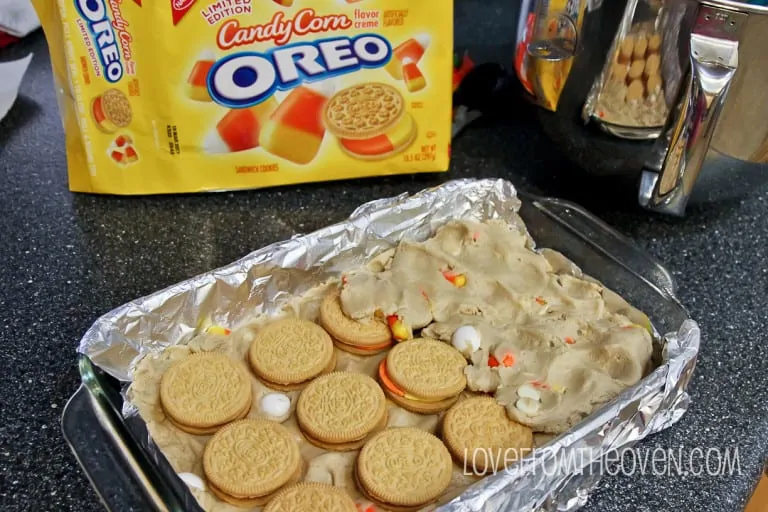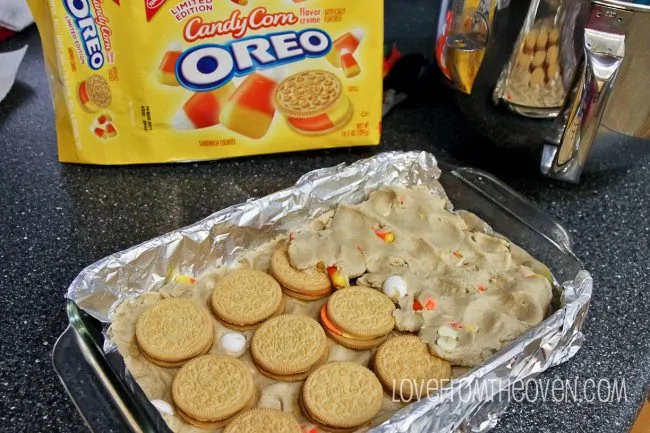 And then top with a few extra Candy Corn M&M's or pieces of candy corn.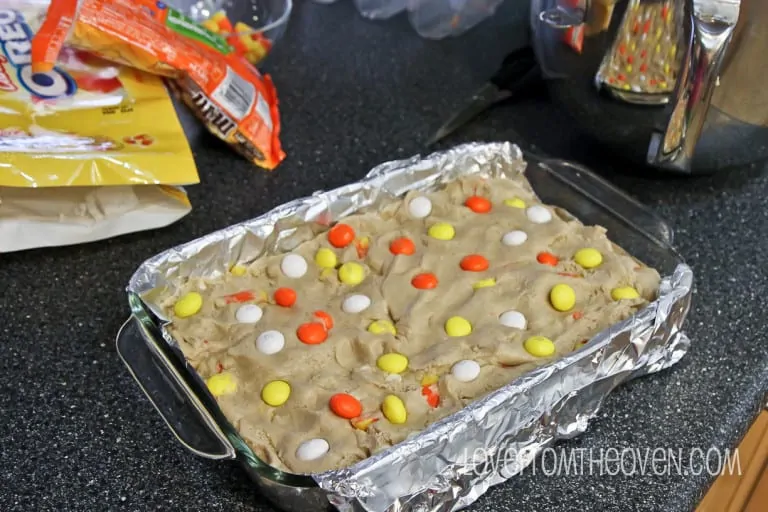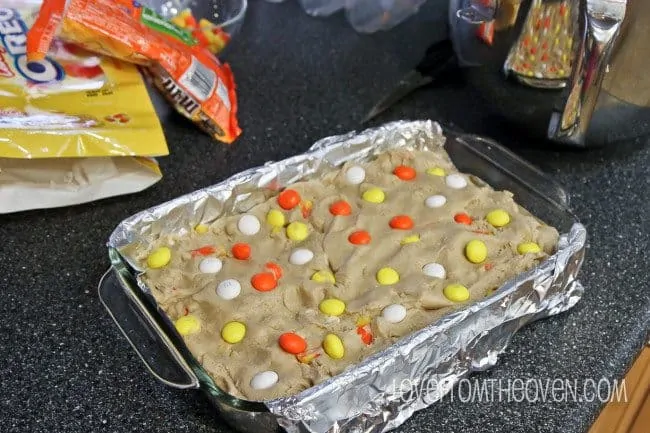 Into the oven it goes for about 30-40 minutes.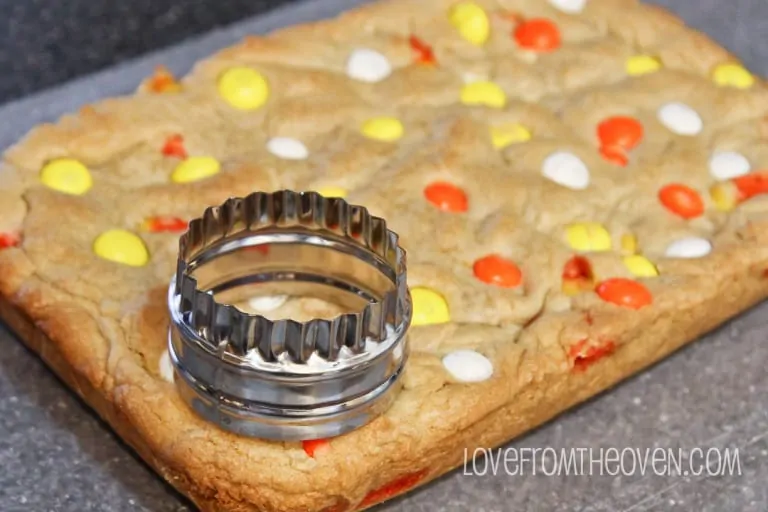 Then pull out and let cool. I get a LOT of questions about how I cut my bars and brownies into such nice circles and squares. I cheat. I use cookie cutters. These sets to be exact. I LOVE them and use them all the time.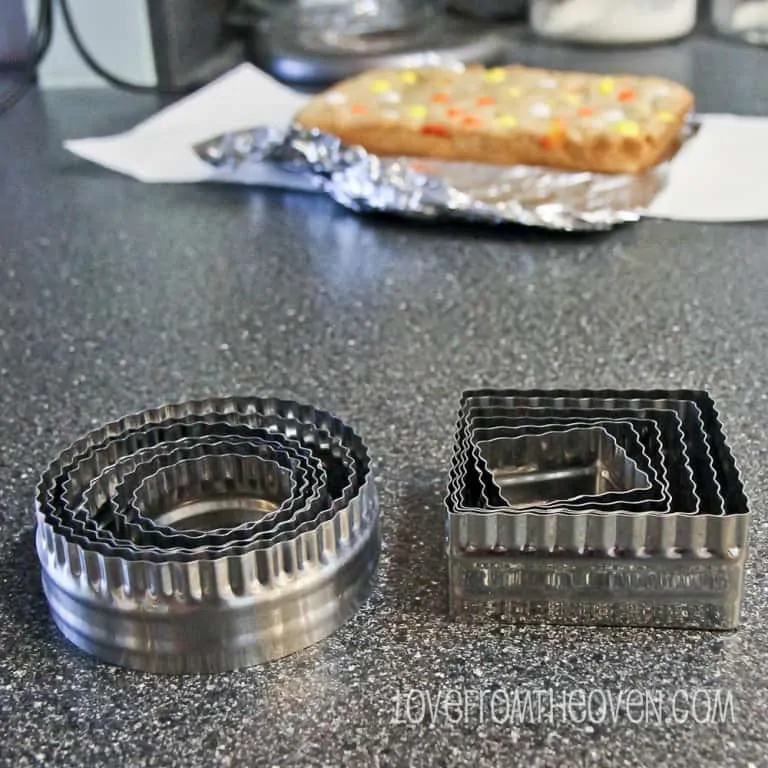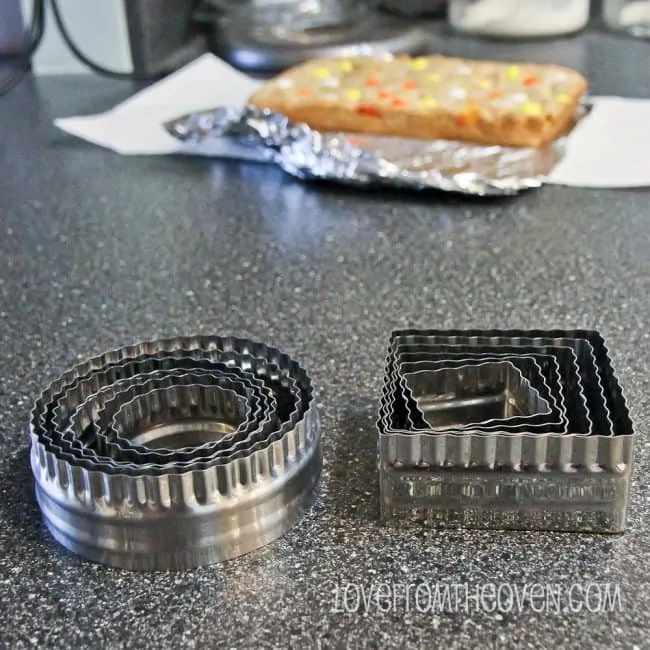 I have a round and a square set. They are nice and deep so they can be used for cookies, bars, brownies, even cake. Not only do they provide a great uniform shape, but for me they are much quicker than cutting by hand with a knife. They can be a bit sharp on the edges, so I usually wear an oven mitt when I use them. Because they are open on both sides, if whatever you are cutting sticks inside the cutter, you just push it through. Seriously love these.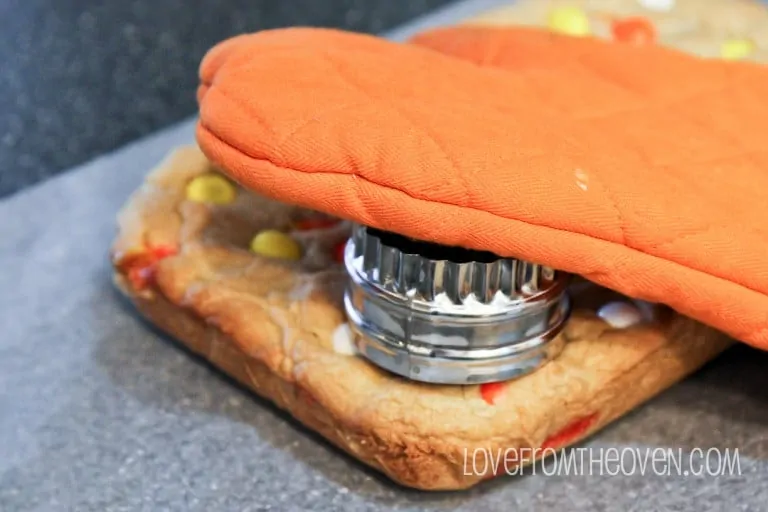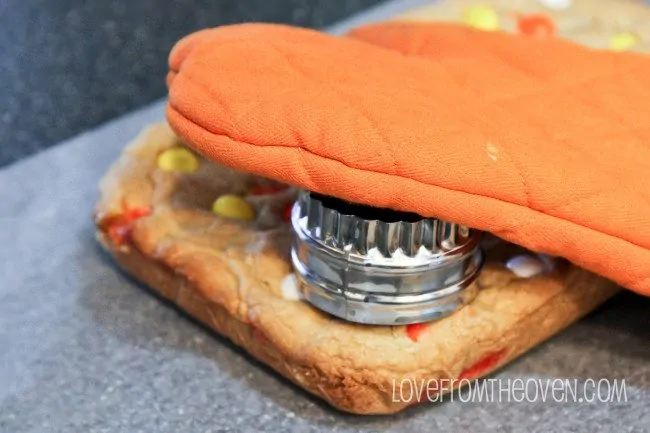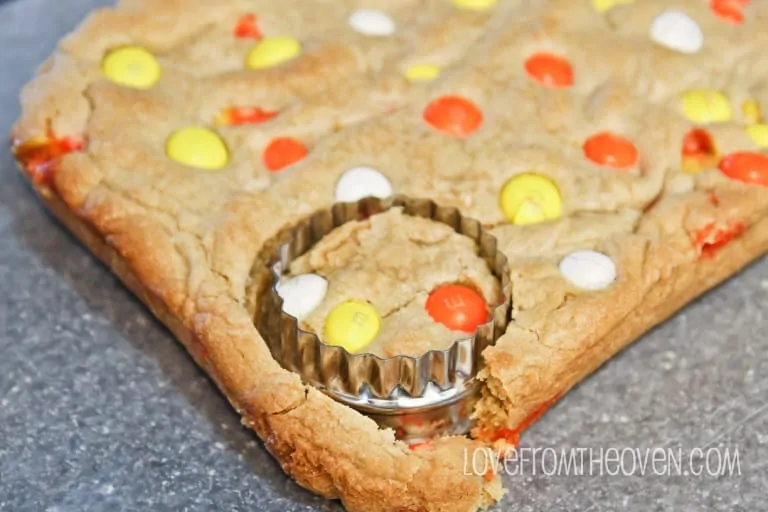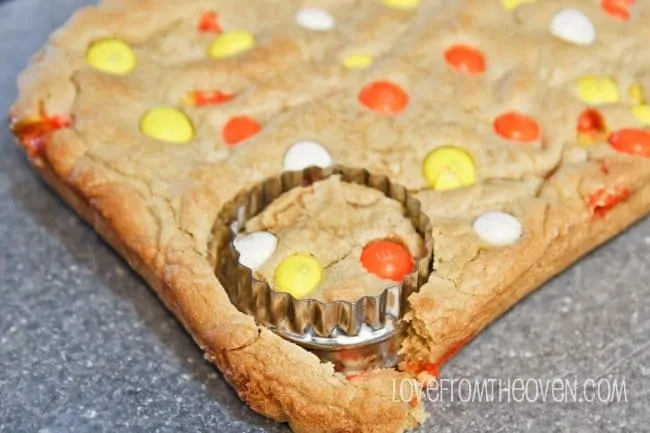 And that's it! These are a bit over the top on the sweetness scale, but so much fun.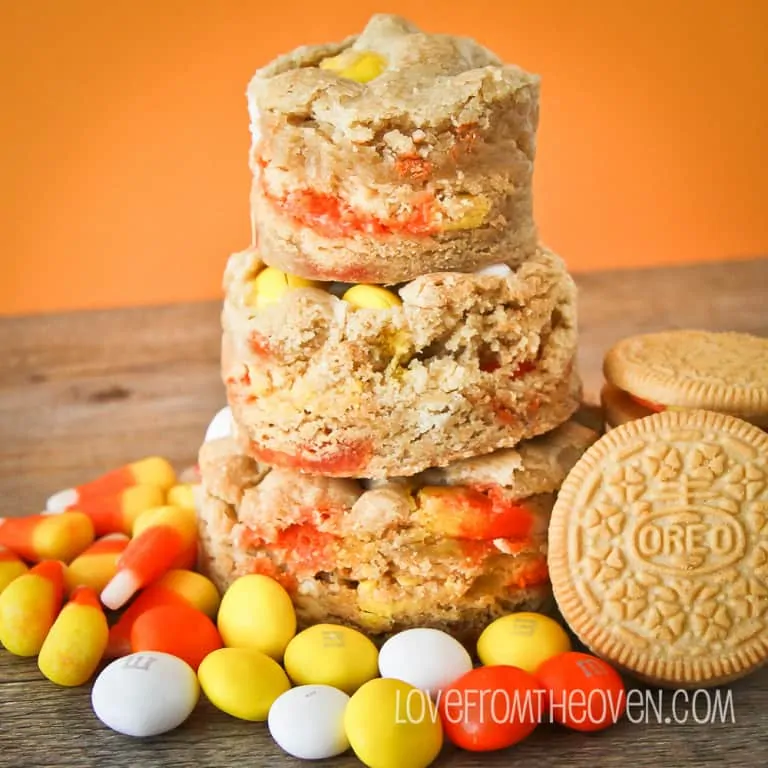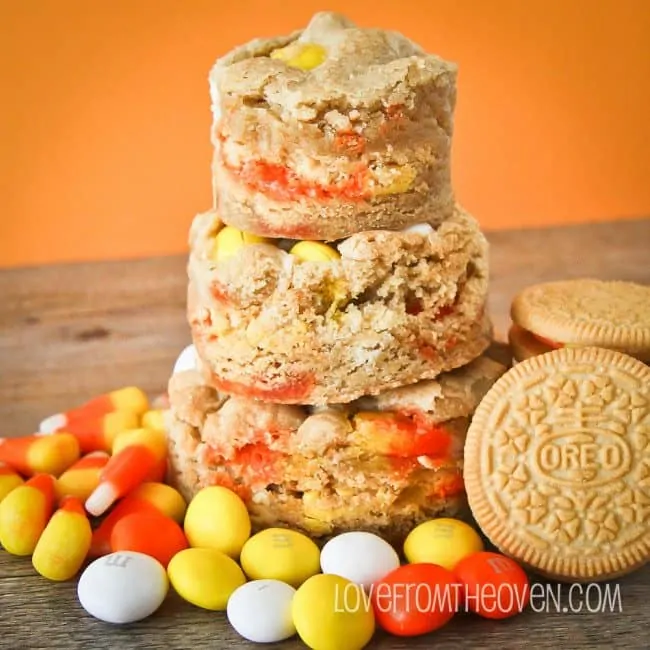 Don't forget to head over to the Fun Fall Flavors Giveaway and enter to win a few of these fall baking goodies and MANY more! Also if you love this combo, you might want to try my White Chocolate Candy Corn M&M Rice Krispies Treats – one of my favorite crispy treats ever. SO good.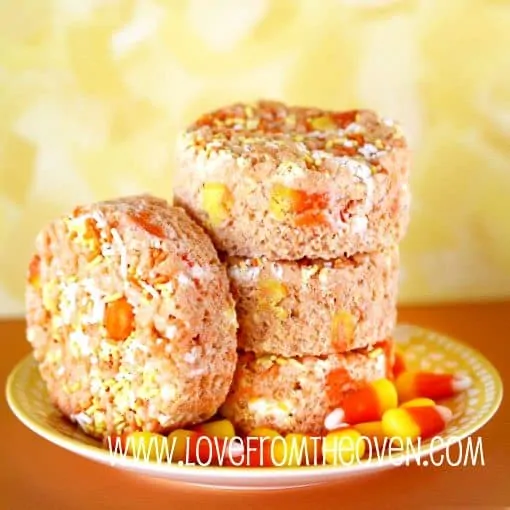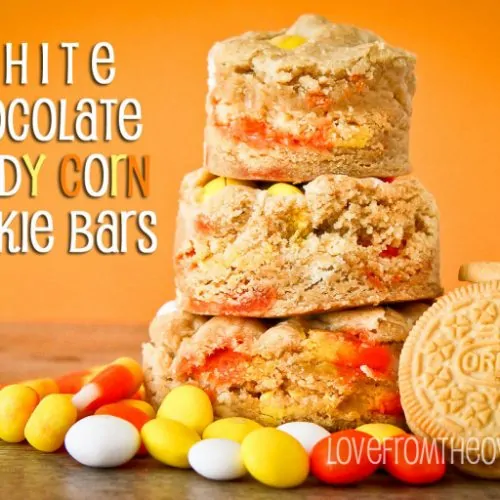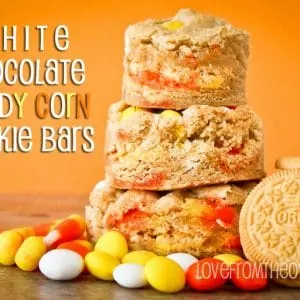 White Chocolate Candy Corn Cookie Bars
Ingredients
2

sticks of butter at room temperature

1 1/2

cups

brown sugar

1

tablespoon

vanilla

2

eggs

1 1/2

tsp

baking powder

3

cups

all purpose flour

1/2

cup

White Chocolate Candy Corn M&M's

can use white chocolate chips in place

1/2

cup

Candy Corn

One package Candy Corn Oreos

can use Golden Oreos in place

Optional - 1/4 cup white chocolate chips

Optional - 1/4 cup macadamia nuts or walnuts

Optional - 1/2 tsp salt
Instructions
Preheat your oven to 350 degrees F.

Combine butter and brown sugar with mixer until well combined. Add in eggs, one at a time, followed by your vanilla.

Add one cup of flour and your baking powder (and salt if using) to batter and mix well to combine. Add in the remaining flour, one cup at a time, mixing until well combined.

Add in 1/4 cup of your M&M's, your candy corn and any other optional mix ins.

Press about 1/3 of your dough into the bottom of an 9x11" pan that has been sprayed with cooking oil. I lined my pan with foil, and then sprayed.

After covering bottom of your pan with batter, add a layer of your Candy Corn Oreo Cookies.

Press the remaining batter onto the cookie layer, covering entirely.

Top with remaining 1/4 cup Candy Corn M&M's.

Bake for 30-40 minutes until lightly browned on top. You will want them to still be moist, but not gooey.

Enjoy!
Disclaimer
Nutrition information is estimated as a courtesy. If using for medical purposes, please verify information using your own nutritional calculator. Percent Daily Values are based on a 2000 calorie diet.