This delicious Beef Stew Crockpot Recipe is a family favorite. Even my picky eaters ask for seconds when I make this easy crock pot beef stew!
Made with simple ingredients, this slow cooker beef stew is the perfect comfort food to have ready and waiting on a cold night. Even if you don't know how to make beef stew, I promise that this easy stew recipe will produce absolutely scrumptious results!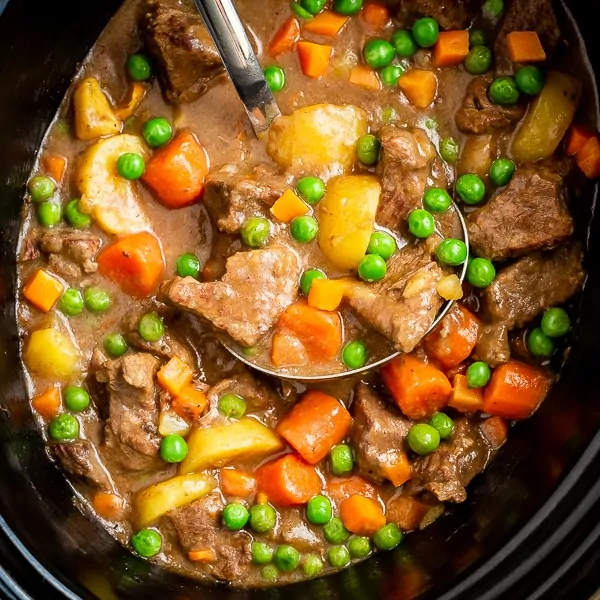 BEEF STEW RECIPE
One of the things I love most about this recipe is that it's a pretty flexible recipe. You can switch up the ingredients and even some of the cooking methods.
My family enjoys this beef stew made with potatoes, carrots and peas. Any combination of those beef stew ingredients will work, but you can also get creative. Mushrooms, celery, pearl onions, turnips and even radishes can also be added to this yummy stew recipe. This is a great recipe to adapt to either your family's tastes or whatever ingredients you have on hand.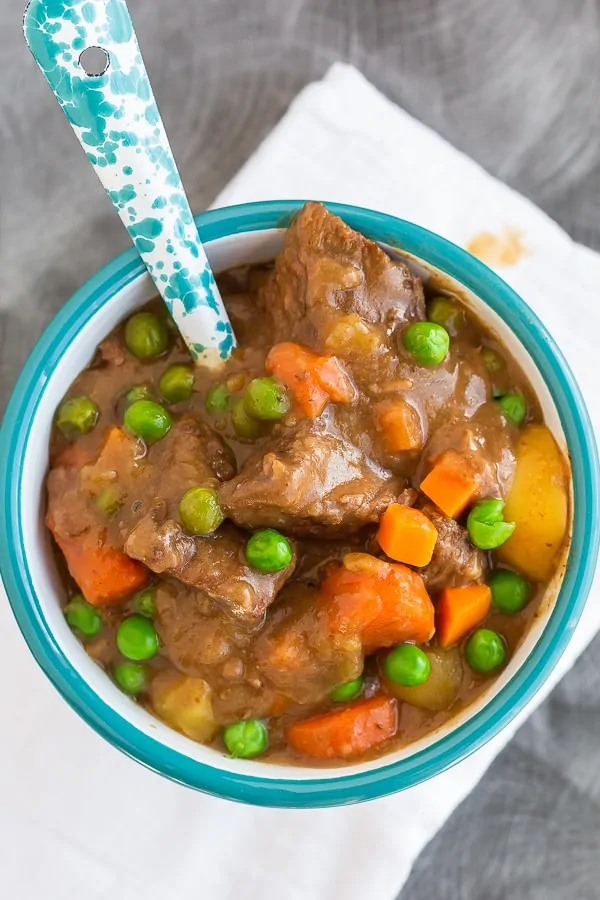 In many beef stew recipes the main ingredient is listed as "stew meat". Stew meat is kind of a catch all phrase. When I'm trying to figure out what the best meat for beef stew is, I like a bit more guidance than that. It's helpful to have a few meat options as it makes it easier to shop the sales.
BEST MEAT FOR BEEF STEW
While you can buy pre-cut "stew beef" it's not usually the choice I go with. In general tough cuts of beef with plenty of collagen are ideal for beef stew. These are often found from either the front shoulder or the rear end. A bonus is that these are often less expensive cuts of beef.
The goal with beef stew is to find flavorful cuts of meat that are tender, juicy and melt in your mouth after cooking. To achieve this, the right cut of beef combined with slow and low heat is key.
Here are a few good choices for meat:
Chuck, Chuck Shoulder, Chuck Roast, Top Chuck
Bottom Round Roast, Bottom Eye Roast, Rump Roast, Top Round, Round Tip Roast
Pot Roast, Beef Shank, Boneless Beef Short Ribs
My go to is typically chuck, but if another one of the cuts is on sale, I won't hesitate to go with it.
CROCK POT BEEF STEW
Now that you've selected your beef, the next decision is if you are going to sear your beef. My recommendation is always to sear your meat before using it for beef stew. If however you are in a hurry, or just don't want to sear your stew meat, you will still have delicious dinner. You just won't have quite as much flavor, but it will be fine, I skip this step about half the time.
Should You Sear Meat For Beef Stew?
Searing, or browning, your meat is all about building flavor. When you sear your meat, you cook it at a high temperature until a crust starts to form and the surface begins to caramelize. This really helps to creates that deep and savory flavor. I typically cut my beef into chunks, dredge in flour, salt and pepper, then sear it in two batches.
Tips For Searing Meat For Stew
When you sear meat, your pan needs to be HOT. The high temperature helps caramelize the meat.
Cooking oil in your pan helps create even caramelization and prevent uneven cooking.
Don't overcrowd the pan. This is why I brown my stew meat in two batches. Two pounds of stew meat in one pan is overcrowded. When you don't have any room between the pieces of meat, you end up steaming your meet instead of searing.
Meat releases from the pan once seared. If you place your meat into your hot pan and try and turn it too soon, it will most likely stick to the pan. Once it has seared, it should easily turn over for you to allow you to brown the remaining sides.I don't fuss too much in making sure every square inch of my meat is seared, I'm in the most is good enough camp on that one.
After you transfer your beef to your crock pot, there is still one more thing to do with that hot pan! Use some of the beef broth in the recipe to deglaze the pan.This will allow you to scrape all those delicious little flavor packed beef bits off the pan so you can transfer them to your beef stew crockpot for cooking.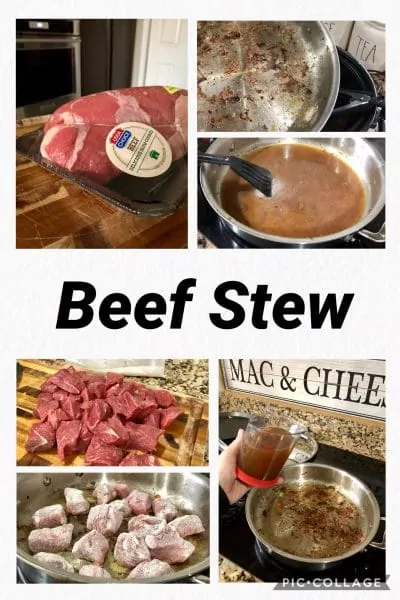 Pan For Searing Meat
I sear my stew meat in my All-Clad 3qt Saute Pan. This is my all time favorite piece of cookware. My Dad gave it to me as a gift three years ago and every single time I use it, I'm pretty smitten with it.
Granted most of my cookware is older than my kids, and we've probably eaten way too much Teflon coating, but my point is this. If you have one NICE pan in your collection, this one gets my vote. I love this pan so much I gave one to my assistant and one a friend this Christmas!
HOW TO MAKE BEEF STEW IN A CROCKPOT
Vegetables For SLOW COOKER Beef Stew
Not only do you have some flexibility in what vegetables you use in this beef stew recipe, you there is some flexibility in how long you cook them. My family strongly prefers our veggies on the more firm side. Because of this, I add my carrots and potatoes mid-way through the cooking time. This is totally a personal preference.
Also, see those nice, bright green peas? I thaw frozen peas and add them right before serving. I strongly dislike mushy dark green peas. They remind me of canned peas from my childhood. Thawed frozen peas will cook very quickly in your beef stew, so you can add them in a few minutes before serving if desired. Make sure they are thawed, if you add frozen peas to the beef stew crockpot, you're going to bring the temperature down quickly.
Thickening Beef Stew
When making stew, I want stew, not soup. A thin, runny beef stew is never the outcome I'm going for. To help thicken up my beef stew I make a slurry of the stew broth and cornstarch. 30 minutes prior to serving, I scoop out about 1/2 cup of the liquid from my beef stew crock pot. To that I add 2-3 teaspoons of cornstarch which I quickly whisk to blend.
Once blended I pour the slurry into my stew, gently stir it into the crock pot, then let it finish cooking. That little bit of slurry to thicken beef stew always does the job.
USING A CROCK POT TO MAKE BEEF STEW
There are so many crock pots on the market. From different sizes to styles, there is quite a bit of variation in crock pots and slow cookers. Here are a few helpful tips for making beef stew in a crock pot.
Crock Pot Size
For this recipe I used my 5-quart Crock Pot. My advice would be not to go any smaller than that. A 4-quart might work, but you won't have much room for stirring. Crock pots that are 6-quarts would work great, and you can probably get away with a 7-quart as well.
If you are in need of a new crockpot, I currently have my eye on this 6-quart CrockPot. It's extremely well priced and has a tremendous number of positive reviews. It's a great, simple slow cooker.
If you are looking for something programmable, this Hamilton Beach Set and Forget Slow Cooker even includes a temperature probe. The price is pretty reasonable as well.
Crockpot Cooking Times
I've owned a couple different slow cookers and crockpots. One consistent thing I've found is that they aren't actually that consistent in their cook times. The same recipe in a 4-quart crockpot isn't going to cook at the same rate as if you put it in an 8-quart crock pot. While my slow cooker simply has High, Low and Warm for temperature settings, others have far more specific settings.
Add in age, how well the lid seals, how often the lid is opened, and basically cook times aren't always black and white in a slow cooker. Use the times listed in this recipe, and others, as a guide.
The more you use your crock pot the better idea you will have of how it cooks. I had one crockpot that ran very hot, where warm was more like high. When you know if your crockpot runs a bit warm or cool, you can compensate with your cooking times.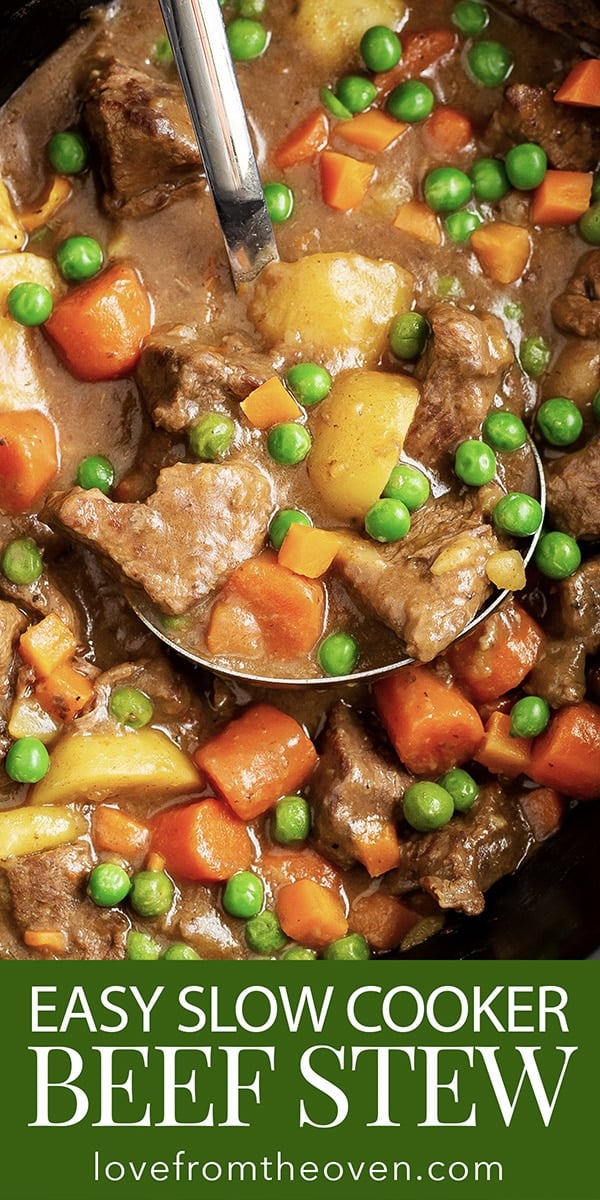 CLICK TO PIN AND SAVE BEEF STEW CROCKPOT RECIPE
RECIPE NOTES:
This recipe has been so popular that I've gotten some great feedback. Here are some tips based on what you have all had to say!
If you prefer, the vegetables and potatoes can be added with the stew meat. I personally do not like my veggies even the slightest bit mushy, so I add them after the stew meat in this recipe.
For a runnier / more brothy stew, simply add an additional cup or two of beef broth.
The seasonings in this recipe are on the mild side, to fit my family's tastes. However if your family likes a more intense flavor, then feel free to add more seasonings to fit your tastes.
For a fun serving option, serve in bread bowls.
If you like this recipe, make sure to also check out my Mississippi Pot Roast and Slow Cooker Beef Stroganoff!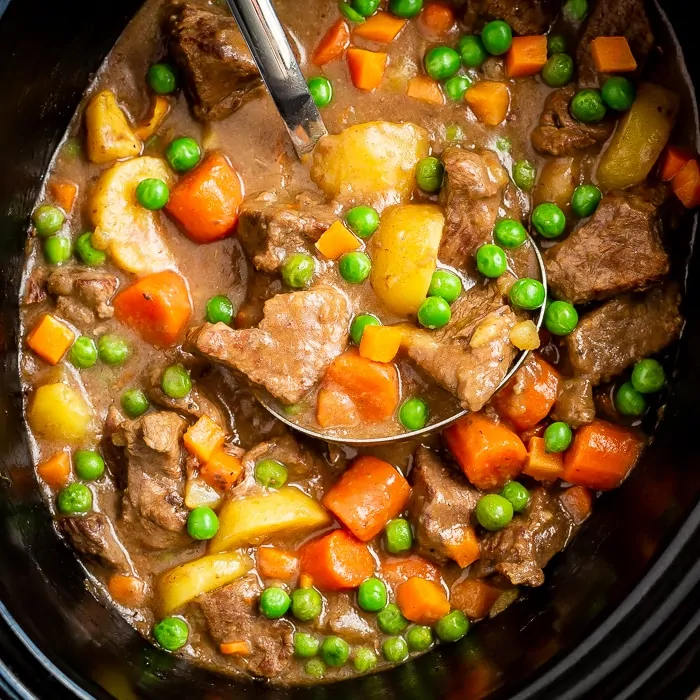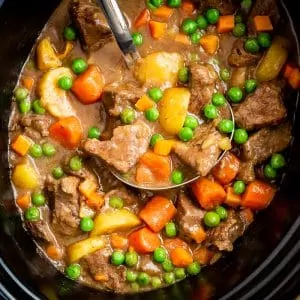 Crock Pot Beef Stew
This delicious Beef Stew Crockpot recipe is a family favorite and picky eater approved! Made with simple ingredients, this slow cooker beef stew is the perfect comfort food to have ready and waiting on a cold night.
Ingredients
2

pounds

beef stew meat

cut into approximately 1-inch pieces

1/4

cup

all-purpose flour

1

teaspoon

salt

1/2

teaspoon

ground black pepper

1

teaspoon

paprika

3

tbsp

olive oil

1

clove

garlic

minced

1

onion

diced

2

teaspoon

Worcestershire sauce

1 1/2

cups

beef broth

separated

4

medium size potatoes

diced into approximately 1-inch pieces

4

large carrots

sliced

3/4

cup

frozen peas

thawed

2-3

tsp

cornstarch
Instructions
Prepare a Crock Pot or slow cooker by spraying with non-stick cooking spray. Set aside.

Combine flour, salt, paprika and pepper and place into a large freezer style Ziploc bag.

Place half the meat into the back and shake to coat beef.

Heat olive oil in a large sauté pan. Add garlic and diced onions to pan and saute. Add the flour coated beef to the pan and sear on all sides. Once browned, remove meat, onions and garlic from pan and place in crock pot.

Place remaining meat into bag with flour and seasonings, and shake to coat. Repeat process of searing, then transfer to slow cooker.

Once all meat has been removed from pan, pour approximately 1/2 of the beef broth into the hot pan to deglaze. Use a spatula to scrape the brown bits off of the bottom. Pour beef broth, with browned bits, into the Crock Pot.

Pour remaining beef broth into Crock Pot, along with Worcestershire sauce. Seal slow cooker and cook on high for two hours or on low for four hours.

After cooking for two or four hours, remove lid and add potatoes and carrots. Gently stir to combine. Place lid back on Crock Pot and continue to cook for 1 and 1/2 hours on high or three hours on low.

Create a slurry. Carefully scoop a small amount of the liquid out of the slow cooker (approximately 1/4 cup is fine) and transfer to a small heat resistant bowl or glass. Add 2-3 teaspoons of cornstarch to the liquid and whisk immediately to blend. Once blended and no lumps remain, pour mixture back into slow cooker and gently stir to combine.

Peas can be added at this point if desired, or added 10 minutes before cooking is complete.

Cook for an additional 30 minutes, then serve.
Notes
NOTES: 
If you prefer, veggies and potatoes can be added with the stew meat. I personally do not like my veggies even the slightest bit mushy, so I do not cook them as long as the stew meat.  
For a runnier / more brothy stew, simply add an additional cup or two of beef broth. 
The seasonings in this recipe are mild, to fit my family's tastes. By all means, add more seasonings if it fits your family's preferences. 
Nutrition
Calories:
340
kcal
|
Carbohydrates:
29
g
|
Protein:
29
g
|
Fat:
11
g
|
Saturated Fat:
2
g
|
Cholesterol:
70
mg
|
Sodium:
419
mg
|
Potassium:
1023
mg
|
Fiber:
3
g
|
Sugar:
3
g
|
Vitamin A:
5320
IU
|
Vitamin C:
14.6
mg
|
Calcium:
56
mg
|
Iron:
4
mg
Disclaimer
Nutrition information is estimated as a courtesy. If using for medical purposes, please verify information using your own nutritional calculator. Percent Daily Values are based on a 2000 calorie diet.
Bread To Go With Beef Stew
Beef stew really is a great all in one pot meal. That said, I do like to serve it with a delicious bread or roll on the side. I've got some great breads to go with beef stew for you.
Dessert To Go With Beef Stew
Crock Pot Beef stew is such an earthy and hearty meal, that you can get away without serving dessert. But we all know dessert makes every meal better! Here are some great desserts to serve with beef stew…
I hope your family enjoys this delicious Beef Stew Crockpot meal as much as mine does! If you'd like more great recipes like this, make sure to sign up for my newsletter!
Originally published January 2019