If you are looking for an easy and delicious pecan pie, or a pecan pie without corn syrup, you are in luck! I was never much of a pecan pie fan until I made this pie. This is hands down the best pecan pie recipe I've ever tried! If you were going to try one of my recipes for the holidays, I think this pecan pie recipe is the top one on my list.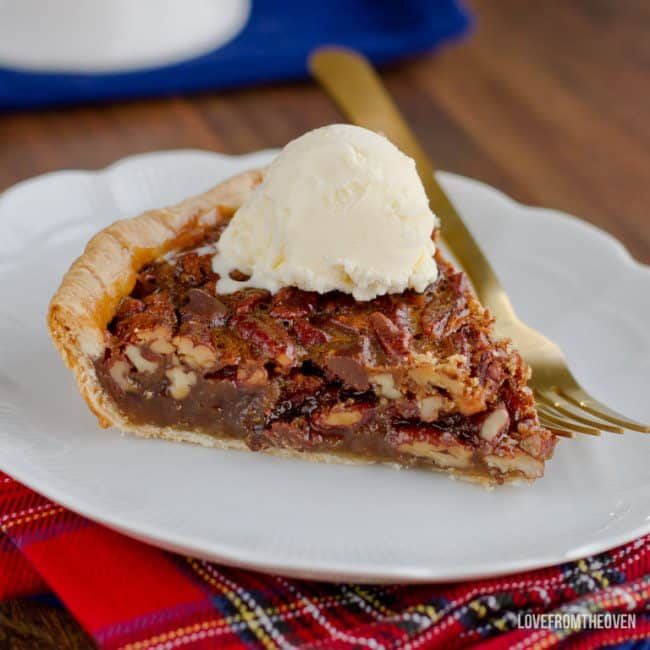 Pecan pie is sweet. I mean, REALLY sweet. Even for those of us with one heck of a sweet tooth, pecan pie can sometimes be too much. A while back I tried making a pecan pie with agave syrup.  Using the agave syrup, I found it was a little less sweet, with a little more warmth and depth of flavor. It was fantastic. This time around I made that same pie, but added in some dark chocolate chips.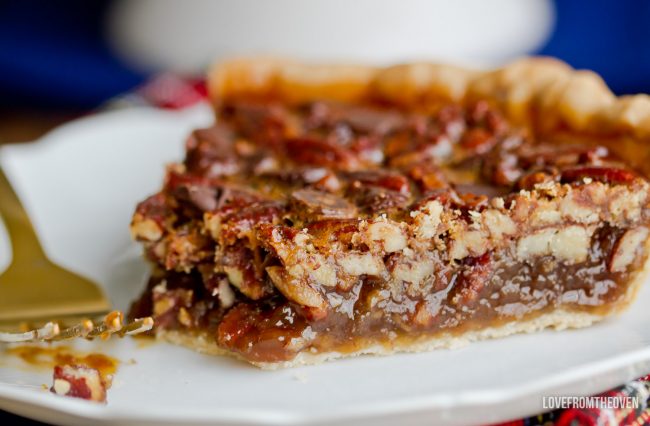 My husband gave me some serious side eye on the dark chocolate chips in it. Then he tried it, and it all made sense. That handful of just bitter enough dark chocolate chips balanced out some of the sweetness, and the result is fantastic. And for those who aren't big on corn syrup, this pecan pie without corn syrup is a fabulous option, and it's every bit as easy. I've never really used agave syrup in my cooking or baking, this pie is the only recipe I've used it with, and I can safely say it's now how I always make my pecan pies. It's not a maple syrup flavor, but it's a more complex flavor than corn syrup is.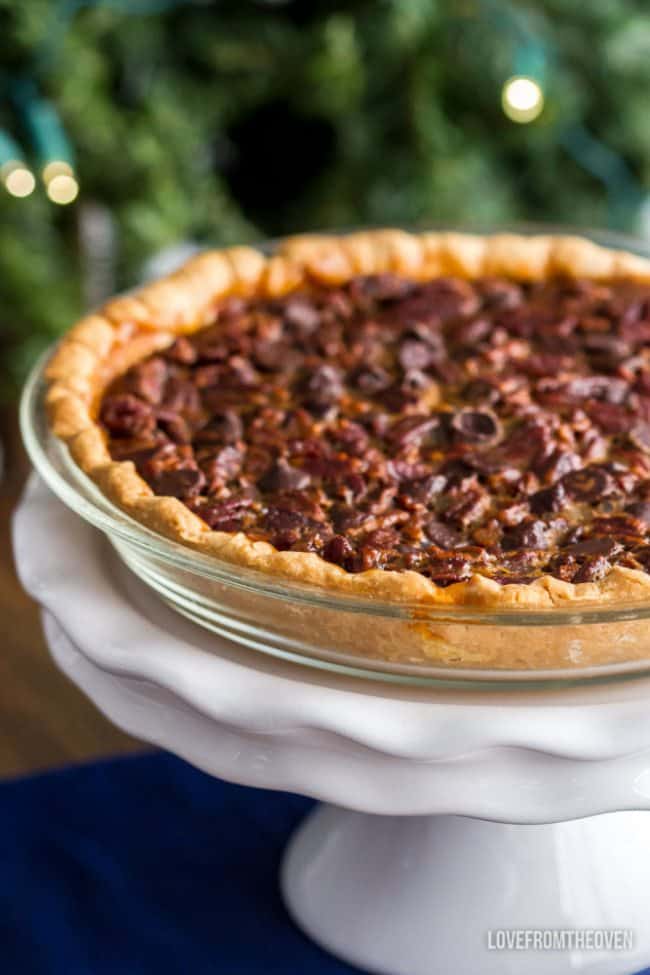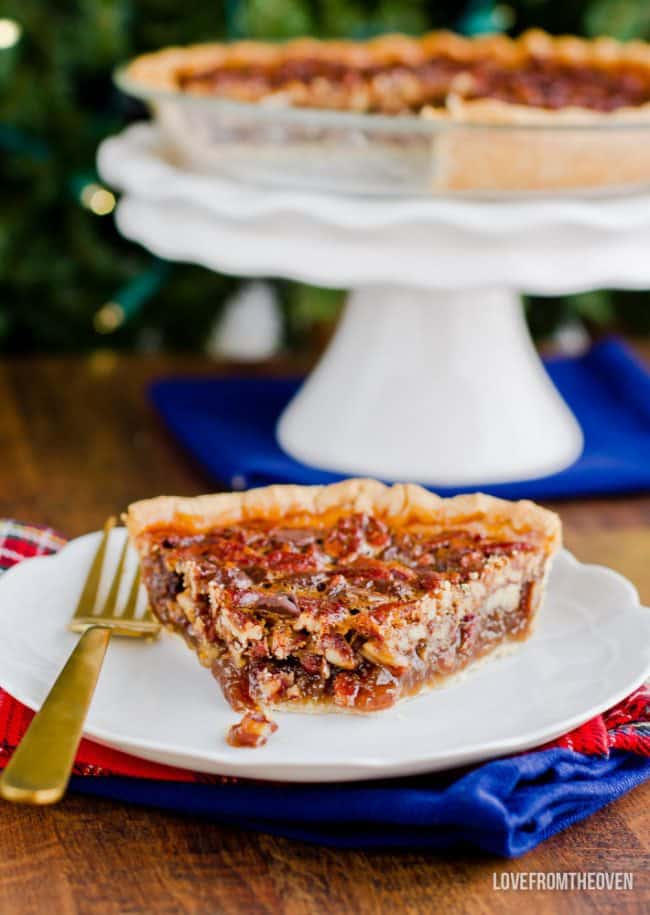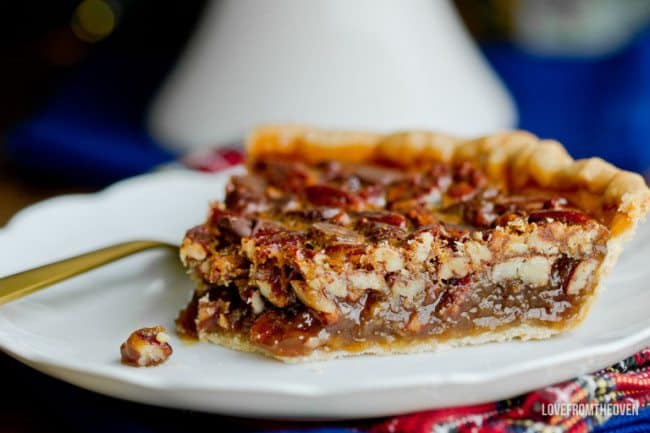 This recipe for pecan pie without corn syrup is easy. I mean super easy. Like no extra stress to your Thanksgiving prep, easy. You start by combining some butter and brown sugar on the stove. To that mixture you add agave syrup, vanilla and salt. It's all mixed with some eggs and poured over your pecans and chocolate chips. Bake. Cool. ENJOY!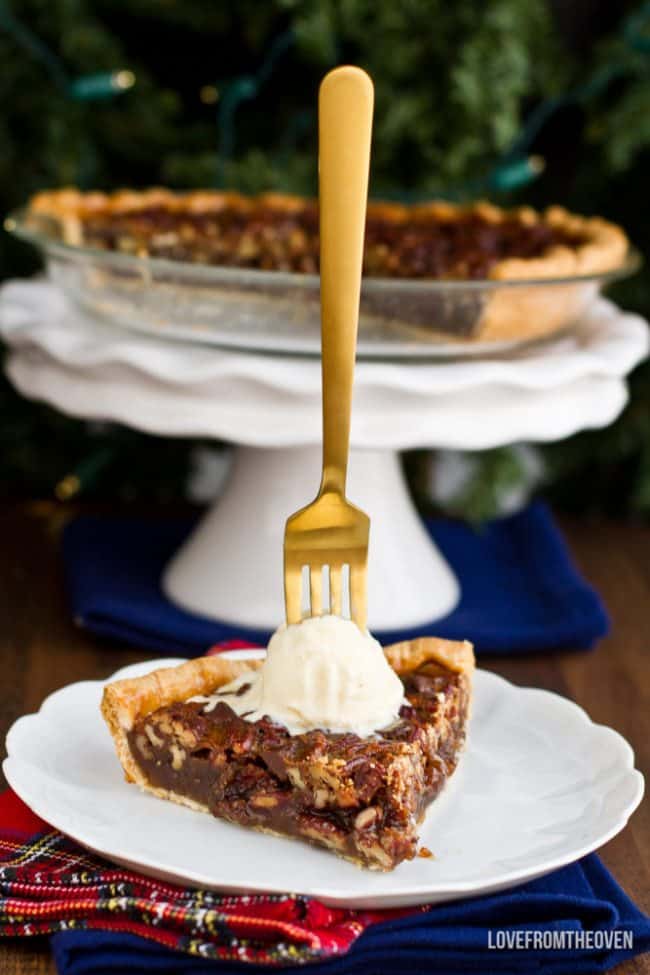 Pecan Pie Without Corn Syrup Recipe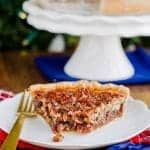 Pecan Pie Without Corn Syrup
Ingredients
6

tbsp

butter

1

cup

and 1/4 light brown sugar

packed

2

tsp

vanilla extract

1/4

tsp

salt

3/4

cup

agave syrup

I use Agave In The Raw

2

large eggs

room temperature

2

cups

pecans

1/2

cup

dark chocolate chips

1 9

" deep dish pie crust

unbaked (homemade or store bought is fine)
Instructions
Preheat oven to 350 degrees F.

Prepare your pie crust in your pie plate so that it is ready for your filling. Pour pecans and chocolate chips into pie crust and spread out. Place pie plate with crust, chocolate chips and pecans onto a baking sheet and set aside.

In a heavy saucepan over medium heat, melt your butter. Once butter is melted, add brown sugar and stir until mixture is well combined. Remove from heat. Add in your vanilla, salt and Agave In The Raw, stirring until well combined. In a separate large bowl, gently beat the eggs. Add mixture in the saucepan to the egg mixture, stir to combine the two mixtures. Pour mixture over pecans in pie crust.

Place pie plate (on baking sheet) into oven and bake until the filling is set, approximately 50-60 minutes. Remove from oven and allow to cool for at least one hour prior to serving. Store tightly covered.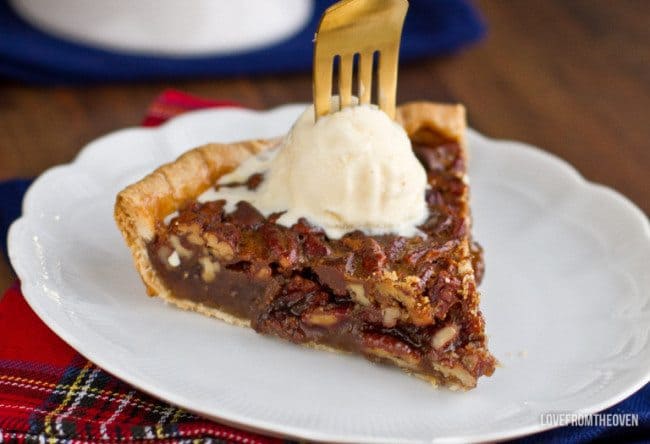 I hope you LOVE this pie! You can also make it without the chocolate chips, as I did here.