This Broccoli Chicken Alfredo recipe is an easy weeknight meal that you can whip up in no time, and is guaranteed to please anyone who tries it! Juicy chicken and al dente pasta are coated in a creamy Alfredo sauce that will steal the show at the dinner table.
If you're prone to busy weeknights, but still want to make something the whole family will enjoy, this Chicken Broccoli Alfredo is about to become your new best friend!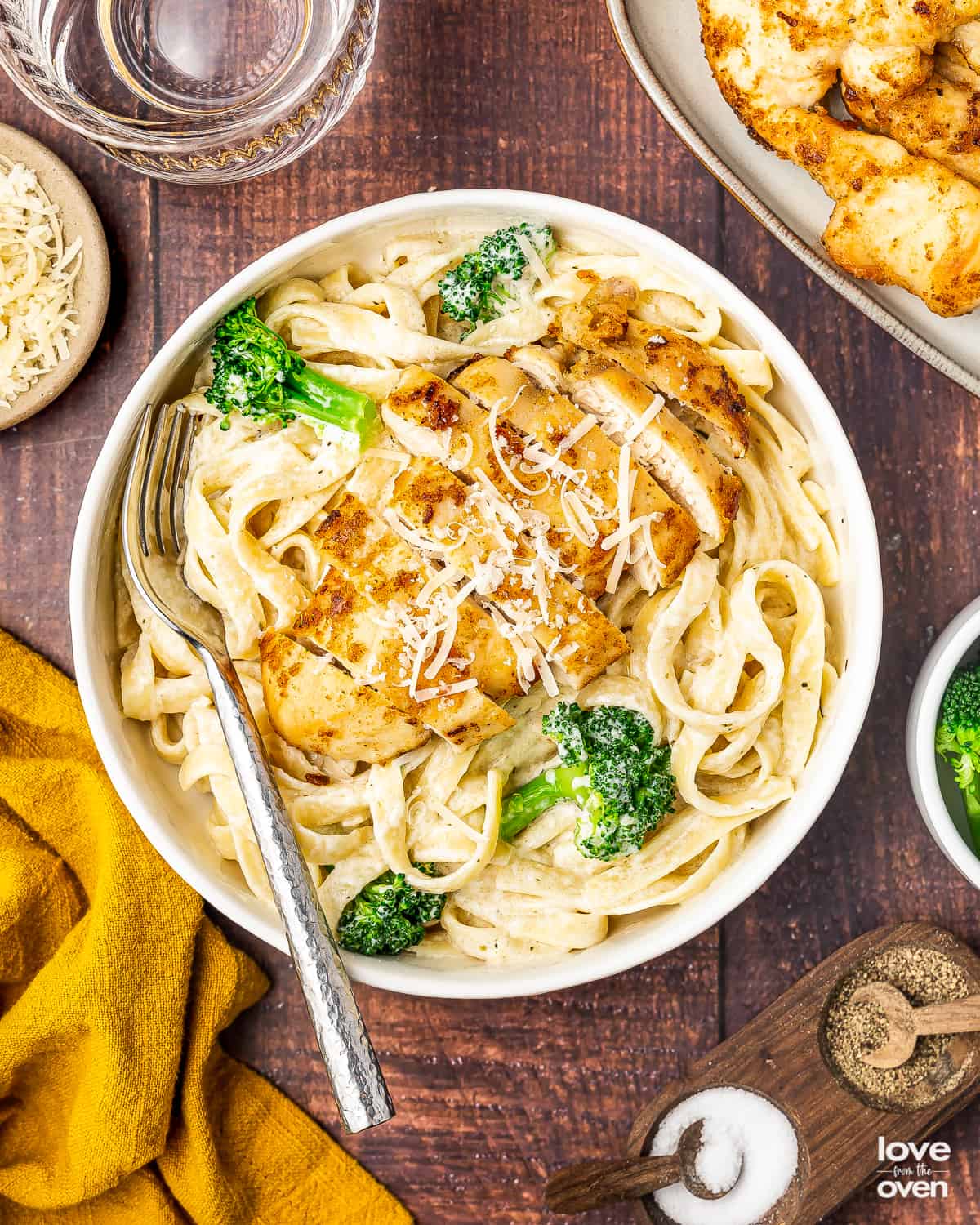 Reasons You'll Love This
Easy Recipe – While this recipe isn't something you can pop in a microwave and call it done, it's a simple start if you want a nice, warm home-cooked meal.
Picky Eater Approved – If you've got a picky eater at home, this recipe is a surefire way to make sure those kiddos get in their protein and veggies. Anything covered in a homemade Alfredo sauce is guaranteed to get eaten!
Creamy Pasta Recipes – Anything with the word pasta in the name is a win for me. But creamy pastas? That's the best part of life!
Weeknight Win – After a long day at work, you just want something that's easy to make and tastes delicious. This broccoli Alfredo pasta is all of those things!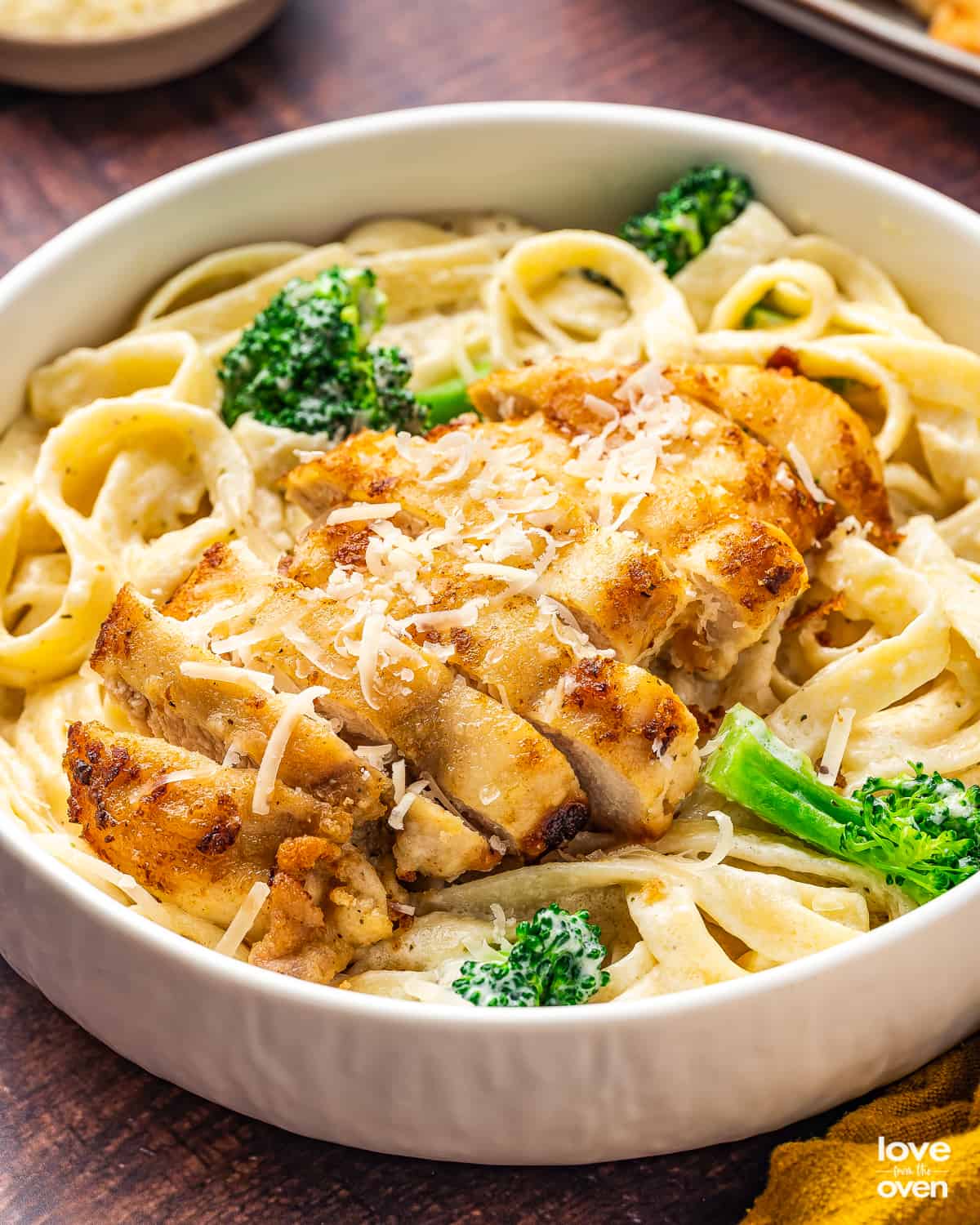 What does delicious, creamy, filling, and nutritious all have in common? They all can be used to describe this Chicken Broccoli Alfredo recipe! Plus, you really can't ever go wrong with pasta, no matter what you add to the mix.
Ingredient Info
Let's discuss how to make Broccoli Chicken Alfredo, as well as the ingredients that are needed. Please take note that below you will find discussion, expert tips, and answers to frequently asked questions about this recipe to help you recreate it in your kitchen. If you *just* want the recipe itself, scroll down. The full printable recipe itself, with exact measurements and instructions, is found at the bottom of this page.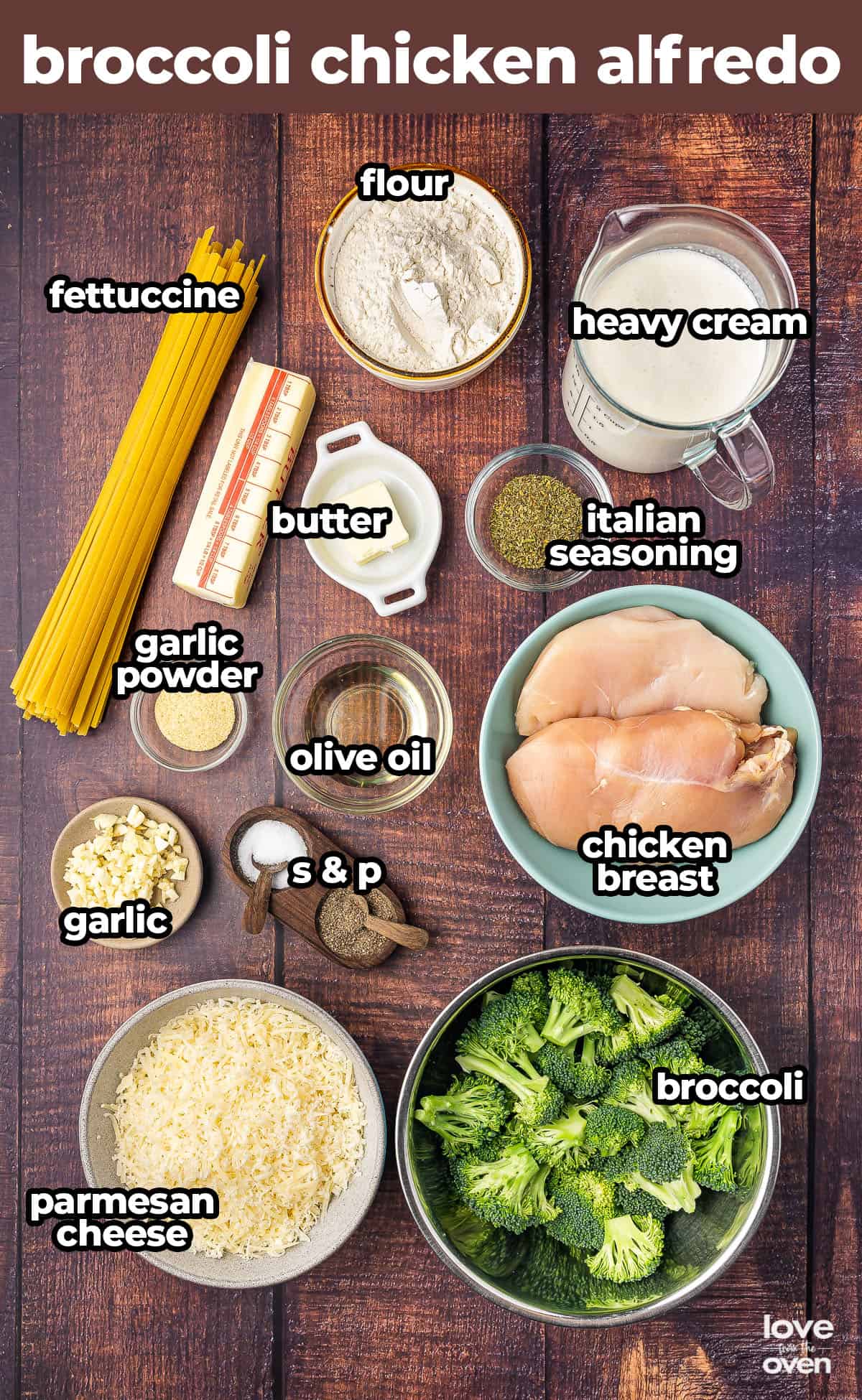 Chicken Breasts – Boneless skinless chicken breasts are ideal for this recipe. If you want, you could use chicken thighs instead. If you do, be sure to keep an eye on them, because they tend to cook a bit faster. If you're in a rush, there's also nothing wrong with some shredded rotisserie chicken!
Flour – The flour is for coating the chicken so it has a nice crispy skin. Don't worry, you're not making a roux!
Pasta – Fettuccine pasta is the classic noodle type for this recipe. You don't have to use that type of pasta however. You could make this with spaghetti, penne, rigatoni, bowtie or rotini pasta.
Broccoli – I prefer fresh broccoli for this recipe, but you could definitely try making it with frozen broccoli as long as you thaw and cook it before adding it to the pasta. You also don't have to stop at broccoli, you could use a mix of all of your favorite vegetables!
Butter – Since you'll add salt to the recipe, go with unsalted butter. If you want to use salted butter, omit the salt from the recipe. Make sure you measure out butter for the chicken AND the sauce.
Heavy Whipping Cream – Also known as heavy cream, this ingredient is key to getting the right consistency in the homemade creamy sauce.
Minced Garlic – Fresh garlic is preferred, but if you only have jarred minced garlic, that will also work!
Italian Seasoning – If you don't have Italian seasoning, you could substitute for half dried oregano and half dried basil. There won't be as much of a flavor profile, but it will still do the trick.
Parmesan – Using fresh parmesan will really elevate this dish! You can also use the pre-shredded or grated kind if that's all you have.
Olive Oil – Olive oil is a classic oil choice for Italian dishes, but you can sub this for vegetable oil or avocado oil instead.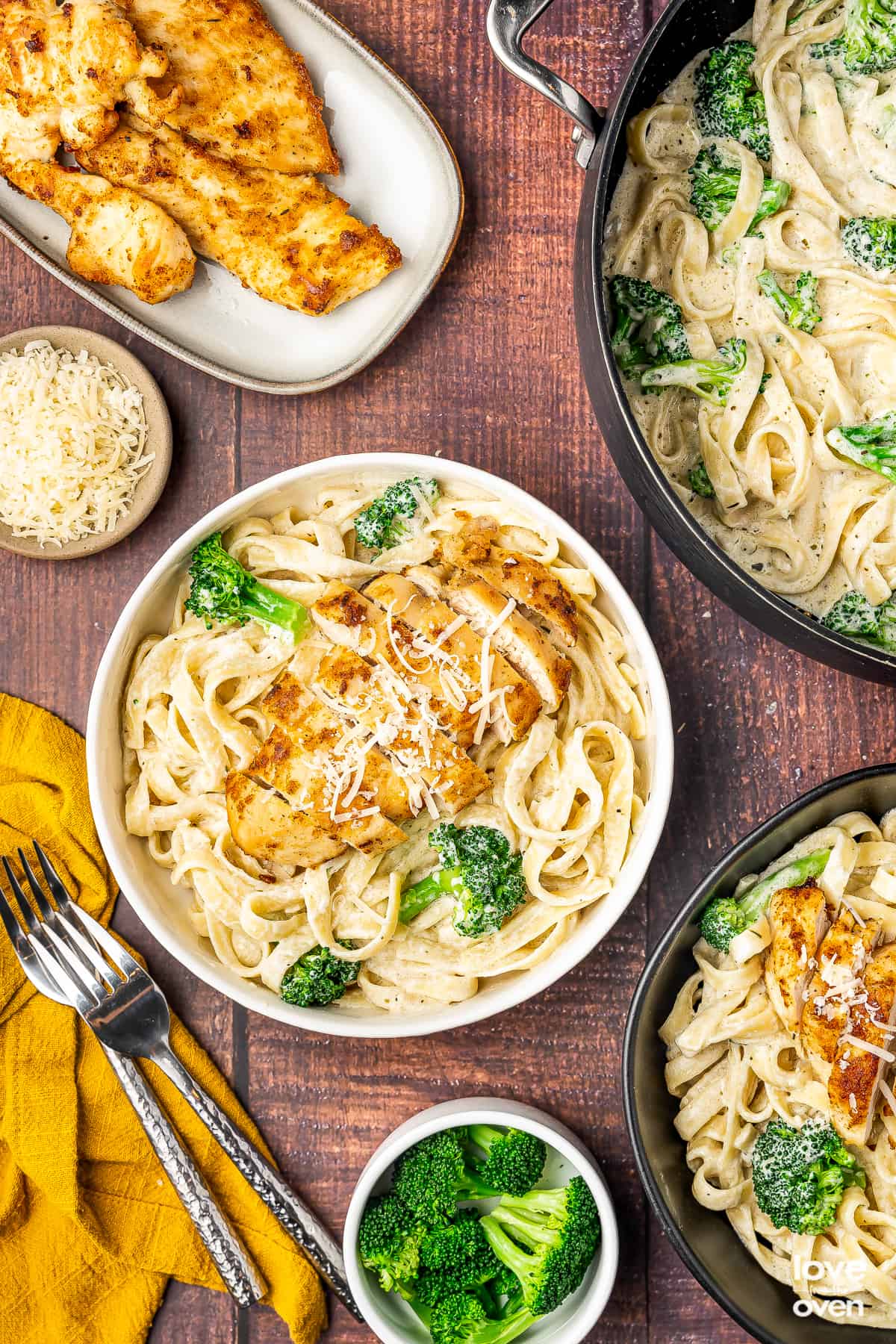 Step By Step Instructions
In a shallow dish, combine flour, garlic powder, Italian seasoning salt and black pepper.
Place the chicken pieces in the flour mixture to coat completely.
Shake off the excess flour from the chicken, and repeat until each piece is coated.
Place a large skillet on the stove. To the skillet add olive oil and butter, then heat the pan over medium-high heat. Once the butter melts and becomes hot, place the chicken breasts on the skillet and cook on each side until the chicken is golden brown. This takes approximately 5 minutes each side. Remove the chicken from the skillet and set aside.
Next, begin boiling water in a large pot over a high heat on the stove. Place the fettuccine in the pot and cook pasta al dente. Do not over cook the pasta.
Drain the pasta mixture, and coat it with a little extra olive oil or butter to keep the noodles from sticking to each other while you cook the broccoli florets and start on the sauce.
Steam the broccoli using a steamer for about 5 minutes or until you get some nice, tender broccoli. You don't want it to be too soggy. Drain the excess water off the broccoli and set aside.
To the same pan that the chicken was cooked in, (don't clean it yet!) add butter and the heavy cream. Let that come to a gentle simmer and cook for about 2 minutes. Stir sauce occasionally. Add in more garlic powder, salt, Italian seasoning and black pepper.
Next, add in freshly grated parmesan cheese and whisk that together until the cheese has melted and everything thickens. If you find the sauce to be too thick, add a splash of pasta water and whisk until combined.
Add the drained pasta to the sauce and toss the noodles until they're evenly coated. Add the broccoli and keep tossing. With the chicken you can either slice it and place it on top or cut it into bite-sized pieces and toss it with the pasta. Plate your noodles and sprinkle any additional parmesan cheese on top. Serve and enjoy!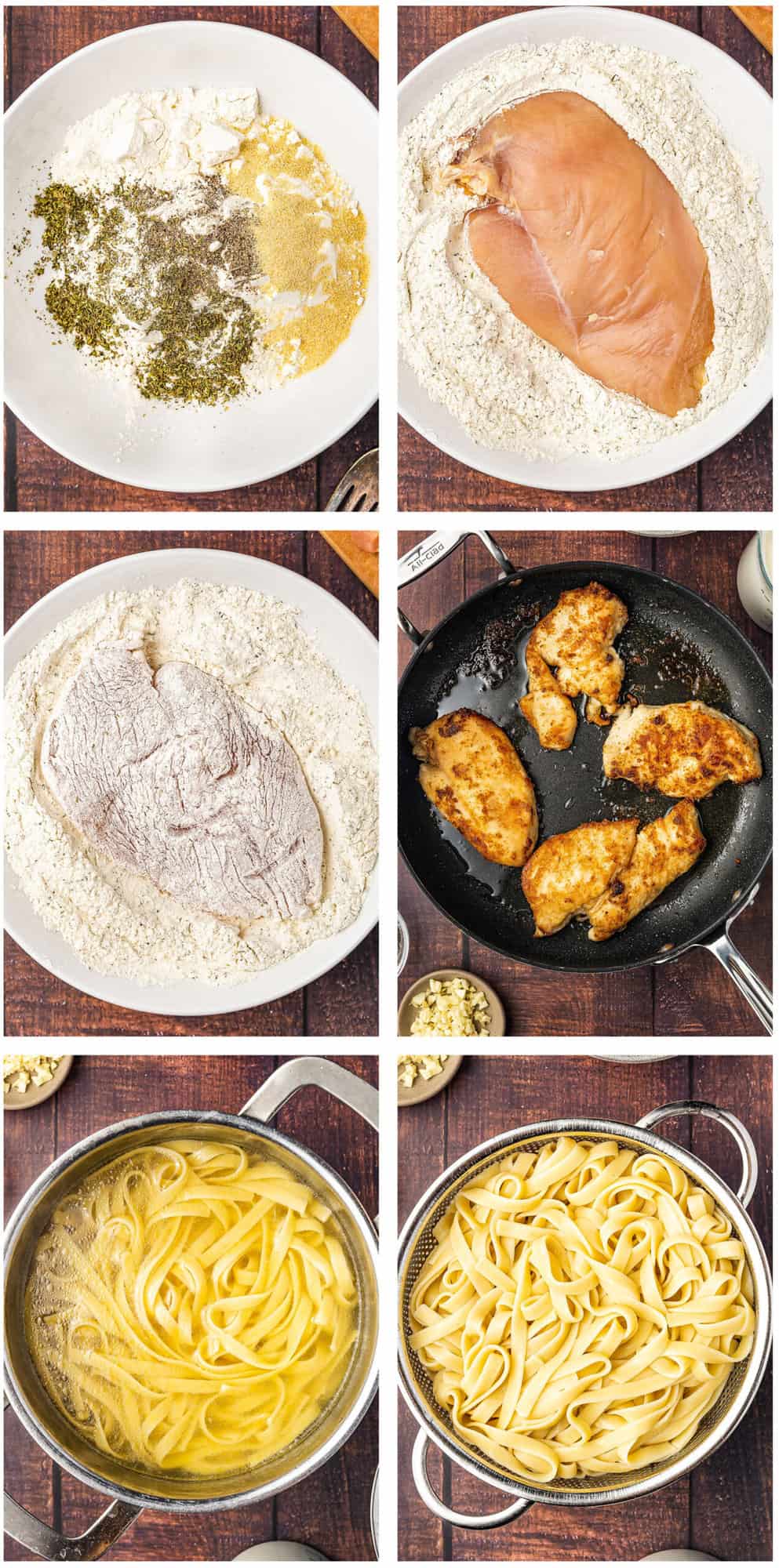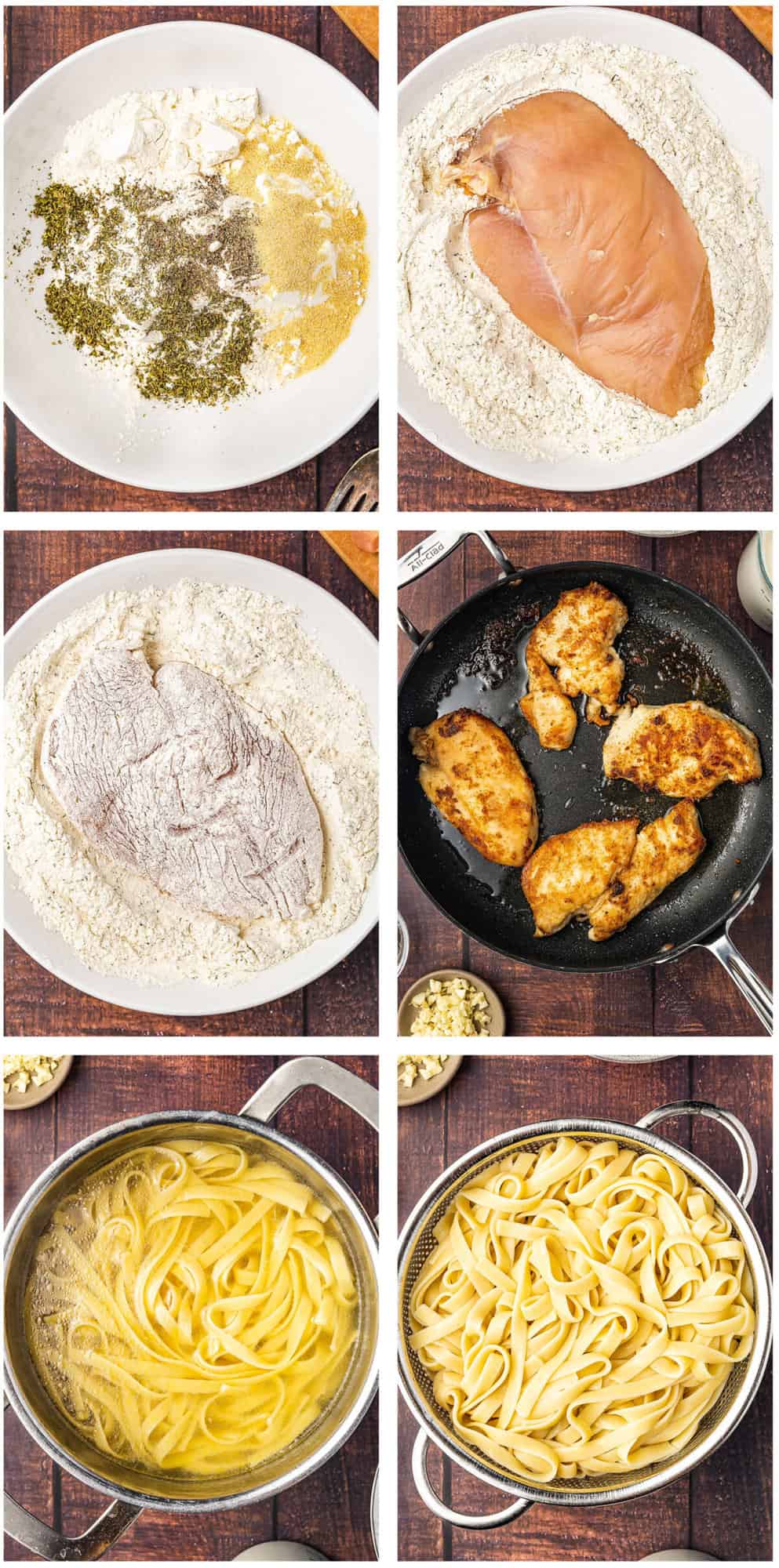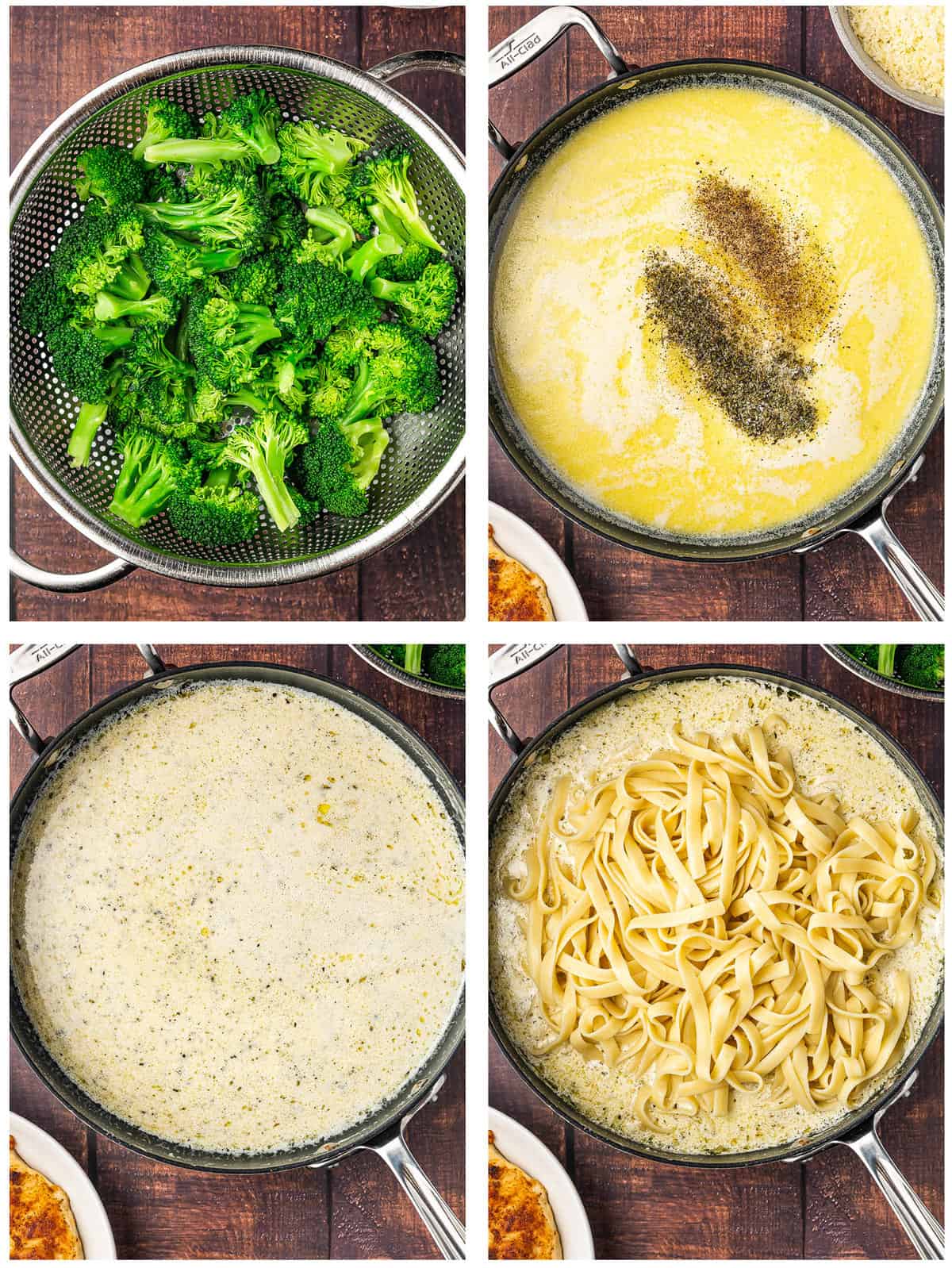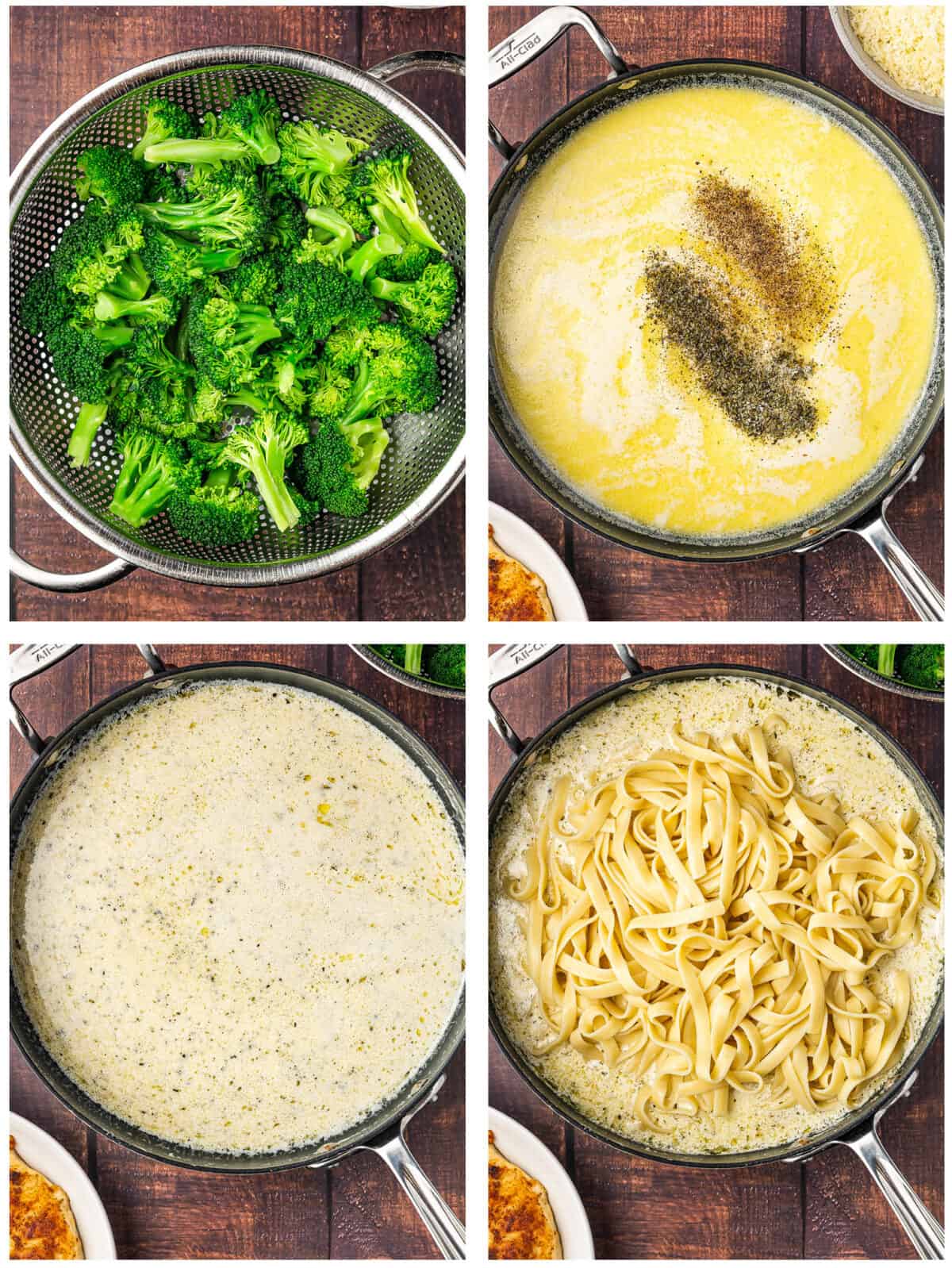 Tips And Advice
Storage – Store the leftovers in an airtight container in the fridge for about 2-3 days. Reheat in the microwave, or for the best results, on a skillet with some extra butter and cream.
Customize To Your Liking
If you're bored of plain Alfredo pasta dishes, you can spruce it up with some spices! You can add cajun seasoning to the sauce and chicken to add some kick, or sun-dried tomatoes for a richer sauce flavor. You can also add different kinds of protein like shrimp or salmon which would taste amazing.
Equipment
For this recipe you may want a few or all of the following materials: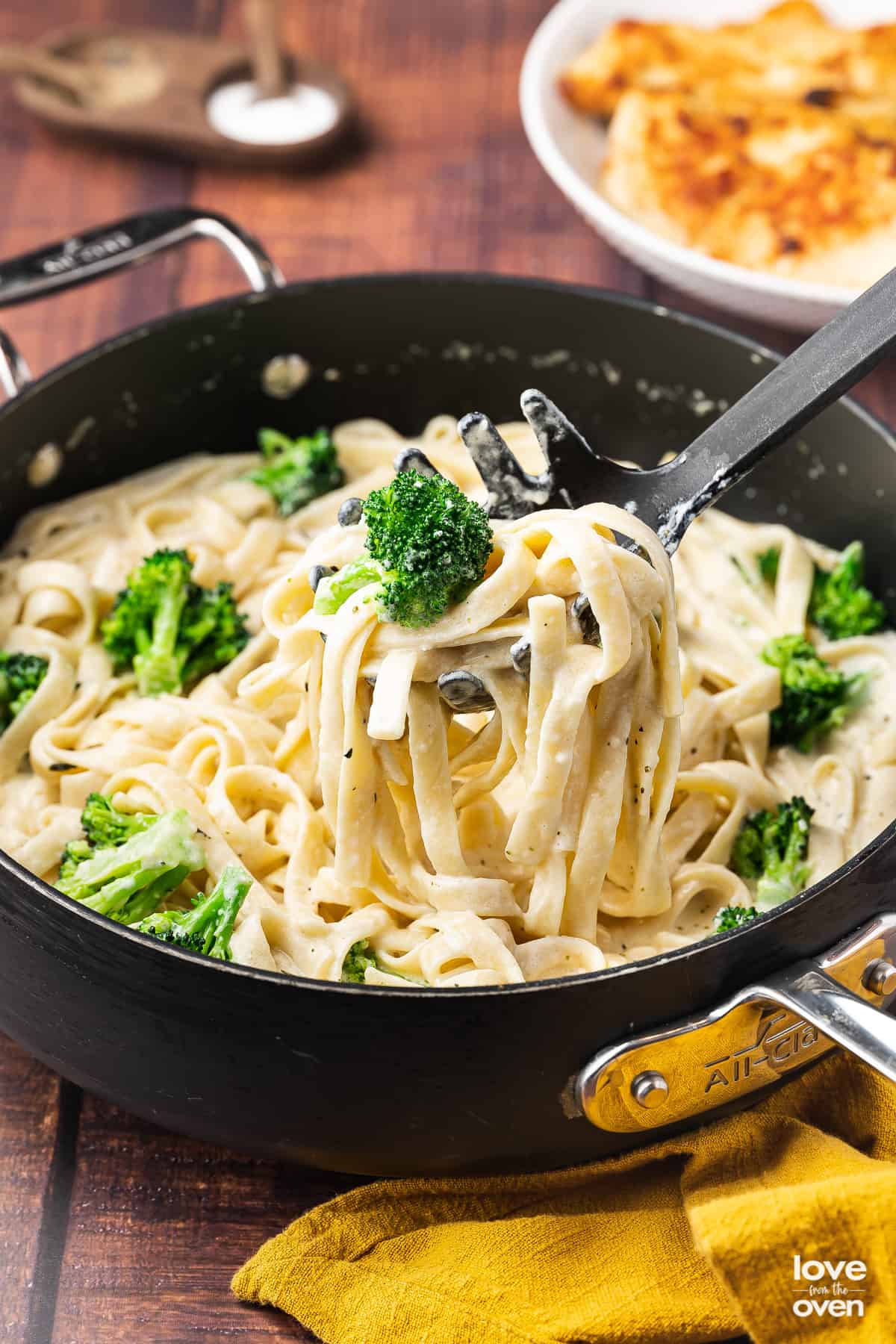 FAQs
What can I add to chicken Alfredo to give it more flavor? 
Along with the additional seasonings, you could use onion powder, cayenne pepper, red pepper flakes, regular olive oil instead of extra virgin olive oil, and you can also top it with some fresh parsley or basil!
What vegetables go good in Alfredo? 
Besides broccoli, some other great options are asparagus, spinach, green or red peppers, fresh tomatoes, & zucchini! 
Serves Well With
Serve this lovely main dish with some even lovelier sides and appetizers! Check out a few of these recipes that would make your meal complete.
More Recipes You'll Love!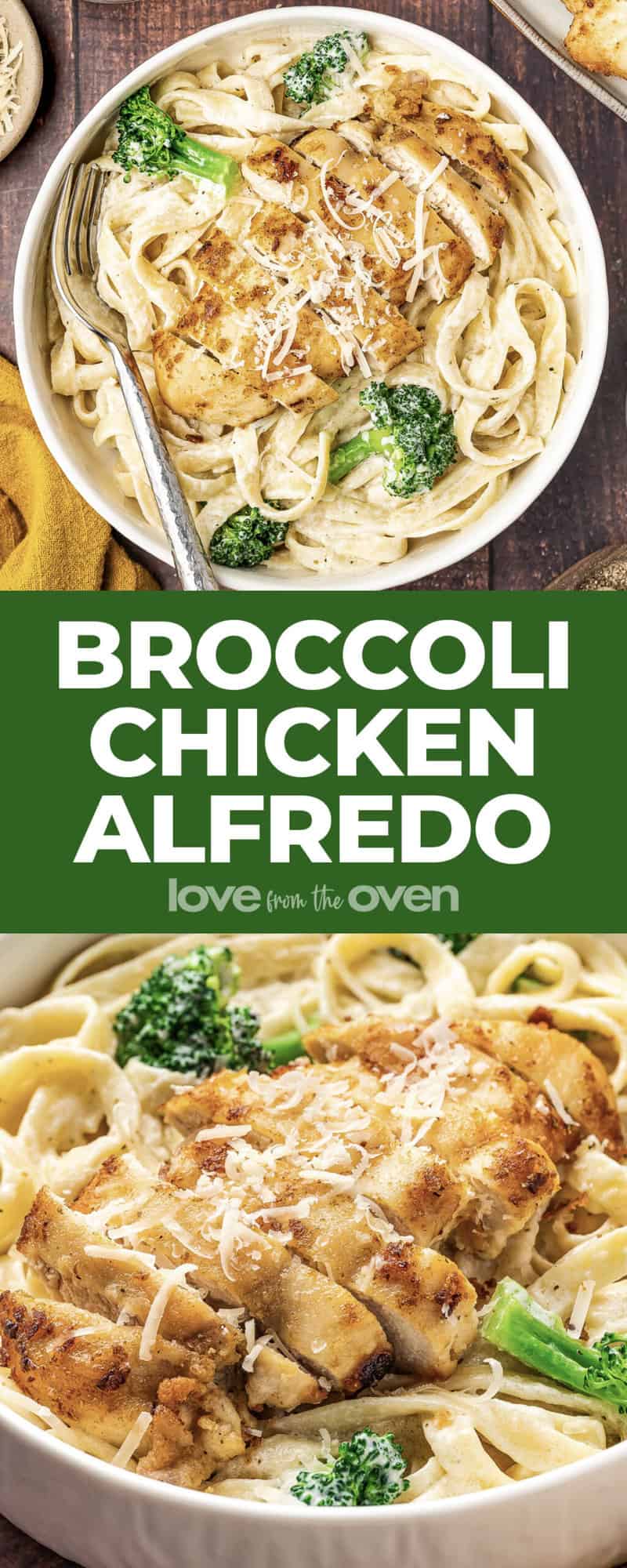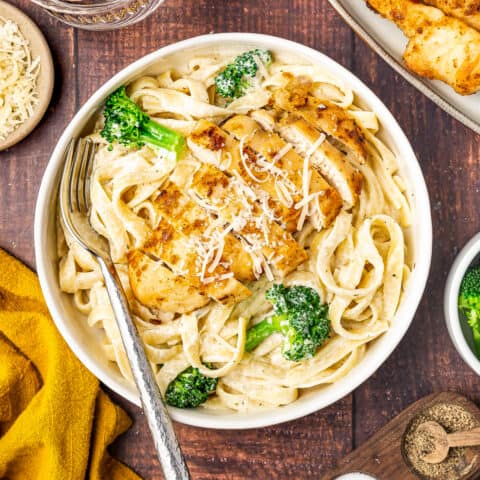 Broccoli Chicken Alfredo
Ingredients
Pasta
8

ounces

fettuccine pasta
Alfredo Sauce
1/2

cup

unsalted butter

2

cups

heavy whipping cream

3

teaspoons

minced garlic

1/2

teaspoon

Italian seasoning

1/2

teaspoon

salt

pinch pepper

2

cups

freshly grated parmesan cheese

pasta water

reserve about 1/3 cup of pasta water to thin the alfredo sauce if desired
Broccoli
1/2

pound

fresh broccoli florets

about 2 to 3 cups of florets
Chicken
1

pound

boneless, skinless chicken breasts*

2 large breasts (approximately)

1

cup

flour

for dredging the chicken

1

teaspoon

garlic powder

1

teaspoons

Italian seasoning

1

teaspoon

salt

1/2

teaspoon

pepper

1

tablespoon

olive oil

1

tablespoon

butter
Instructions
Pasta
Boil a pot of salted water and cook fettuccine according to the package directions for al dente pasta. Do not over cook.
Chicken
Cut chicken breasts in half lengthwise to create 4 thin pieces out of the two thick pieces.

Combine flour, garlic powder, Italian seasoning, salt and pepper. Gently press chicken breasts into flour mixture to lightly coat.

Heat butter and olive oil in a large skillet over medium high heat. Once the pan is hot, add chicken breasts and cook for approximately 5 minutes on each side, or until golden and cooked to 165 degrees in their center. Remove chicken breasts from pan and set aside.
Broccoli
While chicken is cooking, steam broccoli for approximately 5 minutes. It should be tender but still bright green and crisp. Do not overcook.
Alfredo Sauce
Using the same pan that was used to cook the chicken (no need to clean – scrape any browned bits off the bottom if they are there, those can be used in the sauce), add ½ cup butter and heavy cream to the pan and bring to a low simmer. Cook for 2 minutes on a gentle simmer, do not bring to a rolling boil.

Add in garlic, salt and pepper and Italian seasoning, and cook for one minute.

Add in grated cheese and whisk until melted and sauce has thickened. If sauce is too thick, add a bit of the reserved pasta water to the sauce and whisk well until incorporated.
Broccoli Chicken Alfredo
Add drained pasta to the sauce and toss to coat with sauce. Add broccoli and gently toss to coat. Slice chicken and either add and toss, or top the dish with the chicken. Top each serving with freshly grated parmesan just before serving.
Notes
*Chicken can be but into smaller pieces if desired to create additional servings.
Nutrition
Calories:
1363
kcal
|
Carbohydrates:
80
g
|
Protein:
56
g
|
Fat:
92
g
|
Saturated Fat:
53
g
|
Polyunsaturated Fat:
5
g
|
Monounsaturated Fat:
25
g
|
Trans Fat:
1
g
|
Cholesterol:
367
mg
|
Sodium:
1969
mg
|
Potassium:
1014
mg
|
Fiber:
5
g
|
Sugar:
6
g
|
Vitamin A:
3415
IU
|
Vitamin C:
53
mg
|
Calcium:
603
mg
|
Iron:
4
mg
Disclaimer
Nutrition information is estimated as a courtesy. If using for medical purposes, please verify information using your own nutritional calculator. Percent Daily Values are based on a 2000 calorie diet.