One Pot Lemon Pasta is an insanely easy and flavor packed dinner that can be ready and on the table in only 15 minutes! A creamy, lemon flavored sauce perfectly coats al dente pasta and is garnished with some fresh herbs making this a dish to die for. This simple ingredient lemon pasta recipe will have you wondering why you ever spent more than an hour bent over a stove cooking.
Reasons You'll Love This
Creamy and Delicious – The cream sauce on this pasta is so flavorful, velvety, and rich. You'll be shocked that something so good was only made in 15 minutes.
Lemon Leftovers – Maybe you have a lemon tree, or lemons on your counter that aren't getting any younger. Either way, this is a great way to use up some of those lemons.
Simple or Complex – You can make this recipe as simple as the recipe calls for, or jazz it up with some fancy toppings, spices, or your favorite pasta mix-ins.
Large Serving Size – This makes a decently large portion, enough to serve a whole crowd!
Family Approved – I guarantee you this will become a family dinner favorite.
One Pot Wonder – Not having a million dishes to do after dinner somehow makes the food taste better.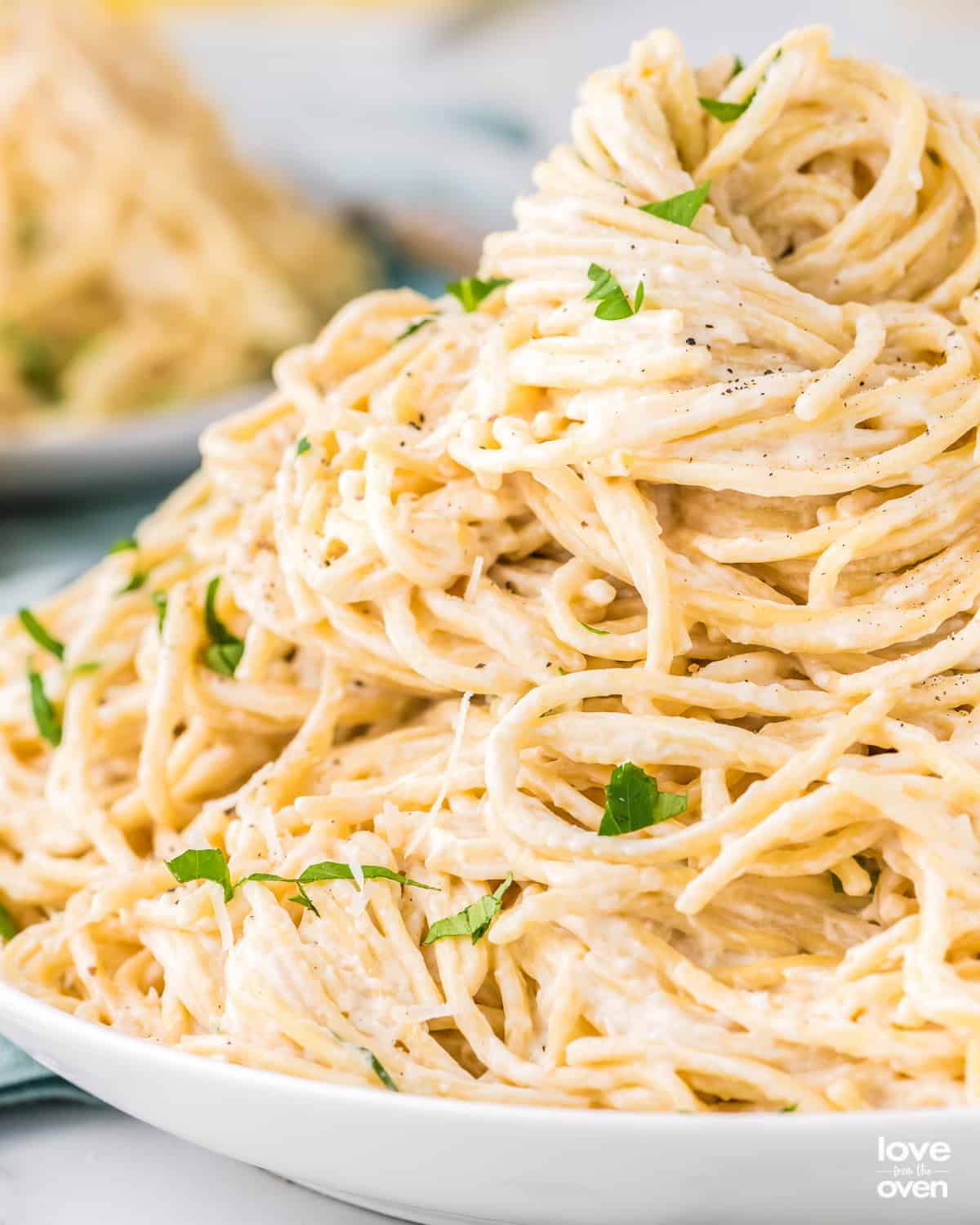 It may be important again to mention that this creamy lemon pasta is made in 15 minutes, and only uses one pot! On top of that, the flavors and textures of this pasta are otherworldly. The cream gives the sauce a rich and buttery texture, while the lemon adds a bright and tangy flavor. You won't regret making this.
Ingredient Info
Let's discuss how to make Lemon Pasta, as well as the ingredients that are needed. Please take note that below you will find discussion, expert tips, and answers to frequently asked questions about this recipe to help you recreate it in your kitchen. If you *just* want the recipe itself, scroll down. The full printable recipe itself, with exact measurements and instructions, is found at the bottom of this page.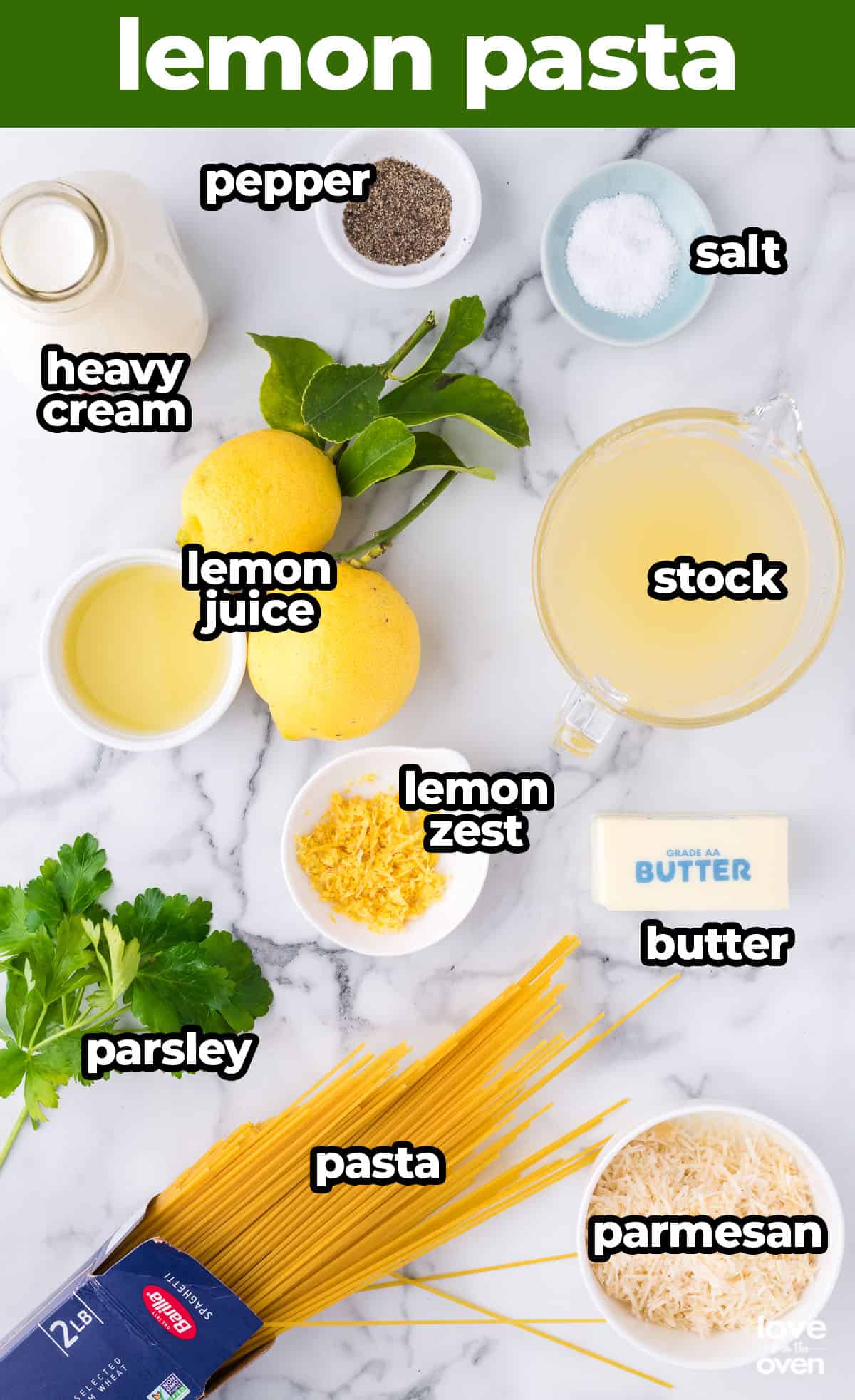 Pasta – Use whatever thin, dry pasta you prefer for this dish. You will find that a long noodle like a spaghetti, angel hair or thin spaghetti will really absorb and grab onto that pasta sauce perfectly. I don't recommend using a thicker noodle.
Lemon Juice – Using fresh lemon juice is always ideal in any lemon recipe. However, using bottled lemon juice will work just as well.
Stock – You can use chicken or vegetable stock, the difference is based on your taste preference.
Parmesan – Using freshly grated parmesan is ideal for most pasta recipes, because it melts down so effortlessly.
Butter – Whether you use unsalted or salted butter, it doesn't make a huge difference. Just make sure the butter is cold.
Heavy Cream – Or heavy whipping cream if you can't find any heavy cream. They are essentially the same thing.
Lemon Zest – To get lemon zest, use a lemon zester to scrape the peel off the lemon and it will create some lemon shavings.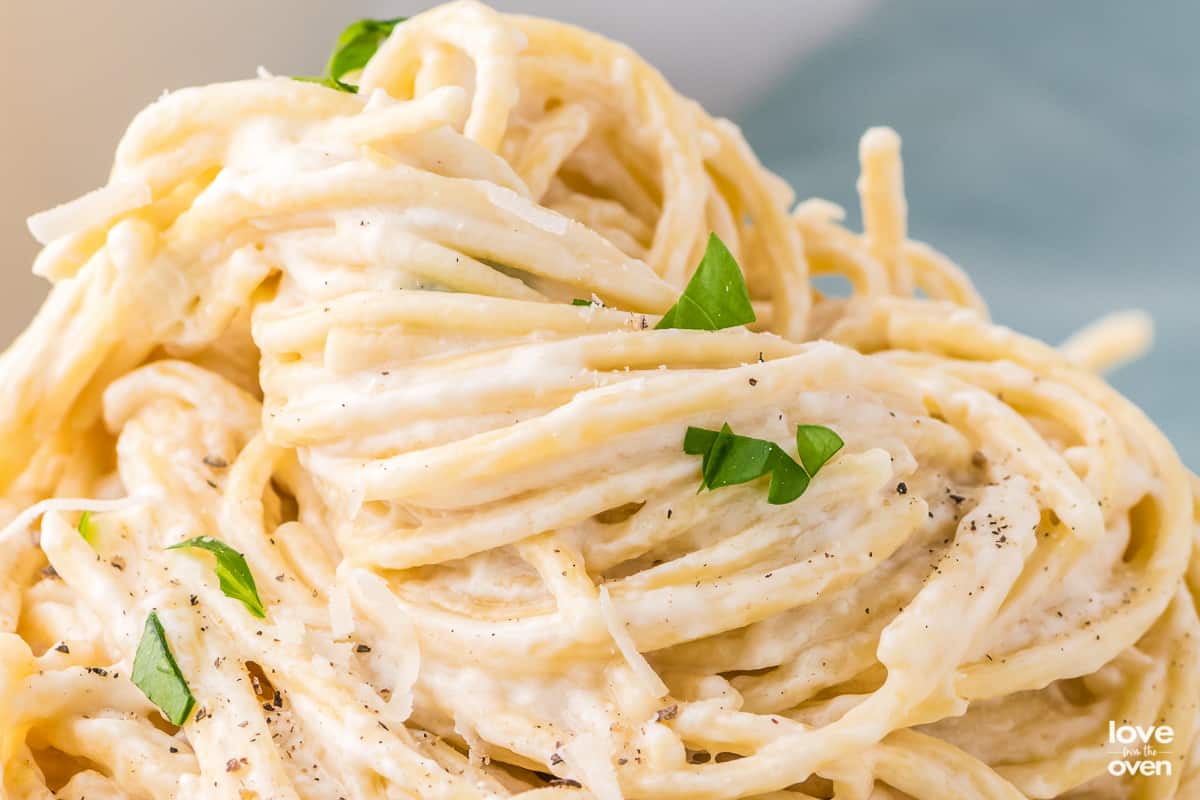 Step by Step Instructions
In a large dutch oven or heavy bottom pot over medium/low heat, add heavy cream.
To the heavy cream, add your stock of choice. Let that come to a simmer or light boil.
Take the pot off of the heat before adding lemon juice and lemon zest. Whisk that together until combined.
Next, add the dry pasta to the liquid. Place the pot back on a low heat and cook the pasta until it softens. When cooking the noodles, stir it around frequently so each pasta noodle is coated evenly with the sauce. This should take anywhere from 5-10 minutes.
Once the noodles are done, remove the pasta from the heat. Add in the freshly grated parmesan and cold butter. Stir that together until combined.
Allow the flavors to sit on the pasta for a few minutes before portioning the pasta and serving. Top each serving with salt and pepper if you'd like as well as some extra parmesan cheese and freshly chopped parsley. Enjoy!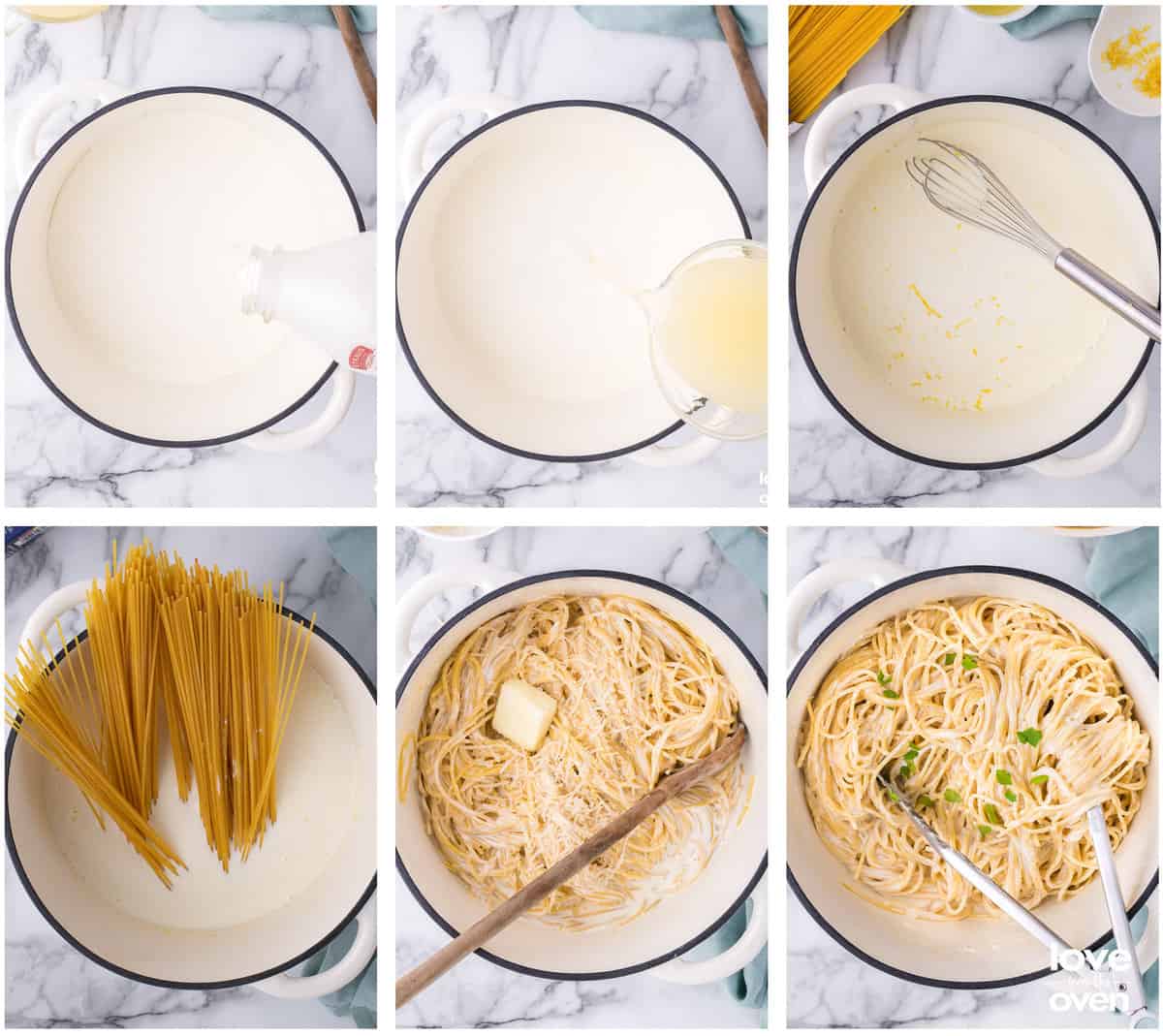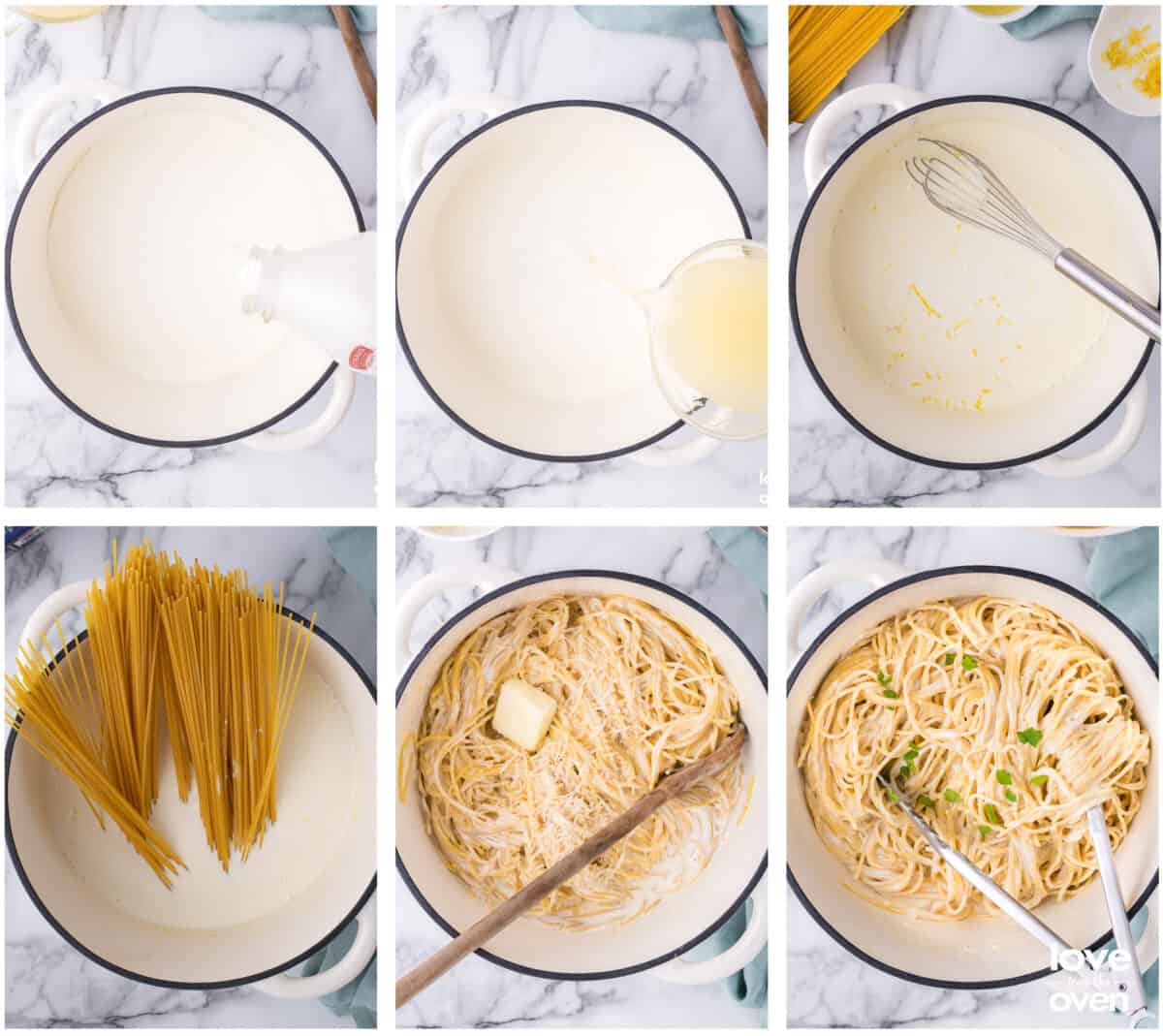 Tips and Advice
Storage – The leftovers will store nicely in an airtight container in the fridge for 3-5 days. Reheat in the microwave for 1-2 minutes. You can add a little splash of cream and/or butter when reheating to make the pasta saucier if you'd like.
Equipment – For this recipe you'll need a dutch oven or heavy bottomed pot, a whisk, a lemon zester and something to stir with.
Special Additions – Feel free to jazz up this simple recipe for a special occasion. Some great additives are any leafy vegetables like spinach or arugula, some protein like rotisserie chicken or grilled shrimp, and some different herbs like basil or dill.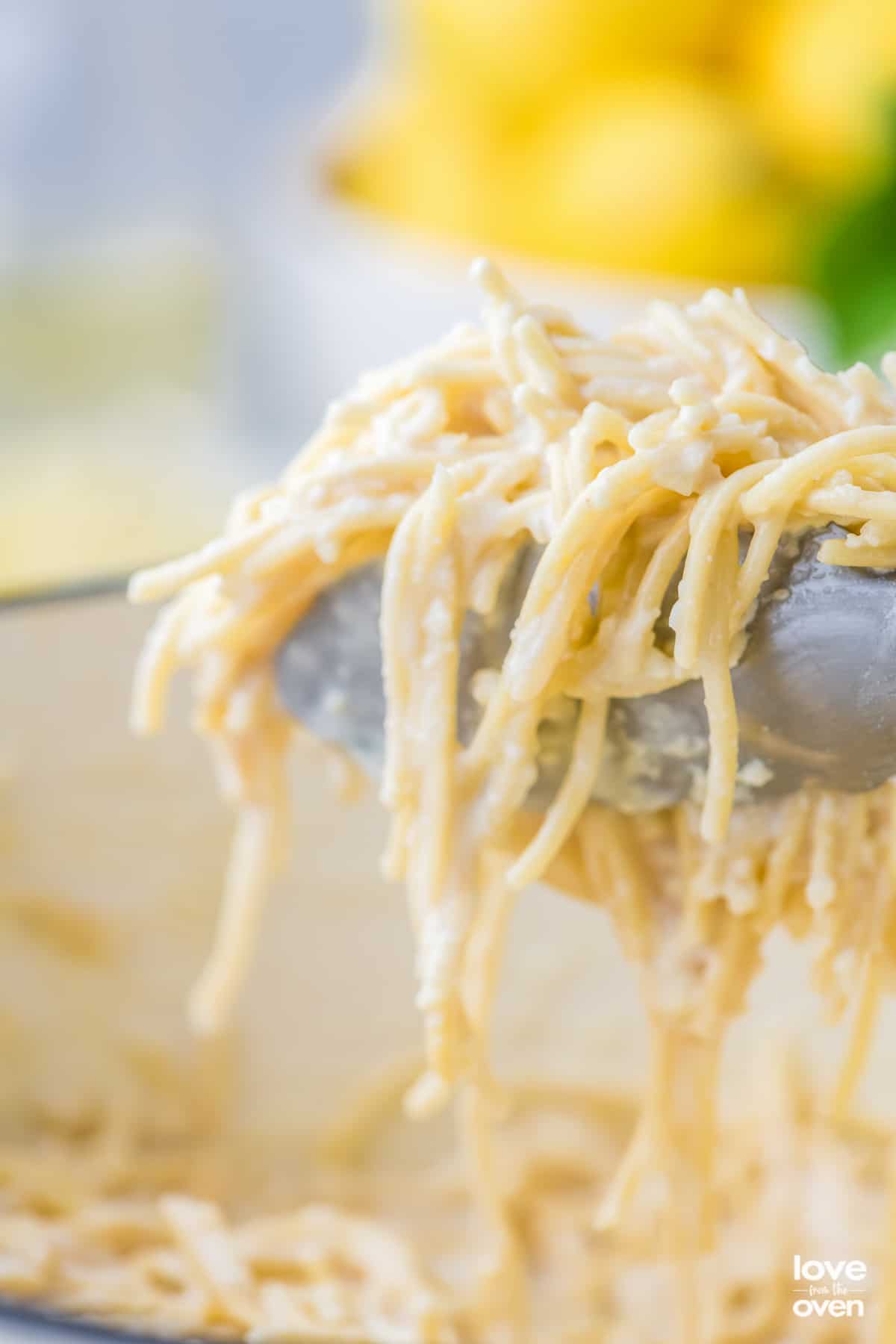 Through thick or thin
Initially, the pasta sauce may look a little thin. This is because the pasta hasn't released any of the starch into the liquid yet. Just give it time to thicken up. If you find that the pasta has come out too thick, you may need to add extra stock to the pasta. Add the stock in 1/4 a cup at a time until you reach your desired consistency.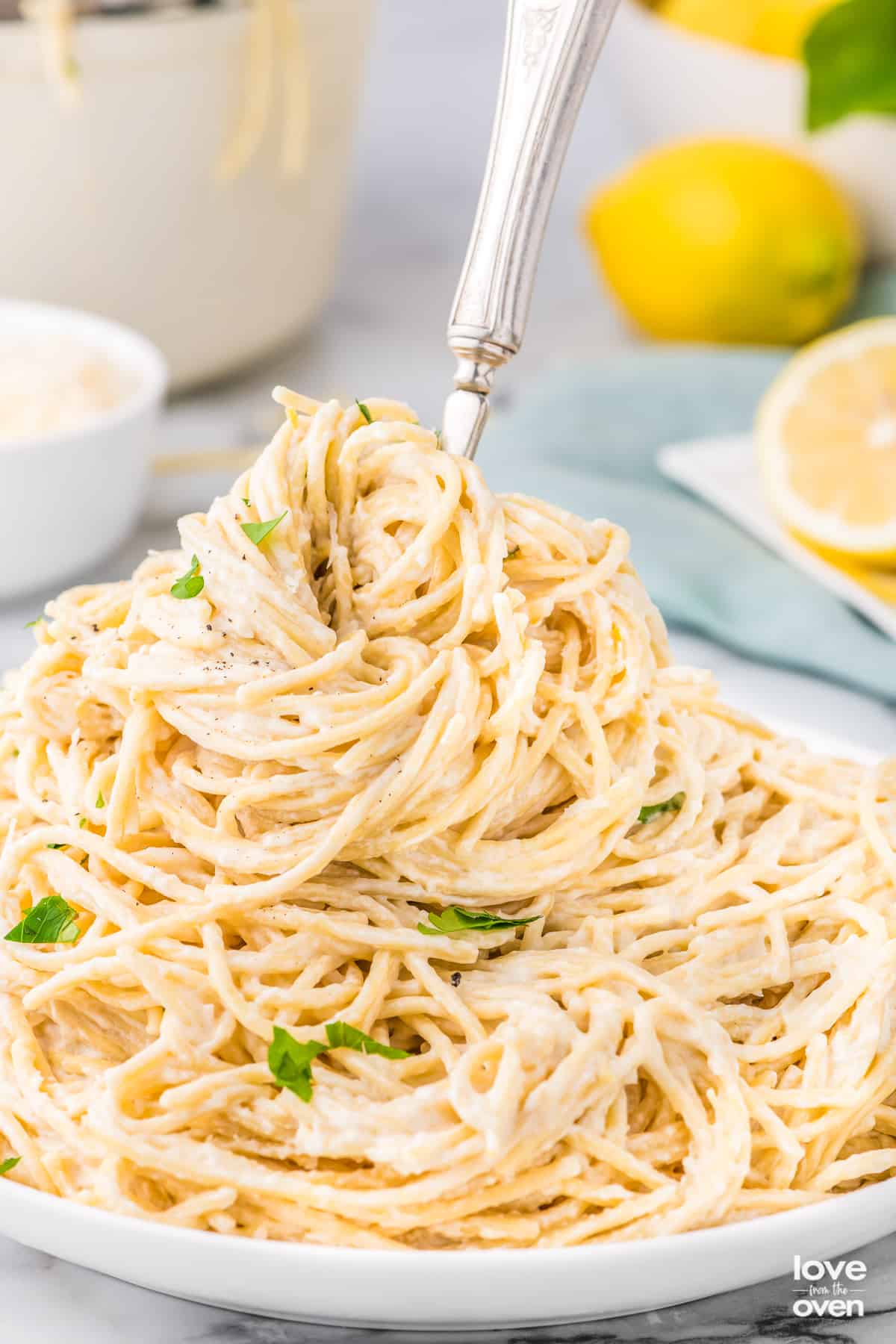 Can I use a thicker pasta noodle for this recipe?
Unfortunately, if you use anything bigger than a spaghetti noodle, the pasta will come out a lot drier. I recommend sticking to angel hair, thin spaghetti, or spaghetti.
How do you add lemon to cream sauce without curdling?
The trick is to heat up the cream first before adding the lemon juice. If you add the lemon juice to cold cream, the sauce will curdle.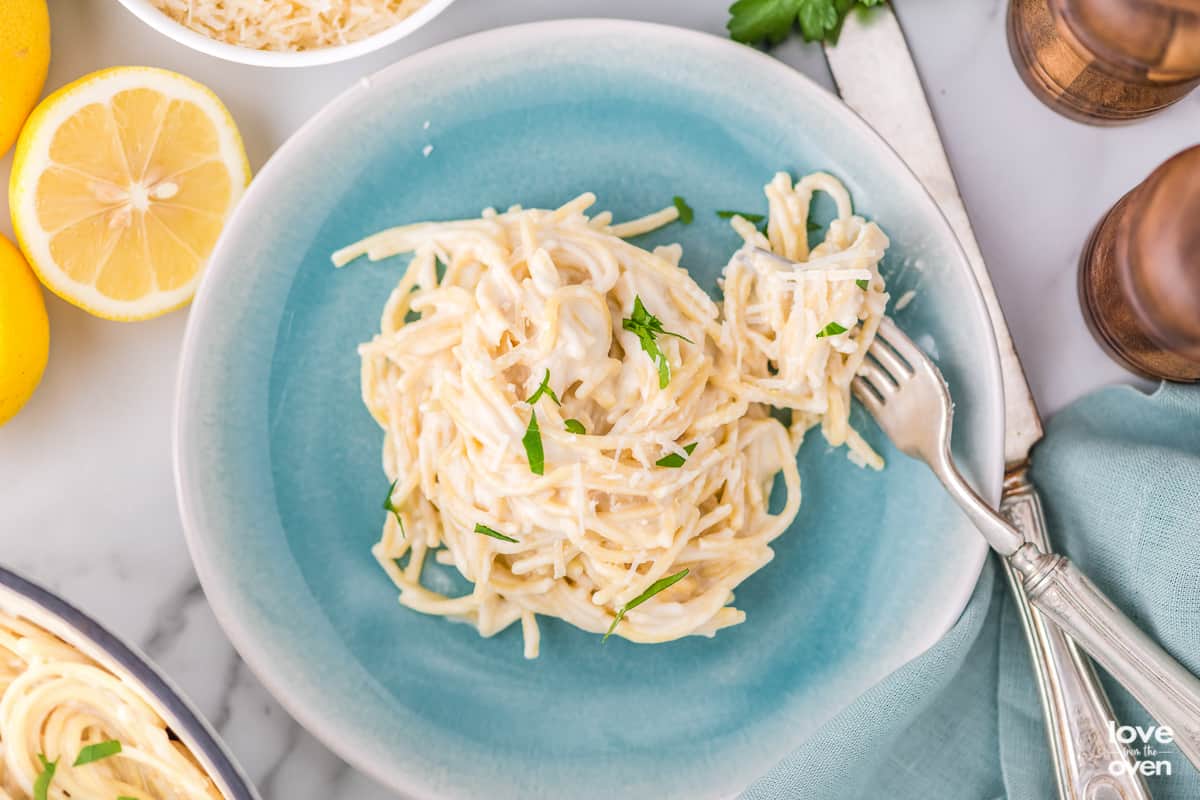 Recipes You'll Love
Easy, cheesy, pasta dinners are some of life's greatest pleasures. Here are some more fast, fresh, and very yummy similar dinner recipes you can add to your repertoire.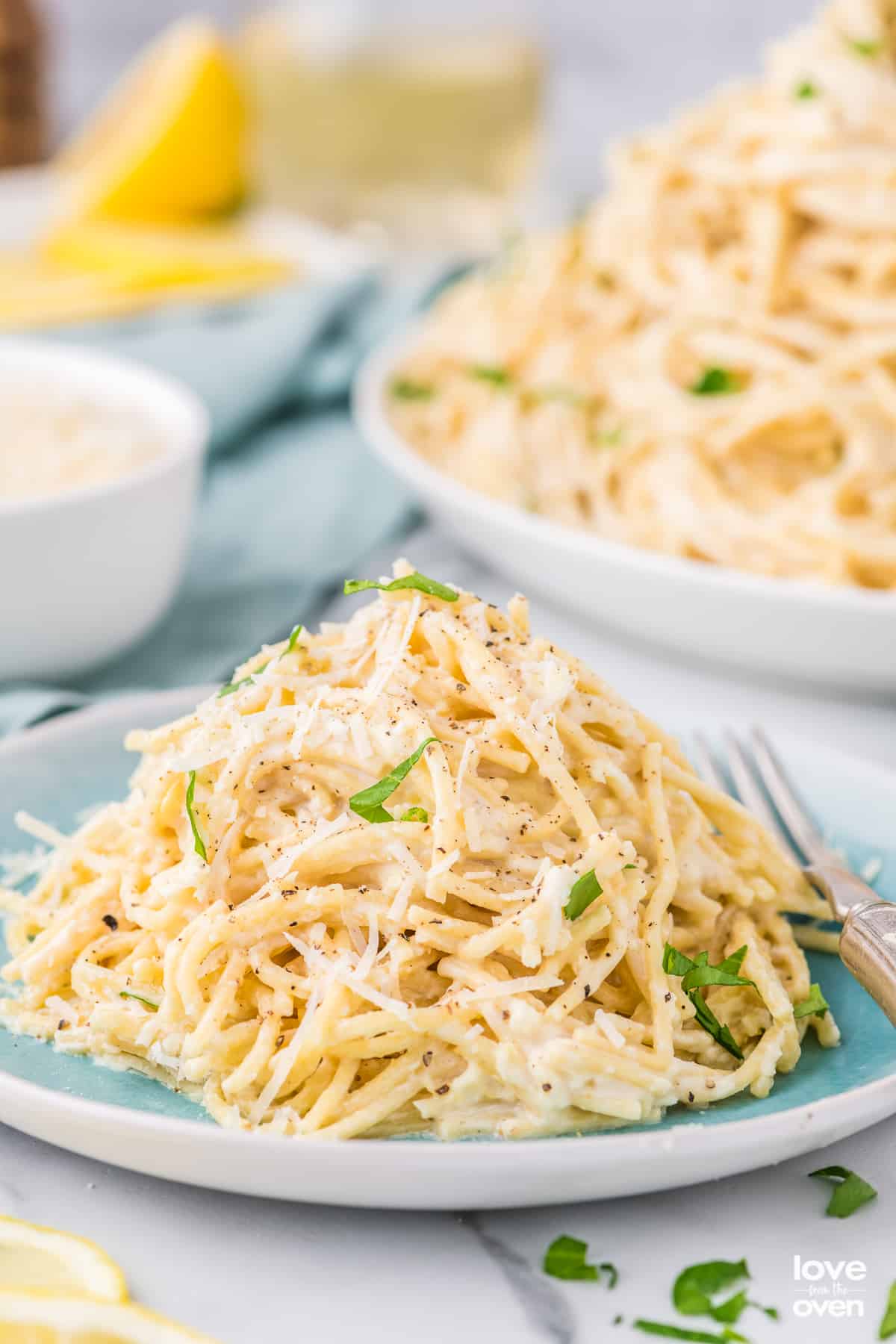 Lemon Pasta Pairs Well With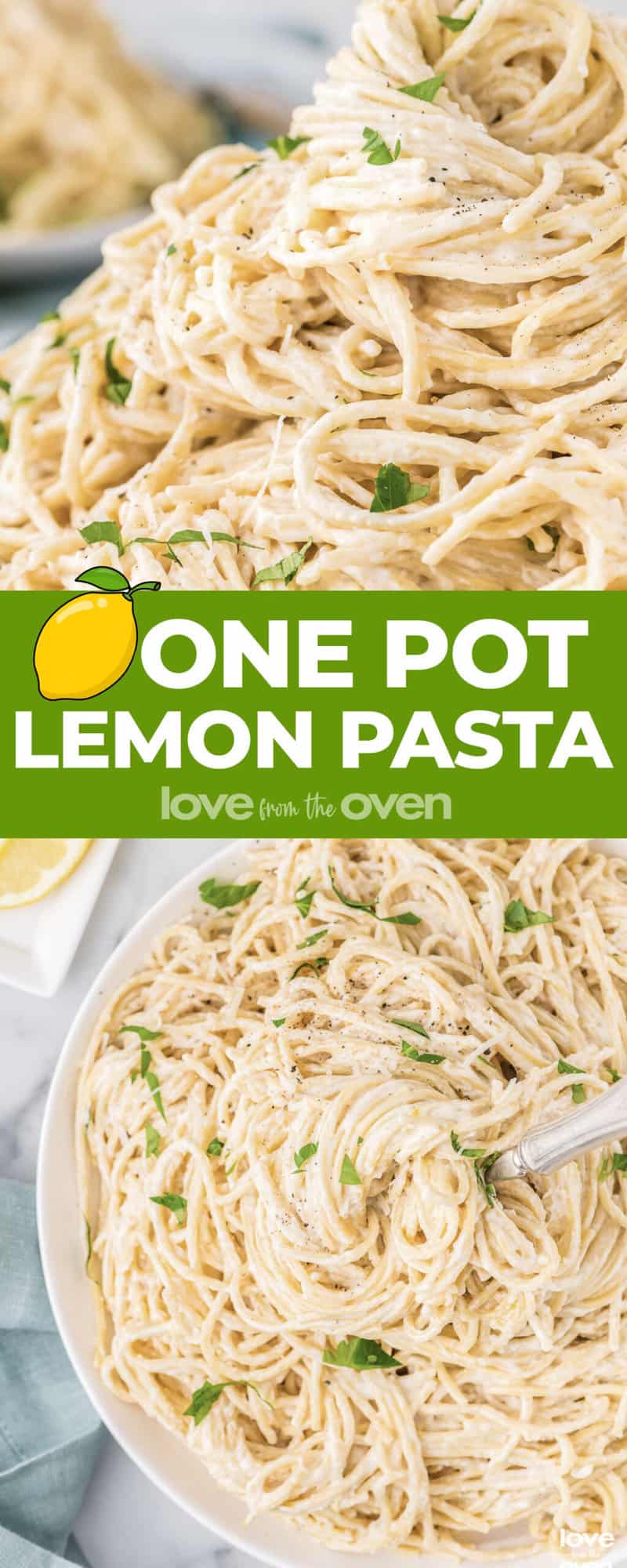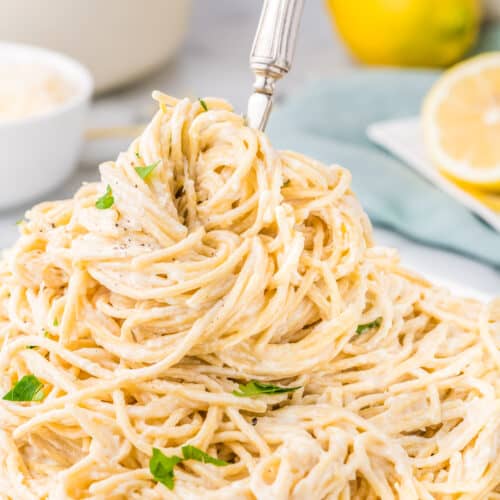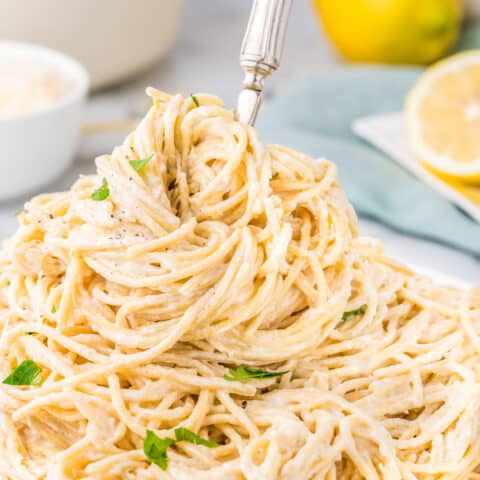 Lemon Butter Pasta
One Pot Lemon Pasta is an insanely easy and flavor packed dinner that can be ready and on the table in only 15 minutes!
Ingredients
3/4

cups

heavy cream

or heavy whipping cream

2 1/4

cups

chicken or vegetable stock

divided

2

teaspoons

lemon zest

1/4

cup

fresh lemon juice

3/4

cups

parmesan cheese

freshly grated

2

tablespoons

cold butter

16

ounces

thin spaghetti or angel hair pasta

dry, do not precook the pasta

fresh ground black pepper

to taste

kosher or sea salt

to taste

finely chopped flat-leaf parsley

for garnish
Instructions
Place cream and 2 cups of stock in a large heavy-bottomed pot and bring to a light boil.

Remove from heat and whisk in lemon juice and zest.

Add pasta and cook on low heat until pasta begins to soften. Stir continuously so that pasta is evenly coated with the sauce (about 5-10 minutes, depending on how soft you like your pasta).

Remove from heat and stir in ½ cup parmesan cheese and cold butter.

Let sit for a few minutes before serving, this will allow the pasta sauce to thicken up and develop that creamy texture.

Season with salt and pepper and garnish with remaining parmesan cheese and parsley.
Notes
Make sure when you add the lemon juice and zest that your sauce is not cold, doing so will cause it to curdle.
Don't be concerned if your pasta sauce initially appears runny, the starches from the addition of the pasta will thicken it up to the perfect creamy consistency.
If you find your sauce is too thick, you may choose to thin it out by adding ¼ cup of stock at a time
Nutrition
Calories:
499
kcal
|
Carbohydrates:
62
g
|
Protein:
18
g
|
Fat:
20
g
|
Saturated Fat:
12
g
|
Polyunsaturated Fat:
1
g
|
Monounsaturated Fat:
5
g
|
Trans Fat:
0.2
g
|
Cholesterol:
55
mg
|
Sodium:
372
mg
|
Potassium:
316
mg
|
Fiber:
3
g
|
Sugar:
5
g
|
Vitamin A:
655
IU
|
Vitamin C:
5
mg
|
Calcium:
189
mg
|
Iron:
1
mg
Disclaimer
Nutrition information is estimated as a courtesy. If using for medical purposes, please verify information using your own nutritional calculator. Percent Daily Values are based on a 2000 calorie diet.