Broccoli Cornbread is a savory, nutrient packed side dish that will make the perfect pair to all of your fabulous main dishes. Made with the famous Jiffy Cornbread Mix and a few more simple, hearty ingredients, this easy side of broccoli cheese cornbread will make your home cooked meal feel even more warm and comforting.
Reasons You'll Love This Recipe
Box Mix Upgrade – That's right people, there's a few things we're going to be putting into this recipe like cottage cheese, broccoli, cheese and onion. Oh, and it's going to taste fantastic! But don't worry, I left out the sugar this time. 
Broccoli – Such a great way to get in those veggies, especially for the kids! 
Comfort Food – This recipe is really similar to a broccoli corn casserole. It's a bit like a handheld version.
Cornbread Lovers – If you love cornbread, and have to have it with every home cooked meal, you should definitely try making this upgraded version. 
Served Warm – There is no better feeling than biting into a warm, freshly made slice of cornbread. Seriously, name something better!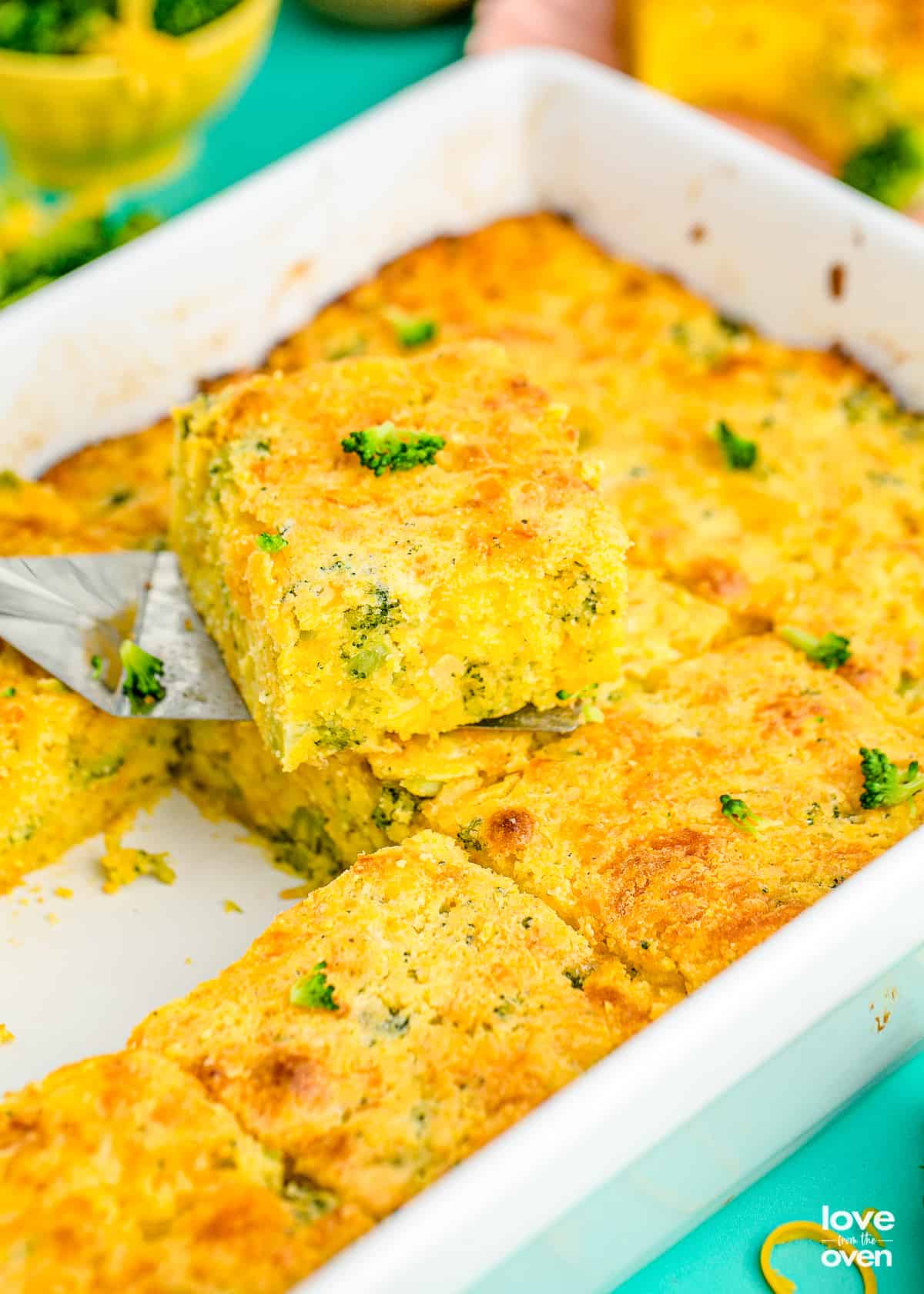 If you're a fan of shaking up your cornbread recipe with different ingredients, wait until you try this recipe! Nobody can resist all the cheesy, flavorful goodness that you'll find in this easy Broccoli Cornbread. This recipe is simple enough to whip up on a weeknight, yet impressive enough to keep people coming back for more.
Ingredients and Substitutions
Recipe Discussion
Let's discuss how to make this Broccoli Cornbread recipe, as well as the ingredients that are needed. Please take note that below you will find discussion, expert tips, and answers to frequently asked questions about this recipe to help you recreate it in your kitchen. If you *just* want the recipe itself, scroll down. The full printable recipe itself, with exact measurements and instructions, is found at the bottom of this page.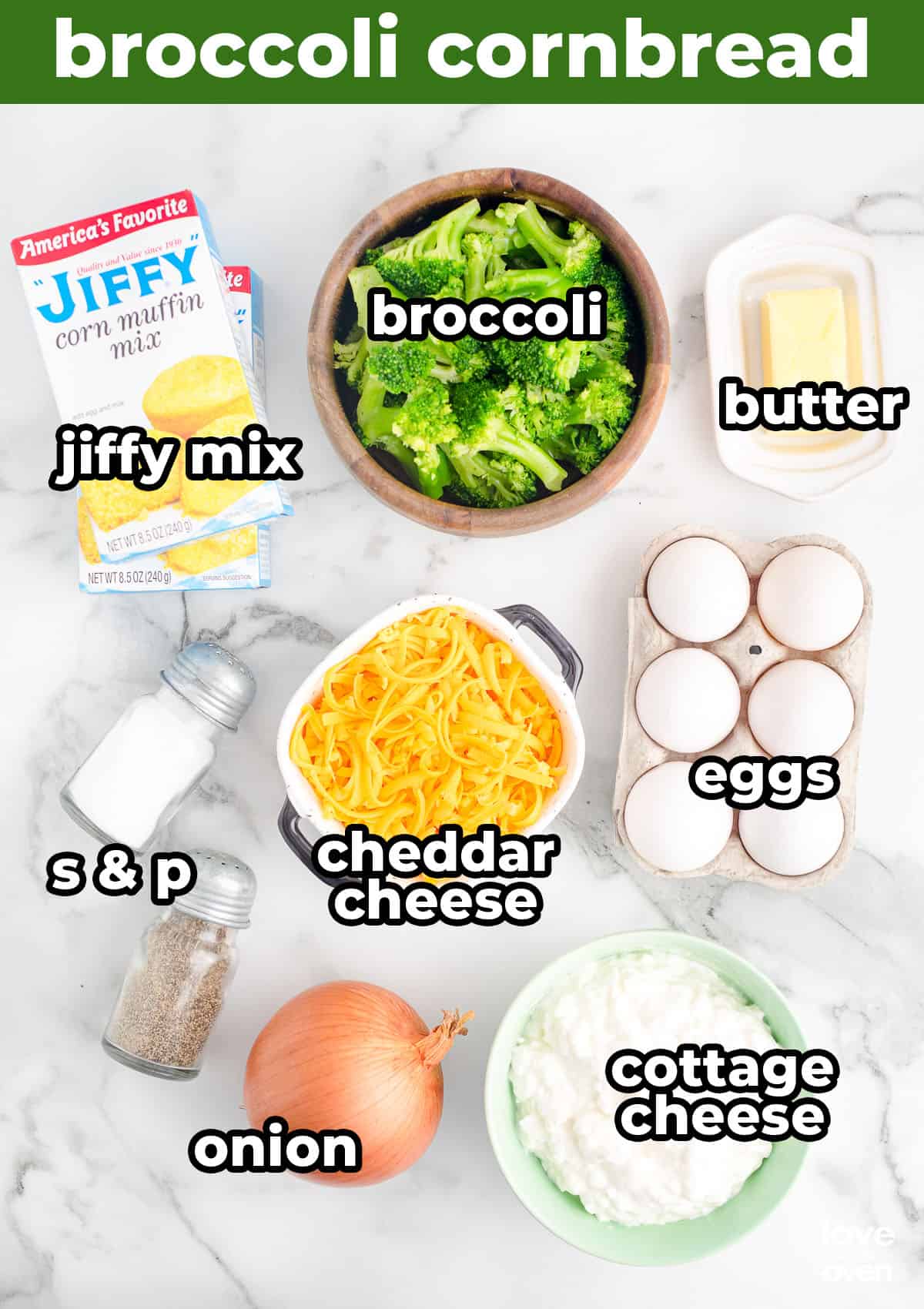 Jiffy Cornbread Mix – Yes! The great thing about this recipe is that it uses Jiffy mix, making it quick, easy and simple to make – not to mention delicious!
Cottage Cheese – This adds a lovely texture to the cornbread as well as an extra serving of protein. If you aren't a cottage cheese fan, don't worry, it doesn't actually taste like cottage cheese.
Cheddar Cheese – Freshly grated cheddar cheese is best for this recipe, but you can use pre-shredded cheese as well, it just doesn't melt quite as well.
Onion – This recipe calls for a yellow onion, but a white onion works just as well.
Frozen Broccoli – Let the frozen broccoli thaw out before using it in the recipe, the pat it dry. Don't cook it, just let it thaw, then chop it into bite-sized pieces.
Butter – Make sure the butter is melted. You can use salted or unsalted for this recipe.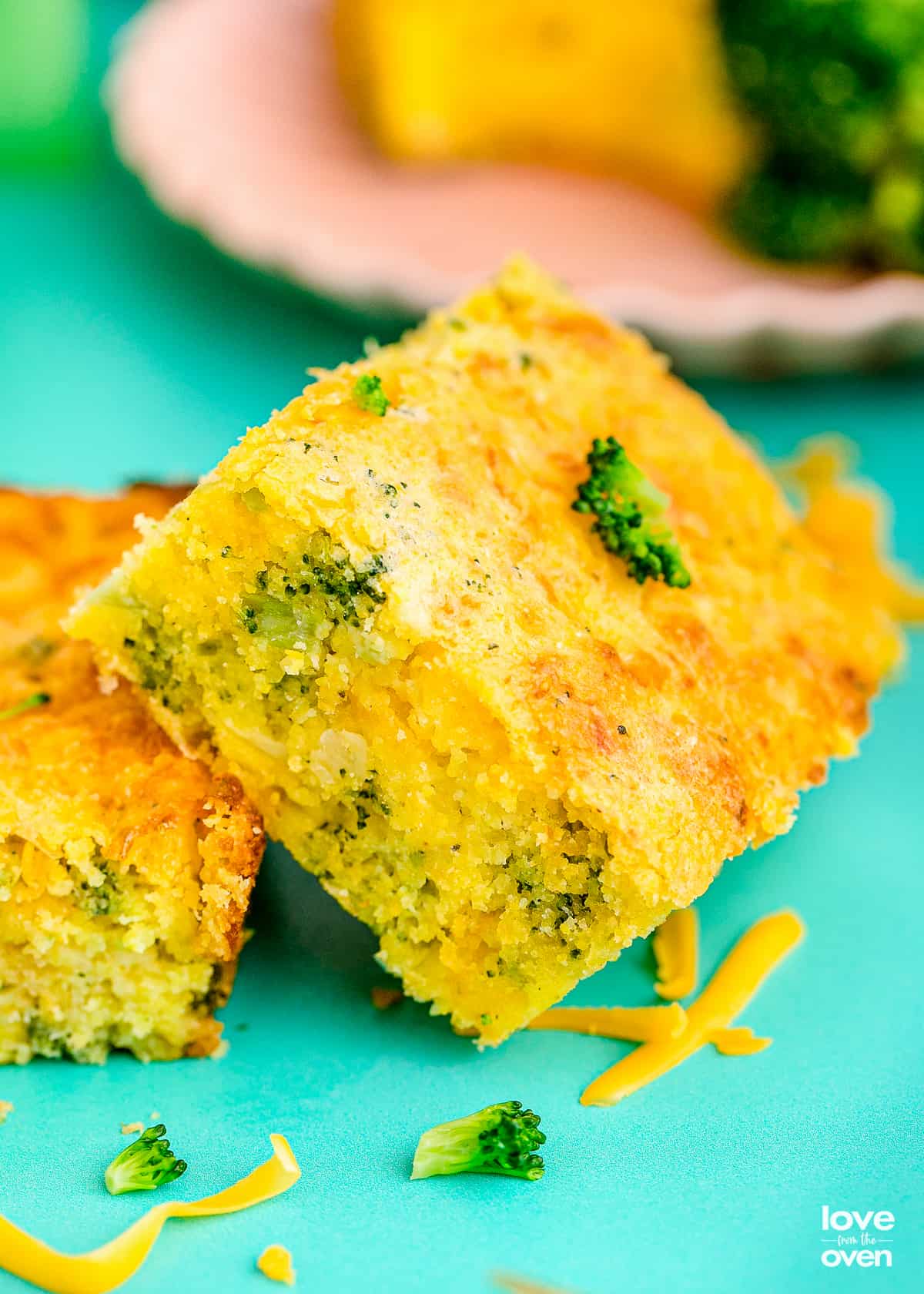 How To Make Broccoli Cornbread
Begin by preheating the oven to 350° F. Next, add 4 eggs to a large mixing bowl, and beat them together until smooth. Then, add the cottage cheese and shredded cheddar to the eggs and mix it together.
To the egg mixture, add in the diced onion, broccoli bits, salt and pepper.
Stir the mixture together until combined.
Add in one box of cornbread mix to the mixture and stir together until just combined before adding the second box. Stir it together until just combined and be careful not to over mix.
To a 9×13 casserole dish, add the melted butter to the bottom of the pan. Next spoon some of the cornbread mixture into the four corners of the casserole dish. This will help spread the melted butter evenly.
Fill in the center of the baking dish until you've used up all the batter, then flatten the mixture a bit in the dish so it's spreads out evenly. Put the cornbread in the oven and bake for 40-45 minutes, or until the cornbread is set and the edges are a golden brown. Allow the cornbread to sit in the dish and cool for about 15 minutes before slicing them into squares and serving.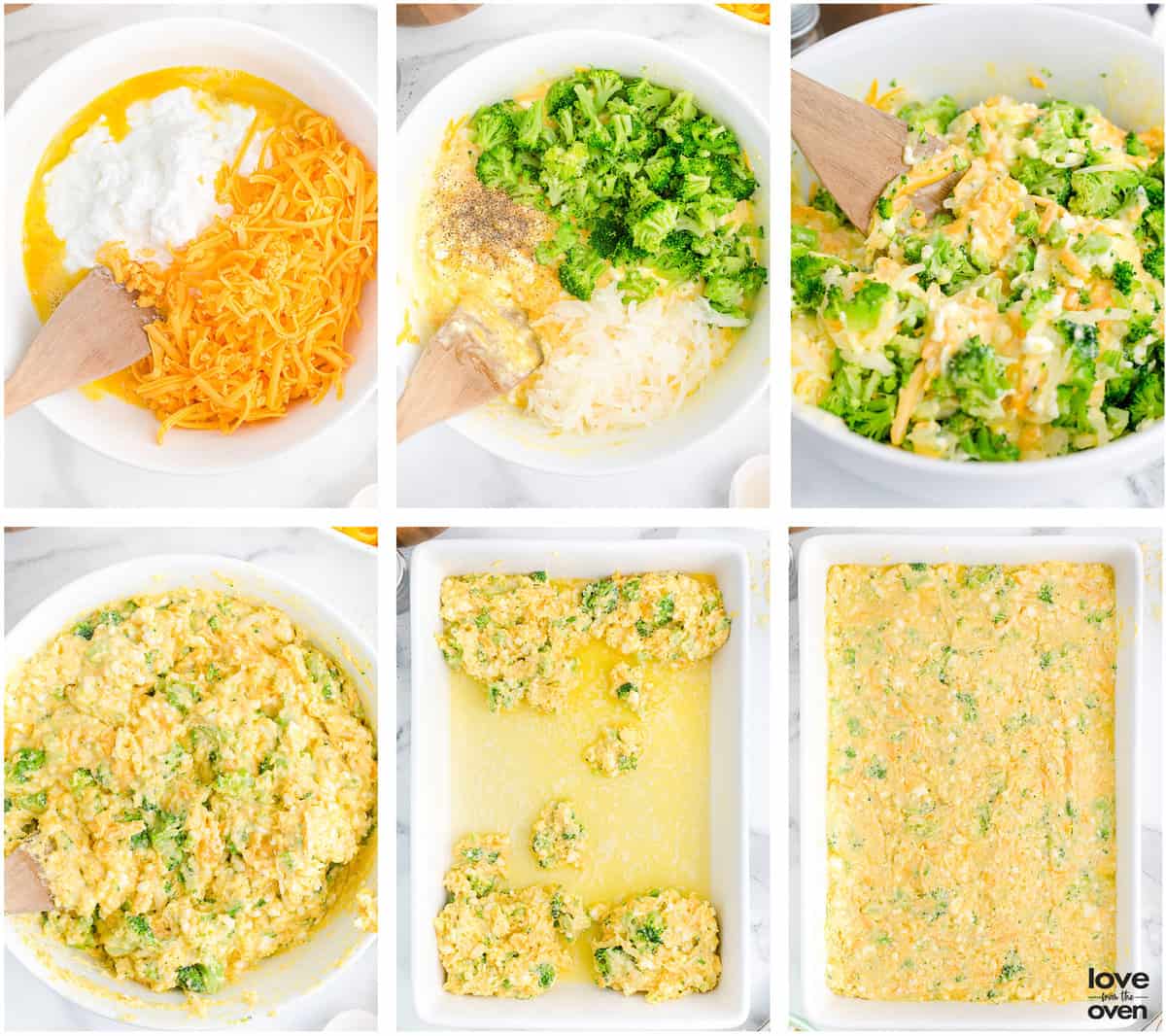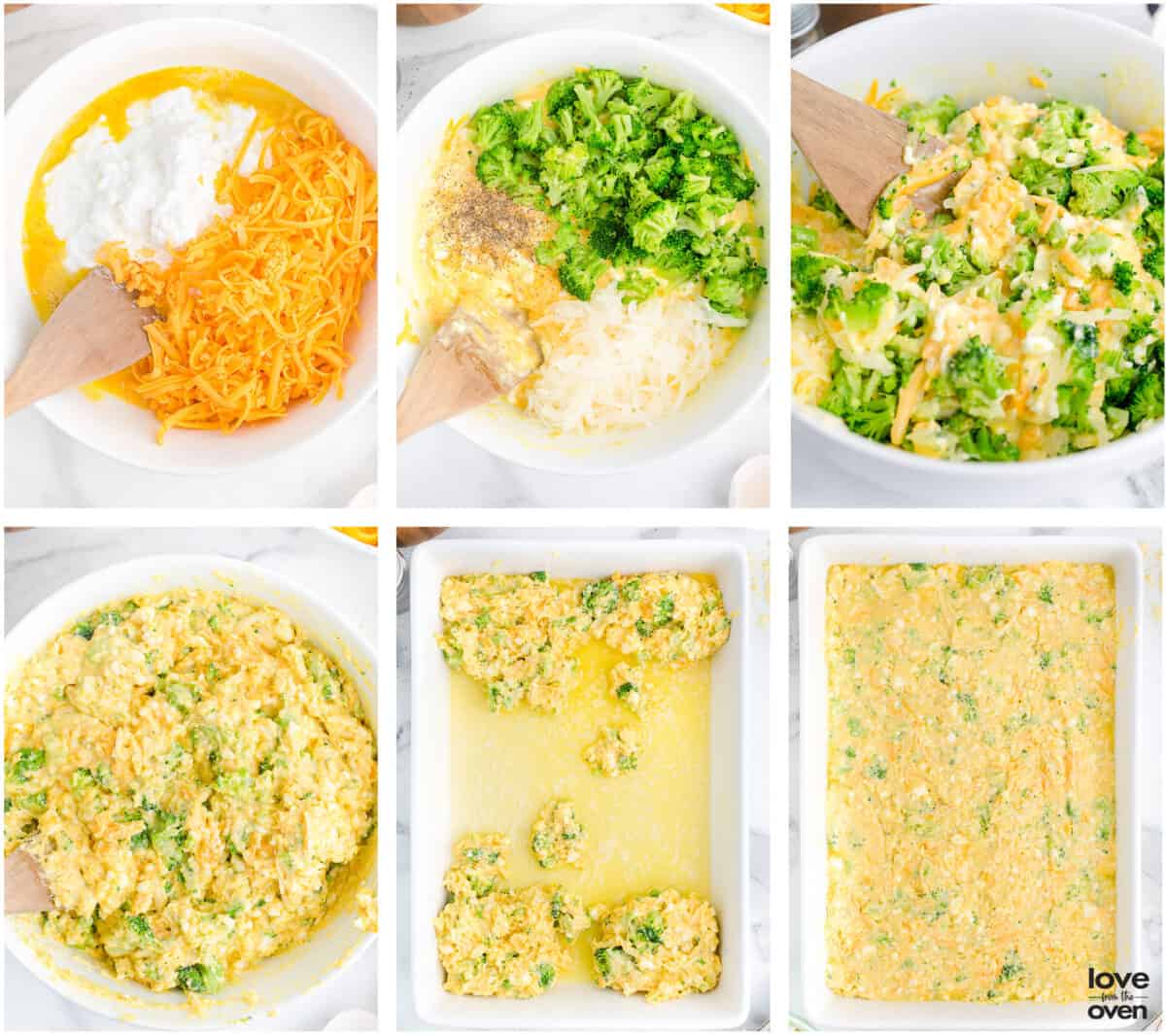 Recipe Tips and Advice
Storage – The best way to store leftover cornbread is to let it cool completely, then wrap each piece or a few pieces tightly in aluminum foil or plastic wrap. Store the wrapped pieces in an airtight container or gallon baggie in the fridge for up to 3 days.
To reheat the cornbread, unwrap it from the wrap, place it on a baking sheet, and pop it in a 350° preheated oven for about 8-10 minutes. You can also microwave it for 20-30 seconds if you'd prefer.
Equipment – For this recipe you'll need a 9×13 casserole dish, a large mixing bowl, and something to mix with.
Homemade cornbread
In terms of using a homemade cornbread recipe versus the box mix, I can't tell you how many eggs, or how much cottage cheese to put in it. But, you could try mixing in some broccoli, cheese, onions, cottage cheese, salt and pepper to the homemade batter you prefer using.
Recipe FAQs
How do you make cornbread not dry?
The cottage cheese will help make your cornbread nice and moist. The trick to not drying out your cornbread is to not over cook it. You can test the doneness of the cornbread by sticking a toothpick into the center, and if the toothpick comes out clean, you know it's ready to take out!
Should you let the cornbread batter rest before baking?
For a homemade batter, maybe! But for this recipe, it is not necessary.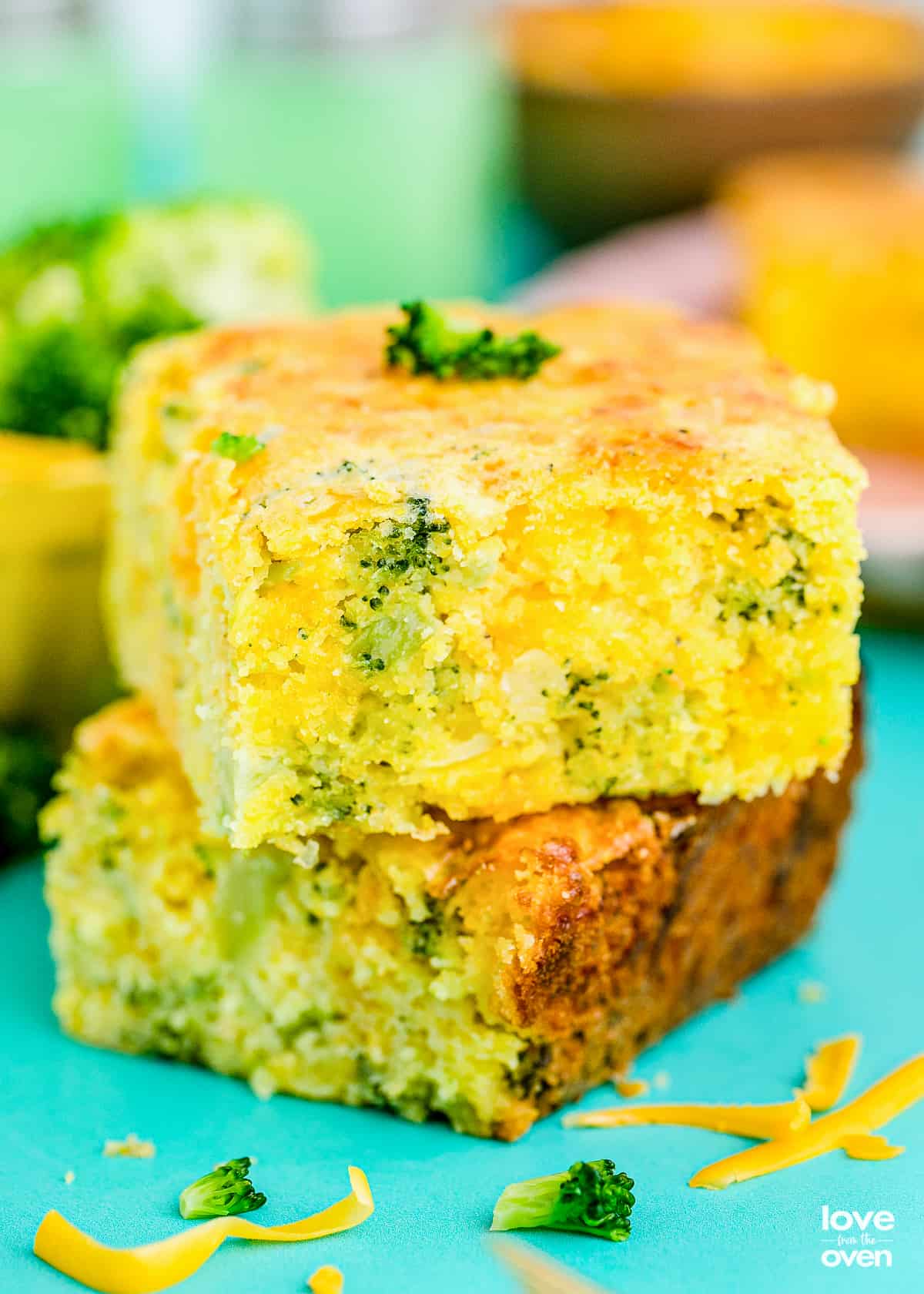 More Recipes To Try
What To Serve With Broccoli Cornbread
Broccoli Cornbread pairs great as a side dish for a beef chili, stew, or white chicken chili, as well as any main meat dish like fried chicken, or pork. For some extra side dishes you can serve it with some baked beans, glazed carrots, green beans and voila! A perfect home-cooked meal.
Want some more amazing similar recipes? Check out a few of these on your way out.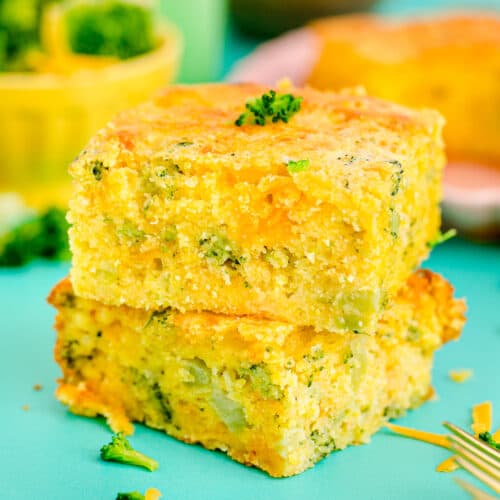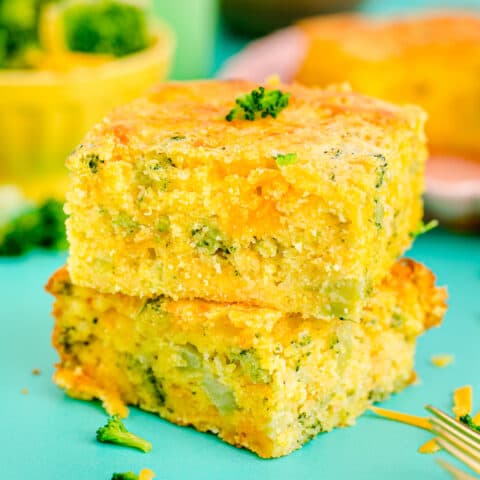 Broccoli Cornbread
Made with the famous Jiffy Cornbread Mix and a few more simple, hearty ingredients, this easy side of Broccoli Cornbread will make your home cooked meal feel even more warm and comforting.
Ingredients
4

large eggs

16

ounces

cottage cheese

1 1/2

cups

cheddar cheese

grated

1/2

cup

chopped onion

1

teaspoon

salt

1

teaspoon

pepper

2

cups

frozen broccoli, slightly chopped

thawed and dried, but NOT cooked

2

8.5 ounce boxes Jiffy Cornbread Mix

1/2

cup

butter

melted
Instructions
Preheat oven to 350 degrees F.

In a large mixing bowl, beat together 4 eggs. Add in cottage cheese and shredded cheddar cheese and mix together.

Next add in your chopped onion, chopped broccoli and salt and pepper and mix.

Add in one box of cornbread mix and mix until just combined. Add second box and mix until just combined. Take care to not overmix.

Pour the melted butter into a 9 X 13 inch casserole dish. Then add the cornbread batter by large spoonfuls into the four corners of the dish. This helps keep the melted butter evenly dispersed. Then fill the center until all the batter is used.

Bake for 40-45 minutes or until set. Cornbread is best if you let it sit for about 15 minutes before slicing and serving.
Notes
To store the cornbread, first allow it to cool completely, then wrap it in aluminum foil or plastic wrap and place it in an airtight container or plastic baggie. Store in the refrigerator for up to 3 days.
To heat, unwrap and place the cornbread on a baking sheet and then in the oven at 350 degrees for 8-10 minutes or until heated completely through. You can also reheat in the microwave for 20-30 seconds depending on how many slices you heat at a time.
Nutrition
Calories:
360
kcal
|
Carbohydrates:
31
g
|
Protein:
13
g
|
Fat:
20
g
|
Saturated Fat:
10
g
|
Polyunsaturated Fat:
1
g
|
Monounsaturated Fat:
7
g
|
Trans Fat:
0.3
g
|
Cholesterol:
96
mg
|
Sodium:
820
mg
|
Potassium:
178
mg
|
Fiber:
3
g
|
Sugar:
10
g
|
Vitamin A:
652
IU
|
Vitamin C:
14
mg
|
Calcium:
174
mg
|
Iron:
1
mg
Disclaimer
Nutrition information is estimated as a courtesy. If using for medical purposes, please verify information using your own nutritional calculator. Percent Daily Values are based on a 2000 calorie diet.