If you love chocolate chip cookies, you need this Brown Butter Bakery Style Chocolate Chip Cookie recipe in your collection!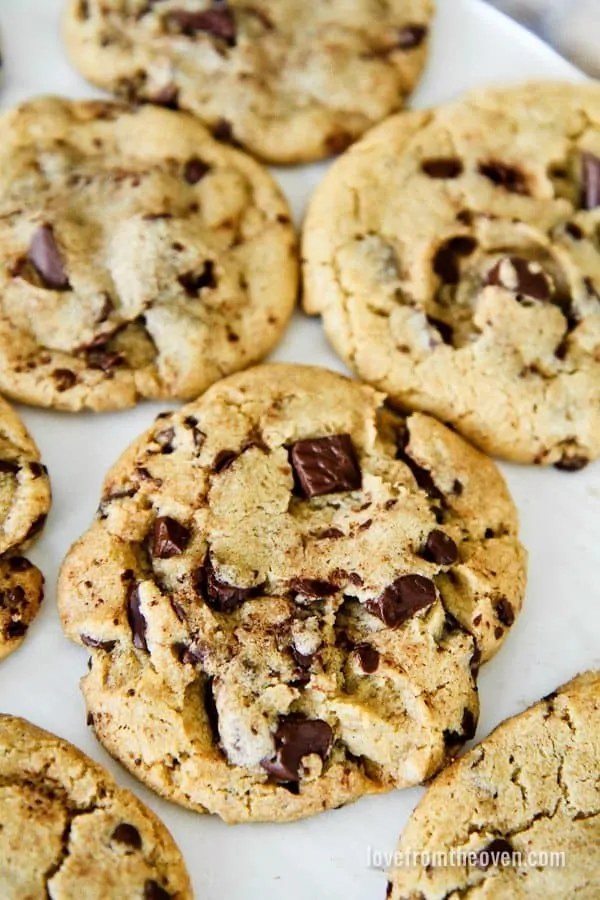 These are a slight spin on the Bakery Style Chocolate Chip Cookies I shared a few weeks ago. I wanted to try using brown butter in them, to give them a bit of a deeper richer flavor. It totally worked. I didn't plan to even photograph these and share them on the blog, but after tasting one, I simply had to share them. The little difference that the brown butter makes is not so little when it comes to flavor. These were as good, if not better, than any cookie I've had from a bakery. These were absolutely delicious, one of the best chocolate chip cookie recipes I've ever made.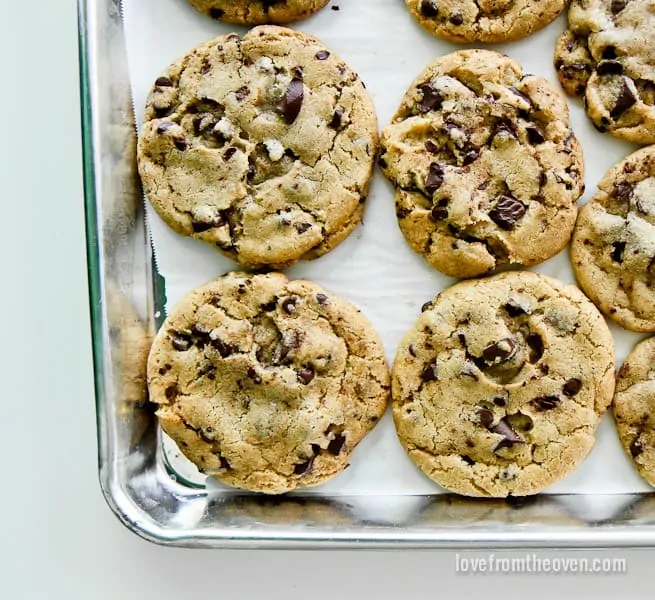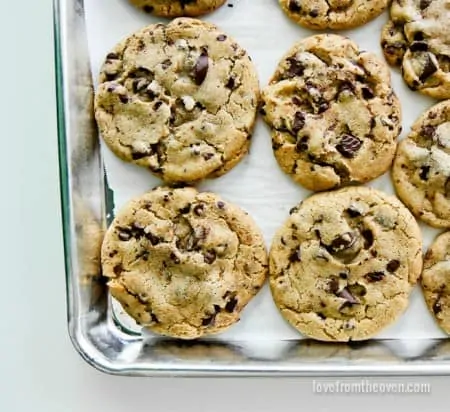 While it almost pains me, this is a cookie dough that you have to refrigerate prior to baking. I've shared before that I'm not a big fan of that, mainly because I'm typically pressed for time and spreading my cookie making out over two sessions really isn't my favorite thing to do. BUT… there is no denying, it's totally worth it.
Because you are working with a melted butter in this recipe, you have to chill the dough, otherwise you have a hot mess of cookie dough that is going to spread all over your pans when you bake it.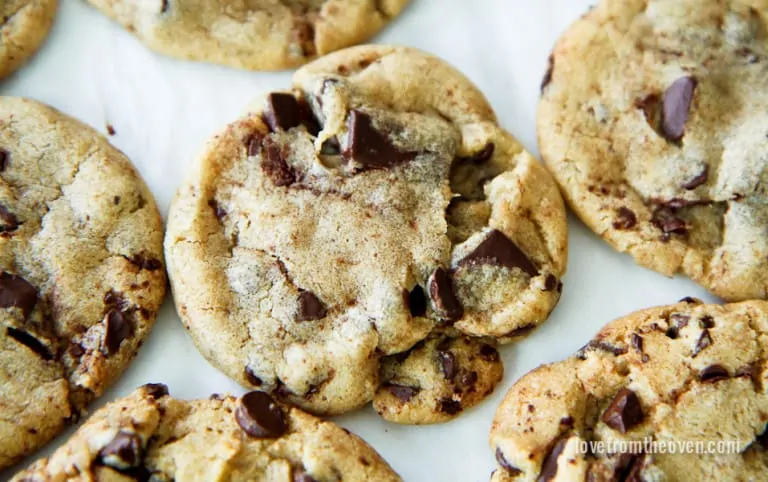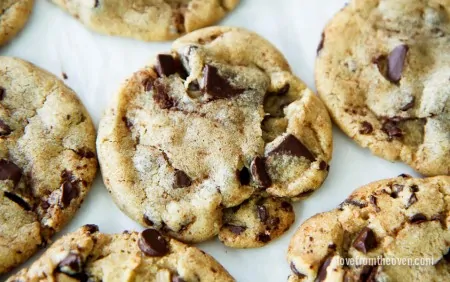 Not sure how to brown butter? Check out this great post at Simply Recipes on how to brown butter. You want to make sure you let your butter cool a bit after cooking it, you don't want it piping hot when you are mixing your cookies.
If you are like me and like a salty bite to your sweets, sea salt pairs perfectly with these cookies. It's totally optional, but if you like that whole salty sweet thing, then go for it. It's GOOD stuff. This is a pretty straight forward recipe to make, aside from that whole chilling the dough thing. I chilled my dough overnight, probably not a full 24 hours, closer to maybe 18.
The dough was pretty darn hard when it came out of the fridge, and I had to cut pieces off and warm them with my hands to fold them into balls to place on my cookie sheet. I kind of have a funky sensory thing about having dirty hands, so I didn't love that part, but the end result made me forget all about it. Buttery, chewy, soft with crispy edges, and that bite of salt. Yep, worth it.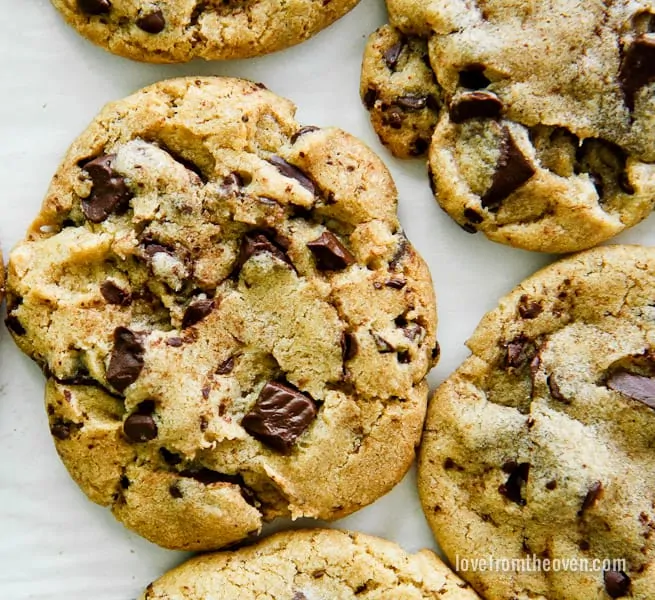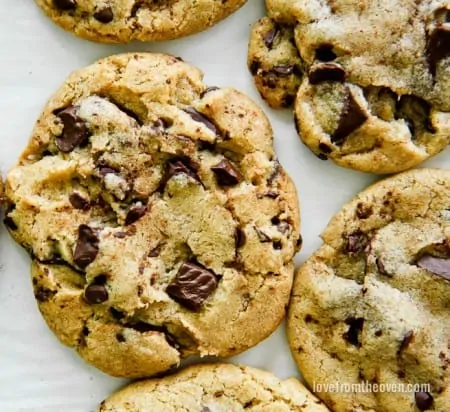 So if you are looking for a totally delicious bakery style cookie at home, make these. I still hate the whole chill the dough and wait thing, but I promise you, it truly is worth it. Now if I can just find a fast forward version of that! Make sure to also try my Brown Butter Blondies!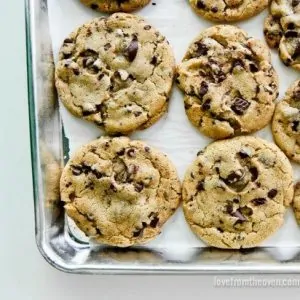 Brown Butter Bakery Style Chocolate Chip Cookies
Ingredients
2 1/4

cups

all purpose flour

1/2

tsp

baking soda

1

tsp

salt

3/4

cup

butter

melted and lightly browned, given time to cool (you do not want it hot off the stove)

1

cup

packed brown sugar

light or dark

1/2

cup

white sugar

1

& 1/2 tablespoon vanilla extract

2

eggs at room temperature

1

cup

mini chocolate chips

1

cup

chocolate chunks

1/2

cup

grated

or very finely chopped chocolate

Optional – Sea Salt to sprinkle on top of dough prior to baking
Instructions
In a large bowl, sift together flour, baking soda and salt and set aside.

In a separate bowl, mix together the melted butter, brown sugar and white sugar until very well blended, about two to three minutes. Beat in the vanilla and eggs until mixture is light and creamy.

Combine wet and dry ingredients, along with chocolate chips, chunks and grated chocolate, until well combined, but do not over mix. Cover mixture (with plastic wrap or lid) and chill in refrigerator for at least 12 hours and up to 48 hours. Chilling the dough is absolutely necessary when working with the melted butter, given it time to solidify and for the flavors to all come together.

When ready to bake, preheat oven to 325 degrees F. Drop cookie dough in large (approximately 1/4 cup) scoopfuls, onto a non-stick cookie sheet or cookie sheet covered with parchment paper, leaving at least 3″ between cookies. Bake for approximately 15-18 minutes, or until edges are just lightly starting to brown. Centers will still seem somewhat underdone. Let cool on baking sheet for at least 15 minutes, as the cookies will finish baking from heat on baking sheet.

Transfer to a wire rack to cool completely, then store in an airtight container.

Makes approximately 18 extra large cookies.
Disclaimer
Nutrition information is estimated as a courtesy. If using for medical purposes, please verify information using your own nutritional calculator. Percent Daily Values are based on a 2000 calorie diet.
If you love chocolate chip cookies, make sure to check out my amazing collection of the best chocolate chip cookie recipes on the web!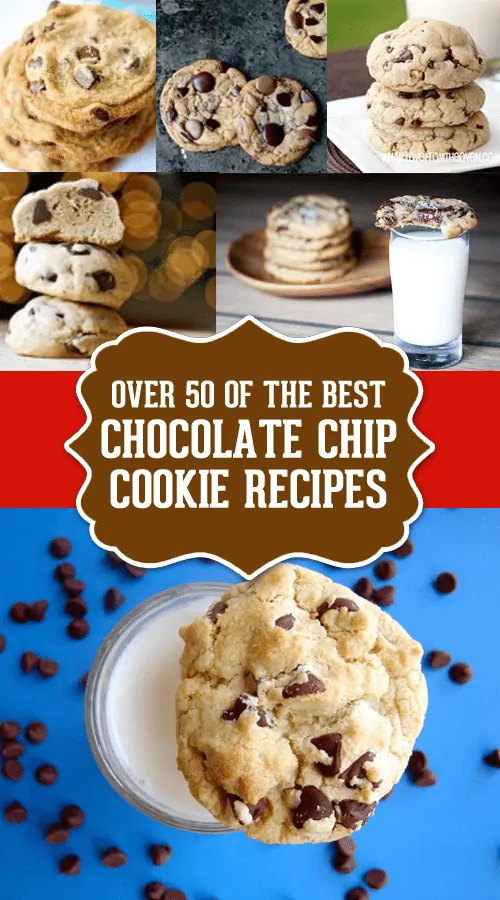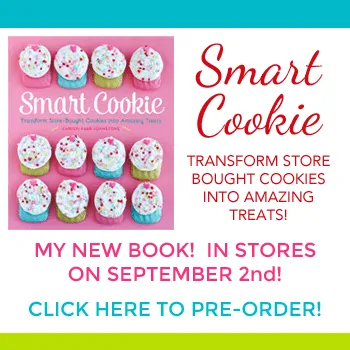 Check out my new cookbook, SMART COOKIE!
Transform store bought cookies into amazing treats!