It's easy as can be to make homemade Buttermilk Biscuits! Topped with jam or smothered with sausage gravy, freshly baked biscuits make any meal better.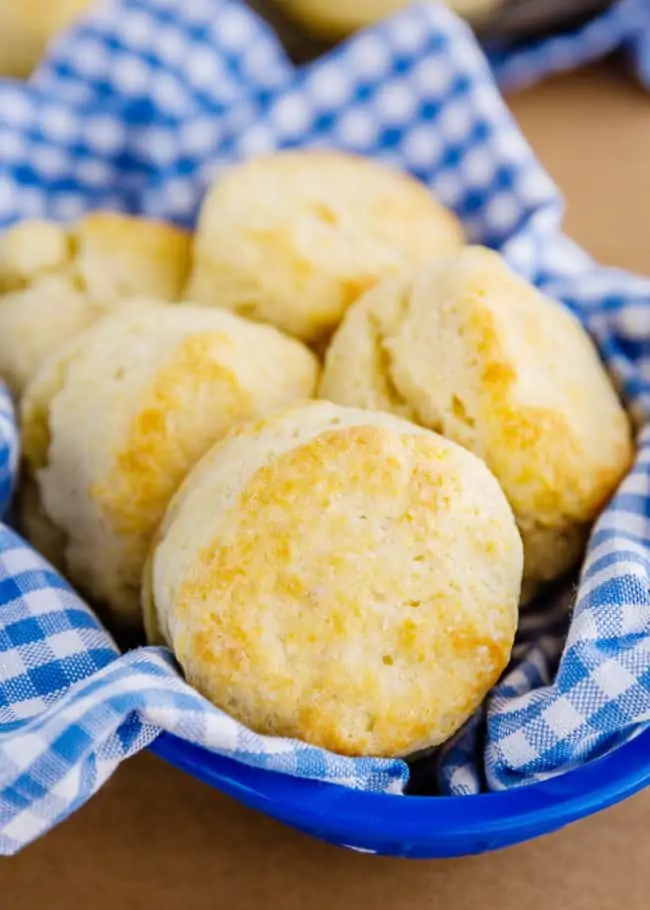 Buttermilk Biscuits
Nothing says "comfort" quite like a basket of warm homemade buttermilk biscuits fresh from the oven. If you grew up in the south (or with relatives from the south), chances are good you ate many a buttermilk biscuit in your childhood.
Unlike other homemade breads and buns, Buttermilk Biscuits require no advance prep time to knead or rise. They're leavened with baking powder rather than yeast and take almost no time at all.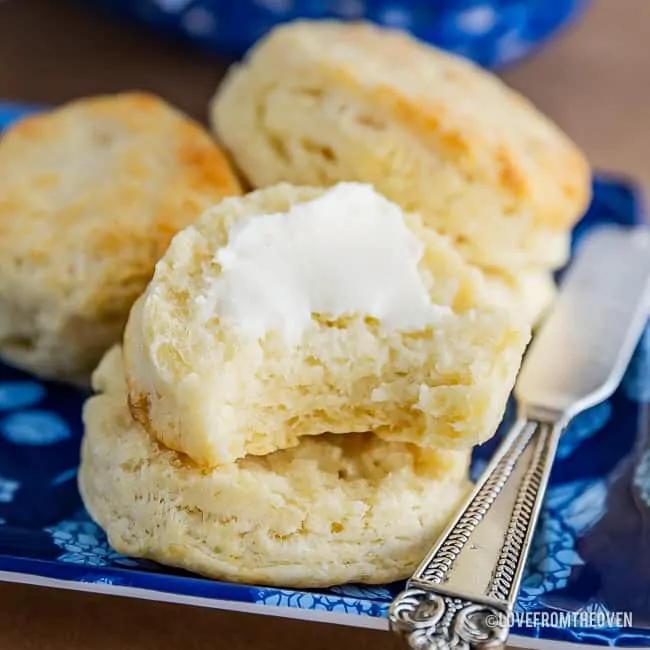 My mouth waters just thinking about these biscuits! A golden browned lightly crispy top with a soft flaky interior, they're especially delicious spread with butter. As the butter melts it gets into every crease and crevice of the biscuit.
Easy Biscuits
But I probably don't need to tell you how good buttermilk biscuits taste, right? What you might not know is just how easy it is to make homemade biscuits! It hardly takes any more time than cracking open a tube of the refrigerator biscuit dough and the taste is out of this world.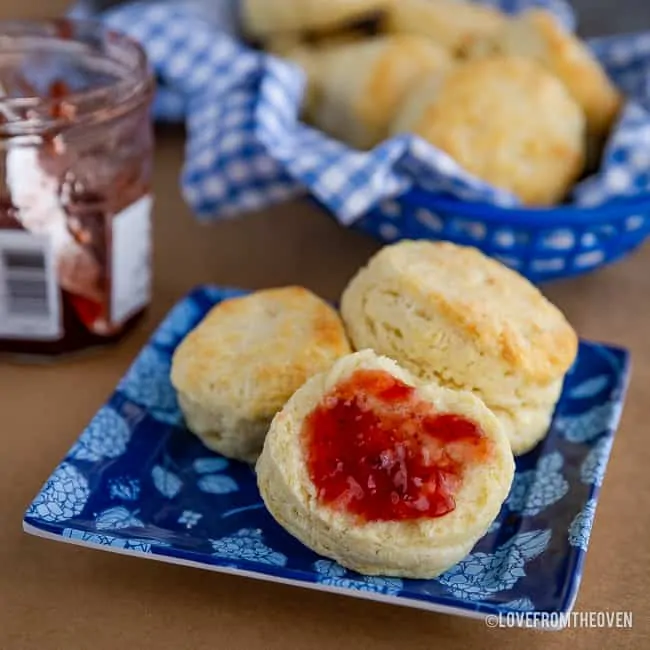 How to Make Biscuits
Usually a Buttermilk Biscuit recipe starts by cutting cold butter into flour (mixed with baking powder, baking soda and salt). A pastry cutter or the tips of your fingers are used to work the butter into the flour until it resembles a coarse meal.
To be frank, I have never enjoyed the process of cutting in butter. That's why I was intrigued years ago when I read about a different method over at Cooks Illustrated.
Biscuits Made With Melted Butter
Instead of cutting in the butter the traditional way, they melted their butter, then placed their buttermilk in the freezer for approximately ten minutes. Once that buttermilk is icy cold, the cooled, melted butter is poured into the buttermilk. Happy little chilled butter pieces form, then that butter is wonderfully distributed throughout the biscuit dough.
That has become my go to method for making biscuits. It's quick, it's easy and it produces fantastic results.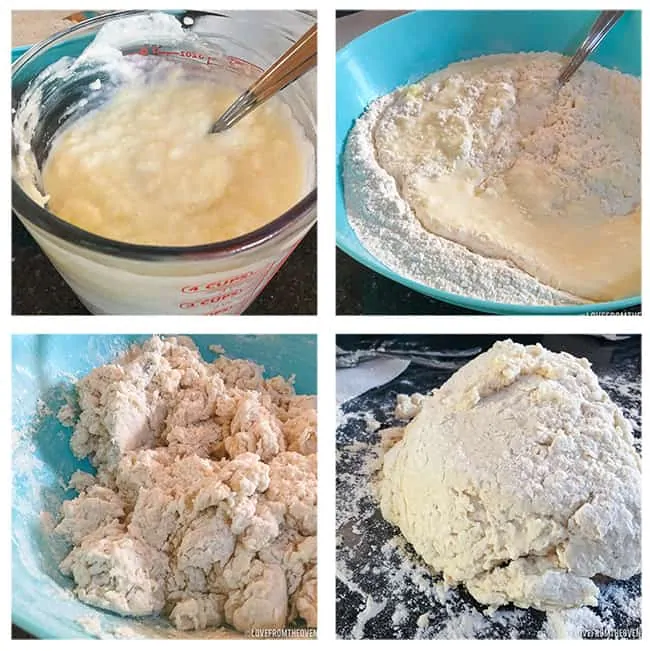 After the ingredients are combined, the dough is folded over over a couple of times, turn it out onto a floured surface. Folding the dough over onto itself helps create those delicious layers that are so beloved in biscuits. Care should be taken to not overwork the dough, but folding
Then the dough is rolled out, and a biscuit cutter or large round cookie cutter to cut out individual biscuits and place them on a baking tray.
Brush the tops with a little melted butter if you like before baking!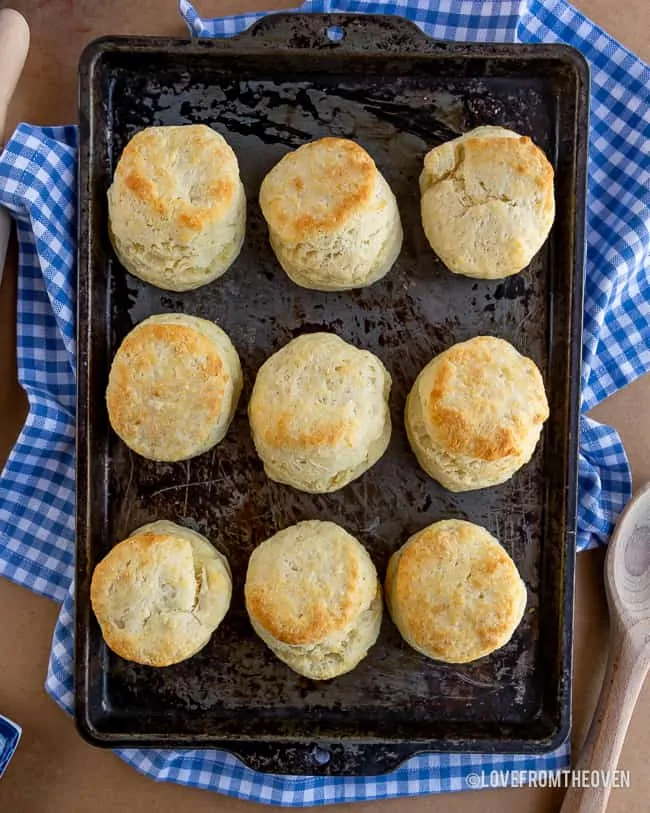 Tips For Making Buttermilk Biscuits
While biscuits from scratch is quite simple, there are a few guidelines to keep in mind when handling the dough.
DO NOT OVERMIX! I can't overstate how important it is to resist kneading or vigorously handling this biscuit dough. Too much handling will activate the proteins in the flour making the biscuits tough and dense. For fluffy flaky biscuits, keep mixing to a minimum.
Measure your flour properly. This means spooning the flour into your measuring cup, not scooping with your measuring cup. Not sure what that means? Check out my all about flour post to make sure you measure correctly. Otherwise you'll end up with too much flour, and dry biscuits.
Use a sharp biscuit cutter. I know some folks use glasses or jars to cut their biscuits but I find it just doesn't work as well. A cutting mechanism with blunt edges results in flatter biscuits without that pretty dome shape on top.
Don't twist your biscuit cutter. Resist the urge to twist your biscuit cutter when cutting your biscuits. Go press your cutter straight down. Twisting can seal the sides of your biscuits together, making you lose those lovely layers.
White Lily Flour. If you can get some White Lily Flour, it's regarded as the top choice for biscuit making. That said, most of the time I just use any all-purpose flour I have on hand.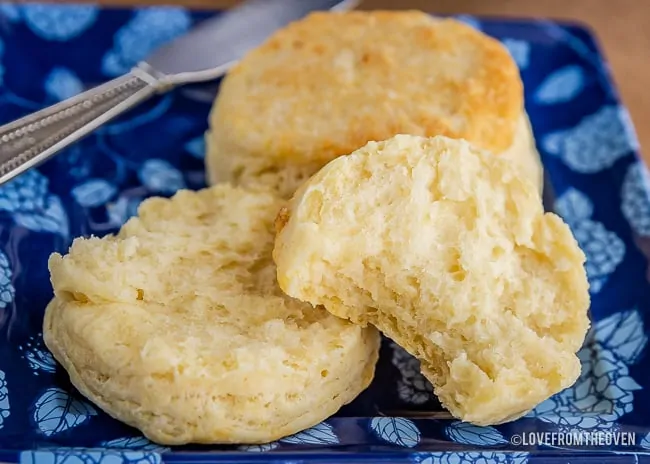 Buttermilk Biscuits are best served fresh and hot from the oven! They will lose a bit of their fluffiness as they cool, so I highly recommend waiting to bake these until just before serving.
What to Put on Biscuits
You can't go wrong by spreading your biscuit with a pat of butter but there's almost no limit to the number of spreads that are delicious on homemade biscuits. Try these with honey butter, strawberry jam, apple butter or just about any preserve you love.
More Great Recipes
If you like these Easy Biscuits, here are a few more quick bread recipes you need to try!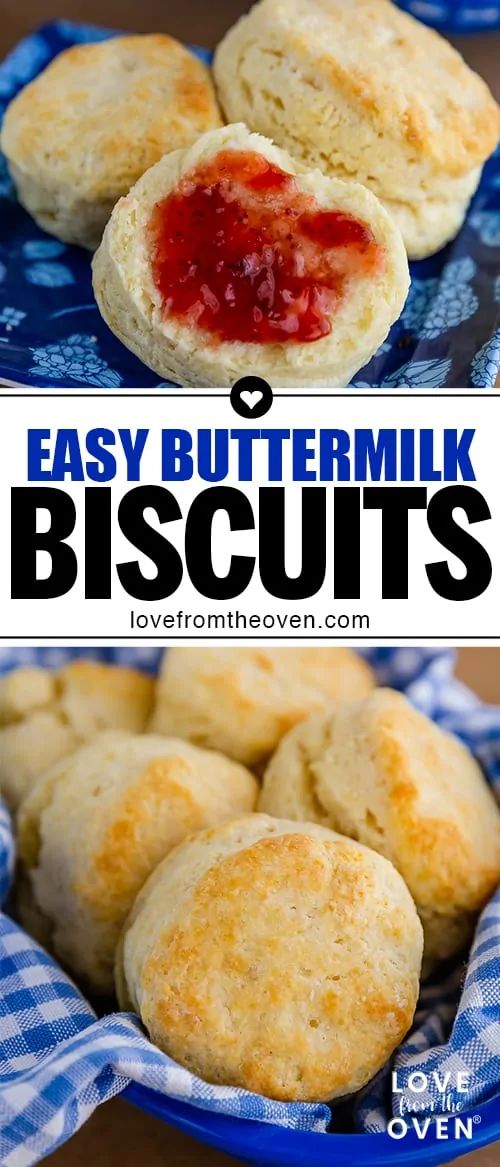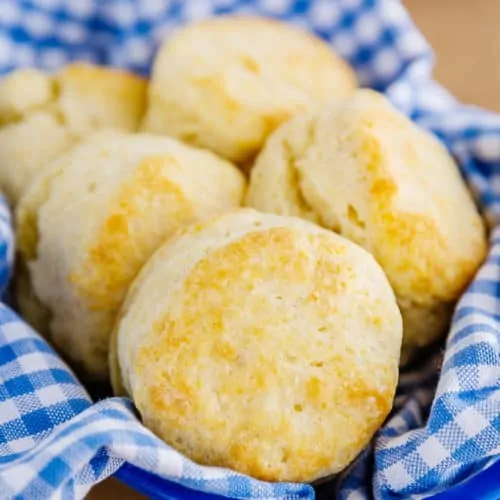 Buttermilk Biscuits
It's easy as can be to make homemade Buttermilk Biscuits! Topped with jam or smothered with gravy, freshly baked biscuits make any meal better.
Ingredients
1

cup

cold buttermilk

8

tbsp

butter

melted and cooled

2

cups

all purpose flour

plus extra for counter

1

tbsp

sugar

1/2

tsp

baking soda

3

tsp

baking powder

1/2

tsp

salt
Instructions
Place 1 cup of buttermilk in the freezer for ten minutes.

Place oven rack in middle position, then preheat oven to 450 degrees F.

Whisk together flour, baking powder, baking soda, sugar and salt in a large bowl.

After buttermilk has chilled in freezer for ten minutes, remove from freezer and pour melted (cooled) butter into butter milk and stir with a fork until the butter starts to form small clumps in the buttermilk.

Add buttermilk mixture to dry ingredients and stir with a rubber spatula until flour is incorporated and dough starts to pull away from the sides of the bowl. Do not over mix. Dough will be thick and seem dry. If dough is sticky add more flour, one tablespoon at a time. Once dough starts to come together, it's really best to finish working together with your hands.

Generously sprinkle flour over a countertop or work surface. Place biscuit dough onto prepared area and turn to coat each side with flour. Knead 5-6 times. Gently roll out dough, without applying too much pressure, to approximately 1" in height. Cut biscuits with a 2 1/2 inch (approximately)round biscuit cutter. Place biscuits on prepared pan approximately 2" apart. Knead together any scraps and repeat process.

Bake until biscuits are golden brown. This can take anywhere from 8-15 minutes, so watch closely to avoid burning. Rely more on your eyes than the clock. Remove from oven and enjoy.
Notes
If desired, add in 1/2 tsp garlic powder. This works best when making biscuits for dinner versus breakfast. 
If desired you can brush biscuits with butter and sprinkle with chives or parsley immediately after removing from the oven. 
Recipe doubles well. 
Nutrition
Calories:
322
kcal
|
Carbohydrates:
37
g
|
Protein:
6
g
|
Fat:
17
g
|
Saturated Fat:
11
g
|
Cholesterol:
45
mg
|
Sodium:
479
mg
|
Potassium:
351
mg
|
Fiber:
1
g
|
Sugar:
4
g
|
Vitamin A:
539
IU
|
Calcium:
165
mg
|
Iron:
2
mg
Disclaimer
Nutrition information is estimated as a courtesy. If using for medical purposes, please verify information using your own nutritional calculator. Percent Daily Values are based on a 2000 calorie diet.