Over the weekend I decided to re-create a bundt cake that I made last year for St. Patrick's Day…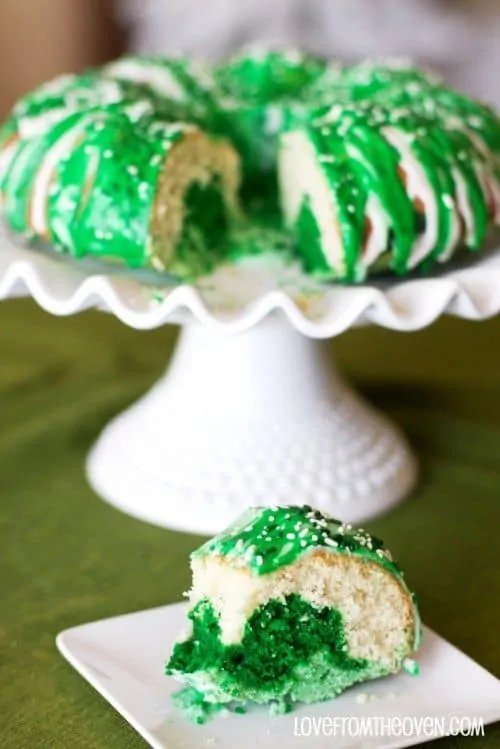 Such a fun colorful cake, and I have to give all the credit for the idea on this one to the amazing Cooking With Sugar. She makes some of the funnest cakes ever. Go check out her site!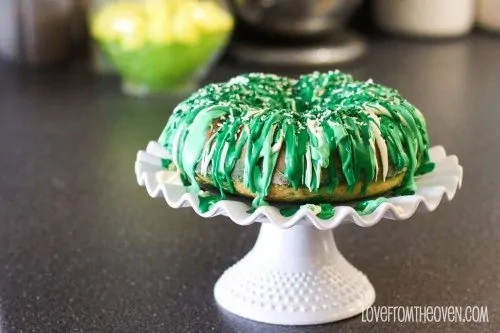 This year I wanted to make the cake from scratch instead of using a mix. I learned two things in that process… First it's hard to find a bundt cake recipe that doesn't include at least one item that I do not have on hand in my kitchen. Second, the whole multi-color bundt cake thing works best in a white cake, versus a buttery yellow. So if you want to make a cake with great intense pops of color, then absolutely go with what I did last year, using a white cake mix. If you want to make a rich, buttery, delicious cake, this recipe is perfect.

So while I didn't get my bright pops of color in this year's cake, I did get an incredibly delicious buttery bundt cake that was SO fantastic that it needs to be appreciated for it's amazing flavor, with the colors just being a little extra fun.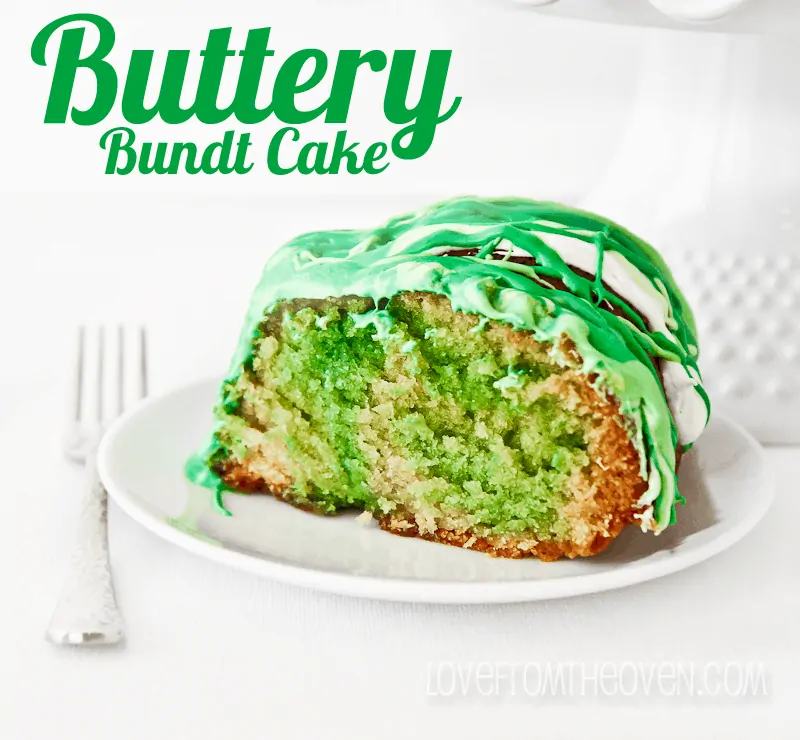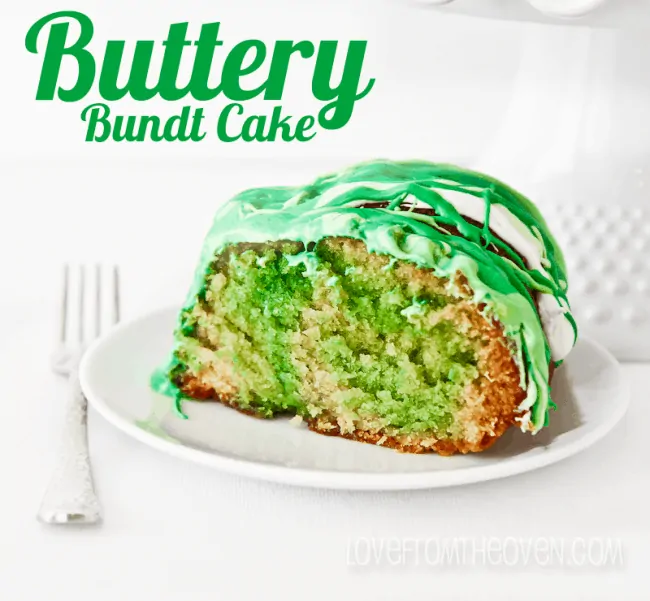 This is a simple cake to make, I've seen a variety of different versions of it online. One thing to take note of is that you melt your butter and water together on the stove before adding them to the dry ingredients – just a bit of a departure from most cake recipes, at least that I've used. I adapted my version from the Vanilla Bean Bundt Cake from Home Is Where The Cookies Are. I must make her version soon, because her vanilla glaze looks like something I could eat with a spoon. Or drink like a shake. Or, well, you get the idea.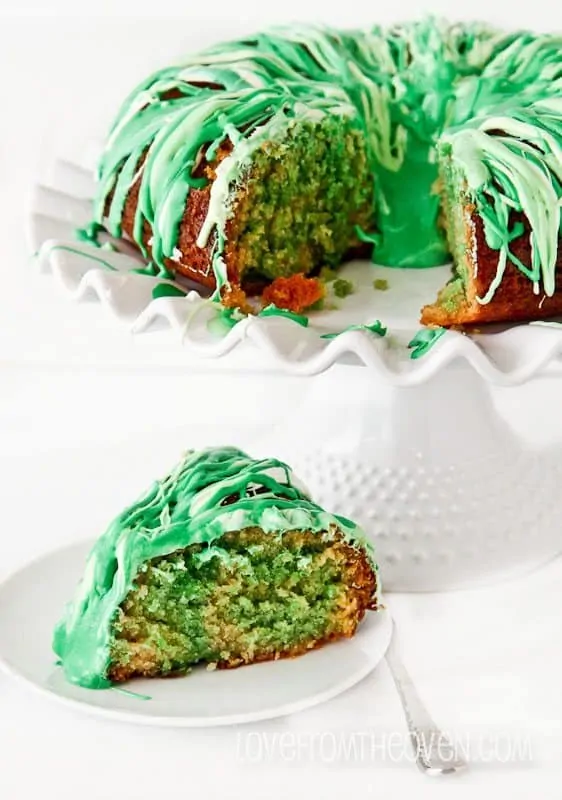 For my cake I used a plain white frosting (you can make one from scratch or go with a canned frosting – your call). I colored my frosting a few different shades of green, and then once colored I heated each color of frosting up in the microwave for a few seconds (like 5-10), just enough to warm it to a more drizzly consistency, and then drizzled the frosting all over the cake. Decorating a cake doesn't get much easier than spooning frosting all over it!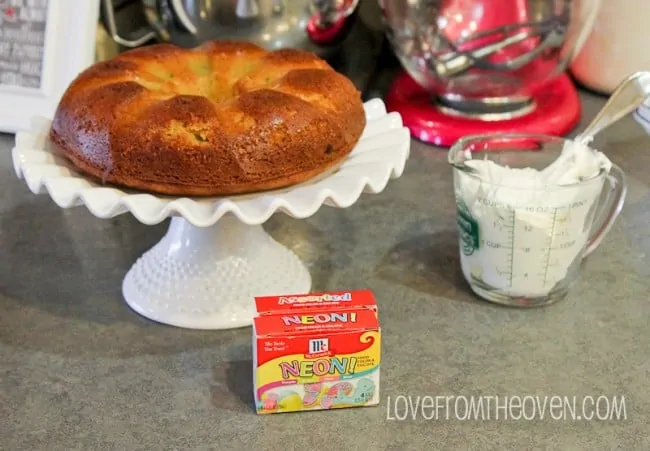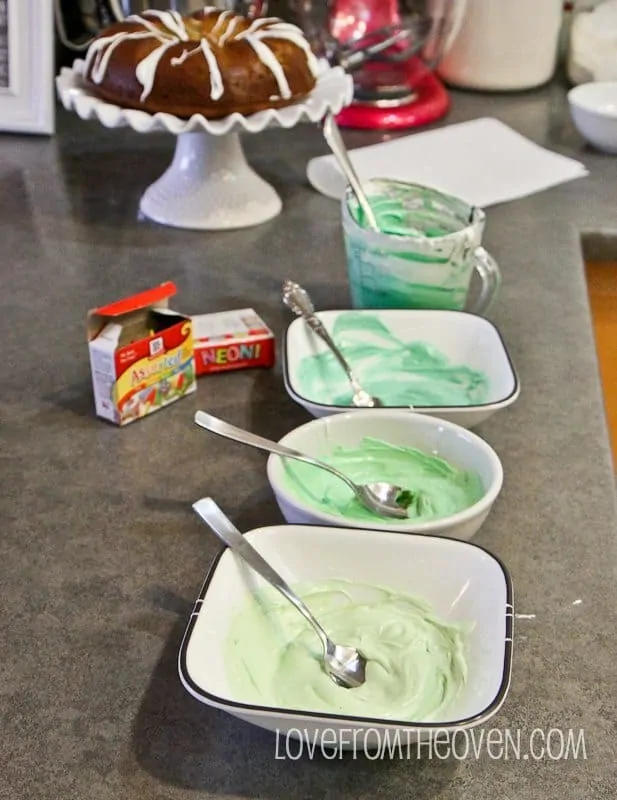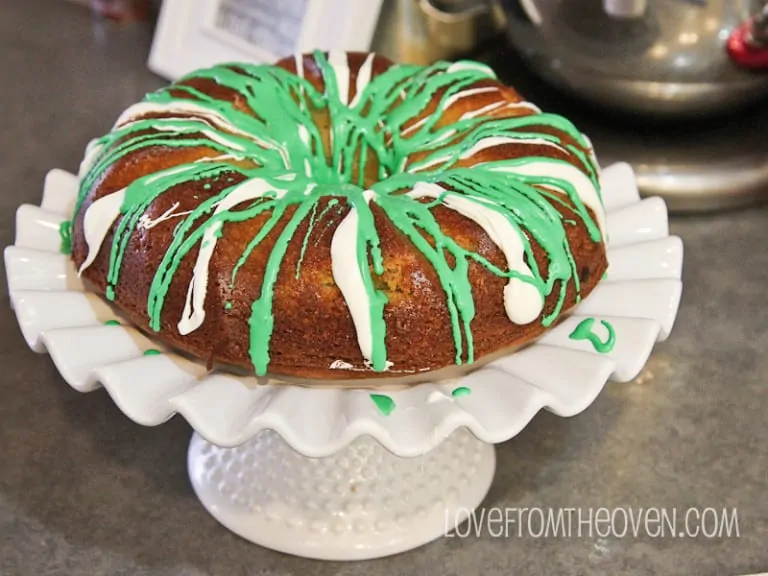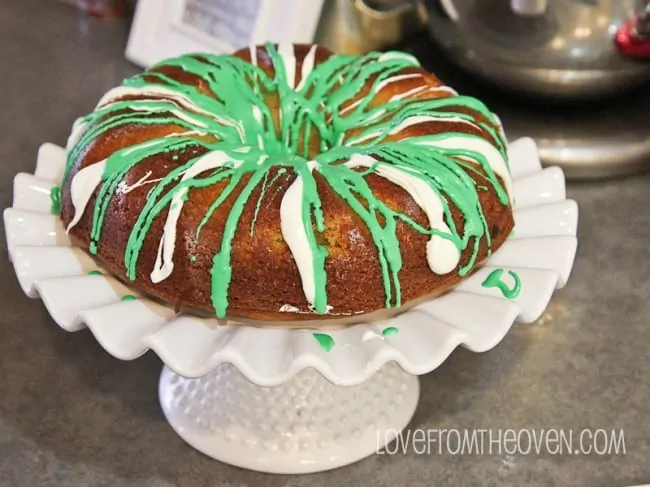 Simple and so delicious. I will add this cake wasn't a big riser, so it's not a huge bundt cake by any means. If you want that, you could probably double the recipe. This makes for a nice size standard bundt cake.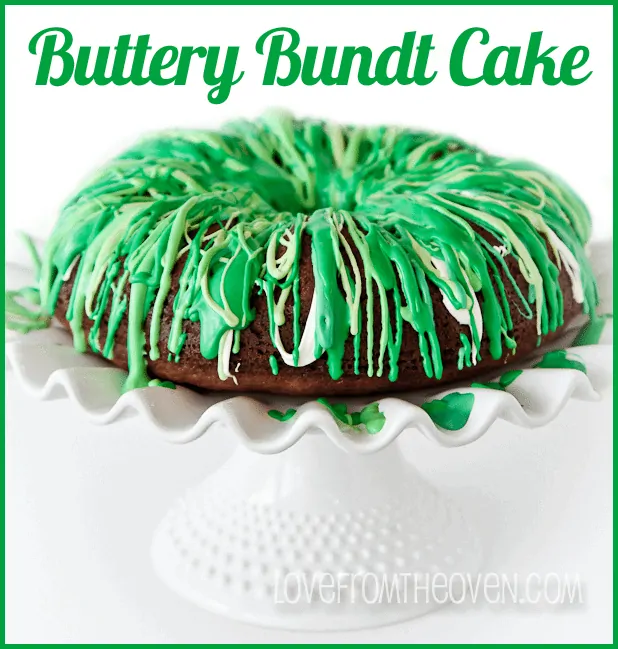 Scroll down to the bottom of this post for the recipe.
Don't forget to check out last year's version here.
If you are looking for more sweet St. Patrick's Day Green treats, check out…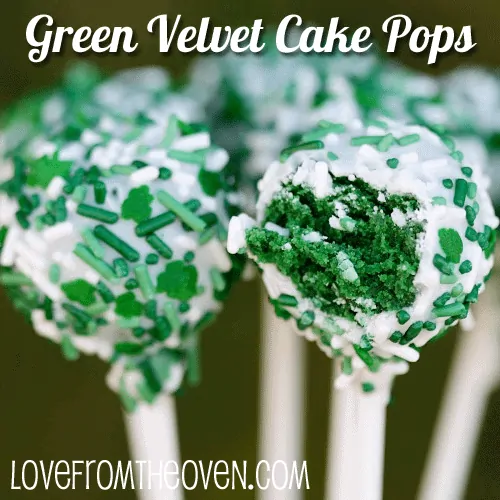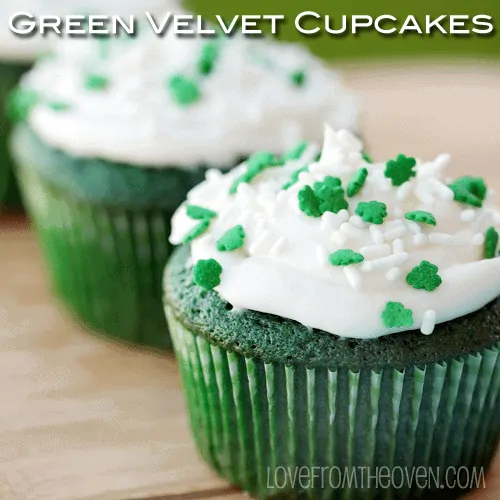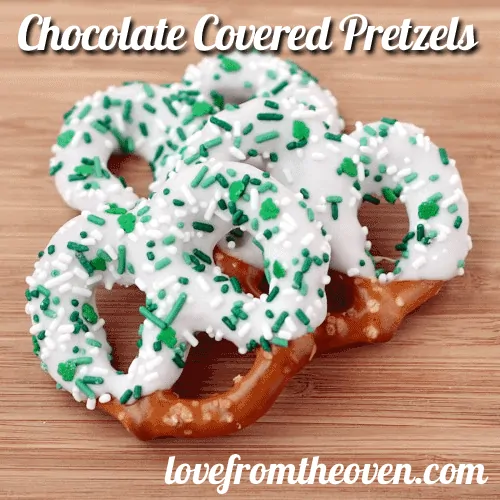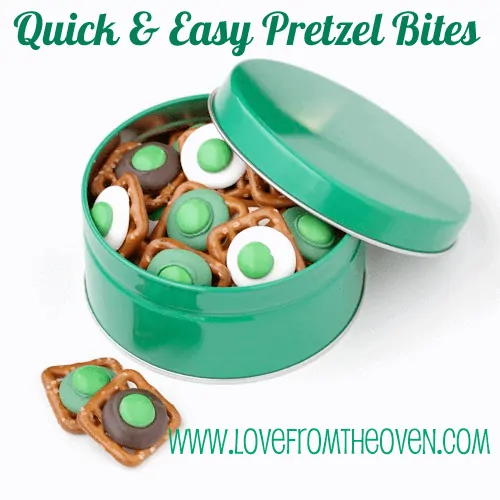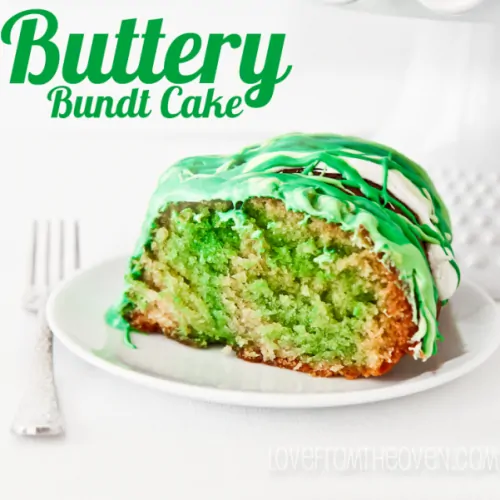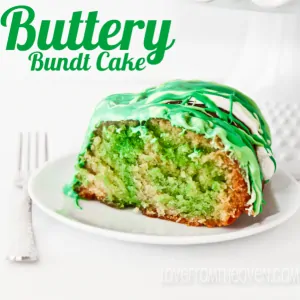 Buttery Bundt Cake
Ingredients
1

cup

of butter

1

cup

of water

1

teaspoon

salt

2 1/3

cup

all purpose flour

1 3/4

cup

sugar

2

teaspoons

baking soda

2

eggs

1 1/2

tsp

vanilla extract

1/2

cup

vanilla Greek yogurt
Instructions
Preheat oven to 325 degrees.

Spray a standard size bundt pan generously with non-stick cooking spray.

In a saucepan, combine butter, water and salt and heat over medium heat, stirring until butter has melted and combined with water. Remove from heat and set aside.

In a mixing bowl, combine flour, sugar and baking powder and stir to blend. Pour in half of your melted better and water mixture, and stir well to combine. Pour in remaining melted butter and water, stirring until well combined. Add in one egg and vanilla, stir until well combined. Add in remaining egg, stir until well combined. Finally add in your Greek yogurt, stirring until well combined. Batter will be thick.

If coloring your cake batter, divide your batter in as many bowls as desired for colors, and add in your food coloring to each bowl, stirring until color is well combined through out.

Pour into your bundt pan sprayed with cooking spray (one color at a time if using multiple colors - do not mix them once in the bundt pan, just pour one color on top of the next). Place in oven and bake until a toothpick inserted into the center comes out clean, approximately 50-60 minutes.

Remove from oven and allow to cool on a wire rack for approximately 15 minutes, then carefully remove cake from bundt pan and allow to cool for another 15 minutes.

Frost with your favorite frosting. To create a multi colored frosting, divide your frosting into multiple bowls and add your desired food coloring. Once your frosting is mixed, place your bowl in the microwave from 5-10 seconds - you just want to heat it enough to melt it a bit to make it easy to drizzle on your cake. Stir well after removing from the microwave then drizzle onto your cake with a spoon, and repeat with all of your colors. Enjoy!
Disclaimer
Nutrition information is estimated as a courtesy. If using for medical purposes, please verify information using your own nutritional calculator. Percent Daily Values are based on a 2000 calorie diet.