Let's talk cookie dough. Edible cookie dough, which I personally believe is the best part of cookies. Our entire lives we've been told not eat eat raw cookie dough. But cookie dough lovers like myself have lived on the wild side. We've taken cookie dough risks. We've licked the spoons (and bowls) and we've been cookie dough rebels. Then 2017 shows up and EDIBLE COOKIE DOUGH SHOPS AND READY TO EAT COOKIE DOUGH ARE NOW A REAL THING. Clearly dreams do come true. Finally a raw food diet I can stick to.
Edible Cookie Dough
There was a Shark Tank Cookie Dough episode that featured Cookie Dough Cafe, which appears to have kicked off the cookie dough trend. Cookie Dough Cafe sells pre-made, ready to eat cookie dough in supermarkets. Well not in any supermarkets within a 50 mile search of my zip code, but some fortunate folks are picking up that cookie dough along with their paper towels and lettuce. Lucky ducks.
Ready To Eat Cookie Dough
But it's not just ready to eat cookie dough in stores that's happening, there are actual cookie dough restaurants. I repeat RESTAURANTS THAT DISH OUT COOKIE DOUGH. Cookie Do NYC sells cookie dough confections and it's so popular that their website has a line and closing policy. Let that sink in, it's so popular there are rules about standing in line. And did I mention you can get your cookie dough in a cone? Props to that brilliant idea.
Since we don't have an edible cookie dough shop here in Phoenix and I can't find anywhere near me that sells Cookie Dough Cafe products, a girl's gotta do what a girl's gotta do. DIY edible cookie dough people. Cookie dough in a cone. Edible cookie dough in a container. Cookie do to go. In my kitchen. Or yours. No line policy needed. Well unless you have cookie dough loving neighbors and word gets out.
And if you add in sprinkles like I did, you basically made UNICORN COOKIE DOUGH. It's so darn trendy I can barely stand it!
And if you want your cookie dough to be filled with rainbows and unicorns, make sure to check out Sweets & Treats Boutique. I've always purchased my cupcake wrappers from them, and they recently started selling sprinkles and sprinkle mixes. They even put this fun mix together to match my recently redesigned website. LOVE. Cookie dough with sprinkles. What's not to love?
Now, shall we address the elephant in the room, or computer screen? Safety. That whole is it safe to eat raw cookie dough thing. First things first, I'm not going to tell you that any method or product is going to make your cookie dough 100% safe. I'm okay with egg-free cookie dough, but as with any food these days, there's always a risk. If you make and eat cookie dough, you do it at your own risk. I'm only deciding what's okay for my family. Not yours. 
For years we were told eggs were the concern with raw cookie dough. Then recently there were some issues with flour. Here's the thing, you are going to have to go with YOUR comfort level. There are no eggs in this cookie dough recipe. There is however flour. Many people are now heat treating flour to kill any potential bacteria. I'm not certain that the DIY version of heat treating flour is 100% safe, but it's an option. The cafes serving cookie dough and ready to eat cookie doughs are being made with professionally heat treated flours. I haven't been able to find any heat treated flour for sale to non-professionals, or in small amounts.
Another option, one I think is quite delicious, is to skip the flour and just use rolled oats. The great thing about this option is that you can then make gluten free edible cookie dough if you need to. I wouldn't eat a bowl of raw oats or you might have some digestion issues, but a spoonful or two is fine for me. Again, YOU DO YOU, decide on your own what you are comfortable with. I'm not a food safety expert, just a girl making cookie dough and tossing some sprinkles in it. 
And while we are talking openly and honestly, the whole giant scoop of cookie dough in a cone thing? Yeah, that's a LOT of dough. Like a dozen cookies worth. Cookie dough is VERY rich. A spoonful is pretty much the perfect serving size in my book. That cookie dough cone is perfect for sharing with six of your BFFs. Cookie dough parties should probably be a thing.
EDIBLE COOKIE DOUGH RECIPE
Reminder – I am not a food safety expert.
Make and consume cookie dough at your own risk.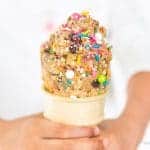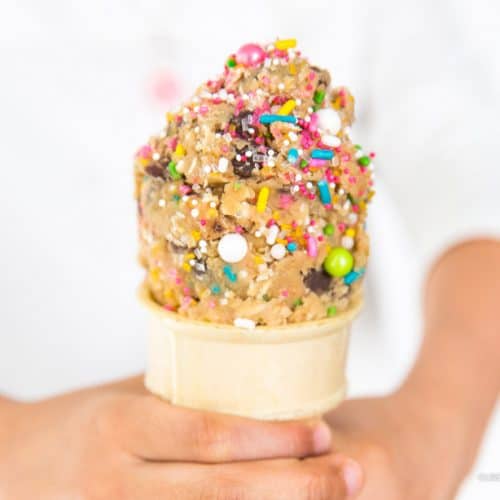 Edible Cookie Dough
Ingredients
1/2

cup

butter

softened

1/2

cup

brown sugar

1/4

cup

white sugar

2-4

TBSP

milk

2

teaspoon

vanilla

1/2

tsp

baking soda

1/2

tsp

salt

3/4

cup

flour

3/4

cup

oats

1

cup

chocolate chips

1/4

cup

sprinkles
Instructions
Mix butter and sugars with an electric mixer until well combined. Mix in 2 TBSP of milk (reserve the rest) and vanilla, mix until well combined. Add in baking soda, salt, flour, oats, chocolate chips and sprinkles, stirring until well combined. Mixture may be very thick and additional milk can be added if desired.

Store covered in refrigerator.
Recipe Notes
Remember, there is always risk with any food, including cookie dough. Make and eat raw cookie dough at YOUR own risk. I am not telling you that it is safe.
PIN THIS RECIPE TO SAVE
Given my love with cookie dough, I've made and found some great cookie dough recipes. Check them out!
Cookie Dough Rice Krispies Treats
Have a sweet day!