Looking for the perfect chocolate chip cookies? They're all right here! I've put together all my best chocolate chip cookies recipes in one place to make your search easy. You'll get rave reviews for your homemade chocolate chip cookies with all of these delicious and easy recipes.
I'm excited to share my favorite, tried and true chocolate chip cookie recipes, all one place! In this post you'll find every kind of chocolate chip cookie you can imagine. Here are the different cookies I'm sharing with you today:
New to cookie making? Chocolate chip cookies are beginner friendly and a great place to start your cookie baking journey!
Best Ever Chocolate Chip Cookies
These are my tried and true, time-tested, family-favorite, chocolate chip cookie recipes. They are the cookie recipes that I make for my family. The recipes are all easy to make and use simple, common ingredients. Some require dough chilling, but many do not. No matter what type of chocolate chip cookie you like best, I've got you covered!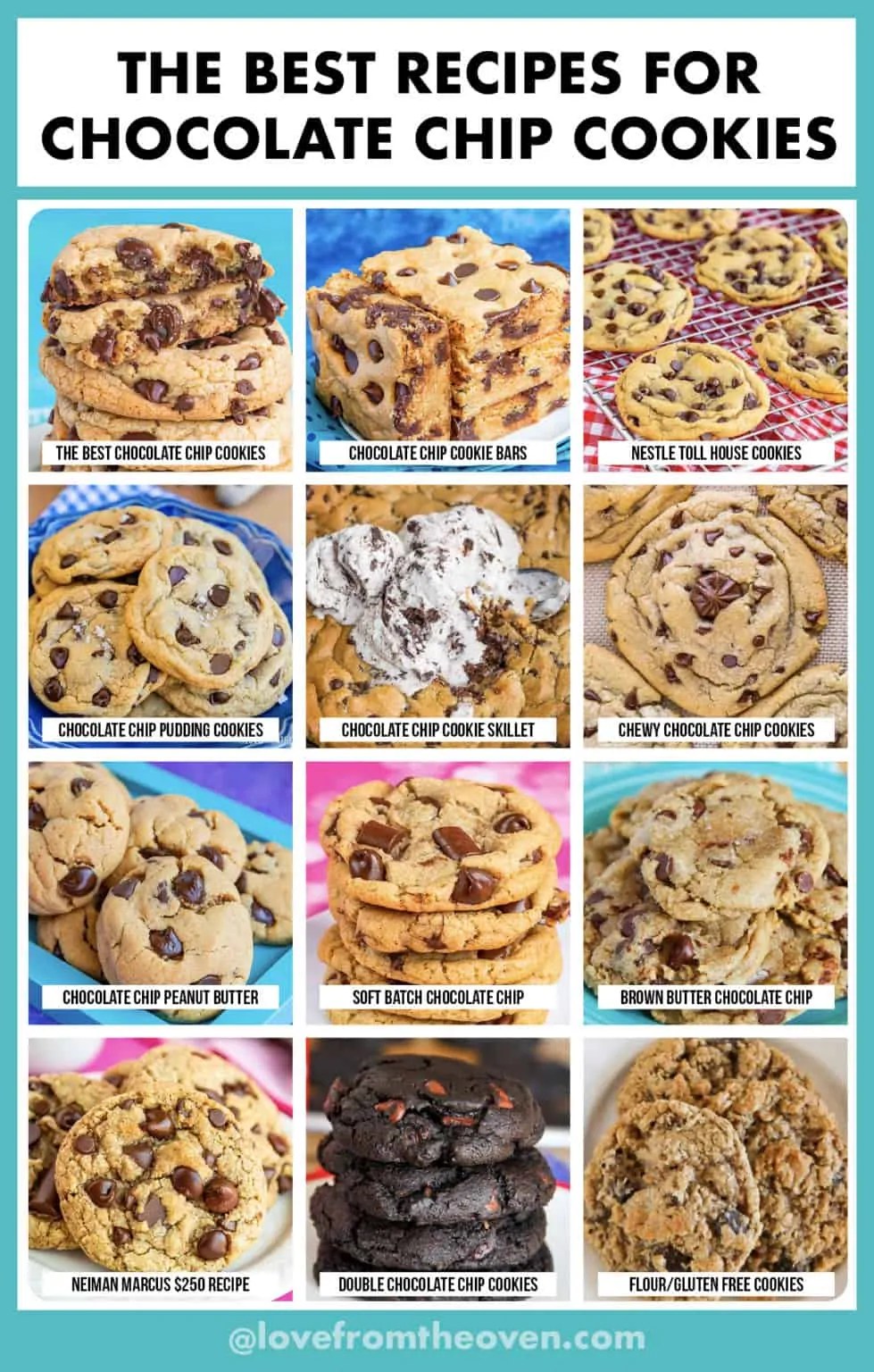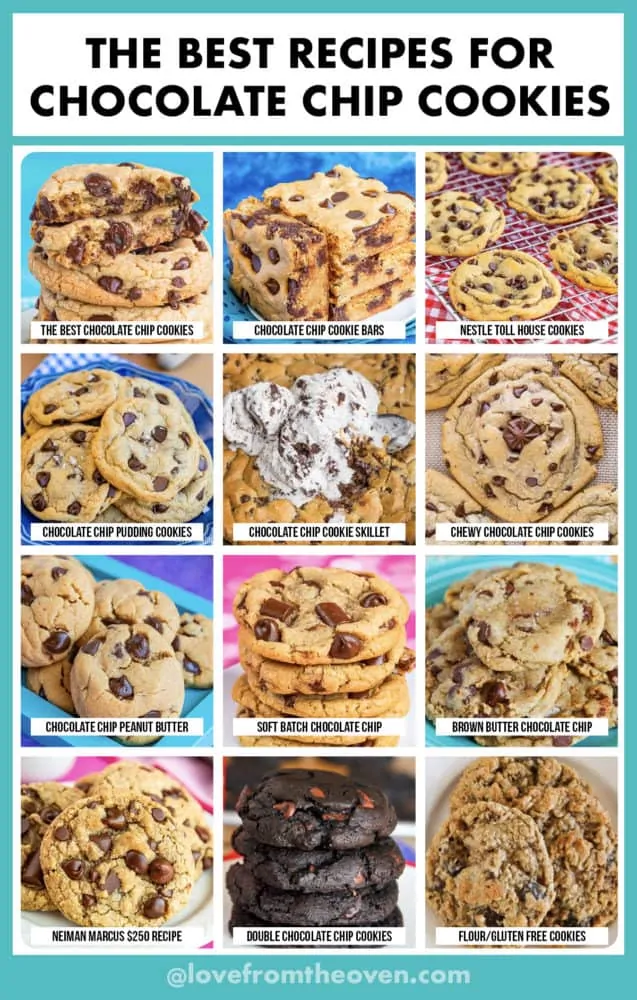 How to Make Chocolate Chip Cookies
While there are thousands of variations on chocolate chip cookies, most recipes include the same basic ingredients. Those include:
Butter (or oil, shortening or margarine)
Sugar
Flour
Eggs
Baking soda, baking powder or both
Vanilla
Chocolate Chips
After beating together the butter with the sugar, eggs and vanilla, you add the dry ingredients to form a dough. Drop the dough by spoonful onto a baking sheet, bake, cool and EAT!
Cookies scratch really are among the easiest and tastiest treats. Whether you like ooey gooey cookies, crispy cookies, chocolate chocolate chip cookies, vegan cookies or something else entirely, I've got a homemade chocolate chip cookie recipe that you're going to love! Grab a glass of milk and let's dig in!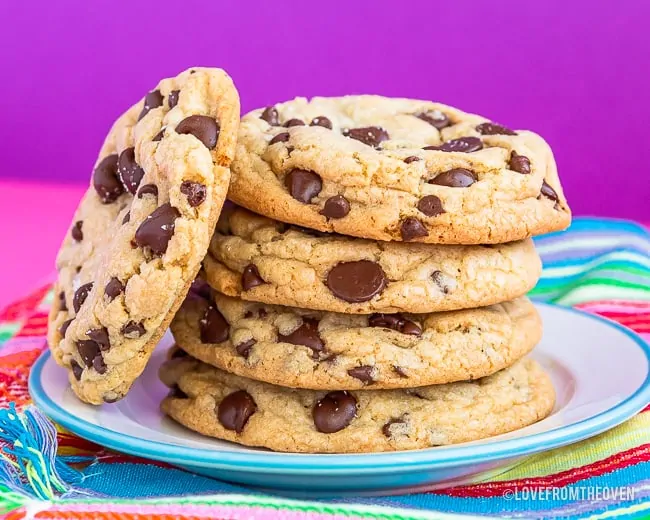 Oatmeal Chocolate Chip Cookies
When you can't decide between oatmeal cookies and regular cookies, why not have both? Chewy with a perfect toasty flavor from the oats, these Oatmeal Chocolate Chip Cookies disappear almost as fast as I can make them. And my Chewy Oatmeal Chocolate Chip Cookies are a treat my kids enjoy, while I appreciate knowing they're getting a little extra goodness in their desserts.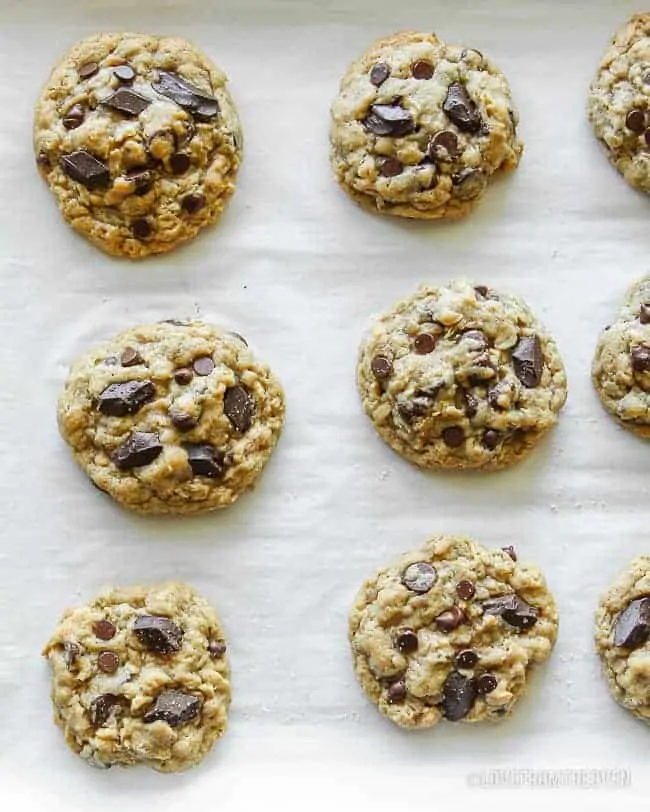 Chewy Chocolate Chip Cookies
I love these Chewy Chocolate Chip Cookies and so has everyone I've ever made them for. My secret for making these cookies chewy is to chill the dough for at least 30 minutes before baking. This keeps the dough from spreading too much resulting in a fudgier texture I think is phenomenal. If you're looking for a great chewy recipe, this is it!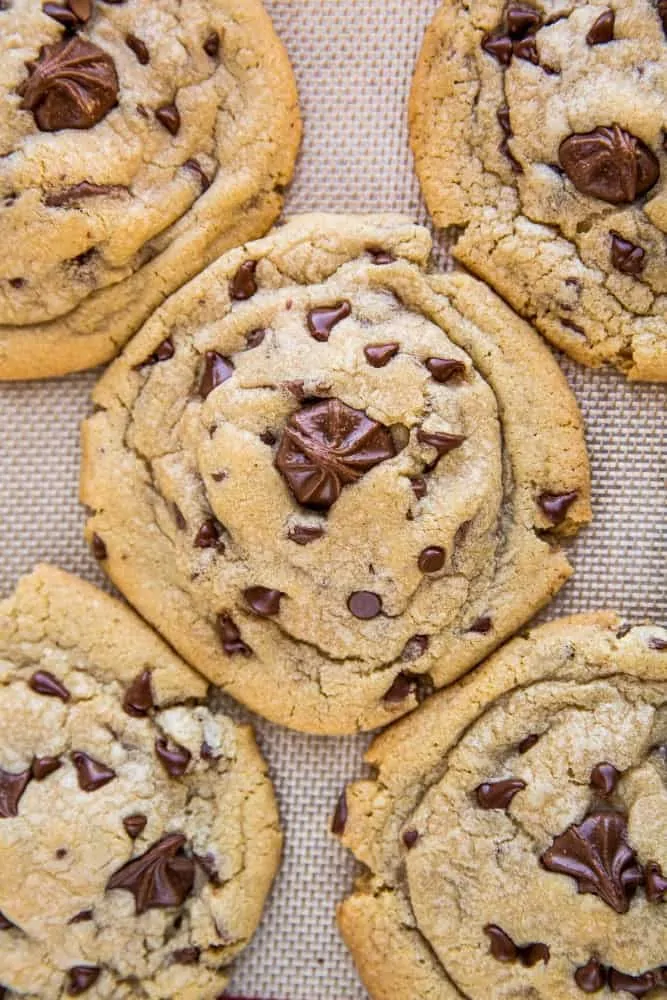 Chocolate Chip Peanut Butter Cookies
Peanut butter is delicious. Chocolate chips are delicious. Put them together into Chocolate Chip Peanut Butter Cookies and you have a treat that can only be described as divine. Peanut Butter Chocolate Chip cookies are sweet, chewy and peanut-y. Trust me when I say you NEED to have these easy cookies in your life.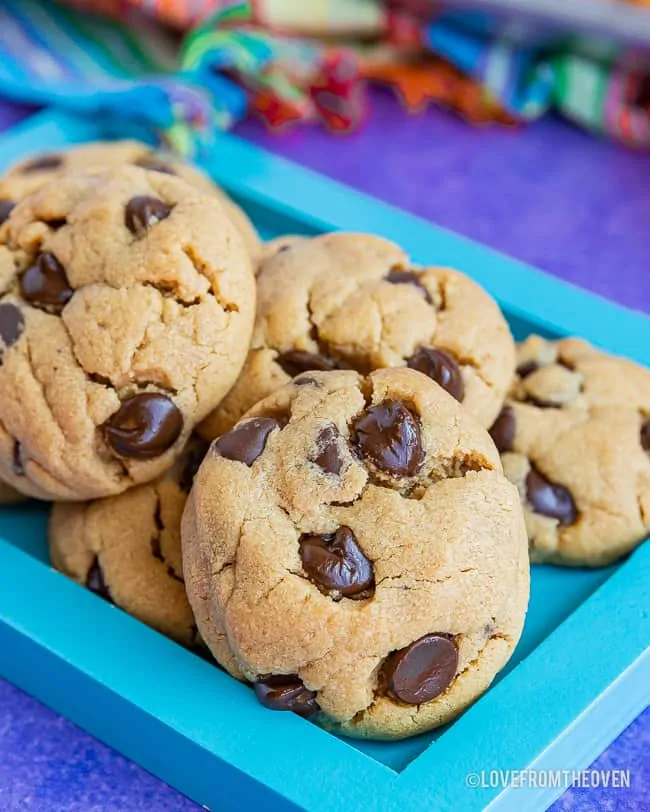 Nestle Chocolate Chip Cookies
The one that started it all. The Toll House Chocolate Chip Cookie Recipe is the quintessential cookie for a good reason. This is the one on the back of the chocolate chips bag, the one your grandma made, the one that makes tasty chocolate chip cookies each and every time. You can't go wrong with Nestle Chocolate Chip Cookies.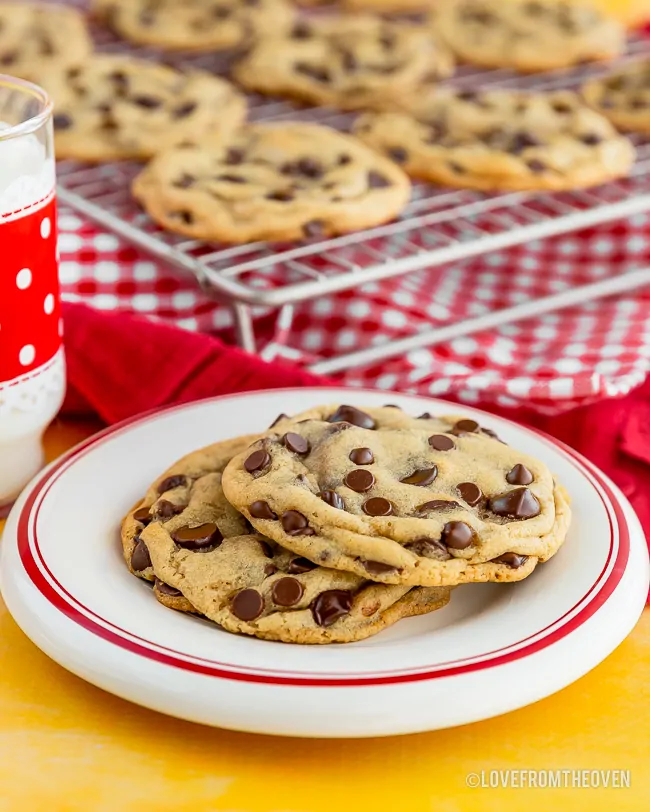 Soft Chocolate Chip Cookies
After years of looking for a soft cookie that replicated one of the big fat pillow-y cookies I loved from bakeries, I finally found this recipe for Soft Chocolate Chip Cookies. The secret is brown sugar and melted butter! This is a quick recipe, with no chilling of the dough required.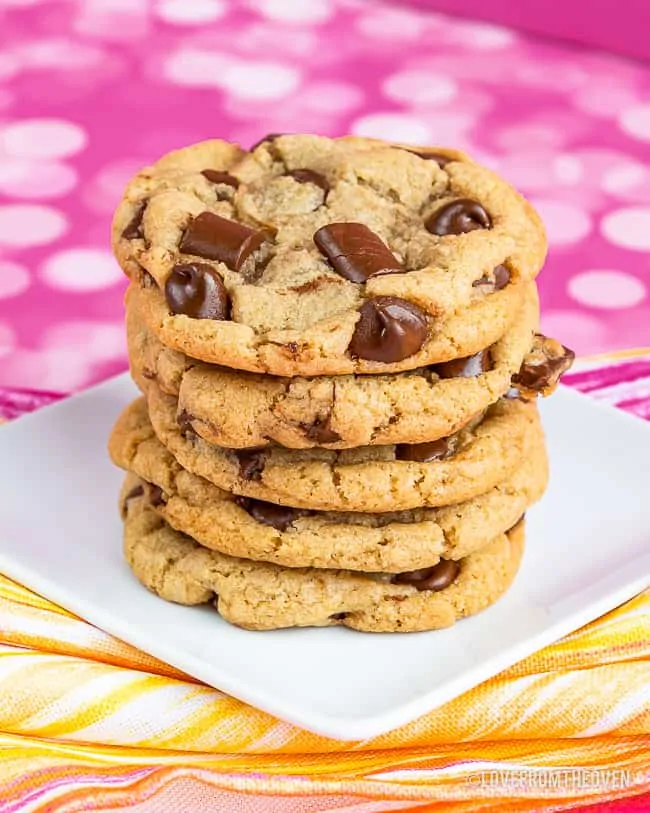 Chocolate Chip Cookie Bars
Maybe the only thing better than cookies are cookie BARS! This Chocolate Chip Cookie Bars recipe is even easier than making homemade cookies. No scooping dough out–just pour it all into a pan and bake! When I'm in a rush, this is the recipe I turn to. I love how chewy and chocolatey these are.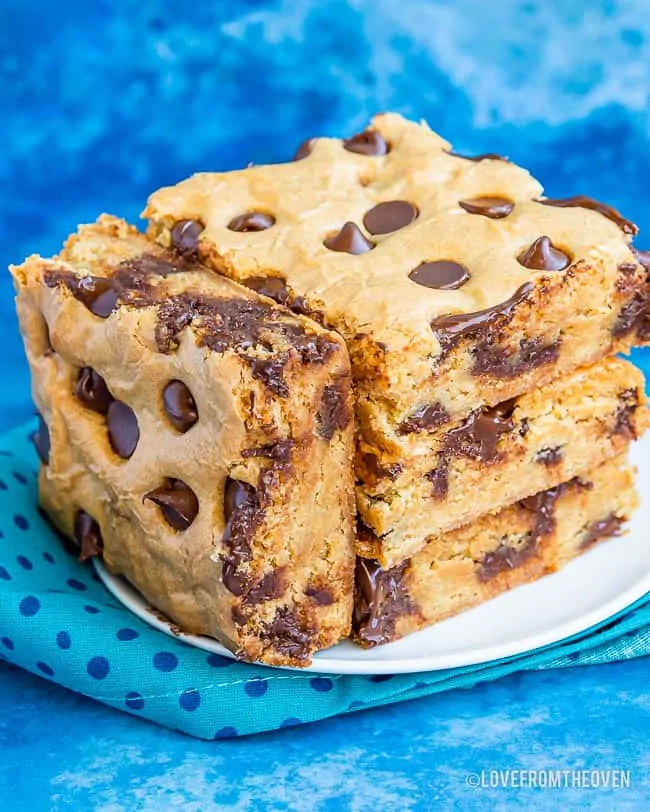 Double Chocolate Chip Cookies
What's better than chocolate? MORE chocolate. Sometimes a simple chocolate chip cookie just won't make a dent in a serious chocolate craving. That's where Double Chocolate Chip Cookies come in. These Chocolate Chocolate Chip Cookies are a chocolate lover's heaven, with an almost fudge like center packed with semi-sweet morsels.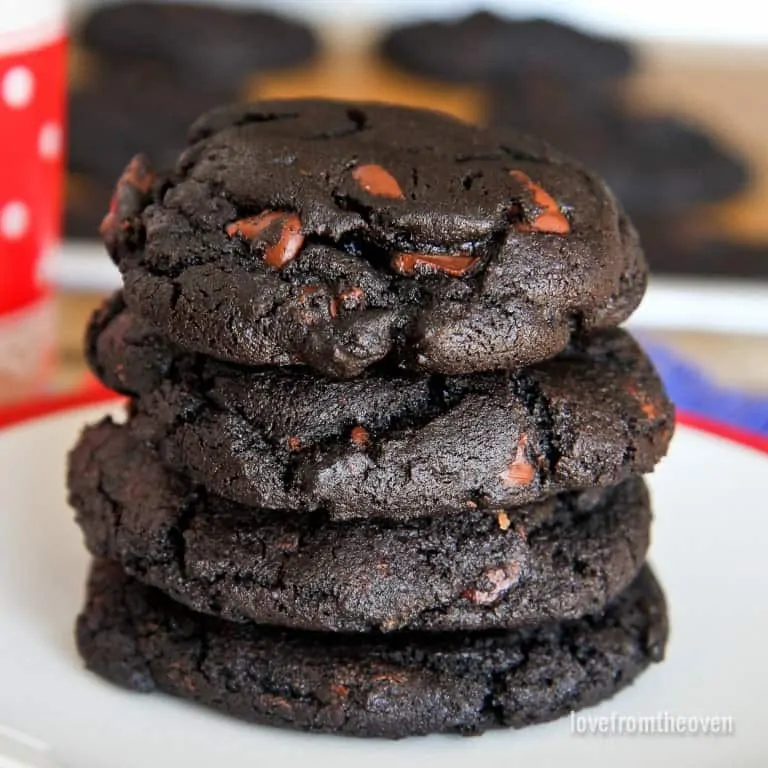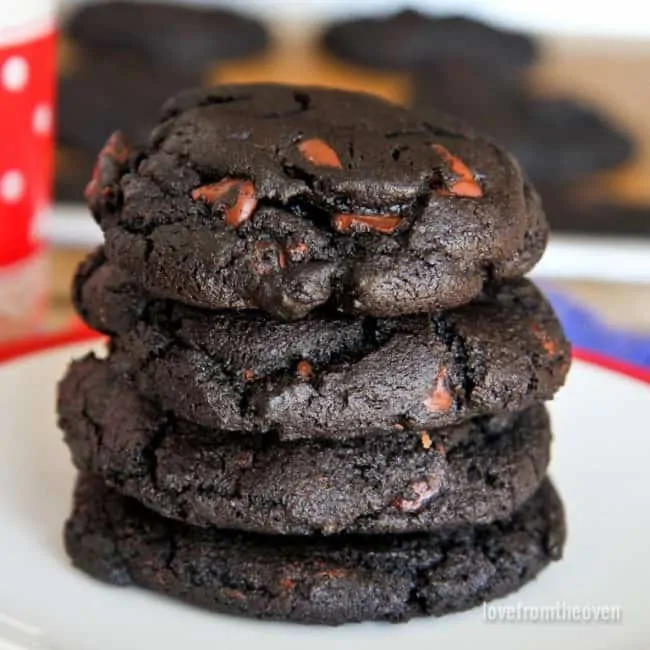 Gluten Free Chocolate Chip Cookies
Living gluten free doesn't mean missing out on tasty cookies! This is my very favorite go-to gluten free oatmeal chocolate chip cookies recipe. Using oatmeal, these Gluten Free Chocolate Chip Cookies taste just as good as the kind made with regular flour. Making your oatmeal cookies gluten free is a cinch!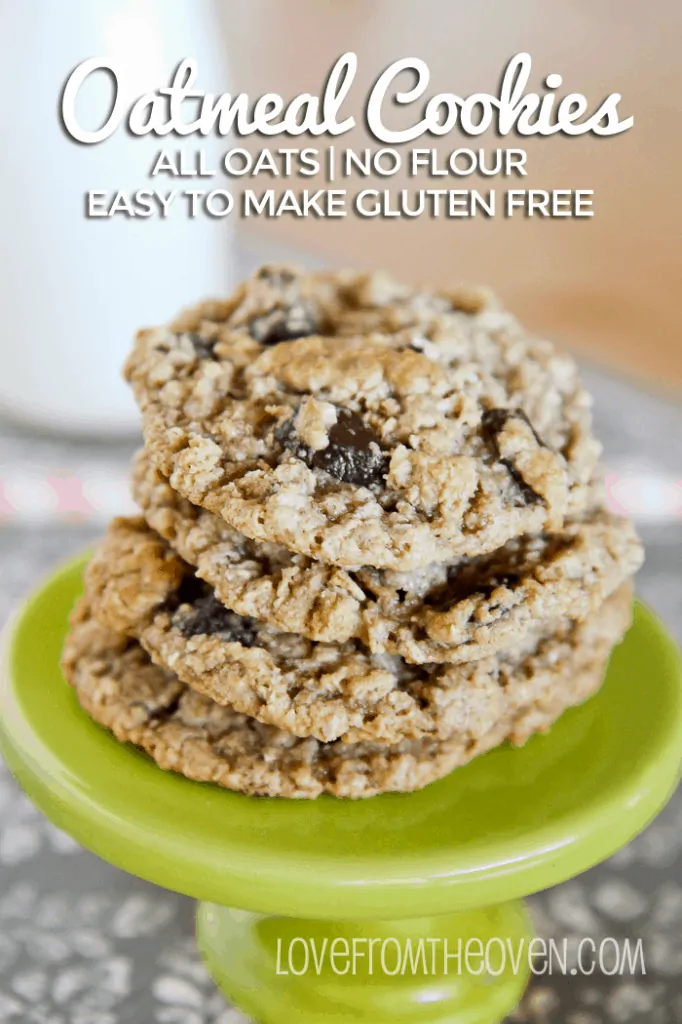 Brown Butter Chocolate Chip Cookies
Have you ever made your cookies with brown butter? You need to try these Brown Butter Chocolate Chip Cookies. With rich flavor that tastes just a bit fancier than your typical chocolate chip cookie, these are irresistibly good. This is my oldest daughter's favorite recipe on the website!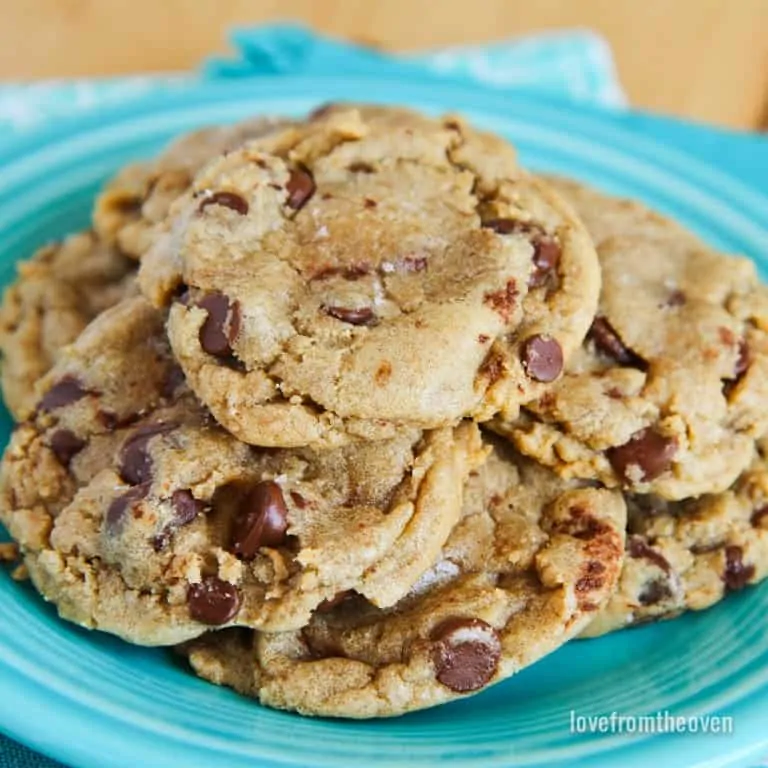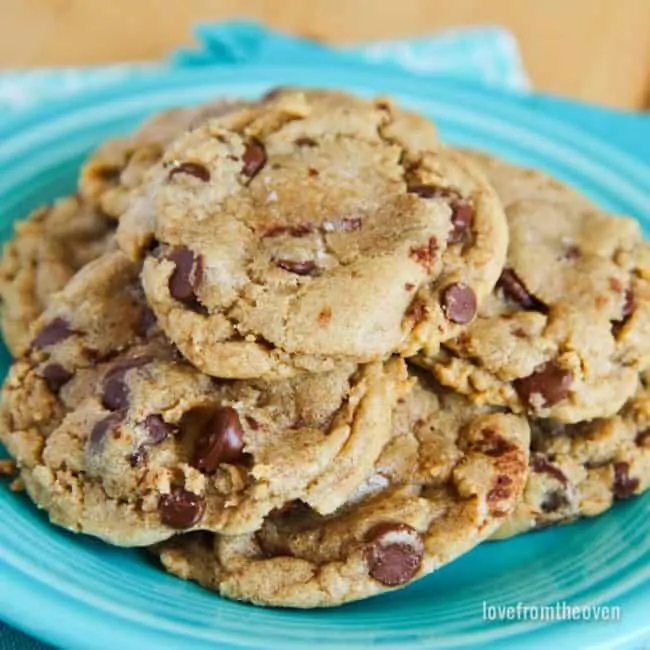 Chocolate Chip Cookies With Pudding
If soft cookies are your jam, you'll also love chocolate chip cookies with pudding mix. The pudding mix is such an easy hack for creating soft baked cookies with amazing flavor. Vanilla Pudding Chocolate Chip cookies come out perfectly every time I make them. But they have a secret… you don't actually need the box of pudding to make them! Crazy, right? You simply have to try them to believe it!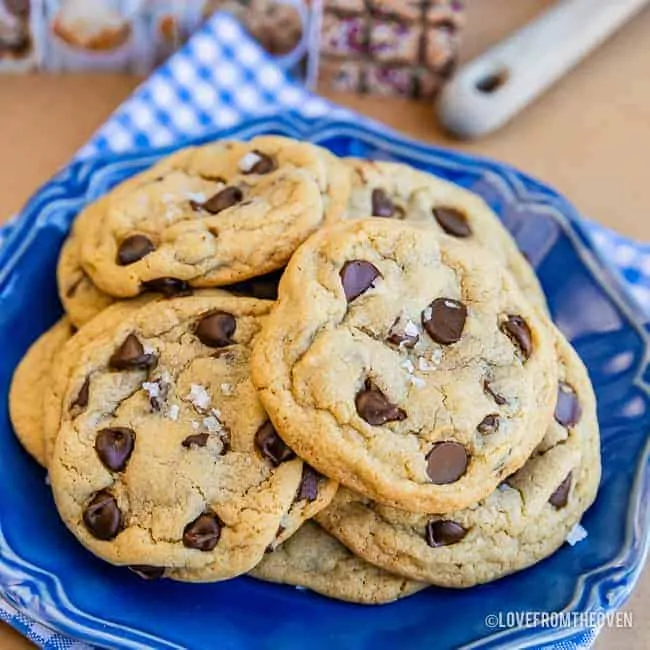 Chocolate Chip Skillet Cookie
Instead of making a few dozen cookies, why not make one GIANT cookie? This Chocolate Chip Skillet Cookie is delicious on its own but topped with a scoop of vanilla ice cream? It's magic. This might be one of my all time favorite desserts!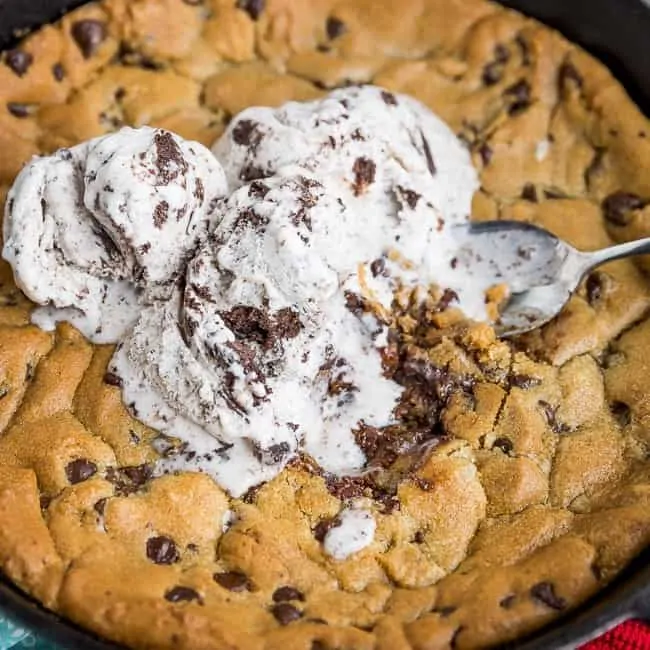 Crispy Chocolate Chip Cookies
I'm on team chewy cookie myself but some occasions call for a chocolate chip cookie with a bit of a crisp bite. Crispy Chocolate Chip Cookies are perfect for dunking in milk.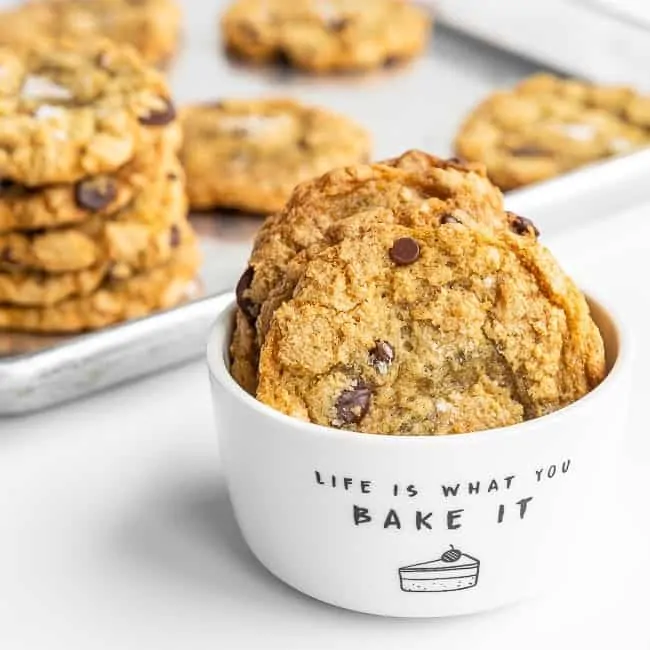 Chocolate Chip Shortbread Cookies
Speaking of crispy cookies, I can't recommend these chocolate chip shortbread cookies enough! A crisp buttery cookie packed with chocolate chips and drizzled with even more chocolate is just begging to be served with a pot of tea.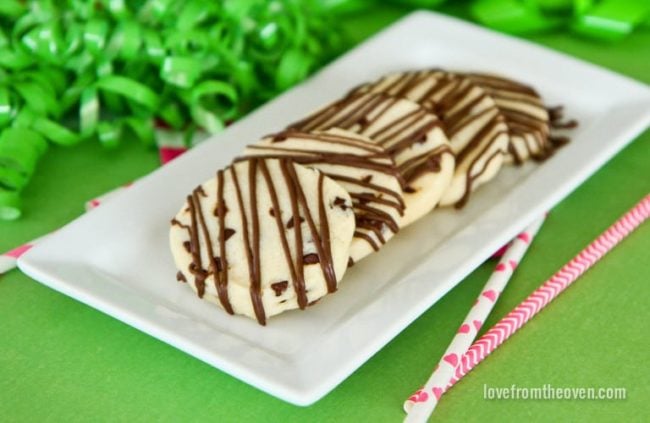 Chocolate Chip Cookie Pie
The ultimate pie for cookie lovers! Chocolate Chip Cookie Pie from the classic Nestle recipe is indulgence made easy. Try it with cold, creamy ice cream or a dollop of whipped cream.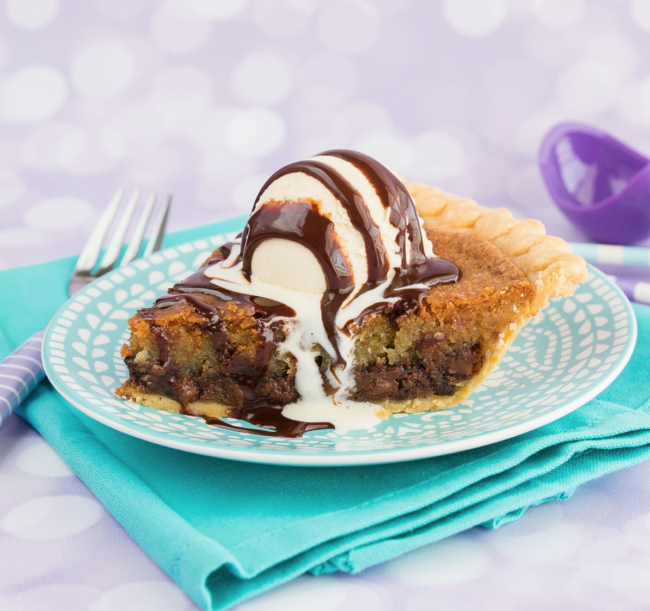 Giant Chocolate Chip Cookie
If you were a fan of cookie cakes as a kid, then you're going to go nuts for this Giant Chocolate Chip Cookie. You can cut it into bars or serve it in wedges with ice cream. I love mine covered in caramel and chocolate sauce. However you enjoy this giant cookie, you can't go wrong.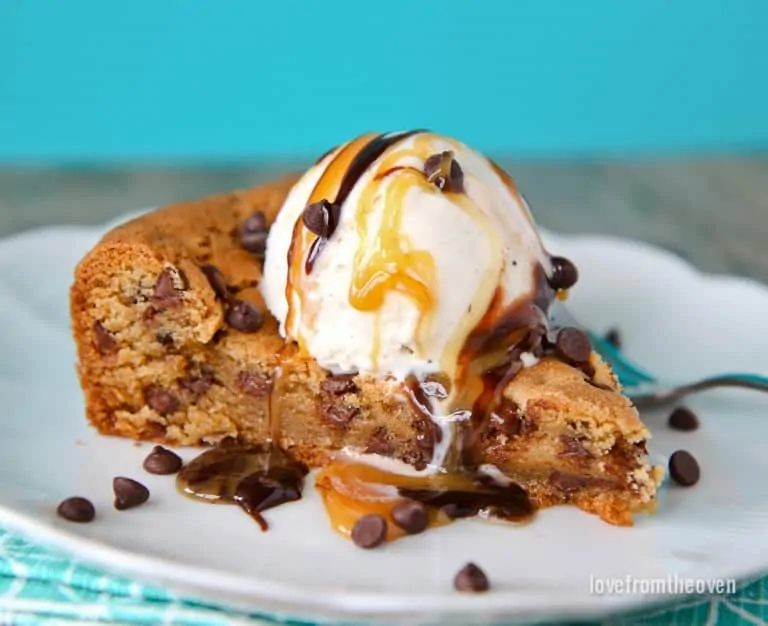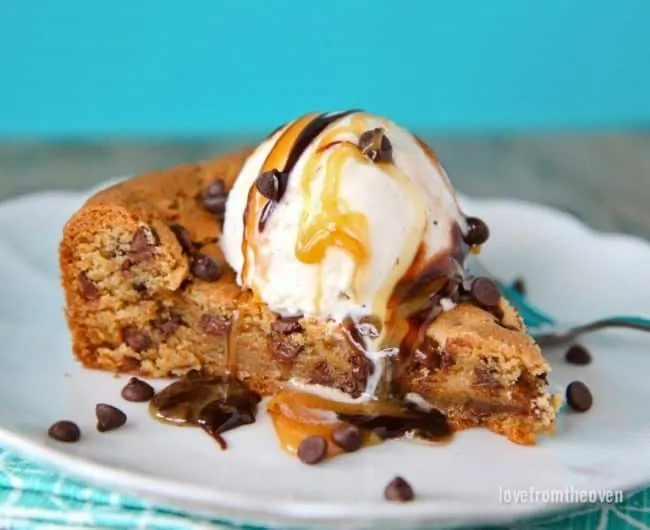 Buttery Chocolate Chip Cookies
For those who like their cookies crisp on the edges but chewy in the middle, I present these Buttery Chocolate Chip Cookies. Made with bread flour and a combination of regular and mini chocolate chips, these cookies definitely stand out from the crowd.
Neiman Marcus Chocolate Chip Cookie Recipe
Legend has it you once had to pay $250 for this recipe from the famous upscale department store. Now, you can recreate the goodness of those perfect cookies with this Neiman Marcus Chocolate Chip Cookie recipe–no exchanging of Ben Franklins required.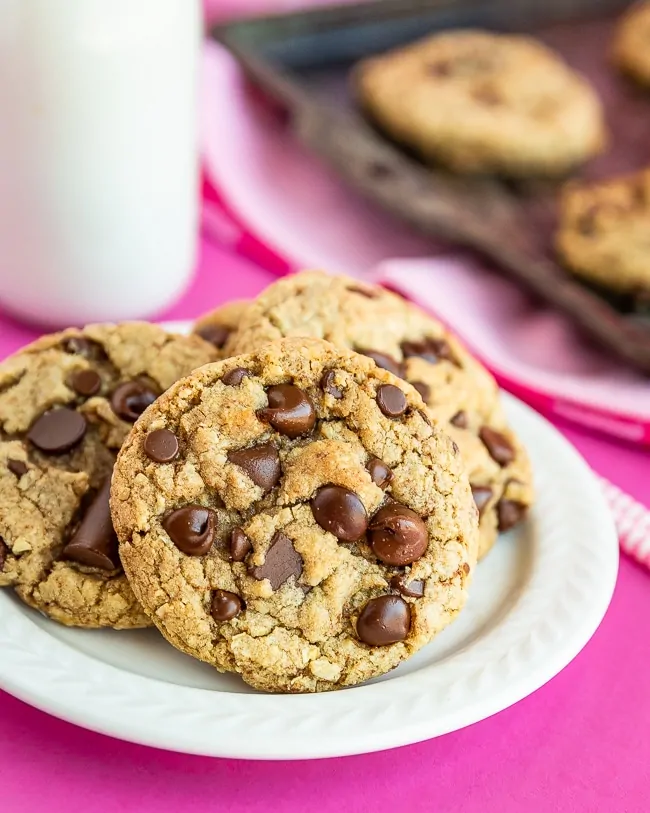 Oreo Stuffed Cookies
You don't have to pick between chocolate chip cookies and Oreos with Oreo Stuffed Cookies! Your friends and family will cheer for these fun and delicious cookies.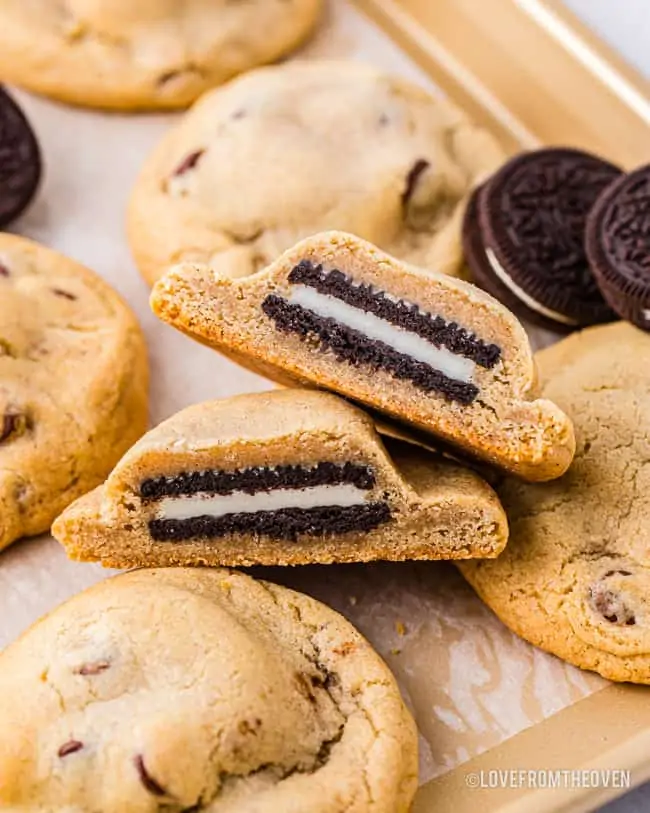 Levain Cookie Recipe
Levain Chocolate Chip Cookies might be one of the most famous chocolate chip cookies around, and for good reason. Don't miss these decadent cookies with their slightly, and wonderfully, under baked center.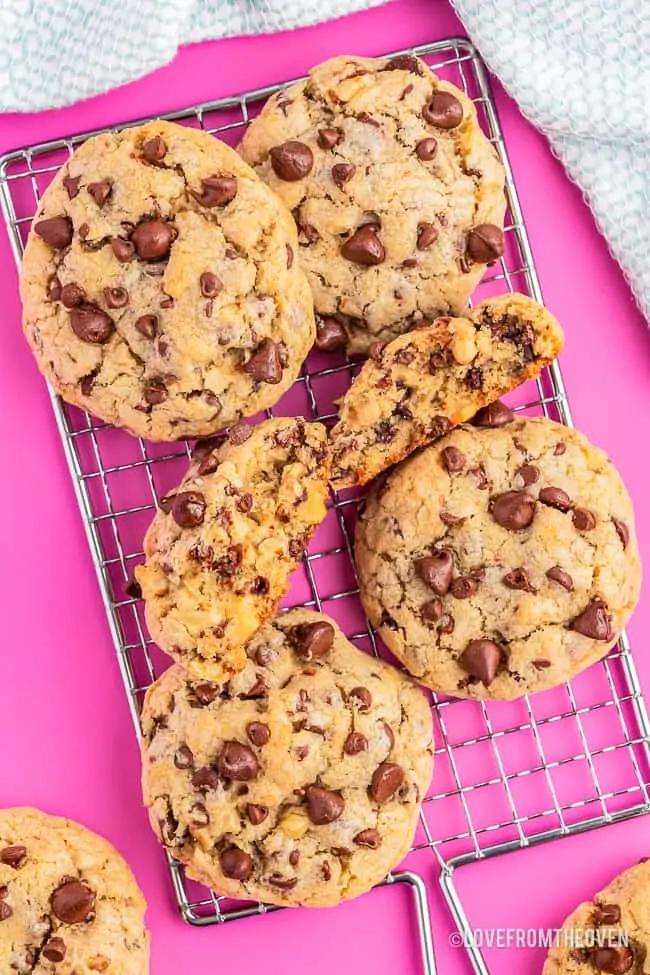 Baking Chocolate Chip Cookies
Do we really need any more chocolate chips cookie recipes? Yes, yes we do. The recipe I'm sharing with you today might just be the absolute best chocolate chip cookies! Whether you're a new baker or a seasoned cookie veteran, this recipe will knock your socks off.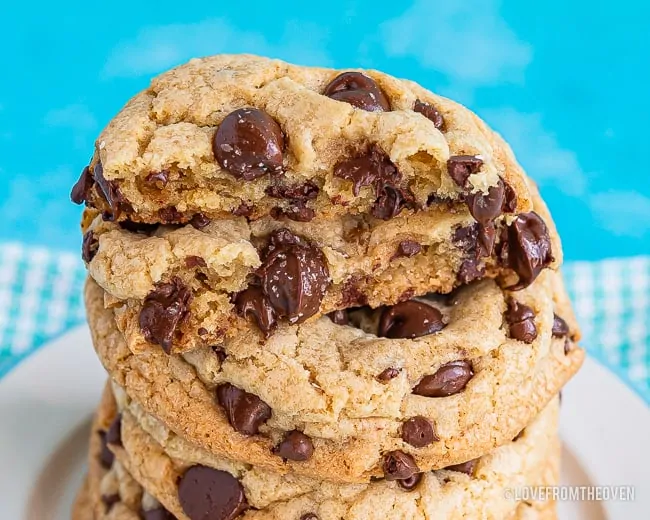 How to Make Chocolate Chip Cookies From Scratch
If all those great recipes weren't delicious enough, here is the recipe for what might be the BEST chocolate chip cookies yet! The ingredients are simple and the directions are straight forward. One note however, in this recipe the baking soda is dissolved in hot water prior to adding it to the mix. This helps the baking soda to evenly distribute throughout.
No dough chilling required. That said if you have the time, an hour in the fridge always improves the flavor and texture of almost any cookie.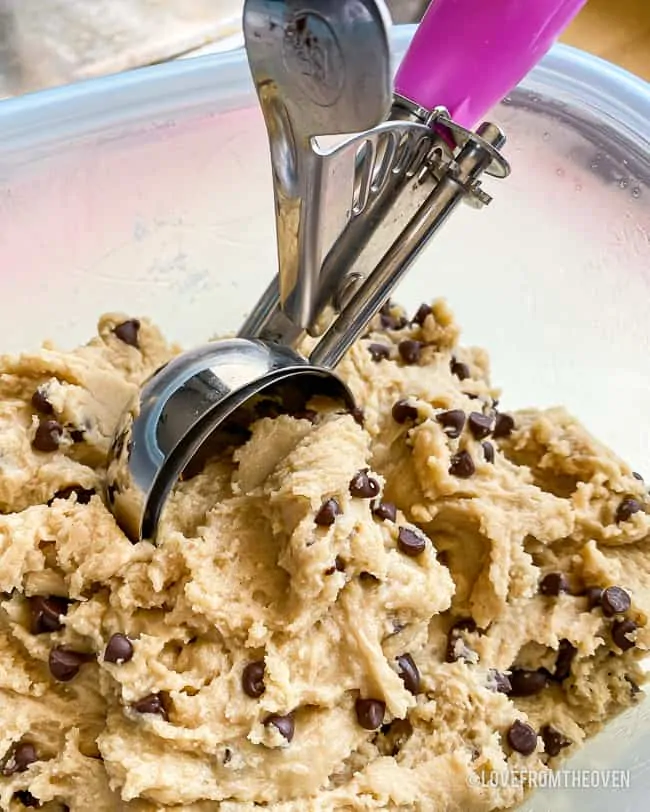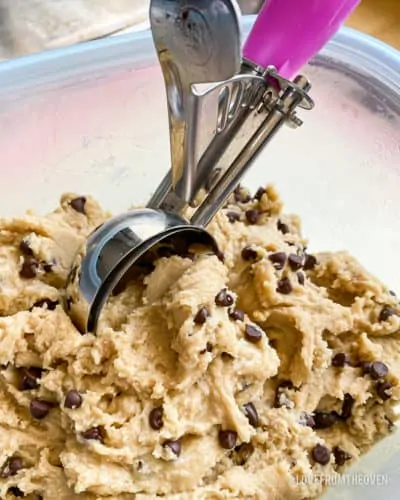 This recipe makes great big cookies, the kind you get at a bakery. The size of the cookie actually impacts the texture. With a larger cookie, the edges get a little crisp, while the centers stay a bit more soft and chewy.
To make these large cookies even in size, I like to use a very large cookie scoop, or even an ice cream scoop, to dish up the dough.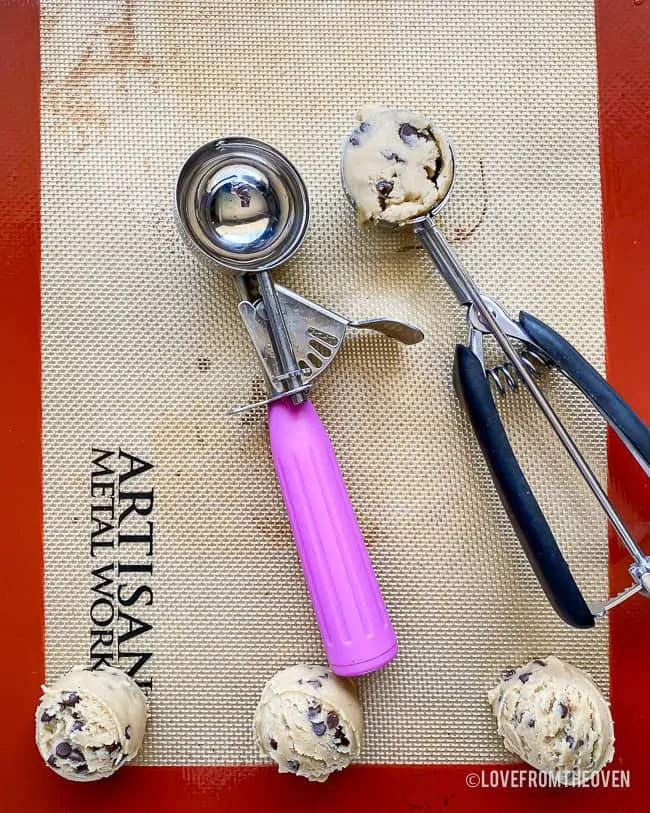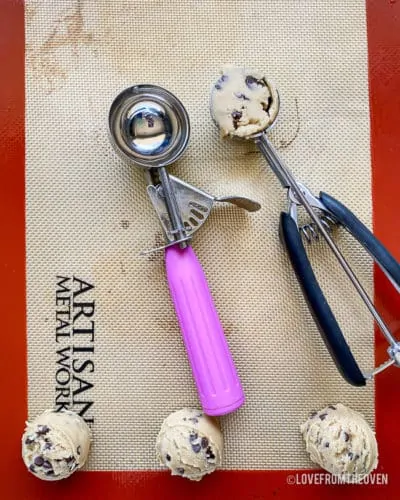 One of my favorite tricks for making cookies that are soft and chewy in the center is to shape those scoops of dough into a shape that is more tall than round. These little towers of cookie dough, so to speak, really give you that perfect soft middle that we all crave.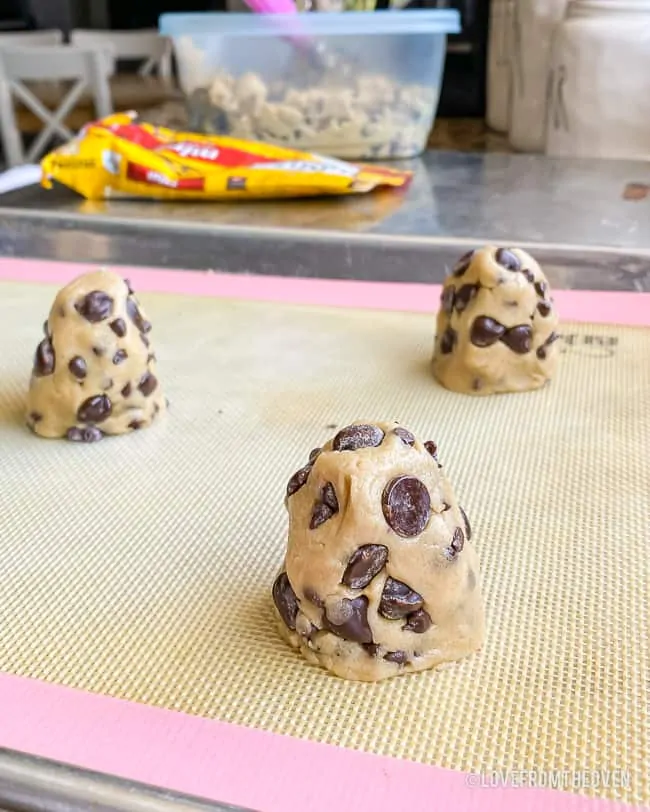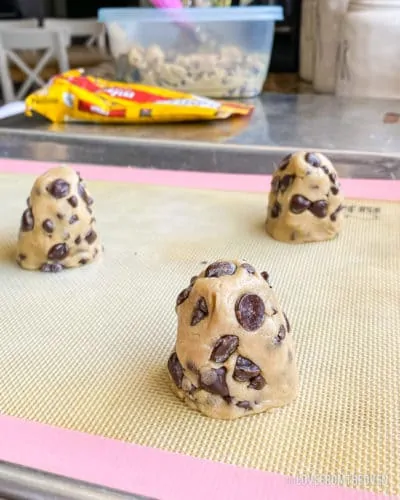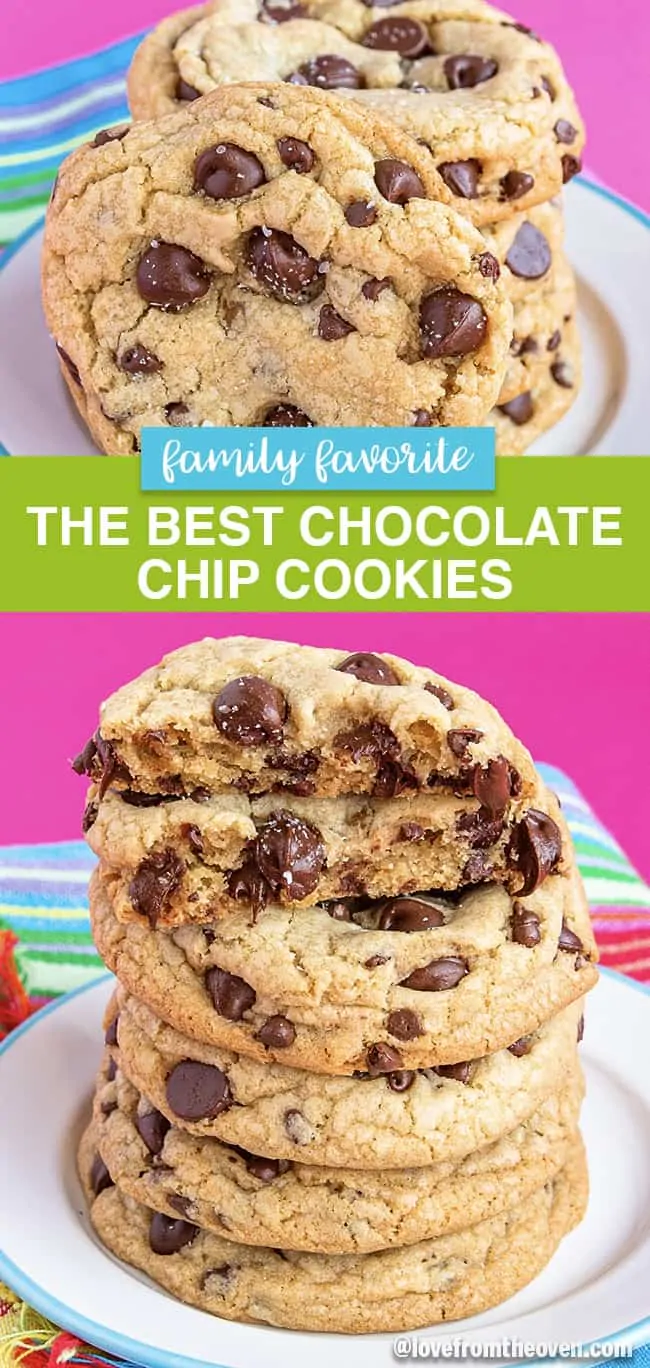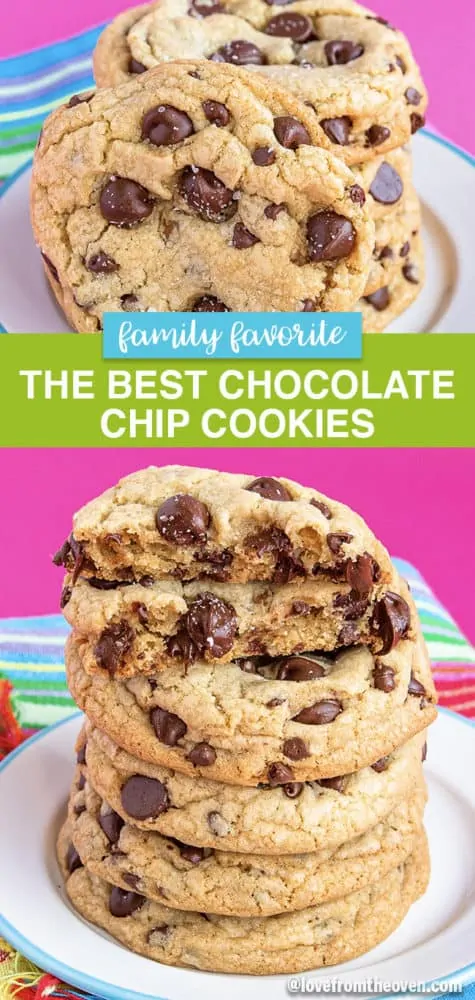 The Best Chocolate Chip Cookie Recipe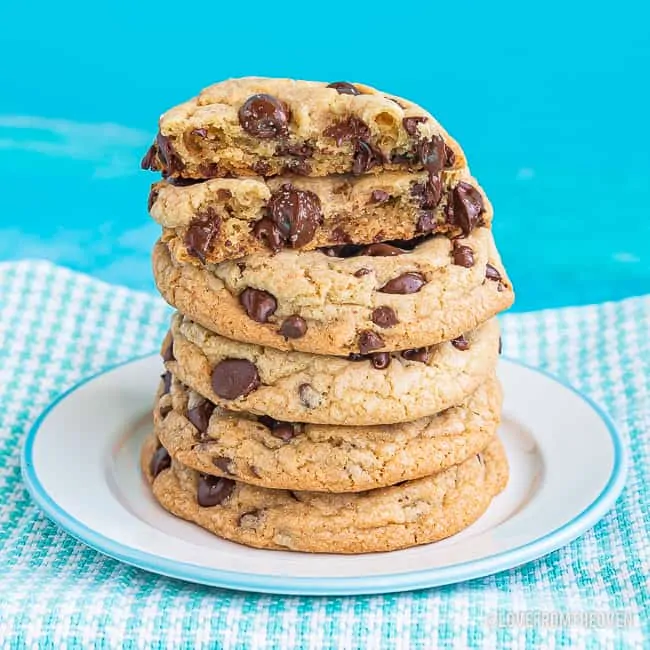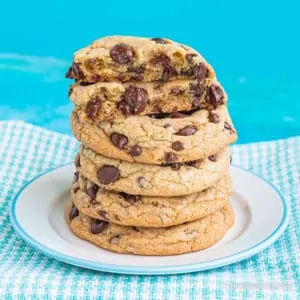 The Best Chocolate Chip Cookie Recipe
Ingredients
1

cup

unsalted butter, softened

1

cup

light brown sugar

dark brown can be used as well

1

cup

granulated sugar

2

large

eggs

at room temperature

3

tsp

vanilla extract

1

tsp

baking soda

2

tsp

hot water

1

tsp

salt

3

cups

all-purpose flour

2

cups

semi-sweet chocolate chips

milk or dark chips can also be used
Instructions
Preheat oven to 350 degrees F. Prepare baking sheets with silicone mat or parchment paper.

Cream together butter and sugars until light and fluffy, approximately 2-3 minutes. Beat in eggs and vanilla, and mix until well combined.

Dissolve baking soda into hot water, add to mixture and stir well to combine. Add flour and salt and mix by hand until combined. Fold in chocolate chips and mix until just combined. Do not overmix.

Scoop cookie dough, and if desired shape dough balls so that they are taller than wide, and place on baking sheet. Leave at least 3" between cookies to allow for spreading.

Bake for approximately 9-11minutes in preheated oven, until edges start to brown. Remove from oven and place baking sheet on a wire cooling rack. Allow cookies to sit on baking sheet for ten minutes, then with a spatula, gently transfer to a wire cooling rack to finish cooling. Store tightly covered.
Notes
While chilling this dough is not required, it always takes cookies to the next level. If possible, chill covered for one hour. 
Make sure to not over-bake. Cookies may seem underdone when you remove them from the oven, but they finish cooking on the hot baking sheet. 
Nutrition
Calories:
286
kcal
|
Carbohydrates:
37
g
|
Protein:
3
g
|
Fat:
14
g
|
Saturated Fat:
8
g
|
Cholesterol:
37
mg
|
Sodium:
161
mg
|
Potassium:
122
mg
|
Fiber:
2
g
|
Sugar:
23
g
|
Vitamin A:
266
IU
|
Calcium:
24
mg
|
Iron:
2
mg
Disclaimer
Nutrition information is estimated as a courtesy. If using for medical purposes, please verify information using your own nutritional calculator. Percent Daily Values are based on a 2000 calorie diet.
Click To Pin & Save For Later!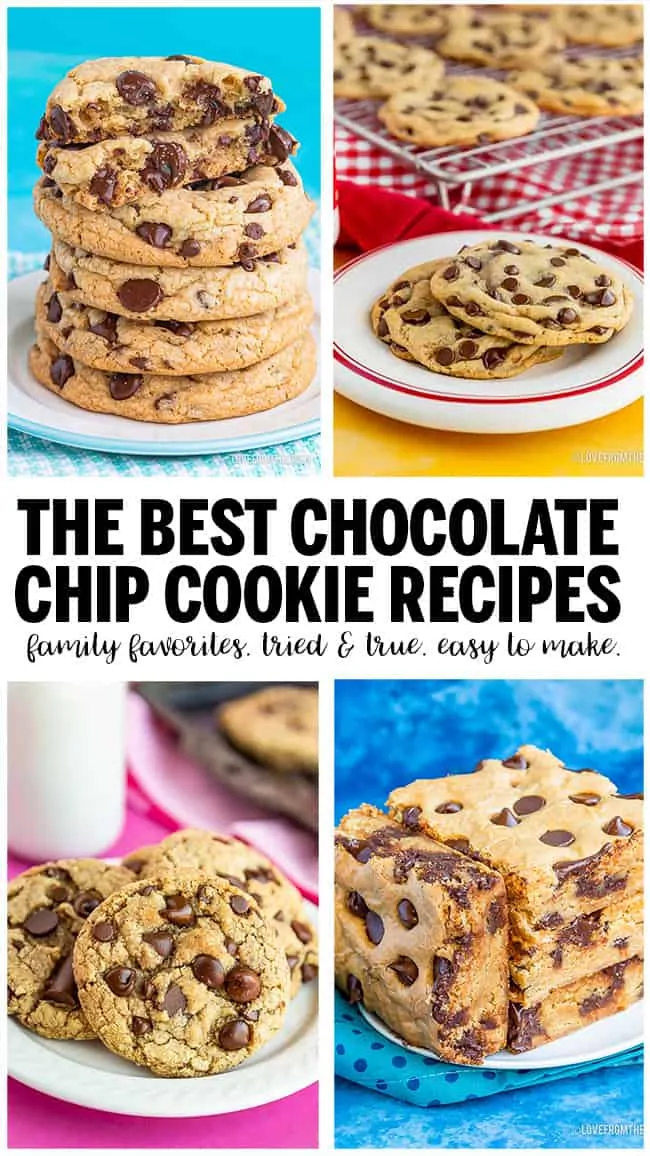 I hope you've enjoyed all my favorite chocolate chip cookie recipes! I have some great recipes from friends that I recommend as well. I absolutely love the Worst Chocolate Chip Cookies by Sugar Spun Run. Yes, I know it's called the worst, but trust me. Tessa, over at Handle The Heat, has a great guide to how and why different ingredients and methods impact your chocolate chip cookies.