It's hard to get off to a bad start when you begin your day with delicious pumpkin pancakes that, when topped with whipped cream, taste like pumpkin pie! These hearty pumpkin pancakes are perfect on a chilly fall morning. This recipe is simple and straight forward, and only requires one bowl for mixing your ingredients and a skillet or griddle for cooking. Make a double batch and freeze the extras, they reheat wonderfully!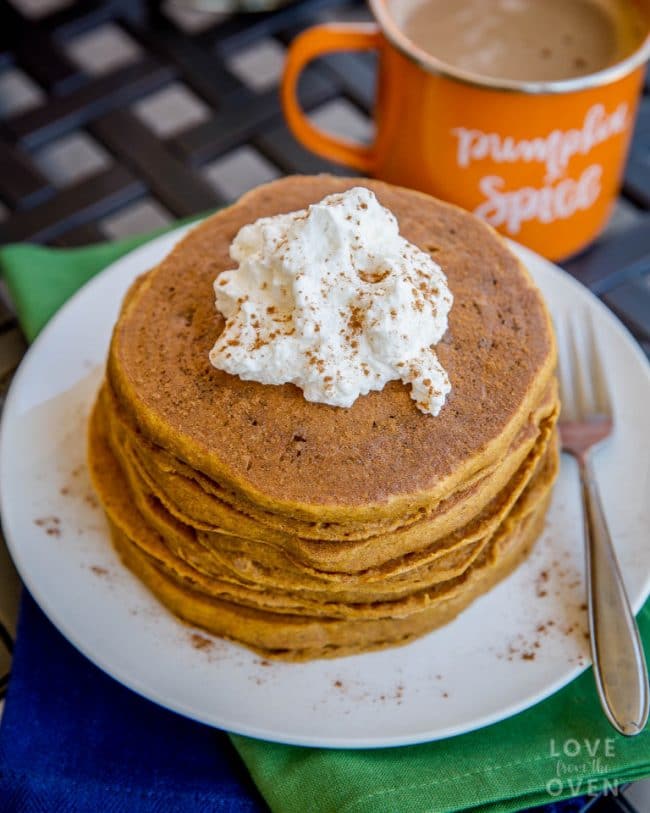 My family loves pancakes. I make my fluffy pancakes recipe at least once a week, but I figured it was time to shake it up with the arrival of fall. Both of my girls love pumpkin pie and pumpkin bread, so it's no surprise that these pumpkin spice pancakes are a hit. When topped with whipped cream they seriously taste like pumpkin pie. How can you have a bad day when your breakfast tastes like pumpkin pie? You cannot. I'm pretty sure science agrees with me.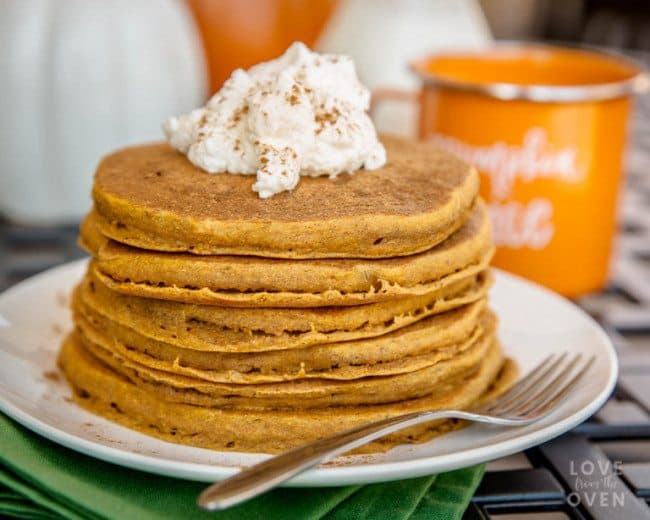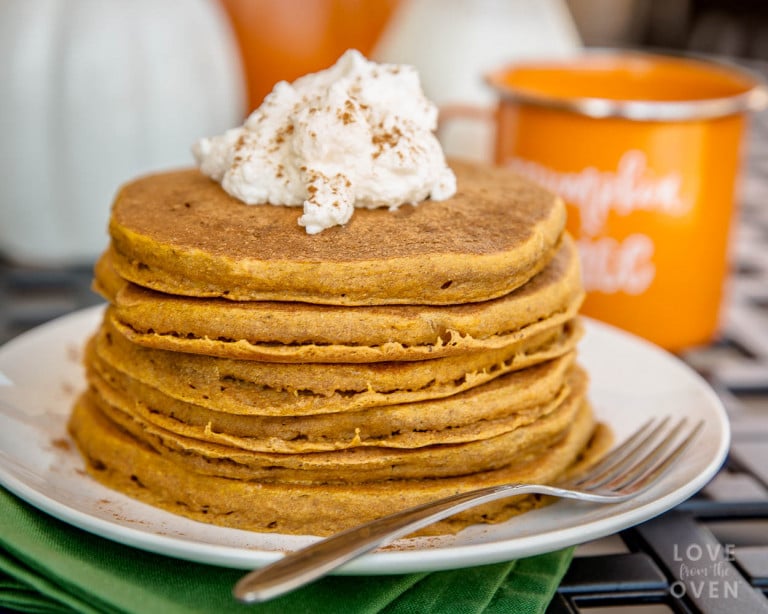 Pumpkin Pancakes
Whenever I make pancakes, I make a double, or triple batch. It adds a few minutes to the cook time, but I love to pack my freezer full of pancakes. Pancakes freeze wonderfully and make such a fast and easy weekday breakfast for the kids. Mornings are chaotic enough, breakfast doesn't need to be. These pumpkin pancakes are no exception, they do fantastic in the freezer and reheat wonderfully. These pancakes are wonderfully filling, so where my family would often have two pancakes a piece, one or one and a half of these will do the job.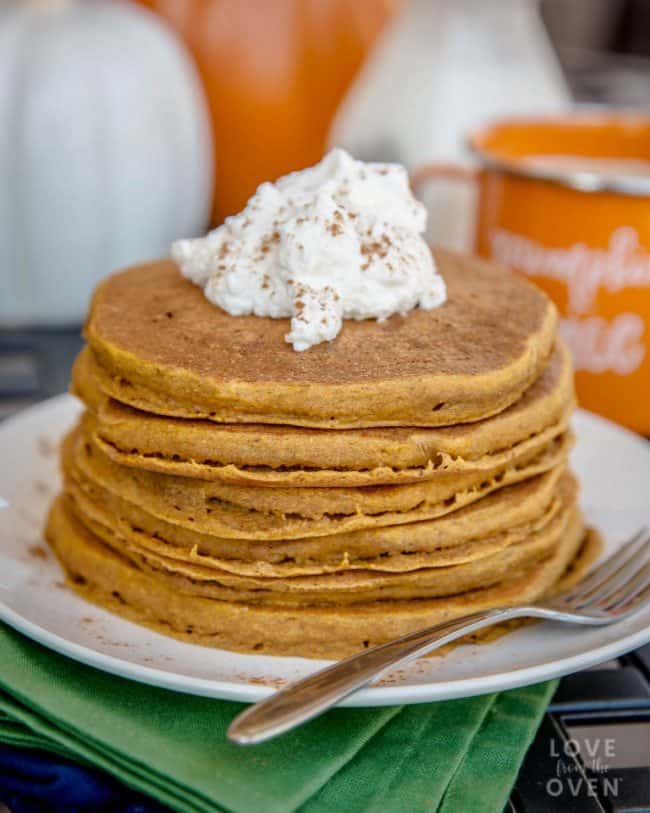 Not only do these pumpkin pancakes taste fantastic, but they can also add some nice nutritional value to breakfast with both pumpkin and whole grains. I make these with whole wheat pastry flour, which I absolutely love to cook and bake with, but you can easily swap it for all-purpose flour. If you like to try and add whole grains to your breakfast and baking, grab a bag of it and give it a try. For a long time I've used white whole wheat flour, which is becoming much more common in grocery stores, but whole wheat pastry flour has that light fluffiness to it that just can't be beat.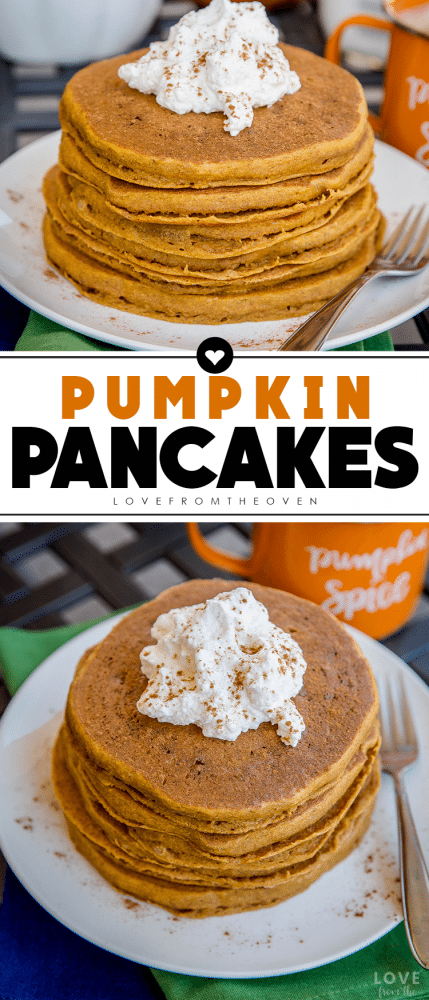 I really don't have luck finding whole wheat pastry flour in my local grocery stores, so I just order my whole wheat pastry flour on Amazon. The odd thing is that I typically find it for a much lower price on Prime Now, just a hint in case you have Prime Now in your area. I actually find this to be the case with a lot of grocery items. As of the moment I'm writing this post, I can get a bag of Bob's Red Mill Whole Wheat Pastry Flour on Amazon Prime for about $11 (ouch, steep!), but the same bag is on Prime Now for $3.74 which is lower than any of my local stores would sell it for. Moral of the story, if you have Prime Now – price check with it for items like these. Moving on…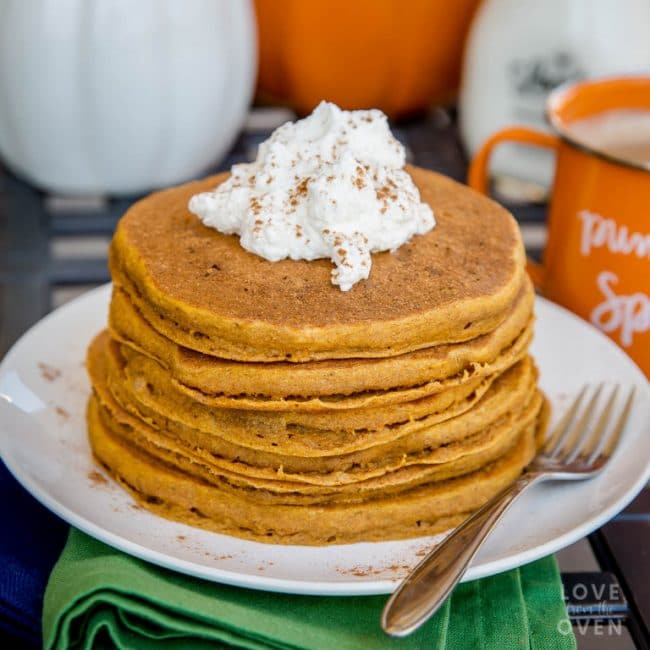 I make these pumpkin spice pancakes with buttermilk, and yes, you can substitute with milk. If you must. I highly recommend buttermilk for pancakes though, it not only helps with the texture, it helps with the rise of the pancakes as well. If you use milk the results will still be delicious so don't let not having buttermilk in the house stop you. You can make your own buttermilk, though true buttermilk always wins in my book. If you do make them with milk, don't add it all at once.
Given that milk is thinner than buttermilk, and varies depending on if you are using skim or whole milk, start with most of the milk and then continue to add more to the batter if needed. Remember it's always easier to add more milk than it is to fix runny pancake batter. I prefer my pancake batter quite thick. So thick that I have to use my scoop (I use an ice cream scoop) to sort of spread the batter into the right size in the skillet versus it spreading out on it's own.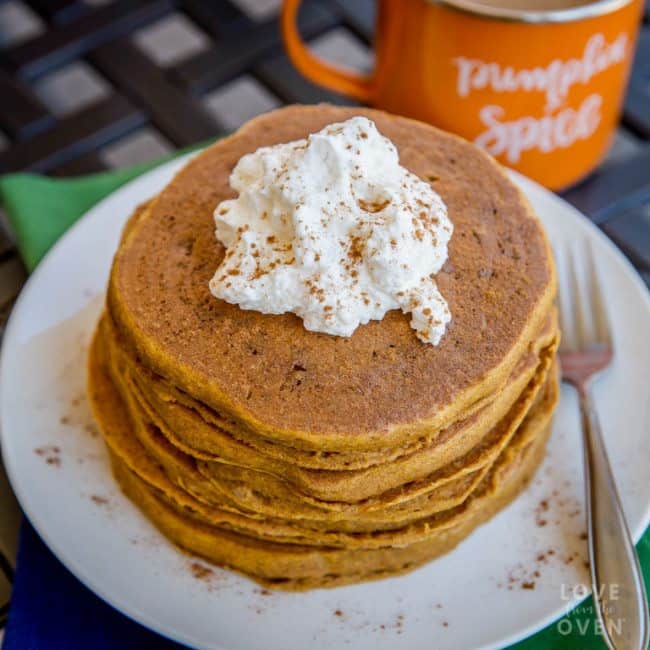 Pumpkin Spice Pancakes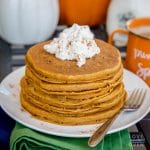 Pumpkin Pancakes Recipe
These delicious pumpkin pancakes are simple and easy to make, and when topped with whipped cream they taste like pumpkin pie!
Ingredients
2

cups

whole wheat pastry flour OR all-purpose flour

3

tsp

baking powder

1

tsp

baking soda

1-2

tsp

cinnamon

2-3

tsp

pumpkin pie spice

1/2

tsp

salt

1

cup

buttermilk

1/2

cup

milk

1

cup

canned pumpkin or pumpkin puree

3

tbsp

brown sugar

measured packed not loose

1

egg

2

tbsp

vegetable oil

oil or butter for pan
Instructions
Combine flour, baking powder, baking soda, spices and salt. Stir to combine. Add buttermilk, milk and pumpkin, stir to combine. Add brown sugar, egg and oil and stir just until combined. Batter may be thick and somewhat lumpy.

Scoop batter, approximately 1/4 cup at a time (an ice scream scoop works great for this), onto a skillet or griddle that has been lightly oiled or brushed with butter and preheated to medium heat. The batter will be thick and you will need to use your scoop or spoon to help spread the batter out a bit. When bubbles start to appear on surface and edges of pancake begin to appear to be browning, flip with a spatula and cook until golden. Pancakes should only be flipped once.
Recipe Notes
These are absolutely delicious with whipped cream on top. They can also be served with plain or with butter, syrup or even a caramel sauce. Enjoy!
I hope your family enjoys this delicious pumpkin pancakes recipe on a morning, or two or 20, this fall. And I won't judge if you make them in March, I'm a big fan of pumpkin recipes for breakfast all year round! Here are a few other pumpkin recipes that I love to make for breakfast…
Biscoff Pumpkin Bread. Make this. You'll thank me.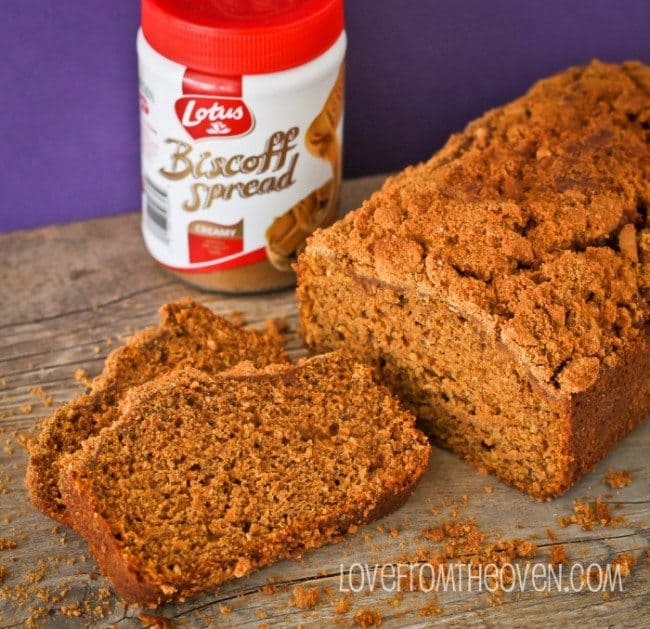 Chocolate Pumpkin Bread. My kids ask for this ALL THE TIME.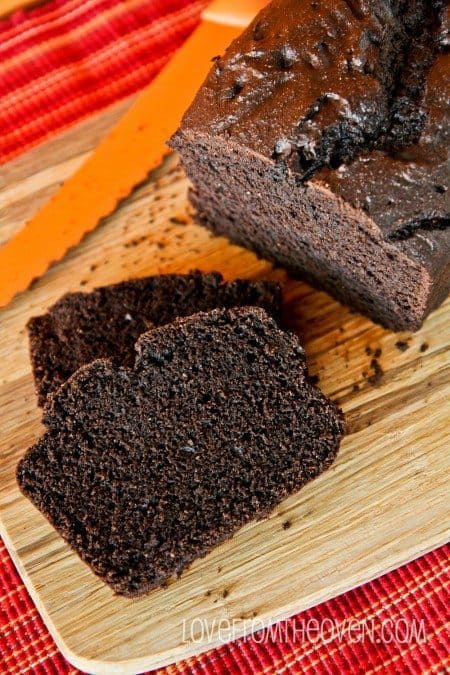 Pumpkin Maple Cream Cheese Topping. This would rock on these pancakes!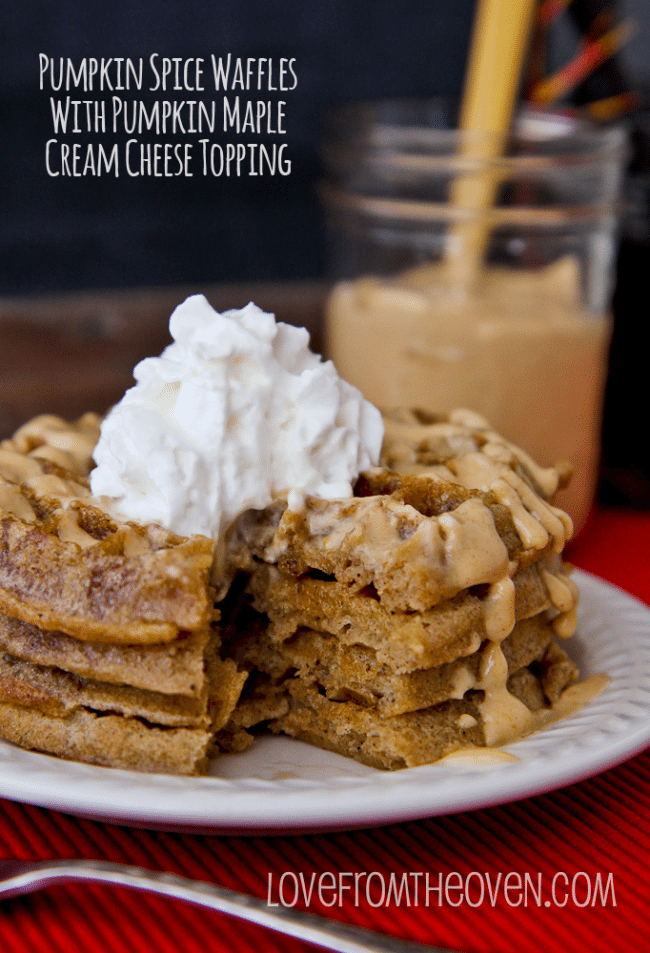 Pumpkin Banana Cinnamon Pecan Muffins. Oh yeah!