While I love all baked goods, each Christmas there is one I look forward to more than anything else. It's the last one I bake (for fear I will eat it all before it ends up on platters for friends and family). It is the wonderful, fabulous, magical Seven Layer Magic Cookie Bar.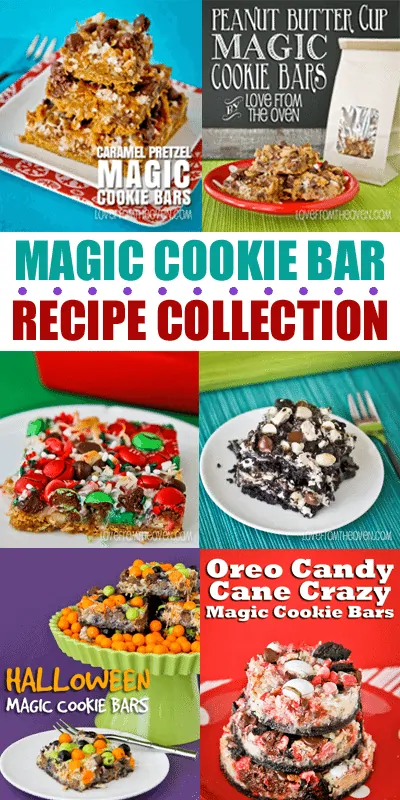 It is so easy to make. You can't go wrong with Seven Layer Bars!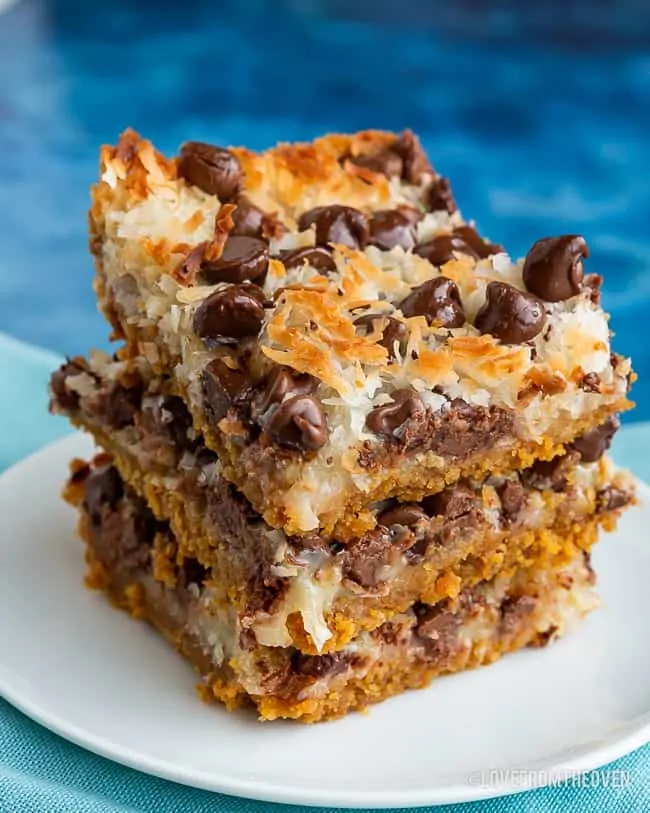 For most versions of it, you don't need a bowl, heck, you don't even need a spoon! Let me repeat, NO BOWL IS NEEDED. Seriously people, that is magic if I've ever seen it. They are so delicious, with such a fabulous blend of flavors and textures.
They are incredibly flexible and you can make them with an endless combination of ingredients. I could seriously take down a pan with a fork (and if backed into a corner, I could do it without the fork – hey, just keeping it real here).
So what is a magic cookie, or seven layer bar? I think it's one of those things that is pretty flexible as to what the ingredients are. For me personally there are a few things that I think are essential to a magic cookie bar. There is a crust, usually made from graham cracker or cookie crumbs and butter. Sometimes the crust is even made with cake mix. There are flavorful items such as chocolate chips, peanut butter chips, butterscotch chips, nuts, candy, candy bars, coconut, you name it, that really help create the flavor combo. And then there is the sweetened condensed milk that sort of holds it all together.
I almost always make my seven layer bars with coconut. I have friends and family who have always been hesitant to try them because they "don't like coconut". Funny thing, once any of them have tried them, they've loved them, much to their own surprise. So if you've never tried a magic cookie ore seven layer bar, you will probably come across one at some point this holiday season. Give it a try. A polite bite as I tell my girls. You just may be shocked at the absolute deliciousness you've been missing out on.
I've shared quite a few Magic Cookie Bar recipes here, and even did a week of magic cookie bar recipes last year, but there are so many amazing variations on them that I figured it was time for a Magic Cookie Bar Recipe Collection and take a look at some of the amazing magic cookie bars and seven layer bars from other bakers and bloggers! You might want to grab a fork and probably swap your skinny jeans for some yoga pants as we dig in to some of the best magic cookie bar recipes around the web!
Recipes For Magic Cookie Bars
So let's do this thing. Bring on the magic cookie bars! Check out the amazing, delicious, yummy, sweet and downright decadent magic cookie and seven layer bars that bakers and bloggers around the web have shared. Don't worry, drooling is totally normal.
In case this isn't quite enough for you, I also have an entire board on Pinterest devoted to Magic Cookie Bars. Mmmm.
I have a new magic cookie bar recipe later this week and there might even be a little giveaway from Eagle Brand that looks a little something like this, so stay tuned!