Pineapple Upside Down Cupcakes deliver big tropical flavor in cute little single serving size portions that everyone loves! A maraschino cherry is surrounded by a sweet pineapple filling, covered by moist pineapple cake batter, and baked "upside down." These adorably easy little treats are the perfect bite-sized dessert that you can make for any occasion.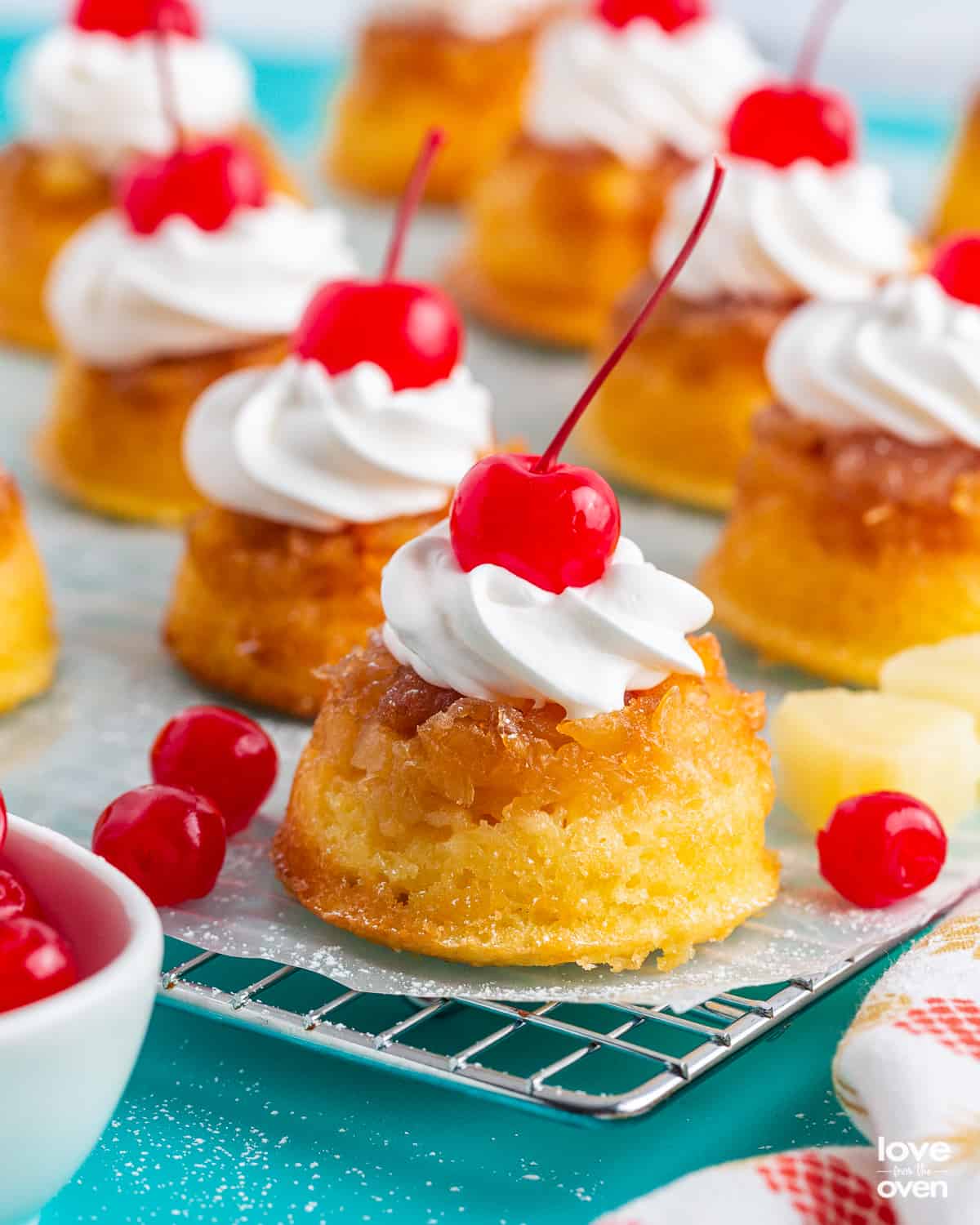 Reasons You'll Love This Recipe:
Bite Sized – It's the famous upside down cake you know and love, but now you can take it on the go!
Pineapple Everything – Pineapple desserts are some of the best things in life. This recipe is no exception.
Tastes Like Summer – It might be snowing outside, but it'll feel like summer when you bite into these tropical treats. Who knew so much flavor could be packed into such tiny cupcakes?
Moist and Soft – These are maybe the softest cupcakes you'll ever put in your mouth. None of that dry cake batter here!
Super Easy – While these cupcakes look impressive, they are actually quick and easy to make.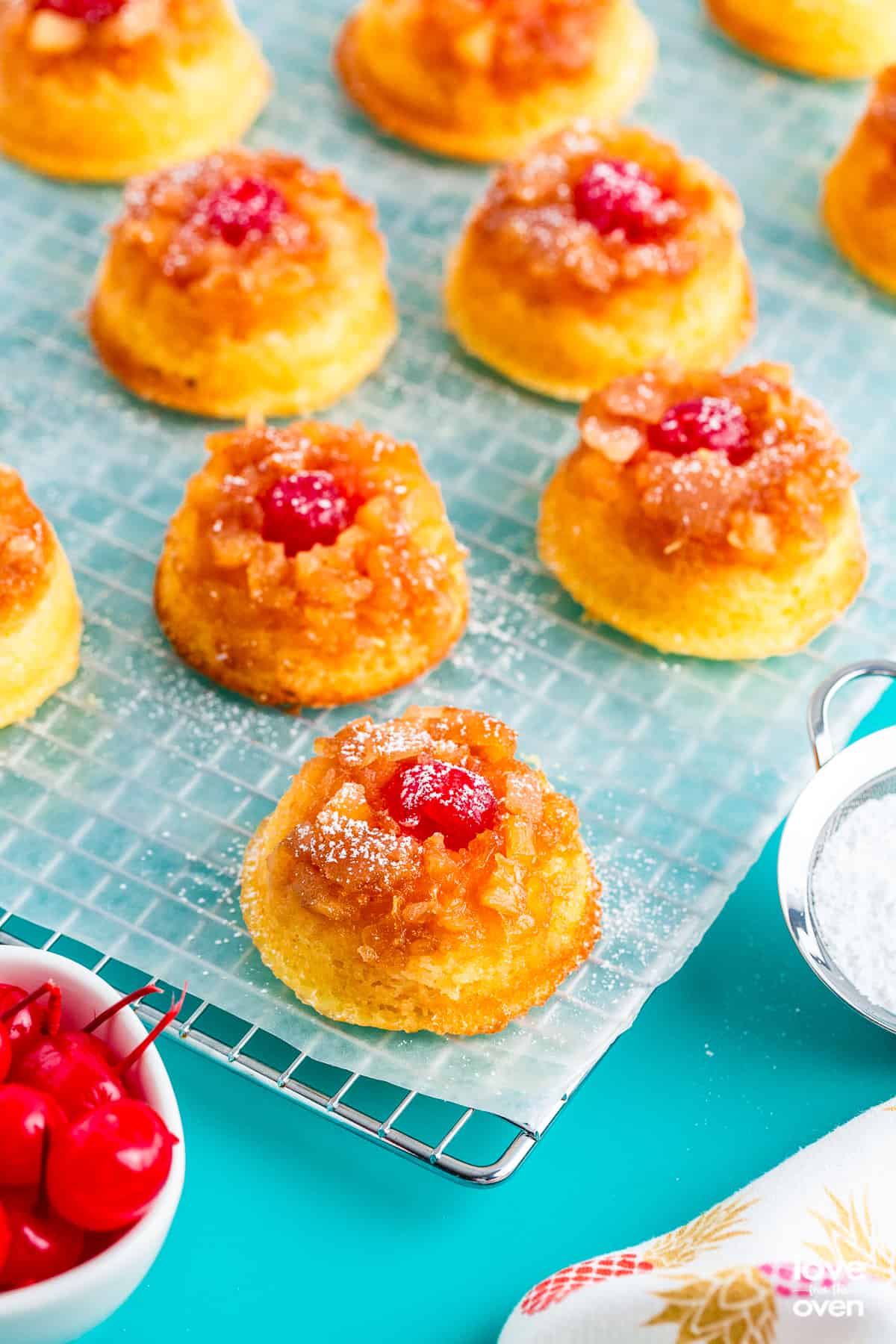 Your world will be turned upside down when you try these upside down pineapple cupcakes! This checks all the boxes when it comes to being the best dessert. I mean, they're easy to make, they're so cute, delicious, bite-sized, flavor packed, etc.! What more could you ask for in a dessert?
Ingredients and Substitutions
Recipe Discussion
Let's discuss how to make this Pineapple Upside Down Cupcake recipe, as well as the ingredients that are needed. Please take note that below you will find discussion, expert tips, and answers to frequently asked questions about this recipe to help you recreate it in your kitchen. If you *just* want the recipe itself, scroll down. The full printable recipe itself, with exact measurements and instructions, is found at the bottom of this page.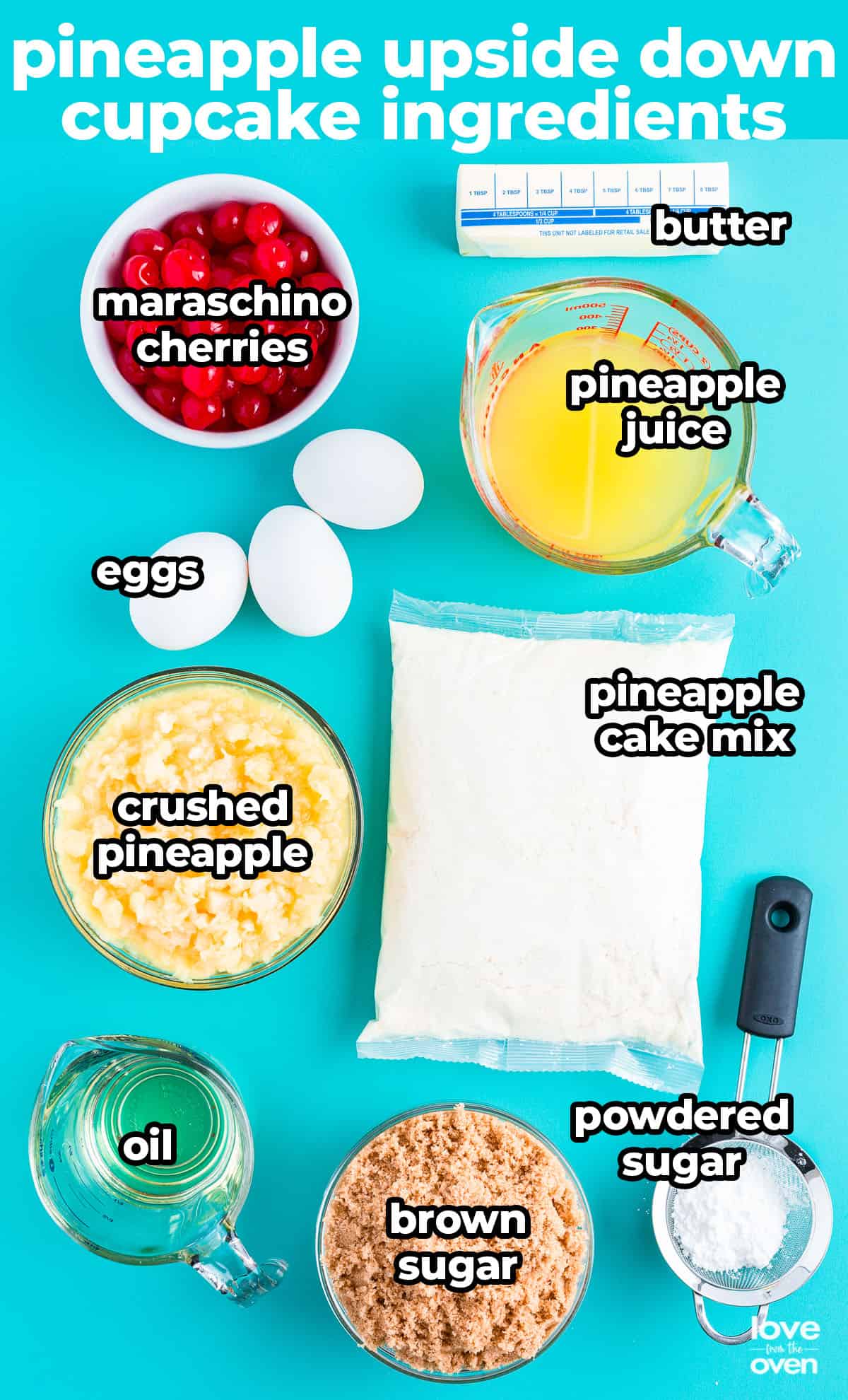 Maraschino Cherries – You'll need about an entire jar or two of them, because one will go into the center of each cupcake and this recipe yields about 24 cupcakes.
Pineapple Juice – Fresh, canned, or bottled pineapple juice will work for this recipe.
Pineapple Cake Mix – Pineapple cake mix can be easily found at many grocery stores that sell boxed cake mix. I've even found it at Big Lots. If you can't find pineapple cake mix, you can use yellow cake mix, the pineapple flavor just won't be as strong. You can add some pineapple extract to the yellow cake mix if you want that strong flavor.
Brown Sugar – Brown sugar does a great job at bringing out the sweetness from the pineapple.
Oil – This recipe calls for canola oil, but vegetable oil or really any neutral oil works.
Crushed Pineapple – The canned crushed pineapple is best for this recipe because of the sweetness and juice that comes with using canned fruit. I prefer to drain the juice, which can be used as part of the pineapple juice in this recipe.
Butter – Both salted or unsalted butter works, it just depends on your personal preference when it comes to baking. You'll also want the butter to be melted.
Optional Toppings – These little cupcakes taste best dressed up with some toppings! Powdered sugar, whipped cream and extra maraschino cherries are some great options for garnishing.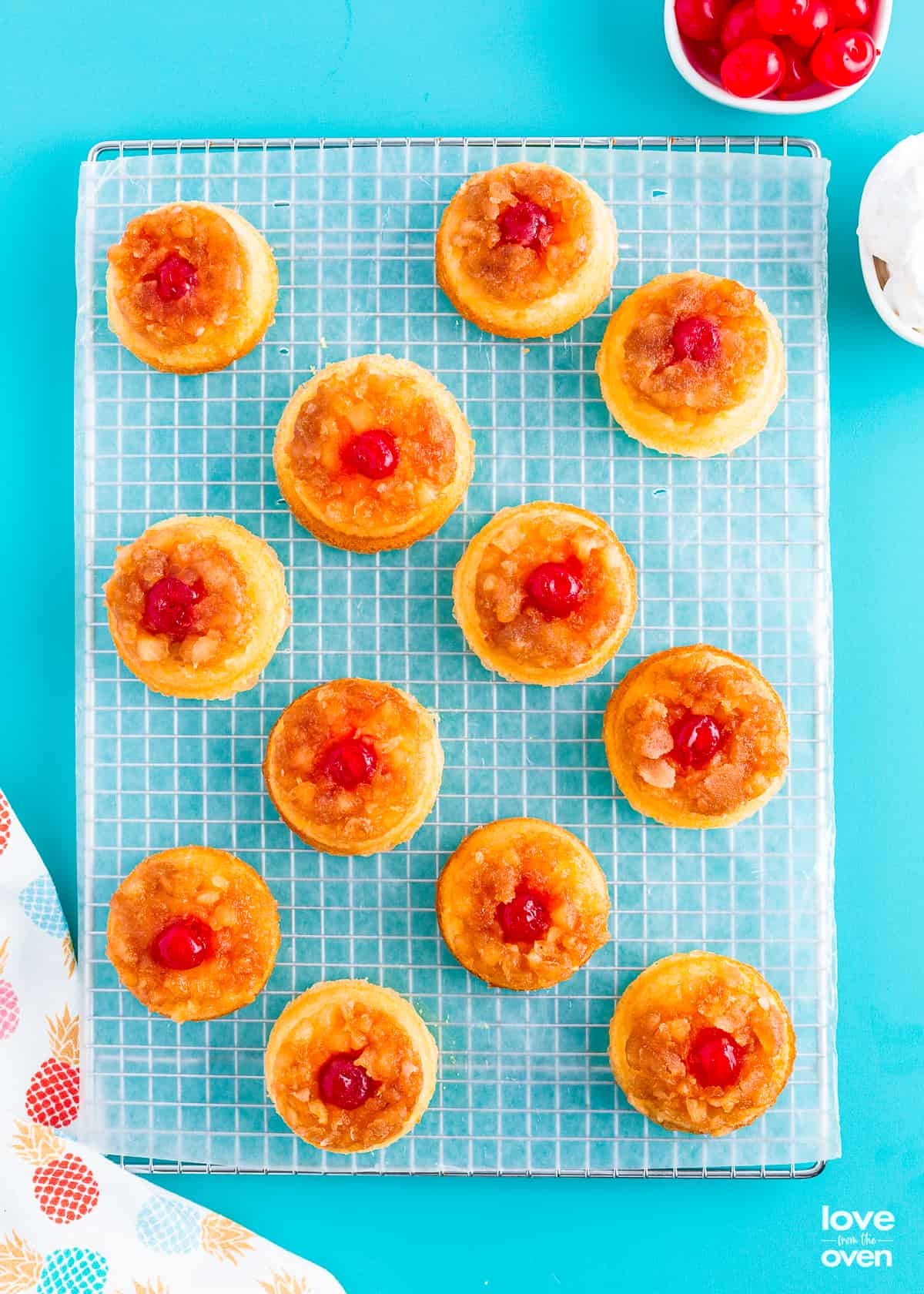 How To Make Pineapple Upside Down Cupcakes
Begin by preheating your oven to 375°. Grab a cupcake tin or muffin pan and spray the entire pan with some cooking spray or grease. Next, spoon about a teaspoon of melted butter into the bottom of each cupcake tin.
Next, sprinkle about 1 tablespoon of brown sugar to each cupcake tin filled with melted butter. Then, gently press a maraschino cherry into the center of each brown sugar filled tin.
Then, spoon about a tablespoon of crushed pineapple on top of each maraschino cherry. Gently press down on the crushed pineapple with the back of a spoon to make sure each tin is compact. Allow this to sit to the side while you prepare the cake batter.
To a large mixing bowl, add the pineapple cake mix, pineapple juice, oil and eggs with an electric hand or stand mixer and beat it together on a low speed until smooth. (about 2 minutes)
Next, to the prepared cupcake tin, pour or scoop the batter into each cupcake tin on top of the pineapple and cherries. Fill the entire cup to the top with batter, but do your best not to let the cup overflow.
Once the cupcake tins are full, place the pans in the oven and bake for about 20 minutes or until cooked all the way through. You can test doneness by sticking a toothpick into the center of a cupcake and if it comes out clean, you know it's ready to come out. Take the cupcakes out of the oven and let it cool in the pan for about 10 minutes. Once cooled, gently flip the cupcake pan over so the cupcakes can slide right out. You can do this by holding a cooling rack, sheet of silicone, parchment, or sheet pan on top of the cupcake pan before flipping it over for the cupcakes to fall out. Garnish with your favorite toppings and serve!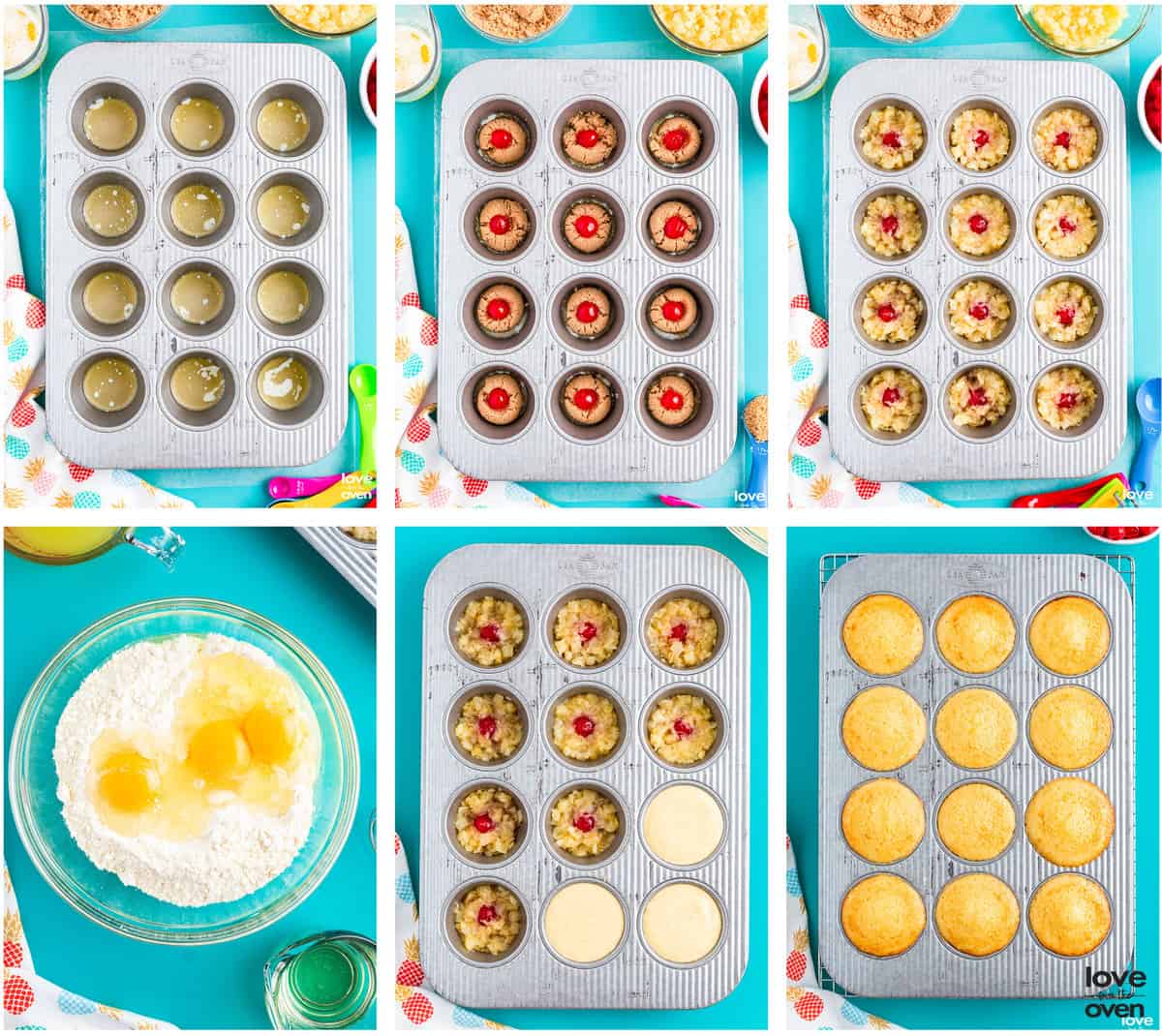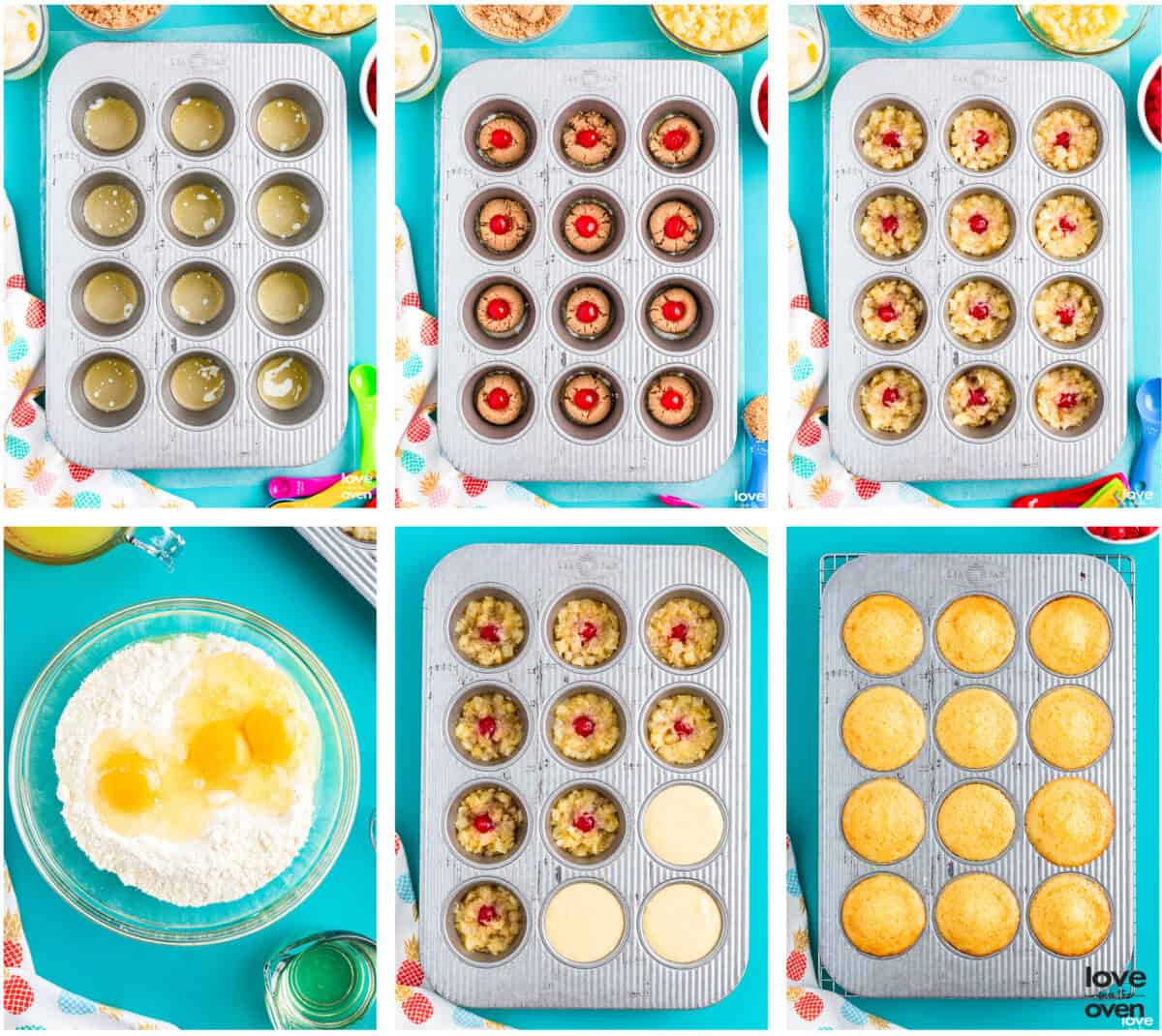 Recipe Tips and Advice
Storage – You can store these in an airtight container at room temperature for about 3 days. You can also store them covered in the fridge for up to 4 days.
Equipment – For this recipe you'll need a cupcake tin, a large mixing bowl, measuring spoons and cups.
Picture Perfect Cupcakes
If you want the softest, most moist cupcakes you've ever eaten, here are a few tips that might help. To start, do your best to not over mix the batter. The more air that stays trapped in a batter, the fluffier the cupcakes will be. Also, to avoid cupcakes that are too soggy, you can drain some of the juice from the crushed pineapple before using. Then, you can use that juice for the batter.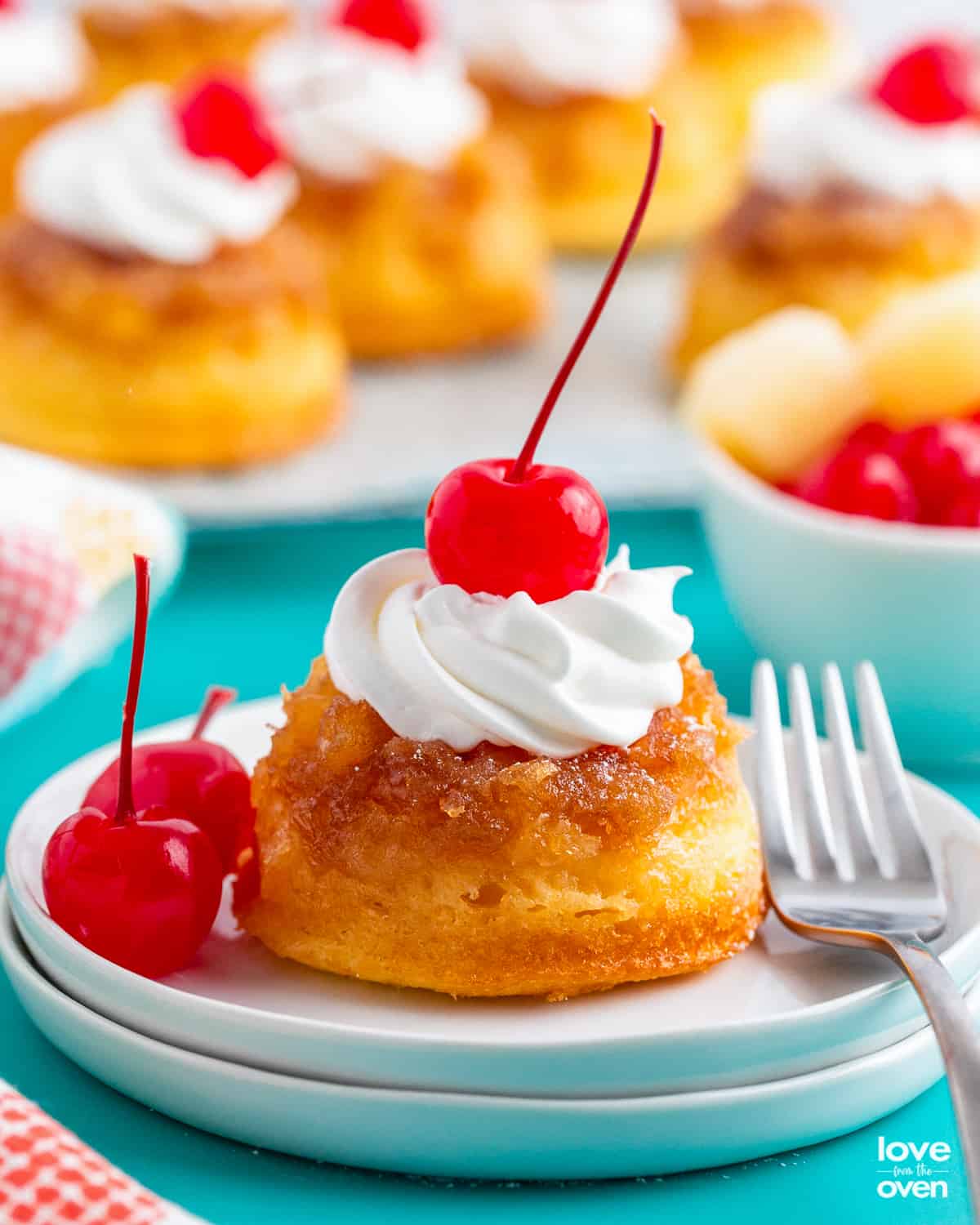 Recipe FAQs
Are pineapple upside down cupcakes better warm or cold?
Both! These amazing little cakes can be served warm or cooled down and they taste incredible either way.
Why are my pineapple upside down cupcakes soggy?
This could be because of the amount of liquid in the fruit. If you find that your crushed pineapple and maraschino cherries are dripping with juice. Do your best to drain the liquid, and even pat it dry before adding it to the cupcakes.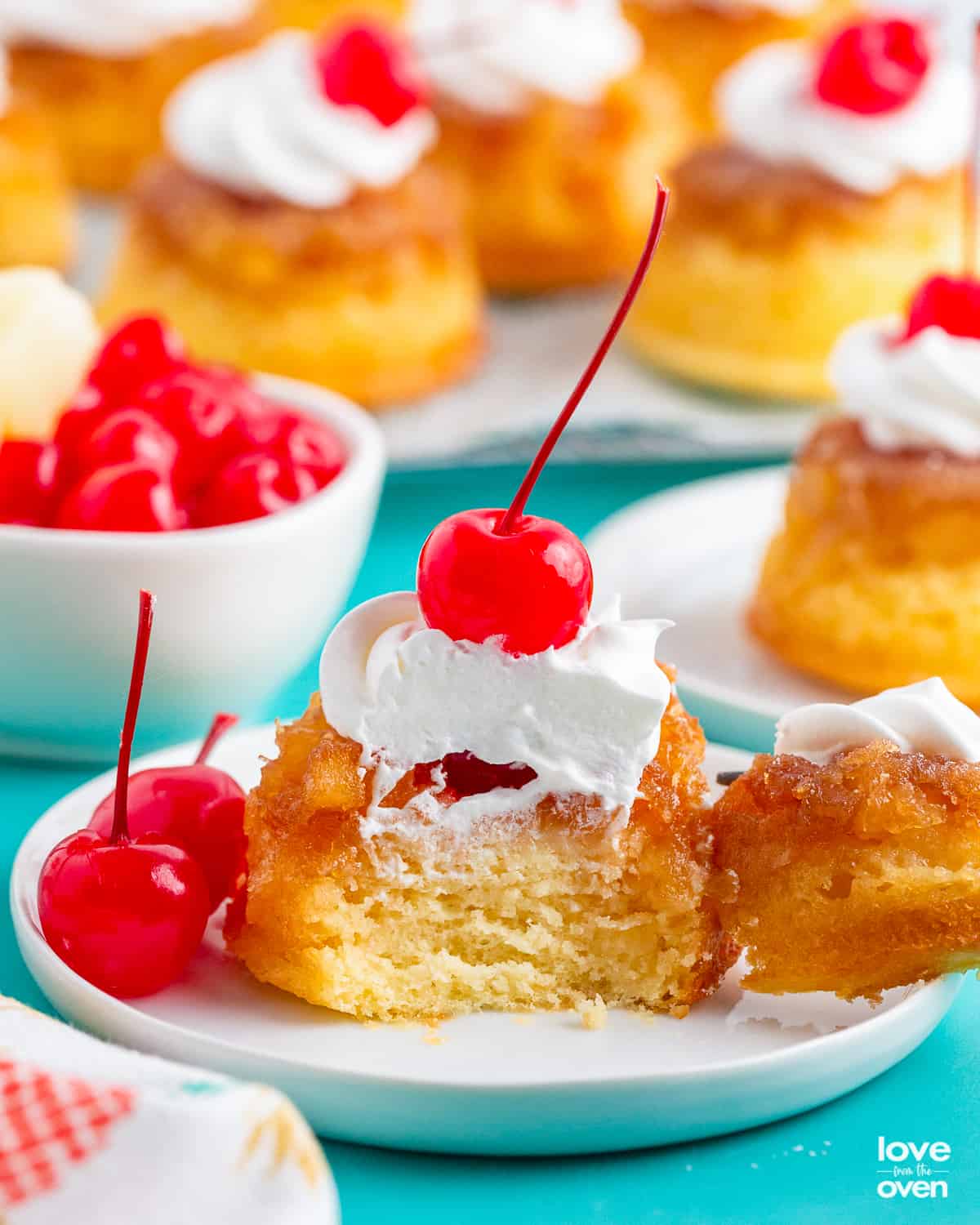 More Recipes To Try
If you loved this recipe, I have no doubt you'll love some of these other fantastic recipes with tropical flavor.
Pineapple Recipes You'll Love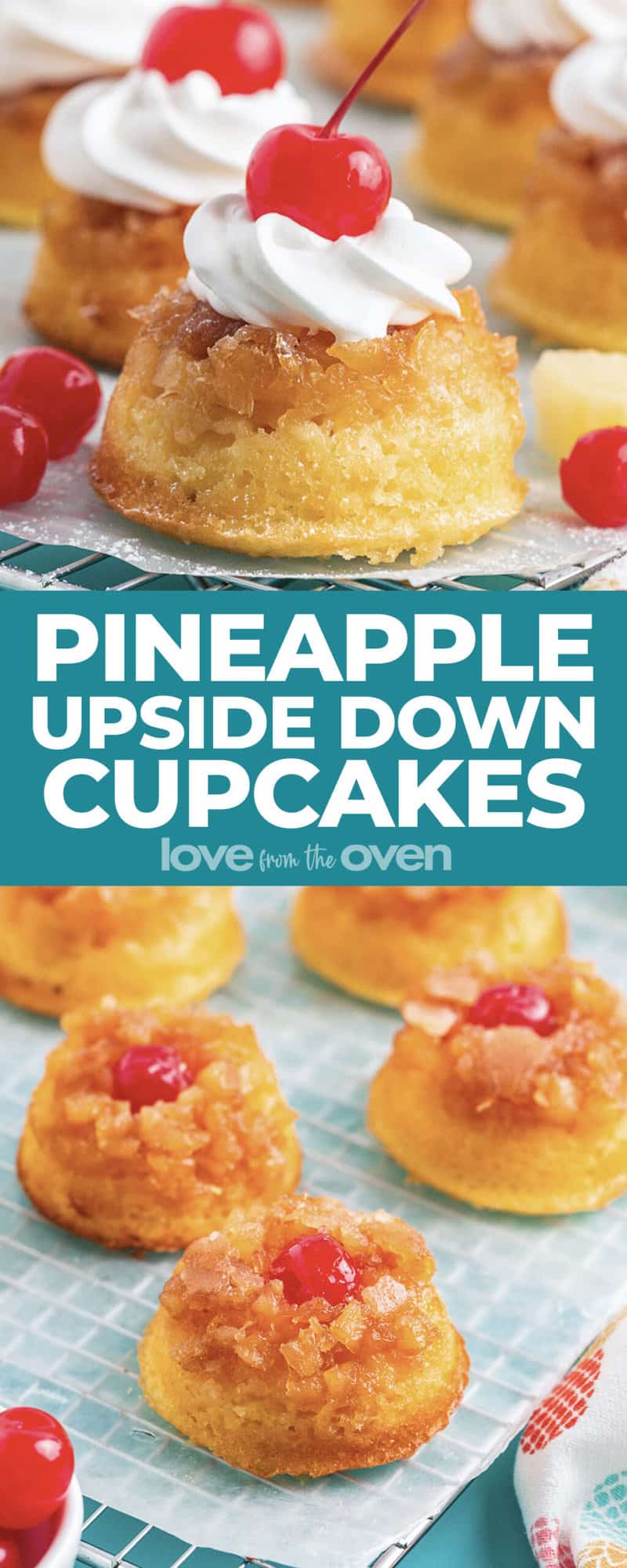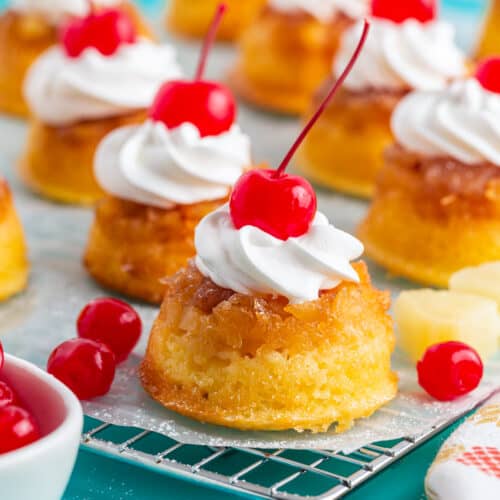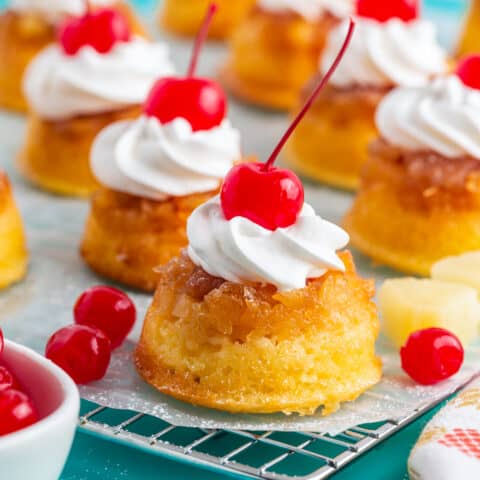 Pineapple Upside Down Cupcakes
Pineapple upside down cupcake bring the traditional taste you know and love into fun bite size servings.
Ingredients
1/2

cup

melted butter

salted or unsalted

1 1/2

cups

light brown sugar

24

maraschino cherries

20

ounces

can crushed pineapple

drained

15.25

ounce

box pineapple cake mix*

any box between 15-18 ounces will work

1 1/3

cups

pineapple juice

1/3

cups

canola oil

3

eggs

optional toppings such as powdered sugar, additional cherries, and/or whipped cream, as desired
Instructions
Preheat oven to 375 degrees F. Prepare cupcake pan by spraying with non-stick cooking spray.

Spoon approximately 1 teaspoon of melted butter into the bottom of the wells of the cupcake pan. To the melted butter, add 1 tablespoon of brown sugar to each well in the pan. Place one maraschino cherry on top of the brown sugar in each well. Gently press into the brown sugar and butter mixture. On top of that, add a tablespoon of crushed pineapple to each well, and then gently press down on the mixture, to compact it in each well, with the back of a spoon. Set aside.

In a large bowl, combine cake mix, pineapple juice, oil and egg, and beat with an electric mixer on low speed for approximately 2 minutes.

Scoop or pour batter into each of the muffin cups, on top of the prepared fillings. Fill to the top of the well, but do not overfill.

Bake for approximately 20 minutes, or until a toothpick inserted into the center of a cupcake comes out clean. Remove from oven and allow to cool for 10 minutes.

After cooling for 10 minutes, gently invert pan, turning cupcakes out. This can be done onto a cooling rack, silicone sheet, parchment paper or a sheet pan. A sheet pan is easiest as you can put it directly onto the cupcake pan, making it easy to invert.
Notes
*Pineapple Cake Mix – If you can't find pineapple cake mix, you can always use a yellow cake mix. If desired you could add some pineapple extract to it, but the pineapple juice will help give it a pineapple flavor, just not as intense as a pineapple cake mix would. 
Standard pineapple cake mixes can range in size from 15-18 ounces. Any size in there will work fine.
Nutrition
Calories:
218
kcal
|
Carbohydrates:
36
g
|
Protein:
2
g
|
Fat:
8
g
|
Saturated Fat:
3
g
|
Polyunsaturated Fat:
1
g
|
Monounsaturated Fat:
3
g
|
Trans Fat:
0.2
g
|
Cholesterol:
31
mg
|
Sodium:
168
mg
|
Potassium:
86
mg
|
Fiber:
1
g
|
Sugar:
28
g
|
Vitamin A:
163
IU
|
Vitamin C:
4
mg
|
Calcium:
63
mg
|
Iron:
1
mg
Disclaimer
Nutrition information is estimated as a courtesy. If using for medical purposes, please verify information using your own nutritional calculator. Percent Daily Values are based on a 2000 calorie diet.