Pineapple Dump Cake is a sweet and tropical dessert that might just be the easiest cake you'll ever make! A gooey, pineapple base is topped with cake mix only to magically bake into the most delicious pineapple cake you've ever had. Top with a scoop of your favorite ice cream, and you have a quick, delectable dessert at your fingertips.
Reasons You'll Love This Recipe
Pineapple Lovers – This is a simple recipe to make if you're in need of a quick pineapple dessert fix.
Dump Cake Fanatics – If you know and love dump cakes, this one is just as easy and just as delicious as the rest.
Easy to Make – Have I mentioned yet how easy this recipe is? Seriously you only need 5 minutes of your time to put this together, the rest is just waiting for it to bake in the oven.
Warm and Crumbly – The texture of this pineapple dump cake is similar to a cobbler, with a nice crispy crust on top, and the delicious warm fruit on the bottom.
Right Side Up – This is not an upside down cake, but resembles a lot of the flavors that one would have. However, if you're looking for a pineapple upside down cake, I've got you covered.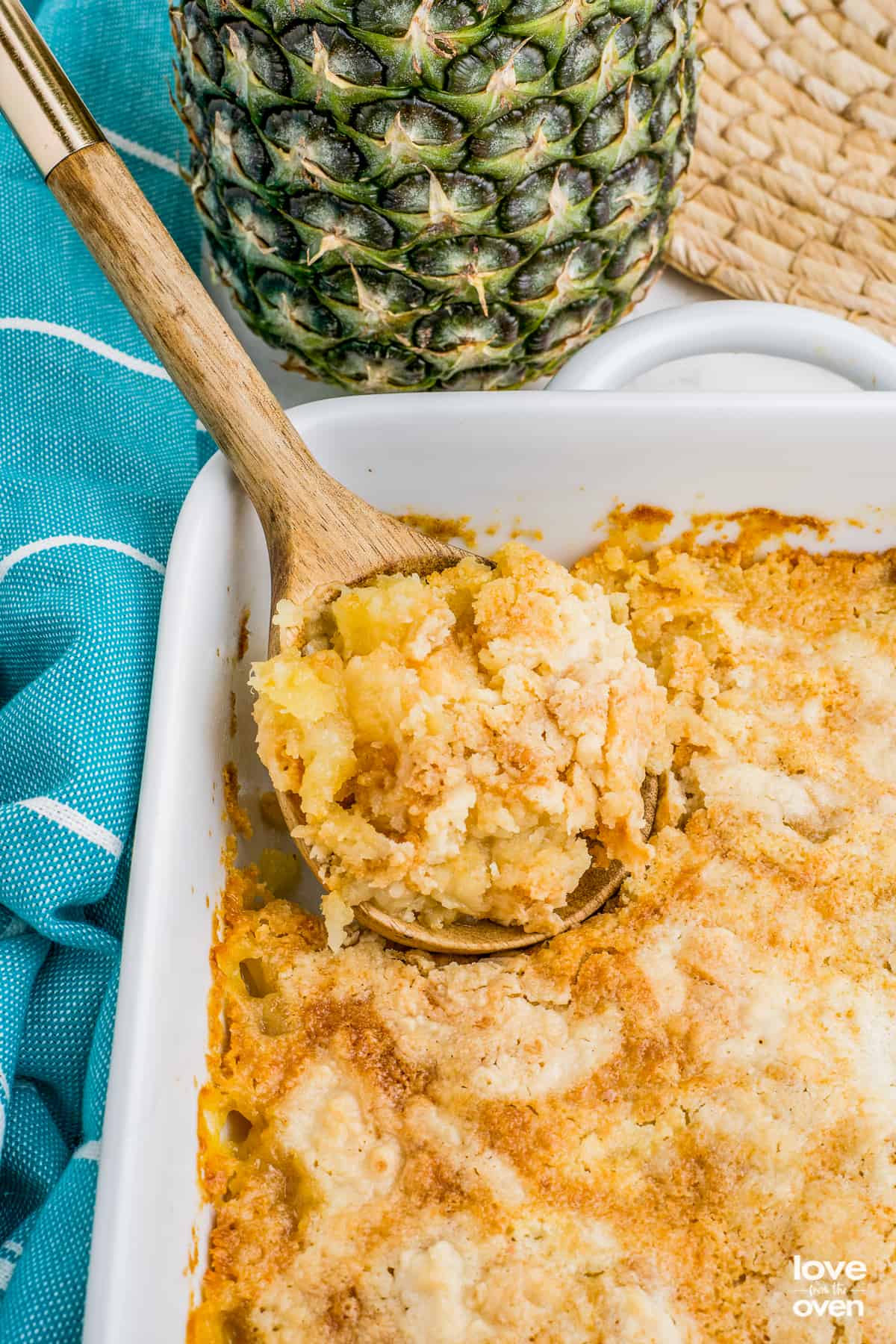 With minimal effort on your part, a delicious dessert will be ready for you in no time at all. I know there are a few dump cake skeptics out there, but if you follow all the tips and tricks below, I guarantee yours will turn out perfectly!
Ingredients and Substitutions
Recipe Discussion
Let's discuss how to make this Pineapple Dump Cake recipe, as well as the ingredients that are needed. Please take note that below you will find discussion, expert tips, and answers to frequently asked questions about this recipe to help you recreate it in your kitchen. If you *just* want the recipe itself, scroll down. The full printable recipe itself, with exact measurements and instructions, is found at the bottom of this page.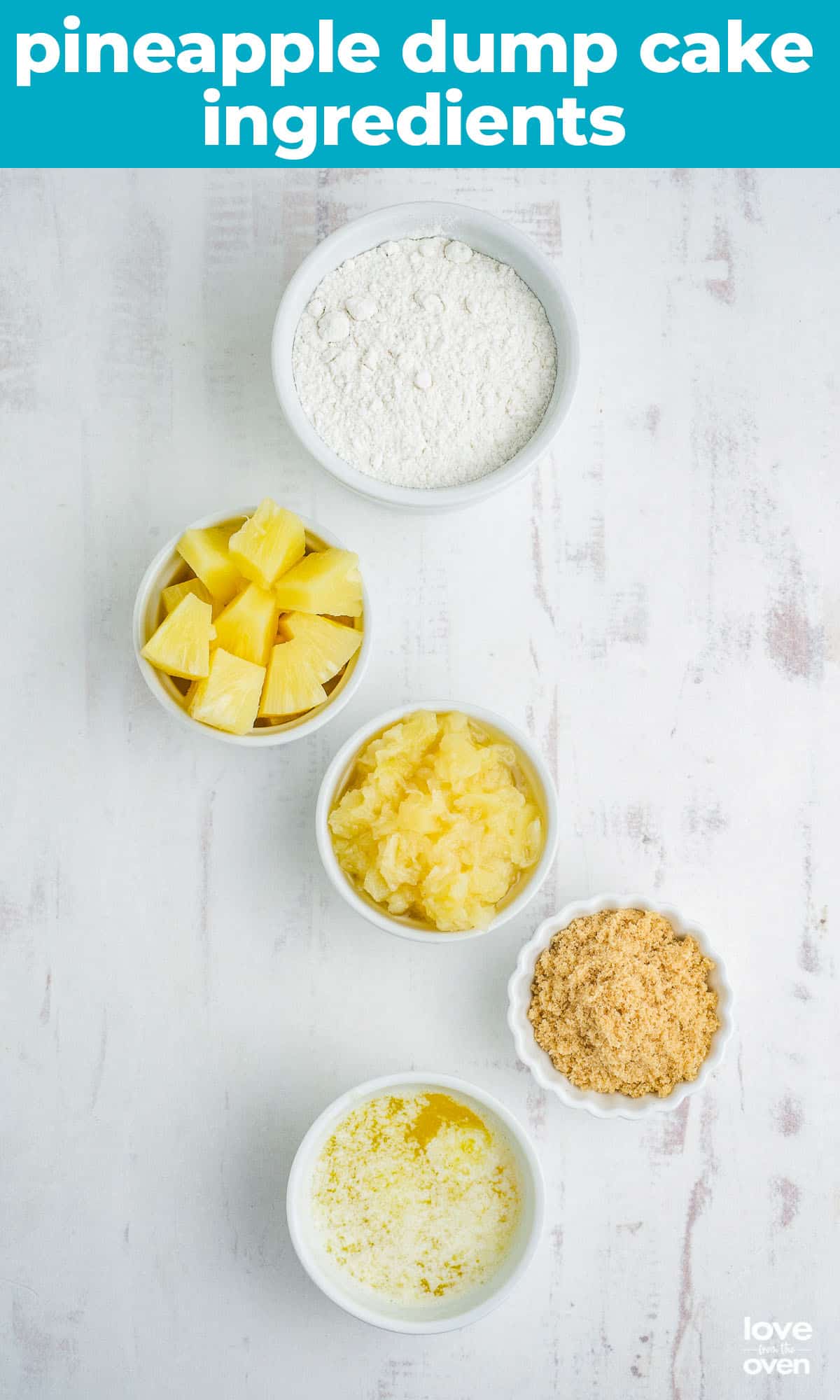 Pineapple Chunks – If you want your dump cake to not turn out so liquid-y after baking, make sure to drain the pineapple chunks before use.
Crushed Pineapple – For the crushed pineapple, you do not need to drain the liquid. You'll want to keep some liquid at the base of the cake so the cake mix has something to soak up.
Light Brown Sugar – This is an optional ingredient, but really brings out a lovely molasses flavor which pairs beautifully with the pineapple.
Butter – Make sure the butter is melted. Normally a dump cake would have pads of softened butter cover the top, but to avoid raw cake mix after baking, use melted butter.
Vanilla Cake Mix – You can also use white cake mix, yellow cake mix, pineapple cake mix or french vanilla cake mix! All will turn out fantastic.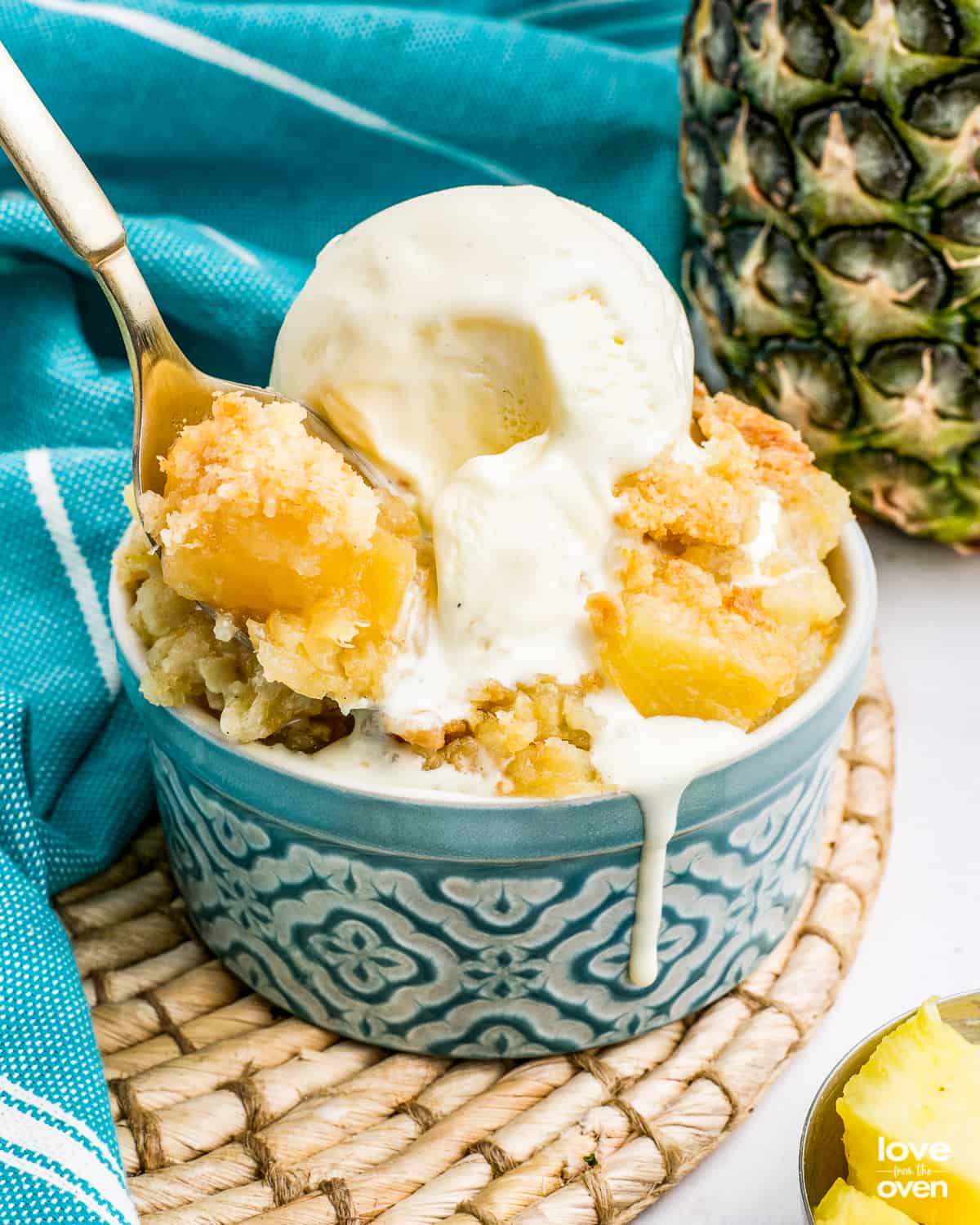 How To Make Pineapple Dump Cake
Begin by preheating the oven to 350° F and grease a 9×13 pan with cooking spray. Gather all your ingredients together to work quickly.
To the bottom of the pan, dump in the can drained pineapple chunks, and undrained crushed pineapple. Mix them together and spread the mixture around the bottom of the pan evenly.
To the top of the pineapple, sprinkle over the brown sugar as evenly as possible.
Using either a large spoon or a small measuring cup, sprinkle the cake mix over top of the pineapples. Be sure to distribute this as evenly as possible, and to flatten out any clumps of cake mix that you see.
Once the cake mix is evenly distributed, pour the melted butter over the top of the cake mix as evenly as you can get it. It is okay if raw cake mix is still showing through, it will soak up the juices from the pineapple and surrounding butter.
Place the pan in the oven and bake the cake for about 50-55 minutes or until the top of the cake is a golden brown color. Allow the cake to cool in the pan for about 10 minutes before serving warm with your favorite toppings.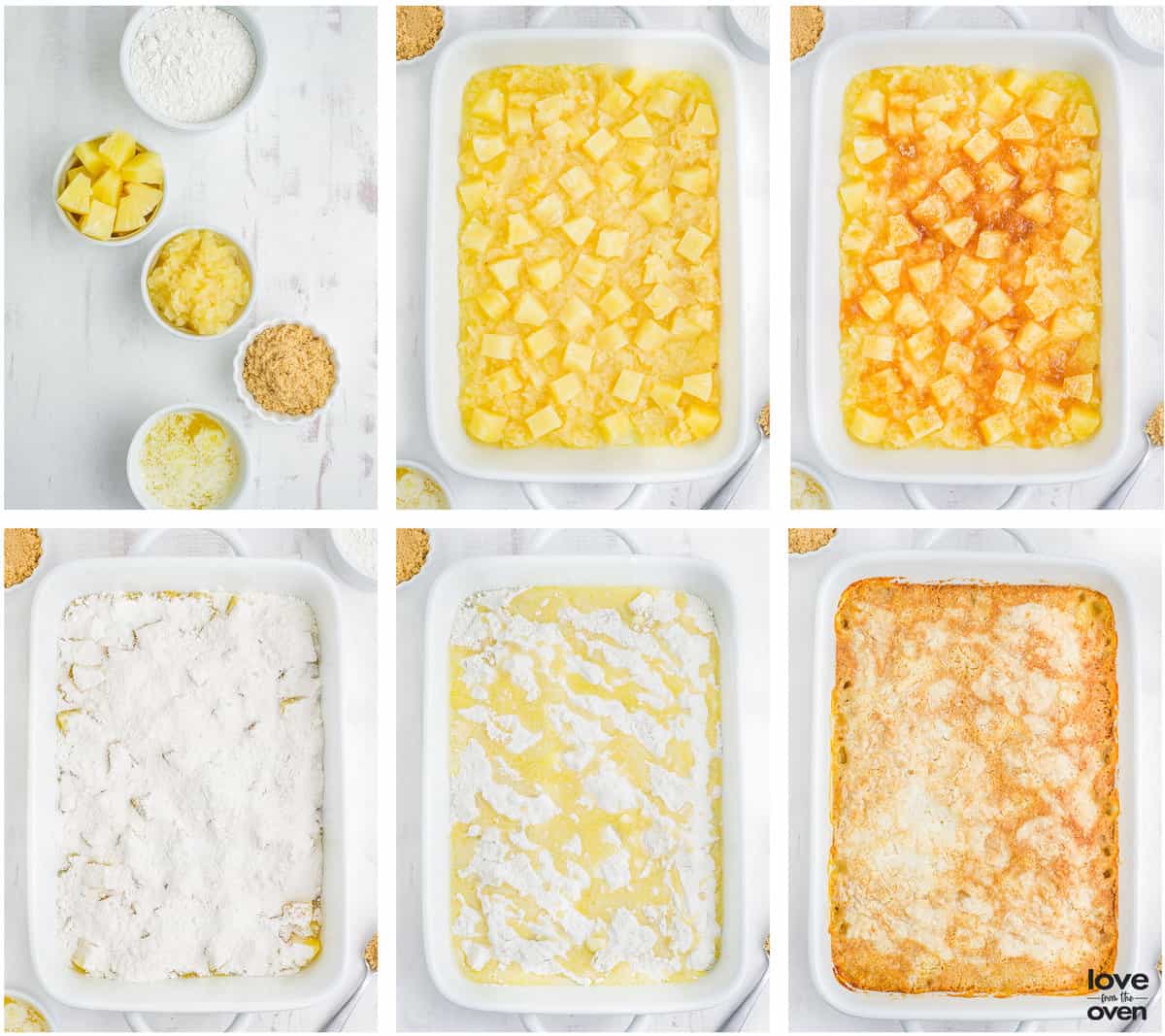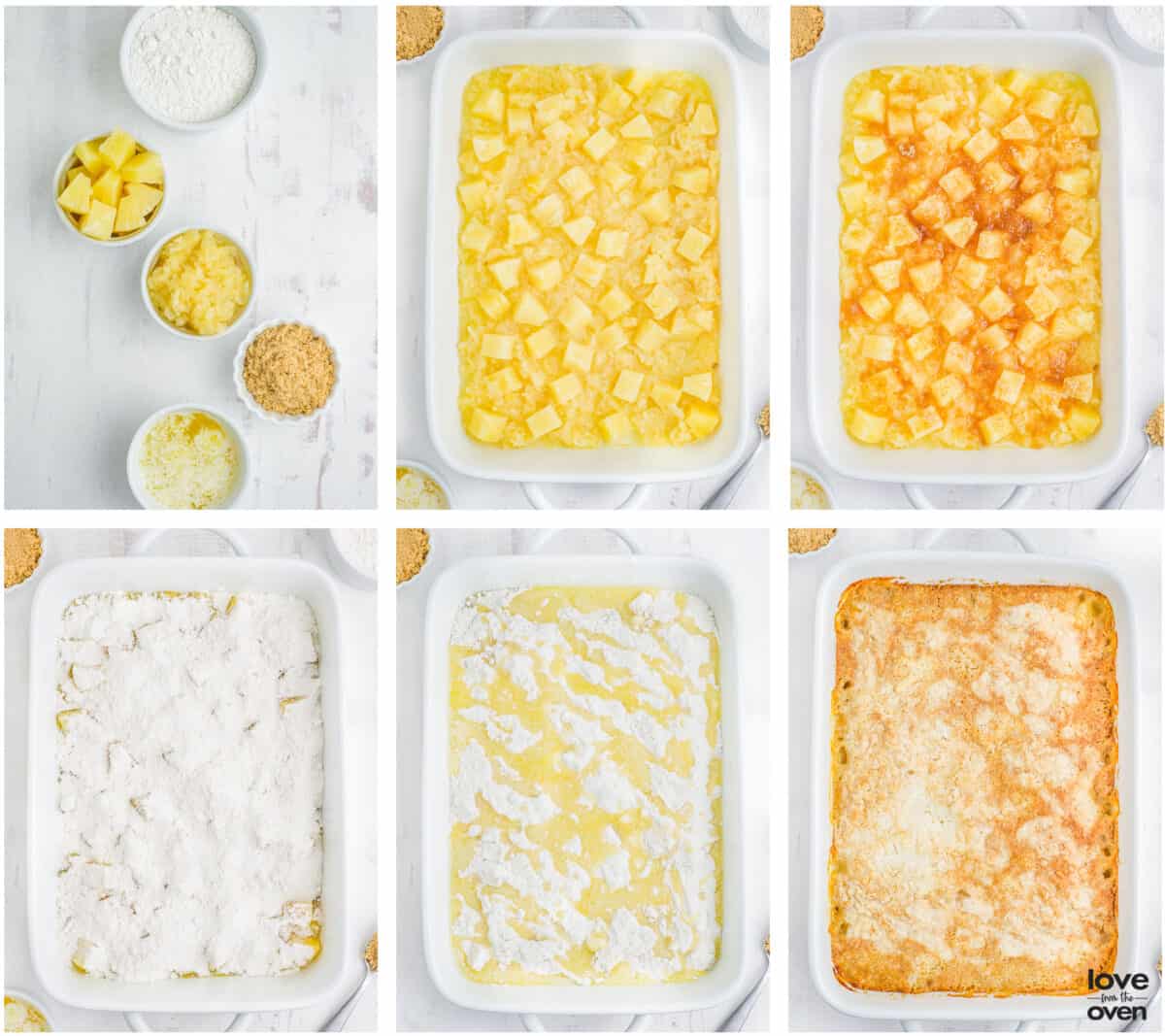 Recipe Tips and Advice
Storage – The best way to store leftover pineapple dump cake is to leave it covered at room temperature for about 1 day. If you still have leftovers past that point, you can keep it covered in the fridge after that for up to 4 days.
Equipment – For this recipe you'll need a 9×13 baking dish, and a spatula or utensil to even out the fruit and cake mix.
Make Ahead – If you want to make this cake a few hours or a day before serving you can! Just let it cool before covering and allow it to sit at room temperature until you're ready to serve. You can reheat each serving in the microwave, or pop the dish back into the oven on a low heat (200°F) until warm.
Let's Talk Toppings
This recipe is amazing when served warm and topped with a scoop of ice cream. This would also taste fantastic with some whipped cream, and a sprinkle of brown sugar on top. You could also add a dash of cinnamon or powdered sugar over top, or even some maraschino cherries to make it resemble a pineapple upside down cake.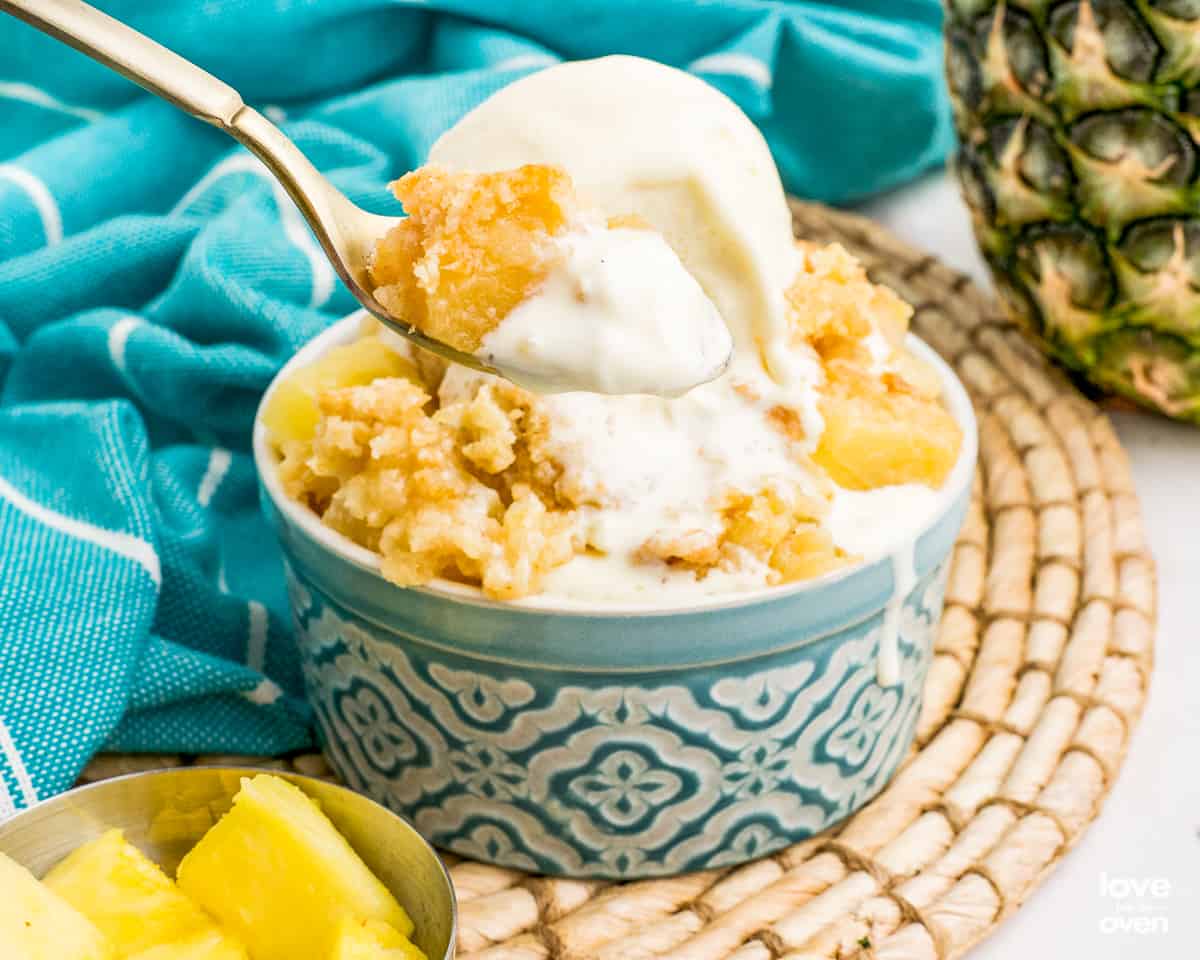 Recipe FAQs
Is there a difference between pineapple cobbler and pineapple dump cake?
While the two are very similar, a pineapple dump cake uses dry cake batter for a topping whereas a pineapple cobbler would use a biscuit or pie crust type of dough.
Can I use fresh or frozen pineapple?
I have not tried doing this, so if you give it a try, let us know how it goes! All I know is that the canned pineapple is ideal because of the amount of juice it has which will then transfer to the cake mix.
Is dump cake supposed to be gooey?
Yes! This is not your typical "cake." It is meant to have the gooey-ness of a pie or cobbler but with the topping to have the sweetness and texture of a cake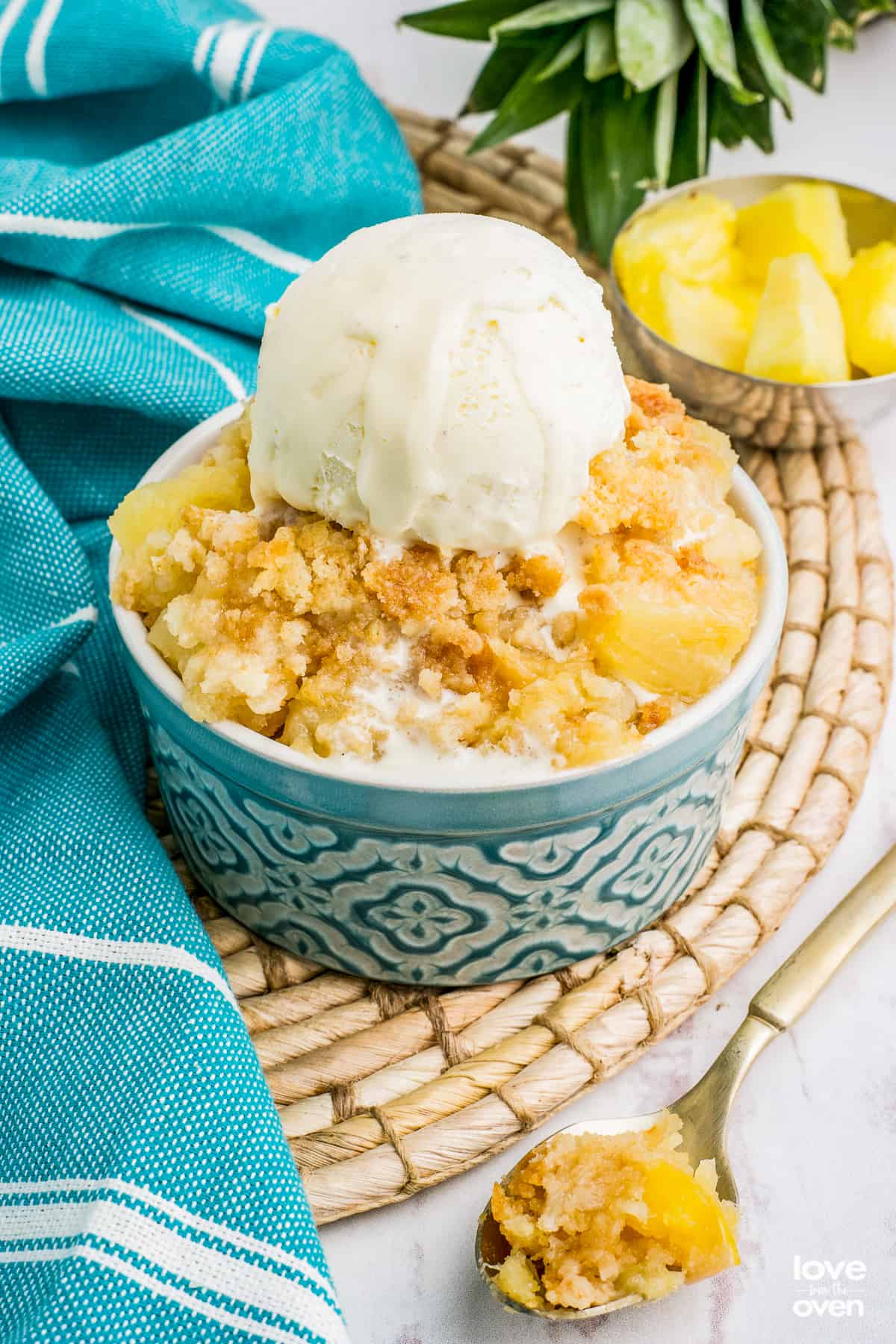 More Dessert Recipes
If the winter blues have you dreaming of tropical and fruity desserts, I've got you covered! Check out a few more recipes that are sure to satisfy your sweet tooth.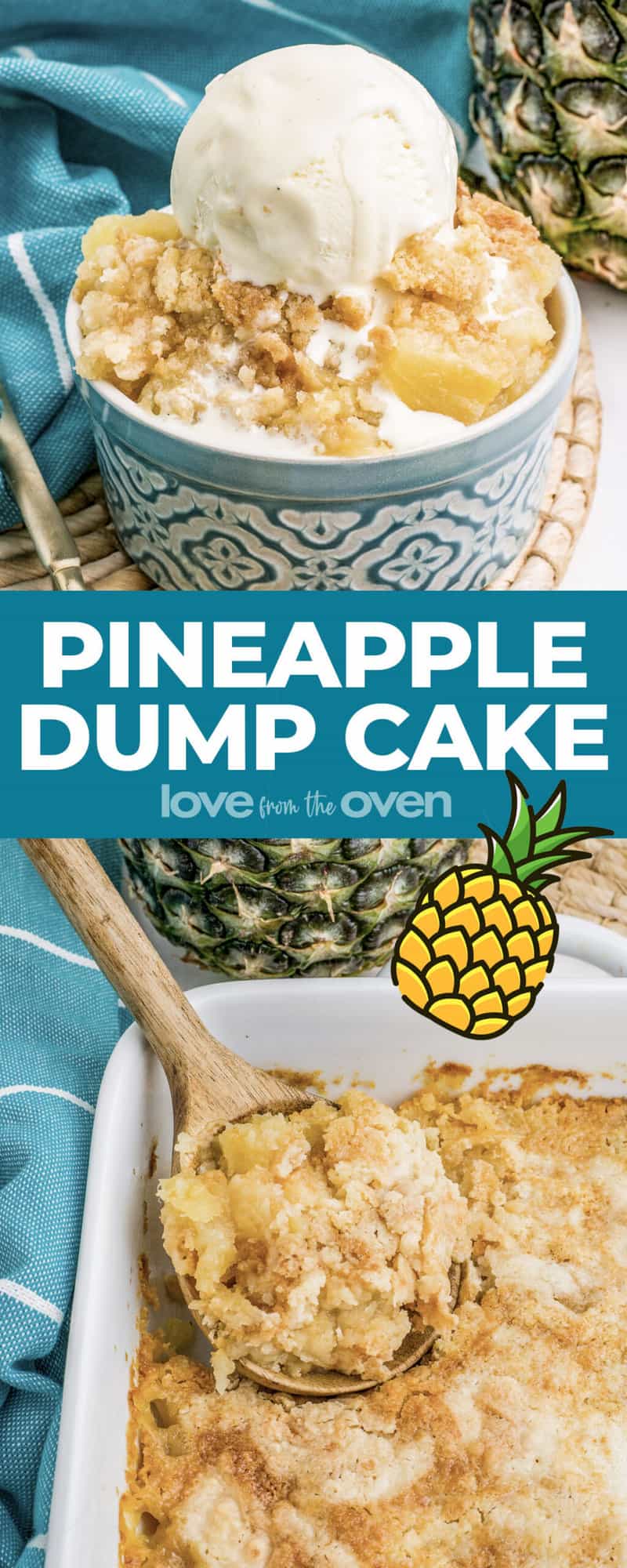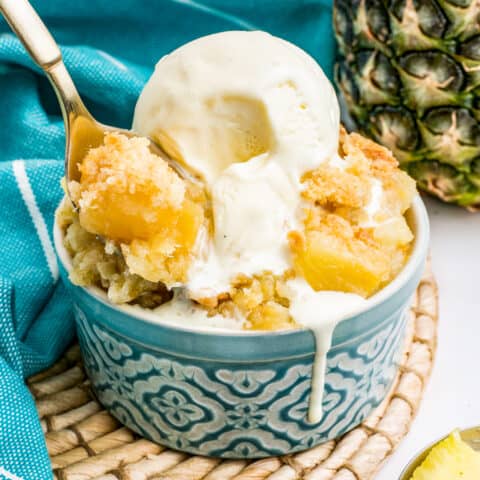 Pineapple Dump Cake
A gooey, pineapple base is topped with cake mix only to magically bake into the most delicious pineapple cake you've ever had.
Ingredients
20

ounces

canned pineapple chunks

drained

20

ounces

canned crushed pineapple

undrained

1/2

cup

light brown sugar

1

standard size box vanilla or yellow cake mix

1

cup

butter

melted
Instructions
Preheat the oven to 350 degrees and prepare a 9×13 pan with a light coating of cooking spray.

Spread both cans of the pineapple evenly in the bottom of the 9×13 pan.

Sprinkle the brown sugar evenly over the pineapple.

Evenly sprinkle the cake mix over the pineapple.

Drizzle melted butter over the cake mix.

Bake in the preheated oven for 50-55 minutes or until the top is golden brown.

Remove from the oven and allow to cool for 10 minutes before serving.
Notes
Storage: Pineapple Dump cake can be stored at room temperature on the first day, then covered in the fridge for up to 4 days.
Nutrition
Calories:
387
kcal
|
Carbohydrates:
59
g
|
Protein:
2
g
|
Fat:
17
g
|
Saturated Fat:
11
g
|
Polyunsaturated Fat:
1
g
|
Monounsaturated Fat:
4
g
|
Trans Fat:
1
g
|
Cholesterol:
41
mg
|
Sodium:
424
mg
|
Potassium:
161
mg
|
Fiber:
2
g
|
Sugar:
41
g
|
Vitamin A:
520
IU
|
Vitamin C:
9
mg
|
Calcium:
122
mg
|
Iron:
1
mg
Disclaimer
Nutrition information is estimated as a courtesy. If using for medical purposes, please verify information using your own nutritional calculator. Percent Daily Values are based on a 2000 calorie diet.