I'm a pretty big fan of all things pink, sparkly and pretty, so of course I love all of the pretty pink goodies that come out for Valentine's Day.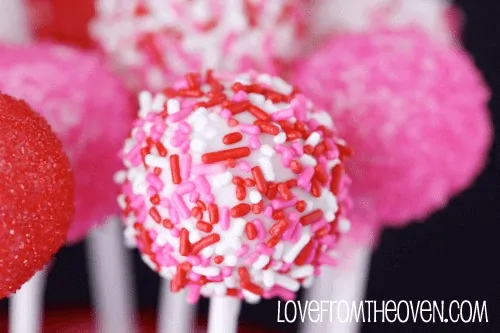 With a cabinet full of pretty sprinkles calling my name, I figured I would make my favorite Pink Velvet Cake Recipe into cake pops.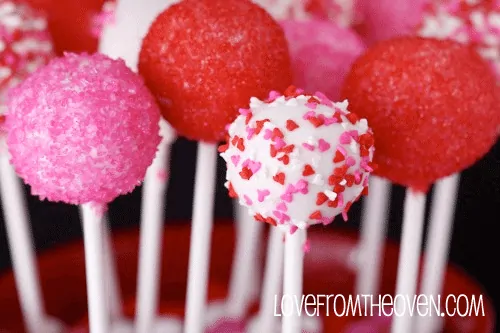 Would you like a bite?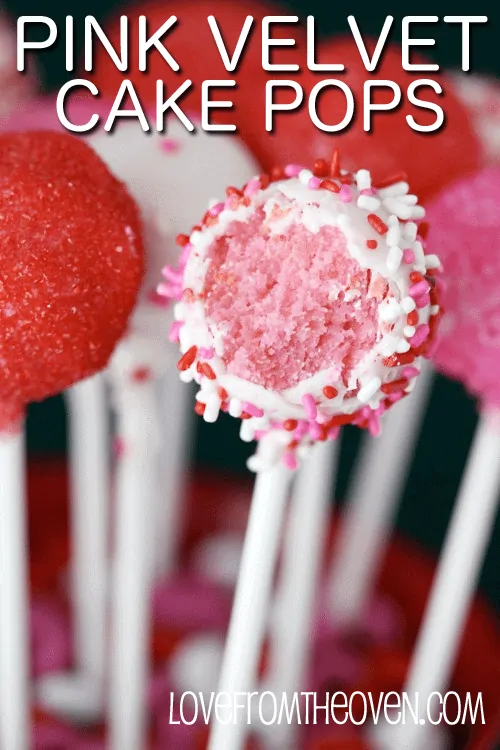 I really love this cake recipe, and have also used it to make orange velvet cake. Just pick your food coloring to add and have fun. It calls for buttermilk, and I did not have any in the house yesterday. Thankfully I had just read a post over on Saving For Someday about how to make a buttermilk substitute using milk and vinegar. Worked like a charm.


For the full pink velvet cake recipe, visit this post where I made pink velvet cupcakes…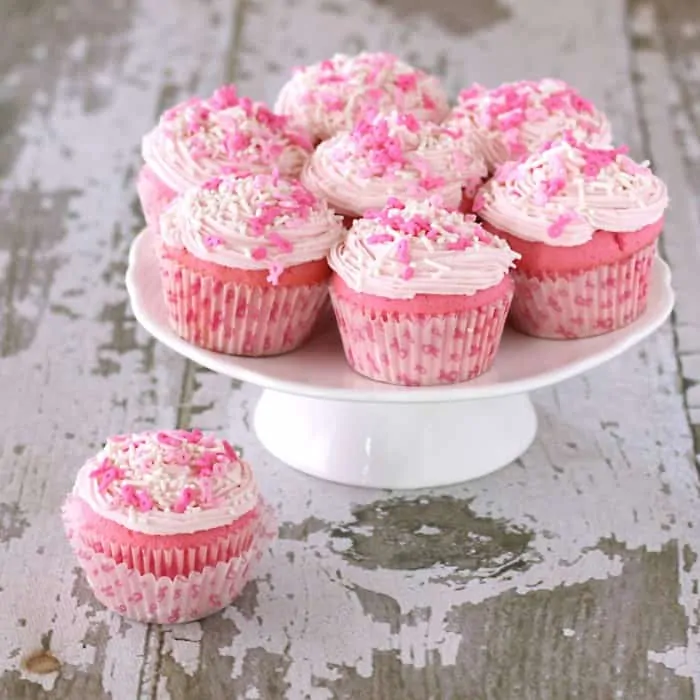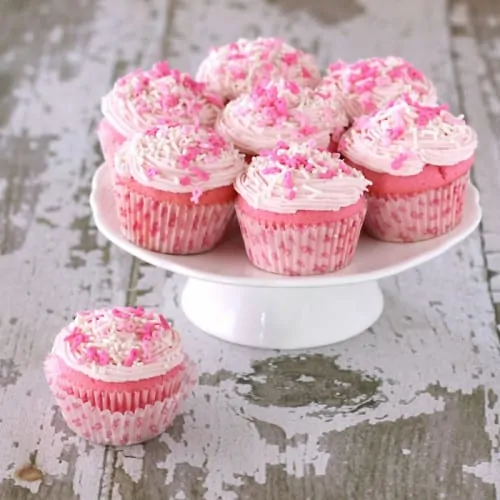 I have to give a bit of a disclaimer on cake pops. The "bake a cake and mush with frosting" method (which this is), is probably my least favorite way to make cake pops. I really prefer to make them with my Babycakes Cake Pop Maker or the My Little Cupcake Cake Pop Mold. I know that not everyone has those products, and some people prefer the cake + frosting method, so that's what I'm sharing today. After you bake your cake, you shred it. I get a little sad every time I commit this crime against cake…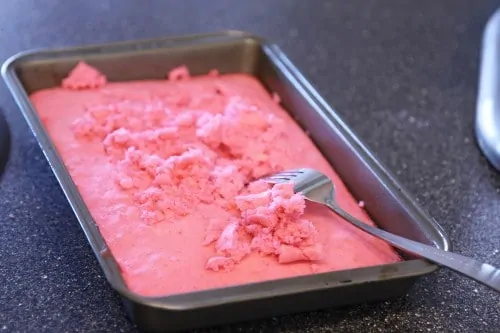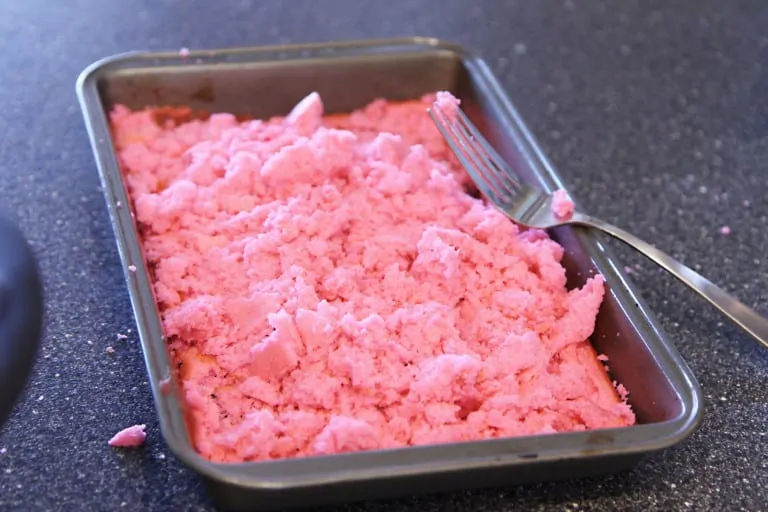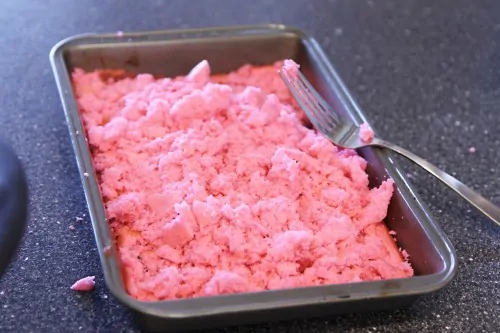 And then you add your frosting. I am very unscientific about this, so I can't give you an exact amount. I find that every cake and frosting combo is different, so what works for one recipe may not work for another. I know quite a few people say one can of frosting per cake. I go by feel – starting with a small scoop of frosting, add more, a little at a time, until I get to the consistency that I want.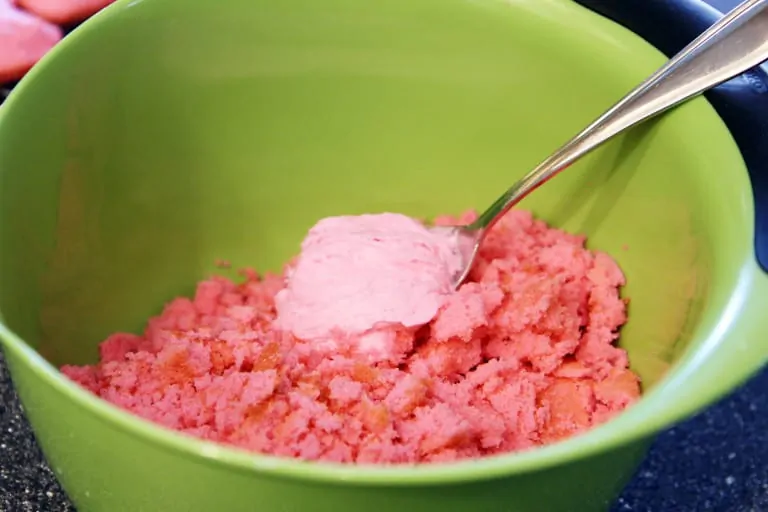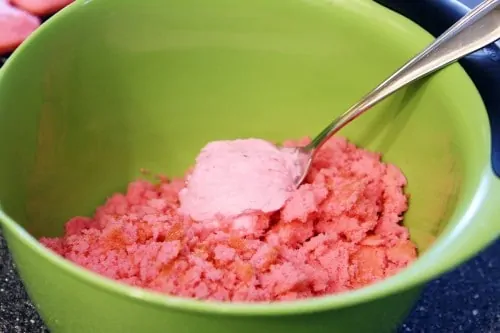 And then mush it into this…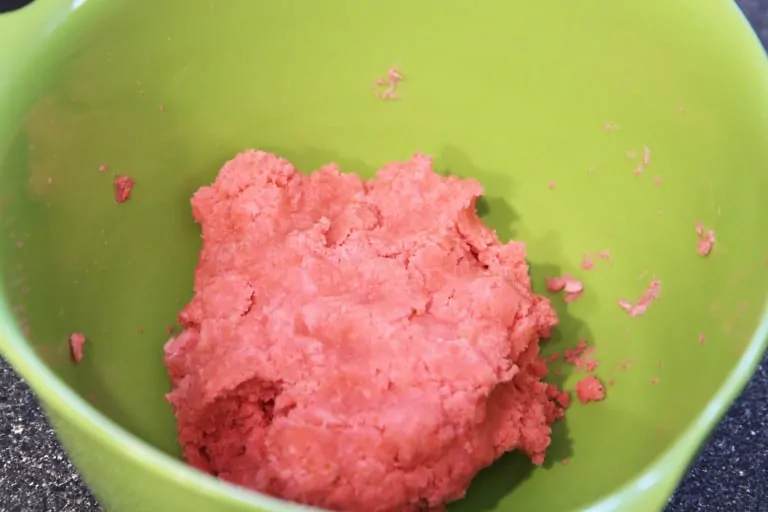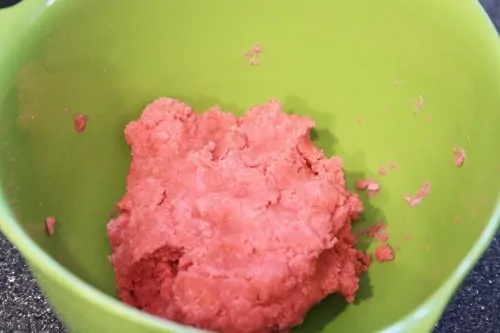 And then roll it into little cake balls…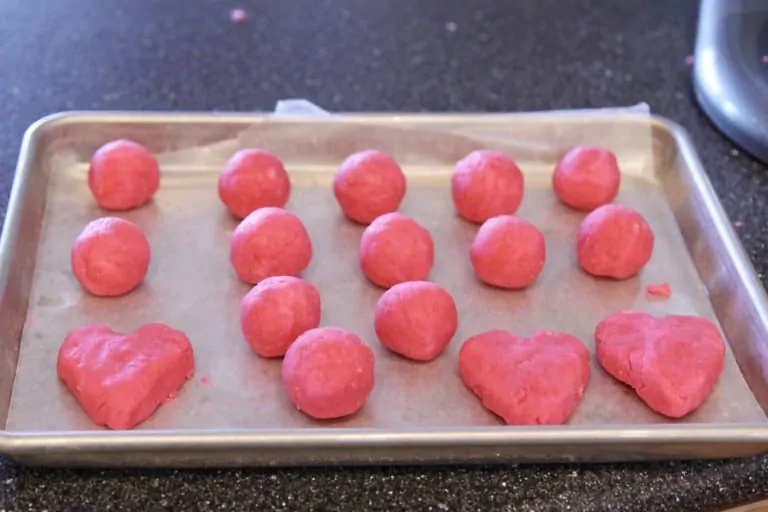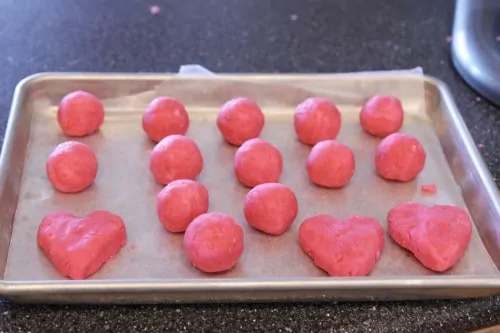 Then I dip the sticks into chocolate and put them into the cake balls, at which point I guess they are officially cake pops…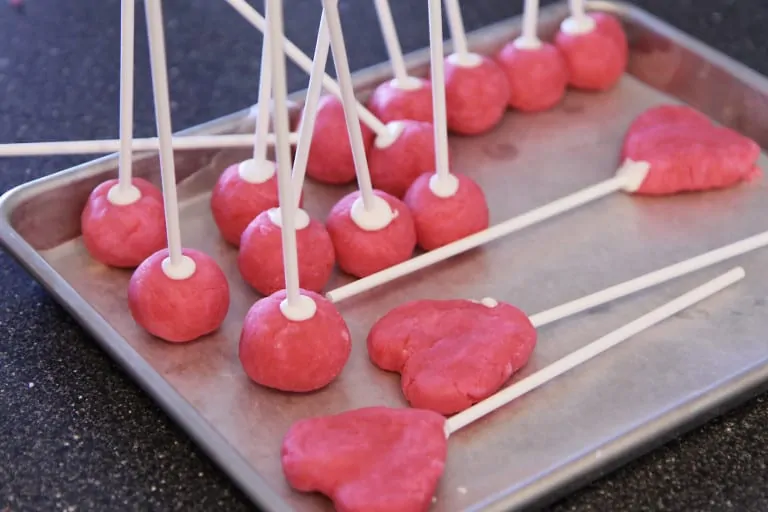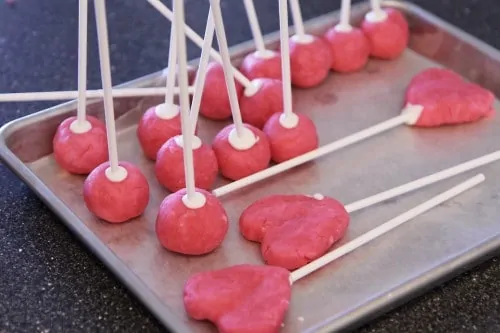 Then into the freezer. This helps the chocolate harden, and cooling the cake pops helps the chocolate set up more quickly when you dip them…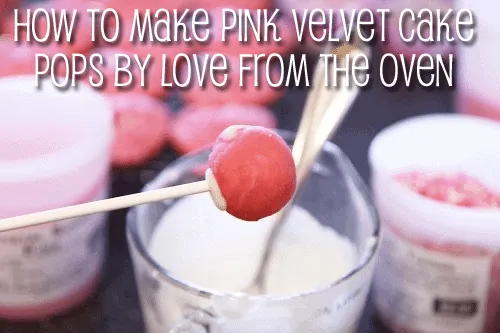 I'm no Bakerella (all hail the cake pop Queen – she's amazing!) when it comes to decorating my cake pops. She's amazing. I just drown mine in sprinkles. I have another post on how to make cake pops here that you can check out. They were last year's Valentine's cake pops. 🙂 But here are a few more pics of these sweet pink velvet treats…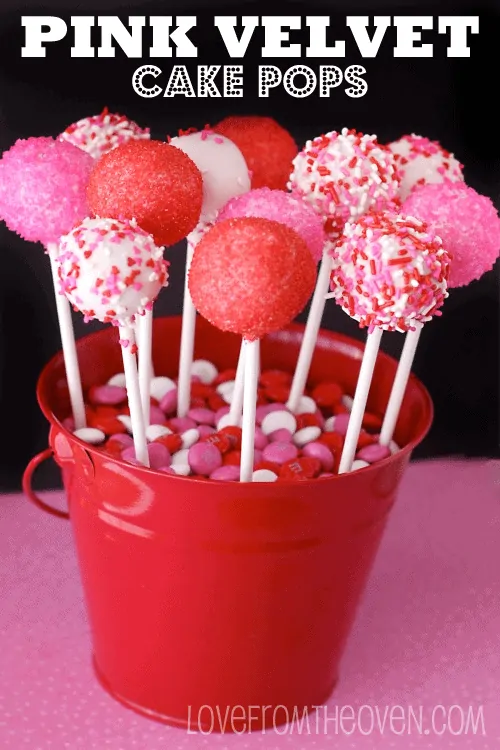 All of my pretty sprinkles come from my very favorite baking supply store, ABC Cake Decorating Supplies. If you haven't already, you must check out my photo tour of the store. It's like Disneyland for bakers.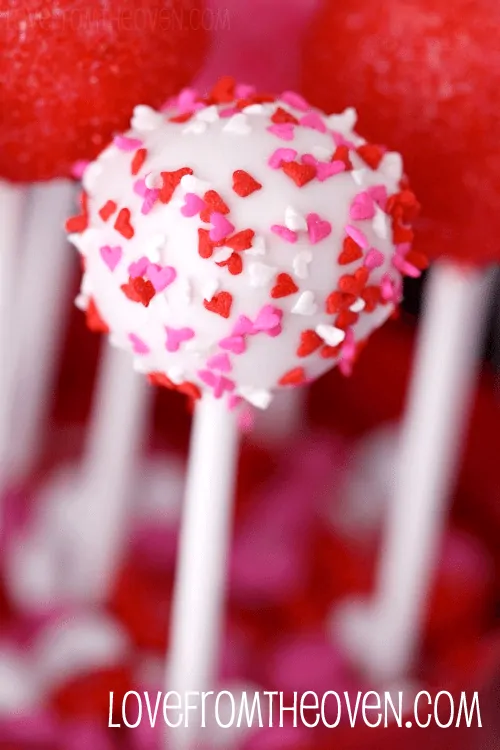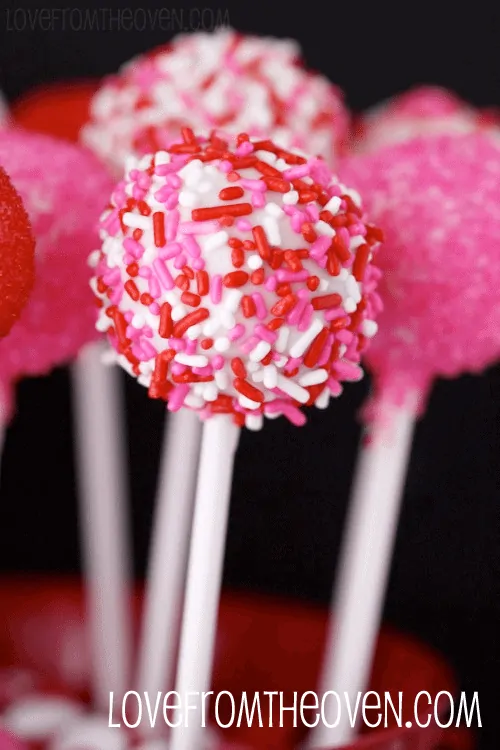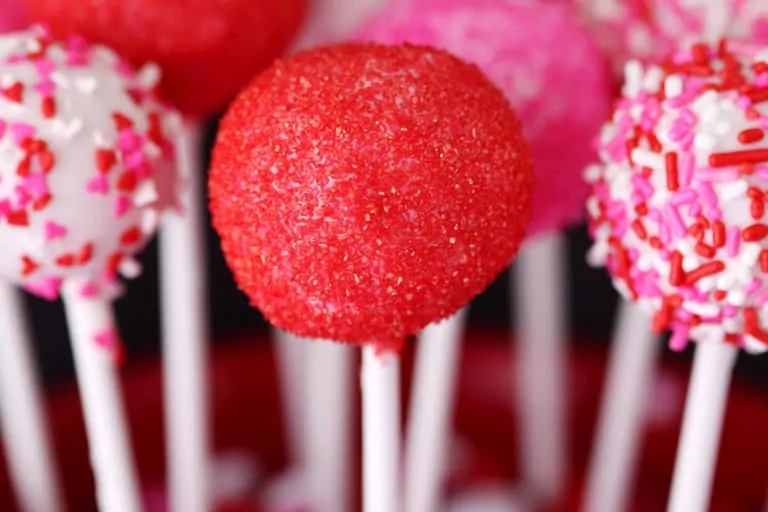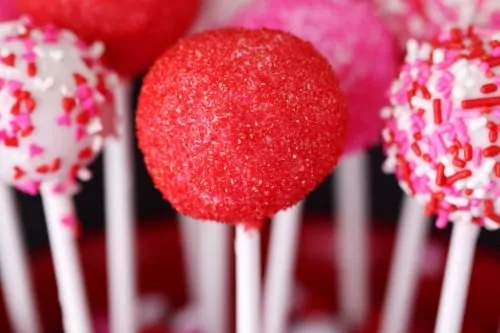 Love love love all of the pretty pinks and reds this time of year! 🙂