This Powdered Sugar Frosting Recipe is my go to for most cakes and cupcakes. It's a simple frosting that takes just minutes to make and has that nostalgic flavor reminiscent of birthday cakes growing up. With just a few ingredients and about five minutes time, you can whip up a batch of this easy homemade frosting.
Reasons to make this powdered sugar frosting recipe:
It's the perfect frosting for a variety of cake recipes. We love it on white cakes, yellow cakes, chocolate cakes and especially on Funfetti cake.
While great on cakes, it's also fantastic on cupcakes and cookies.
If you need a lot of frosting, it's easy to adjust the size of the recipe to suit your needs.
The sky is the limit when it comes to colors. Make this frosting any color your heart desires!
While I personally prefer traditional vanilla, you can use different flavor extracts for different flavors.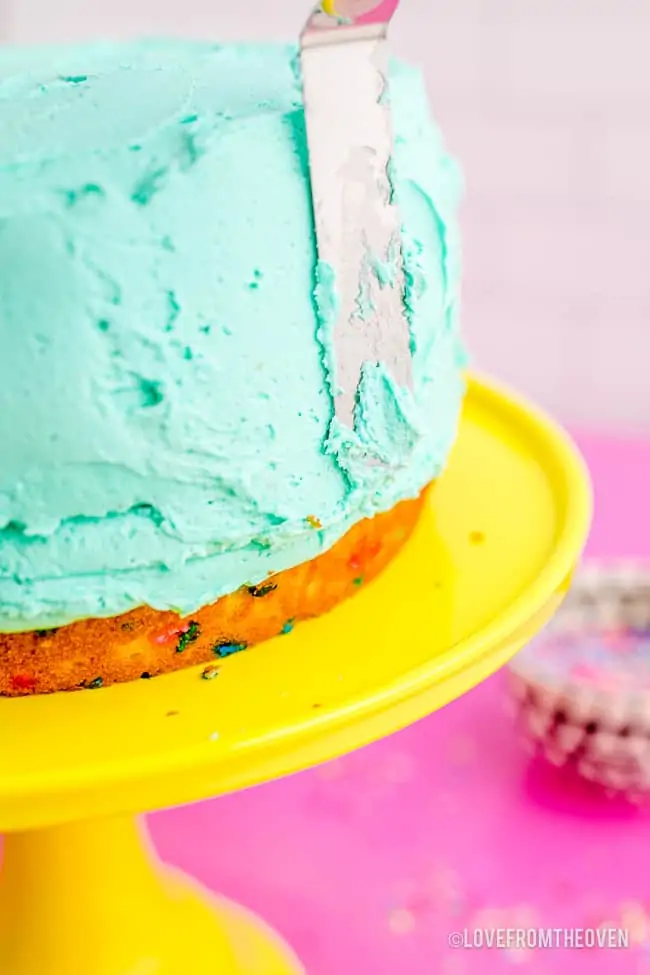 Powdered Sugar Frosting Recipe
If you are on looking for a quick and easy homemade frosting recipe, look no further. This simple, yet classic, American buttercream frosting recipe is a great one to have in your collection. It's so versatile, you can change the color or even the flavor by using different colorings and extracts. It's quick, requires no cooking, and it might just be the best part of the cake. (Disclaimer, I LOVE frosting!).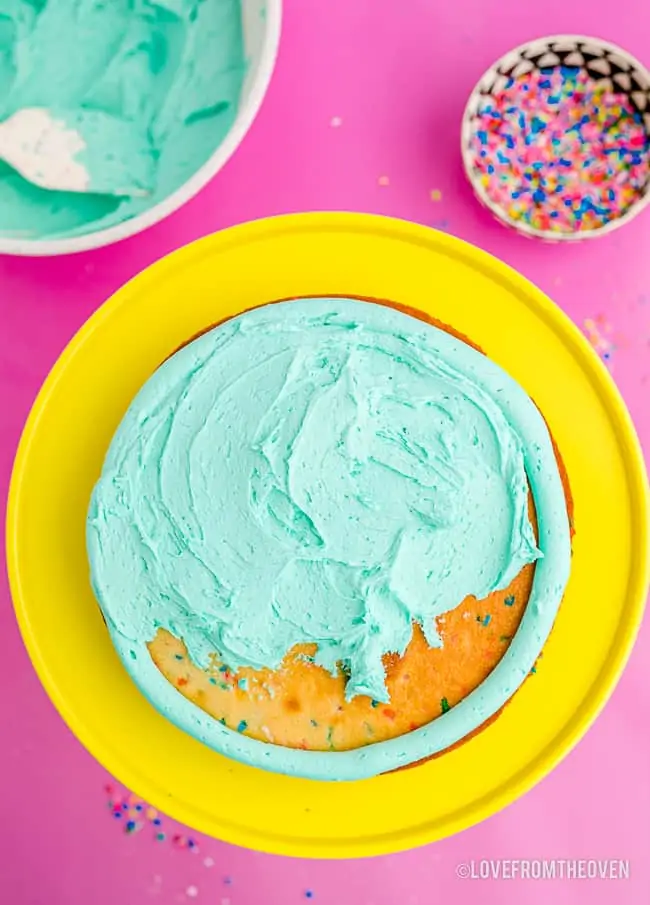 How To Make Frosting With Powdered Sugar
Reminder, the full printable recipe, with exact measurements and instructions, is found at the bottom of the page. This portion of the post is for discussion, helpful tips and answering common questions about the recipe.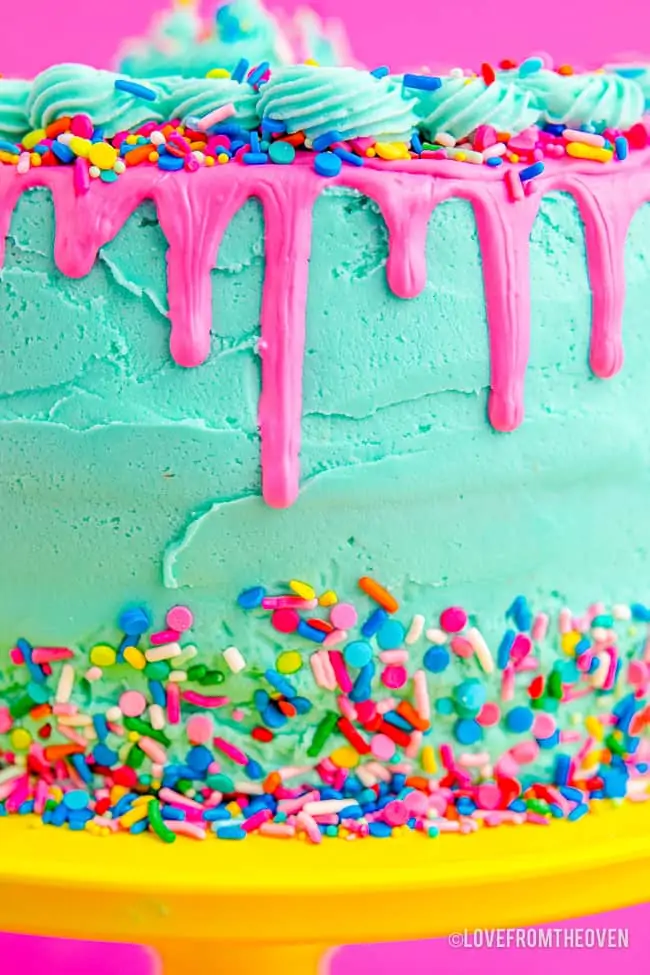 What You Need For The Frosting
Butter – my go to for this is salted butter, but you can go unsalted if needed.
Powdered Sugar – also referred to as icing sugar or confectioners sugar. Unless there are obvious clumps, I rarely take the time to sift mine.
Vanilla – always try and go with a pure vanilla extract. That said, you can get creative and try some fun flavored extracts in place of the vanilla. Just start with a teaspoon and increase as needed. Many flavor extracts (peppermint, I'm looking at you) can be quite strong, so you won't need nearly as much as you use with vanilla.
Milk – in addition to milk, I've also used half and half or even whipping cream.
Food coloring – if desired, in the colors you desire. I love the gel food coloring and highly recommend them. They have great pigment and I find them to be less messy, at least on a good day!
NO eggs – if you see eggs in the photos below, those are from the cake that was being made, that little sunny yellow egg holder was just too cute to take out!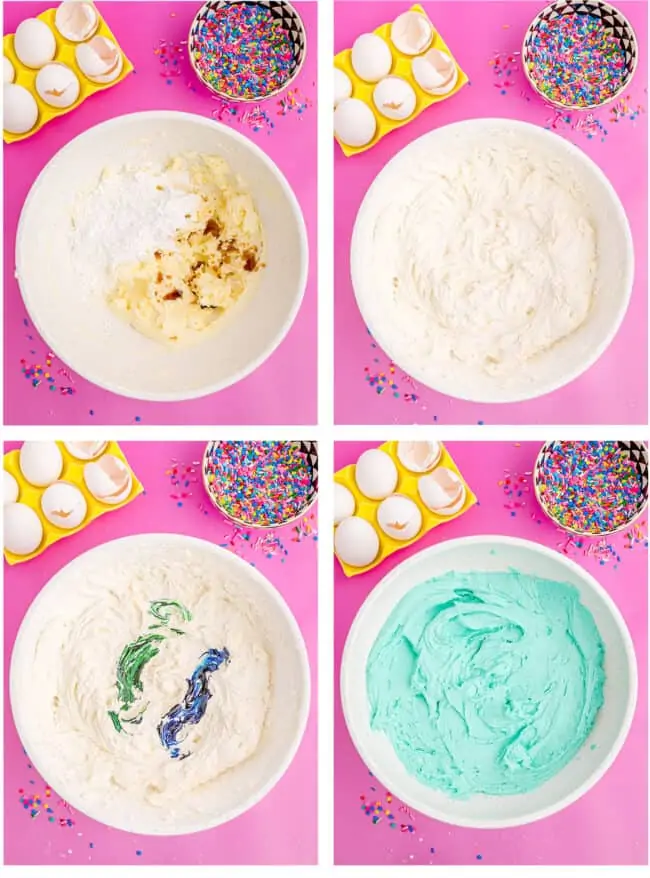 Steps To Make The Frosting
Reminder, pay no attention to the eggs in the above photo, those were for the cake being made at the same time. Now, to make the frosting, butter is beaten with an electric mixer until smooth. Then the icing sugar and vanilla are added and beaten in, followed with a little milk to reach your desired consistency.
After that add your colors. Remember it's best to start with a little, it's easier to add color than it is to subtract.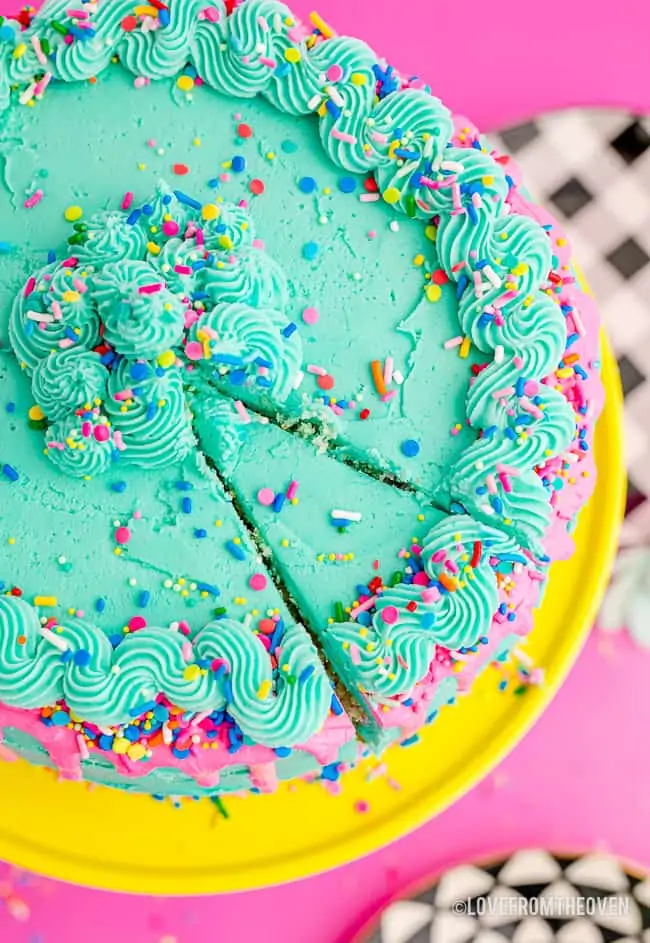 Tips, Tricks, Questions and Answers
Substitutions
Can I use margarine instead of butter? This is one of those times that I'm going to tell you no. It changes the texture and definitely does not taste as good.
Can I use shortening in this frosting? While I'm not a fan of an all shortening frosting, there are certainly times when I use half butter and half shortening. Frosting made with shortening in it will form more of a crust, where it's not so soft to the touch. That can be beneficial if you are transporting a cake. Also, when you add shortening to the frosting it helps it hold up to heat a bit better, something that I sometimes have to think about during the summer in Phoenix, AZ. Flavor wise it typically tastes quite a bit sweeter, but there is a place in the world for super sweet sugary frosting sometimes.
What can I use in place of milk? I've used half and half or heavy cream with great success. I have also used dairy free milk such as vanilla flavored Ripple.
Can I make this dairy free? Can you? Yes, though it won't be as good. That said, when my daughter had to eat dairy free for the better part of a year, I would make this with Crisco in place of butter and Ripple Non-Dairy Milk in place of milk. If you can't eat dairy for whatever reason, it's a pretty great replacement. While I used Ripple, if you can have a nut based milk (my daughter cannot) I suspect it would be much better made with those than the pea based milk.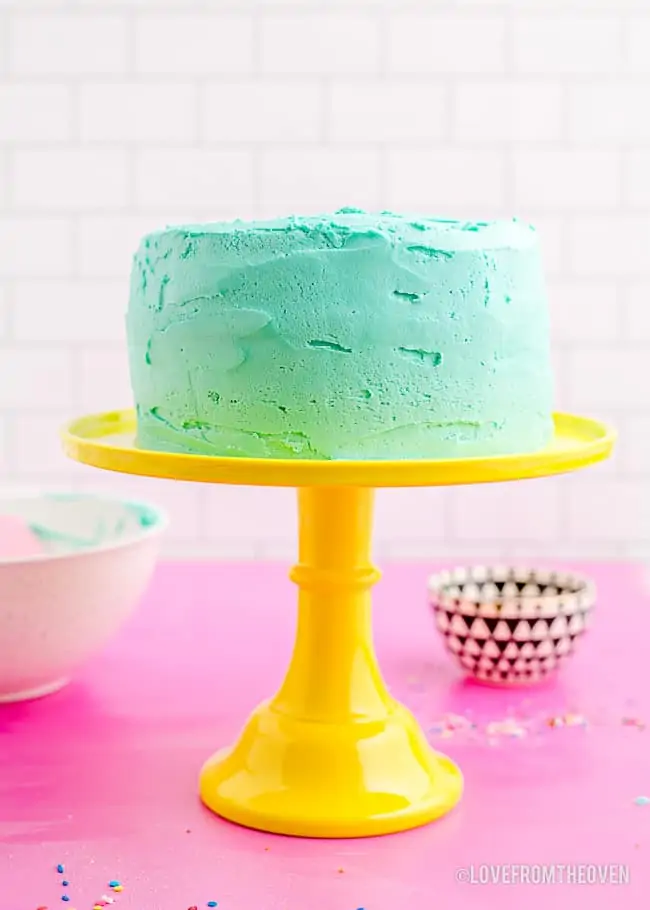 Troubleshooting
How much frosting will this make? This recipe makes enough frosting to frost a basic two or three layer cake that is nine inches or less, a half sheet cake, a 13 x 9 inch cake or 24 cupcakes.
If you are making a multi layer cake and want big, thick layers of frosting between the layers, or want to do a lot of piping, I'd suggest either doubling the recipe or making 1 and 1/2 times the original recipe. If you hover your mouse over the amounts listed in my recipe card below, you can actually adjust them!
The icing is too thick to spread – what should I do? If the icing is too thick try adding some milk, just a teaspoon at a time.
The icing is too thin to stay on the cake – what should I do? If the icing is too thin to adhere to the cake well, you want to thicken it by adding icing sugar, just a Tablespoon at a time.
Storing
Does this frosting need to be refrigerated? No, it does not. It's good at room temperature for a few days. That said, I like to make sure it's tightly covered.
Can I freeze this frosting? I prefer to freeze frosting on a cake or cupcake, versus on it's own. Honestly it's so quick to make, I see no reason to just freeze the frosting by itself. If you do freeze it, on a cake or it's own, make sure to cover it well with plastic wrap, then place in a freezer bag for best results.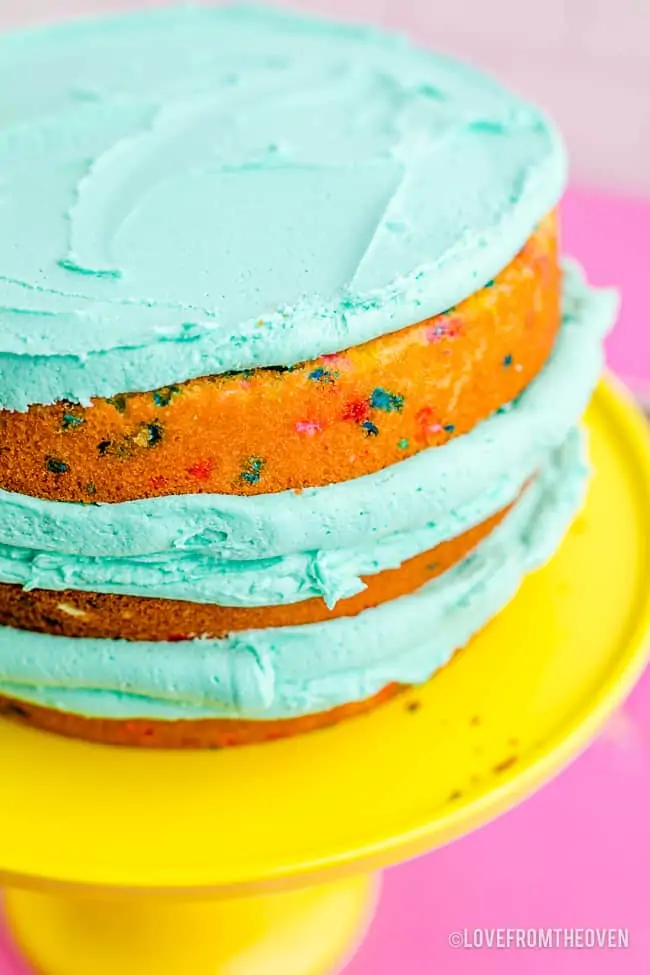 Recipes To Pair With Powdered Sugar Frosting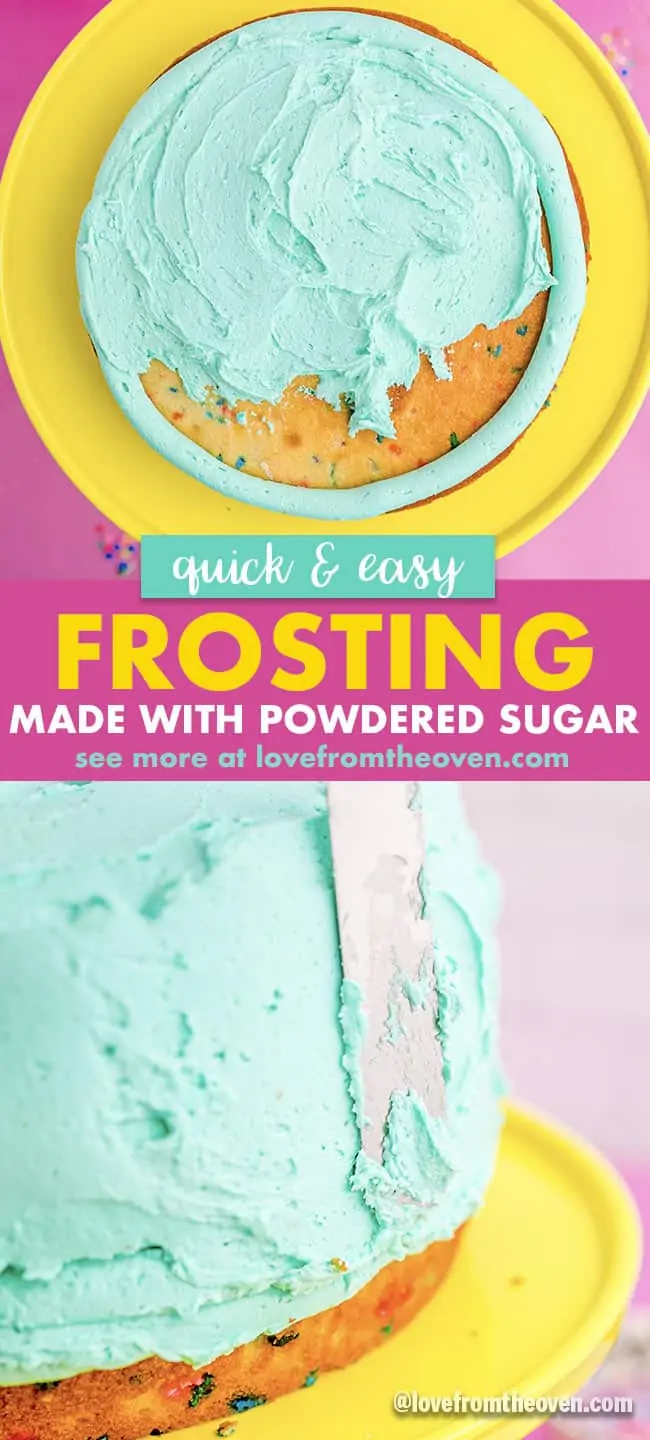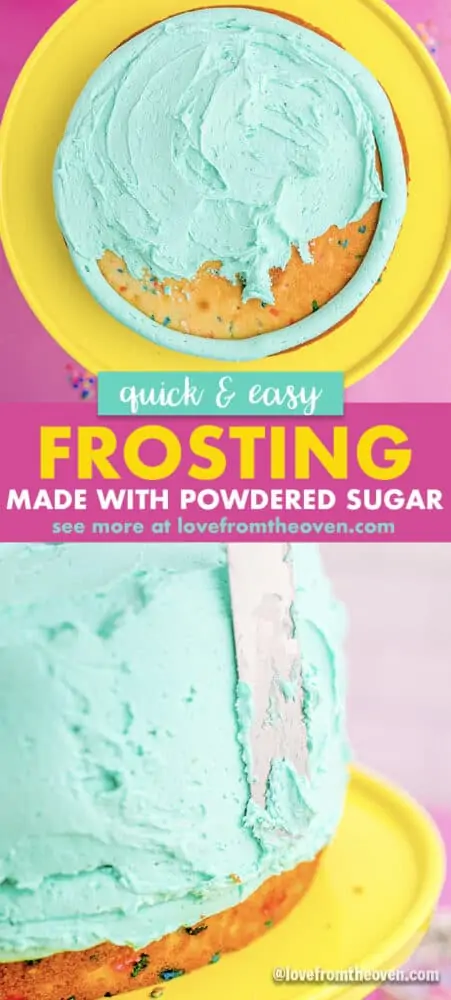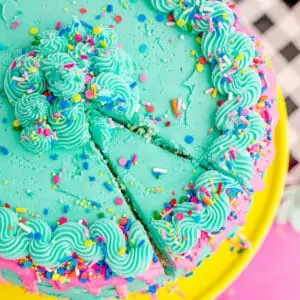 Powdered Sugar Frosting
This quick and easy Powdered Sugar Frosting Recipe takes just minutes to make and is perfect for frosting your favorite cakes and cupcakes.
Ingredients
1 1/2

cups

salted butter

softened

6

cups

powdered sugar

4

tsp

pure vanilla extract

5-6

tbsp

milk

food coloring if desired

start with a drop or two, increase as needed
Instructions
Beat the butter until smooth. Gradually add in the powdered sugar and vanilla.  Add the milk a little at a time until you've reached the desired consistency (you may not need to add all 5 Tablespoons).Mix in the food coloring.
Notes
Feel free to swap the vanilla extract for other flavor extracts, but take caution that most are a bit more potent than vanilla, so start with a teaspoon and work your way up, it's always best to start with too little and add more. The same goes with food coloring! 
Nutrition
Calories:
222
kcal
|
Carbohydrates:
30
g
|
Protein:
1
g
|
Fat:
12
g
|
Saturated Fat:
7
g
|
Trans Fat:
1
g
|
Cholesterol:
31
mg
|
Sodium:
103
mg
|
Potassium:
9
mg
|
Sugar:
30
g
|
Vitamin A:
360
IU
|
Calcium:
7
mg
|
Iron:
1
mg
Disclaimer
Nutrition information is estimated as a courtesy. If using for medical purposes, please verify information using your own nutritional calculator. Percent Daily Values are based on a 2000 calorie diet.